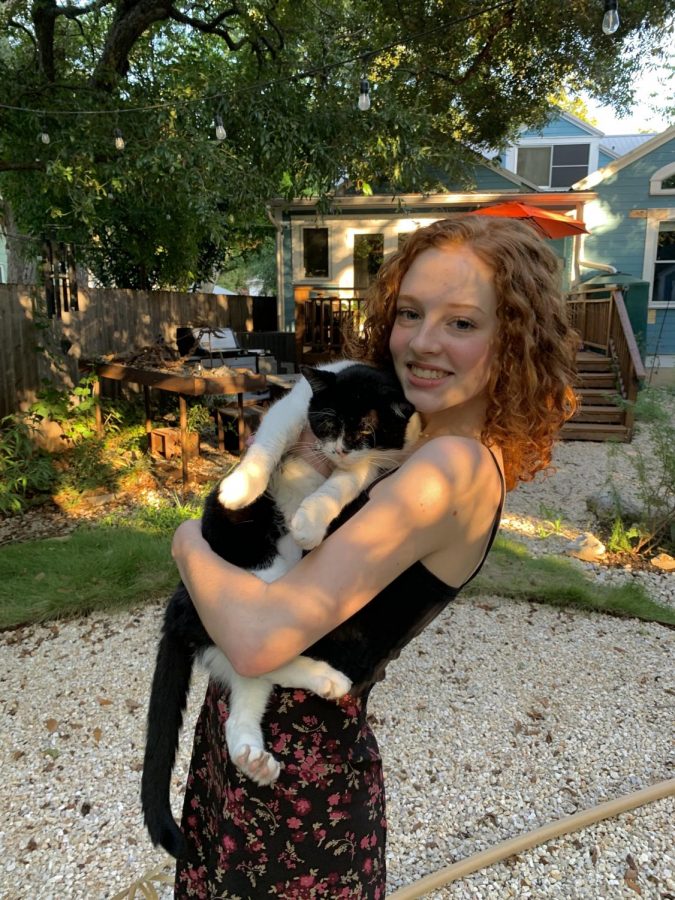 Lucy Marco, a junior and a second year staff member for the Shield, is taking on the roles of co-people editor and co-online editor this year. She decided to join newspaper so she could explore how it works to be a journalist, improve her writing skills, and be a part of the lovely and talented mac journalism community. Her favorite pieces to write are feature profiles and new editions to her online-exclusive blog.
Marco moved to Austin from the French Alps when she was around 4 years old. In her free time, she enjoys making art, collecting old photographs, putting together outfits, petting her cats, cooking, baking, listening to music, FaceTiming her boyfriend in Ireland, watching good movies and going on walks. Recently, she has been very into listening to news podcasts and keeping herself up to date with what's going on in the country, as well as educating herself on the systemic injustices towards minorities and BIPOC. Since Corona, she has spent lots of time planning out her future, going outside, and watching her favorite show twice, Madmen.
She is very excited for this year of newspaper and can't wait to see what the future holds.
Lucy Marco, online co-editor in chief & people editor
Jan 07, 2021

Diving deep with Madi Baylor

(Story)

Dec 24, 2020

Outdoor stage goes from holiday wish to New Year's solution

(Story)

Dec 19, 2020

Making yourself at gnome

(Story)

Oct 21, 2020

Throwing pots virtually throws new challenges

(Story)

Sep 29, 2020

A Tuesday Top 10 throwback to the first week of school

(Story)

May 09, 2020

What is COVID-19's impact on the environment?

(Story/Media)

Mar 28, 2020

COVID-19 lockdown shortens junior's stay in France

(Story)

Mar 02, 2020

One with the arts, one with the Earth

(Story)

Feb 24, 2020

An egg-s-periment in parenting goes terribly wrong

(Story)

Jan 03, 2020

Spring sports preview

(Story)

Dec 16, 2019

It's not easy being gluten-free (and vegan)

(Story)

Nov 17, 2019

Era of rollers wasn't so rockin'

(Story/Media)

Nov 14, 2019

Behind the lunch line

(Story/Media)

Oct 16, 2019

Teenager goes phoneless for a week and survives

(Story)

Jul 07, 2019

Orchestra students stand out at state competition

(Story)

Jan 31, 2019

Mr. Whiz to retire after 49 years of teaching

(Story)

Dec 18, 2018

A concerted holiday effort

(Media)

Nov 11, 2014

Photos of the week

(Media)