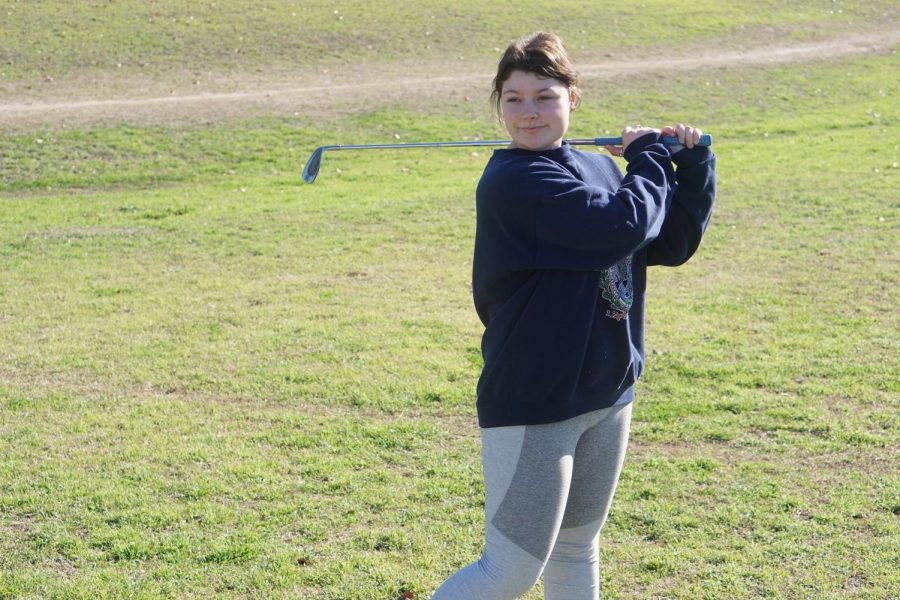 Golf team eyes return to regionals
Team rejects traditional sterotypes, already preparing for another successful season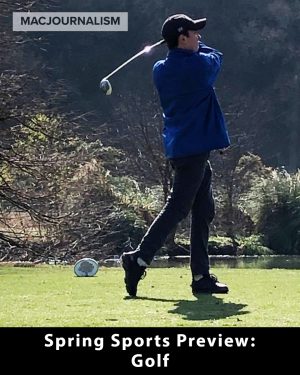 Looking for a lifelong sport with long term benefits and ongoing challenges? Then give golf a swing. Even though practice is just beginning, the 2019-20 McCallum Knights golf team is off to a good start.
"This year's boys team has a very good chance of making it to Regionals again," says Coach Nitardy, the head coach of the golf team. "We have four boys back from last year's Regional team: Zach Masterson, Henry Sandlin, August Evans and Ethan Vandament. Luke Lozano has been a great addition to the team, and he'll likely help us qualify for Regionals."
Now this is not the little putt-putt golf you played at Peter Pan when you were a kid. This is the real deal, difficult and slow golf. In her 14th year coaching the golf team, Coach Nitardy said that the hardest part of golf is consistency. Some members on the team also believe that golf is a challenging sport because it relies heavily on both mental and physical talent, as players have to stay out of their own heads.
"I'd say the most challenging part of golf is how mental the game is," Lozano said. "If you have a good shot, your next few will also be good, and you may end up having a pretty good round. But if you have a bad shot it can be extremely frustrating, and you will end up doing horribly on your round."
Golf, according to the players, sometimes gets looked down on, but the team believes this disregard for the sport is unfounded.
"Everyone kinda gives golf a bad rep," Masterson said. "It's always labeled as an 'inferior' sport, when in reality, it takes as much skill a precision as baseball or lacrosse."
As for the stereotype about golf being for men, though golf has a ways to go, the Knights seem to be making progress, as many female players are returning this year, and the coach herself is also a woman.
"
"Everyone kinda gives golf a bad rep … when in reality, it takes as much skill a precision as baseball or lacrosse."
— Zach Masterson
"Luci Borowski, a Regional qualifier from last year, is back," Nitardy said. "And newbies Charlie Ortiz and Cate Thompson have started out strong. We need one more girl to make a team and they will most definitely make it to Regionals!"
Though many wonder what makes golf enjoyable, the McCallum players have no doubts about spending their time practicing, since they believe being successful after all the hours of practice is the most rewarding part of golf.
"Sitting down at the scoring table and turning in a score you are really proud of is most rewarding," Masterson said. "That makes all the practice and hard work worth it.
Coach Nitardy loves seeing all her players' hard work pay off and feels inspired by watching her players grow stronger.
"As the golf coach, my favorite part is watching my players develop and make the shots they've been practicing," Nitardy said. "I also enjoy having players come back and tell me how much they enjoy playing after high school."
Golf is a great sport for many reasons, one of them being that you can play golf from cradle to grave.
"Golf is one of the few sports that you can truly play your whole life," Lozano said. "It can also be a good way to relax and wind down. Being able to play golf will give a pastime for later in life."