This time the 'Breaking' news is good news
While celebrating start of construction on a new dance studio, dance majors stretch past boundaries of past shows
Alysa Bijl-Spiro, Naomi Di-Capua, Julia Husted, Cassidy Levin, Sophie Leung-Lieu, Lucy Marco, Madelynn Niles, Grace Nugent, Samantha Powers, Alice Scott, and Grace Vitale
January 12, 2022
The McCallum Youth Dance Company broke ground on "Breaking Ground" Friday night with the first of two 7 p.m. winter concert performances at the Austin ISD Performing Arts Center. The second performance at the same time on Saturday night drew a larger, more enthusiastic crowd.
"Breaking Ground" is the title of this year's winter concert. On Jan. 7 and 8 at the AISD Performing Arts Center, dance majors will perform various pieces dedicated to the start of construction of a new dance facility at McCallum.
"This summer McCallum will be breaking ground on a dedicated facility for dance," Murray said. "This is something that our dance community worked very hard to achieve, and it's been years in the making. We don't have a space of our own, and it's very challenging for the dancers and for us. While we are so grateful that theatre allows us to use the black box, we desperately need our own dedicated dance space. The dancers deserve it."
We are pleased to share some of our favorite images from the two shows as this week's Tuesday Top 10 photo essay.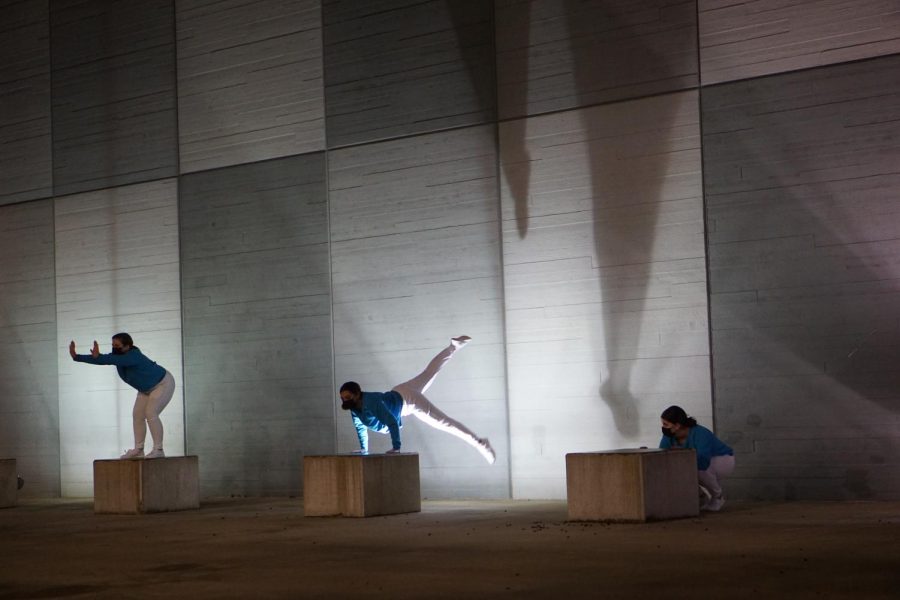 BLUE SKIES: To kick off "Breaking Ground," the intermediate dance class performed an outdoor piece titled "Mr. Blue Sky," choreographed by director Natalie Uehara. "I liked dancing in a different environment," sophomore Gabriella Smith said. The dancers performed around the entrance to the PAC and used the surrounding landscapes such as trees and concrete blocks as props. "It was fun to use the trees in our piece," Smith said. "Being able to interact with the audience was also a fun experience." Following the performance, the dancers led the audience to their seats in the theater. Caption by Sophie Leung-Lieu. Photo by Madelynn Niles.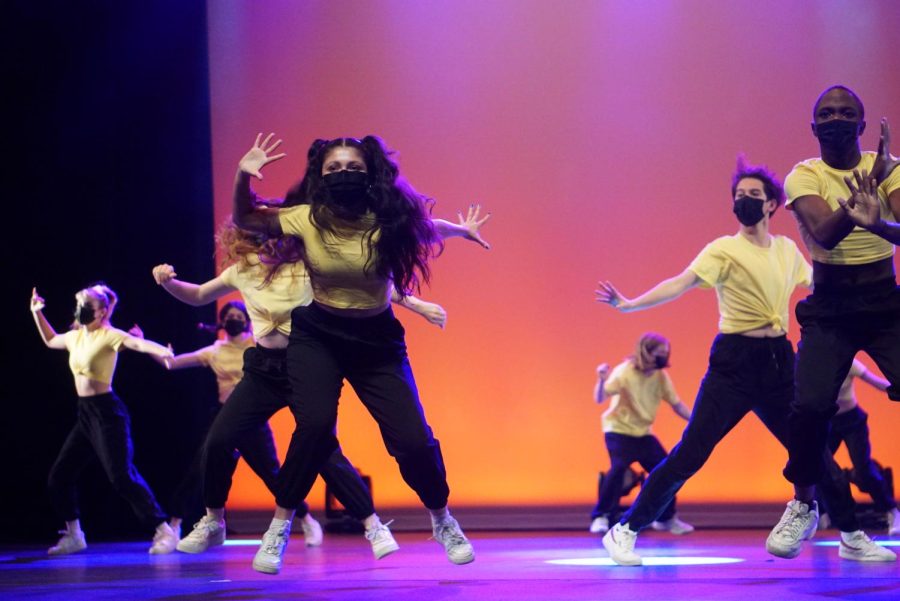 HIP-HOPPING BACK INTO THE PAC: Senior Emily Garza takes front stage in Mac's Pre-Professional Dance Group's performance of "And we Back YO!"—the show's hip hop number. This dance stood out to Garza for its choreography. "Erick Yanez is a really well-known choreographer, and he taught this dance to us, and it was really fun to perform because of all the formation changes," she said. "Everyone got a chance to be in the front and especially on Saturday everyone had the best energy, and we all just had a great time performing it." Being back on an indoor stage was also special for Garza. "Our last [winter concert] was on the outdoor stage, so it felt really good to be back," she said. "As a senior, the first show back was very bittersweet, but it just made me more excited to cherish all the moments I have left in Mac Dance." Caption by Madelynn Niles. Photo by Dave Winter.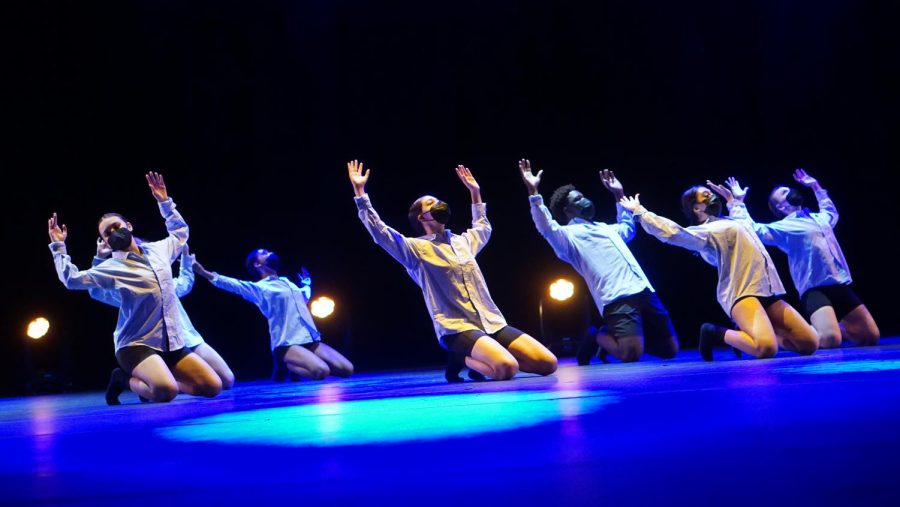 Gaby Alvarado brought the show's third dance, "Precipice," to a dramatic end, practically climbing over their teammates to sit on their shoulders. The stunt required a lot of trust between Gaby and their team."It was somewhat nerve-racking at first," Alvarado said, "Because I ultimately had to put all of my trust into them and hope they didn't drop me." All their hard work paid off, Alvarado believes the show went well. "I'm personally content with how we did as a group," they said, "It was a team effort." Caption by Cassidy Levin. Photo by Madelynn Niles.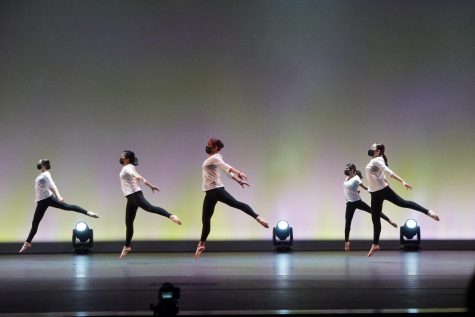 POPPING OFF: Sophomore El McGinnis (left) and the other members of the intermediate ensemble dance class perform the theme step of their second piece on the night. "Sterile Jungle," choreographed by Joseph Cox, divided the dancers into three groups that performed in different sections that would all eventually repeat the same theme step, which Cox entitled the "Chest Pop." "Performing this piece was a very different experience for me," McGinnis said. "The movement was very unique and repetitive, but I enjoyed doing it. Working together as a group to make clear movement was so fun." Caption by Alice Scott. Photo by Dave Winter.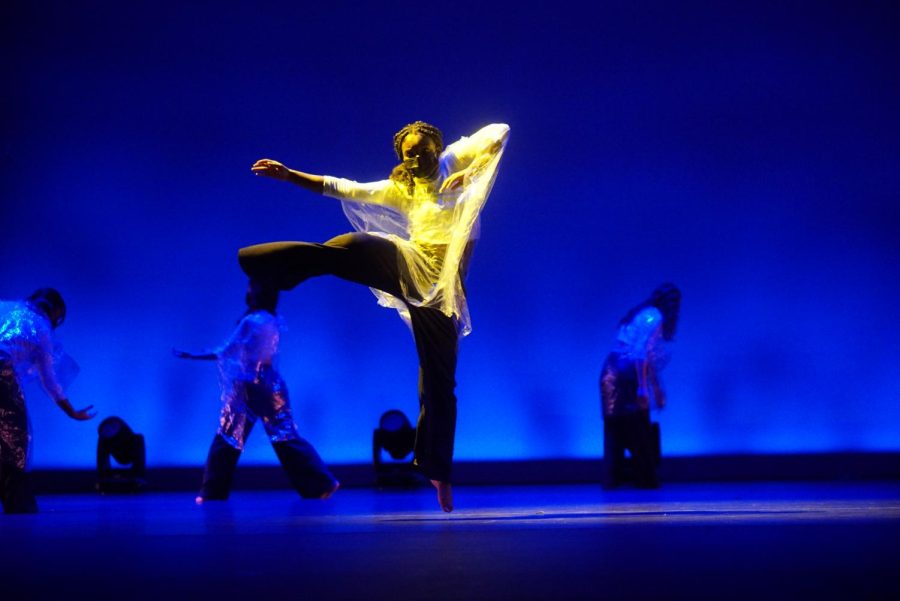 WAITING FOR A RAINBOW: Senior Wynter Winston levitates above the ground during her solo at the end of the senior modern dance number, "The Rain Will Pass." Winston thought this dance represented persisting through a struggle. "We were representing people walking in the city during a rainstorm, getting through it until it ends," Winston said. "So overall, I think this piece was about navigating a hardship until it passes." Photo by David Winter. Reporting by Lucy Marco.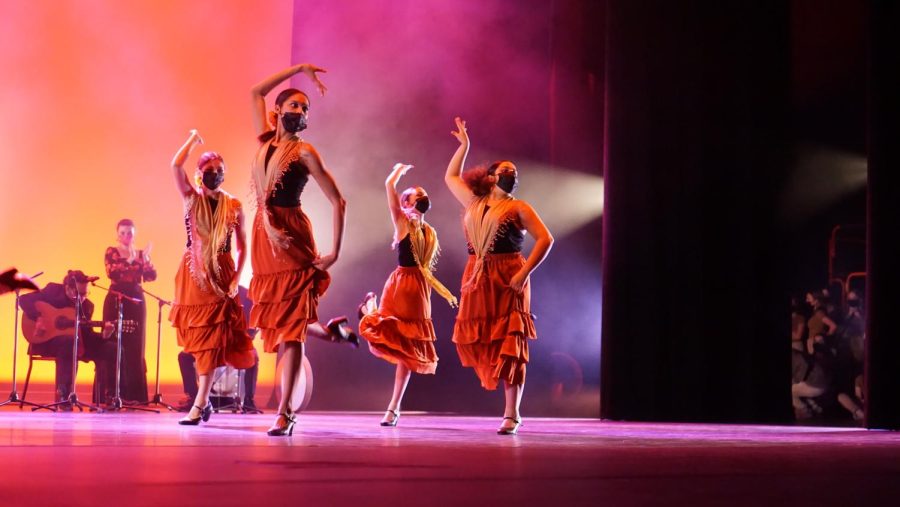 FLOURISHING FLAMENCO: For freshman Analise Bady, the Toma Que Toma dance was an opportunity to explore a new type of dance: Flamenco. "The dance is Flamenco," Bady said. "It was most of ours first time doing this dance, I'd heard about it before and always wanted to try it." Despite the dance's beauty and the dancers' excitement, it requires meticulous coordination in order to ensure all the claps and stomps included happen simultaneously. "We had to learn the basic moves first and separately because it's very particular," Bady said. "We were taught the moves and later added in the choreography. With a lot of dance styles they reflect on you," Bady said. "This style is something I really wanna do again." Caption by Naomi Di-Capua. Photo by Dave Winter.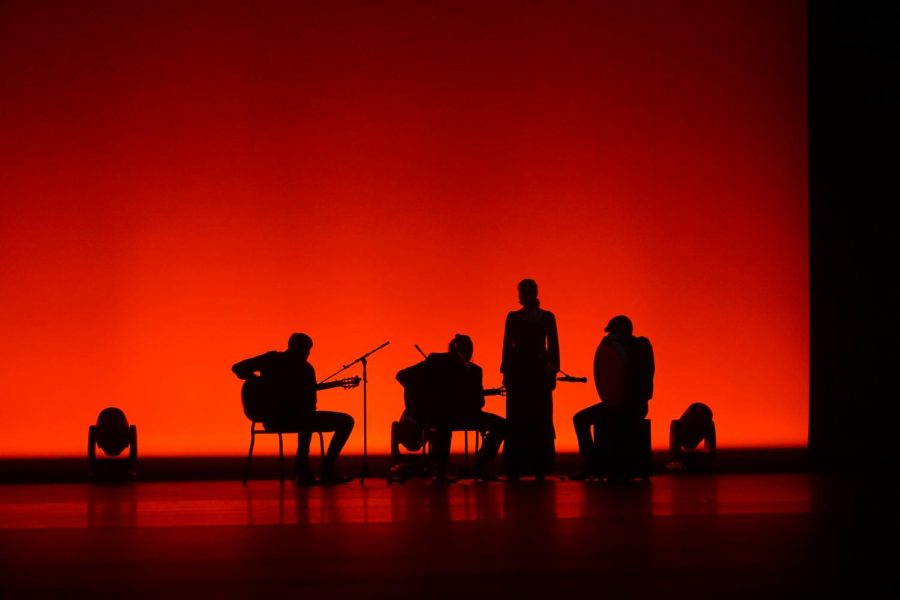 BARRAZ'S BRILLIANCE: For senior Diego Barraz, the 'Breaking Ground' McCallum dance show was not about dance but guitar. While not a classical guitar major at Mac, Barraz enjoys the instrument and specializes in the National Anthem and Metallica covers. While his playing of the 'Toma Que Toma' number's music was neither of those things he thoroughly enjoyed his experience. "I had a lot of fun," he said. "I'm very thankful I was given the opportunity to perform with the dancers. I had fun working with the other musicians to provide music for the dancers. It was a great overall experience." Barraz was under the direction of musician Isai Chacon who had been his instructor in the Flamenco style. "I've been wanting to learn Flamenco for a while," Barraz said. "When I convinced Isai to give me lessons, he told me I would have to prepare to perform in January. The four months I have been taking lessons with Isai, he would plan out the song based off of the choreography of the dance, and then teach me the parts." Barraz is grateful for the experience and hopes it will not be his last time accompanying dancers. Reporting by Grace Nugent. Photo by Madelynn Niles.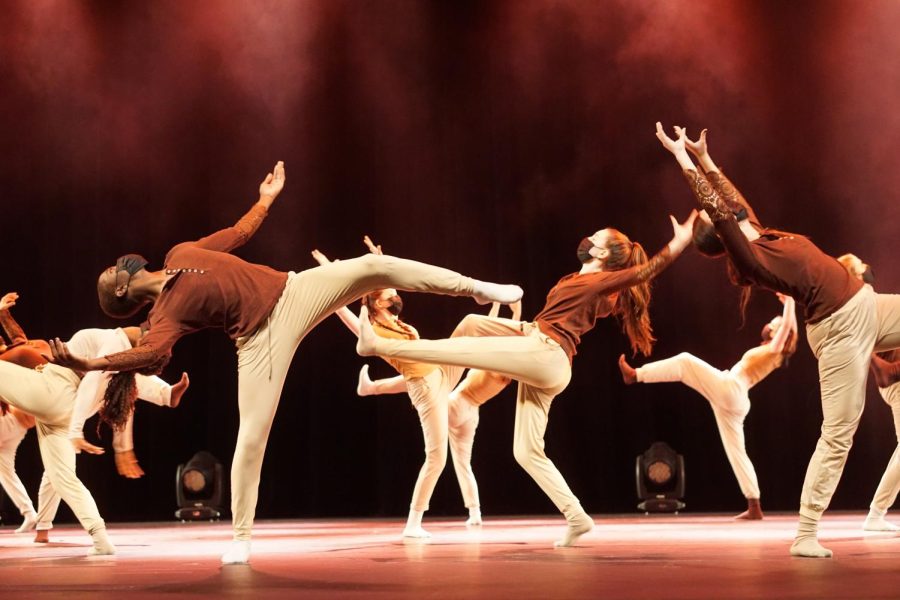 McCallum dance majors perform "SHEEN," choreographed by Mac and Texas Christian University dance alumnus Terrance L. Carson, Jr., during the winter dance concert on Friday at the AISD Performing Arts Center. The McCallum dance teachers brought in professional dancers to teach the choreography to the majors and the result was a beautifully crafted performance. "The show went amazingly well, especially because of the challenges of the current COVID situation," said McCallum's dance director Natalie Uehara. "The dancers overcame many obstacles and together with the technical staff of the AISD PAC, put on a beautiful performance." Caption by Grace Vitale. Photo by Madelynn Niles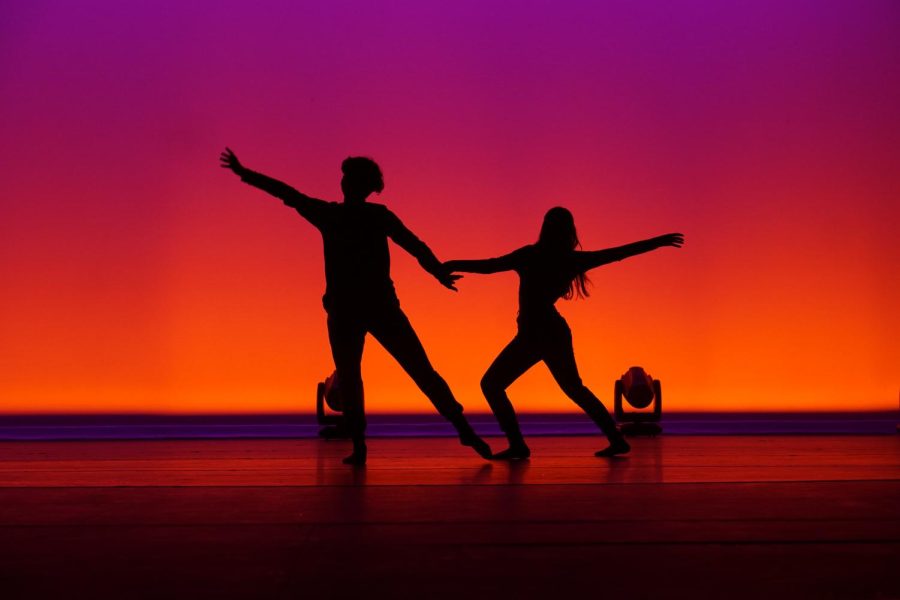 DYNAMIC DUO: Kathryn Dooley and Tyler Mankinen perform their duet as part of the larger group number, "SHEEN." Dooley and Mankinen met while performing in middle school theatre, and since then, have performed in many other McCallum productions together. "It's been great to continue dancing with him and watching him grow," Dooley said. For Dooley, the joy of dancing with Mankinen transcends just their long history. "He is so committed and hardworking," Dooley said. "He also has such a beautiful style when he dances and I love working with him." Reporting by Alysa Bijl-Spiro. Photo by Madelynn Niles.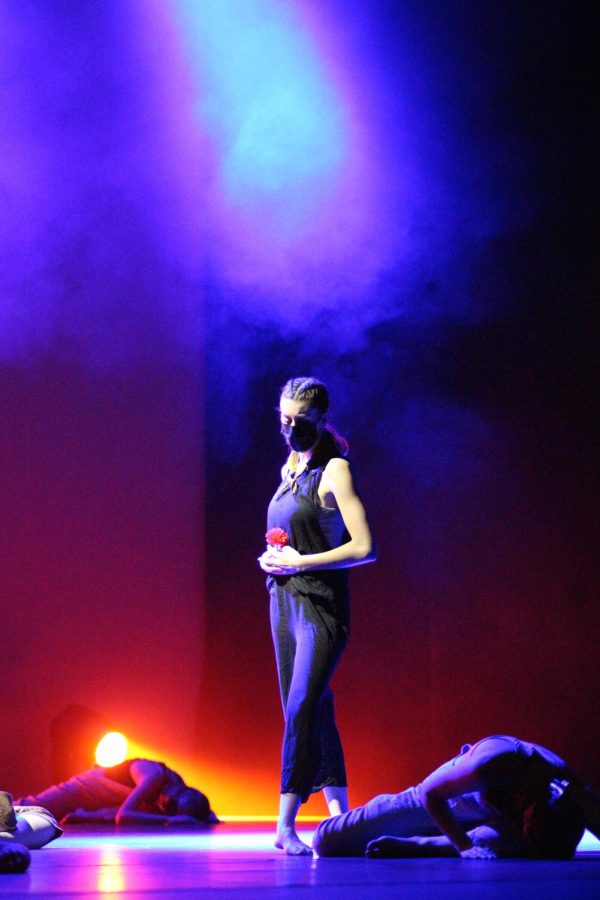 ROSES ARE RED: Freshman Eva Southerland stands holding a rose in the final moments of the intermediate piece "Rebel Red." The piece was inspired by a moment in the contemporary musical "Hadestown," a tale of Orpheus's journey to the underworld to save his love, Eurydice. Southerland played Eurydice in this piece, and she valued her moment in the spotlight. "I wanted to give the audience as much emotion as I could to set the mood of the piece," Southerland said. "This moment represents me tapping into the story of Hadestown and taking a moment of stillness." Southerland was personally inspired by the narrative of the musical, and she drew inspiration from it for her performance. "One of my favorite parts of dance is being able to express how you feel personally through a story," Southerland said. Caption by Samantha Powers. Photo by David Winter.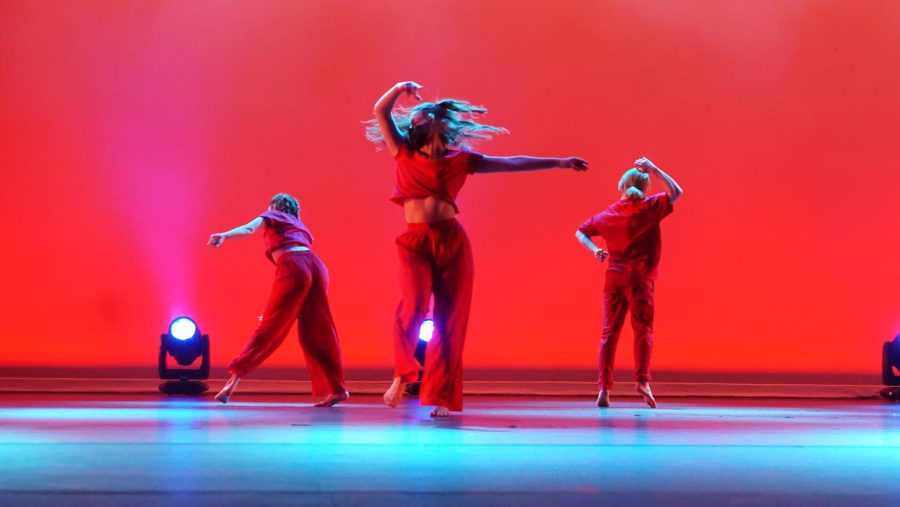 NEW YEAR, NO FEAR DURING SENIOR YEAR. Senior Annabel Winter performs center stage during the closing piece 'New Year, No fear' with the pre-professional group to end the "Breaking Ground" winter dance concert. According to Winter, the number was particularly special because of her connection with the choreographer Alyson Dolan. "I've gotten to work with the choreographer since seventh grade," Winter said. "She choreographed two pieces for us at Lamar and one freshman year at McCallum, and it's great to see how we have evolved as dancers since then." Winter sees progression as an outlet for newfound creativity. "When we were younger, she mainly just set choreography on us, but now that we are older and have grown as dancers, Alyson has given us way more creative freedom." Many of the dancers in the Pre-Professional group have been together since middle school and have collaborated on numerous pieces over the years. "I love to see these dances get more and more intricate as we grow up," Winter said. It felt like a full-circle moment to be able to work with her one last time. Even though the number was really long and was difficult to rehearse, it was exciting because every time we did it, the piece was different." Caption by Grace Nugent. Photo by Dave Winter.
BREAKING GROUND FOR A NEW BEGINNING: In 2020-2021, the McCallum dance department put on a winter dance show on the outdoor stage to display the students' work after rehearsals on Zoom. Current junior, Molly Holder performed in that show. "(We) had very little time to put it together, all around it was rushed and messy," she said. According to Holder, practicing in person for the new show made coordination and understanding much easier as a whole. "We wanted it to blow away the (shows) of the past by doing something never done before by breaking boundaries as well as expectations," she said. Caption by Julia Husted. Photo by Madelynn Niles.