MacTheatre dives deep into 'The SpongeBob Musical'
Despite show's difficulties and several setbacks, unified cast proves unsinkable in its opening weekend
Sophi Beardslee, Francesca Dietz, Evelyn Griffin, Eliza Jensen, Sophie Kessler, Sophie Leung-Lieu, Lucy Marco, Devin Neal, Madelynn Niles, Caroline Owen, Samantha Powers, Alice Scott, Lanie Sepehri, Ingrid Smith, Alysa Spiro, and Kennedy Weatherby
September 14, 2021
MacTheatre took a dive into the pineapple under the sea in their opening production of The SpongeBob Musical. 
Director Josh Denning saw the overall vision of the musical from casting the actors, to opening night last Thursday. His main focus was the message he wanted to convey within the performers and audience, and how these objectives would add to the turnout of the production. 
"It's quite a difficult show with some really hard moments," he said. "It was a very big accomplishment, and I am proud of how we were able to pull it off with all the setbacks and challenges we faced." 
Denning was most proud of the execution of the show, especially during the pandemic. Rehearsals began during the summer and have continued to create rigorous work for the cast and the crew. 
"Special effects and crazy costumes made it a lot of show," Denning said. "We've still handled it well." 
The SpongeBob Musical will continue its run this Thursday through Sunday and next week with a closing show on Sunday the 26th.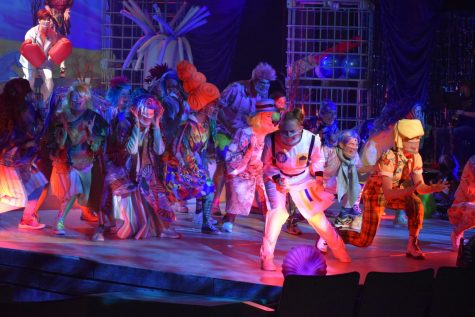 GROUNDBREAKING STAGE PRESENCE: At Wednesday's dress rehearsal before opening night, the cast of The Spongebob Musical and the citizens of Bikini Bottom panic as the ocean floor rumbles due to an impending volcano eruption. The eruption, sure to have disastrous effects, caused chaos amongst the fish and led to SpongeBob's high-stakes mission to save the place he calls home. Sydney Safarik, who plays Buster Blue Tang and the French Narrator, mentioned that the cast practiced timing their screams in order to make the scene as entertaining as possible. "In the moment I was really channeling just pure terror and high stakes and wanted to convey to the audience how the silly Bikini Bottomites responded to their world ending," she said. "I was thinking about how scared I was and worried about my home." Reporting by Ingrid Smith. Photo by Caroline Owen.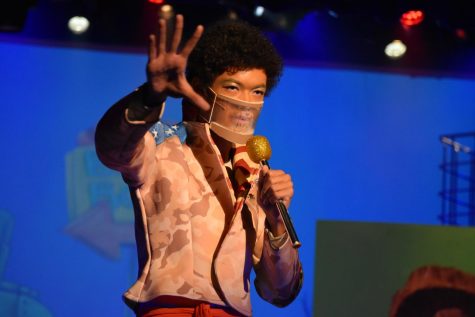 RANS READS REPORT: During the Wednesday dress rehearsal for MacTheatre's production of The Spongebob Musical, senior Griffin Rans gives the fish of Bikini Bottom a news report as Perch Perkins. He is the bringer of bad news, inciter of riots, spreader of misinformation, and Rans has enjoyed every minute of his time in character. "He's super strict but funny at the same time," he said. With the first week of shows over, Rans is satisfied with how he and his castmates have done, claiming that "the only thing that needs improvement is our audience engagement." Throughout the show, he and the cast interact with the audience, dancing and singing in the aisles and sometimes even breaking the fourth wall mid-monologue to crack a joke or catch a rogue pirate. Rans loves this about The Spongebob Musical and hopes the next people to see it will embrace its weirdness and join in on the fun. "You're supposed to laugh, get up and dance, interact with us," he said. "Join us in Bikini Bottom!" Photo by Caroline Owen. Caption by Evelyn Griffin.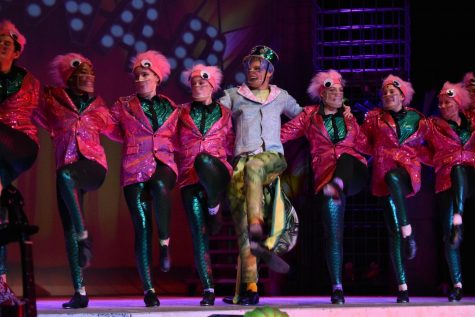 KICKIN' IT: As part of the sea anemone chorus, junior Kathryn Dooley dances in the kick line during Squidward's tap number, "I'm Not a Loser." Dooley enjoyed the number because it added a different style of dance to the show and highlighted the different dancers' talents. "It's one of my favorite numbers in the show because it's so high energy and I love tap dancing," Dooley said. "We worked so hard to get it right and I think it really paid off. We cleaned it for weeks and I'm really proud of how it turned out! We have such incredible dancers and it also really showcased Anderson off, he does a great job!" Photo by Sophie Kessler. Caption by Alice Scott.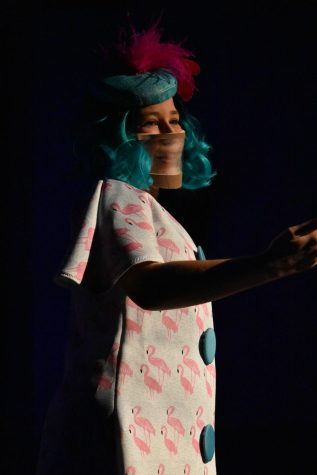 THE SHOW MUST GO ON: Sophomore Alice Scott, who plays the role of The Mayor in The Spongebob Musical, delivers her line on the opening night of the production. Opening night was a success, but it was not without incident. After the first number of the show, Scott's castmate Salem McFadden was no longer able to perform their role as Larry the Lobster due to a sprained ankle. Luckily, assistant director Finn Higginbotham stepped in and, with the help and direction of Scott, was able to finish out the show. "It wasn't the opening night I was expecting," Scott said. "I think it actually worked out pretty well, [Finn] did a good job and caught on quickly." Reporting by Kennedy Weatherby. Photo by Sophie Kessler.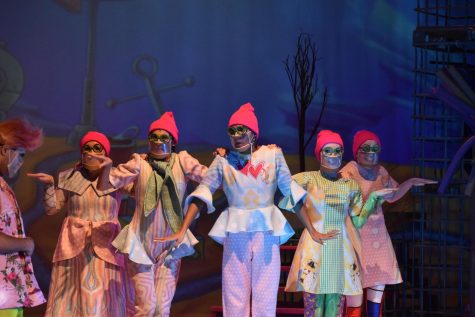 SINGING SARDINES: Bobby Currie stands front and center in the pack of the Patrick Star-worshipping sardines as they begin their number. "So we're running up to Patrick, played by Kuper Zahn, and we're like, 'Patrick Star, we worship you, we love you,'" he said. Currie enjoys being a sardine because of the variety of talents that it entails. "I like it a lot because it's a small group where we each have a little bit of singing solo, dancing solo or acting solo," Currie said. "It's cool because it's such a funky show and it's just a crazy out of the box character that I get to play." Photo by Caroline Owen. Reporting by Lucy Marco.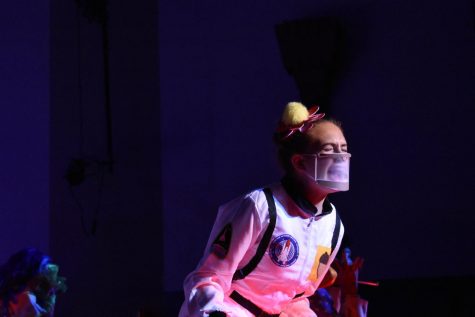 SANDY SCREAMS SOLO: Playing the role of Sandy Cheeks, Senior Amethyst Mellberg-Smith screams that the end is near on opening night of the fall musical. For Mellberg-Smith, the best part about SpongeBob is the tight-knit community — something she feels sets this musical apart from others at Mac. "We're all just really supportive of each other," she said. "In past years, each grade felt very divided, but with this show, no matter what grade you're in, you feel included and a part of the team. Some of my best friends on the cast are sophomores, which feels unheard of." Bringing the magic of Bikini Bottom to life, too, is among Mellberg-Smith's favorite parts about the show. "It's so surreal," she said. "Watching little kids look up to me and being able to give them this incomparable experience of talking to a cartoon character they love is such a unique experience and it makes me so happy." Photo by Sophie Kessler. Reporting by Madelynn Niles.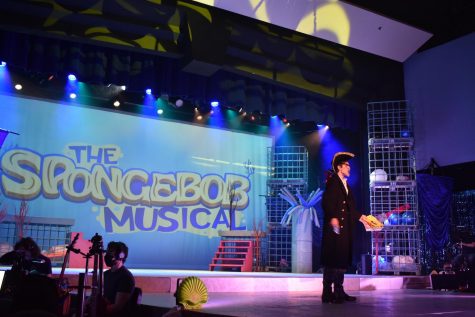 BEHIND THE SCENES: Sophomore Coco Gravois is the assistant stage manager of SpongeBob's production. As the Deck manager, she assures that everything goes smoothly during the rehearsal and show process, as well as other duties that improve the show backstage and on stage. "My favorite part was getting to see the show transform, as we introduced new technical aspects, choreography, and songs," said Gravois. "It looked really good, seeing everything come together." After long hours of rehearsals, Gravois finally saw the hard work pay off. Photo by Caroline Owen. Caption by Sophie Leung-Lieu.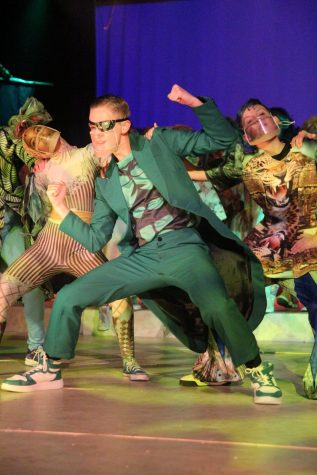 PLAYING THE VILLAIN: With the power of rap and hip hop on his side, senior Tristen Gilley as Plankton announces his master plan to hypnotize the Bikini Bottom residents into loving his chum burgers. In this number, Plankton enjoys a brief moment of power before his inevitable doom. "Plankton really believes he finally formed a scheme that'll work," Gilley explained. Being the antagonist can be difficult, but Gilley enjoys the artistic challenge. "Playing antagonists/villains/evil geniuses is the best," Gilley said. "I've been given so much room and freedom to make the character my own, which is pretty awesome." Reporting by Alysa Spiro. Photo by Meredith Grotevant.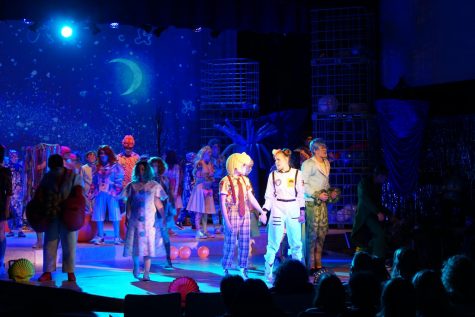 ONE DAY MORE: Seniors Jessie Lucas and Amethyst Mellberg-Smith make a final stand to save Bikini Bottom in the Act I finale, "Tomorrow Is." Lucas, who played the titular role of SpongeBob, was touched by the song, which takes place with only one day left to save the town from an imminent volcano apocalypse. "It kind of reminded me of how I interacted with friends at the beginning of the pandemic," Lucas said, "before we really knew what was going on. Having that experience myself really helps me play that scene as honestly as I can." Photo by Devin Neal. Caption by Lanie Sepehri.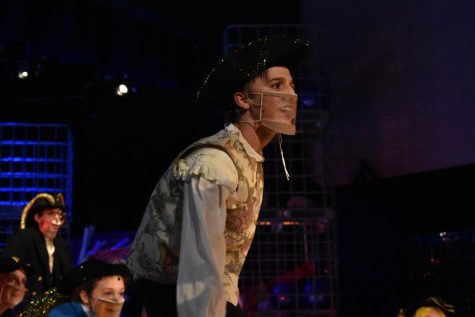 PERFORMING IS H-ARRR-D: Senior Arlo Sever, puffy pirate sleeves and all, warns the audience of the trifles of being a pirate during "Poor Pirates." Though Sever has a smile on his face, he experienced some on-stage jitters on opening night that were compounded by the show running less than smoothly behind the scenes. "[Being onstage] was very frightening, which gave me a lot of adrenaline," Sever said. "I also got an extra rush of fright from watching a cast mate sprain their ankle in the first number." Though things might have been hectic backstage, Sever was still able to have fun performing in SpongeBob. "It's a very bright and fun musical, which differs from some other musicals performed in years past," Sever said. Reporting by Samantha Powers. Photo by Sophie Kessler.