Diving deep with Madi Baylor
Senior swimmer sees positive in everything, even pandemic
Lucy Marco, online co-editor in chief
January 8, 2021
Madi Baylor has been a swimmer for practically her whole life. It's no wonder then how much she has been shaped by the sport. Competitive swimming has taught her time management, a strong work ethic and just how much she can achieve when she puts in the effort. Baylor's dedication towards swimming, even in the face of COVID, has fueled her success and the significant progress that she's made as an athlete and as a person.
A senior, Baylor has been a club swimmer for seven years (she swims for Longhorn Aquatics) and for the past four on the Mac swim team. Her swimming career all started at her neighborhood summer league team.
"
I've definitely learned how to be more appreciative and empathetic, especially for others' safety, because of COVID."
— senior swimmer Madi Baylor
"Growing up, my parents always said that I loved the water," Baylor said. "Me and my brothers took swim lessons at a pretty young age, and the instructor told my parents about competitive swimming because she thought it would be a good fit. I just kind of took that leap of faith and decided to try out for the summer league team closest to my house, and I guess the rest is history!"
One of Baylor's proudest achievements was competing in the state meet her junior year at the Lee and Joe Jamail UT Swim Center.
"Only the top two [swimmers] at regionals in any given event automatically advance to state, and I got sixth in the 100 fly so there was a lot of researching, crunching numbers and looking at different regions to see if I was going to get a call up spot," Baylor said. "After a couple days, the official list came out, and it was such a good feeling to know that I earned a call-up spot and was going to swim at state for the first time."
Qualifying for state that year was a dividend for Baylor's many hours of practice and years of hard work.
"I think that it made me the most proud because it felt really validating, like all of my work and time put in was worth it," she said.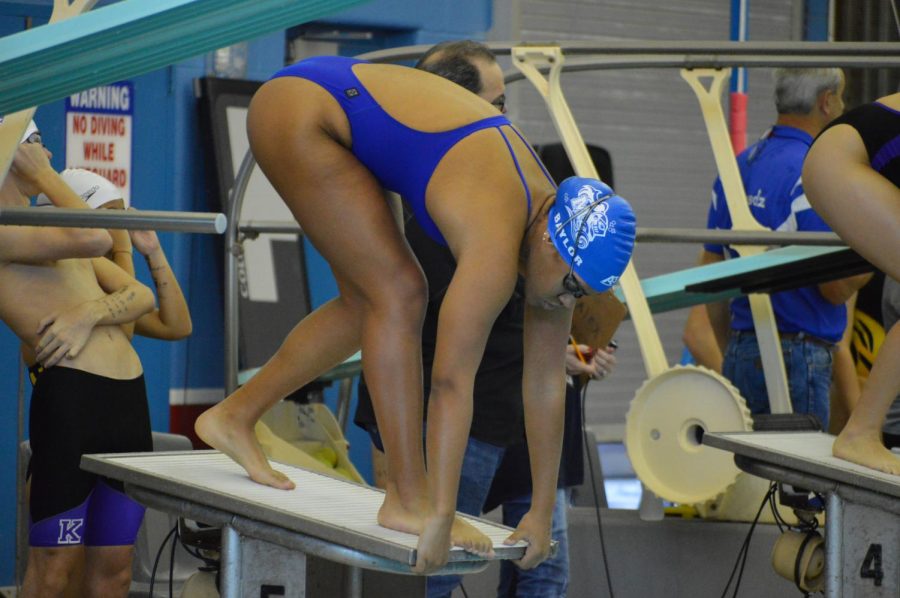 Baylor said that the group of Mac swimmers that qualified for state was amazing. She and then-sophomore Zoe Lynch were the only girls to qualify.
"It was so awesome to have a friend [also qualify]," Baylor said, "and someone who had been through the whole meet before, because it's a crazy meet."
Although the meet was bittersweet, since it would be her last time swimming with some of her graduating teammates, Baylor's pride in her team overshadowed the other emotions.
"
Wherever I end up, it'll be for the right reasons and where I feel most comfortable."
— Madi Baylor
"It was so awesome to see all of my teammates, whether it was also their first time at state or their last, come together and perform at such a big and exciting meet," Baylor said. "It was a super proud moment for me and for the team. All credit goes to my teammates for making that meet so much fun and exciting, they're all awesome people and swimmers."
Anyone who thinks competitive swimming is fun and laid-back is misinformed. Not only is it physically vigorous, but Baylor said it's also a big commitment to undertake.
"The hardest part [of swimming] is probably the time commitment. Whether it's in the water or on dry land or just waking up super early, we spend so much time focused on the sport as a whole."
Though this commitment may be difficult at times, Baylor stays grounded and optimistic through frustrating situations.
"For anything, where I notice that there are flaws and something could change, I try and focus on everything good that is coming out of the situation at the moment, rather than dwelling on everything that I wish I could change," Baylor said.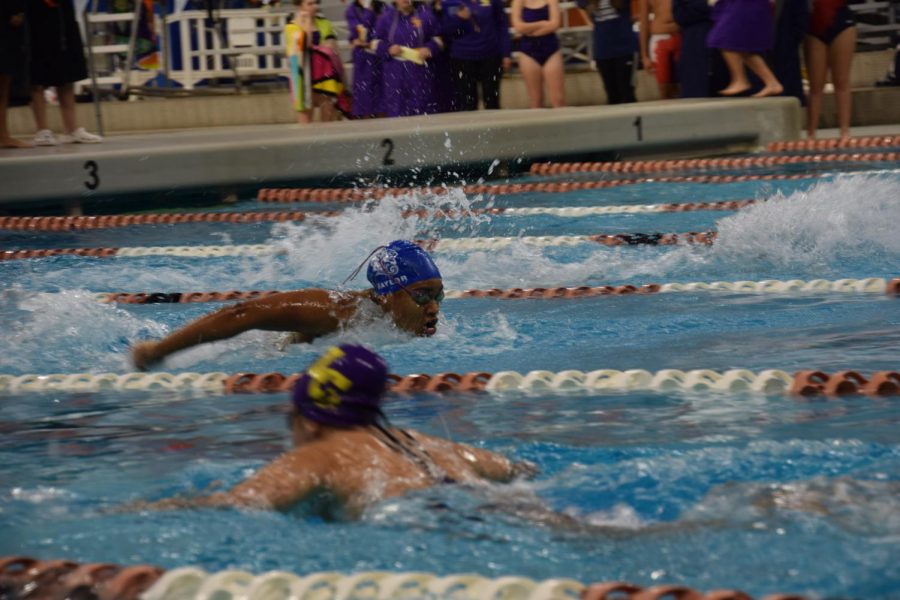 COVID has completely transformed Baylor's time as a swimmer this year. Though it took a while to get back into the groove of using the pool again, Longhorn Aquatics, or TXLA, is open again, now with temperature checks before entering, required wearing of masks until the very last moment out of the pool, social distancing on deck and a limited amount of swimmers per lane.
"With TXLA, we normally swim through the summer, and this year we did not swim during the summer at all, which was super different and odd," Baylor said. "Because of this, I sought out other places to train, with different coaches, different pools and different training types so in that way it was kind of fun to switch it up and see what worked for me and what didn't, while staying safe."
"
I think that [qualifying for state] made me the most proud because it felt really validating, like all of my work and time put in was worth it."
— Madi Baylor
Having no one in the stands watching her and her team compete this year has also been a big adjustment.
"Club meets would normally have hundreds of kids, and the stands would be full," Baylor said. "Now when we have a meet it's just intrasquad and only volunteers are allowed, no spectators."
The McCallum swim team's COVID restrictions are about the same her club's.
"Both programs are being super safe and taking all the right precautions in my opinion," Baylor said. "Meets are a whole other story, it's so odd to wear masks right until your race and when talking to coaches."
Although the pandemic has somewhat impeded opportunities for swimmers to grow as a team, Baylor feels that she has learned and grown a lot in spite of and because of it.
"One thing about COVID in relation to swim as a whole, is that I've become so much more appreciative for what was once such a small concept like getting to use the pool and swim, or using locker rooms," Baylor said. "So in that way, I've definitely learned how to be more appreciative and empathetic, especially for others' safety because of COVID."
Besides being a committed and successful athletic swimmer, Baylor likes to make time to hang out with her family and friends, as well as napping, listening to music and baking.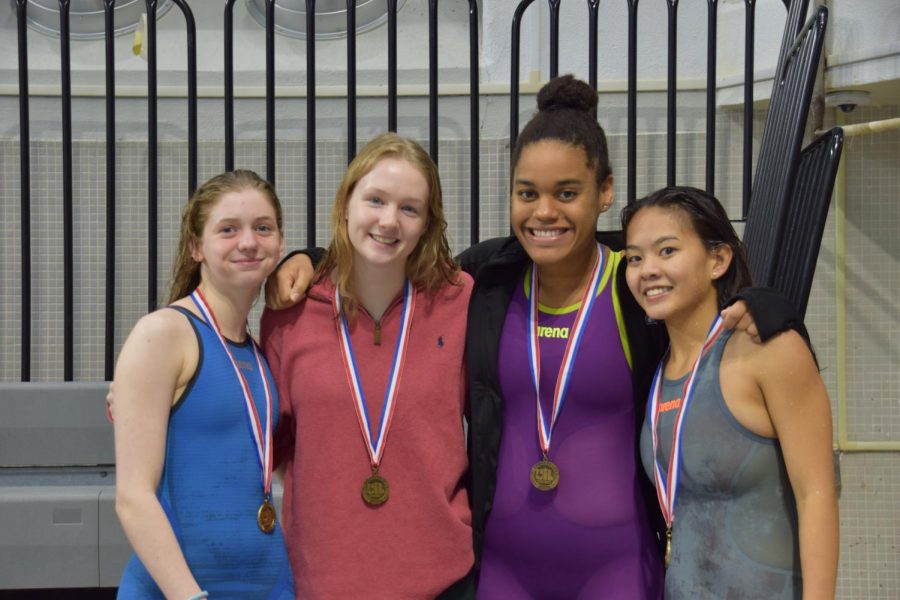 "I love to spend time with my friends," Baylor said. "I know everyone says it, but I seriously have the best friends ever, so I try and spend any free time with them. I also happen to have the best family ever, so whenever I can just chill with my parents and brothers, I'd say that's a pretty good day!"
As far as college goes, for the moment, Baylor isn't sure where she'll end up. She does know, however, that she will continue to compete and grow as a swimmer wherever she attends college in the fall.
"I know wherever I end up, it'll be for the right reasons and where I feel most comfortable," she said. "I'm very excited to commit and know where I'm going to train and study for the next four years of my life."
As for the previous four years, she would not have missed them for the world. Baylor advises freshmen considering joining a swim team to steel up and go for it.
"I would say that although it definitely seems scary–I've been there before, trust me. It's really scary at first.–making that choice is one of the best decisions you can make. In anything new, taking the leap of faith to try something new can be super scary and different but swimming is one of those choices that has such a big pay off and will change your life for the better."