Knights fill the campus on first day of school
After a year where in-person attendance never exceeded 500 students, Mac was teeming with student life on Day 1
Lukas Bednar, Sophie Leung-Lieu, Lucy Marco, Madelynn Niles, Grace Nugent, Charlie Partheymuller, Lauren Potts, Samantha Powers, Alice Scott, Lanie Sepehri, Ingrid Smith, Alysa Spiro, and Francie Wilhelm
August 17, 2021
Since going virtual in March of 2020, McCallum has finally welcomed back the full student body to an in-person education experience. Between four classes, two of which had not attended Mac in-person before, Chromebooks were assigned, senior's last first day of school pictures were taken and lunch was enjoyed with friends. Students were able to meet face to face with counselors, ask teachers for directions, and not be confined to a black box on a zoom screen. 
A day in the life of Mac has returned to its home on Sunshine Avenue.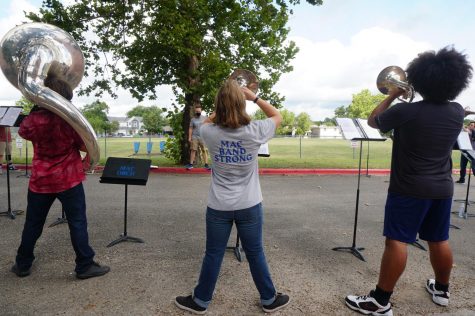 BRASS BAND TOGETHER: Sophomore Charles Kerr and juniors Hank Kirby and Anthony Clements rehearse their marching band UIL competition music in first period Wind Ensemble. For Kirby, being back at in-person rehearsals has been a game-changer. "I have loved being able to actually hear real ensemble sounds," Kirby said. "Hearing all the instruments playing together instead of being on Zoom hearing only myself is much better." Seeing other students, too, was a highlight of Kirby's first day back. "It was just really refreshing to see and interact with real people and talk face to face with friends," he said. "I hadn't really realized how sick of being online I had gotten until today." Photo and reporting by Madelynn Niles.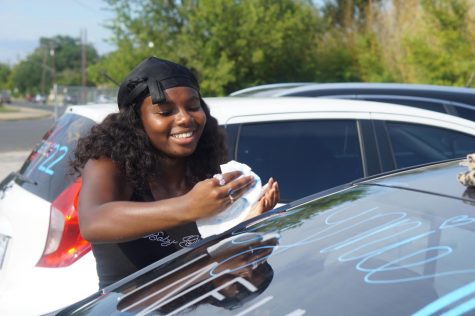 WAX ON WAX OFF: Senior Wynter Winston erases some shoe-polish calligraphy she drew on her car at a celebratory car-decorating senior meetup. "This is me erasing my ugly handwriting so Bridget Cole could rewrite it for me," said Winston, who added that being a senior "feels good, just takes some time getting used to." Caption by Lucy Marco. Photo by Dave Winter.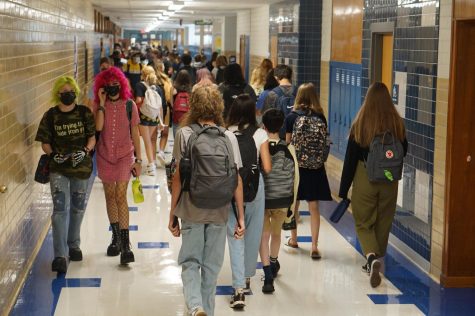 CROWDSOURCING: Arwen Frederiksen (far left) walks down the hallway before school starts to re-familiarize themselves with the campus. "[The hallways] were definitely busier than I expected," Frederiksen said. After almost a year and a half of virtual learning, Frederiksen expresses how they are simply happy to be around other people once again. "I haven't seen a bunch of my just school friends in forever," Frederiksen said. "It was great." Reporting by Alysa Spiro. Photo by Dave Winter.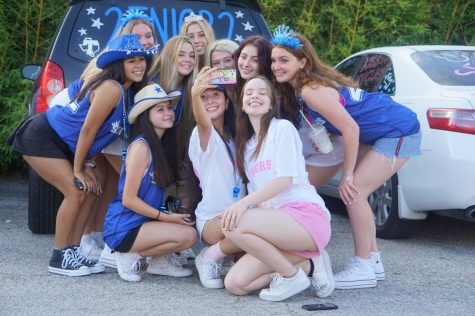 THE LAST DANCE: On the last day of their summer vacation, the Blue Brigade seniors carried on the tradition of decorating their cars to start their senior year. The tradition continued at sunrise prior to the first day of school when they met back at the senior parking lot wearing senior girls jerseys. "It was so fun to decorate our cars and see our friends again," senior Sarah Crow said. Reporting to Lukas Bednar. Photo by Dave Winter.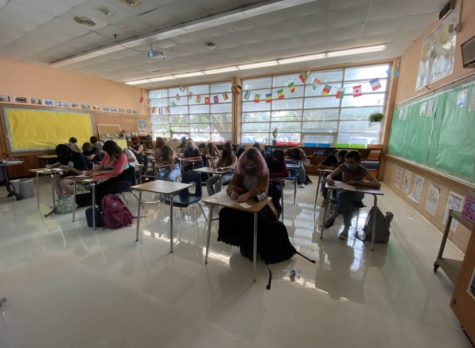 BIENVENUE A L'ECOLE: French 1 students in Charlotte Favrin's third period work on a questionnaire, which included standard first day of school expectations and a few questions about French mixed in. Sophomore Estelle Correa expresses how she is excited to take French because of how the language sounds., "French is a pretty language so I wanted to try and learn," Correa said. Photo by Francie Wilhelm.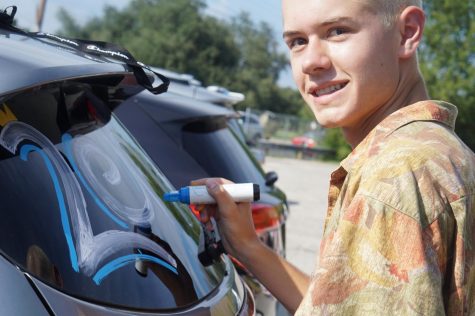 HEAT CHECK: Visual arts major Gage Sanchez was among the seniors who met in the sweltering heat Monday afternoon to decorate their car windshields together to get ready for the first day of the school on Tuesday. Seniors showed out on a sweltering Monday afternoon to prepare for their last, first day of school, decorating their cars with phrases like "SKA" (seniors kick ass) and "2ENIOR2" for their graduating year of 2022. "Senior year has been great so far," Sanchez said. "I'm just glad that we're able to celebrate our senior culture and socialize with everyone again." Reporting by Charlie Partheymuller. Photo by Dave Winter.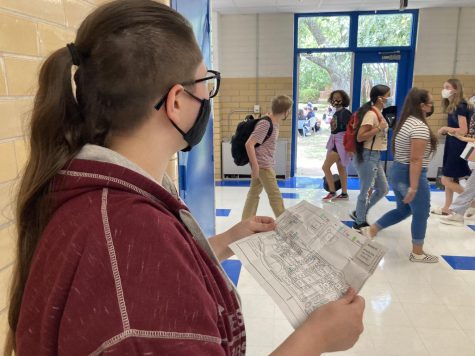 THE KEY TO A LEGEND-ARY FIRST DAY: Sophomore Sofia Rios uses a color-coded map to find her seventh period class. There was some confusion in the McCallum hallways today as freshmen and sophomores alike set out to explore the school's hallways for the first time. "This year as a sophomore, I'm basically a freshman," Rios said. "There's a lot of asking people questions and just being confused." Photo and reporting by Ingrid Smith.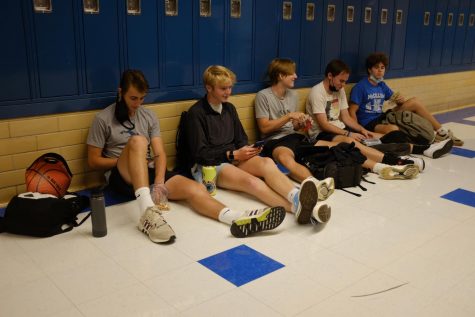 FIRST-DAY FEAST: Junior Sam Kanewske settles in to eat lunch in the hallway with friends amid a hectic first day of school. Kanewske was happy to return to campus for the first time since his freshman year was cut off in 2020. "It felt really good to be back to normal in-person learning," he said. "It was really nice to be able to be with my friends again in a safe environment." Kanewske feels well protected because of the COVID protocols that McCallum has in place this year. "The seating charts, mask requirement, and spacing in the classrooms made me feel safe," he said. Reporting by Samantha Powers. Photo by Jena Weber.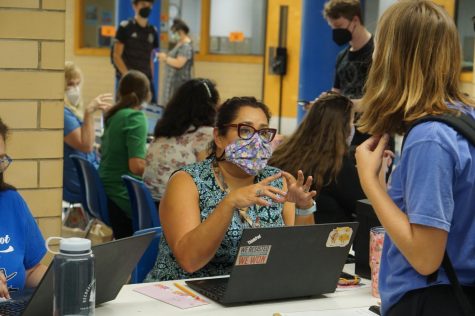 ON SCHEDULE: Counselor Cristela Garcia advises junior Parker Mitchell at the counselor's table set up in the main hallway during lunch. Mitchell came to the table because she had no class schedule for second period. Despite the scheduling hiccup, Mitchell still expresses her excitement to be back at school.  "My favorite part about being back on campus is being able to see people I haven't seen since before the pandemic and being almost back to normal," Mitchell said. Reporting by Lauren Potts. Photo by Dave Winter.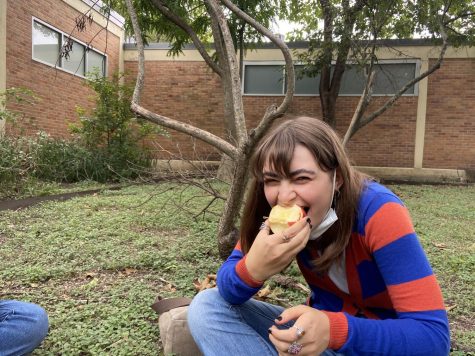 OUT TO LUNCH: Sophomore Edie Birkholz laughs while biting into an apple at lunch. For Birkholz, lunch hour provided a much needed respite from the chaotic school day. It also provided a time for students to catch up with friends and see familiar faces after a year of Zoom education. "Lunch is fun because you get to interact with the environment around you and also see all the social groups that weren't visible during online school," said Birkholz. "Last year, lunch was simply a break from the computer; this year it's an opportunity to experience the company of others and actually enjoy yourself during off time." Photo and reporting by Lanie Sepehri.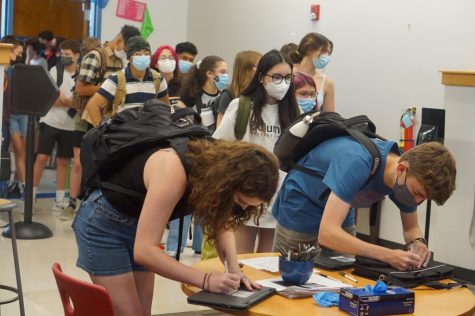 CHROMEBOOK CRAZE: The rush of students requesting new Chromebooks before school was so intense that librarians Jain Thompson and Annie Bedard enlisted the aid of Fine Arts Academy assistant Tonya Moore for the lunchtime distribution. Even with Moore's help, the line of Chromebook seekers flowed outside the library well into the main hallway. "Annie and I checked out 255 Chromebooks in one day," Thompson said. "That's crazy!" Photo by Dave Winter.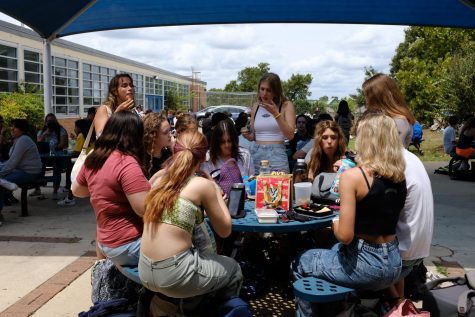 DINING OUT: Juniors Molly Holder, Anasofia Eyman, Sofia Ramon, Hana Diamond, Charlotte Blackman, Chloe Anderson and Ethan Kulhken spend the lunch period in the breezeway courtyard. More outdoor seating options have been sprinkled around campus including new benches and chairs to encourage students to dine in the outdoors. Reporting by Grace Nugent. Photo by Jena Weber.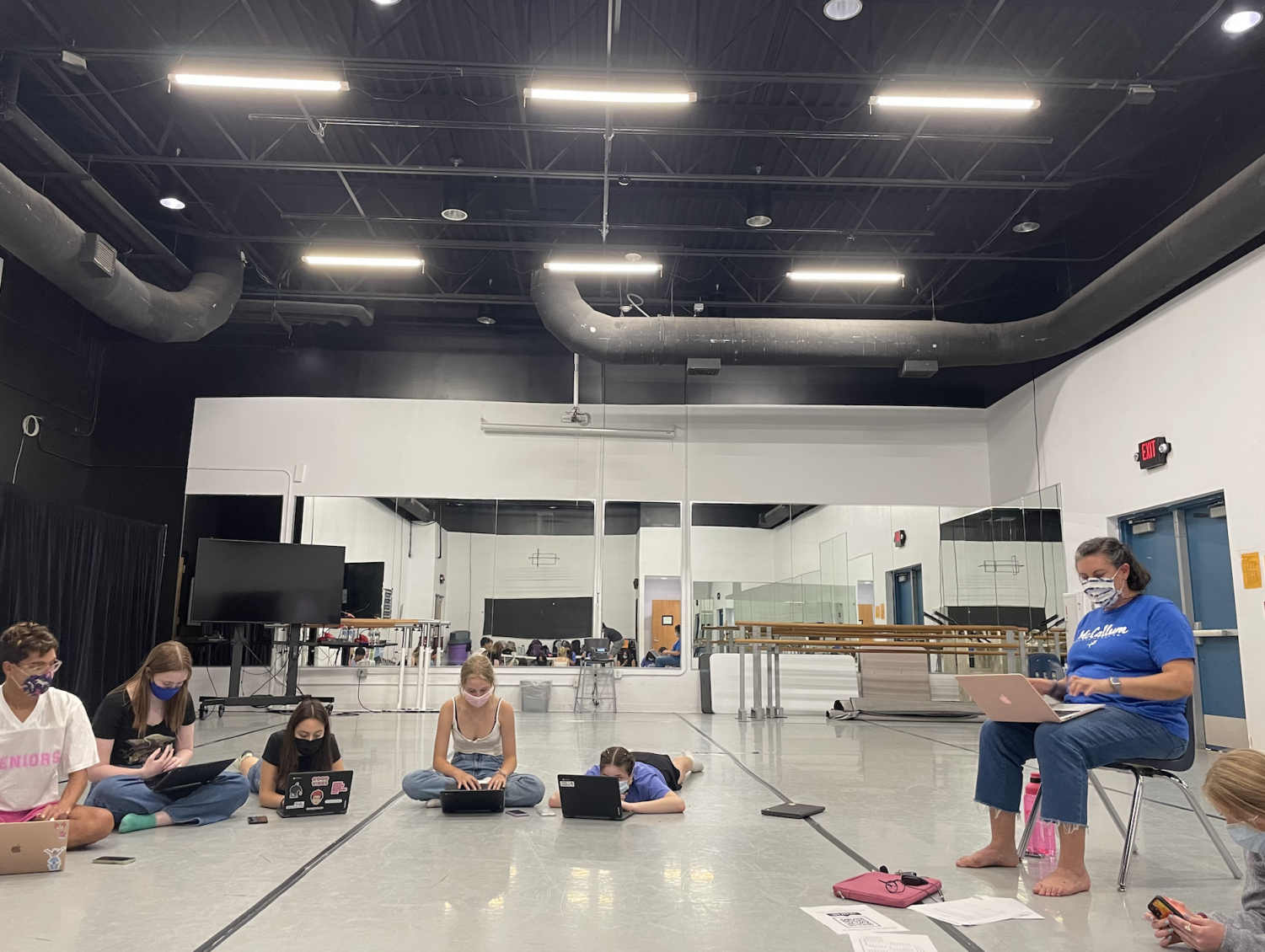 HEART, POWER, & COMMUNITY: Sophomore Gabriella Smith and her peer Intermediate dance majors review the syllabus and indulge in this year's theme for the fine arts dance program: Heart, Power & Community. For Gabriella Smith, the community aspect of in-person learning is important. "I do better around others," Smith said. "I missed working alongside my friends." For their first class in the black box, the intermediate dance class also studied the expectations and procedures for the year and got to know each other more. "I liked having conversations with Ms. Nat and my classmates," Smith said. Photo and reporting by Sophie Leung-Lieu.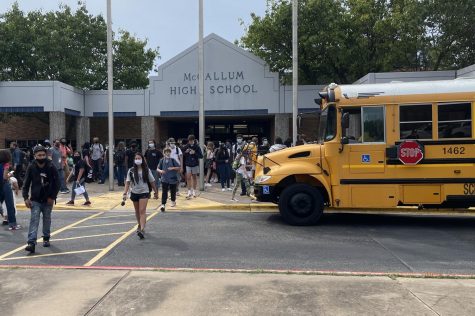 DAY ONE DOWN: McCallum students exit campus after the school bell rang at 4:35 this afternoon, marking the end of the first day of entirely on-campus school since the beginning of the pandemic. For some, the transition from virtual school was difficult because it posed different challenges for students. "The first day of school was exhausting because I haven't been around that many people in so long," Sophomore Naomi Pearson said. "I think I hit my limit of people at the beginning of second period. I think it will take a lot of adjusting." Photo and reporting by Alice Scott.