Students stage benefit concert to honor Myers' impact
Benefit fundraiser for Refugee Services of Texas also a sendoff for a teacher who taught from the heart, showing students how to believe in themselves, each other
Outgoing English teacher Daniel Myers wasn't sure what to expect when students approached him about staging a benefit concert to honor his time at the school and raise money for Refugee Services of Texas.
He wasn't sure where the concert would be or who would come.
As he left his classroom for the concert on the Thursday before spring break, his last day at Mac, he stopped at the solar classroom, which had been the site of previous charitable fundraisers organized the group of students putting the concert together: juniors Alex Gold, Max Yehaskel and Arthur Zimmerman.
Realizing the concert was happening elsewhere, Myers and the smattering of students he found there headed over to the outdoor stage.
Myers said the crowd was three times larger than he anticipated. Both Myers and Yehaskel would say afterword that concert exceeded their expectations.
"What can you even say?" Myers told MacJournalism earlier today. "Every teacher should leave in the middle of the year. I felt special. It was made visible the impact that I have had on students. No one gets that kind of sendoff. It's not how it works, but maybe it's how it works every now and again."
Myers started his new University of Texas job on Monday. He works at E4 Texas, an organization that helps intellectually disabled people learn the vocational and life skills they need to be independent and have careers.
If it's not exactly the role he carved out for himself at Mac, it has distinct similarities as you will find out by reading the captions in this week's Tuesday Top 10.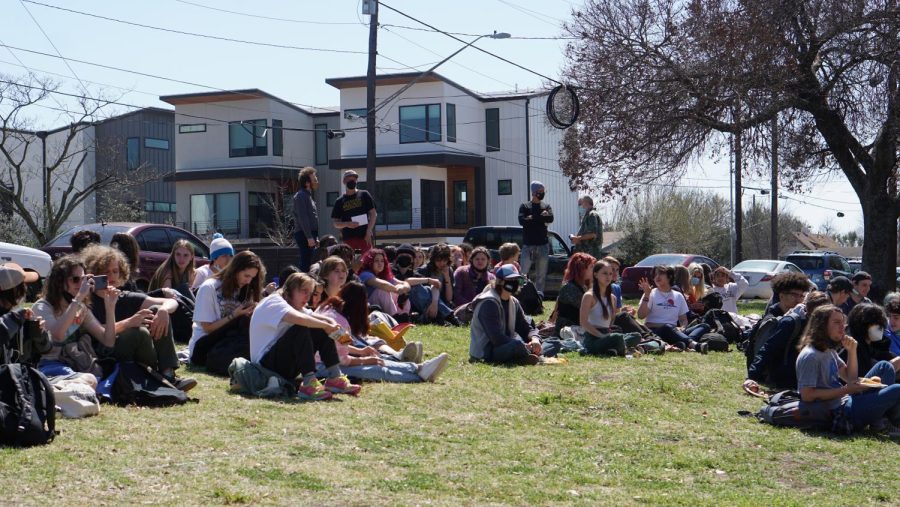 McCallum students gather outside during lunch to hear band students play live music on March 10. The event had been organized in an effort to commemorate Mr. Myers's last day at McCallum, and to help the Refugee Services of Texas through donations. Myers said the event was much larger than he expected it to be. He thought maybe 40 kids would show up and about three times that many gathered by the outdoor stage. "I felt appreciated," he told MacJournalism. "It was the most meaningful work I got to do working with these kids," he said of his time at Mac. "I'm going to miss it." Caption by Grace Vitale. Photo by Xel-Ha Montejano.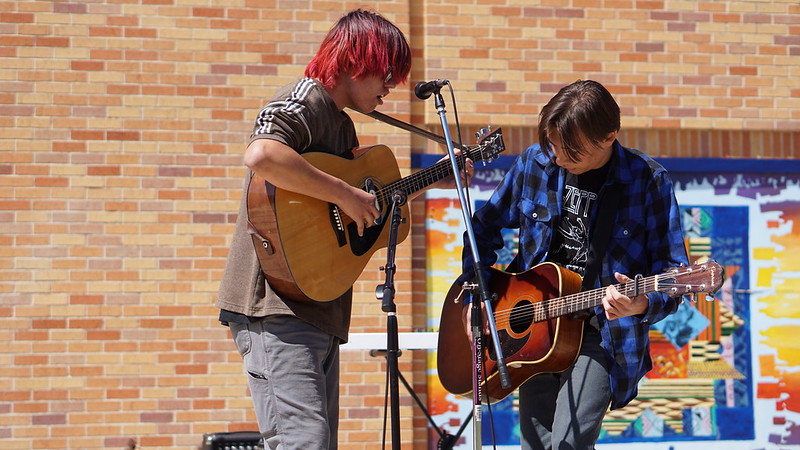 BALLADS AND BLUES: Sophomores King Perez-Cude and Joaquín Frazier, from the student band Red River Trucking Company, play a set of country-rock tunes, including traditional bluegrass tunes, Chris Stapleton's "Midnight Train to Memphis" and an original song called "Ballad of an Outlaw Fugitive" at the Mr. Myers send-off concert. "We're a rock band usually, but we have a lot of old school country and blues elements, so we decided to go acoustic," Frazier said. He describes their style as complicated. "We're kind of all over the place, but I would say blues or southern rock with some serious country and psychedelic influences," Frazier said. Although he never met Mr. Myers, Frazier wanted to perform in honor of him. "[I] never got to know Mr. Myers, but I've heard great things he had done for our friends, and we wanted to play in honor of him," he said. "We put together a short set together the night before and decided to go for it." Photo and reporting by Lucy Marco.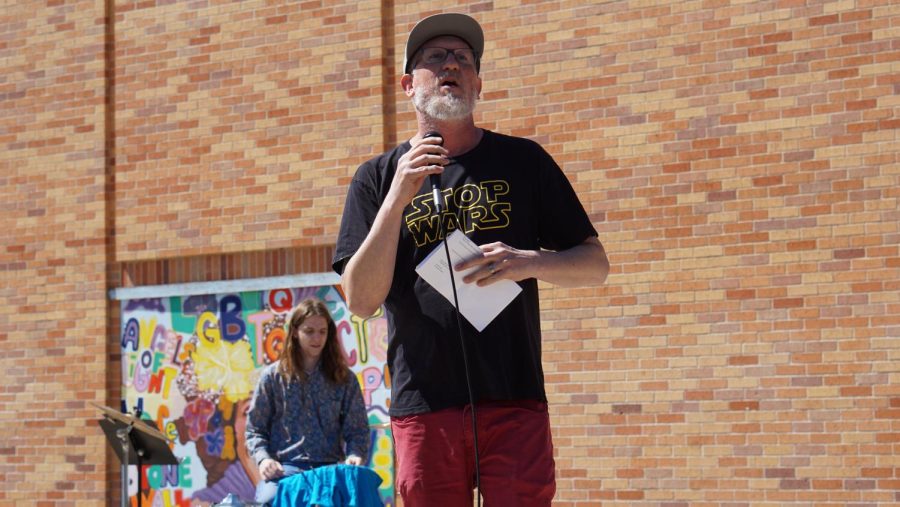 HEARTFELT FAREWELL: During Mr. Meyer's farewell concert, emotions were high as his students gathered around to hear his speech and as some students said their final goodbyes. During his speech, he thanked his students and let them know he truly enjoyed his seven years at McCallum. Junior Luke Stojanik, a former student of his, will deeply miss Meyers. "Mr. Meyers was one of my favorite teachers," Stojanik said. "He was understanding and easy to talk to with a unique teaching style that let students express themselves in their own way, and I'll truly miss him." Caption by Xel-Ha Montejano and Lucy Marco. Photo by Xel-Ha Montejano.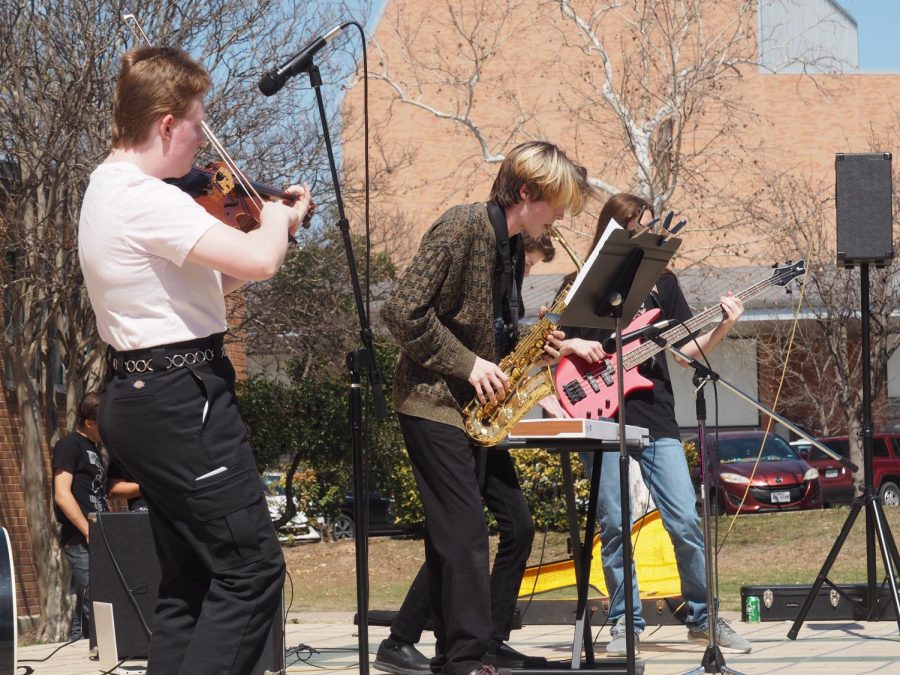 UNCLE-APPROVED: Center stage on alto sax, senior Will Sharp performs alongside other members of Uncle-Approved at the Myers send-off concert. Although the performance was semi-spontaneous, Sharp feels that the group hit their stride for the show. "We had hardly ever played together before, so learning two pieces was incredibly difficult," Sharp said, "but everyone in the group is so talented that it wasn't really too big of an issue." For Sharp, the performance was an opportunity to honor Myers and get into a musical groove. "We were just vibing," he said. Caption by Madelynn Niles. Photo by Lucy Marco.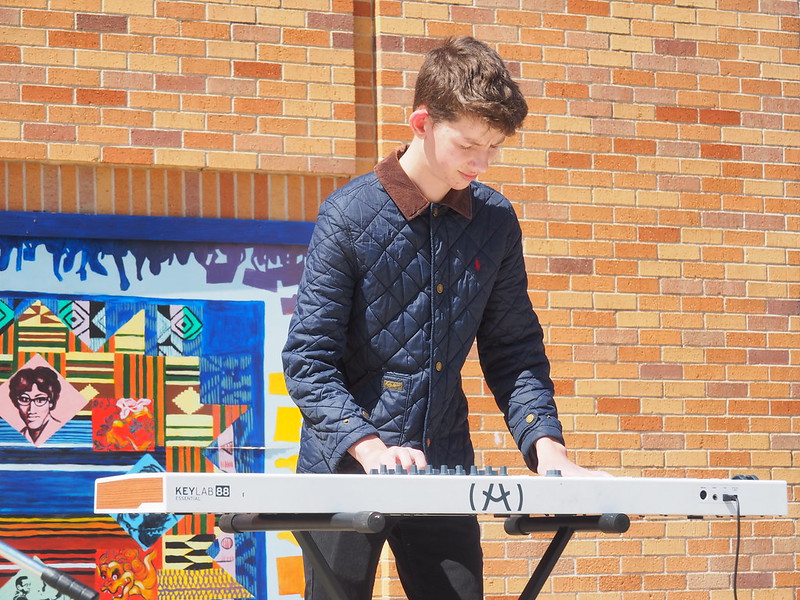 KEEN ON KEYS: Senior Evan Bookout plays the keyboard with his band, Uncle Approved, performing an original, "Against the Grain" by Bookout, at the send-off concert for Mr. Myers. "It was a bit nerve-wracking for me because we hadn't played as a group before that, but we had a lot of fun and it paid off," Bookout said. Caption and photo by Lucy Marco.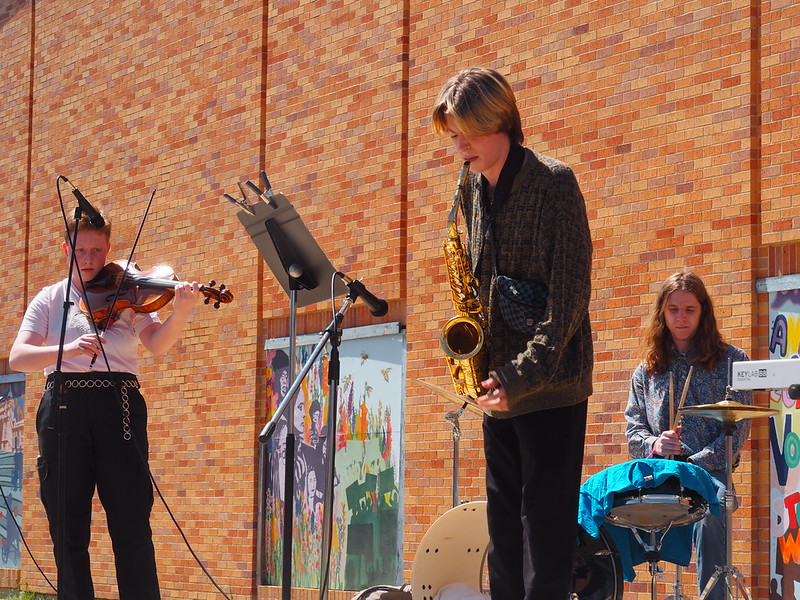 GENRE BENDING: Junior Z Campbell (viola), senior Will Sharp (saxophone) and senior Milo Darlington (drums), members of Uncle Approved, play their original song  "Garglebee" by Will Sharp for the first time in concert as a band. Sharp found the collaboration with his fellow bandmates refreshing. "I love performing, and it felt good to be able to perform with a group that is student-run, where we are able to kind of create our own music and show people our creative efforts," Sharp said. With the combination of saxophone, viola, keyboard, bass, and drums, the band's style is unique. "I'd say we play modern jazz music, I guess," Sharp said. "We take a lot of influence from Snarky Puppy, Herbie Hancock, Louis Cole and a lot of other genre-bending musicians and groups." Photo and caption by Lucy Marco.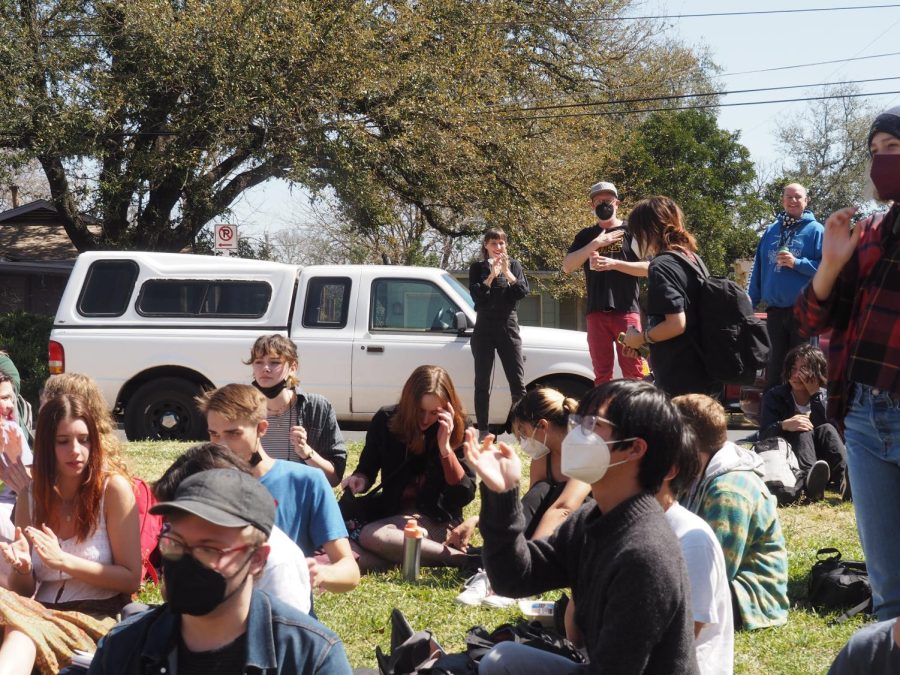 English teacher Daniel Mayers places his hand over his heart to thank the crowd for making him feel special and appreciated. He said that much of his concert experience was a blur. "I thought, 'Wow this is really happening,' and then my wife showed up, which was weird but also really cool." When asked to identify a memorable moment, Myers pointed to Z Campbell's viola solo to close the show. "The kids were all watching Z, the way they held Z up was amazing. It was really cool that I wasn't the focus the whole time," Myers said. "The focus was on them and on the music and on each other."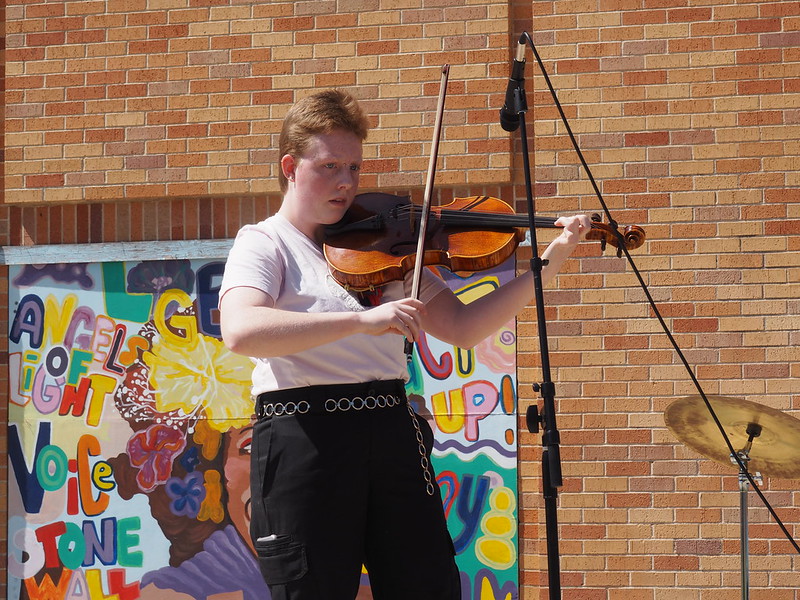 CELTIC CATHARSIS FOR CAMPBELL: Junior Z Campbell plays a Celtic fiddle tune called "Catharsis" at the end of Uncle Approved's set. This finishing solo was completely unplanned. "We finished playing the last song, and I saw there was more time, so I thought I would play something different," Campbell said. Their confidence on stage has come from their years of musical performance. "I have a lot of experience being on stage, so I wasn't too worried, but the concert was planned extremely last-minute, so we were all anxious for sure, but it ended up being great," they said. "We sounded super good with the mics, and everyone I talked to loved it." Photo and caption by Lucy Marco.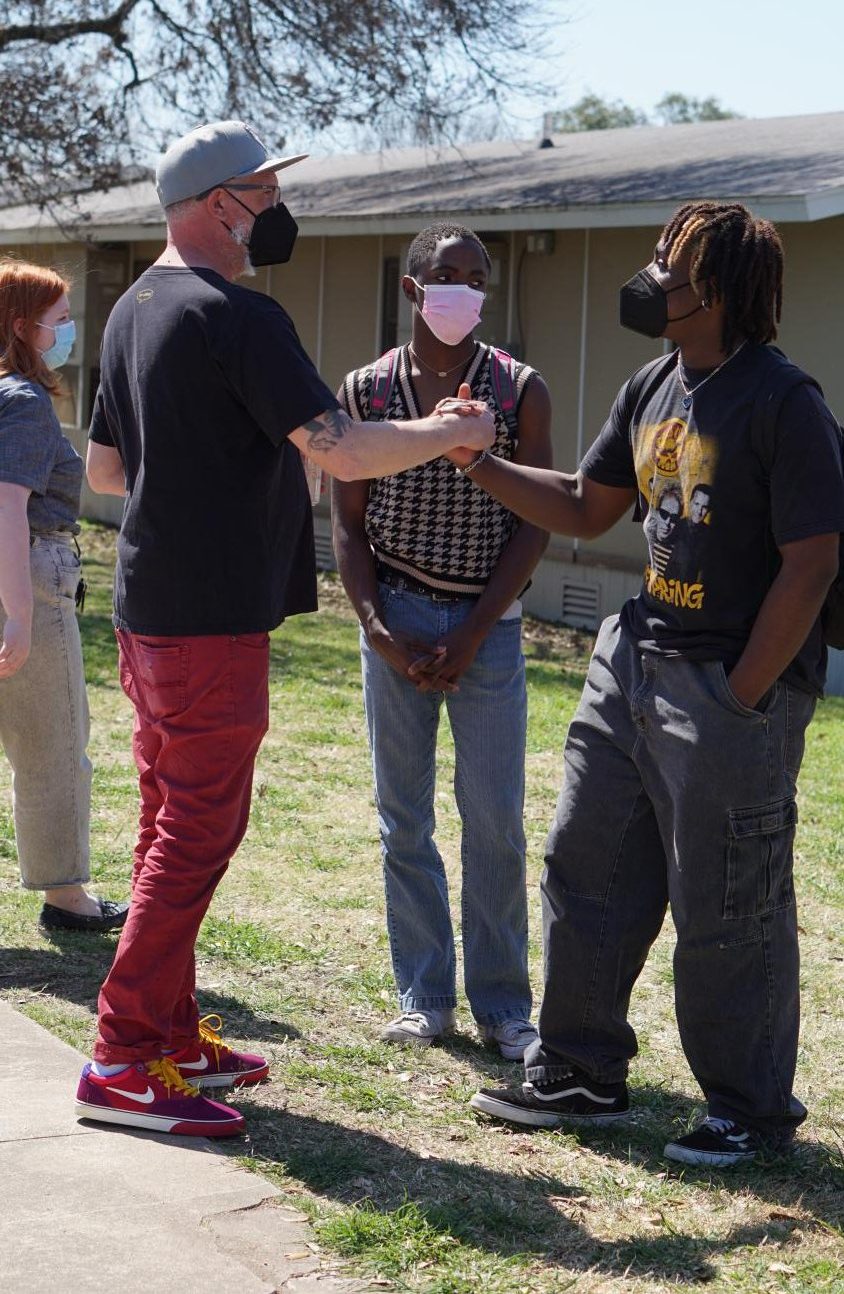 Senior Braelen Miller approached teacher Daniel Myers to shake hands and wish him well as he leaves McCallum for a new adventure. Myers said he never had Miller in class. "I only knew him through his writing, and his writing is sad," Myers said. "We were just telling each other that we were going to be OK." Photo by Dave Winter.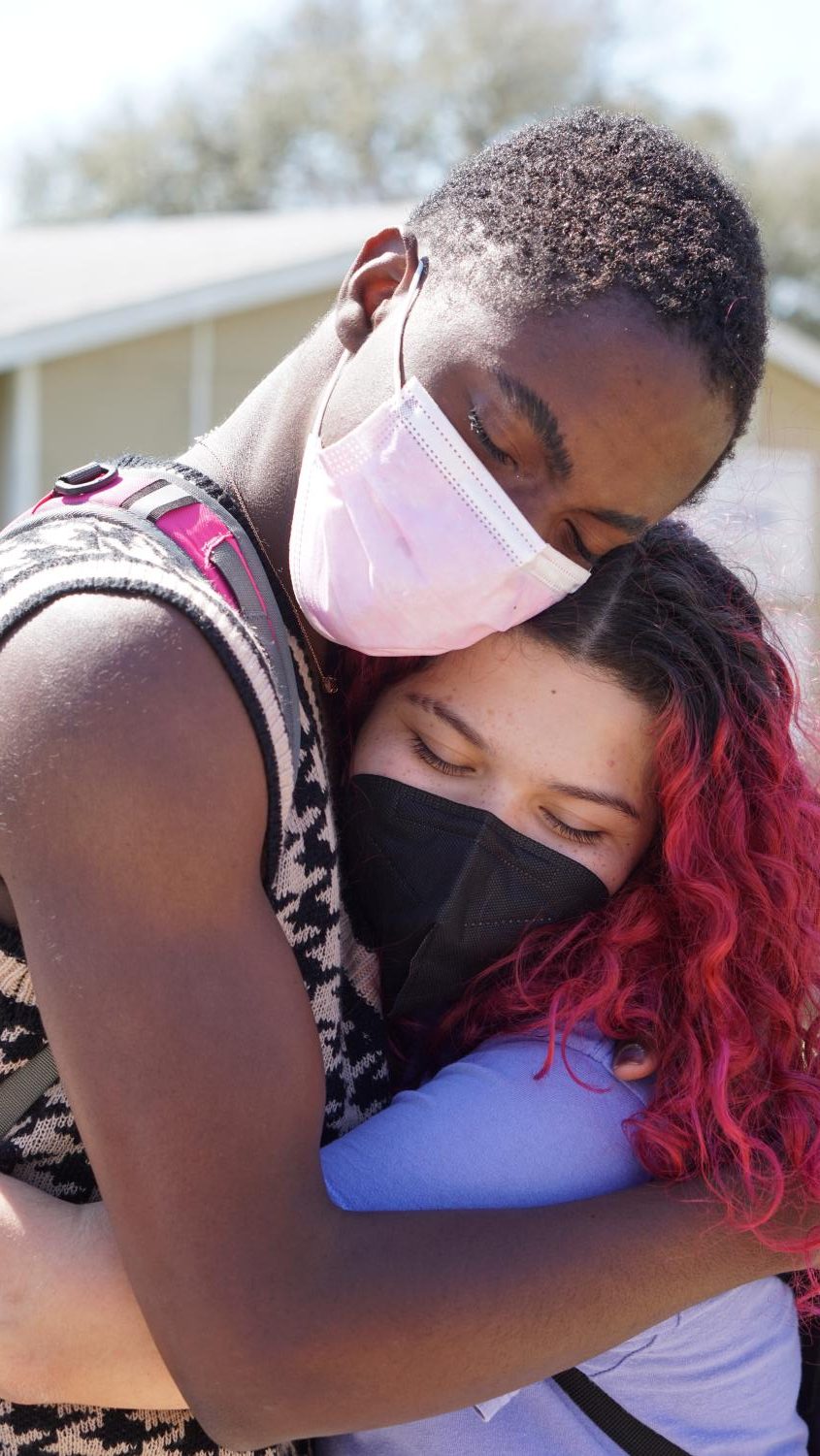 Junior Khi Washington and senior Eden Goodman embrace after staying to meet with Mr. Myers after the lunch concert dedicated to him had ended and most of the crowd had headed to seventh period. Washington said at that moment their mind was flooded with thoughts and emotions, the most pressing being that Myers was actually leaving. "For a while, it felt unreal because this was my first year with him," they said. They said in that brief time in Myers' English class that they made a real connection. "He became my school dad. To see the one person that I knew was always there for me especially this year with all the challenges that I've faced was very hard." Washington said it was emotional for them and all their friends. Washington credited Myers for always being there for them. "Having someone to cry, talk, and receive advice from was very special. He really helped me process and begin to really love myself when others wouldn't." Photo by Dave Winter.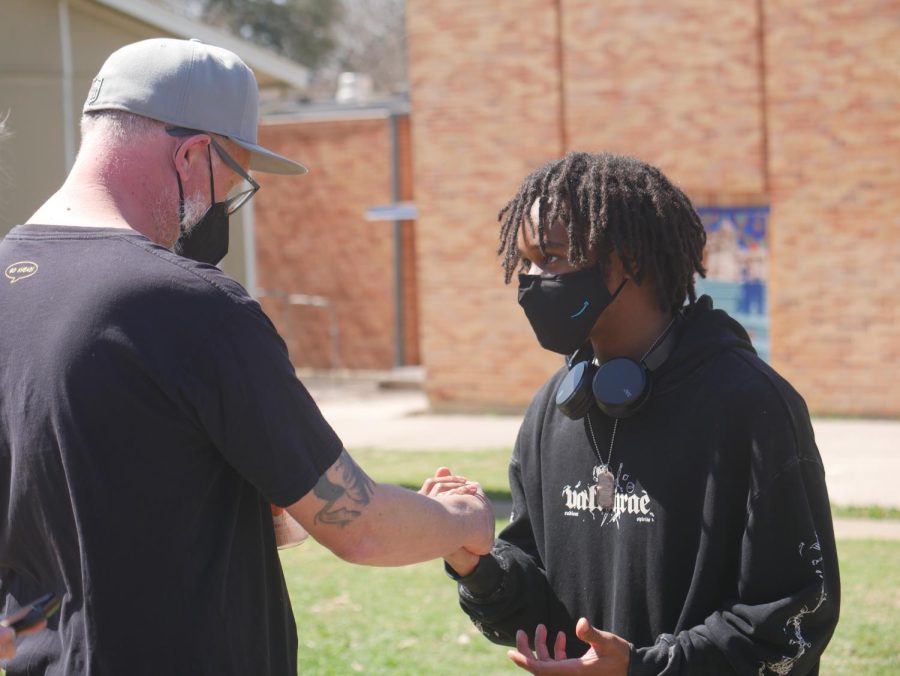 After asking Myers for permission, former McCallum student Joshua Morgan leads a personal prayer for him. "This was my final send-off for Myers," Morgan said. "The end of one story leads to new beginnings for another, so I wanted to make sure that no matter what he would face, he could always remember that prayer and know that he is going to do great." For Morgan, Myer's departure brought back many memories, including one writing assignment where Myers told his students to simply write about who they are. When Morgan struggled with the assignment, Myers offered some advice: "He said, 'If you're struggling, listen to some oldies but goodies from your playlist,'" Morgan recalls. "At that moment, after I listened and listened, I found out who I was. In that moment I realized just how blessed and wonderful my life has been." Morgan stresses just how much Myers' assignment and subsequent suggestion affected him. "That one assignment, that one suggestion — it changed my whole life," Morgan said. Caption by Alysa Bijl-Spiro. Photo by Dave Winter.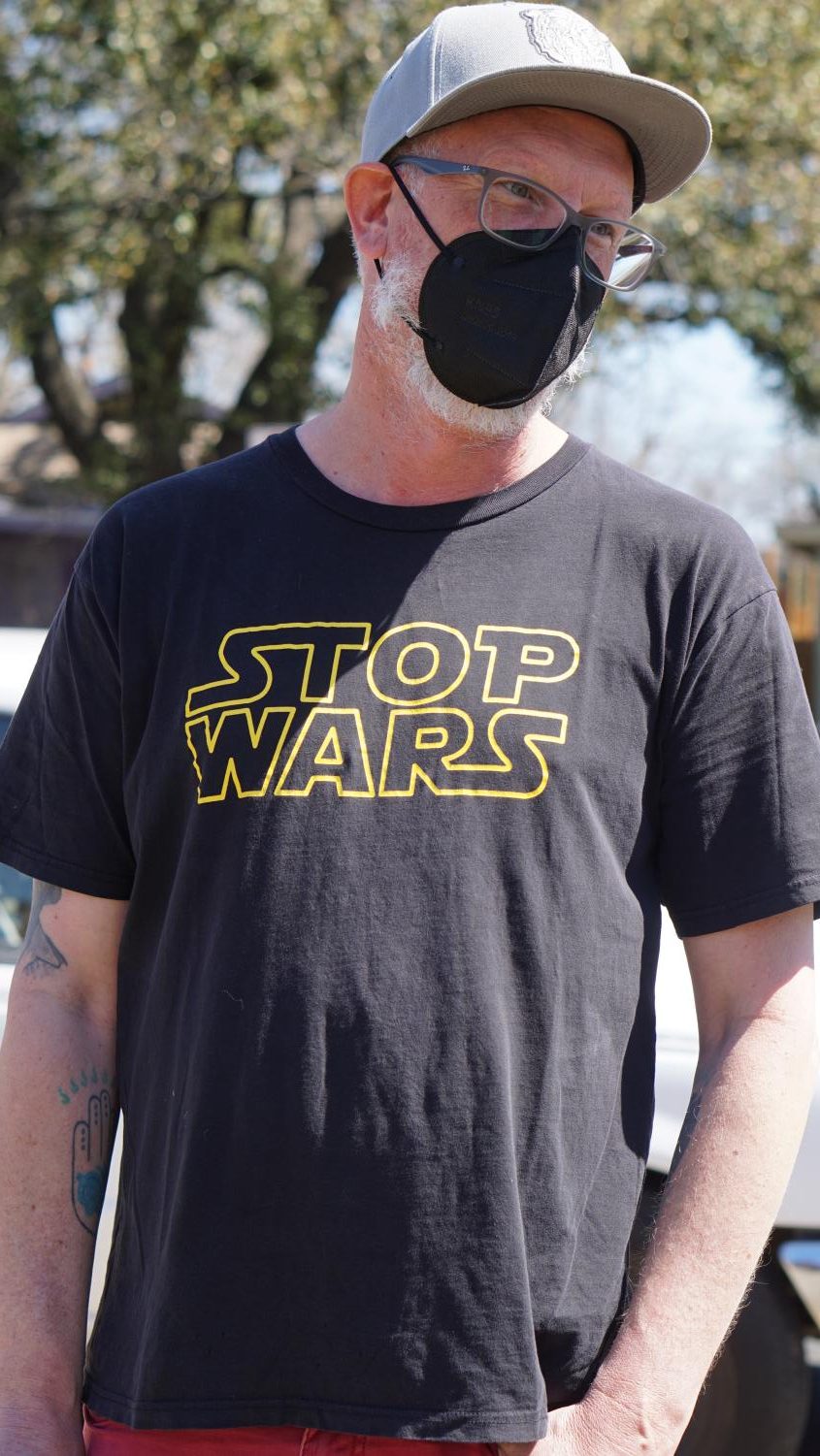 Daniel Myers said on Tuesday that he is still figuring out how his new job is going to work. Myers is joining E4 Texas, an organization at the University of Texas that helps students with intellectual disabilities learn the vocational and life skills they need to have careers and live independently. The yearlong program starts with a summer of disability rights activism followed by career tracks and auditing UT classes in the fall. In the spring, the students complete internships and continue to audit classes. "I am understanding it more and more as it unfolds," Myers said. "My role is going to be to expand those career tracks. Right now there's like three. I am going to connect with the professors and introduce them to public speaking and Comp 1." Myers said he believes the communications skills will help the students be successful in whatever career path they take. Photo by Dave Winter.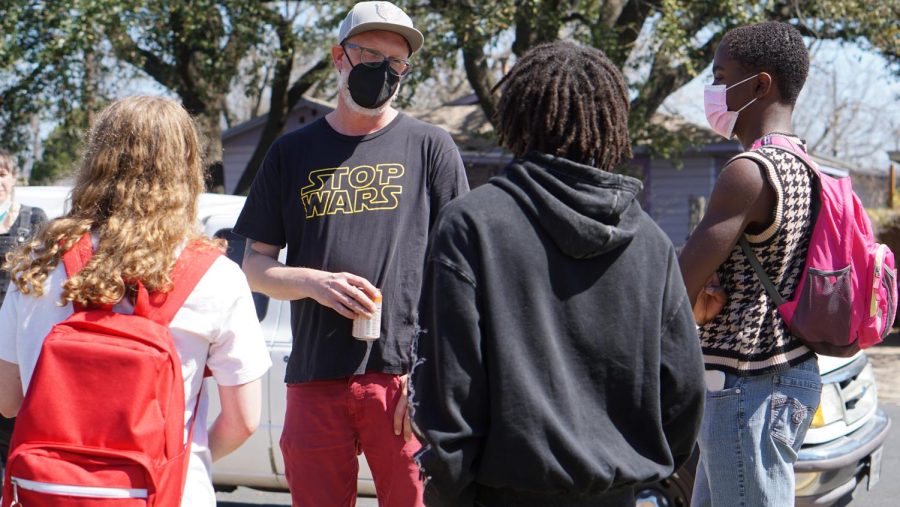 Senior Alysa Bijl-Spiro was one of the handful of students who lingered on the sidewalk in front of the outdoor stage long after the concert and the lunch period ended. She said she wanted to prolong her time with one of her favorite teachers. "It hit me that these were some of my final moments with Mr. Myers, and I wanted to stretch them out as long as I could," Bijl-Spiro said. "Plus, Myers has always had a pretty magnetic presence to him, so if he starts talking, chances are I'll stay and listen for as long as possible." While she enjoyed his charismatic conversation, she said his skill and impact as a teacher went way beyond just being engaging. "He has such a deep commitment to his students," she said. "He couldn't care less about grades/curriculum; instead, he wants to teach kids lessons that really matter. He wants to sew the seeds of inspiration to our souls; he wants us to see the world differently; he wants students to 'read with his spine and not his skull.' There's a real passion there, a real belief that what he's doing will have lasting effects on the children around him. and I think he's done that. I really do." Photo by Dave Winter.