Through the sweltering heat, the McCallum band showed off the first two movements of their 2023 contest show, "Starsurfer" in the band parking lot on Friday night. The annual Bandapalooza event gives the band an opportunity to showcase the opening of its show as well as some of its regular warmups or training exercises. This year's show revolves around exploring the cosmos as if they were an ocean, and movements one and two feature musical selections from 2001: a Space Oddity and "Septimus" from the movie Stardust.
We are pleased to share some sights from this year's Bandapalooza, replete with many fresh faces, as this week's Tuesday Top 10 photo essay.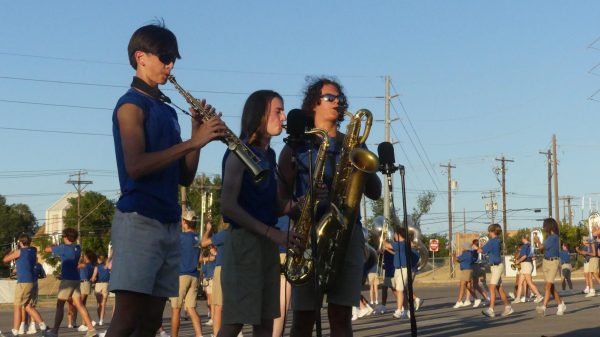 ONE FINAL HURRAH BEFORE THE TORCH IS PASSED DOWN: With the upcoming football season nearing a fast approach, the marching band is preparing its halftime segment for the games. While the first game isn't until Thursday, the band took the opportunity to put on its annual Bandapalooza for family and friends. The event's goal is simply to show off what the band has been working on and to give the community an early peek at what's to come.
For senior Frank Montesinos, Bandapalooza is not only a fun experience but also a beneficial one. 
"The showcase gives a perspective of how our rehearsals are run," Montesinos said. 
While the show itself is a whole marching band production, Montesinos is part of a saxophone quartet with a feature in the second movement of the show along with William Viner, Elliot Taylor and Aubrey Mitchell. 
"It's nice being able to show off our individual talent in such an exposed section," Montesinos said.  
One of Montesinos fellow quartet members, senior William Viner said it was worth all the hours of work he and his bandmates put in.
"Bandapalooza is always the first performance we do for people," Viner said. "It's satisfying to finally get to put together a month's work of heat and hard work." 
But given that he's a senior, it also means that this was Viner's last Bandapalooza. 
"I thought I would be very sad in my last year," Viner said, "but it's honestly more sweet than bitter. I feel much stronger and more confident as a senior and a leader. It's fun to pass the band torch down to new underclassmen." 
Viner said he is excited to pass the tradition on to younger high schoolers just as early band members passed it on to him.
Caption by Chloe Lewcock. Photo by Julia Copas.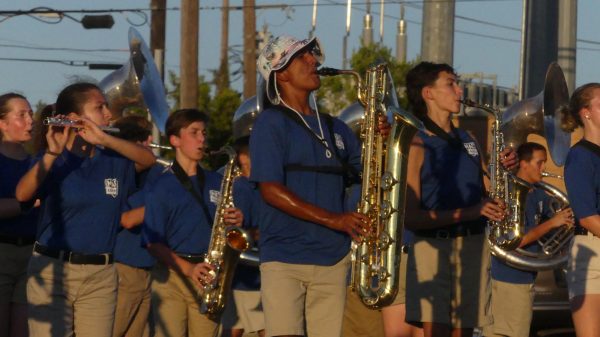 MORNING, NOON AND NIGHT:  With football and UIL competition season starting soon, the MacBand is on its practice grind. Morning noon and night, the band practices its instruments striving for perfection.
Bandapalooza is a showcase where the MacBand performs in front of their supporters and parents to show what their past weeks of  hard work has produced. 
Jon Crist, baritone saxophone player, is a case in point. He thinks the band may make it all the way to state this year.
"As a whole, the show is really starting to come together," Crist said.
Caption by Maggie Mass. Photo by Julia Copas.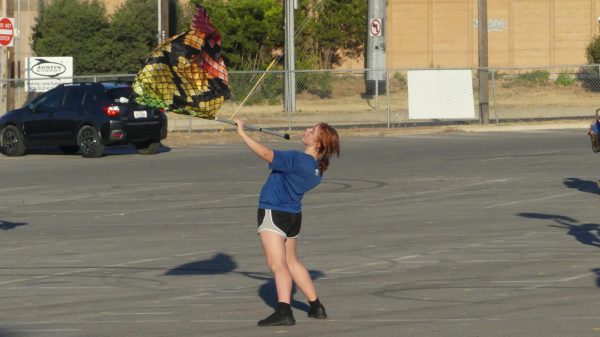 SPINNING INTO MARCHING BAND SEASON: Junior color guard weapons captain Audrey Eberly performs her choreography for the first movement of "Star Surfer" at Bandapalooza. Eberly said the Friday night performance was a chance to show the community what the band has been working on in preparation for upcoming football games and competitions.
"I love having the chance to perform before Taco Shack because it takes the nerves away a little bit and also gets me excited for Taco Shack and the other games," Eberly said. 
According to Eberly, color guard gives "Star Surfer" a pop of color and visuals that make the show feel interesting and immersive. 
"The color and choreography we do always goes along with the music so you can better visualize the music, and it makes some parts much more dramatic to listen to," Eberly said. "Since we aren't playing instruments we get to play more into the character of the show, this year the character being star surfers."
Eberly said the highlight of Bandapalooza was seeing the graduated band and color guard members in attendance. After a night of spinning flags, sweating under the afternoon sun and seeing old friends, Eberly felt the strength of the MacBand community.
"Bandapalooza has me very excited for the upcoming season," Eberly said. "Performing in the heat definitely bonded the team closer, and seeing all the people that came to support us reminded me of how rewarding color guard and marching band can be." 
Caption by Ingrid Smith. Photo by Julia Copas.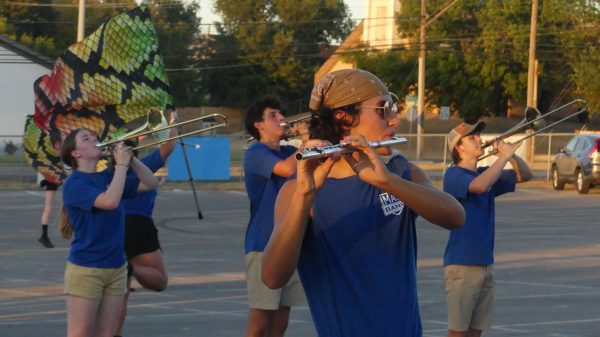 SETTING THE STANDARD: Junior Ben Martinez plays the flute during his Bandapalooza performance last Friday. This year Martinez is first chair, although he has mixed feelings about it.
"I mean it [being first chair] is fun, but there's some pressure behind it because I know I've got to set a standard," Martinez said.
With the first show in his new position, Martinez thought it went fine.
"I think we did OK," Martinez said. "We're about as good as we were last year at this time. The main problem right now is that our freshmen and some sophomores are a little behind, so it's up to us upperclassmen to pull them up."
Even though Martinez thought the performance was mediocre, he still had a great time doing what he loved.
"I felt pretty pumped during the solo," Martinez said. "Drum line is behind me during it, and they're really good, so it's tough not to get hyped when you're listening to them."
Caption by JoJo Barnard. Photo by Julia Copas.
A BRIGHT BEGINNING WITH BANDAPALOOZA: Assistant band director Dillon Junkin talks with band director Carol Nelson after Bandapalooza. The event was the first time the marching band performed its show for an audience, putting together months of work. 
"This is such a process-oriented activity, so pulling the curtain back for Bandapalooza gives people an appreciation for how everything comes together," Junkin said. "Also it gets the parents and community excited for the show and season to come."
According to Junkin, "​​with the exception of the heat," the event was a success for Mac Band. 
"It's always fun to be able to give both the families and those who may not be involved with marching band a small peek into what our activity is like," Junkin said. "There were many smiling faces at the end and that's what it's all about, really."
Reporting by Alice Scott and Lucas Walker. Photo by Lucas Walker.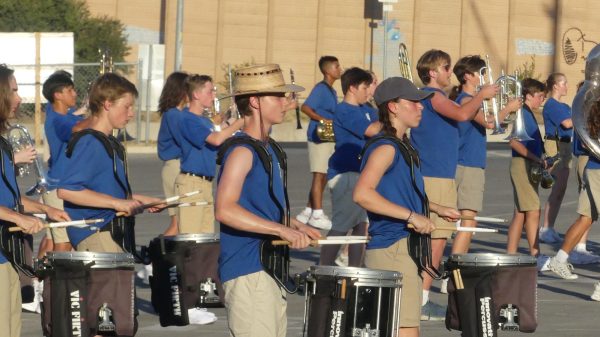 RENTERIA TAKES CENTER SNARE: Senior percussion leader Nora Renteria marches as center snare during the Bandapalooza showcase last Friday. As a leader in the band, Rentaria does more than just play music. 
"My main goal in this leadership position is to maintain the strong sense of community in the percussion section," Renteria said. 
Renteria guides her section by communicating with the directors, providing feedback and leading warmups. All these tasks together help better the percussion section for performances like the one on Friday. 
"I think Bandapalooza went well," Renteria said. "The audience was super supportive, and we were able to showcase the work we've been putting into the show so far."
With her peers in the drum line, Renteria plays for the majority of the 'Starsurfer' show, which means lots of time spent learning lots of music, some of which has yet to reach the percussionists.
"I do wish we had the rest of the music ready to learn, but until then we'll stay patient and keep perfecting what we have," Renteria said. "We seem to be focusing a little more on the general effect score this year, and are adding in a lot more choreography from the get go." 
So far though, Renteria is "fond of the book" and looks forward to seeing how her section fares this marching season. 
"Every member of the line has their strengths and weaknesses, and I think the music this year is allowing us to hone in on a lot of rudiments and technique to build our overall versatility as players."
Caption by Francie Wilhelm with reporting by Lucas Walker. Photo by Julia Copas.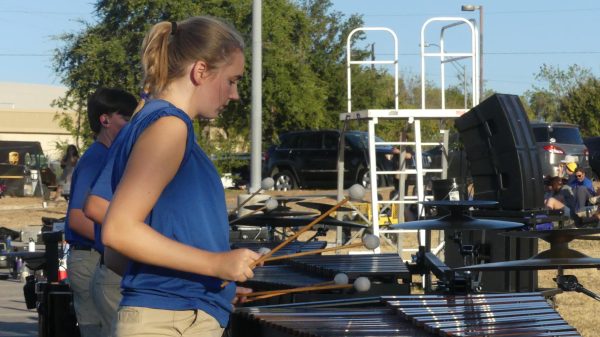 MAKE YOUR OWN KIND OF MUSIC: Senior percussionist Cate Thoden plays the marimba in the band's first showcase of its routine. Thoden is part of the front ensemble, a group of percussionists stationed at the front of the field. According to Thoden, the front ensemble is more than just the music: it also involves the mind.
"It takes a lot of concentration [to be in front ensemble] because you have to kind of listen behind you to keep tempo," Thoden said. "You really have to focus on all the instruments behind you to keep in time. A lot of incoming freshmen are in the front ensemble to learn all the good fundamentals for percussion. As you get better, you can move on to snare or drumline. But I prefer the front ensemble."
The front ensemble appeals to Thoden because the instruments it utilizes, such as the marimba, combine percussion with increased musicality.
"I like [hearing] more notes," Thoden said. "I don't just like hearing one sound. I like hearing multiple notes and [the front ensemble] just creates more of a song to me, instead of just keeping a beat steady."
Thoden feels that this year's Bandapalooza was the start of a promising year for the front ensemble.
"[Bandapalooza] was definitely a little nerve-wracking, of course, because it was our first performance," Thoden said. "So it wasn't going to be perfect. But honestly, I think it was pretty good for what we've done so far, at least for the front ensemble. I went home and my parents said they were really proud of me and loved seeing me out there, so I'd say it was an accomplishment to have done that first performance."
Caption by Lanie Sepehri. Photo by Julia Copas.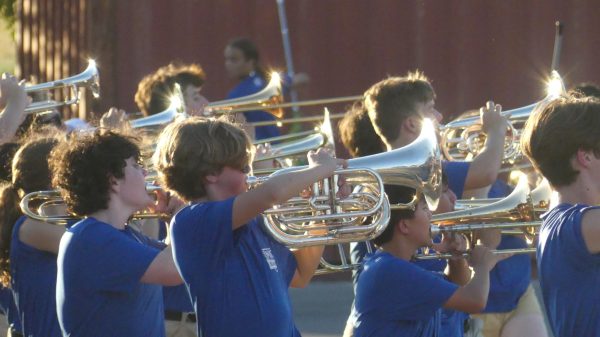 SENIOR (MARCHING) SZN: Freshmen Reed Alexander, Thomas Witzel, Zach Palafox and senior Zak Burns play their euphoniums together at the annual band showcase, Bandapalooza. Burns noted that in addition to being unusually hot compared to previous years, the unprecedented amount of Mac students who showed up to watch the band also made this year's performance unique.
"Anybody can go, but usually it's not a lot of school kids," Burns said. "But for some reason, this year, there were a bunch of people in my grade there."
Burns said that it was interesting to play for an increased number of his peers when the show was still in its early stages.
"It was kind of embarrassing because the show, right now, is not good," Burns said. "We were all sweating profusely and it just wasn't the best. We just learned it, so it's not clean and it doesn't sound good. There's still more to add to what we've learned, so we just need more time with it."
Burns has four years of band (and Bandapaloozas) under his belt. He feels his fellow euphoniums, who are mostly freshmen, will develop alongside the show as the year progresses. 
"They're still learning," Burns said. "It's fun to be [one of the oldest], but it gets kind of annoying because all the volume in my section, sound-wise, comes from me. The rest of them can't play loud and that gets tiring because you almost pass out. But they have potential. I'm looking forward to them being good."
Caption by Lanie Sepehri. Photo by Julia Copas.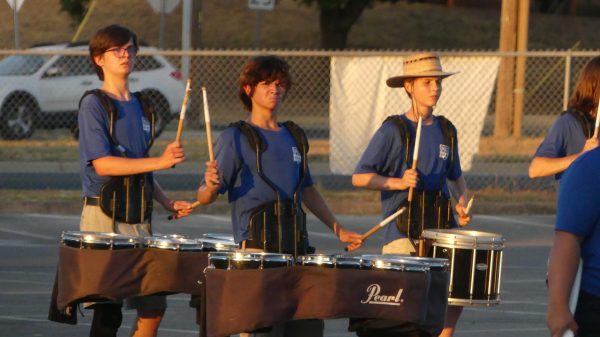 KEEPING THE BEAT: Junior Smith Humphrey and junior Parker Chauvin play the tenor drums while sophomore Dustin Stanley plays the snare drum during the first public run through of the 2023-24 marching band routine.
Bandapalooza, as it's called, allows the community an inside look on what marching band is up to before its football and competition season begins.
"It's supposed to be a way for parents and people at McCallum to come see what an everyday band rehearsal is like," Humphrey said. "It is like a condensed down version of a morning rehearsal to give the general public a taste."
According to Humphrey, percussion plays an essential role in the show.
"We play to keep the horn and wind instruments in time," Humphrey said. "It's important because if your band isn't in time, it's not going to sound good at all." 
Humphrey says that Friday's performance preview was a success but potentially hindered by general exhaustion. 
"It was kind of a long day, we had morning rehearsal that day and band class," Humphrey said. "Having another rehearsal at the end of the day I just felt really tired."
Caption by Naomi Di-Capua. Photo by Julia Copas.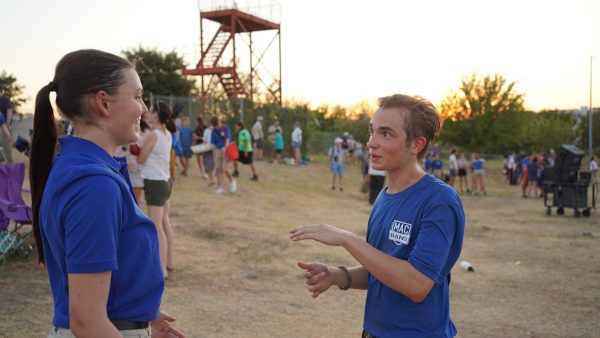 A GOOD START: Seniors Malena Linse and Ayden Lee discuss their performance of movements one and two of the marching show.
Lee has a unique role in this year's show, riding a one-wheel that represents the surfer in the show titled "Starsurfer." 
"My role isn't too complex in the show," Lee said. "It's mainly just adding visual effect, and bringing attention to certain parts of the field. I'm very grateful to have this role and it's super fun riding the OneWheel!"
Lee believes that this year's show theme is great, stating that he is excited for this year's musical selection. 
"'Space Oddity,' 'Rocketman,' and 'Surfin' USA!' I'm confident that it can translate well onto the field given that our show this year is very visually appealing," Lee said.
After the performance, Lee was very hopeful regarding the upcoming competition season.
"The band this year is doing a good job with learning and putting everything on the field," Lee said. "I think that we've been way ahead of schedule in terms of learning our marching sets and music." 
Linse had similar thoughts. 
"I think Bandapalooza went pretty well," Linse said. "A first performance is definitely stressful, but it was exciting to show off the show."
Linse is one of three drum majors, which places her in charge of conducting shows, as well as assisting with general rehearsal procedures.
Linse believes that to have a good season, Mac band needs to bring its A-game to every rehearsal. 
"Since football and competition season is quickly approaching, we are going to start putting more on the field soon," Linse said. "So being focused will help it go smoothly."
Photo and caption by Lucas Walker.