'Starry Knights' return to their proper alignment
By returning to the MAC for first time in three years, Blue Brigade ends year of returning to normal with triumphant spring show
History will remember the Blue Brigade Class of 2022 as the lucky ones, the senior class that was able to resume the full slate of team traditions that have made the dance team one of the most distinctive organizations on campus. In addition to being able to march for a full football season, they team got to dance without masks for much of it. The team was also able to perform its annual community-service events in person, cheering on runners at the cancer walk and singing carols at an assisted living center for their final exam. In the spring, the team competed in person during the spring competition season instead of virtually as they had the year before.
Most notably, the team, as well as its director and parent boosters, were able to bring the final chapter of a Blue Brigade season … the spring show … back to its traditional venue … the McCallum Arts Center … without any pandemic-induced audience limitations.
The team was successful in traditional terms, but the return a sense of normalcy made it even more special. The fact that 2021 co-captains served as masters of ceremony provided a constant reminder of how great it was to have a fully operational spring show not a virtual one as in 2020 or a relocated one as in 2021.
In celebration of the triumphant show, we are pleased to share this photo essay marking some of the best moments from the April 22 and April 23 performances as captured by our photographers and remembered by members of the Blue Brigade.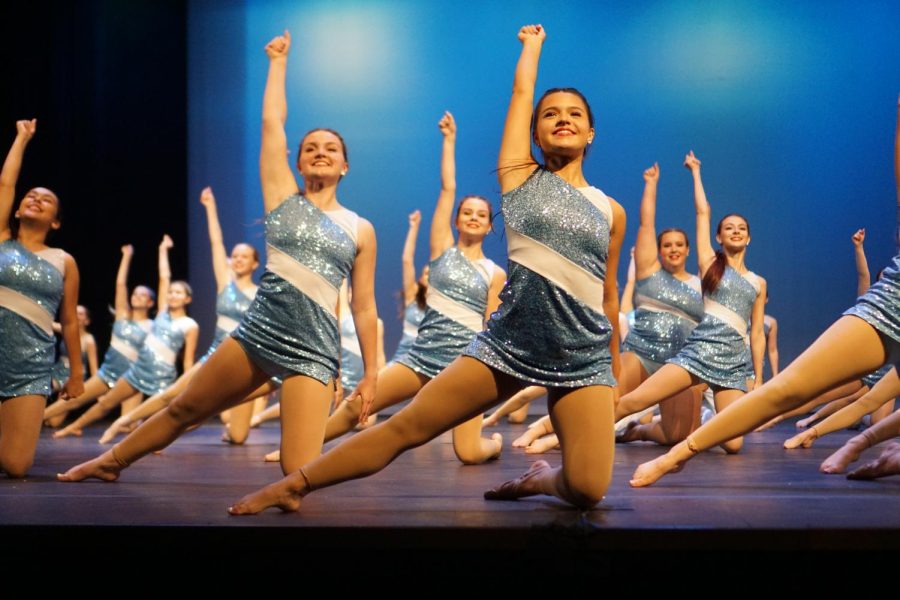 FIVE-STAR CAPTAIN: In "One Night Only," the opening number of the spring show on Saturday night, Blue Brigade captain Charli Cevallos is front and center setting the mood and tempo for the number and entire show. Cevallos said the opening number of the spring show is always upbeat and fun and this year's edition was no exception. Cevallos said she remembers the moment as one of pure adrenaline. "Since opener is the first dance, the excitement is running high and it's such a great feeling to be performing our hard work for an audience." As the photo suggests, the team was able to perform the number in sync even though it was a new dance choreographed exclusively for the spring show by first lieutenant Annabel Winter (left) and senior lieutenant Emily Garza. "Opener was our first spring show dance we learned," Cevallos said, "and it came together super well. … [It was] definitely a team favorite." Cevallos said her favorite part of the number was the very beginning when Winter (left) woke her up stage left from a deep sleep to start the show. "It's so fun," she said, "and the audience loved it." For the first time in three years, that audience was in the MAC and at full capacity without pandemic restrictions. Photo by Kennedy Weatherby.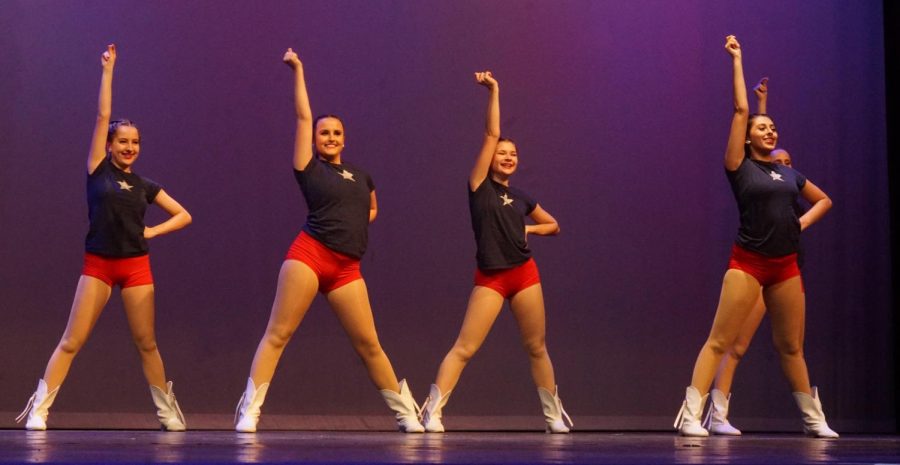 COUNTRY KICK: Blue Brigade freshmen Kalliope Haltom, Smith Bohls, Greta Wayman and Gaby Alvarado strike a pose after the freshman class dance, "Country Kick." This was Haltom's first spring show, and after putting in a semester's worth of effort, she was excited to finally perform. "It was amazing!" she said. "We had been working on a lot of those dances for months, and it was great to see all the people that came to see us." This is a big step for the freshman, who, though she had been dancing for four years prior, had only learned about the program in middle school. "I had never heard of Blue Brigade until my dance teacher recommended it to me," Haltom said. Though she was in six different dances and had countless things to remember, Haltom didn't let nerves get the better of her. "It moves so fast," she said. "You don't have time to think about if you messed up. I just focus on remembering to smile and whatever is next." Caption by Helen Martin. Photo by Francie Wilhelm.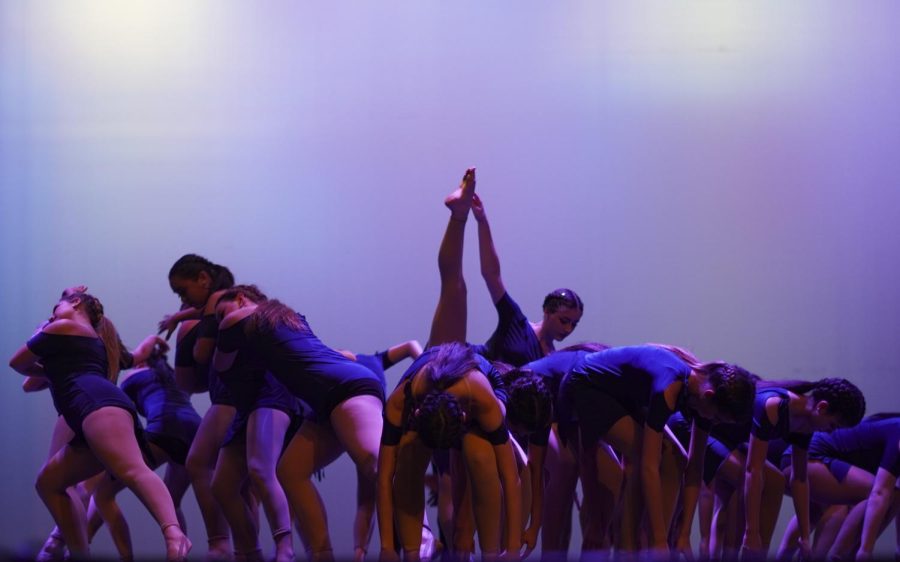 YOU CAN'T SPELL LOVE WITHOUT AN EL: Choreographed by captain Charli Cevallos, the contemporary ensemble named "Love in the Dark" was performed for the last time after winning first place in extra-large ensembles at the Crowd Pleasers Hill Country showcase on Feb. 19. Sophomore El McGinnis was featured throughout the dance, performing an extension and a lift. "It was very nerve-wracking but exciting, McGinnis said. "The lift went well in the first show, so I was ready for the second." This spring show was a breath of normalcy for the Blue Brigade, just in time to send off the class of 2022 seniors. "I enjoyed dancing with the whole team, especially the seniors," McGinnis said. "I am going to miss them and dancing with them for the last time was very emotional for me." Caption by Sophie Leung-Lieu. Photo by Charlie Partheymuller.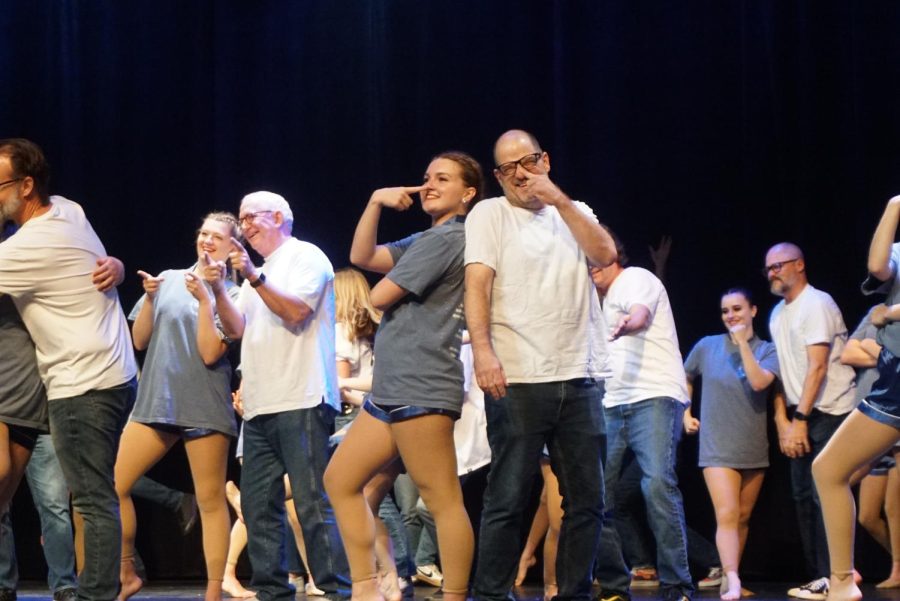 WOO PIG: Out of the many traditions that spring show has to offer, one of senior first lieutenant Annabel Winter's favorites is the father-daughter dance. "It's nice to be able to share something I love so much with him," Winter said. At the end of the dance for their final pose, Annabel and her dad, journalism teacher Dave Winter, put their fingers to their noses, a symbol for the University of Arkansas, where Annabel will be attending school next year: "I thought it would be really cute for everyone to do their class signs for the college they are going to next year." After only three weeks of practice, the dancers and their dads nailed the performance. "I love when my dad gets really into it," Annael said. "He gave all his effort, and he practiced every day, even at school." Caption by Sophie Leung-Lieu. Photo by Madelynn Niles.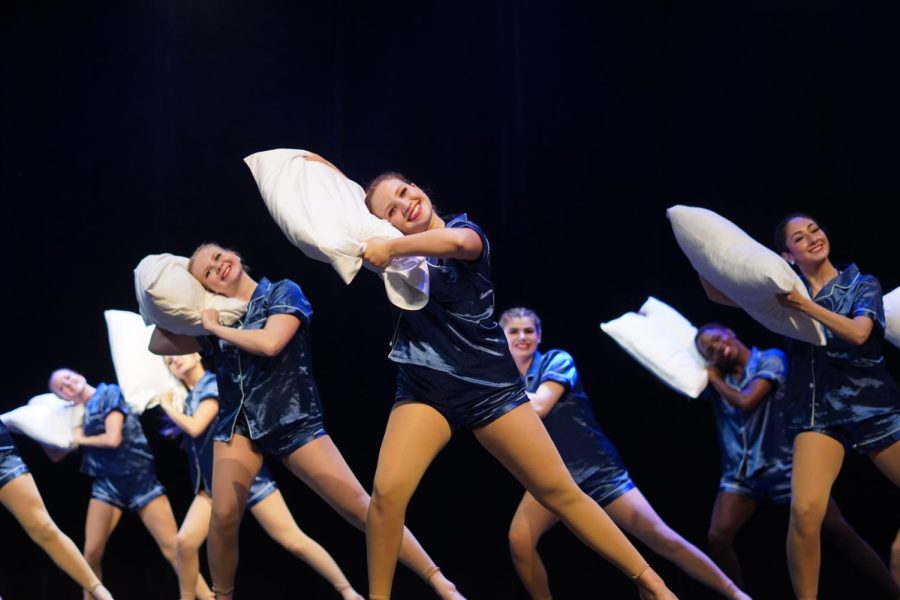 ANOTHER DAY OF SUN: Junior Sophia Kramer performs "Another Day of Sun," just before the Friday show's intermission. Adrenaline pumping, Kramer and the rest of Blue Brigade worked hard to hit every throw, jump and kick. "Performing with the seniors one last time was super special," Kramer said. "They are such an important part of our team and having that be one of the last dances we've done was super bittersweet. I'm glad it was an upbeat, fun dance to make the memories match the energy we gave off!" Kramer is excited to become the 2022-2023 Blue Brigade captain. Being a team leader as a junior lieutenant this year helped Kramer appreciate the effort that goes on behind the scenes. "Spring show was an emotional but exciting time for the team," Kramer said. "I'm so happy we did well. It was an amazing closure to the year we have had." Caption by Elena Ulack. Photo by Charlie Partheymuller.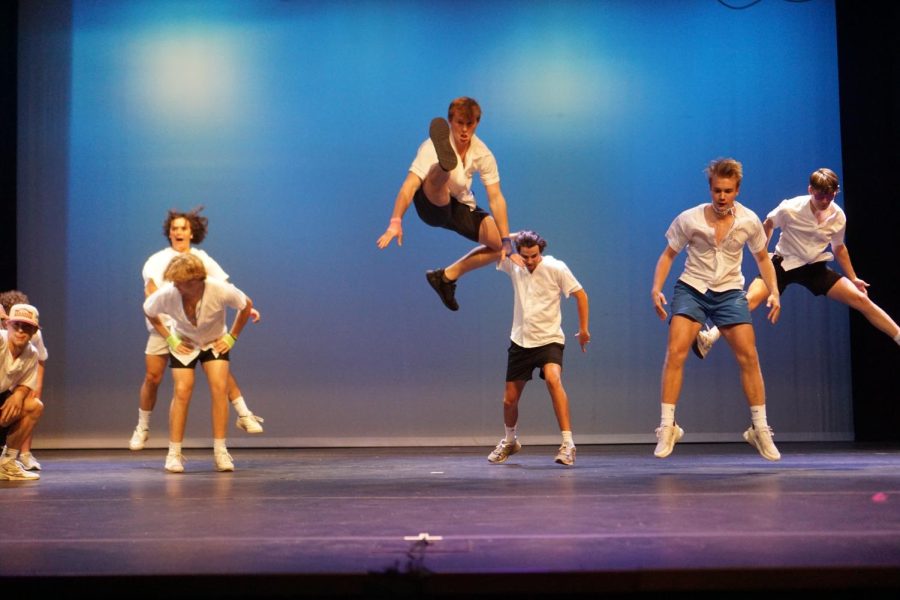 SENIOR SPOTLIGHT: As part of the Blue Brigade spring show, first lieutenant Annabel Winter and captain Charli Cevallos decided on including a fun twist to the set list: a dance starring senior boys. To open the number, Cevallos and Winter incorporated a backflip as a "wow" factor, and asked senior Jake Hissey to perform the stunt. The request surprised Hissey as he wasn't the original senior boy designated for the job. "The original guy didn't show on the first day so she [Charli] asked if anyone else could do a backflip" Hissey said. Caption by Naomi Di-Capua. Photo by Kennedy Weatherby.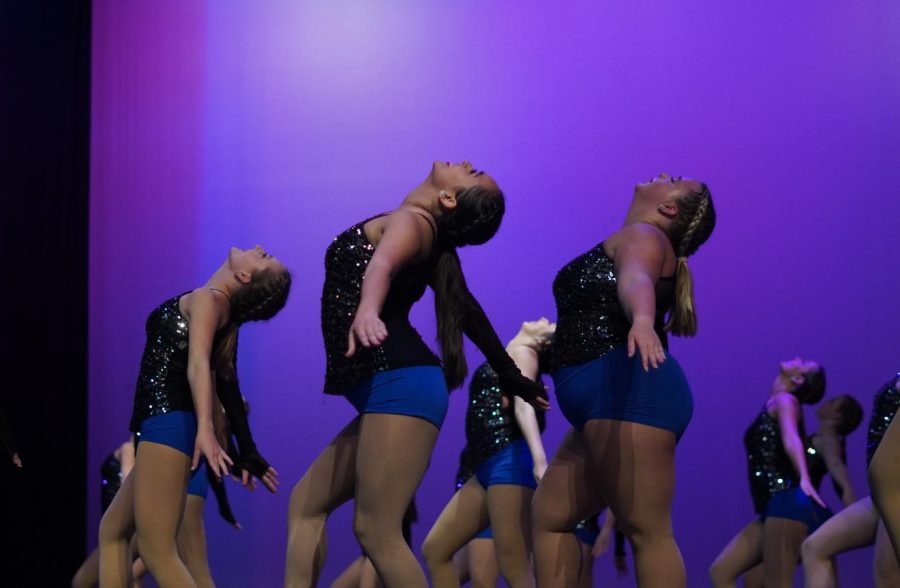 JAZZED UP: Senior Elise Crouse (middle) and her teammates perform the team jazz number, "All Night." Because there were so many dancers on stage for the number, the team needed to use most of the space on the Mac stage while also staying on time and in place. "It was challenging moving it [the number] from the gym floor for competition to the stage with space limits," Crouse said. "I had to change some of the moves so that they would fit more seamlessly on the stage." Despite the transitional challenge, the team jazz number was an energetic and entertaining performance for both the audience and dancers. "I really enjoyed performing the dance because of how fun and upbeat it is," Crouse said. Caption by Francie Wilhelm. Photo by Charlie Partheymuller.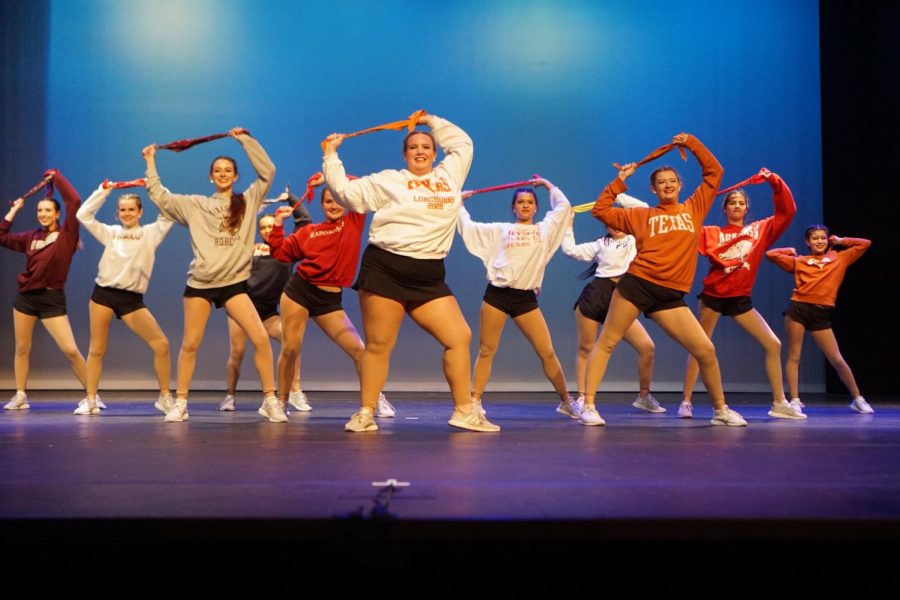 THROWBACK: Performing their last dance as seniors, the Blue Brigade class of 2022 performs the team hip hop from the 2020-21 season, choreographed by alumni Valentina and Andrea Paredes. The dance scored the highest hip hop in last year's virtual competition and served as a personal favorite to senior social officer Anna Schlett. "We were excited to bring it back as our senior dance," Schlett said. "It's super high energy and fun to perform as a team and with this group of seniors." This senior class was the first group to have a normal spring show in the past three years. "We had to remember a lot of traditions to bring back to the team to hopefully continue to carry them throughout the years," Schlett said. "It brought us a lot closer, and we got to pick up where we left off out last normal year." Caption by Sophie Leung-Lieu. Photo by Kennedy Weatherby.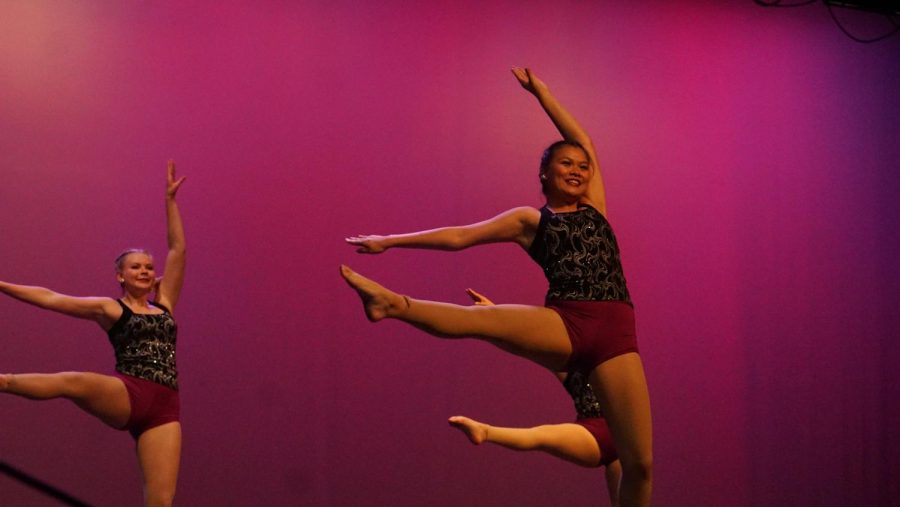 OFFICIALLY AN OFFICER: Sophomore Sophie Leung-Lieu performs the tryout dance with her other newly inducted 2022-2023 Blue Brigade Officers. Leung-Lieu first learned this dance as part of the audition process for becoming a junior lieutenant. "I remember it was really special because it was the first we got to perform as an officer line," Leung-Lieu said. "I liked the sass and the elements of the dance. It was really fun to put energy into, especially for the tryout and the show." Reporting by Alice Scott. Photo by Francie Wilhelm.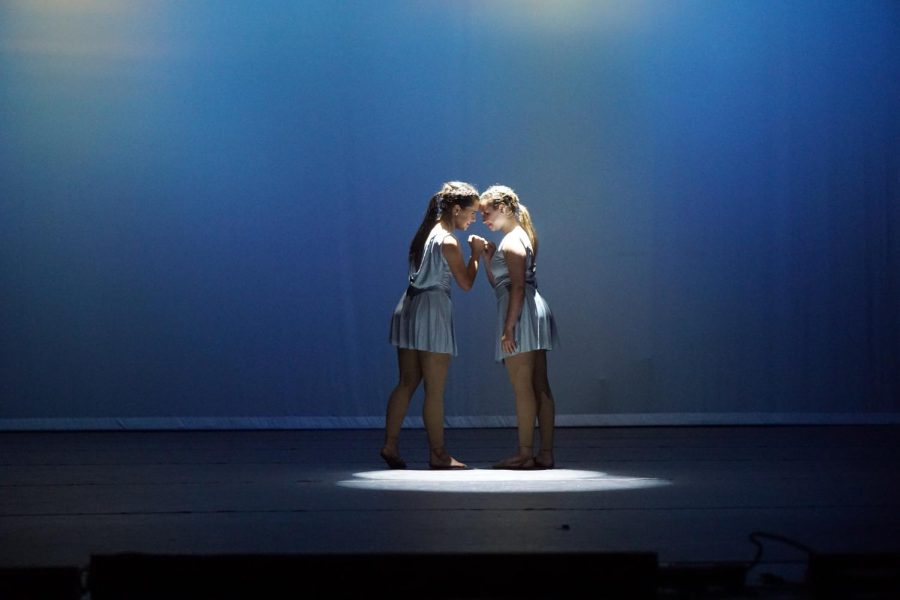 WE GOT THIS: Before every performance of their award-winning duet, senior Charli Cevallos and junior Sophia Kramer would hook pinkies, kiss their hands and bump heads to wish each other good luck before the performance. The tableau took on an added significance during the spring show, however, as the gesture and the entire routine connected the two dancers' solo performances in the show. Cevallos' last solo performance as captain preceded the due; Kramer's first as captain followed it. As Cevallos handed off the captain's role, she also expressed in a recorded message how certain she is that Kramer deserves the opportunity and will excel in the role. If anyone knows what it takes to be a successful captain, it is Cevallos. "Being captain has been the highlight of my high school career," she said. "I've always been a natural born leader, and I have such a strong love for dance. Being able to combine those and lead the team was a huge honor. It was a lot of hard work but alongside the other officers we had a very successful year. I learned a lot about patience and responsibility and through that I have been able to strengthen my leadership skills and learn more about how I lead and where I can improve." She said her favorite moments throughout the year came when she could see the team's hard work pay off. Moments when countless hours of individual effort merged together into one sanguine moment of team success. "When I step back and watch all of [the dancers] run [a really tough dance] together it makes me feel really good, and I feel a lot of pride in the team for working so hard." Perhaps nowhere was that feeling more apparent than at the Crowd Pleasers competition in Seguin where the team had a crack-of-dawn commute for a full day of competition and then came home with a bus full of awards. "The team felt so connected, and it was a truly rewarding moment to feel complete with my last contest season and with the team putting in so much work. A big moment was when Olivia Falcon won first place and got to perform her solo for the whole contest. Her solo was incredible, and I cried while watching her, partly because she is amazing of course, but also because of the gratitude I felt for the team and how supportive they were of Olivia in that moment. That contest wrapped everything up in a perfect bow, and I think everyone on the team was extremely proud of themselves that day." Photo by Dave Winter.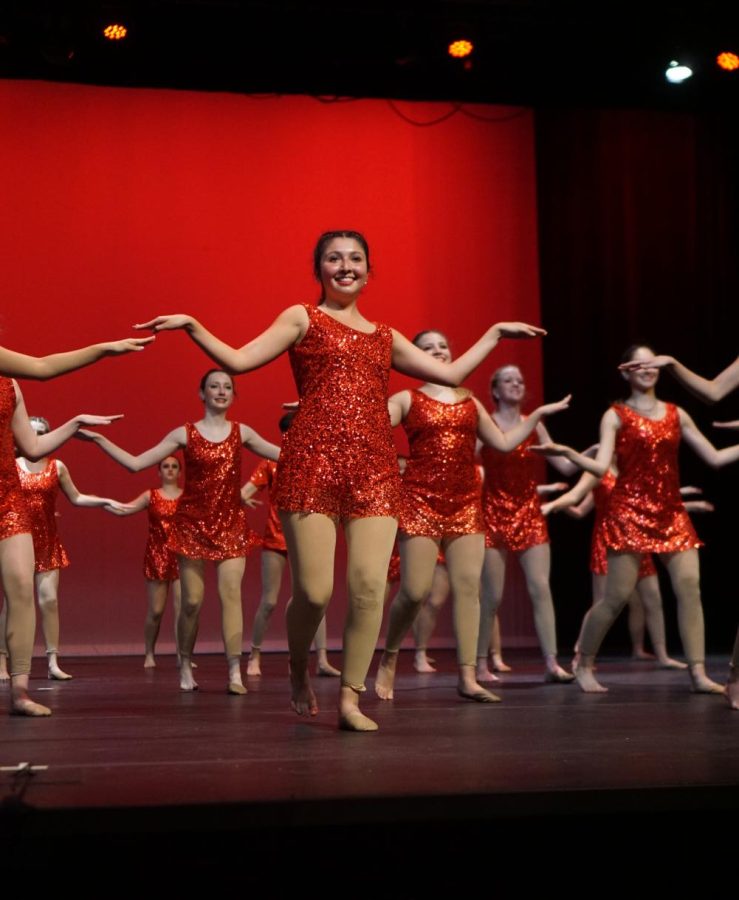 ONE FINAL DANCE: Senior lieutenant Emily Garza shares the "Last Dance" with her squad before graduation. Garza has always had a passion for dance, which was main reason she was chosen to be a senior lieutenant. "Being a senior lieutenant has been really fun," Garza said. "I went right into being a senior lieutenant with no prior officer background so I got to choreograph my own dances and have my own squad, which was really special for me." The spring dance show is very special to Garza as it is almost a goodbye to her career. "This is the last time we perform as seniors," Garza said. "The dance is performed by the Blue Bridgade every single year, and it's an old-fashioned traditional dance." Caption by Zahraa Alogaili. Photo by Kennedy Weatherby.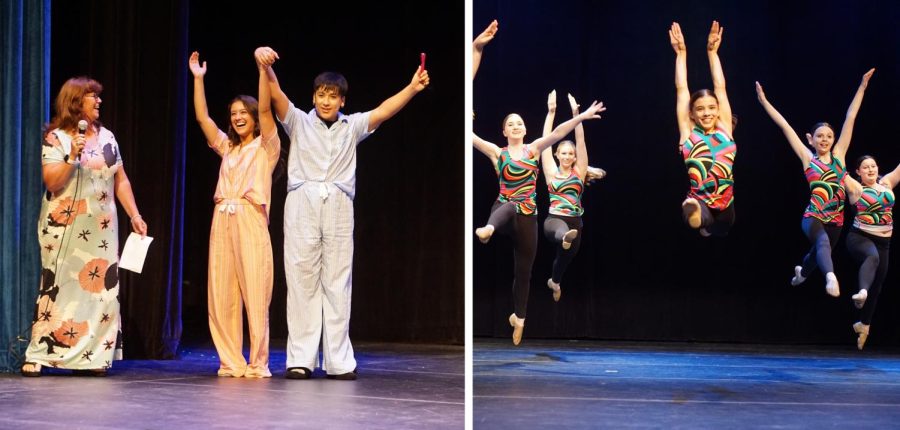 SISTER ACT: Class of 2021 co-captain Addie Seckar-Martinez was eager to emcee this year's spring show. She would be reunited with co-captain and best friend in the universe Matthew Vargas, and she would get a great seat to see her little sister Chloe perform as a Blue Brigade dancer for the first time.
There was, however, another reason beyond these very powerful incentives that led her to return to Austin all the way from Arizona just to be in town for this year's show: the venue. The 2022 spring show was the first in the MAC in three years. The last time the Blue Brigade performed on the MAC stage, Addie was not yet an officer or even an upperclassman. Being an emcee, she said, filled her with the nostalgia of remembering her younger self, not much older than her sister is now. She credits director Nancy Searle with preserving and extending Blue Brigade traditions, so she could relieve them as her sister experiences the same moments that she enjoyed before the pandemic.
Readers may wonder who came up with the idea to have former Blue Brigade captains return to host the spring show? The answer of course is that mother always knows best.
The relatively new tradition began in 2021 when Amelia Paul, Lilly Brown and Sydney Buford returned to campus to emcee the 2021 spring show that was staged in the gym due to COVID concerns. The idea was to allow them to experience what they had missed as seniors. The 2020 spring show was snuffed out completely by the pandemic.
"My mom [math teacher Angie Seckar-Martinez] actually had the idea that the three alumni could come back and emcee for us," Addie said, "and Honey had loosely mentioned that Matthew and I could come back for the next spring show on the last night of our show. I thought that was a super cute idea and we ended up reaching out to Honey in the winter and asking if she and the officers still liked that idea. She said that they did like the idea and so I bought my plane tickets." Photos by Dave Winter.
View Comments (3)