Knights returned to campus on Monday, filling the McCallum hallways with fresh freshman faces, seasoned seniors and everything in between. The 2023-2024 school year came with numerous changes, including Andy Baxa's promotion to principal, the addition of three new assistant principals and many new teachers. Beginning its inaugural year, Link Crew leaders helped freshmen find their classes and adjust to life at McCallum. The first day of school extended a summer of record-breaking Austin heat. AISD assistant director of communications Elizabeth Lippincott told KXAN that the McCallum campus had no AC during parts of the morning, and the problems persisted in some buildings on campus throughout the day. For some students, the first day of school was characterized by the long lines in the cafeteria to secure schedule changes. According to an announcement by Baxa, only students with blank periods on their schedules and other immediate issues could join the line and change their classes. Students also faced new schoolwide policies, including the mandatory use of district-issued Chromebooks in place of personal devices. For those exploring McCallum for the first time and those returning, Monday was the beginning to another year of Knight life, from academics and athletics and from friendships to fine arts.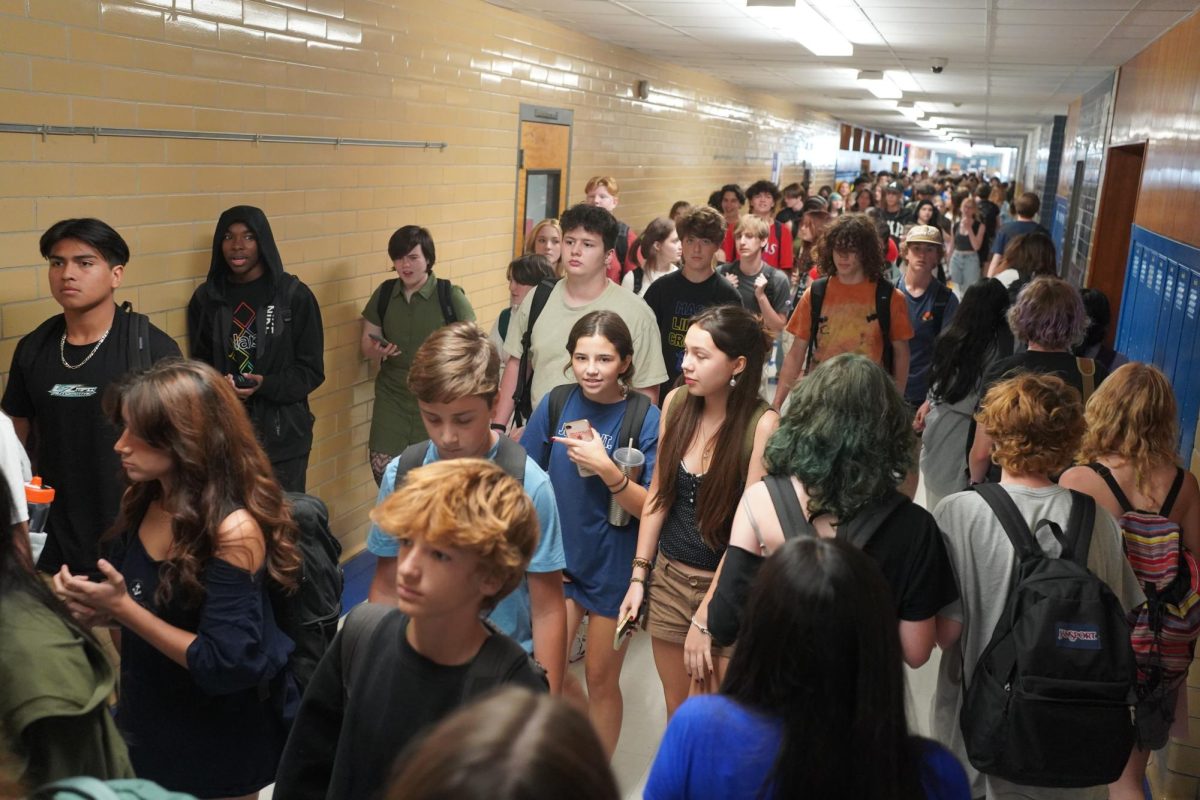 YEAR TWO: Sophomores Luciana Ramirez and Sofia Saucedo walk through the busy halls before the start of classes. 
For Saucedo, the start of sophomore year was easy and straightforward. 
"I was expecting almost the same thing as last year," Saucedo said. "I am expecting more challenging classes than last year and new people." 
According to Saucedo the first day provided many highlights. 
"Seeing all my friends and seeing what classes I have was fun," Saucedo said. "And also what the year is going to look like"
Saucedo has two main things she is looking forward to.
"I am looking forward to soccer and my classes," Saucedo said. 
Caption by Naomi Di-Capua. Photo by Dave Winter.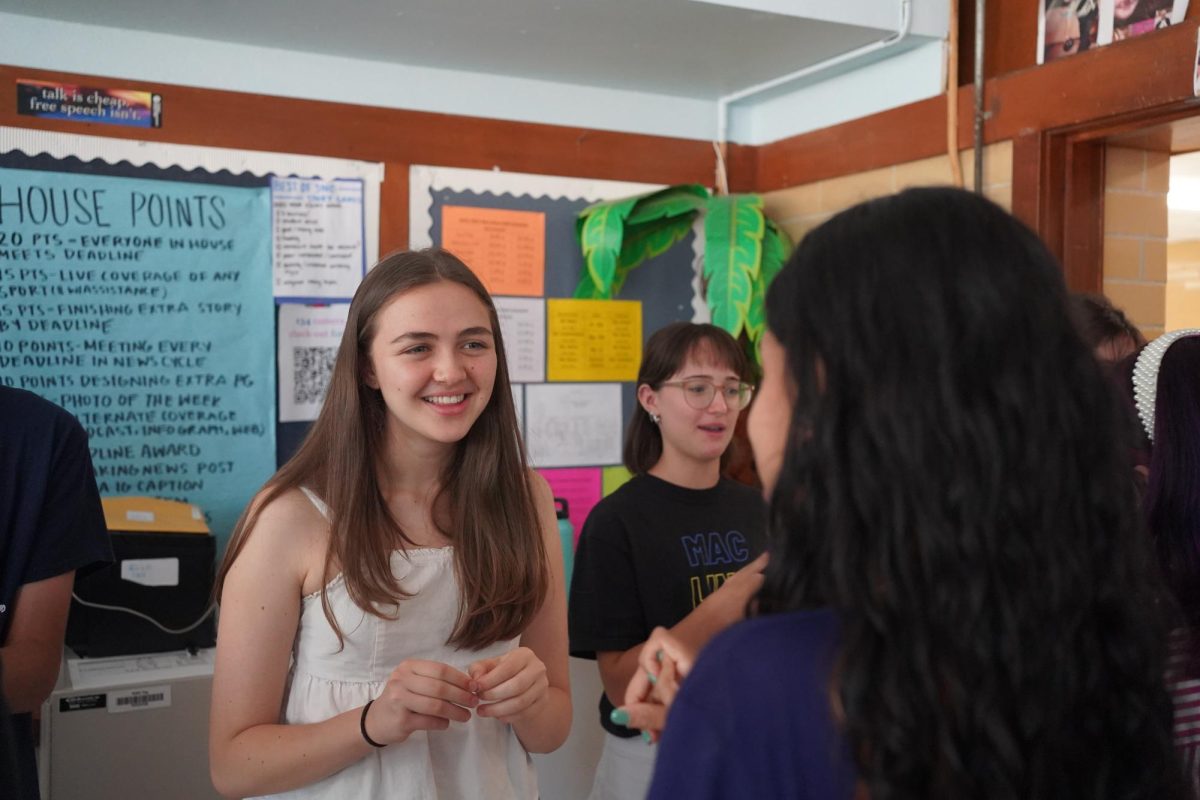 FRIENDS TILL THE END: Senior Naomi Di-Capua smiles as she converses with sophomore Priya Thoppil. The two Shield staff members were participating in an ice-breaker during their newspaper class first period. Di-Capua enjoyed the activity.
"My favorite part of the game was just getting to know all the small things about people," Di-Capua said. "I think knowing those sorts of things are how friendships and good relationships start."
According to Di-Capua, forming bonds between the staff is crucial for success. 
"In newspaper, we are constantly working together," Di-Capua said. "In order to do that you need to know each other, and you have to be friendly for a productive working environment."
Caption by JoJo Barnard. Photo by Dave Winter.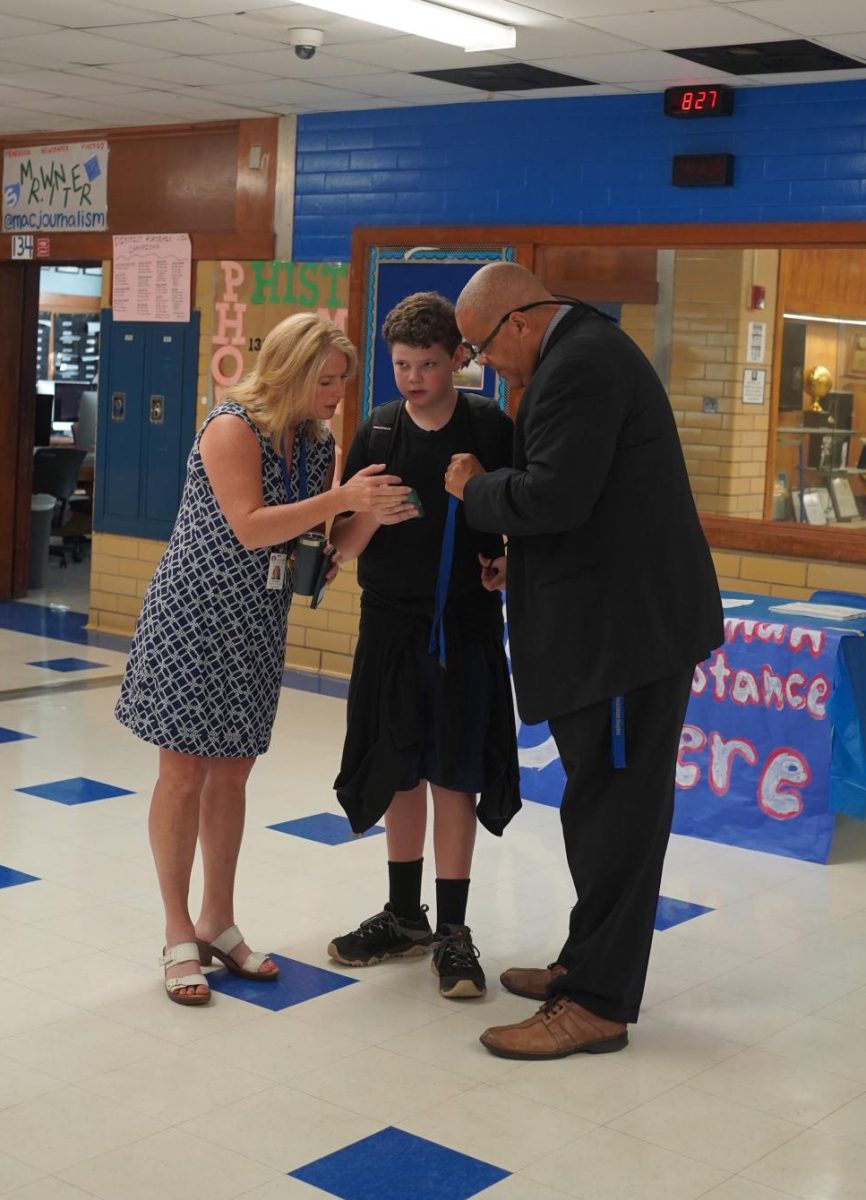 BACK TO THE BEGINNING: Assistant principals Tami Ballard and Larry Featherstone aid freshman Cullen Becker before first period on the first day of school. Freshmen like Becker attempting to navigate McCallum for the first time weren't alone; Ballard also began her time at Mac yesterday. Ballard has been in education for 27 years, both as a teacher and administrator, but this school year marks her first at McCallum. Ballard said although she sometimes had to figure things out alongside the students, her first day was full of acceptance and eagerness. 
Being able to help students find their way a little bit made me excited because I knew where to tell them to go," Ballard said. "If I didn't, I walked with them and figured it out. It was great."
Although figuring out certain administrative details such as busing has been challenging, Ballard noted that McCallum's culture has made her experience positive so far.
"The culture here is fantastic," Ballard said. "[It's] kind and supportive. I love that there's so much individuality. You can really see everyone's personalities. Everyone dresses so uniquely and just supports each other. It's one big family, is what I've noticed."
Ballard spent much of her previous career working with elementary students; this is her first experience working with secondary students full-time. Her new role represents the fulfillment of a dream.
"[Being full-time secondary] is what I originally went to college to do," Ballard said. "I wanted to coach and be a high school math or science teacher. Then, I met my husband, and he was a coach. I knew that we couldn't both do that and raise a family. So I did the littles [elementary education] and raised my family. My youngest just got married, so I decided I'm doing secondary."
Ballard's first day reminded her of why she wanted to work with high school students in the first place. 
"It was exciting for me to be back in high school," Ballard said. "I definitely feel younger, and [the students] bring out my feistiness a little bit. I've come back to where I wanted to begin. I love challenges, change and trying new things. So I'm super excited about it."
Caption by Lanie Sepehri. Photo by Dave Winter.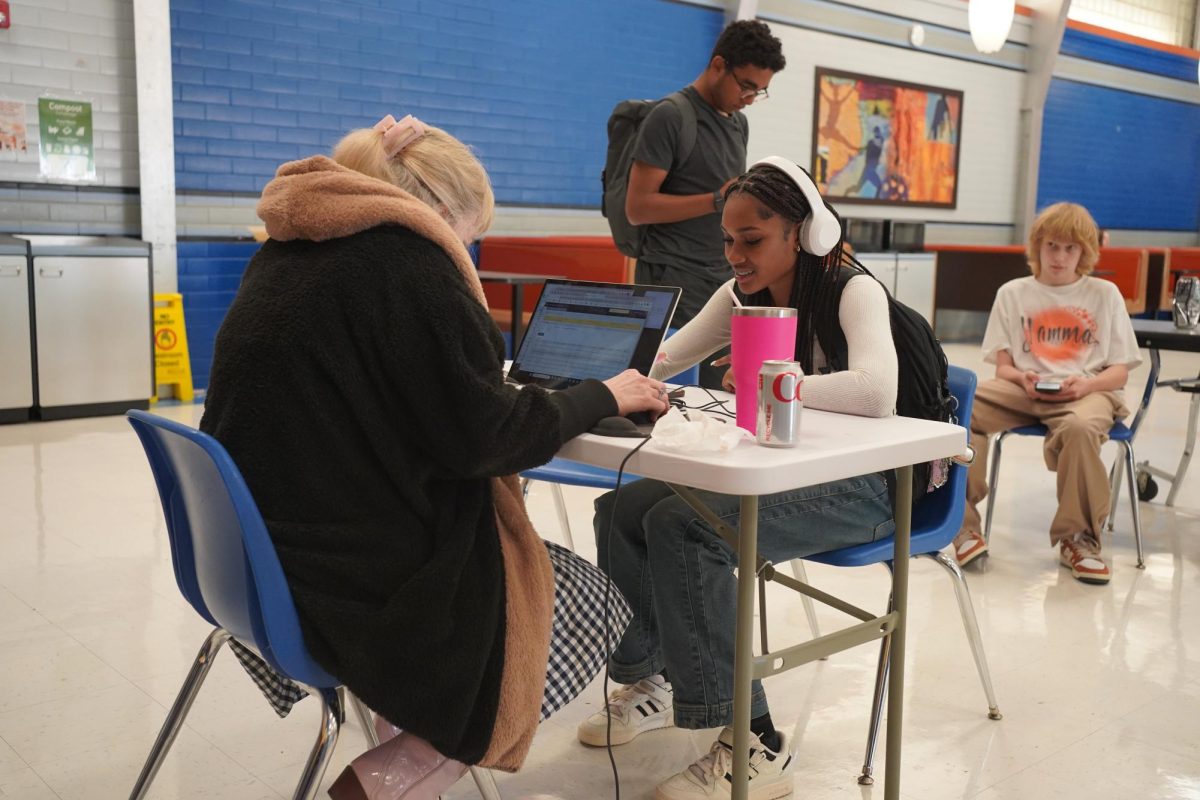 A CHANGE OF PACE: Sophomore Emily Spigner talks to counselor Shelly Goldstein about getting a schedule change on the first day of school. Spigner switched from volleyball to digital media in hopes of dipping her toe into a new subject. 
"I needed a change from being on the court to being behind the scenes and taking pictures," Spigner said. "I had Mr. Winter as my advisory teacher last year, and he was by me when I was getting the change and told me I should join digital media."
After getting her schedule changed, Spigner's week took off without a hitch.
"I thought the first days were so good," Spigner said. "I love the first days because I love getting to know all the people in my class and meeting new people."
Reporting by Alice Scott. Photo by Dave Winter.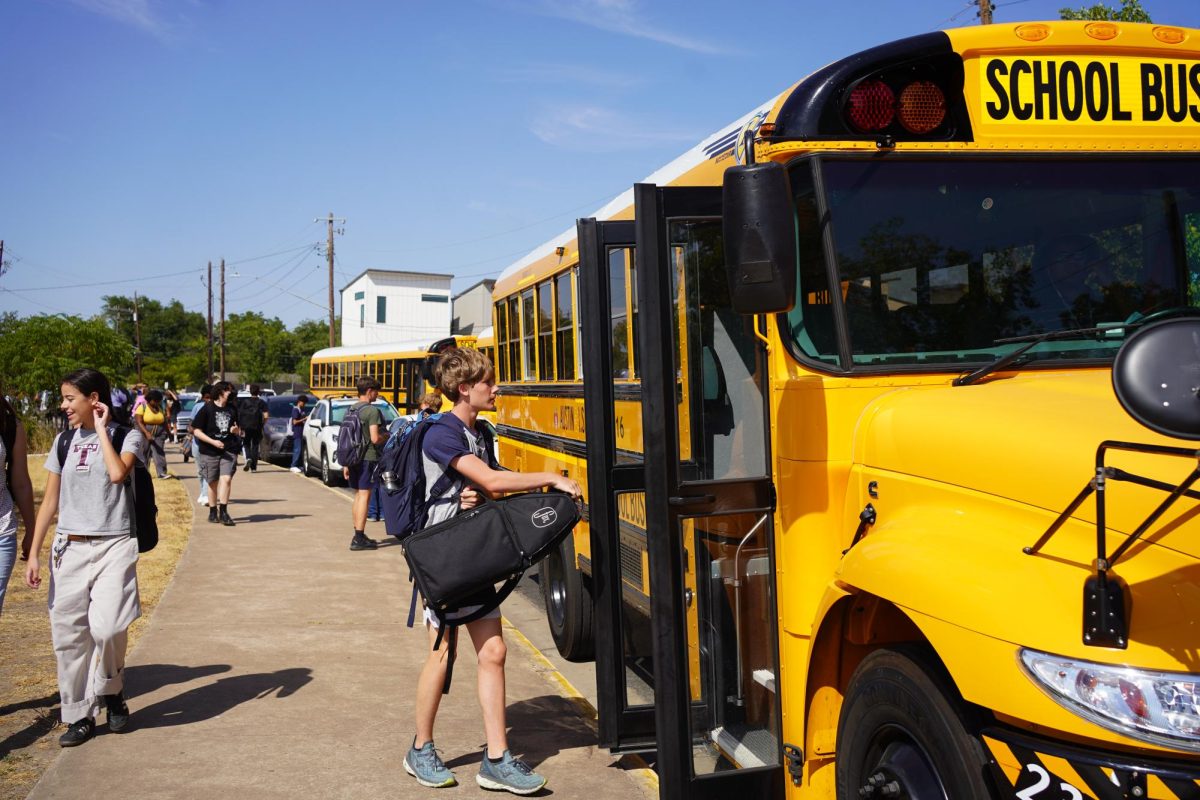 STEPPING INTO HIGH SCHOOL: Freshman Marsden Musick steps onto the bus after his first day of high school. Like most newcomers, Musick found the McCallum campus confusing to be around but he managed to find his way. 
"There was nothing hard in specific, but it was very stressful because it is my first day of high school," Musick said. 
The highlight of his first day was engineering class, despite being new to the area.
"I signed up for it because it has always been something I have always wanted to try out," Musick said. 
Going forward, he hopes to continue to explore engineering and improve his skills at playing the saxophone and bassoon.
Caption by Gaby Esquivel. Photo by Dave Winter.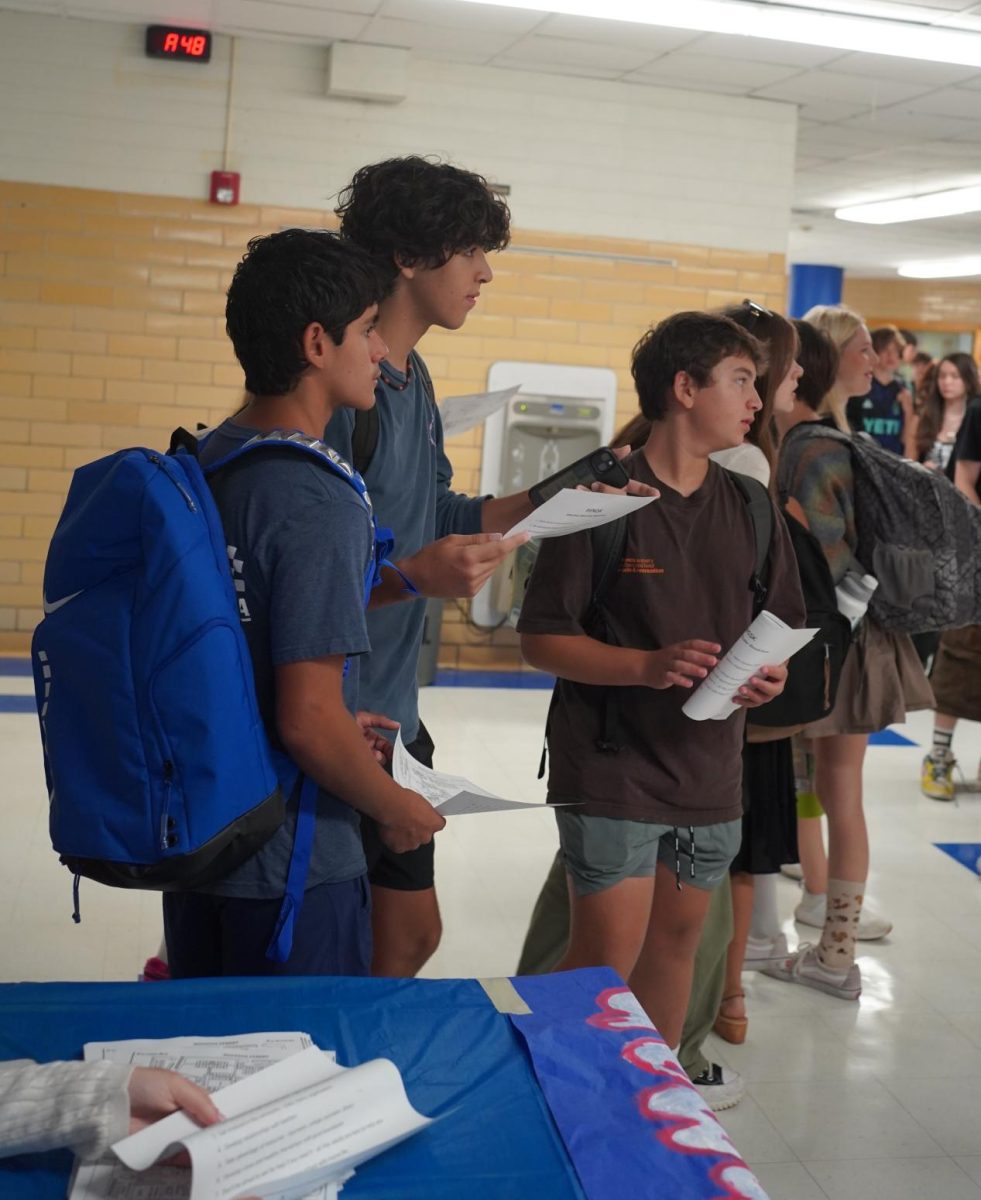 Freshmen Luke Martinez, Luca Dainton, and Fernando Kramer find their classes using maps that were handed out by Link Crew on the first day of school. 
Caption by Julia Copas. Photo by Dave Winter.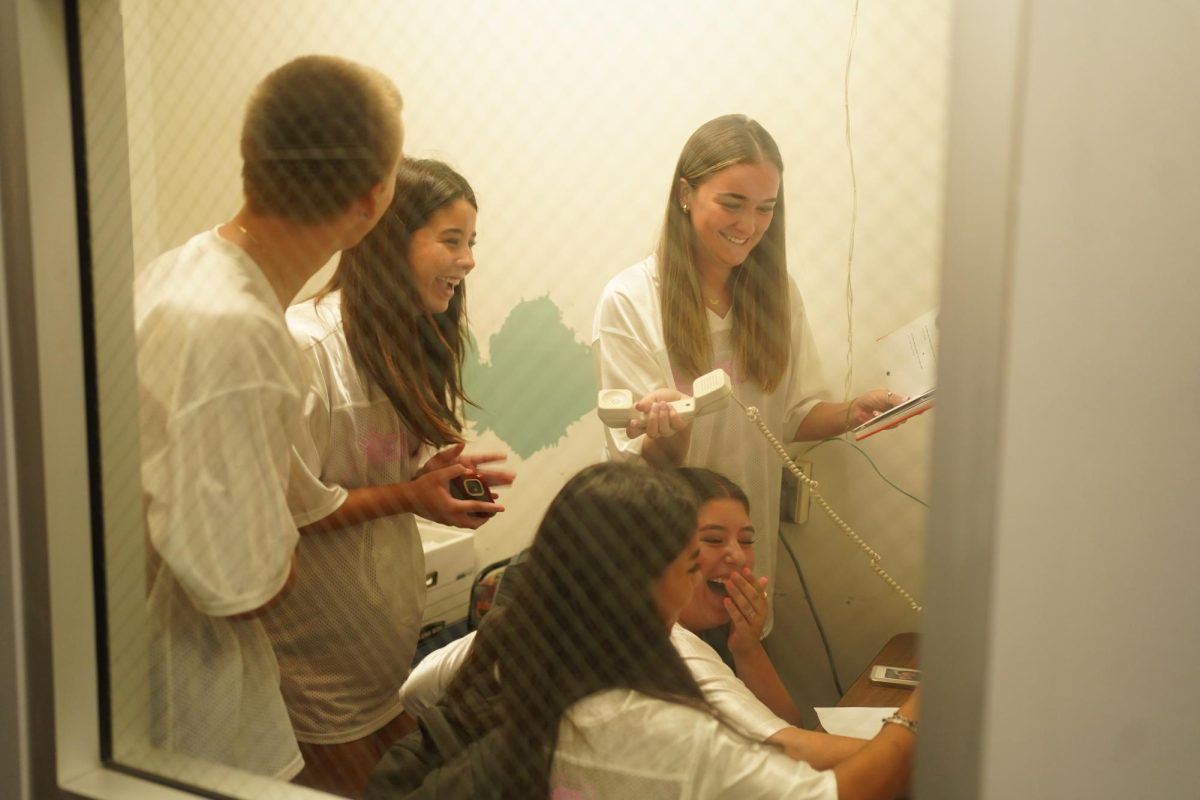 STUCO TAKES ON ANNOUNCEMENTS: As senior class president, Hannah Herrera spent part of her first day of school assuming the responsibility of doing the announcements along with her fellow officers shoulders. 
"I've only been doing the announcements for one day," Herrera said. "I became senior class president and the duties for that include doing the announcements every morning." 
Despite being nervous beforehand, Herrera said she is grateful for the opportunity, allowing her one more chance to work with student council members during their last year on campus. 
"I realized that this was my last first day and that I probably won't be seeing a lot of these people again," Herrera said. "It's pretty sad, but I felt really good to be here with my friends, and to be at the place that I'm at, knowing this is my last year on student council."
Student body vice president Madi Briggs said she felt relief going into the announcements. 
"Doing the announcements with my closest friends was fun," Briggs said. "I felt more like a leader and more involved with the school than I have ever been before." 
Both officers are proud of being able to say they've done the morning announcements now, as it signifies a larger contribution to the McCallum community, something Briggs suggests freshman to look into.
"Always put in your best effort," Briggs said. "I made my best friends throughout high school; enjoy the moments you have now." 
Caption by Helen Martin. Photo by Dave Winter.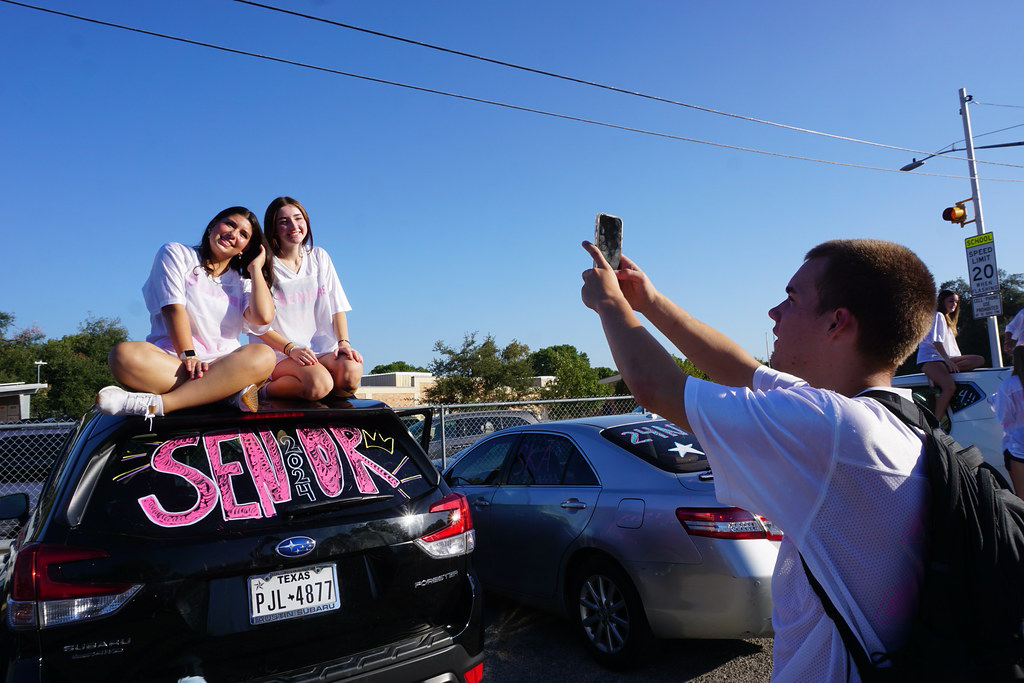 2ENIOR YE4R: Seniors Olivia Hexsel and El McGinnis pose on top of their chalk-painted car as senior Jay Schlett snaps a photo. Seniors gathered in the senior lot the night before the first day of school to paint their cars, and met early the next morning for photos.
As student body president, Hexsel organized the festivities. She managed senior jerseys and shorts, as well as the traditional car decorating.
"I really wanted to go out for our senior year," Hexsel said.
Spreading the word through social media, Hexsel and student council connections coordinator senior Sophi Beardslee worked together to plan the get-together. 
"At first I thought that not many people would show up, but when I pulled up to school, there were lots of people," Hexsel said. "I'm just glad we could all come together, and I thought it was a really good experience to start senior year."
Photo and reporting by Sophie Leung-Lieu.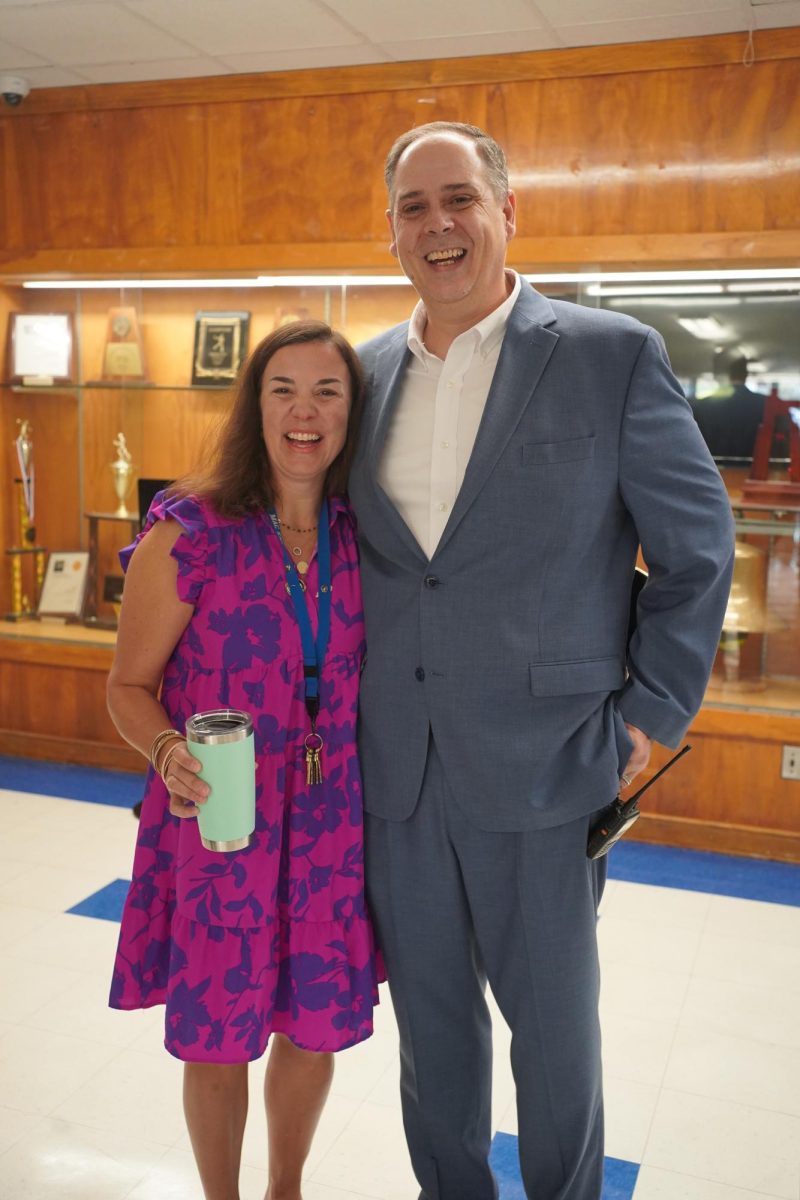 PRINCIPAL BAXAS FIRST FIRST DAY: Back to school ready, new McCallum principal Andy Baxa poses for a photo with college and career counselor Camille Nix.
Caption by Elena Ulack. Photo by Dave Winter.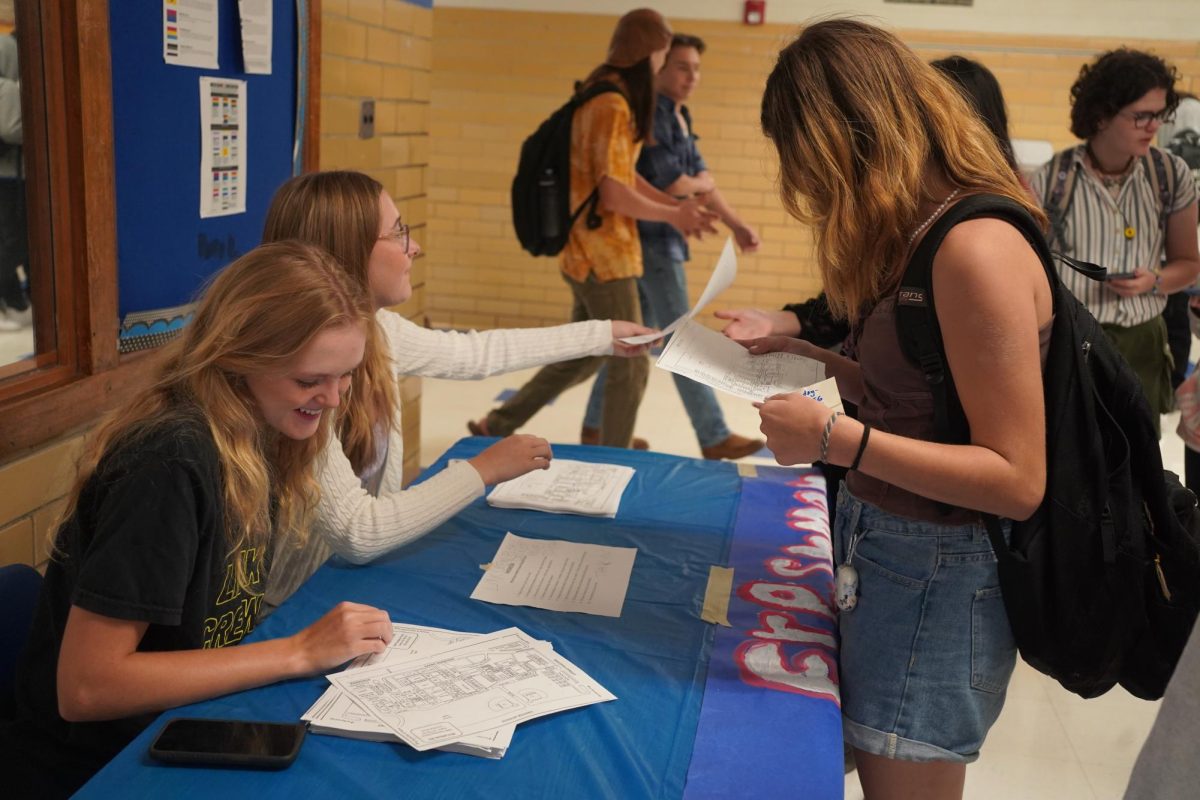 MAKING CONNECTIONS: Junior Link Crew leaders Tegan Rutherford and Kate Talley spent their first morning of the school year assisting freshman with finding their class while stationed at the Link Crew "help desk" in the main hallway on Monday morning. 
"There was a steady stream of people coming up and asking for help," Rutherford said. "I think it was a good tool and it was definitely utilized." 
For most of the morning, Rutherford was busy handing out maps and directing freshmen around the unfamiliar campus, which may have been a simple task but one that she believes goes a long way. Rutherford feels that the "direct connection" offered by Link Crew, on both the first day of school and at orientation last week, vastly improves freshmen's early high school experience. 
"Me and the other [Link Crew leader] in my group have a group chat of freshmen and if they need help they can literally just text us, which I would have loved as a freshman because getting help from teachers is not super efficient," Rutherford said.
Caption by Francie Wilhelm. Photo by Dave Winter.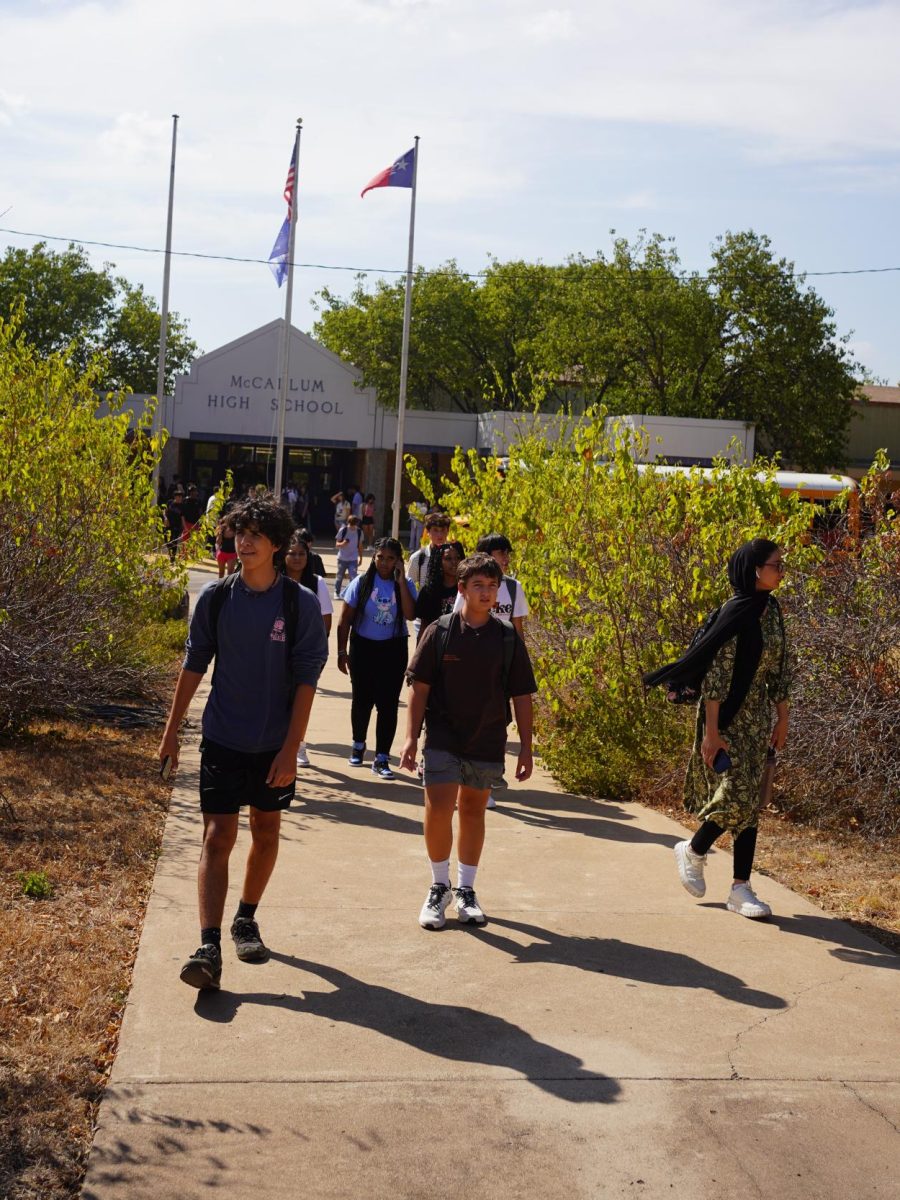 FIRST DAY FRIENDSHIPS: Freshman Luca Dainton leaves McCallum after the first day of school. 
Exploring the campus with friends, Dainton began the day with his eyes glued to a campus map. Coming from Lively Middle School, Dainton said he was shocked by McCallum's size. The busy hallways made him wonder if it was even possible to get to class on time.
"I did not know that there were going to be that many people walking in the hallways," Dainton said. "It's actually crazy because in middle school it was really quiet in the halls, and there was barely anybody. Here it's a bunch of traffic."
Dainton said the best part of the day was getting to know people in his classes. While he came into school with friends from soccer and outside of school, most freshmen were new faces.
After one day, Dainton could tell that the people at McCallum are what make the school special.
"Most of the people that I've met are all really nice; they all talk well and they're funny," Dainton said. "In my biology class I made a couple of friends who sat really close to me. It was really nice, and they were also freshmen."
For Dainton, the biggest challenge of the day was chatting with upperclassmen in his advanced classes like precalculus. But he quickly made friends. 
"I like communicating with other people, and I think that's really important to making friends," Dainton said. "I love having people around that I can talk to so classes aren't boring. I want to have friends in every single one of my classes that I can talk to."
Caption by Ingrid Smith. Photo by Dave Winter.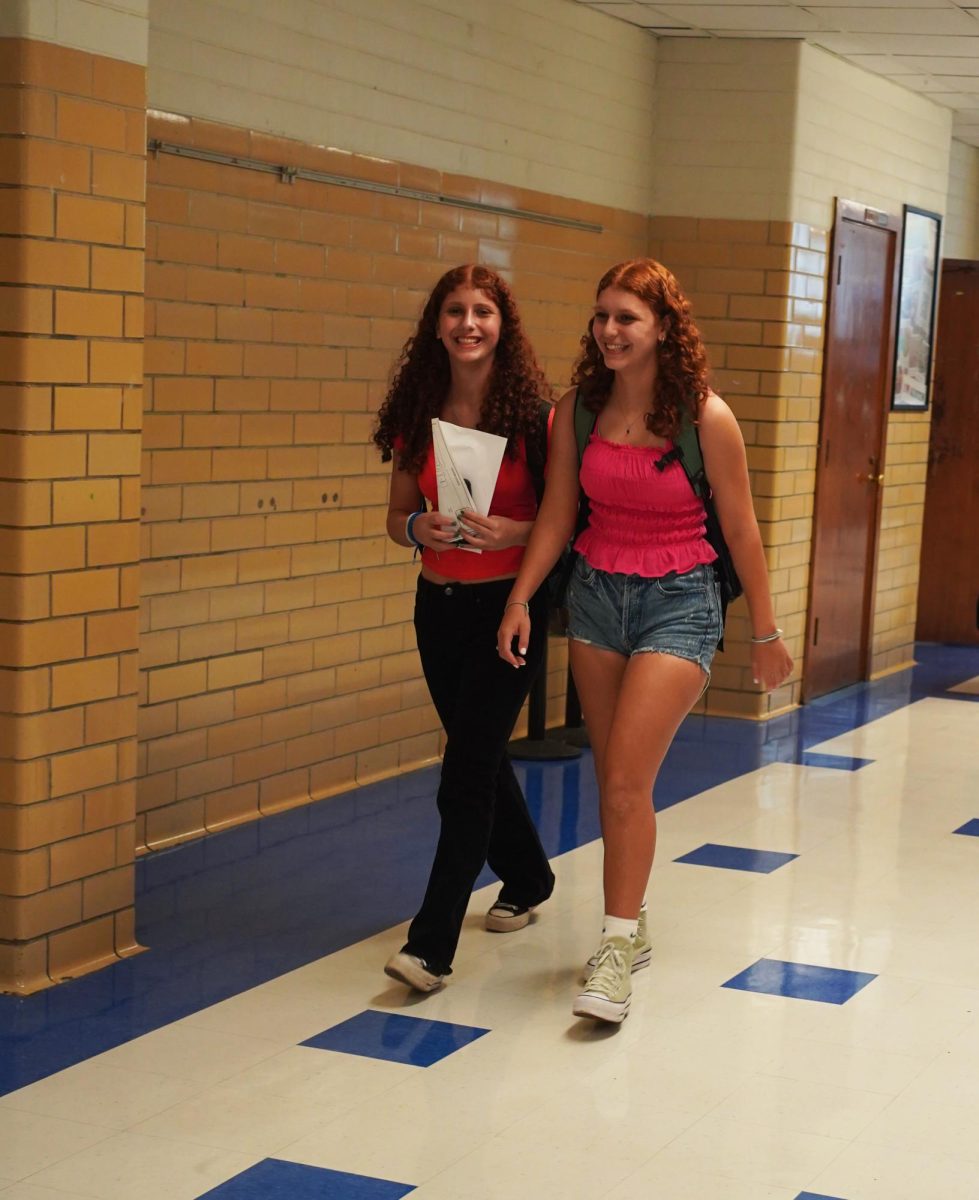 THE DYNAMIC DUO DOMINATE: As students fill the hallways and make their way to their classes, junior Layla Al Hallaq returns to school with her freshman sister Lujain by her side. Al Hallaq describes that she was walking her sister to her classes, and navigating her through the maze of McCallum hallways that she too once had to do as a freshman. 
"I was essentially just showing my sister around on her first day of school," Al Hallaq said. 
For Al Hallaq, getting the chance to show her sister the place she has learned to master over the years was special, and unique. 
"My favorite part was just seeing her talking to new people, and making new friends." Al Hallaq said. "And even just her seeing her classes."
The duo was able to conquer the first day side by side with each other's support. 
Caption by Chloe Lewcock. Photo by David Winter.