Since July 4 fell on a Tuesday, we thought it would be an excellent subject for a special summer Tuesday Top 10 photo essay. We still think that, but the final essay is not the comprehensive visual tour of patriotic Fourth of July celebrations throughout Austin and beyond that we imagined when we invited our followers to share their holiday photos with us. For example, we have no photos of Willie Nelson's Fourth of July Picnic, a live music festival at Q2 stadium or the "Hawk Dawg hot dog eating contest and concert at Mohawk Outdoor on Red River Street or the Hill Country Galleria Independence Day Festival.
But rather than focusing on what's not here (even though those omissions are regrettable), we are instead going to celebrate what we were able to collect, namely, a daytime collection of photos taken at the Fourth of July parade and concert hosted by the City of Fredericksburg and a nighttime collection that documents the City of Austin's signature fireworks display at Vic Mathias Auditorium Shores that was set to live music by the Austin Symphony.
Think of it as two compelling chapters in the larger story of July 4 celebrations in central Texas, not the whole story to be sure, but hopefully still visually interesting.
CHAPTER ONE: Fredericksburg by Day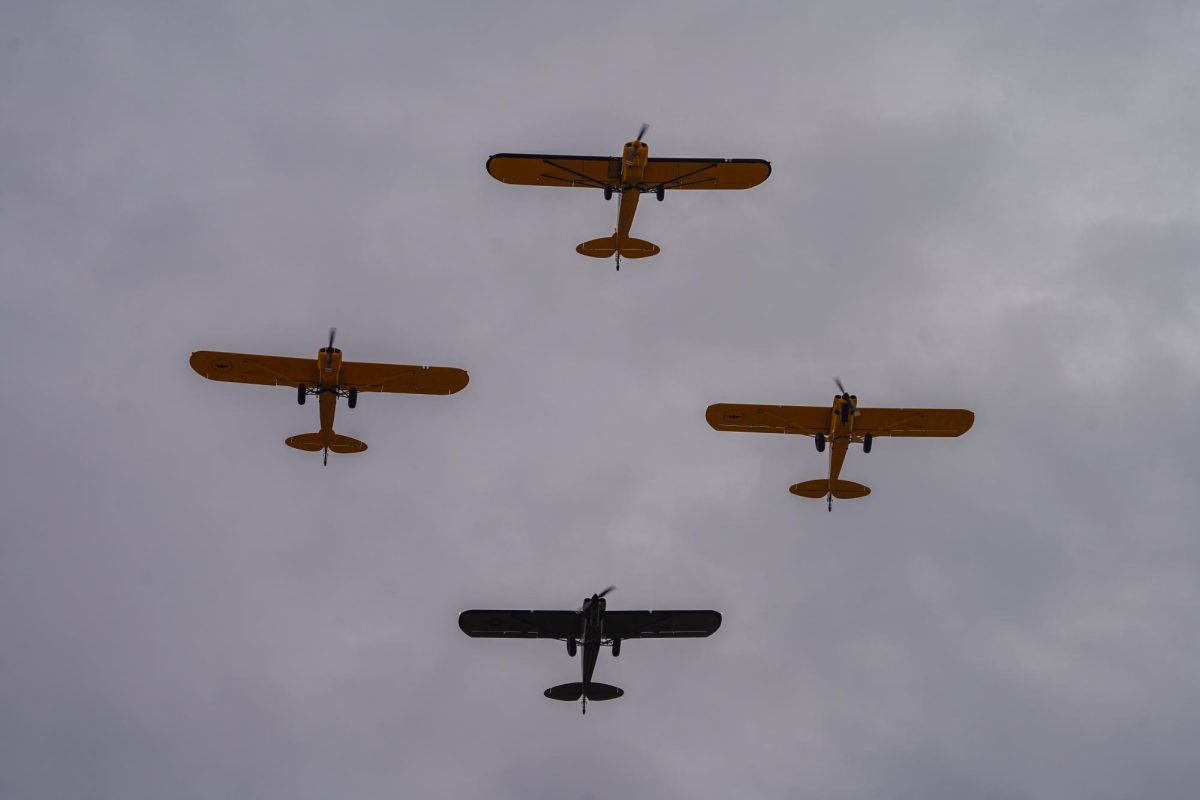 Story continues below advertisement
JUST PLANE AWESOME: Four planes from Fredericksburg's TacAero flight school's fleet of CubCrafter Top Cubs flies above Main Street prior to the start of the city's Fourth of July Community Parade on Tuesday. TacAero offers a range of training courses including basic, intermediate and advanced tailwheel training, basic and comprehensive carbon cub training, backcountry flight training and vintage aircraft training. Photo by Dave Winter.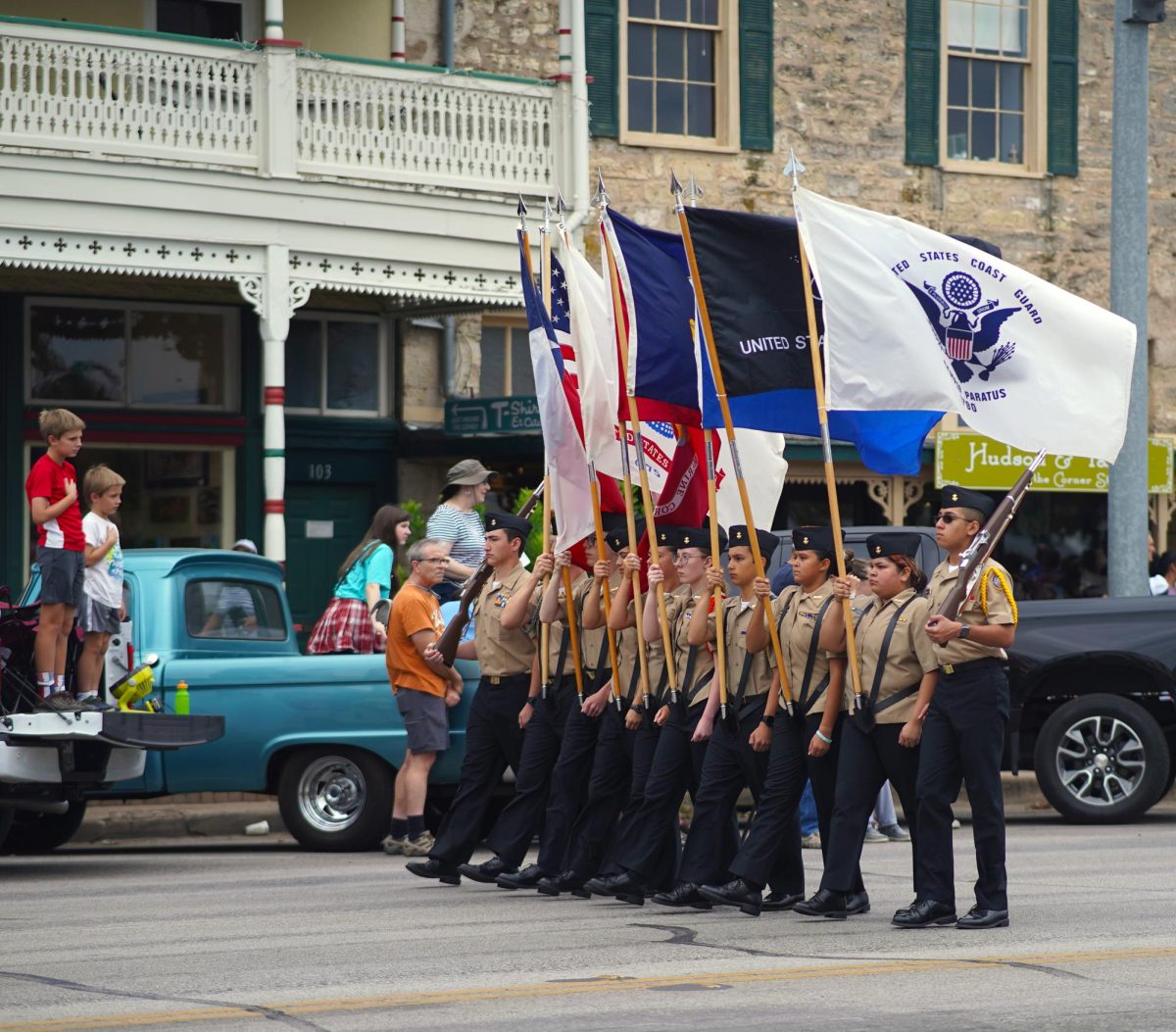 THE FRONT LINE: Two young parade observers hold their right hands over their hearts as the Fredericksburg High School JROTC leads the Fredericksburg Fourth of July Community Parade as it starts its eastward march down Main Street on Tuesday July 4. Photo by Dave Winter.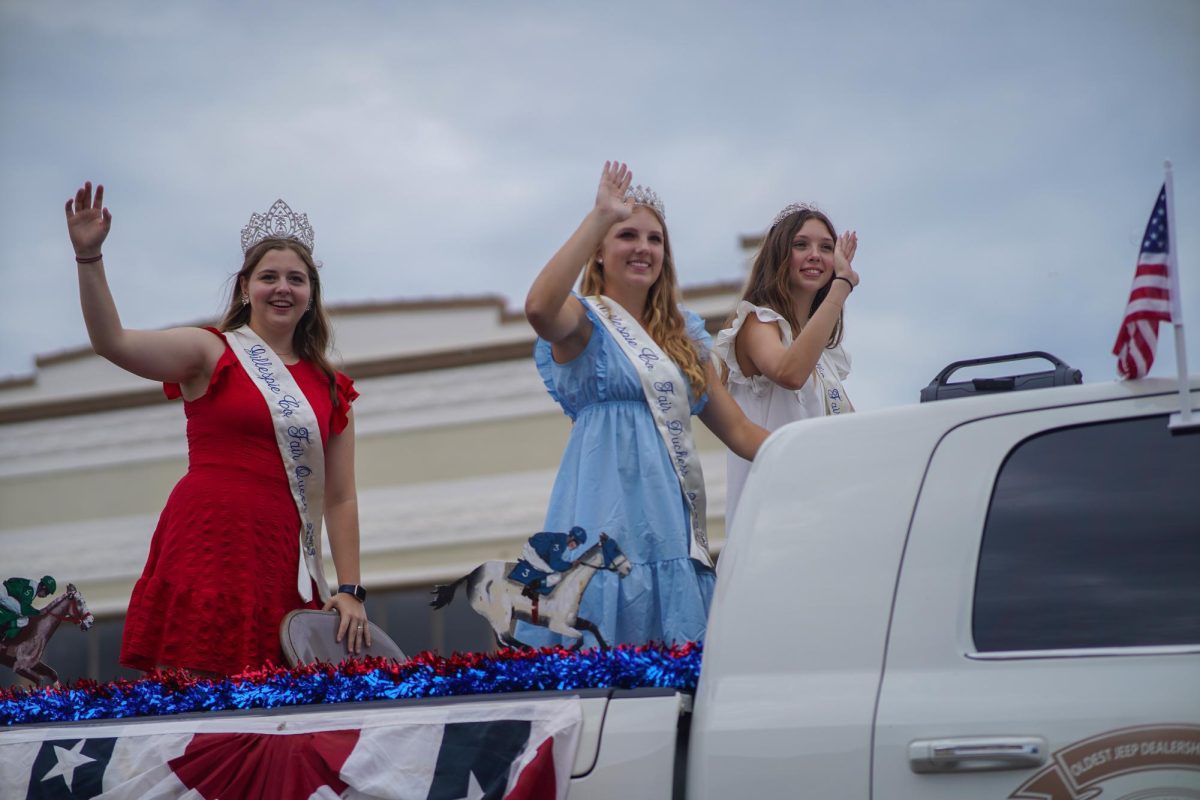 RED, WHITE AND BLUE ROYALTY: As they made a second ride down Main Street—westward this time—the members of the 2023 Gillespie County Fair Court—Queen Addison Hahn, First Duchess Addison Schoessow and Second Duchess Audrey Williams—wave to the crowds at the annual Fourth of July Community Parade. Photo by Dave Winter.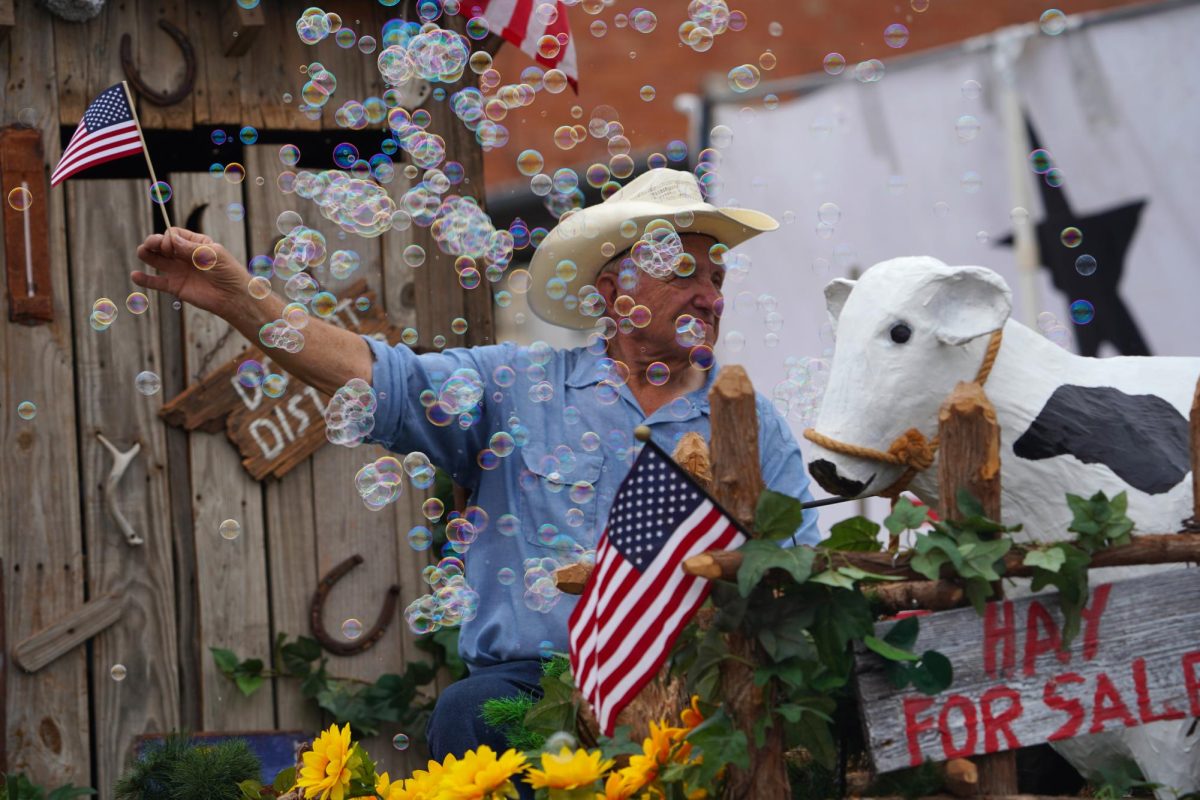 TOWN AND COUNTRY: Gary Schwab remembers the first time he and his wife Janice rode in a parade. It was 44 years ago. The year Janice opened the Kountry Kurl Salon in Comfort and the year their son was born. He knows this because he remembers that his son rode in the pickup truck that day.
You gotta be neighborly.
— Gary Schwab
Schwab explained that in those early parades they just rode a truck, but then they added a little trailer and eventually graduated to a fully decorated trailer like the decked-out Buzzard Tree Ranch tableau that appeared in Tuesday's parade.
He joked that he usually builds a country scene because otherwise a beauty salon float would feature a woman sitting under a hair dryer. This year's edition was one of the most original floats in the parade, featuring a distinguished farmer (played by Schwab), seated in front of an outhouse while a machine dispensed a steady stream of bubbles.
"Every year, I build something country, and every year it's different," he said. "I remember those days, so it's easy for me to build them. Everything on there is handmade. You see the outhouse? I made it. The fence around it? I made it. The cow? I made it. I made everything."
While all of those items were memorable parts of the float, none of them was the float detail that Schwab listed as his favorite. That item was a skunk riding a skateboard around a tree on the back end of the float.
"You have to give the crowd something a little something to have fun with," Schwab said.
Everything on there is handmade. You see the outhouse? I made it. The fence around it? I made it. The cow? I made it. I made everything.
— Gary Schwab
Without prompting, parade director Daryl Whitworth recalled the same skunk when remembering the Schwabs' many years of involvement in the Fourth of July parade that he said went back 18 years ago when Whitworth's father was a parade organizer.
Janice Schwab is not only the sponsoring salon owner, but she is also the float driver. The dynamic duo of central Texas parades is headed next to Center Point for a small hometown parade that Gary said he really wanted to support.
"We got do it," he said. "You gotta be neighborly."
The Schwabs prove that commitment every Thanksgiving Weekend when they head the sponsorship group for the  annual the Christmas in Comfort parade. They do a bit more than volunteer however. They appear as Mr. and Mrs. Claus on a float that gets a brand new look every year when Gary heads back to his garage, removes everything from his trailer, and creates that year's polar showstopper. Photo by Dave Winter.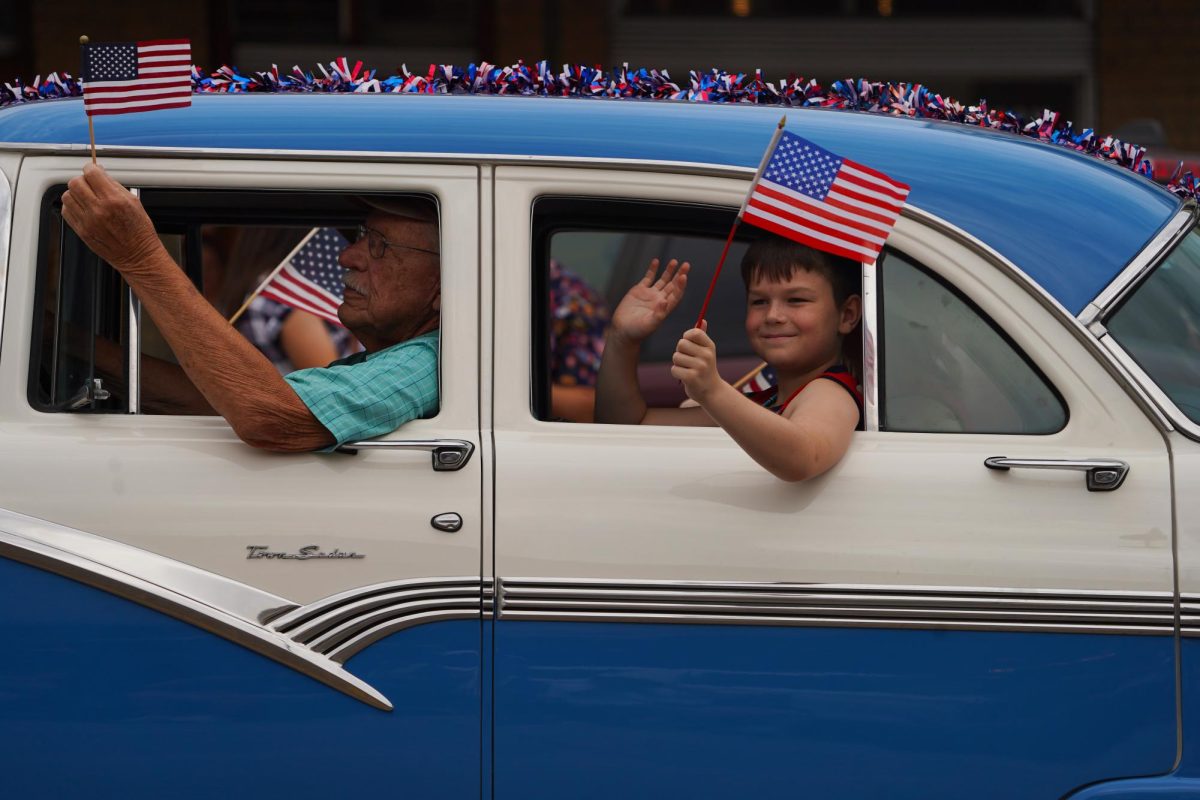 A CLASSIC TOUCH: This blue and white 1956 Ford Fairlane Town Sedan was one of many old cars that added a classic touch to the Fourth of July parade in Fredericksburg. Photo by Dave Winter.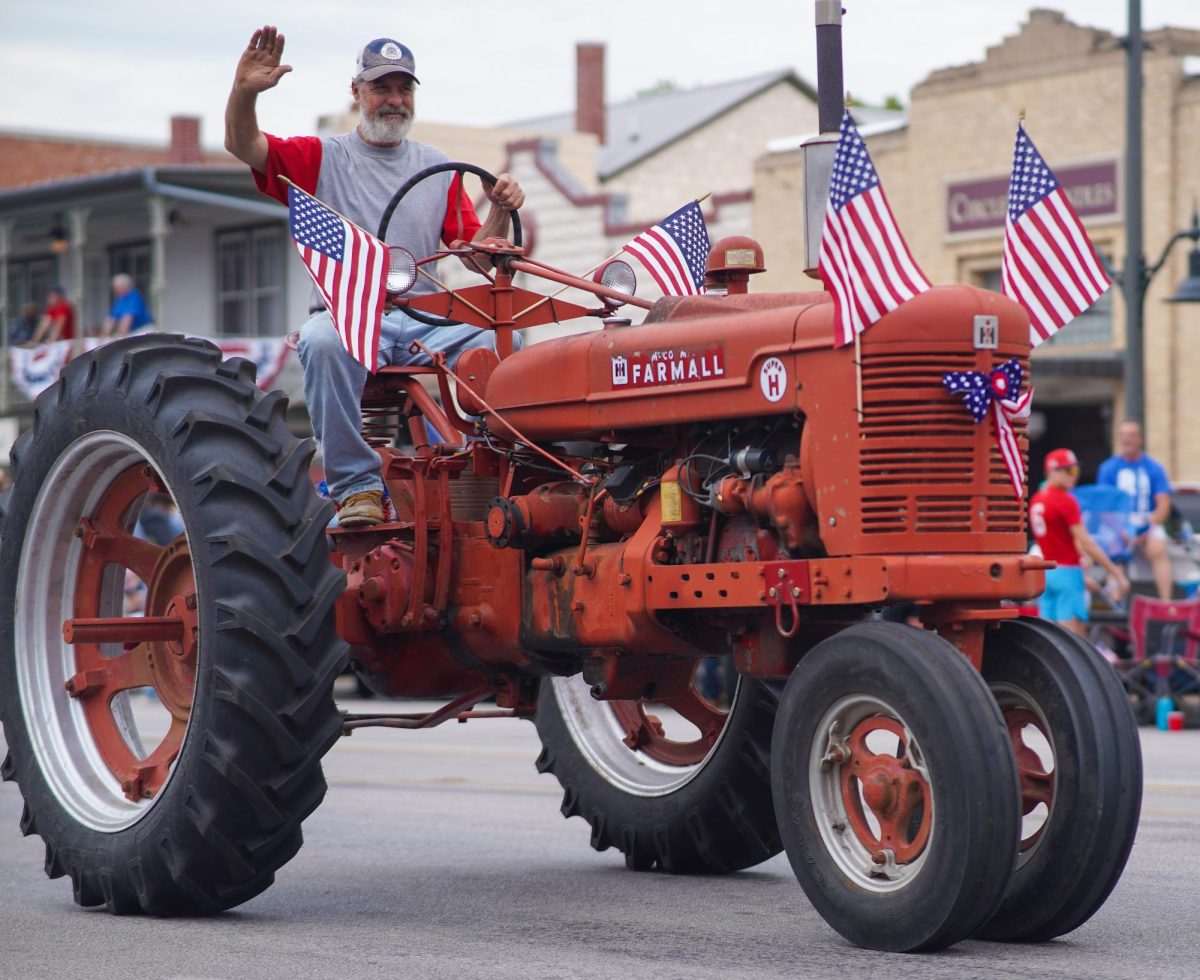 A MAIN A-TRACT-ION: Representing the Hill Country Antique Tractor & Engine Club Show, Curtis Phelps of Johnson City rides his antique tractor westbound down Main Street at the annual Fourth of July Community Parade. While Phelps' tractor has a traditional look reminiscent of Mater from the Pixar Cars movies, there were more unusual tractors in the parade including a hot pink full-size tractor and a couple of miniature tractors. Photo by Dave Winter.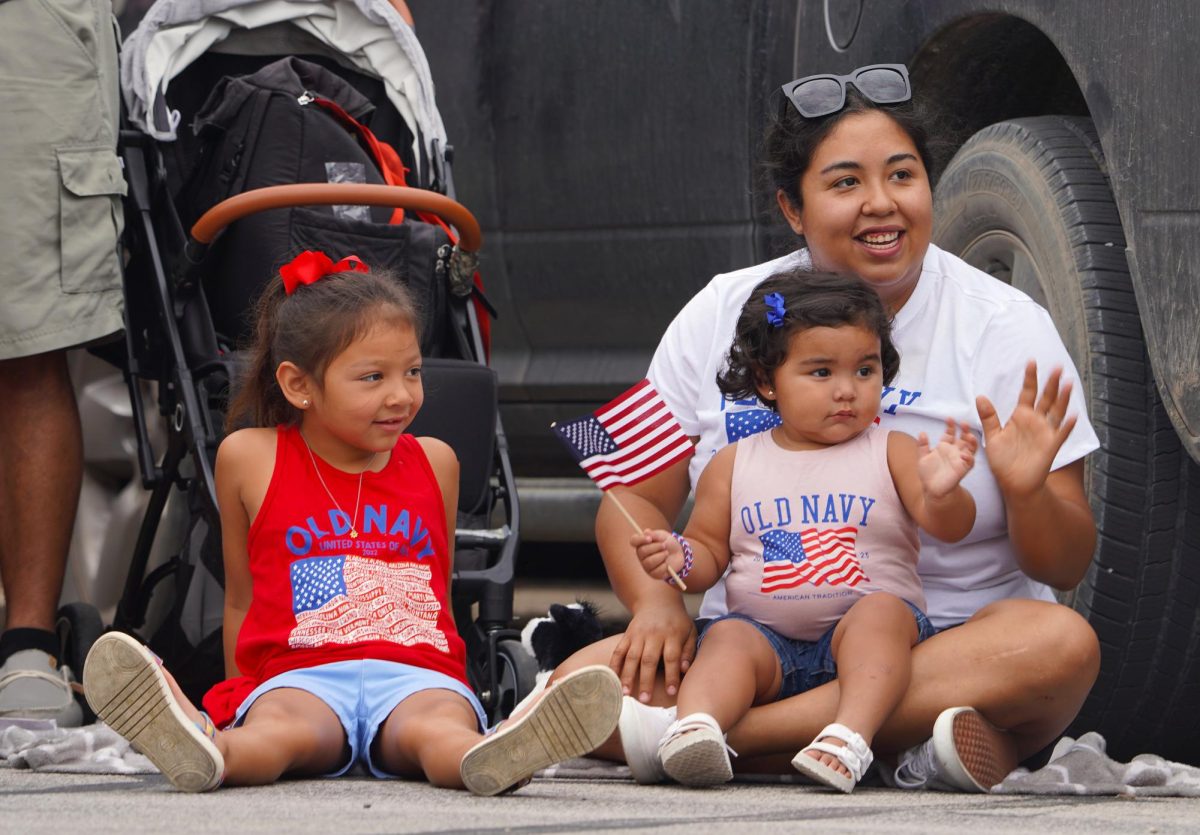 WHEN IN FREDERICKSBURG: Three of the estimated 10,000 parade attendees are all smiles as the parade passes by them on Main Street. Parade director Daryl Whitworth told FBG.live before the parade the locals are known to park an old ranch truck or a second car of some kind on Main Street along the parade route the night before the parade or even sooner to guarantee a prime parade viewing spot. Whitworth also said that Arrowhead Bank purchased 3,000 small U.S. flags, like the ones shown in the picture, to pass out to spectators before the parade started. The only sad asterisk to that detail is that 2023 marked the first year that parade organizers were unable to purchase the flags from Dooley's, the famous five-and-dime store on Main Street that closed after 99 years of operation on June 30, 2022. Photo by Dave Winter.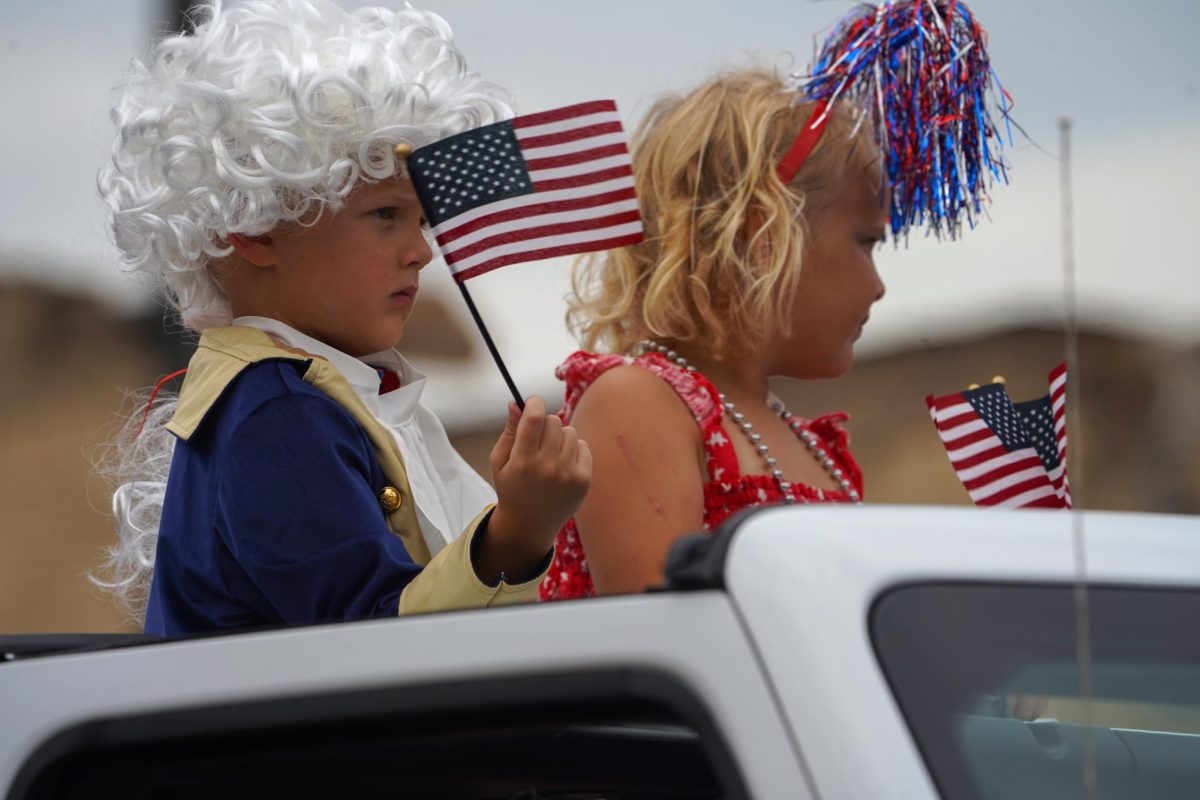 BY GEORGE: Famed Revolutionary War hero and the first U.S. President, George Washington, made a rare 21st century appearance at the Fourth of July Parade perched on the vehicle of Fredericksburg City Council member Emily Kirchner. Photo by Dave Winter.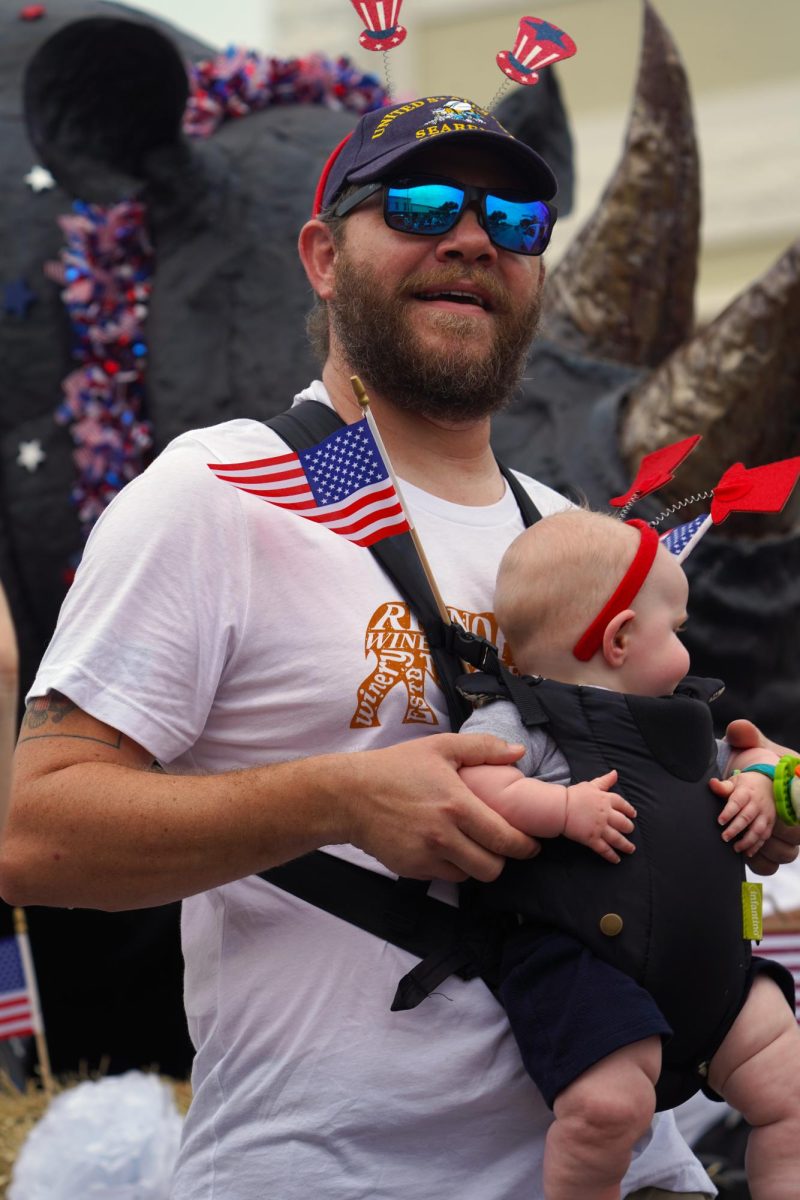 AROUND THE HORN: Tyler Rockey, a tasting room associate at the Rhinory, marches in the Fourth of July parade on Tuesday while holding his son Gunnar in a front-facing sling. The innovative winery not only serves wine but also provides a home for Blake, a 4,000-pound Southern White rhinoceros. Owner Craig Stevens and his wife were motivated to try to this unusual marriage of wine tasting and rhinoceros preservation when they witnessed poachers kill two rhinos for their horns while on a safari in Kruger National Park in South Africa in 2016. Photo by Dave Winter.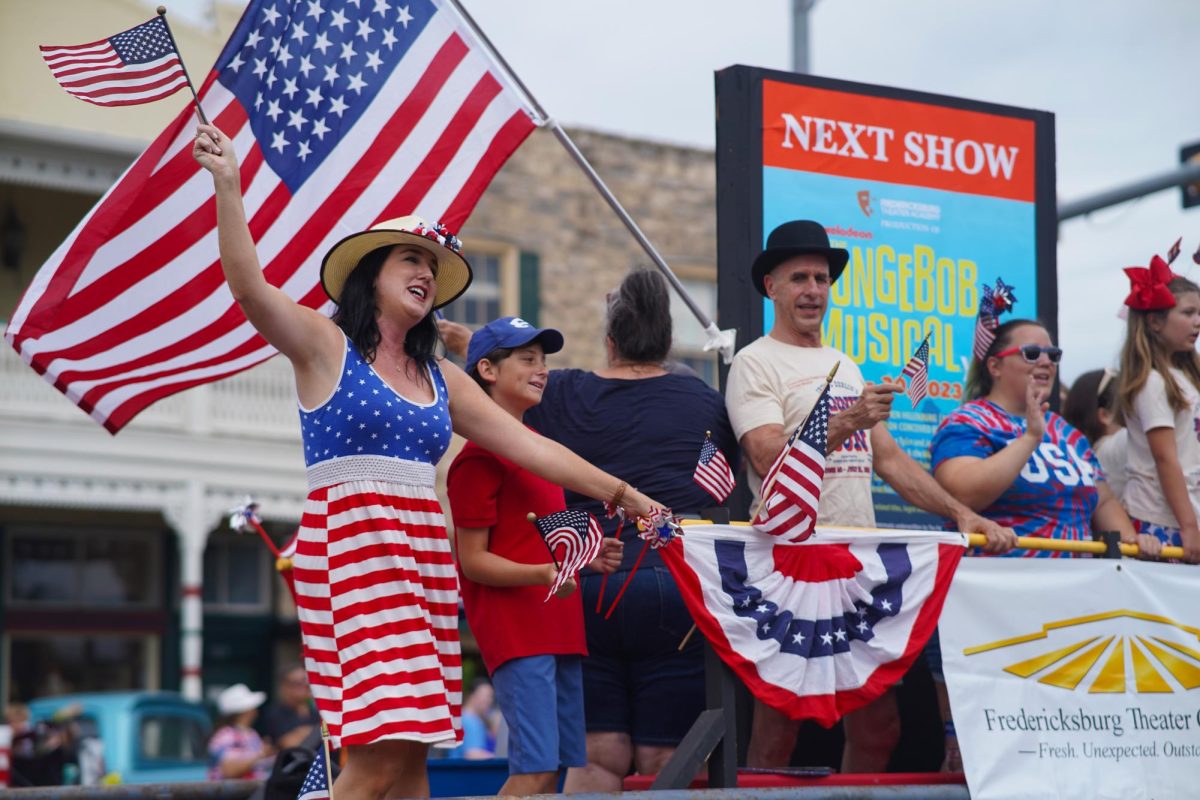 WHEN MAIN STREET TAKES CENTER STAGE: Promoting the Fredericksburg Theater Company's upcoming shows, The SpongeBob Musical and Ring of Fire: The Music of Johnny Cash, are Liza Smith in the American flag dress, Ryder Buckelew in the baseball hat, Barry Sikes in the black bowler hat, Christy Brown in the sunglasses and tie-dyed shirt and Abigail Fitzsimmons wearing the big red bow. Everyone on the float served the company as a volunteer actor within the past year, and many of them will appear in upcoming shows. Buckelew is in the cast for The SpongeBob Musical: Youth Edition, which runs from July 27-30. Brown and Sikes will both play a role in Ring of Fire: The Music of Johnny Cash, which runs from Aug. 11-20 and incorporates Cash's music to tell a loose version of his life story. Brown is in the cast while Sikes is in the band. To purchase tickets for either show or a ticket package, visit fredericksburgtheater.org or call 830-997-3588. Photo by Dave Winter.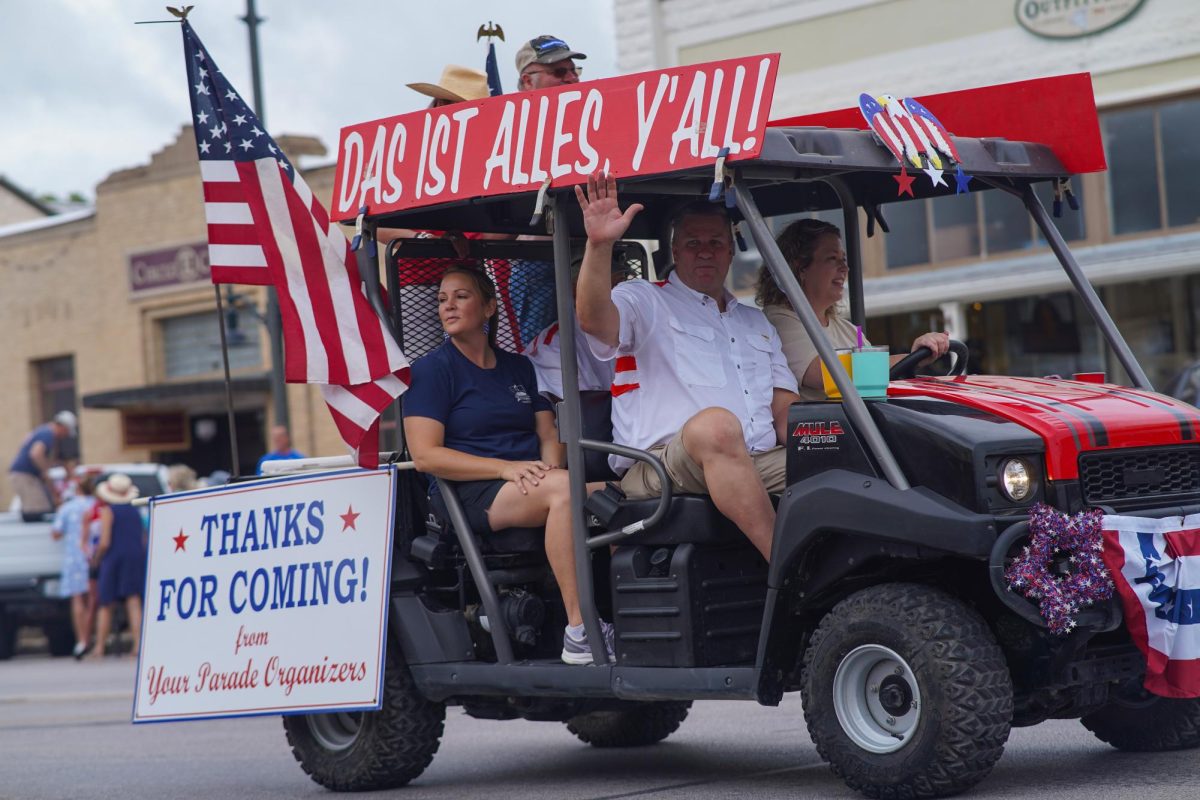 BY THE NUMBERS: Underneath a sign that reads "That's all folks!" in German, Fourth of July Community Parade director Daryl Whitworth waves to the crowd on the north side of Main Street while his wife Stephanie drives the jeep carrying the parade organizers in the vehicle that was the penultimate ride in the float. A Gillespie County fire engine was the parade's caboose. Seated in the back are the City of Fredericksburg special events coordinator Jennifer Krupa, Linda Revels and Joe Kammlah and standing in the back are Debbie and Neal Reeh.
A lot of people tell me that [the Fredericksburg parade] is one of the best small-town Fourth of July parades anywhere in the country.,
— Daryl Whitworth
Whitworth said his No. 1 takeaway from this year's parade was the unprecedented participation. He estimated that the 2023 parade was the largest in the event's history in terms of attendance and participation. He said that somewhere between 500 and 1,000 people were in the parade, and he deemed 10,000 to be a conservative estimate of the crowd that gathered to watch it.
"No one can confirm or deny that [estimate]," Whitworth joked on Friday.
He stood by this estimate while acknowledging that Fredericksburg is a town of 13,000 residents and surrounded by a county of 25,000. To illustrate that the crowd estimate was conservative, he pointed to the fact that in years past, there was a distinct change in crowd density between the heart of the parade on the 200 block of Main Street and the rest of the route but that this year, the entire route was packed with spectators. Most notably, he pointed to those who chose to watch the parade on blocked-off cross streets where the crowd ran two or three rows deep.
"A lot of people tell me that [the Fredericksburg parade] is one of the best small-town Fourth of July parades anywhere in the country," Whitworth said. Photo by Dave Winter.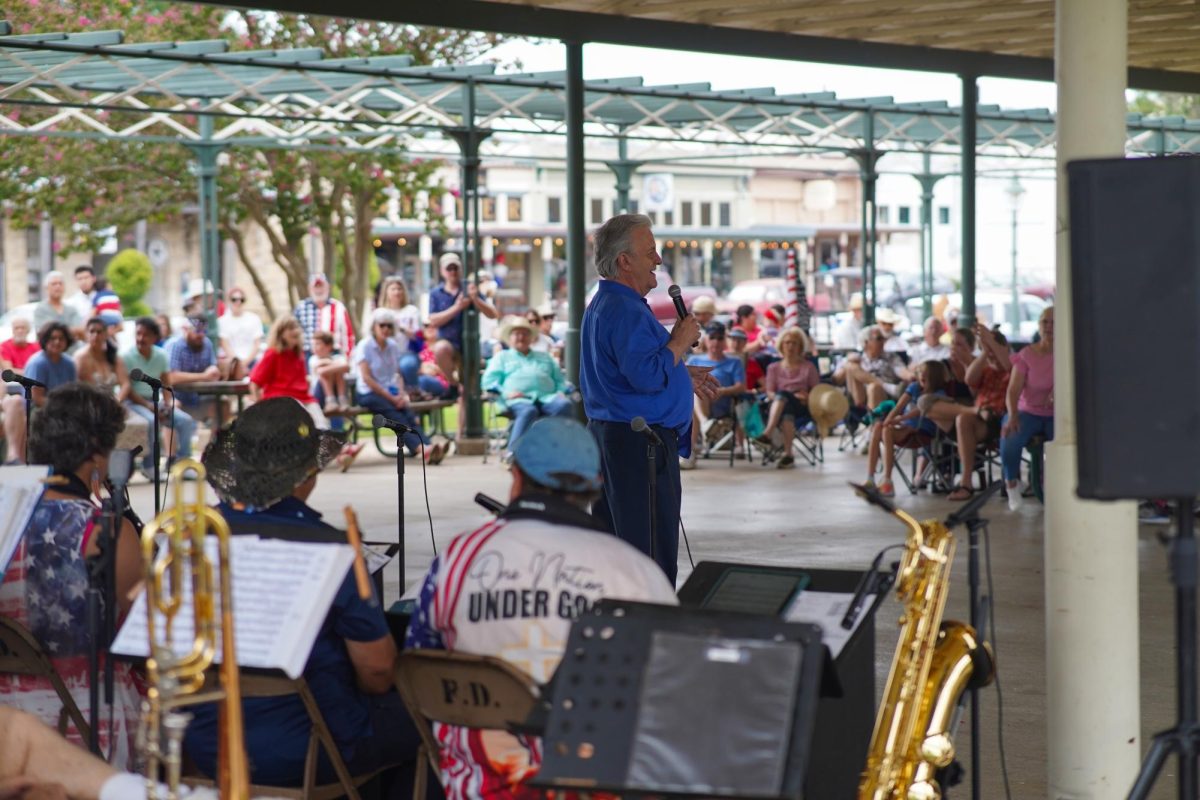 AN EXTENDED CELEBRATION: As members of Bill Smallwood's Lone Star Orchestra wait to play their next song, Fredericksburg Mayor Jared Hoover speaks to the crowd gathered inside and outside of the Adelsverein Halle along Adams Street on the edge of Marktplatz in downtown Fredericksburg. Hoover told FBG.live before Tuesday's festivities that he was eager to resume the full slate of post-parade observances this year after they were interrupted by the pandemic and by the Fourth falling on a Sunday in 2022. In addition to the music performed by the orchestra, attendees were treated to a reading of Founding Fathers/Mothers documents by students from the Heritage School and a preview of the upcoming Fredericksburg Theater Company performance of Ring of Fire: The Music of Johnny Cash, which runs Aug. 11-20 at the Steve W. Shepherd Theater. Photo by Dave Winter.
CHAPTER TWO: Austin by Night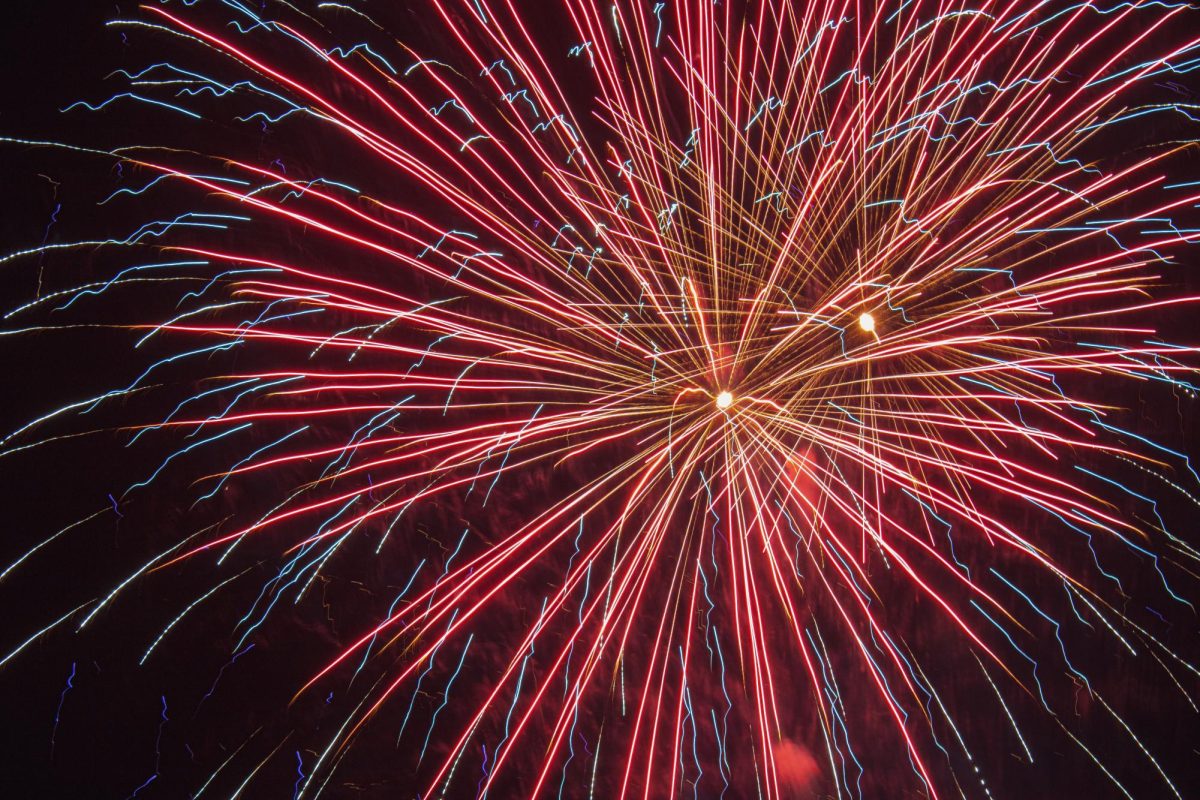 OTTOMATIC FOR THE PEOPLE: Senior Otto Strub set up his camera at the Long Center at first but later decided to move to the South First Street Bridge, where this image was captured, because there were fewer people there and the spot offered a higher vantage point. Photo by Otto Strub.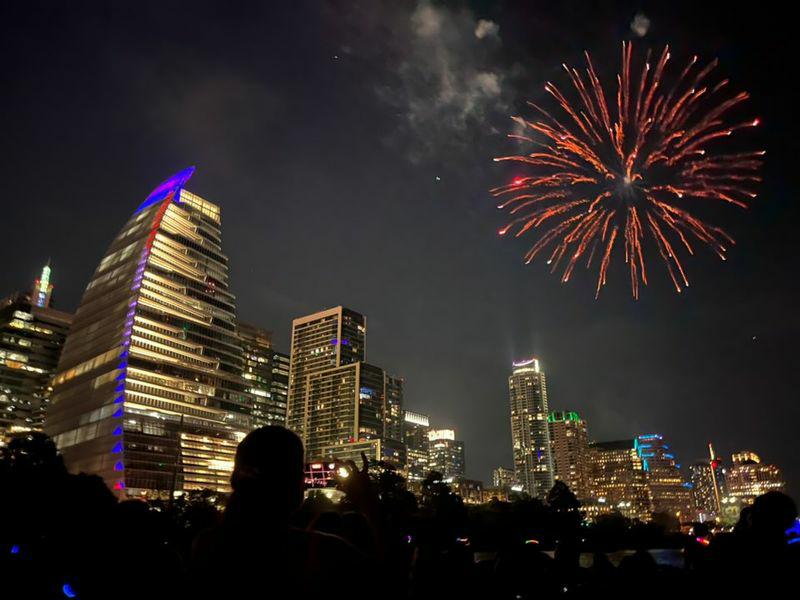 LAYERS FROM THE LAKE: Sophomore Lucas Walker meanwhile shot the same fireworks show from a bit lower vantage point, on Lake Austin near the South Congress Bridge, which allowed him to include the skyline and the silhouetted onlookers in his photos. Photo by Lucas Walker.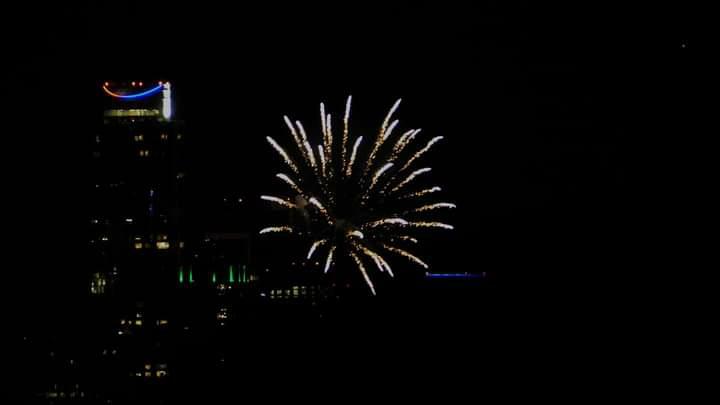 MALL RIGHT, MALL RIGHT, MALL RIGHT: Sophomore Julia Copas found a third spot to capture fireworks images, opting to shoot from the Barton Creek Mall. Photo by Julia Copas.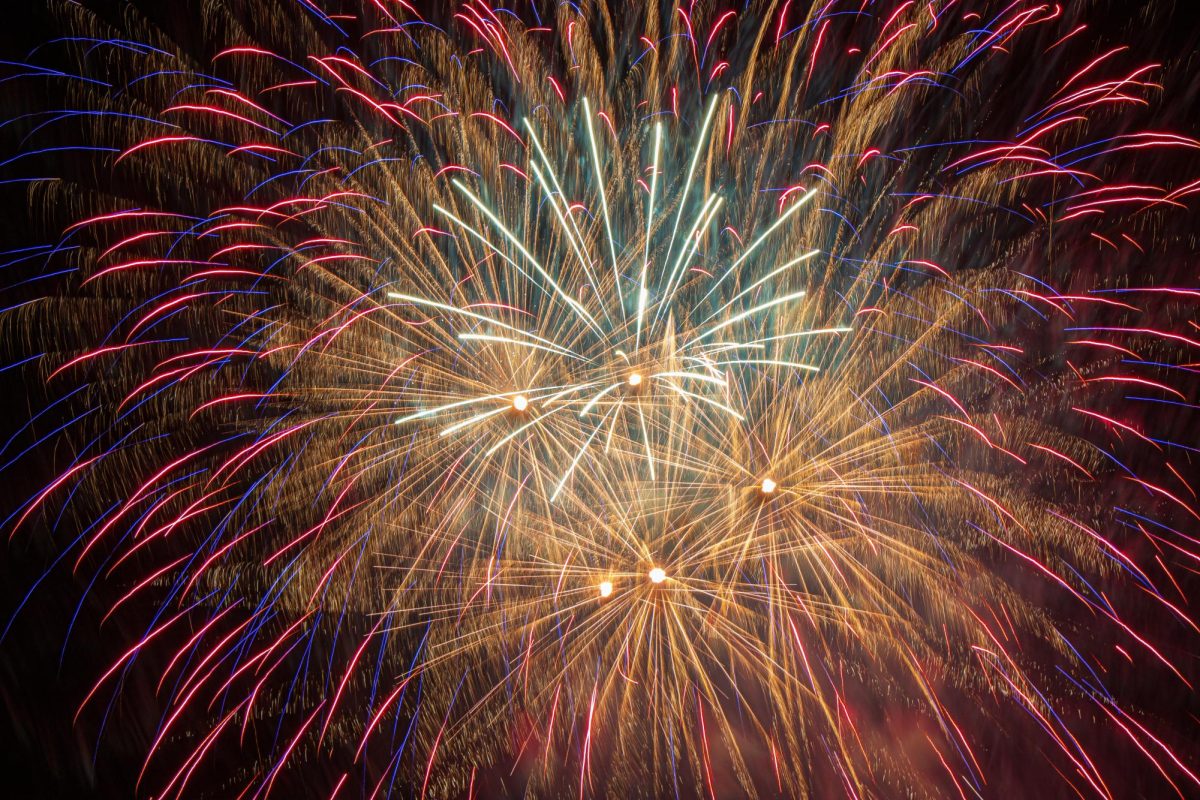 A FIREWORKS FIRST: You would never know it from the results, but senior Otto Strub photographed fireworks for the first time on Tuesday night. "I was nervous I wouldn't get very many good pictures because it was my first time photographing fireworks," Strub said, "but they turned out pretty great." Photo by Otto Strub.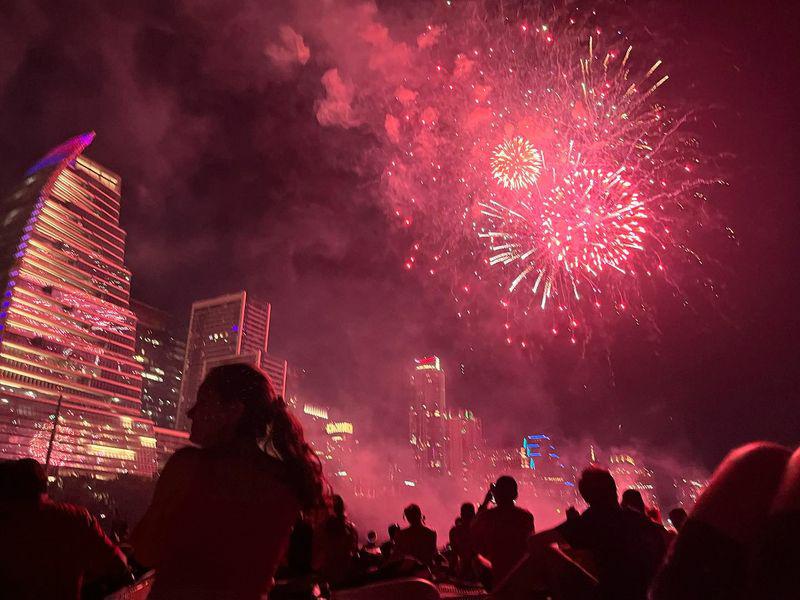 A FIREWORKS FIRST: Lucas Walker was the first student to submit July 4 photos after the Shield requested that Knights send them in for this photo essay. This photo is not only stunning in its own right, but it led to more submissions once the Shield posted it to the MacJ Instagram account and reminded people to submit their photos. Photo by Lucas Walker.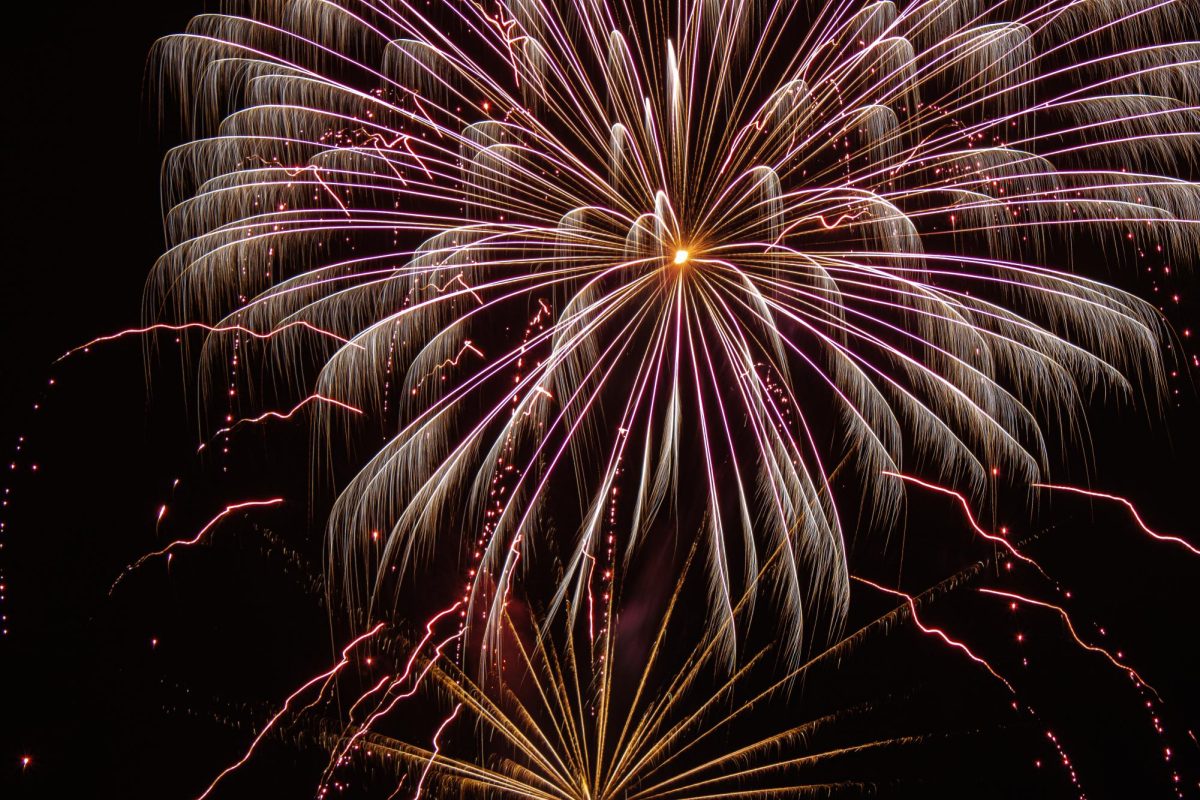 SHUTTER SPEED SECRETS: Strub shared his camera setup with the Shield. He captured his images using a tripod, and he experimented with a range of shutter speeds ranging from one to eight seconds before ultimately settling in at a shutter speed of 2.5 seconds. Photo by Otto Strub.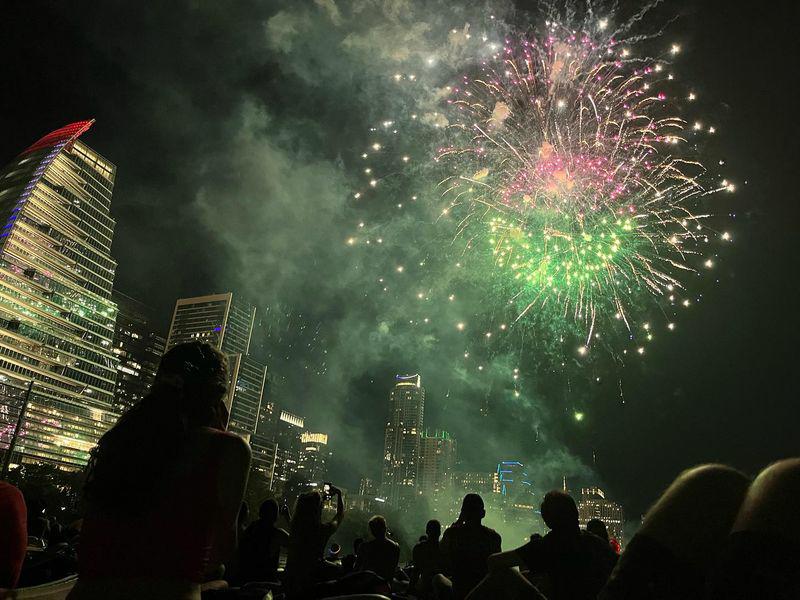 LIVING COLORS: Lucas Walker's pictures have a similar composition, but what is striking about them is the color variance. The green hue of this image stands in sharp color contrast to the red one that precedes it in this essay. Photo by Lucas Walker.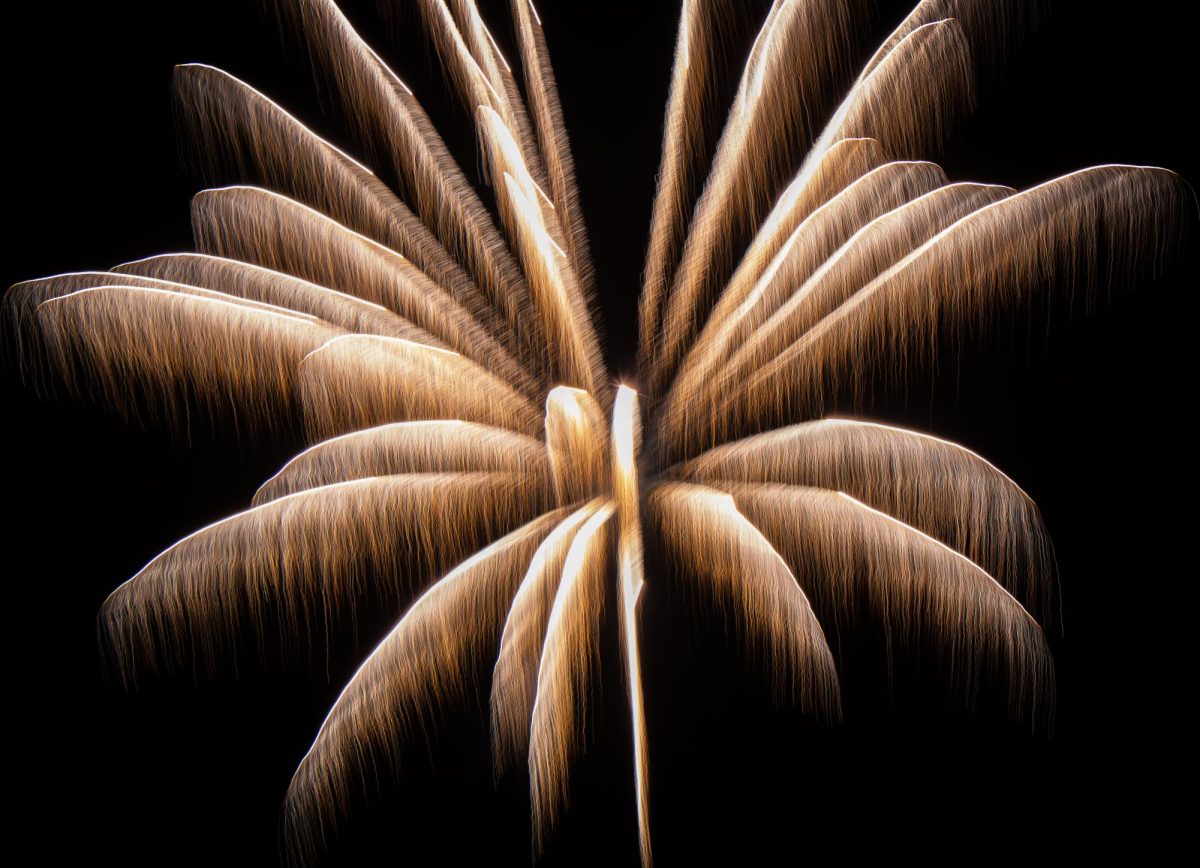 THE GIVING TREE: Strub was very generous in sharing his photos with MacJ, including this one that looks a bit like an illuminated palm tree. "I just like taking photos," Strub said, "and the more people that get to see my pictures, the better." We wholeheartedly agree. Photo by Otto Strub.