Perpetual change, growth at Mueller has mixed outcomes
Once home to Austin's metro airport, the district has gained much so far this century, but rapid development doesn't come without costs
The upcoming issue of The Shield will explore how Austin's growth has affected the city's identity and culture. Photojournalism student Maya Tackett was ahead of the curve last December when she applied the same lens to a particular neighborhood that has grown up at the same pace as the Knights who live there. Since the Mueller Airport closed in 1999, the neighborhood has experienced a great deal of change, development and prosperity but also the challenges that come from accelerating growth and population density.
We are proud to share what she discovered by researching and documenting the Mueller neighborhood—once home to Mueller Airport—as this week's Tuesday Top 10.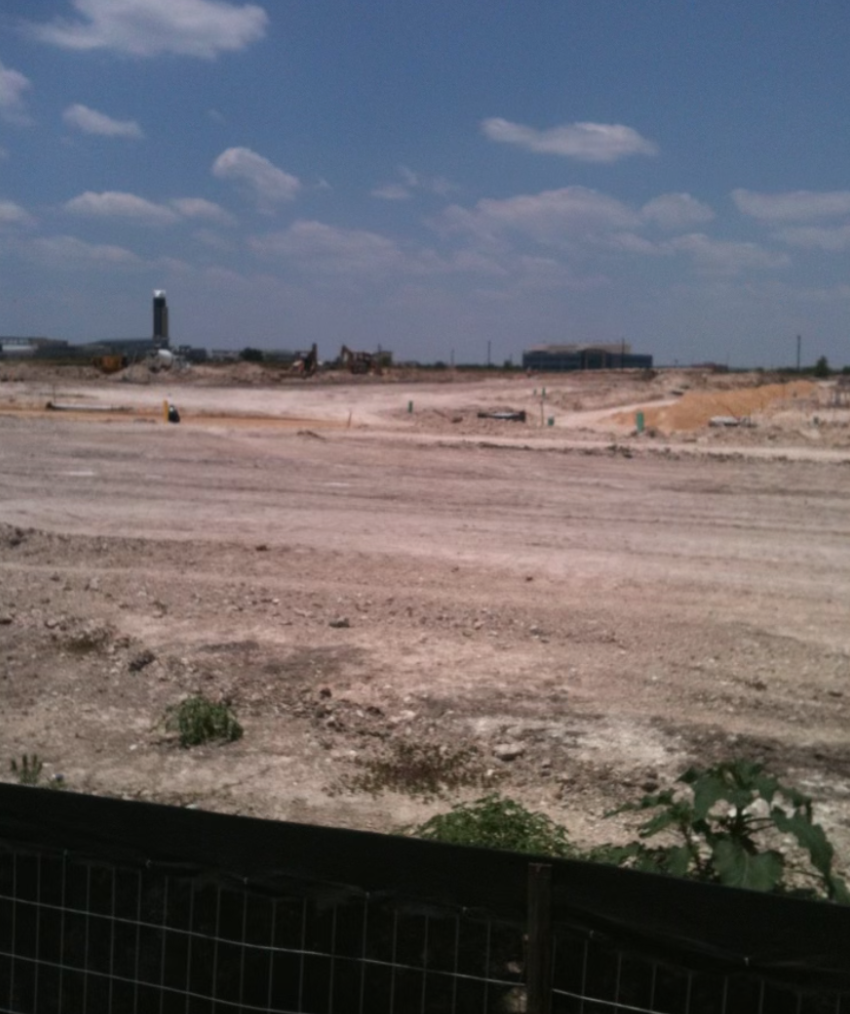 DUSTY BEGINNING: Mueller, formerly the old Robert Mueller Municipal Airport, has been developed constantly throughout the years. The airport closed officially on June 22, 1999. More than 10 years later, in 2012, this plot of land was full of weeds, dirt, rusty nails, and trash, making it a dangerous place for kids to be running around. The only building that was fully functional was the Dell Children's Hospital.
"When we first moved here, there was a lot of construction, and it made me really nervous because I had small kids when we moved here in 2012," Katie Tackett said. "There was a lot of construction material around that they could get hurt walking around."
Caption by Maya Tackett. Photo by Larkin Tackett.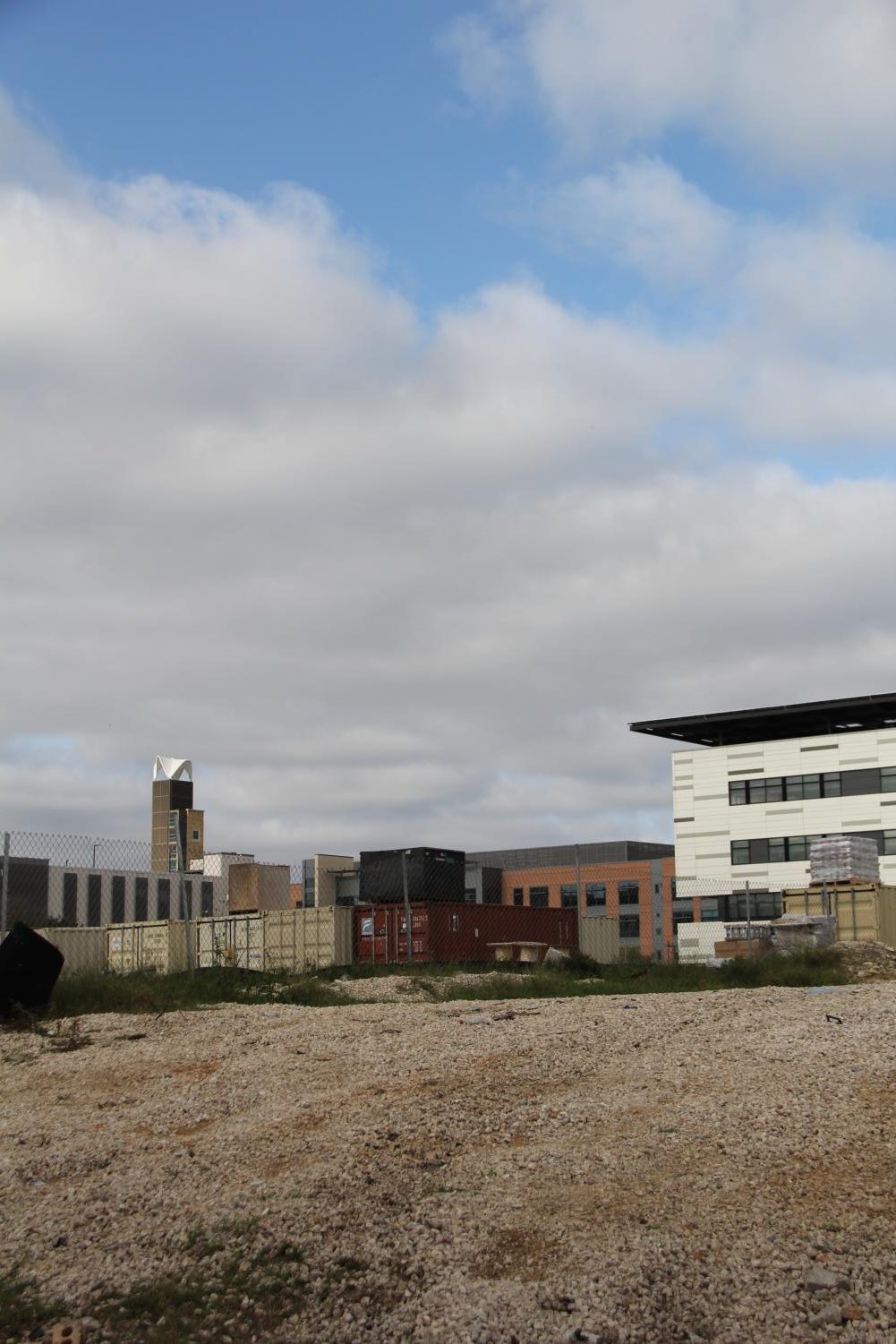 STILL CHANGING: Even in 2022, Mueller is still seeing changes in the landscape. In comparison to 2012, more buildings are being built, and more job opportunities are being created. For example, the new Austin Energy headquarters has been built on one of the plots of land. This headquarters has added more than 1,100 jobs to the workforce according to the Towers website. In addition, there are more offices, apartments, and retail being built on these plots of land. This will contribute to more affordable housing and more jobs for the upcoming generation.
Everything is within walking distance of each other in Mueller, which is a little city within a big city.
"Being able to walk anywhere I want and having so many amenities close to me is my favorite part," said Priya Thoppil, a ten-year resident of Mueller.
According to Towers and Mueller Austin, Mueller has added a total of 6,900 apartments of various sizes and prices according to the Mueller Austin website. There are also approximately 5,000 total jobs in the Mueller neighborhood. This includes the restaurant, retail, and office businesses.
However, teenager Isadora Lang feels sad that all of the open fields around her house are going under construction.
"When I tell you I've run across the open fields in Mueller filled with sunflowers and bluebonnets, I'm not joking," said Lang. "Now that those fields are gone, Mueller feels more tight and compacted. Sometimes it feels a bit like we are living on top of each other. Yet, I'm thankful for all the spaces that are reserved for parks and recreation spaces."
Caption and photo by Maya Tackett.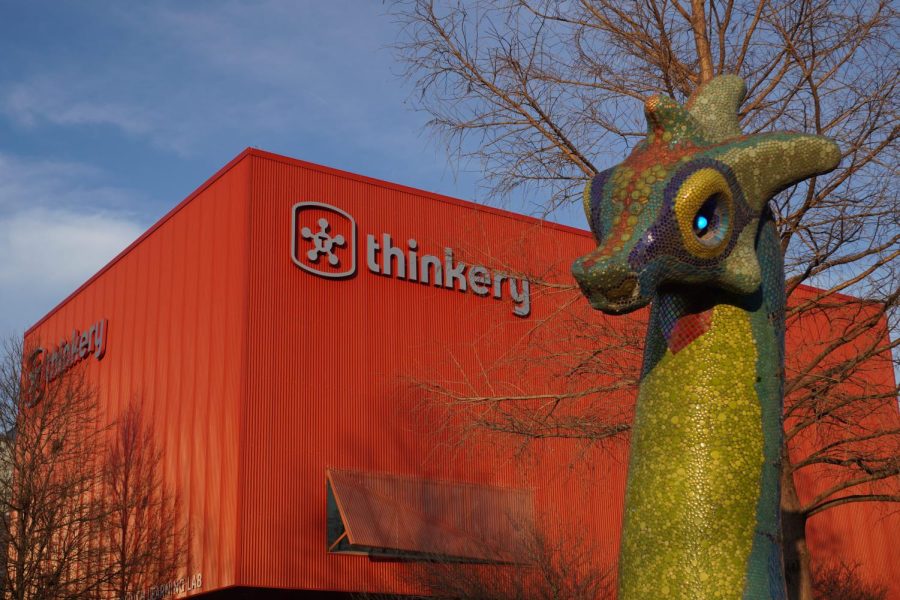 A NEW PLAYGROUND: The Thinkery was founded in 1983 by Andy Bell as an evolution of the Austin Children's Museum. This space is used by families to enjoy new educational and cultural opportunities. Children can engage in hands-on learning experiences and learn about different jobs. There are many different rooms, including the farmer's market, engineering, lightroom, waterpark, and stem room.
"I like the water park because they have little water guns," said five-year-old Mikayla Ayrhart. "Water comes out of them every time, and it doesn't ever stop."
The Thinkery also provides the opportunity to have a birthday party or camp there. Ayrhart, along with many other kids, has taken this opportunity to meet with and play with all of their friends while enjoying the museum.
Caption by Maya Tackett. Photo by Lucas Walker.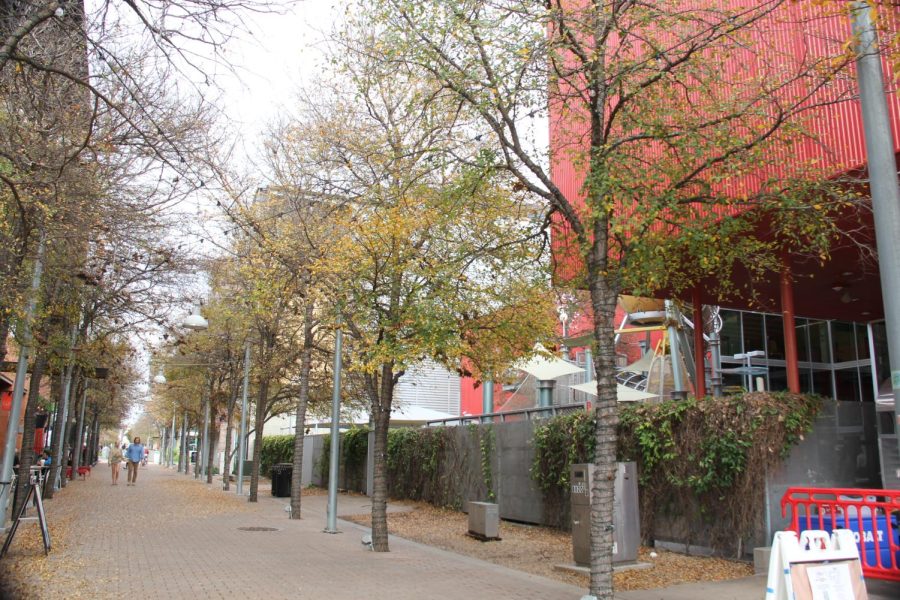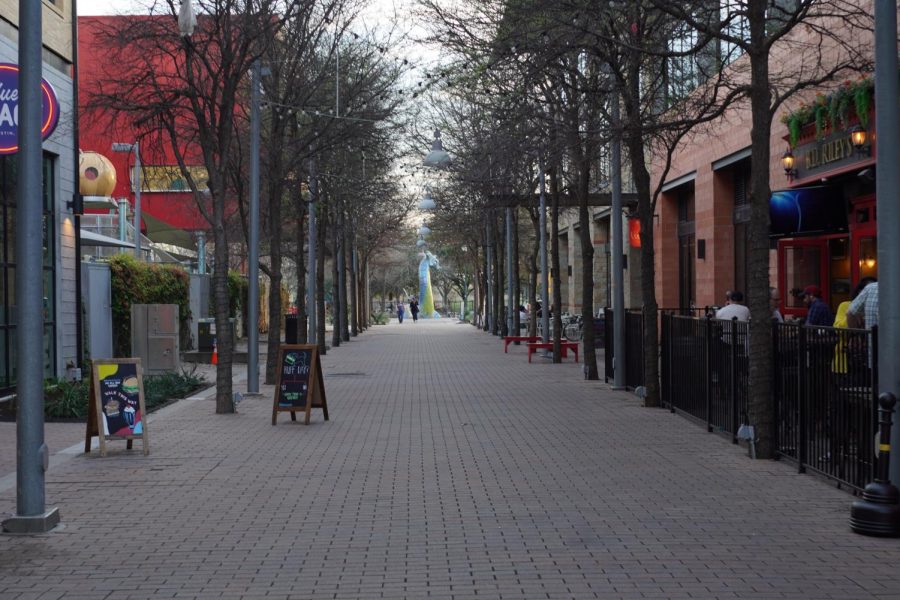 UPING THE SURROUNDINGS: While the Thinkery has always been a big part of the neighborhood, it is now surrounded by more shops and restaurants. This, if anything, has brought more attention to this museum. Now, after enjoying the Thinkery, people can enjoy a wonderful meal or snack at Halcyon, Lick, or BD Rileys. 
For resident Isadora Lang, the Thinkery has always been something that she enjoys visiting or reminiscing about.
"I remember when I was younger, playing and learning all about different and fun science activities," said Lang. "There is a really cool light room that I still think about when remembering my childhood growing up in Mueller. Now that the Thinkery is one of many buildings on that block, it has become very popular. Even though I don't go to the Thinkery anymore, I still walk by it every time I hang out with my friends. It has become a very useful landmark and easily a very big characteristic of Mueller."
Caption by Maya Tackett. Photos by Maya Tackett and Lucas Walker.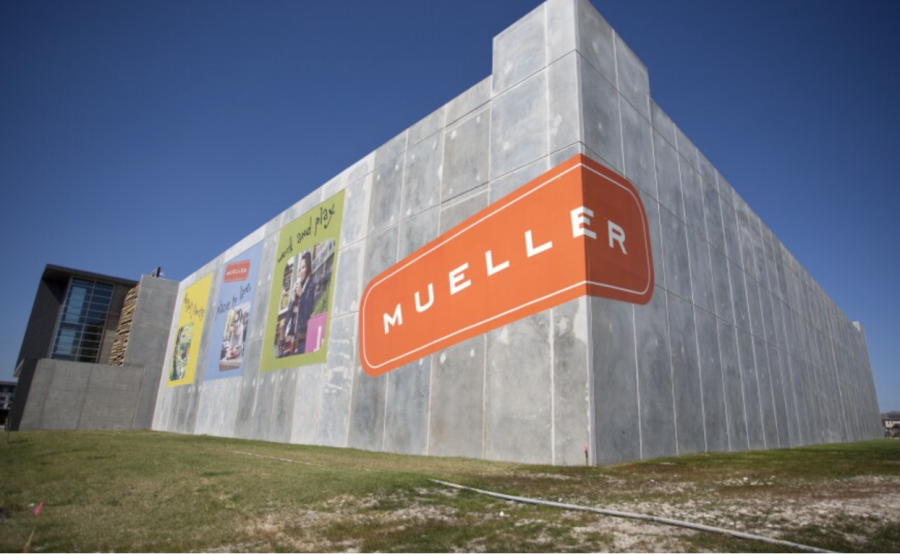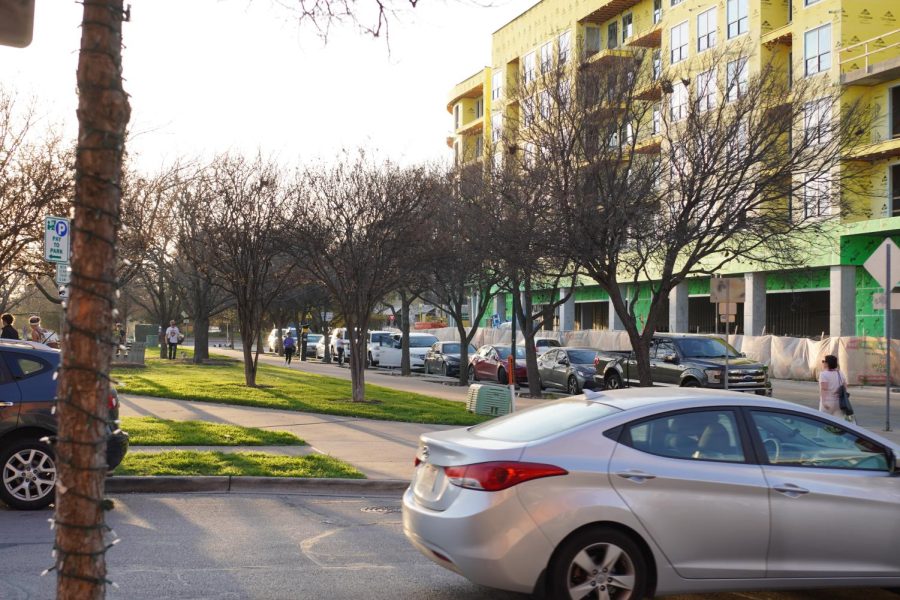 A NEED FOR MORE SPACES: Mueller gets a lot of foot and car traffic because of all the businesses, housing, and entertainment that the neighborhood has to offer. Because of the popularity of the Alamo Drafthouse and Thinkery, the first parking garage in the neighborhood was very much required. 
Many occupants, however, believe that there needs to be a better system or more parking to accommodate all the visitors. Resident Marko Garafulic agrees with the need to add more parking spaces. This image taken today illustrates how the Mueller streets are often lined with parked cars in every available spot.
"Traffic jams, detours, dust, and eyesores have been constant for the past 10 years," Garafulic said.
Another occupant, teenager Priya Thoppil, has also seen and experienced some of the downsides of not having enough parking spaces. "Cars sometimes speed down streets, which has led to accidents before," said Thoppil. 
Caption by Maya Tackett. Photo of old Mueller parking garage in 2016 by Miguel Gutierrez Jr., originally posted on the KUT website. Reposted here with expressed permission of KUT. Photo of parked cars in Mueller on Tuesday by Lucas Walker.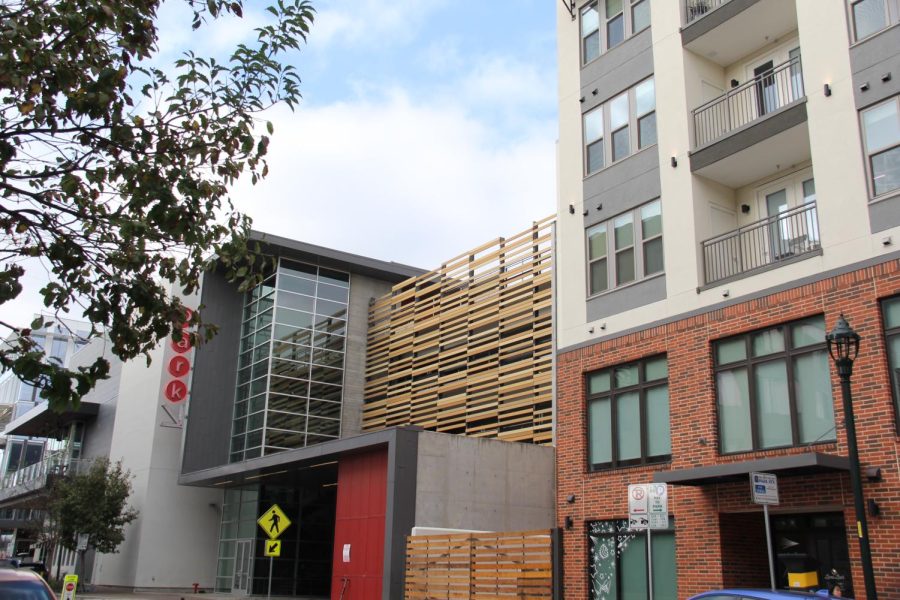 STRUCTURAL CHANGES: When Mueller was first constructed, a 4-story cement garage was built to provide parking for the Alamo Drafthouse. But recently, earlier this year, they took down half of the cement garage to make room for the new addition of the AMLI apartments being built.
According to the Mueller Austin website, the new apartment building has its own underground garage, where only building residents can park. This new building will add approximately another 500 living spaces according to the Mueller Austin website.
"It's like a town within a city, and maybe even a city within a city, but there's still space," said Michael Brown. "The designers created something really nice when we got this piece of land from the old airport. There are all sorts of different types of housing, and that's very attractive to a lot of people. There's a lot of open space, which is also attractive to a lot of people. The changes over the past 10 years have been wonderful because other shops, restaurants, and all sorts of stuff have opened up. Everybody comes to Mueller by choice, and I don't think anyone just winds up here."
Caption and photo by Maya Tackett.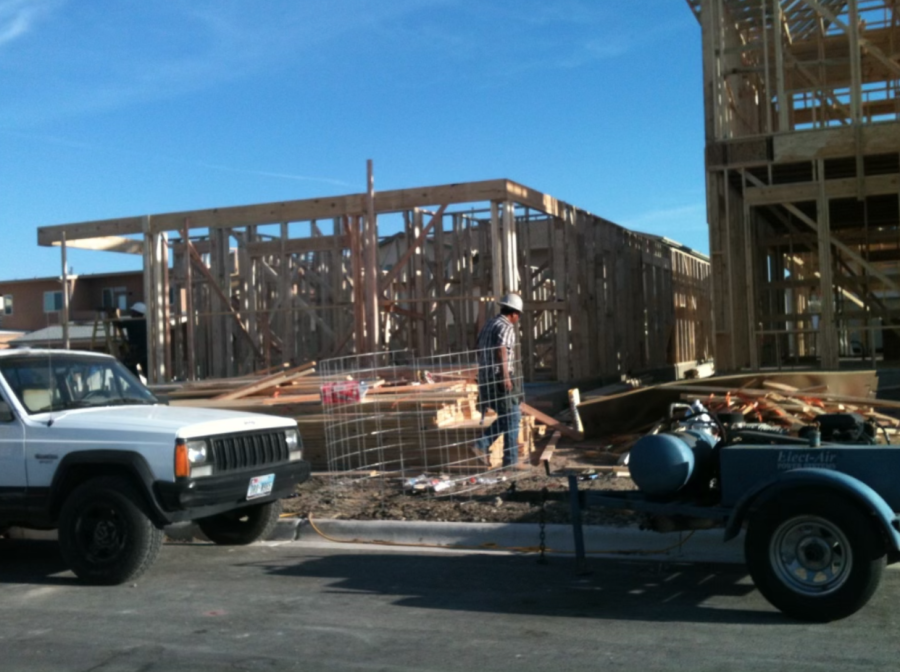 SWITCHING LIVING STYLES: The Mueller neighborhood started being built in the 2010s after the Robert Mueller Airport shut down. The developers wanted this neighborhood to stand out compared to the others. They built it so there would be a variety of activities hosted in a neighborhood of compact, pedestrian-oriented, tree-lined streets according to the Mueller Austin website.
For Norma DeVries, choosing a new neighborhood to live in was an easy task. 
"I had been reading about and following the progress of the Mueller project for about three years," said DeVries. "I worked downtown and came to look at the area on my lunch hour. I like the new urbanism concept, small personal lots, and shared open spaces. I also really liked the fact that we could build a new energy-efficient home. We lived in a large house in Westlake; we moved there for the schools, but once our kids were grown, we wanted a smaller house and a more diverse neighborhood." 
Caption by Maya Tackett. Photo by Larkin Tackett.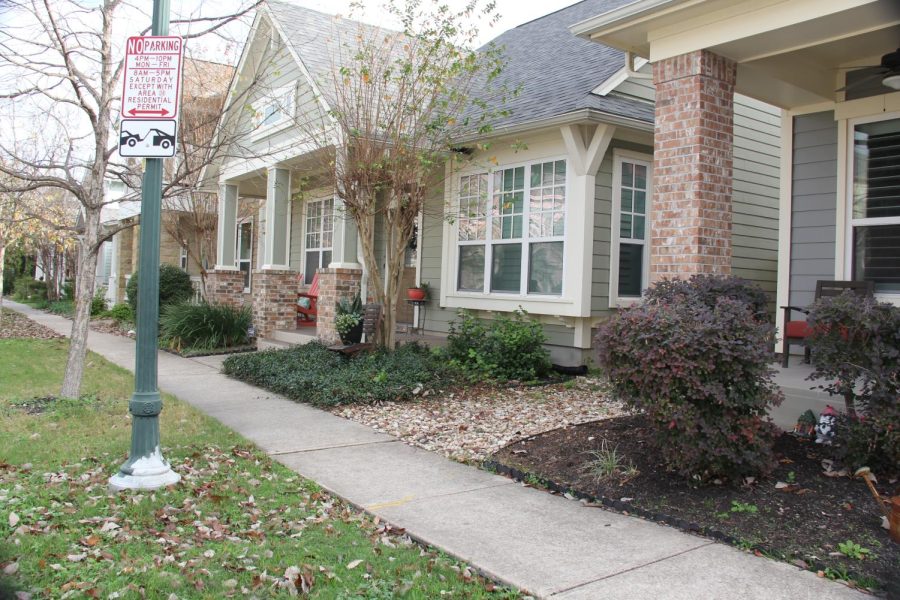 A FAMILY HOME: Mueller offers many different amenities like sports courts, walking trails, and swimming pools. So, Mueller is the perfect neighborhood for families, couples, and individuals. So for married couple Norma DeVries and Michael Brown, who have lived in Mueller for more than 10 years, Mueller is the perfect neighborhood for them, their children, and their grandchildren. 
"When our kids were about to graduate high school, we looked for a place to downsize," said Brown. "We first moved to a place down in South Austin, but Norma found this development because this airport has closed. So, we started looking into it and realized that this was perfect for us. We quickly rushed down, and they built this awesome house in this awesome neighborhood."
Caption and photo by Maya Tackett.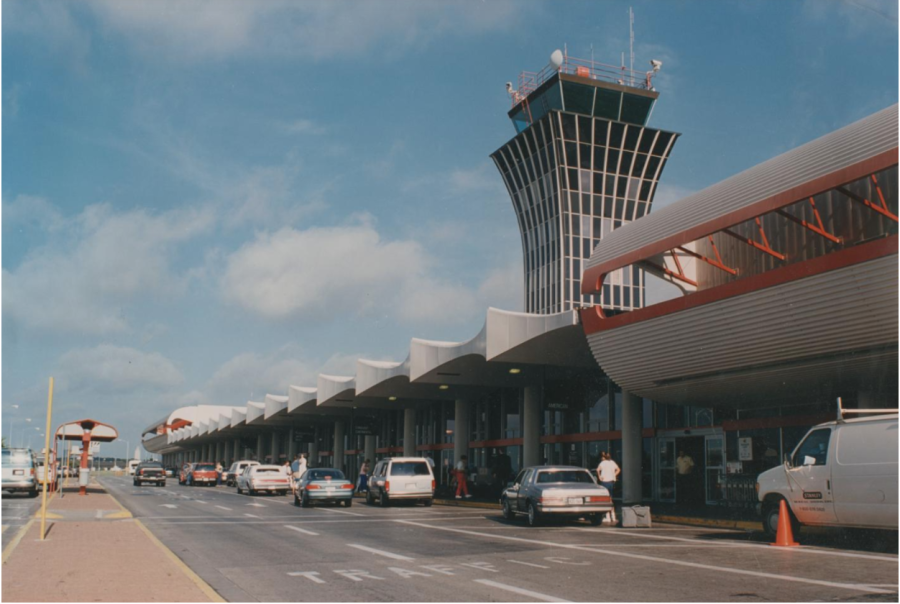 CHANGING PURPOSES: Mueller used to be the site of the Robert Mueller Airport. Therefore, the Mueller Airport Control Tower used to be used every day. However, the city of Austin outgrew this airport.  
"When we first moved here, we came in at the Mueller airport," Mueller resident Norma Devries said. "It was clear that it was not large enough for how the city was growing and the old airbase was available." 
The new Austin-Bergstrom International Airport has 34 gates in total, compared to the Robert Mueller Airport, which has 16.  According to KXAN, the new airport can accommodate 7,495,579 more people according to KXAN news.
Caption by Maya Tackett. Photo accessed on the Portal of Texas History. Reposted here with permission under the terms published on the Portal of Texas History website.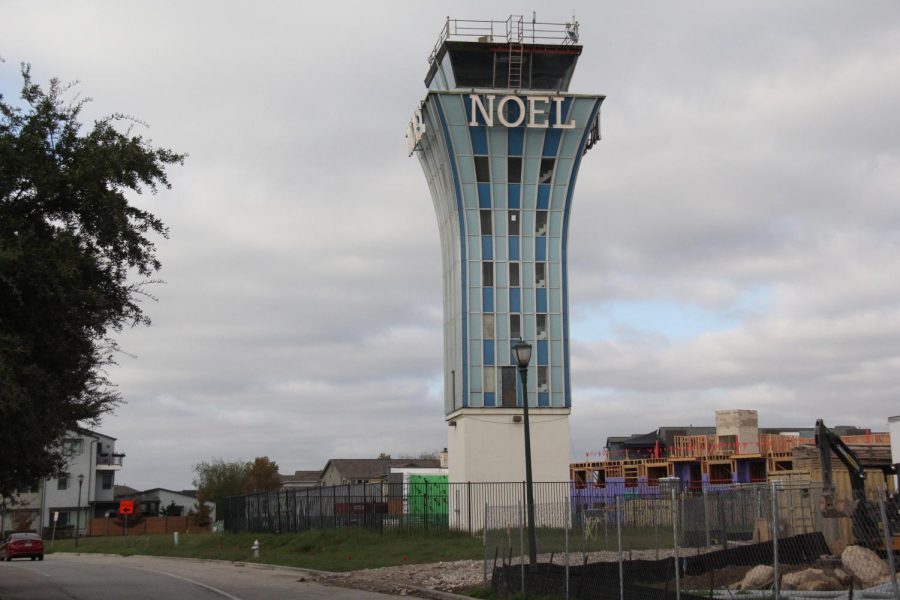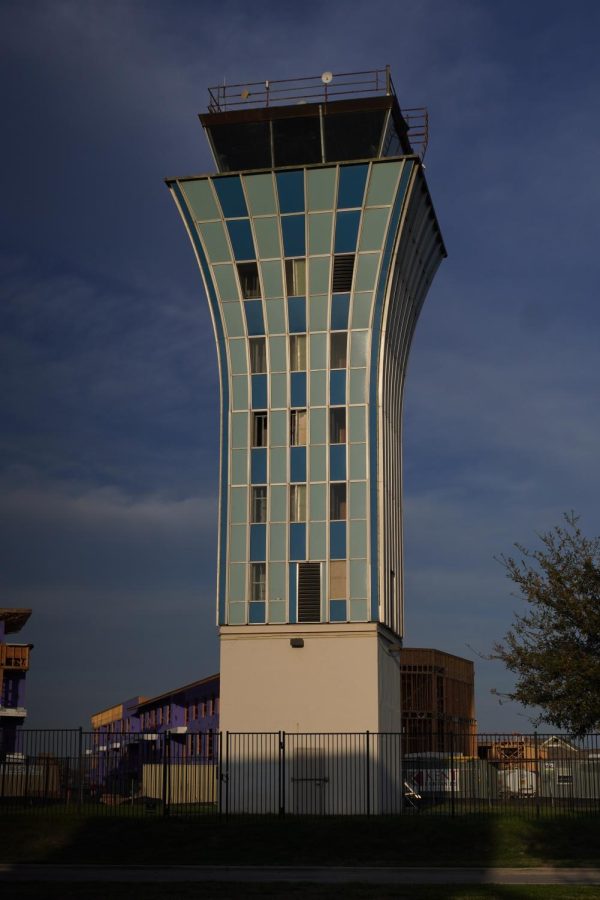 PLANS FOR THE FUTURE: The Noel Tower has not been used since the closure of the Robert Mueller Building. Instead, this tower has become an icon and a big characteristic of the new Mueller neighborhood. Every year, when December rolls around, the tower gets lit up to remember its old purpose.
However, Marko Garafulic thinks we should be doing more to make the tower more attractive to look at.
"Given that not much can be done with/within the tower, I'd like to see something of interest, and open to the public, built around the tower sometime," said Garafulic.
There are other ways that the neighborhood is honoring the old airport. For example, the playscape in John Gaines looks like a set of runways from above. The new middle school being built also pays homage with a number of architectural details.
Caption by Maya Tackett. Photos by Maya Tackett and Lucas Walker.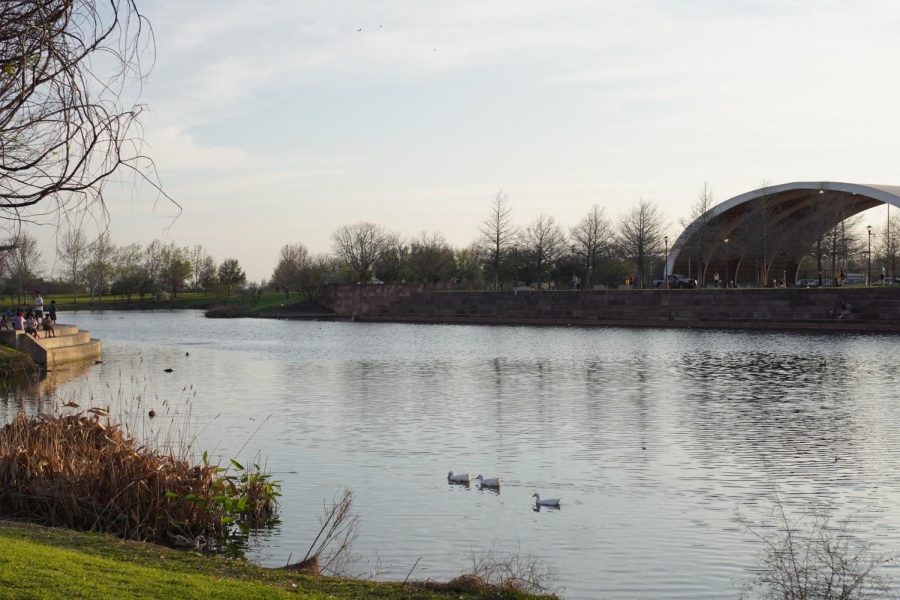 DEVELOPING PARKS: The Mueller neighborhood hasn't always been full of parks and green spaces. As the neighborhood was undergoing change and construction, most "parks" were surrounded by upcoming development and houses. So, there was a lot of debris that covered the parks. However, that didn't stop residents from enjoying these up-and-coming parks. 
"My favorite part of watching the parks be built was trying to guess what was coming next," said Naomi Tackett. "Also, there's a lot of variety in different places to play. For example, the water park at Mary Elizabeth Branch Park and the lake at Mueller Lake Park."
Caption by Maya Tackett. Photo by Lucas Walker.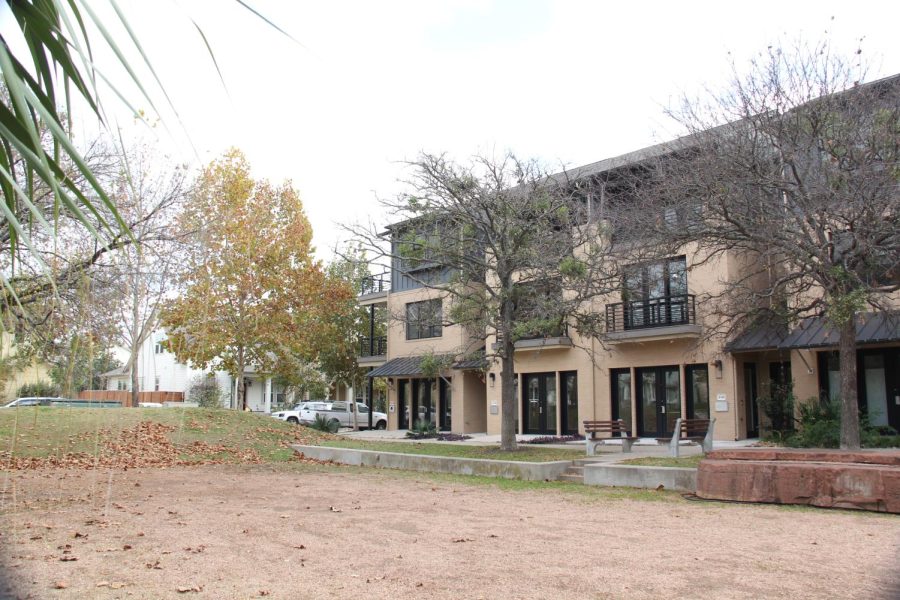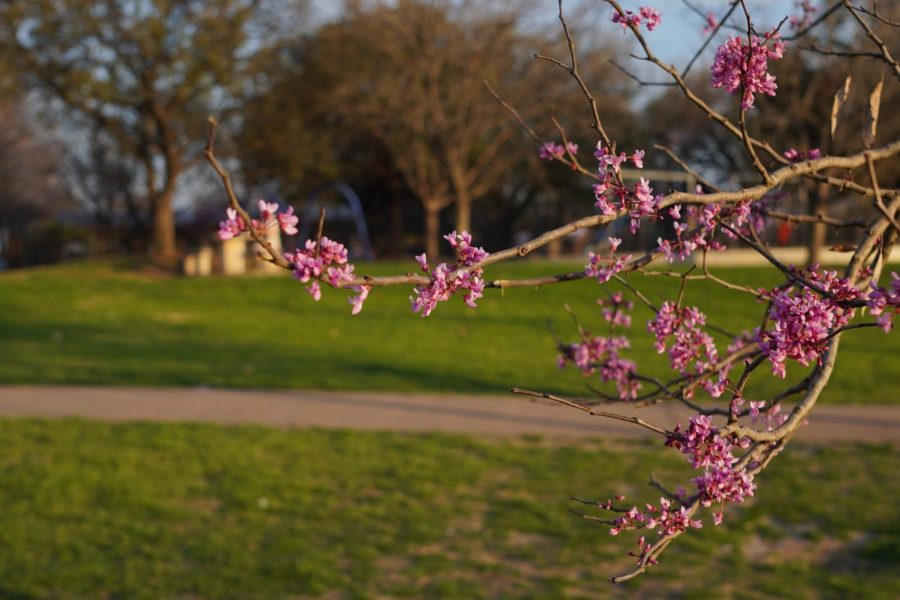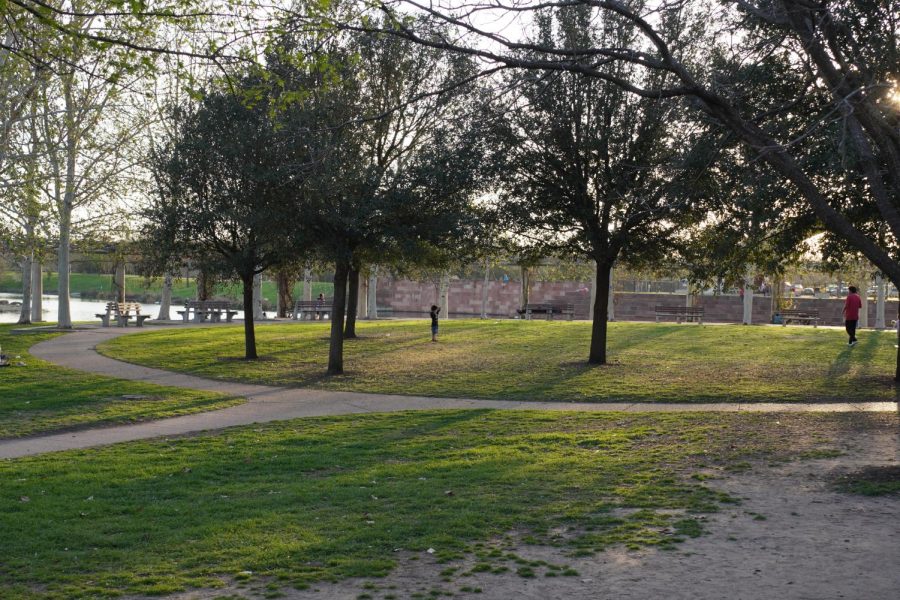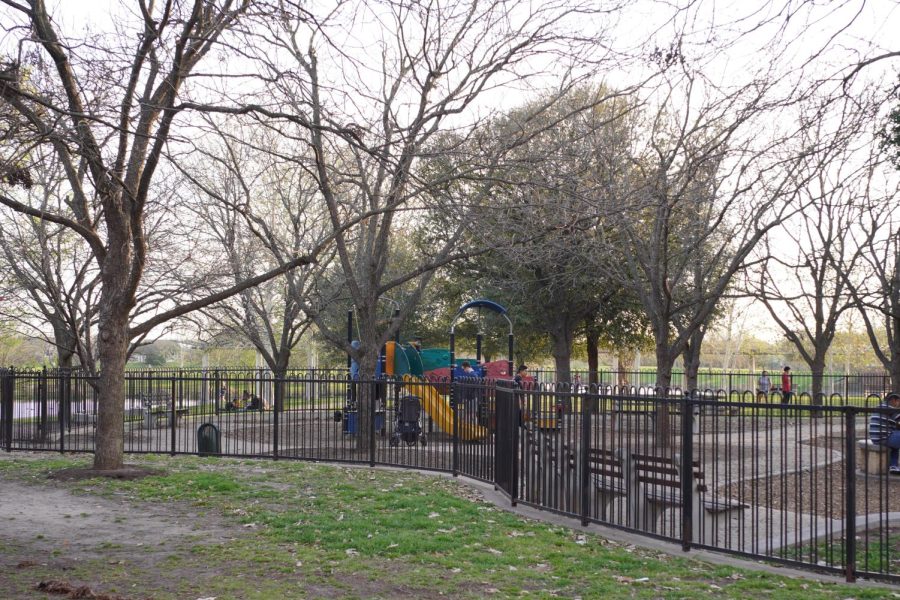 MANY CHANGES: Mueller is home to eight parks with more being built each year. According to the Mueller website, these parks are combined to have a grand total of approximately 140 acres of parks, trails, and open space. There is also a complete five-mile hike and bike trail loop. 
Most parks are connected to the important Austin history according to the Mueller website. A few examples are Ella Wooten Park, which is named after the first woman to serve on the Greater Austin Chamber of Commerce Board, Paggi Square (pictured above), which is named after Michael Paggi who was an entrepreneur, ferry operator and landowner who brought ice manufacturing to Austin in the late 1800s, John Gaines Park, which is named after Austin's first African-American police officer, Mary Elizabeth Branch Park, which is named after the first black female president of a senior college at Tillotson College, and Jessie Andrews Park, which is named after the first female graduate and first female professor at the University of Texas at Austin.
These parks also each have their own unique touch. For Sara Hamlet the parks allows her to enjoy time outside.
"My favorite part of the parks are the seating areas where I can talk with my friends and enjoy the beautiful Austin weather," said Hamlet. "I especially love sitting near the lake at Mueller Lake Park."
Caption by Maya Tackett. Photos by Maya Tackett and Lucas Walker.
View Comments (4)