A photo walk through Crestview
Just five minutes away from McCallum lies a neighborhood that puts a small town vibe in the big city that surrounds it
In many ways, Crestview is a perfect blending of the neighborhoods that are near it. Allandale seems almost  suburban with lots of houses and few businesses while Brentwood is home to many businesses that line Burnet and Lamar. 
Crestview offers both residential quiet and commercial bustle. Go for a morning run in Crestview, and the streets will be empty, but traverse those same streets later in the day, and you'll see and hear the buzz of crowds gathering at neighborhood landmarks like the Little Deli and the Violet Crown.
Because Crestview is a place whose unique character makes it stand out in this or in any city, we are placed to make it the subject of this week's Tuesday Top 10 photo essay.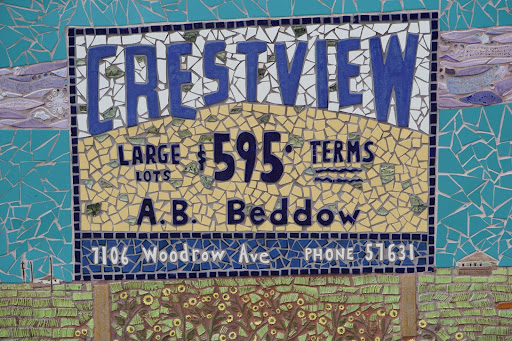 WELCOME, WE'RE GLAD YOU ARE HERE: Just five minutes away from McCallum High School lies the small neighborhood of Crestview. Sitting right outside the Crestview Shopping Center is this mosaic welcoming everyone to the neighborhood. With a mini-mart, an ice cream shop, a Pizza Deli and a jewelry store, the neighborhood offers a small-town feel. "The shopping center and the mini-mart were here in 1953," said Sylvia Rushing, who's been in Crestview since nearly the beginning. "And my mom shopped there in 1955" she continued. Photo by Chloe Lewcock.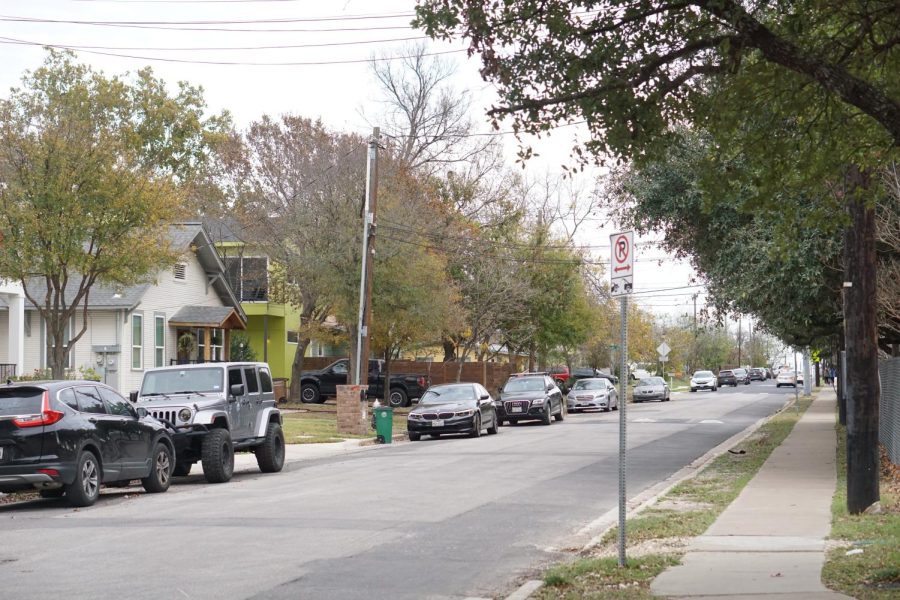 RELAXED ROADS: Parked cars line the quiet street of Morrow in the eastern part of Crestview. It's the epitome of picturesque suburbia, a calm neighborhood with sturdy houses framed by beautiful trees, and with fields for children to play in on the other side of the road. "I like the quieter roads because they allow me to do more peaceful activities," Crestview resident and McCallum freshman Tate Jones said. Photo by Camilla Vandegrift.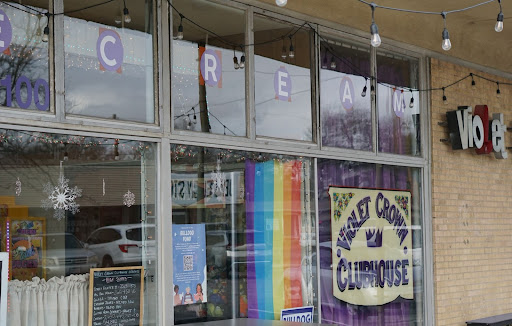 A NEW STORE FOR A NEW ERA: In the Crestview Shopping Center, Violet Crown Clubhouse has offered coffee, ice cream, New Orleans-style SnoBalls and a new hangout destination for families and friends since it opened in a familiar spot on May 30, 2019. Natives of the neighborhood recall that the Crestview Pharmacy held this space beginning in 1964, and many were sad to see it go on Feb. 28, 2017. "It's certainly not the same town that I grew up in" said Sylvia Rushing, a patron of the neighborhood since 1955, "but there is still a small-town feel to it." Rushing added that while she was sad to see the pharmacy go, she likes the sense of family and community that the Violet Crown Clubhouse brings. Photo by Chloe Lewcock.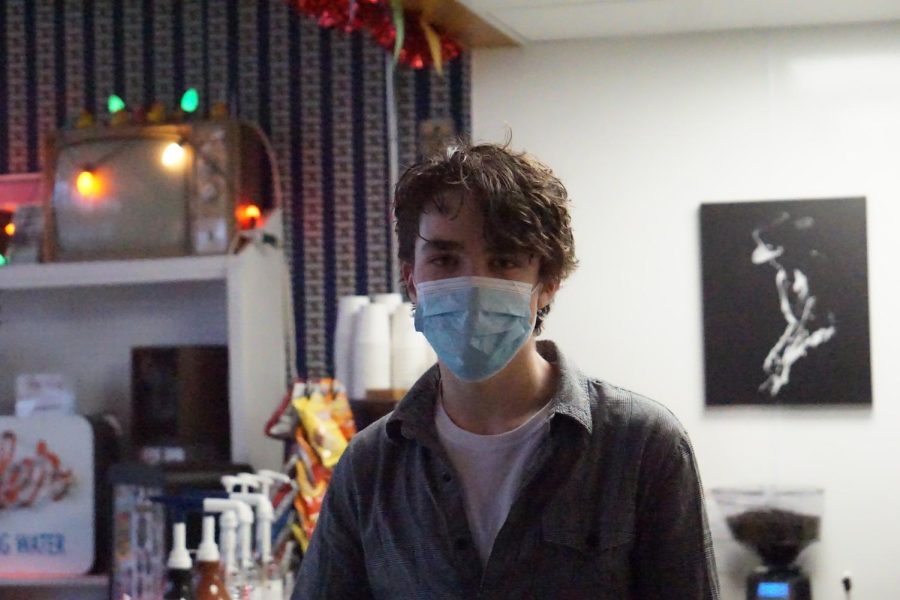 KING OF THE VIOLET CROWN: Junior Max Yehaskel works his Saturday evening shift at Violet Crown Clubhouse. The Crestview establishment is located across the parking lot from Little Deli and primarily sells ice cream and includes an arcade. "Violet Crown Clubhouse provides a great place for kids to make a mess that I have to clean up instead of you," Yehaskel said. Photo by Camilla Vandegrift.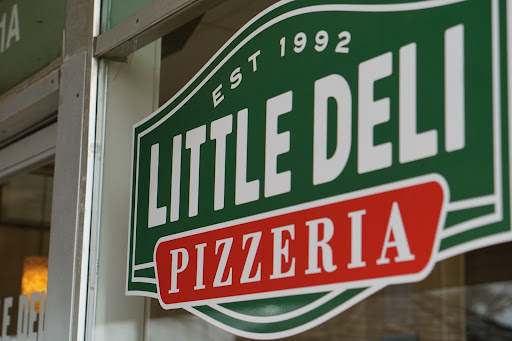 EST. 1992: Although it is relatively new to the area, Little Deli is usually bustling at the seams with people eager for pizza and sandwiches. Located in the heart of the Crestview Shopping Center, the deli adds a unique aspect to the center because, besides the ice cream shop, it is the only place to eat. The deli has blown up so much that the owners have opened up a second location in the Windsor Park neighborhood in mid-December 2019. "In Crestview, they took a little town and put it in a big town," Sylvia Rushing said about the Crestview neighborhood's dual identity. Photo by Chloe Lewcock.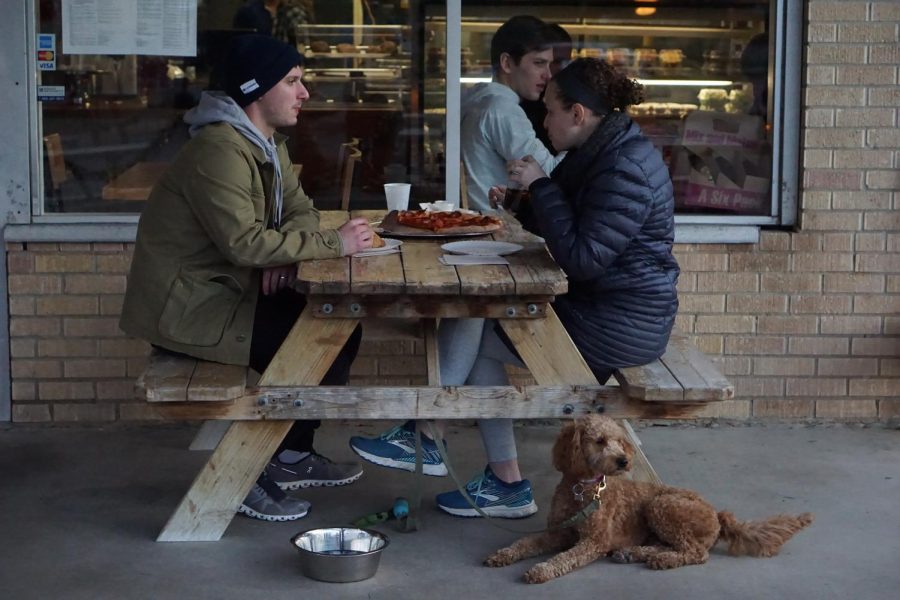 ANONYMOUS PIZZA ENJOYERS: Two unidentified diners and their dog, Waffles, sit at a picnic table in front of Little Deli, a pizza restaurant in the heart of Crestview. Little Deli, originally a sandwich shop, added a pizza kitchen to the business in 2009 and has been attracting huge numbers of customers for years. "It's a great gathering spot for the community," one of the diners said. Photo by Camilla Vandegrift.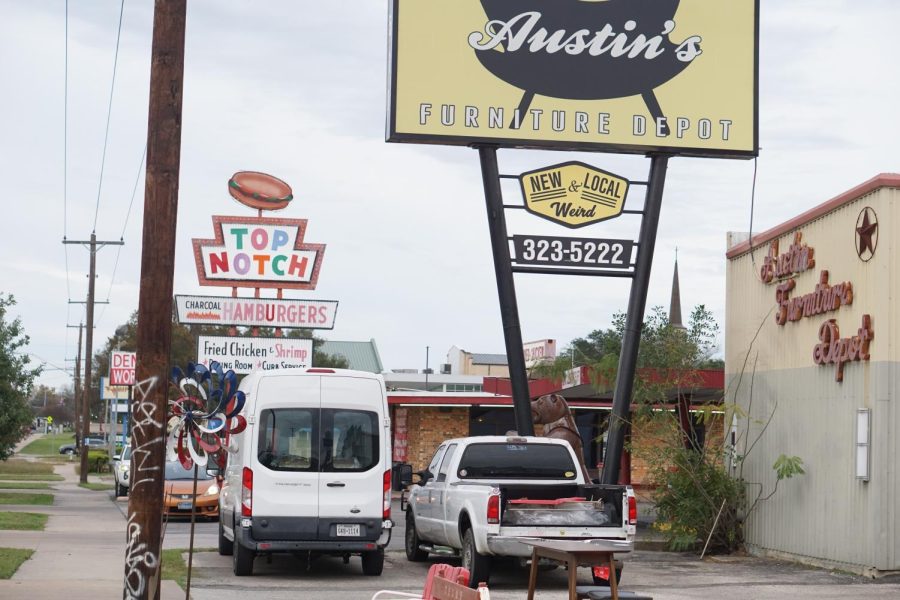 TOP NOTCH NEIGHBORHOOD: The edge of Crestview includes more businesses on the busy road of Burnet, such as the burger joint Top Notch. The restaurant was featured in the blockbuster movie Dazed and Confused and is an Austin staple for locals and tourists. "It's a very unique place that adds a lot to the environment," freshman Tate Jones said. Photo by Camilla Vandergrift.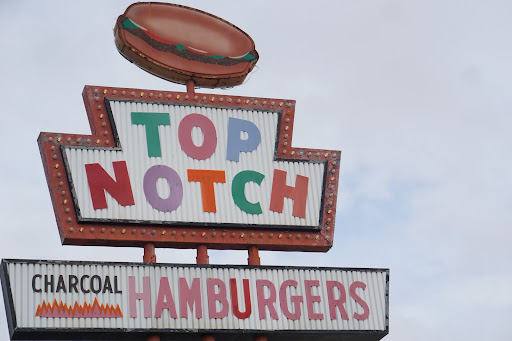 A SIGNATURE IDEA: This unique burger joint is a part of Austin, more specifically Crestview's, community, and has earned its local fame by providing delectable "Charcoal Hamburgers" and sides. While for some, drive-thru establishments are always the way to go, the owners of this drive-thru truly take it to the Top Notch: customers drive in, press the button, and enjoy a unique vintage experience. As it celebrates its 50th birthday this year, Top Notch is still a prominent piece of the community. "I saw the movie Dazed and Confused, and saw Top Notch before I had even moved to Austin." said Crestview resident Daniyela Braunovic, "so it was such a fun experience to go there after moving to town." Photo by Chloe Lewcock.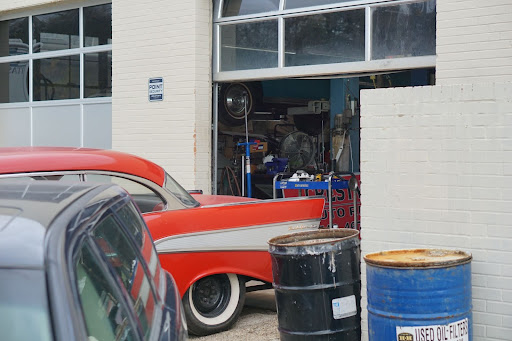 AN OLD-TIMEY FEEL: The Crestview repair shop yet another part of what makes Crestview…Crestview. The shop is always open to fixing cars, motorcycles, etc. They are known to be reliable, and this reputation makes them well known to residents of the neighborhood. Unique businesses like this one make Crestview stand out in Austin. "I like the fact that Crestview is close to all the things I love to do," Sylvia Rushing said. "It's really convenient, and it feels like home." Photo by Chloe Lewcock.
LAYING DOWN TRACKS FOR THE FUTURE: The train tracks that run through Crestview lead north to south. They are a specific landmark in the neighborhood and they cut diagonally across a large corner of Crestview. "They provide a nice aesthetic tor the neighborhood," Crestview resident and McCallum freshman Finley Dixon said. "When I look back on my childhood, I will remember those train tracks." Photo by Camilla Vandegrift.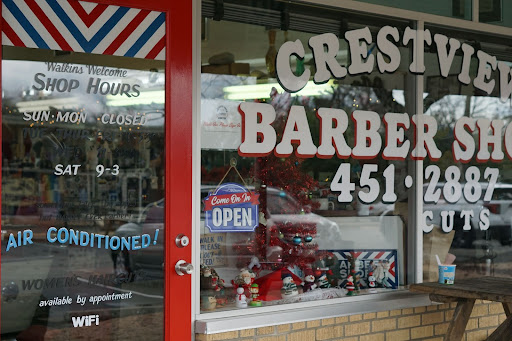 A BIG LITTLE THROWBACK: The Crestview Barber Shop located in the heart of the Crestview Shopping Center still holds its home location. Although its been here since 1953, it is still just as important to the neighborhood as it was years ago. "It's like a throwback to the '50s, back when they still had a barber and a beauty salon," longtime resident Sylvia Rushing said. Photo by Chloe Lewcock.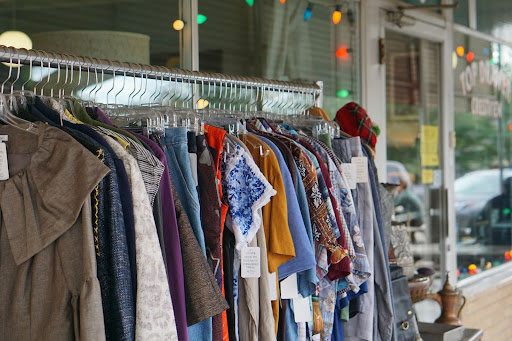 V IS FOR VINTAGE- Top Drawer Vintage presents some of its clothing selection outside its storefront to attract shoppers and to show off its variety of vintage offerings. Although the shop closed its doors for two months during the pandemic, Top Drawer is back in business and showing off its wide array of merchandise from clothes, to one-of-a-kind antiques. The store is unique to the neighborhood and contains something a lot of other neighborhoods don't have. "Crestview is eclectic," said Daniyela Braunovic, a current resident of Crestview. "It has a lot of character." Photo by Chloe Lewcock.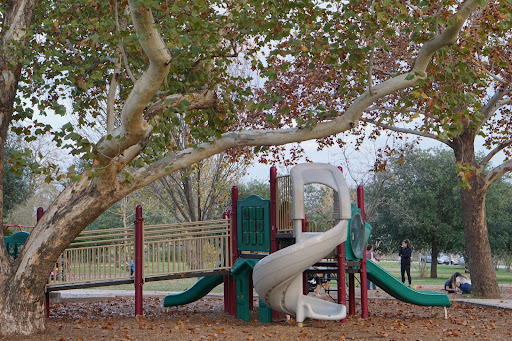 A HOP, SKIP, AND A JUMP: Just a few minutes away from the heart of Crestview lies Brentwood Park, filled with children of all ages, adults playing tennis, and residents walking their dogs. It offers a place for people to connect with their neighbors and for kids to make friends nearby. For Crestview residents, the park is an essential gathering place. "Everybody is friendly, and everybody helps you out," Sylvia Rushing said. "No one used to want to live here, but now families do. The fact is that it is it's own little community." Photo by Chloe Lewcock.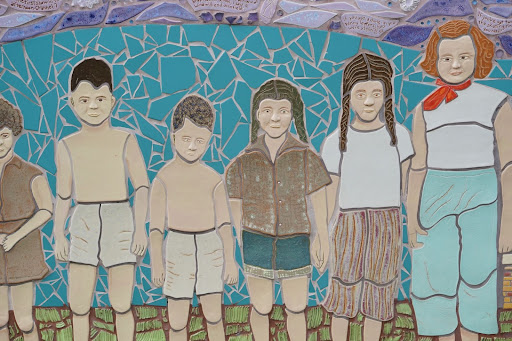 WERE HERE TOGETHER: The Wall of Welcome sits right outside of the Crestview Shopping Center showcasing unique ideas. The wall was created in 2003 and is filled with mosaics like this one, with some to signify certain families, and others to show churches and restaurants. This one shows a group of young kids, which represents the family-oriented feel of the neighborhood that has been held since the 1950s. "It was really its own community. Everybody knew everyone," said Sylvia Rushing, reflecting on her own childhood in Crestview during the '50s. "It was great, intimate; all of the kids knew each other." Photo by Chloe Lewcock.