Celebrating Día de los muertos
Students and teachers reflect on importance of family, joy, culture on day of remembrance
Day of the Dead is a time to remember the people who came before us. Despite the sad nature of the holiday, to many, Dia de los Muertos is a celebration of life. 
For the students and faculty of McCallum, the holiday brings family and culture together. From altars to family reunions, here is how McCallum is celebrating.  
Junior Ayden Lee sets up an ofrenda every year to commemorate his relatives who have passed away. He looks forward to the holiday every year, and views it as an experience that brings him closer to his family and roots. 
"We always put conchas on the ofrenda," he said. "It is my favorite part." 
A concha is a traditional Mexican sweet bread often put atop the altar next to family photos or Marigolds. However, they aren't the only sweet treats students celebrate with. 
Junior Anabel Tellez shares a tradition with her mom at a local bakery called Quacks. Together, Tellez and her mom get Dia de los Muertos-themed cookies to share with her relatives that come to Austin from Guatemala. Along with these cookies, they also indulge in sugar skulls, another common treat during the holiday.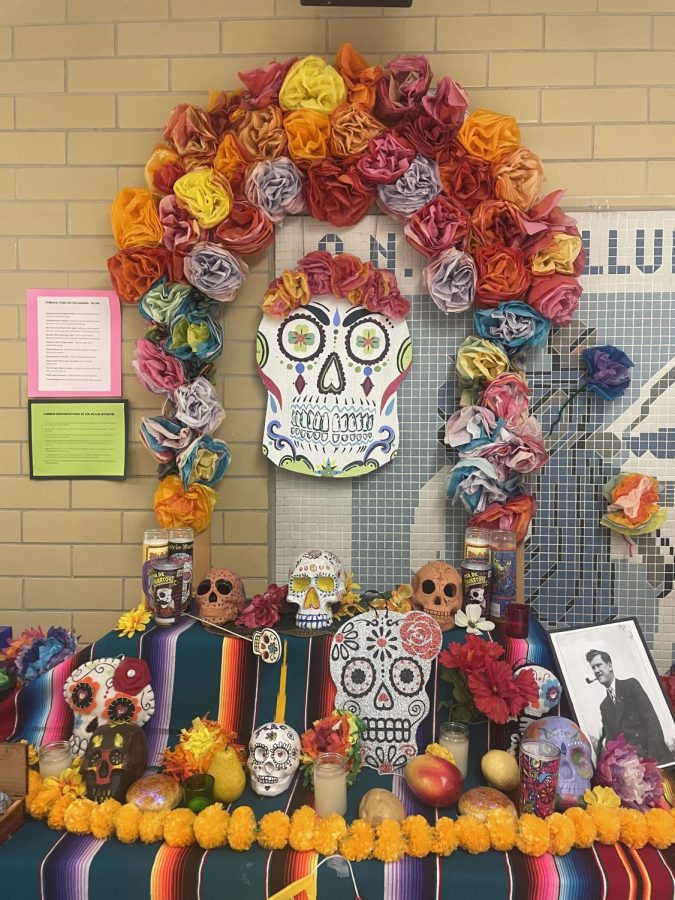 "I look forward to the experience each year," Tellez said. "It always brings me and my mom closer and gives us a chance to reconnect and embrace our culture."
Sophomore Gaby Alvarado and her family celebrate by having a family reunion hosted at their Grandfather's house. Alvarado's favorite facet of the holiday is being able to tap into her roots while bonding with her relatives. 
"My favorite part is honoring my family and hearing stories about them," she said. While conversing about the past is Alvarado's favorite part, she also enjoys traditional food made by her family members. "I love the rice my mom makes."
"
"I look forward to the experience each year. It always brings me and my mom closer and gives us a chance to reconnect and embrace our culture."
— junior Anabel Tellez
Spanish teacher Juana Gun celebrates Dia de los Muertos with her students. Every year, they go to a festival "Vida la Vida", organized by the museum, Mexic-Arte. Gun finds the celebration of life very important to the holiday, and takes pride in reminding people why we celebrate these beautiful days.
Students also celebrate this holiday at McCallum. National Art Honors Society, a student organization designed to celebrate talented visual artists, sets up an ofrenda in the foyer of the school. Senior Catalina Flores is a part of this long-standing tradition. 
"I think it's a great way to get students who normally don't celebrate the holiday involved," Flores said. "It exposes them to a culture unfamiliar to them."  
Day of the Dead is a day dedicated to celebrating the beauty of life. All around McCallum students, teachers, and organizations are celebrating in unique ways. Day of the Dead is a celebration that unites people from different ages and cultures in our community and around the world.