Students, teachers come dressed to express
Mac doesn't shy away from sharing spooky spirit with creative costumes, festive Halloween traditions
Halloween was a very nearly a Halloweek in 2022, with costumed celebrations ranging from Thursday's football game to the costume contest at lunch on Monday (actually Oct. 31). Throw in the observance of Dia de Los Muertos on Tuesday and you have six days of seasonal celebration.
The spooky shenanigans began when Blue Brigade and cheerleaders dressed not only as each other but also in traditional Halloween costumes on the sidelines and at halftime during Battle of the Bell against Travis.
Over the weekend, MacTheater put on its annual Princess Tea Party, where actors dress up as beloved Disney characters and bring the magic up close for kids and families. On Saturday, student committees held the Trunk-Or-Treat in the band lot with performances from one of the chamber orchestra quartets and concessions out of Halloween decorated cars.
The main event was Monday, where students and teachers went about their classes and practices in disguise. The baseball, volleyball and girls basketball teams all participated in costumed practices and the Art Society staged the annual costume contest, which was judged by Ms. Gun, Mr. Stanchos, Mr. Winter and Mr. Wydeven.
Best Group costume went to the cast (and car) from Ferris Bueller's Day Off (Lily Greendyk, Simon Beaton, Ava Escamilla and Harper Freach), Nick Boehle won Funniest Costume by dressing as the girl down the street. River Pena and Nate Brookshire earned Most Creative Costume honors for their Daft Punk-themed costume. The Best Overall Costume award went to  Mailyn Gil for her Dia De Los Muertos-themed costume, which came with some exquisite face painting.
We are pleased to present (insert maniacal laugh here) some of the best (and spookiest) Halloween 2022 photos.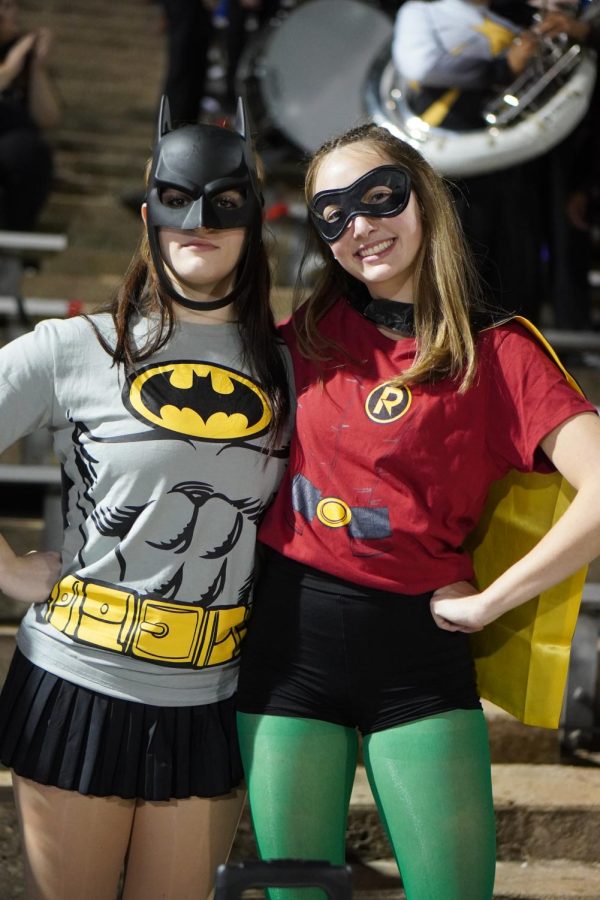 BAT BRIGADE: Blue Brigade members junior Kylie Reeves and senior Julia Wallace show off their squad's Batman-themed Halloween costumes. As junior lieutenants and social officers within Blue Brigade, Reeves and Wallace were in charge of choosing costumes for their squad. They decided to dress Reeves as Batman and Wallace as Robin, and the other squad members dressed up as Batman villains, except for Greta Wayman who came to game dressed as Alfred, Bruce Wayne's butler.
"I think Halloween at McCallum is so fun because of the amount of people that dress up," Wallace said. "I think Blue Brigade costumes are so fun, especially to see how into it squads get."
Wallace said that the Batman costumes were a hit in the McCallum hallways.
"So many people loved the green tights for the Robin costume," Wallace said. "Nia Wayman's squad did safari animals and that was a funny one, and someone in my squad wore a bald cap and our Joker had a green bob, so it was all very fun."
The Bat squad took its costumes to the Halloween football game last week, celebrating an annual Blue Brigade tradition.
"We dress up every year for Halloween games," Wallace said. "My freshman year the game was actually on Halloween, so dressing up was to let us still have fun, but this year it was before Halloween, except it's tradition so Ms. Honey still let us dress up."
Reporting by Ingrid Smith. Photo by Dave Winter.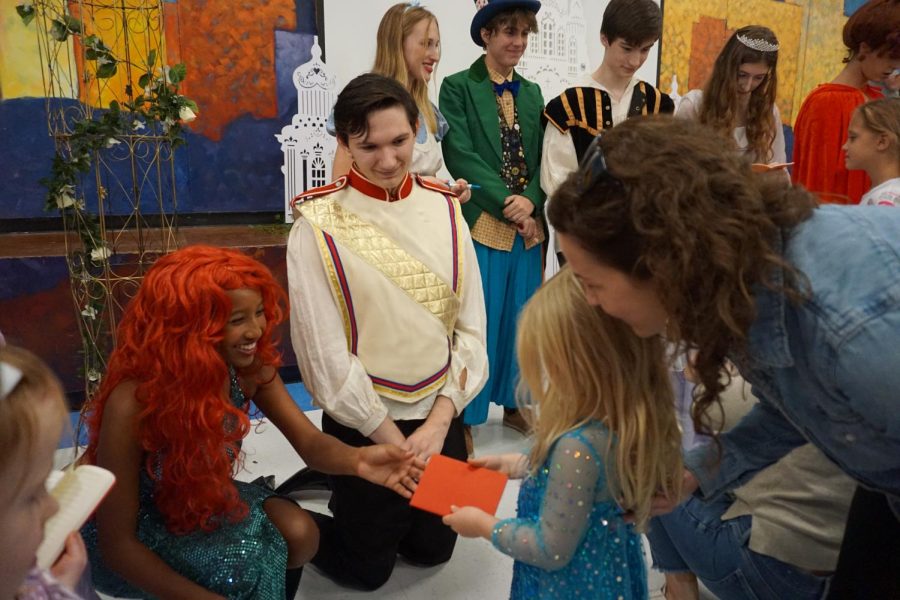 The annual Princess Tea party took place Saturday. MacTheatre students dressed up as beloved Disney characters and sang classic songs, and kids got to see their favorite characters up close. This event also served as a fundraiser for the theater program more specifically the student leadership council. Junior Marshall Clifton played Prince Eric which to him was a dream come true. Clifton loved the experience of the show.
"Getting to embody a classic Disney character is a really surreal experience, but it was so much fun."
Last year Clifton was a waiter and seeing how much fun his friends were having persuaded him to audition for the event this year.
"The atmosphere was so charged and contagious, I couldn't wait to audition. Seeing how excited they were to see us was really heartwarming experience," Clifton said. "Because we knew that we had made these kids days."
Caption by Gaby Esquivel. Photo by Sophie Leung-Lieu.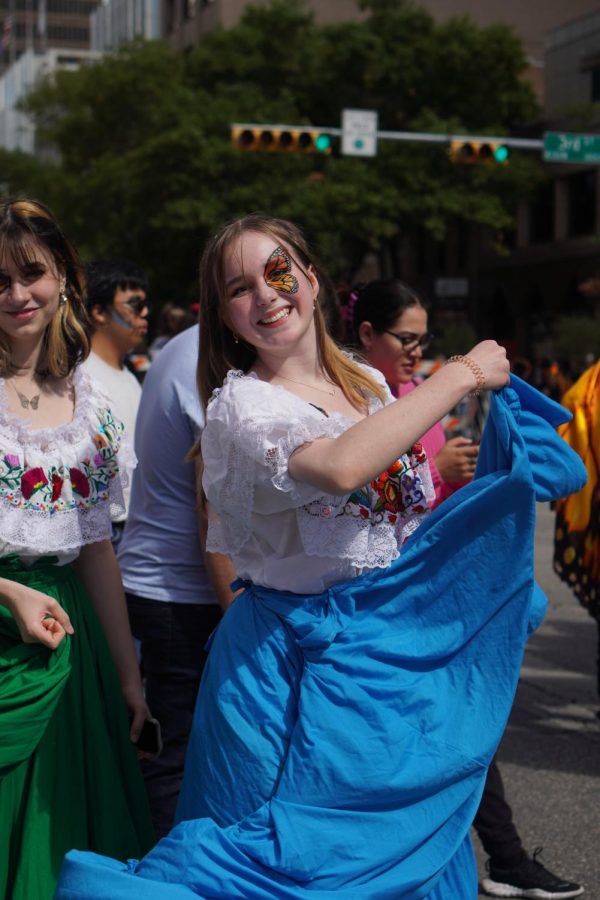 VIVA LA VIDA!: This past Saturday. approaching the upcoming holiday on Wednesday, the Mexic-Carte Museum of Austin put on its 39th annual Day of the Dead Parade. The streets were lined with live music, dancing, elaborate costumes, and cars decorated for the occasion. The grand procession started at noon on historic Sixth Street, and ended at 1 p.m. on Congress Avenue. For sophomore Poppy Harris, this was the first time she got to participate in the parade. 
"My favorite part of the parade was smiling with my friends." Harris said. "I loved all the beautiful dresses and dances."
McCallum Spanish students and teachers were offered the opportunity to join in on the parade. They congregated early Saturday morning and got various face-painted designs such as butterflies, and skulls significant to the occasion, as well as picked out an elaborate Ballet Folklorico dress to wear during the parade. And despite this being out of her ordinary comfort zone, Harris stepped up to the opportunity. 
"I got to experience something I never thought I would do," Harris said, "but thanks to Senora Gun encouraging me to go, I had the best Saturday."
Photo and caption by Chloe Lewcock.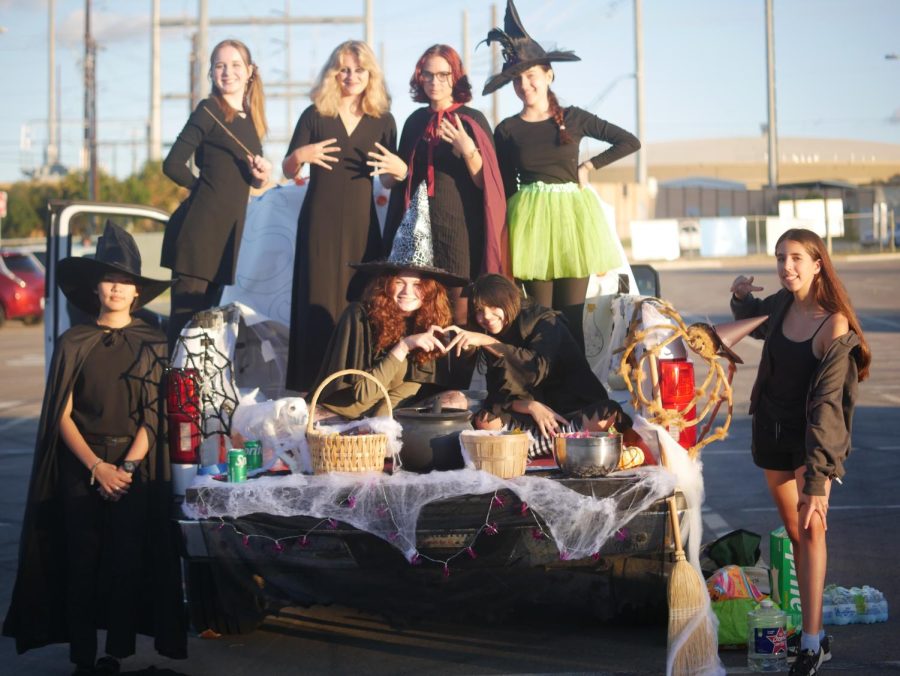 Halloween was in the air, on Saturday in the band lot. McCallum hosted a Trunk-or-Treat event where kids dressed up in costumes and went to the different cars representing different clubs or classes, at the end, the kids voted on which car they liked the most. The sophomore and senior classes tied for first place. Sophomore class president Kalliope Haltom was very happy with the tie.
"It felt awesome when we tied because we worked so hard, and I was so proud of our class for coming together and doing such an amazing job," Haltom said.
"I was quite excited when I learned we tied cause that meant both the seniors and us got to sell something," sophomore class representative Grace Schlegel said.
Photo and caption by Shila Gill.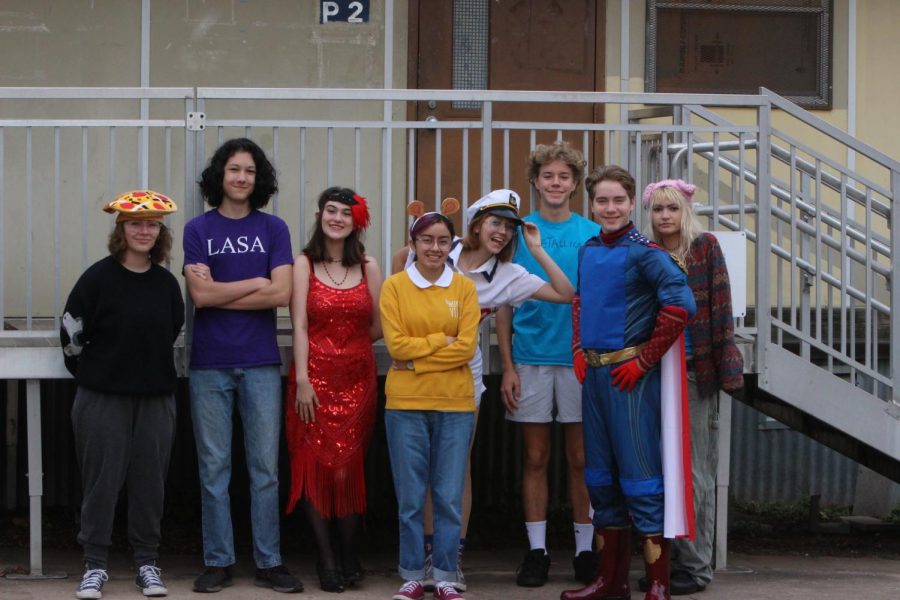 O SAILOR, WHY'D YOU DO IT?: Junior Olive Greene (posed in the middle) took an unconventional approach with her Halloween costume this year. Despite wearing what appears to be a traditional sailor hat and uniform, Greene was dressed as her self-proclaimed song of the summer, "'O' Sailor" by Fiona Apple.
"I've just been obsessed with it," Greene said, "and I was trying to come with songs that would make cute puns for costumes and it seemed perfect!"
Greene handstitched a red letter O on the pocket of the shirt to add the final Fiona Apple touch to her attire. Even though Greene spent a lot of last weekend and Halloween night working on homework, she still found the time to enjoy the holiday festivities with friends.
"I went to a haunted car wash with some friends and it was awfully thrilling."
Caption by Francie Wilhelm. Photo by Leah Gordon.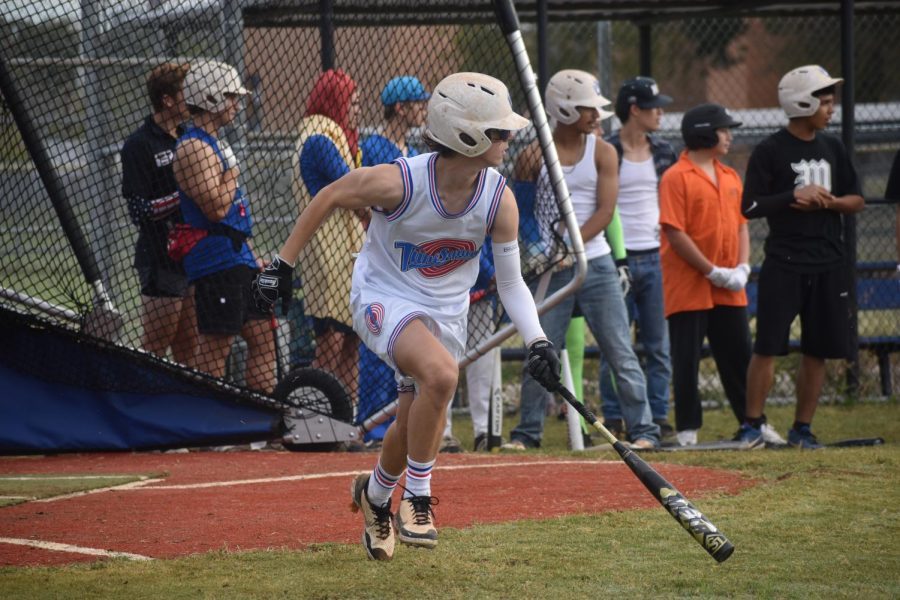 The baseball team played while decked out in their costumes during their fifth-period practice on Monday. Junior Nico Sanchez made his way to first base in a 'Space Jam' uniform, taking on some Bugs Bunny speed of his own. Photo by Caroline Owen.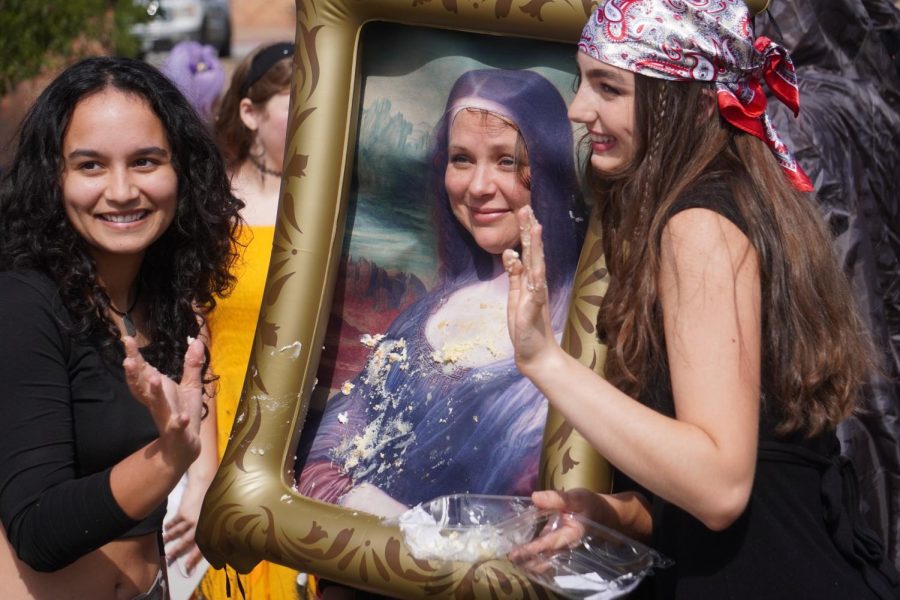 A SWEET SURPRISE: Senior art society officers Amaya Collier and Claire De Silva-Yost smear cake on their advisor, Sara Massey. The students thought it'd be funny to cover Massey, who was dressed as the Mona Lisa, with cake, because the famous work was recently vandalized with the dessert.
"I liked seeing all our efforts being enjoyed by everyone in school," De Silva-Yost said. "I saw so many smiles."
De Silva-Yost found the stunt to be extra exciting considering that the acts of vandalism are still currently happening, with the most recent occurrence being last Thursday, targeting the painting "Girl With a Pearl Earring" by Johannes Vermeer. Although it isn't certain that the defacing of the Mona Lisa corresponds with the more recent outbreaks, De Silva-Yost wouldn't be surprised if the two were linked. 
"I support the protests' message to stop using oil," De Silva-Yost said, "but I think they executed it in a way that lacks a clear message to the public."
Caption and photo by JoJo Barnard.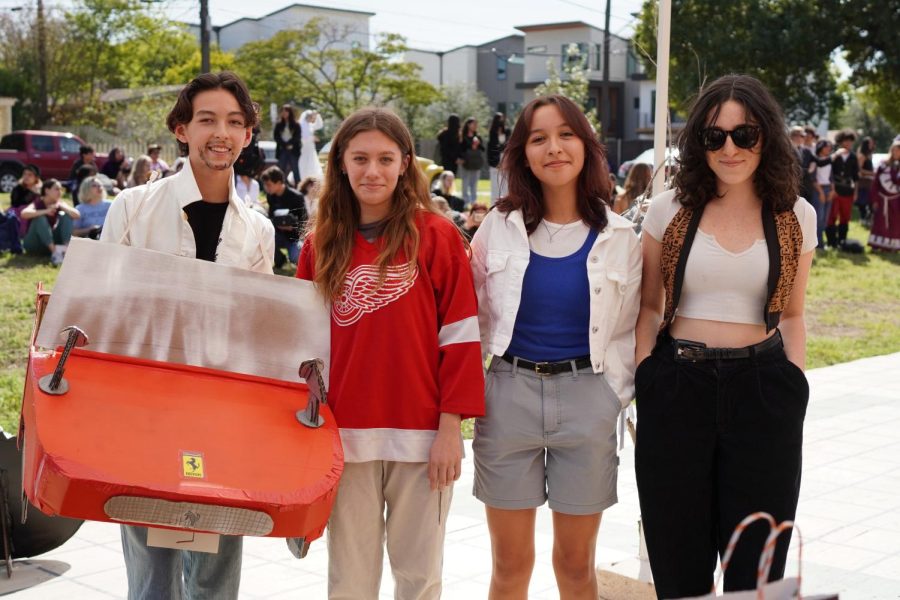 RELAX I'M A PROFESSIONAL: As part of McCallum tradition, the school put on its annual costume contest for Halloween at lunch on Monday. Students and staff were challenged to come to school dressed in their best costumes, and compete for one of the many winning titles. 
Accepting the challenge sophomores Harper Freach, Lily Greendyk, Simon Beaton and Ava Escamilla debated what they should be and eventually landed on the iconic Ferris Bueller's day off. Beaton took on the Eole of Dennis Juarez, or the garage attendant from the movie. However, he also added a spin to the role by including his famous Ferrari in his costume. Beaton was also inspired by the line "Relax, I'm a professional " stated by his character in the movie. 
"I really like my little Ferrari!" Beaton said. "I made it the day before and it took a super long time, but that red Ferrari is iconic!" 
The team of four was awarded the best group costume leaving with a goody bag, and bragging rights for the rest of the day. The costumes included the main characters of Ferris Buller himself, Cameron Frye, and Sloane Peterson, as well as the ferrari and its driver. 
"Ferris Bueller's Day Off is one of my favorite movies." Beaton said. "Especially because the 80's were such a cool time for fashion and style that inspires me in my everyday personal style."
Photo by Dave Winter. Caption by Chloe Lewcock.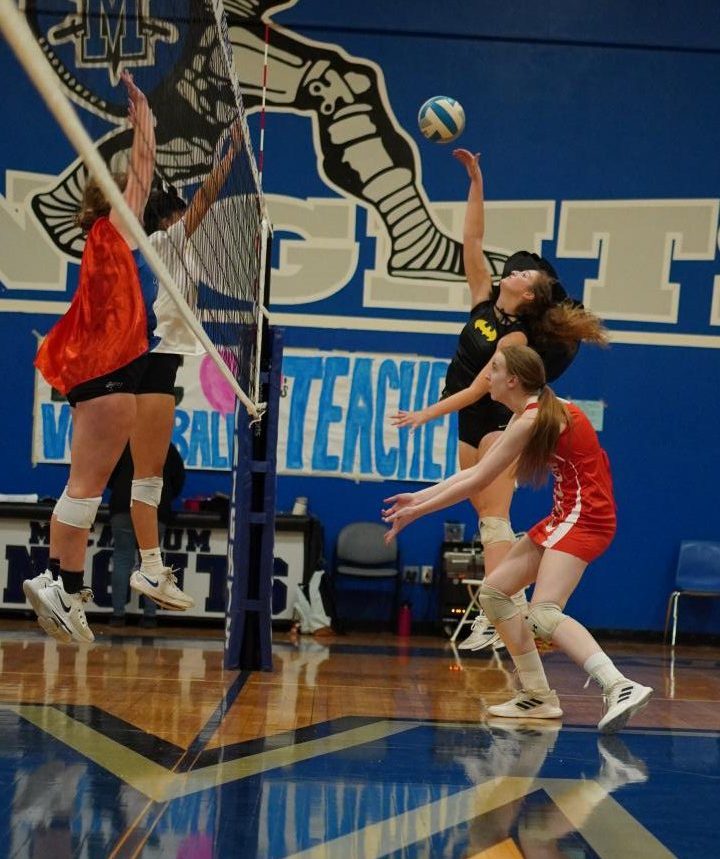 Sophomore Classic Coke can Greta Carlson and senior Bat Girl Kate Schackleford set up a spike at the volleyball team's costumed practice during fourth period on Monday. Carlson felt that the costumes diffused some of the stress for the upcoming playoff game.
"Wearing the costumes lightened our mood and took off some of the pressured we'd been feeling about our playoff match," she said. "We all worked super hard on Monday for tonight."
Carlson also enjoyed her teammates' costumes.
"[I loved] Rylee's [Hissey] costume of a GoGo girl. She had all the right accessories and it looked really cool."
The mix of fun and dedication paid off; the Knights beat the Pflugerville Panthers 3-1 today, winning their first bi-district playoff game since 2007.
Caption by Francie Wilhelm. Photo by Dave Winter.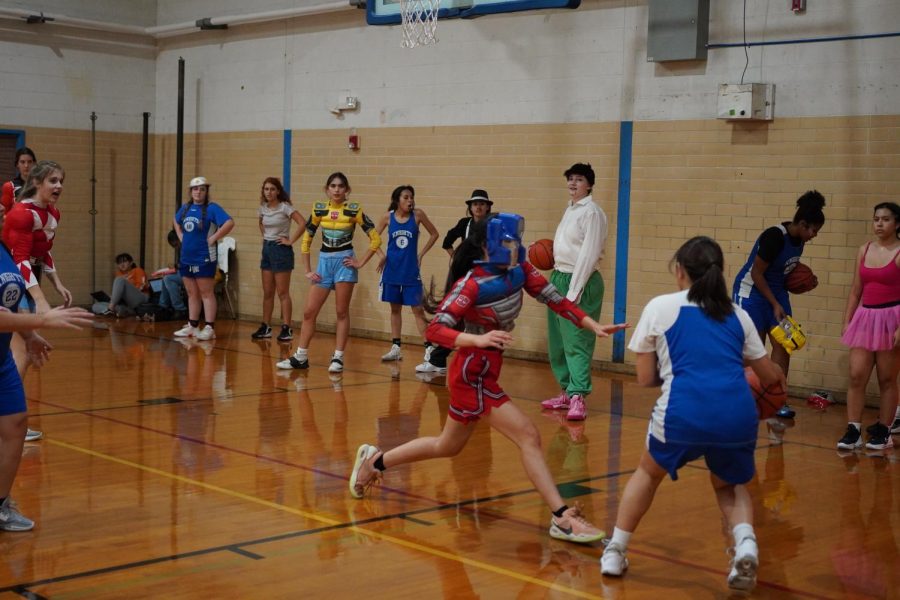 DRESSED TO IMPRESS: The girls' basketball team practiced in their Halloween attire during fourth period in the small gym on Monday.
"It was funny to see everyone playing in their costumes," junior Samantha Shreves said. "The mask I wore made it hard to see, and my costume made it hard to lift my arms."
The girls played through the restriction of their festive get-ups and celebrated the holiday right.
Caption by Isley Cameron. Photo by Dave Winter.