Our official Halloween movie guide
Need a pandemic-proof plan for Oct. 31? Cozy up and grab your popcorn as N&N&Ellen present our fall film favorites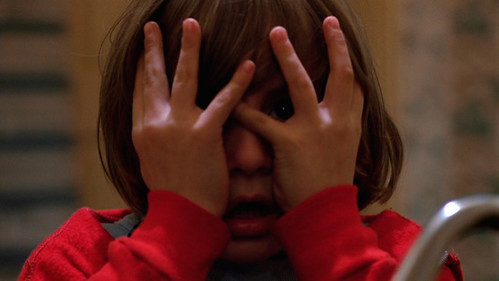 It's the Great Pumpkin, Charlie Brown (1964)
According to Linus, the Great Pumpkin rises from the pumpkin patch every October to deliver gifts to kids. According to everyone else, Linus is a blockhead. Nonetheless, pink and prissy Sally finds herself stuck in the patch with him for 25 minutes of tricks (mostly on Charlie Brown) and treats — the 1966 television special It's the Great Pumpkin, Charlie Brown. In the colorful cartoon world of Snoopy and the Peanuts gang, Autumn is a time, much like every other season, for shenanigans. Homemade ghost costumes, playing (or, for Charlie Brown, attempting to play) football and scribbled letters to the Great Pumpkin make their way to viewers' hearts as Charles Schulz's whimsical fall time world swirls across the screen. Now included free on Apple TV+, this Halloween classic is the perfect treat to indulge in this October. But don't get too warm and fuzzy — there are plenty of hair-raising, spine-chilling moments, too, like Lucy's kiss on the lips from that dumb dog! Good grief! 
— Madelynn Niles
This Disney flick's signature song "I'm Stuck In Your Head" seems to ring true for days after watching the film. From the iconic songs to the cheesy "Disney approved" horror tropes, this 2012 Disney original movie has everything you could want when bored at home in October while procrastinating doing physics homework, or you if you just want a hefty dose of 2010s nostalgia. The story follows teenage Skylar (Holt), who is seemingly "fearless" and longs to go to hot-band-guy Ryan's (Benward) Halloween party. Skylar seems to get her wish when Ryan asks her to sing lead vocals for him when his band's previous lead singer, archetypal queen bee Myra (Kathrine McNamara), is unable to attend. While it may seem like sunshine and rainbows in Skylar's near future, she discovers that her parents are, you guessed it, monster hunters (cue the dramatic Disney music). This revelation thrusts Skylar and her best friends Sadie (Kerris Dorsey) and Henry (Brendan Meyer) into a world of monsters, hormones, and China Anne McClain songs.
— Grace Nugent
This quintessential 1984 film stars Bill Murray, Dan Aykroyd, Ernie Hudson, Harold Ramis, and Sigourney Weaver as the original Ghostbusters. The cult classic follows a team of crackpot scientists (Ramis, Aykroyd, Murray) after they lose their prestigious positions at a university in New York City. From that point forward, their fate is set as they decide to take up the profession that we all know today: ghostbusting. They wage battle with the supernatural for money, the world's most powerful commodity, and in this pursuit, they quite literally stumble into a gateway to another dimension, releasing untold evil on the residents of New York City. They find themselves fighting to save New York from complete destruction from foes like Slimer, Gozer and a certain giant marshmallow man.
— Grace Nugent
Ghostbusters; Answer the Call (2016)
"Ghostbusters: Answer the Call," like its 1984 predecessor, is a Halloween must-watch. The flick is fueled by (not to sound too cheesy) female friendship power with SNL alumni Kristen Wiig, Leslie Jones, Kate McKinnon, Gilmore Girls' Melissa McCarthy and Thor (well, actually Aussie star Chris Hemsworth). This quirky, captivating remake has everything one would need in a Halloween movie. The story opens with physicist Erin Gilbert (Wiig) discovering that her estranged best friend, paranormal scientist Abby Yates (McCarthy), has published their "ghostbook" online, leading to Gilbert being fired from her job at Columbia University. When strange apparitions being to pop up in Manhattan, Gilbert, Yates and eccentric engineer Jillian Holtzmann try and prove that ghosts exist in modern New York. To round out the new Ghostbusters, Patty Tolan (Jones) a New Yorker who knows all the creepy ins and outs of the city, and, of course, hunk Kevin (Hemsworth), who takes the dumb blond secretary persona to a new level, join the team. Armed with attitude, spunk and Holtzman's ingenious proton guns, the Ghostbusters prepare to protect the city that never sleeps from the claws of the supernatural.
— Grace Nugent
There's nothing like room 237 to get the Halloween frights fired up. Whether you've read it 100 times, seen it 1,000 times or are a Shining newbie, Stanley Kubrick's adaptation of Stephen King's horror classic offers something new every watch. Upon viewing we are pulled into the minds of Jack (Jack Nicholas), Wendy (Shelley Duvall) and their son Danny Torrance (Danny Lloyd) as they prepare for a five-month hiatus from the rest of the world as the Winter caretakers of the Overlook hotel. As time passes, the isolation starts to fester, causing tensions within the family, and as Danny begins to have "psychic" premonitions and Jack unravels as he discovers the dark secrets of the hotel, the snowy break from the world becomes a hellish experience. Warning to any younger folks or families of them: this movie is rated R and is not suitable for all audiences. Viewer discretion advised.
— Ellen Fox