Setting the stage for Day of the Dead, Halloween
Art Society comes together to honor the dead, celebrate Mexican heritage and put people in holiday spirit
"
We celebrate the dead but it's not a sad tradition, we celebrate with color and love to remember the dead."
— Art teacher Jeff Seckar-Martinez
Art Society members hang streamers, inspect them then take them down and try again. Art teacher and National Art Society sponsor Jeff Seckar-Martinez moves between the main hallway and the cafeteria critiquing the work of his Art Society students as they decorate the main hallway for Dias de Los Muertos and the cafeteria for the Halloween contest that is a week away. Dias de Los Muertos is a holiday celebrated in Mexico around October, where the dead/passed loved ones are honored and celebrated with life and color.  The annual Halloween costume contest has become an Art Society and campus tradition.  While the costume contest is fun, observing the Day of the Dead is more important to Martinez on a personal level.
"I grew up in El Paso and for me, it was a tradition we followed growing up," Martinez said. "We celebrate the dead, but it's not a sad tradition; we celebrate with color and love to remember the dead."
The altar in the mail hallway display photographs, trinkets, flowers and other decorations honoring people that have died. Over in the cafeteria, the club members stretch out a huge fake spider web to envelop the school mascot.
We are pleased to present our gallery of the hallway and cafeteria decorations as this week's #TuesdayTop10 photo essay.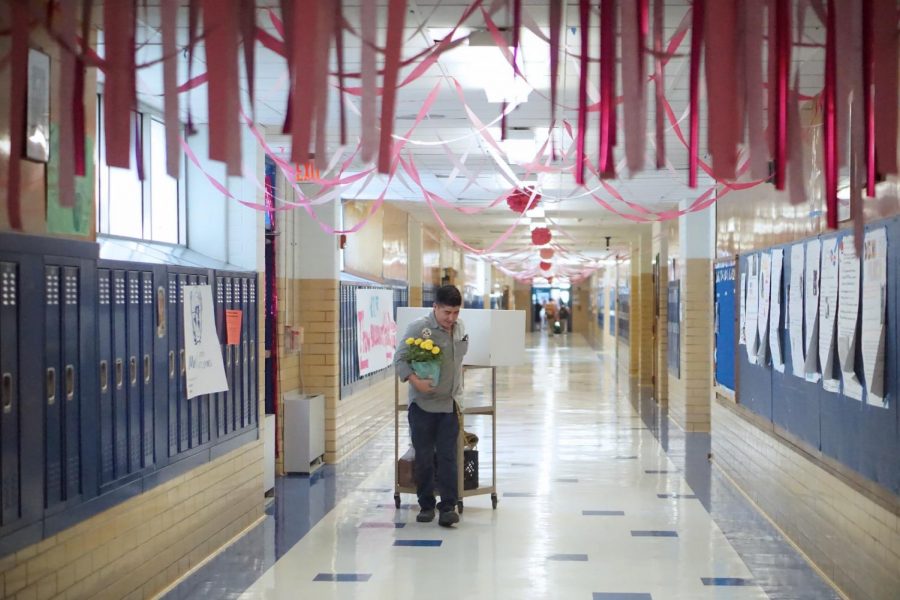 BEHIND THE SCENES! It is Thursday after school on Oct. 24. A group of students joined teachers Mr. Seckar-Martinez and Ms. Rios-Tiessen to help decorate the front entry of the school for the Day of the Dead. Martinez walks along the empty hall, carrying a cart of decorations behind him. "I'm Latino, and Mexican traditions are a part of who I am," Seckar-Martinez said. "I don't really follow them now, but I definitely love the heritage that I had when I was a kid, and I try to follow that as an adult now. … For me it's all about tradition and family, and showing respect to your heritage and showing respect for the dead but also loving and feeling pride." Photo by Camille Wilson.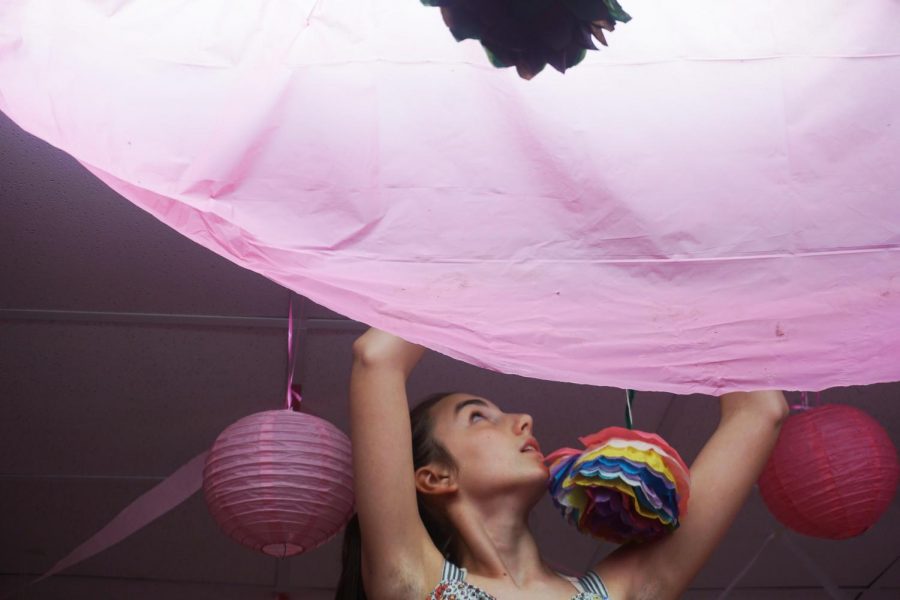 COLORFUL COLLIER: During the hallway decorating for Dias de Los Muertos last Thursday, Amaya Collier hung up colorful paper flowers from the ceiling while being surrounded by Pink Week decorations. Art Society is a group of students who do services related to art; the hallway decorations were one of those volunteer opportunities. " I joined Art Society because I'm really passionate about art, and I enjoy volunteering," Collier said. "Días de Los Muertos isn't really a part of my culture, but I think it was really fun to get together with everyone and celebrate." Photo by Lily Prather.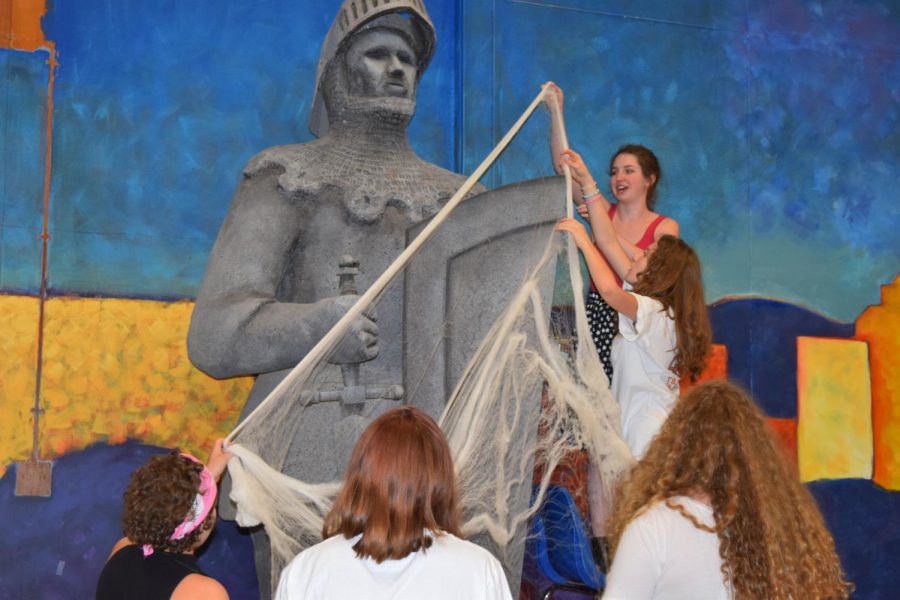 BOO-TIFUL DECORATIONS: Up go the spooky decorations in the cafeteria, lovingly hung by members of the Mac chapter of the National Art Society. On Oct. 24, the club teamed up to turn the cafeteria into a spooktacular display. "I love preparing for the fall," senior Sara Schneider said. "Showing a festive spirit with your friends is just so much fun." Photo by Anna Nagle.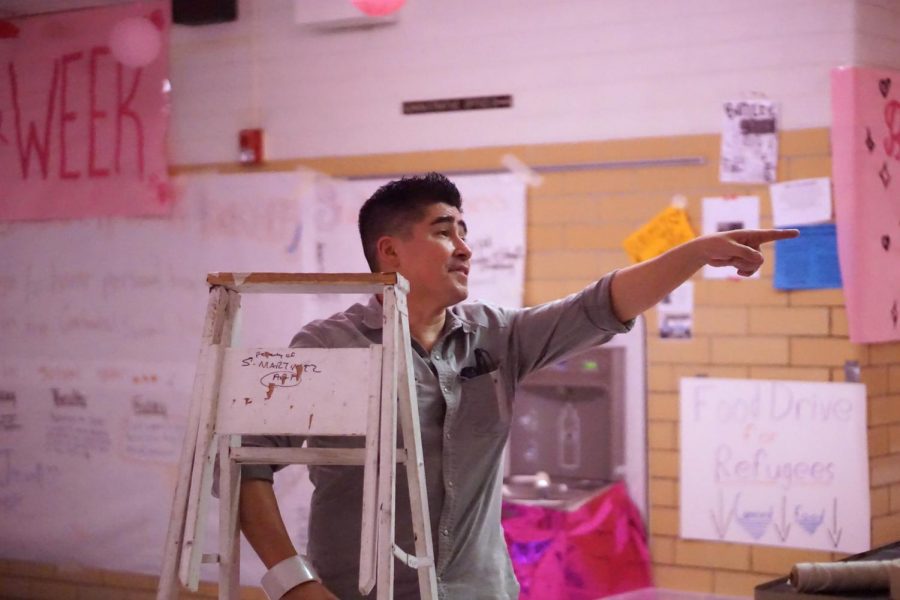 SUPER SECKAR! Mr. Seckar-Martinez directs students during the after school Day of the Dead decorations on Thursday, Oct. 24. He points out a flaw in the setup of the altar and instructs the volunteers to change it. Martinez describes what the Day of the Dead means to him, "It is more of a celebration of life than it is of death, so you are of course sad that the person isn't there, but you're also happy that they were there and you were able to be part of their lives at some point.." Photo by Camille Wilson.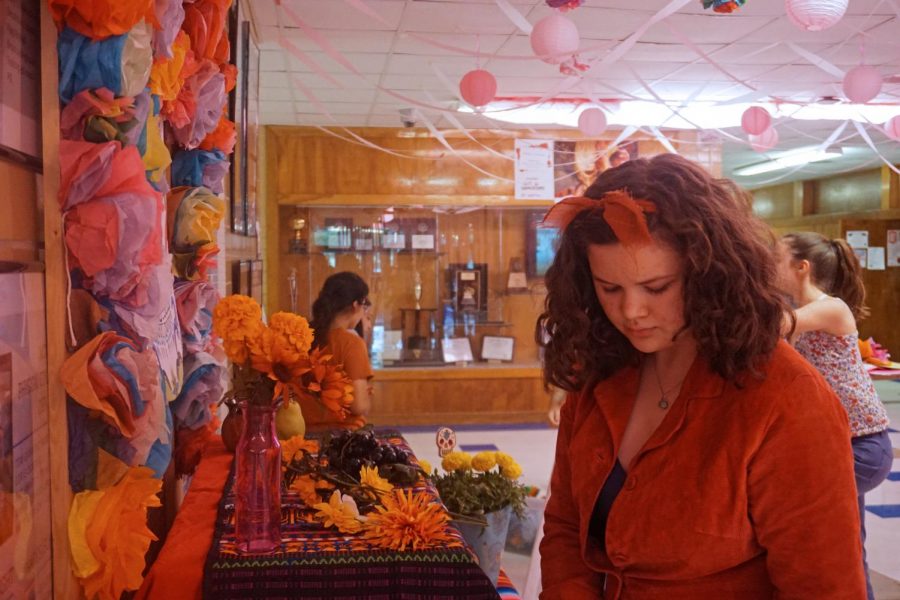 A WORLD OF COLOR: Sophomore Kiera Boehle focuses on the Day of the Dead altar that she was setting up as a part of Art Society volunteer work in the main hall on Thursday, Oct. 24. The altar displayed photographs, trinkets, flowers and other decorations honoring people that have died. "We made it all nice," Boehle said. "That's one of the reasons I like Art Society, it contributes to the art community and allows you to experience the world even when you're in such a small space like a high school." Photo by Lily Wilson.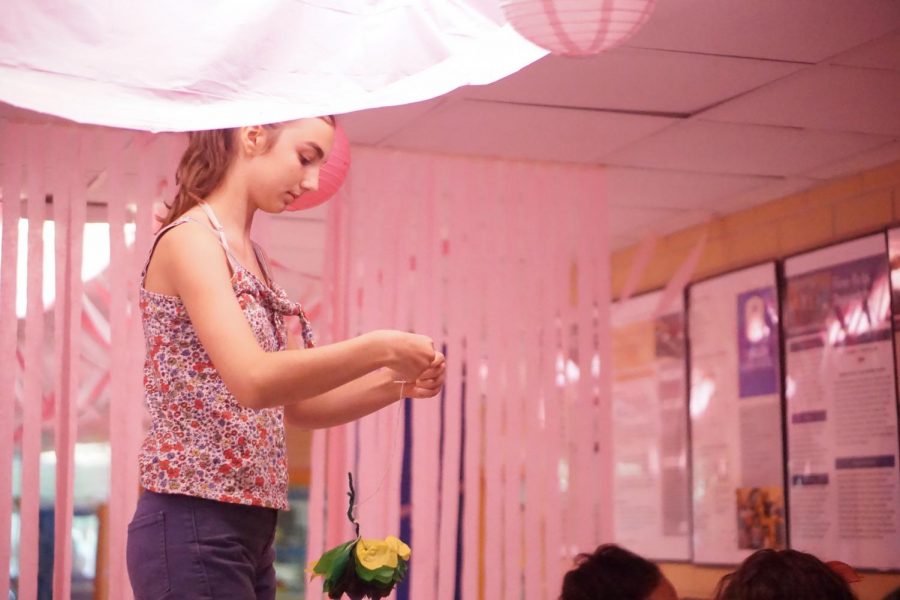 FLORAL FOCUS! Freshman Amaya Collier carefully adjusts a flower that she will attach to the ceiling. She is decorating for the Day of the Dead in the main hallway on Oct. 24 on a Thursday afternoon. She has been in this spot since right after school and plans to stay until the decorations are complete. "I thought it was important," Collier said, "because we were helping celebrate the lives of loved ones." Photo by Camille Wilson.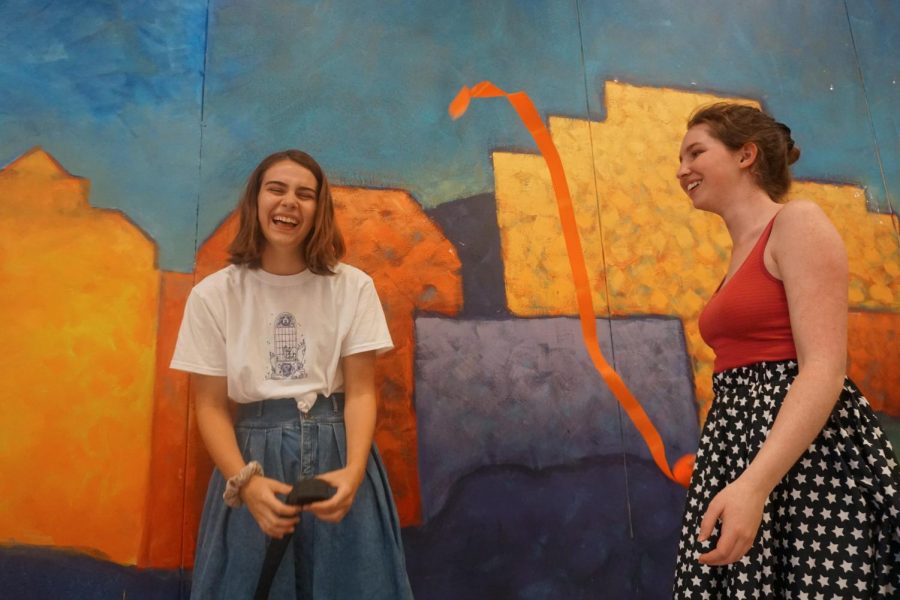 HALLOWEEN FUN: Junior Fiona Wyrtzen and senior Cassie Hartle joke around while preparing the display for the McCallum costume contest on Thursday, Oct. 24. The two girls, both members of the National Art Society, were putting up streamers in the cafeteria to get McCallum students in the Halloween spirit. "I've been in Art Society since I was a freshman," Hartle said. "We get to do creative things that help people, and hang out with friends, it's really fun." Photo by Lily Wilson.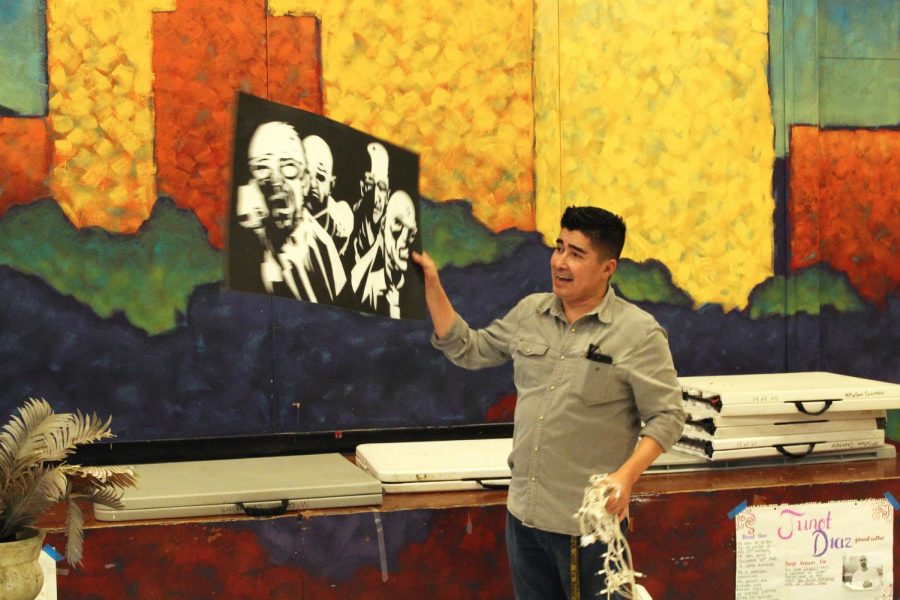 BOO! On Thursday Oct. 24, Art Society club members set up for the annual Halloween costume contest held in the cafeteria. Students of the club set up pieces of spooky art to get the kids and faculty members of McCallum in the Halloween spirit. "Marty [aka Mr. Martinez, the club's teacher sponsor pictured above] has always had the art set up in his room," junior Cassie Hartle stated. "We also have this meeting sometimes during lunch where we would make art for the setup." Photo by Zada Cook.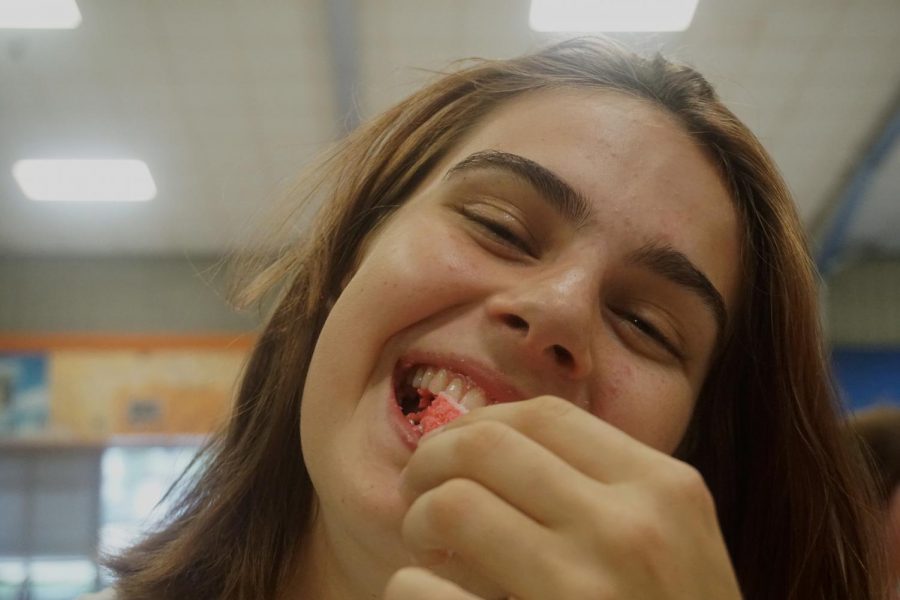 PAN DULCE-LICIOUS: Fiona Wyrtzen enjoys a Pan dulce (a traditional Mexican sweet bread) after working hard on putting up streamers, cobwebs and festive Halloween pieces. Last Thursday the Art society met  after school to decorate the halls for Dias de Los Muertos and also to decorated the cafeteria for the Halloween costume contest being held on Oct. 31. " It was fun to experience decorating the school and to beautify McCallum," Wyrtzen said. "The Pan dulce tasted really good, and it was fun to get a little look inside of Mexican culture." Photo by Lily Prather.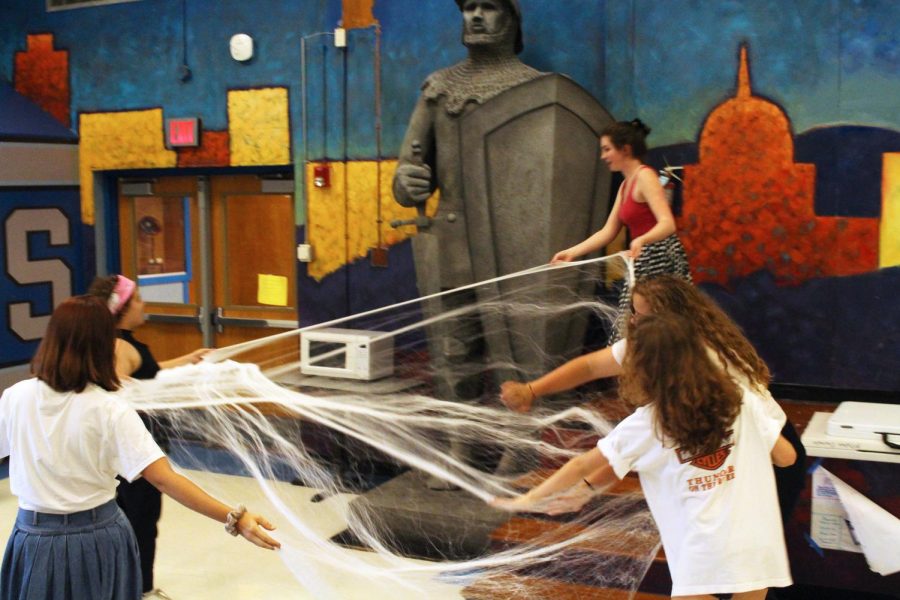 WEBBED OUT! Art society students spent their Thursday afternoon setting up the costume contest that is held on Halloween each year during lunch. The club members stretched out a huge fake spider web to cover the school mascot in. "We were setting up for the Day of the Dead altar as well as advertising our Halloween costume contest set up," said senior officer Riley McDaniel , who is wearing the black outfit and pink bandanna in the picture above. "It was also an NHS volunteer opportunity, and it was just a really good chance for students to meet each other and enjoy art." Photo by Zada Cook.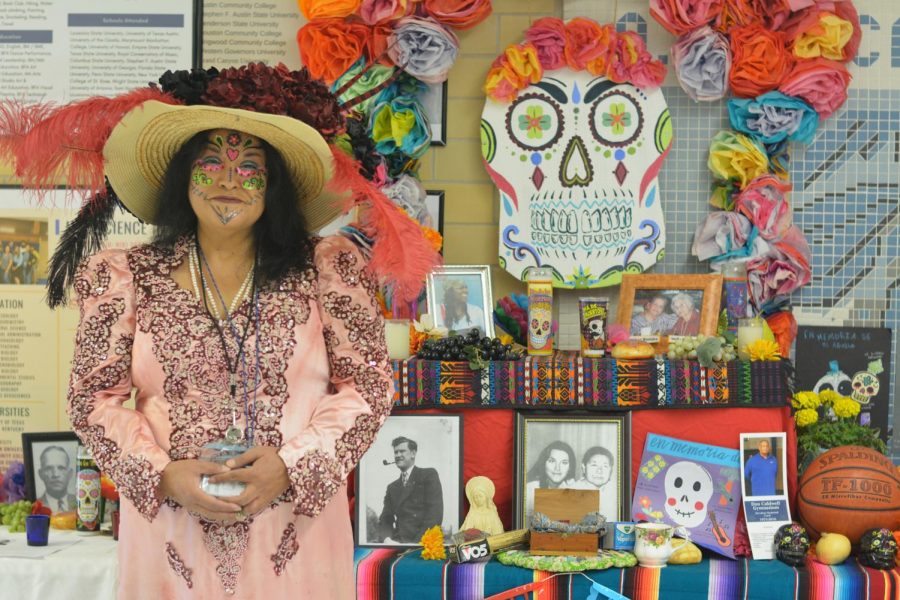 REVISITING VIERNES: Spanish teachers celebrated Day of the Dead on campus in a couple of ways on Friday. Señora Gun came dressed for the occasion and stopped by 134 for a MacJournalism portrait session by the Day of the Dead altar in the main hallway. Gun offered "a big shout out to Mrs. Rios Tiessen and Mr. Seckar-Martinez and the art students for the beautiful altar!" Photo by Alex Dowd.