'Joseph' brings color, intrigue, absurdity to Mac stage
MacTheatre overcomes a host of challenges to bring opening week of larger-than-life musical to fruition
Last Thursday, MacTheatre opened Joseph and the Amazing Technicolor Dreamcoat on the McCallum Arts Center stage.
"I feel like the show is going amazing," junior Savanah Chavarria said. "I'm super happy and so proud of everybody for working so hard. I could never have done it without everybody in the cast supporting each other."
With a mix of styles ranging from western to '60s rock to rap, Joseph brings a colorful and wild tale to the audience.
The story, told by the Narrator (junior Savannah Chavarria) follows Joseph (sophomore Finn Griffith) after being sold into slavery by his jealous brothers to the wealthy Potiphar (senior Agustin Ugarte). After being seduced by Potiphar's wife (senior Sydney Lowe), Joseph is thrown in jail where he meets a baker (junior Finn Sewel McCann) and a butler (sophomore Devin Grammling).
But everything's not lost for Joseph. The Pharaoh of Egypt (junior Lauren Ryan-Holt) has had a disturbing dream and is searching for help. His (now freed) butler tells the Pharaoh of a man he met in jail, Joseph, who has a strength for deciphering dreams.
Joseph is brought to Pharaoh and deduces that his dream is a sign of an upcoming seven years of plentiful crops, followed by a seven-year famine in Egypt. He impresses the Pharaoh and becomes his right-hand man, in charge of preparations for the famine.
Back home, Joseph's brothers and family suffer in poverty and hunger, wishing that Joseph was still with them.
To find out what happens to Joseph and his brothers, you can see the show in one of its next four showings: this Thursday, Friday and Saturday at 7:30 p.m. and Sunday at 2:30 p.m.
"I just love that [the show is] all so insane on purpose," Chavarria said. "The absurdity of it, the colorful aspect. The story is great."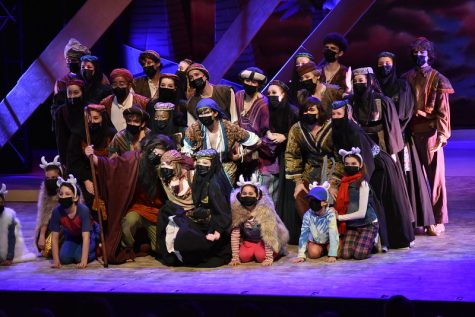 OPENING ACT: The cast is pictured at the end of the first number, as husbands and wives pair to pose for their first appearance in the show. Female ensemble member and sophomore Sydney Safarik played a variety of roles in her third MacTheatre production, including one of the wives pictured, a servant and a maid. "After you go through rehearsals, everything begins to come together right before the show," Safarik said. "Working with everyone and becoming close with the cast and everyone is really special." Reporting by Sophie Leung-Lieu. Photo by Sophie Kessler.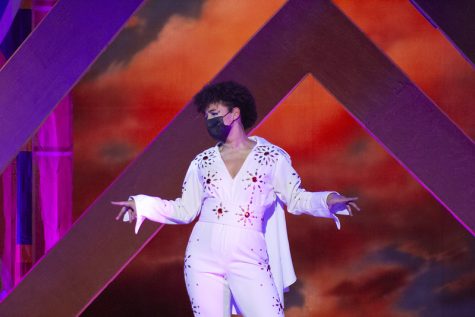 ALL SHOOK UP: Junior Lauren Ryan-Holt (Pharaoh) performs "Song of the King." During the song, Pharaoh describes a terrible dream he has had about seven fat cows followed by seven skinny cows and seven plentiful ears of corn followed by seven rotten ears of corn. The number fits into the show's multiple style format as the Elvis-themed song, with Potiphar as Elvis Presley. "It's a little nerve wracking just because it's very performative," Ryan-Holt said. "I've only been in plays so I'm used to the more serious acting. So to play an Elvis impersonator is fun, but it's definitely the opposite of who I am." Despite the difficulty of donning a new style, Ryan-Holt was pleased with her performance and hopes to continue improving in the upcoming weekend. "Since we still have like a whole weekend of shows, I'd love to loosen up a little bit more," she said. "But I feel really good about my performance. It feels good to make the people in the audience feel excited about the rest of the show." Reporting by Alice Scott. Photo by Eliza Jensen.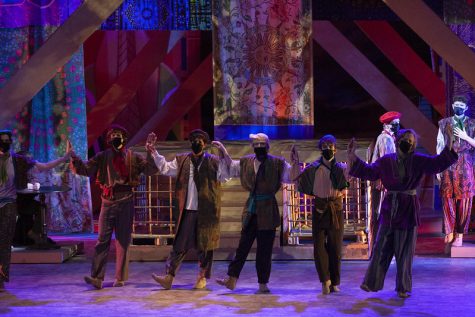 OH BROTHER: Junior Ethan Kuhlken, senior Bobby Currie, freshman Sasha Grapko, senior Jacob Land and junior Anderson Zoll perform "Those Canaan Days" from Joseph and the Amazing Technicolor Dreamcoat—what Currie describes as an "iconic" moment from the spring musical. The number showcases the regret Joseph's brothers feel after abandoning him, expressing a raw and intense moment for the characters. "I love how this song is more stripped down with no backing vocals," Currie said. "It's a chance to show off all of our singing talent and harmonies in a very exposed manner." Currie also appreciates the closure Joseph will bring to his senior year. "I love getting one last chance to perform before I leave high school," he said. "It's super silly and fun to do, and I love the dancing as well!" Reporting by Madelynn Niles. Photo by Eliza Jensen.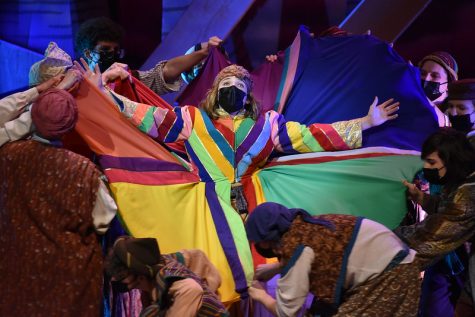 JUMPING AROUND : As sophomore Finn Griffith (Joseph) performs "Joseph's Coat," Marshall Clifton (front and center) plays Gad, one of Joseph's brothers. who holds up the coat during the song. Clifton's role as a swing was to step in to perform if any actors were missing. "Getting this opportunity to hop in and out of different roles was amazing," Clifton said. Joseph was his third musical. "I'm pretty new to musical theatre," they said. "While this was definitely a lot of work, I am so glad I [had] this opportunity." Reporting by Cassidy Levin. Photo by Sophie Kessler.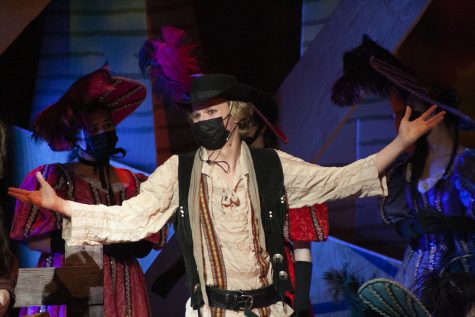 DISAPPEARING ACT: Playing Reuben, one of Joseph's brothers, junior Anderson Zoll performs "One more Angel" with the other brothers and their wives. The brothers have just sold Joseph into slavery because they were jealous of that he was their father's favorite child. After Joseph has been taken, the brothers start the rumor that Joseph is dead and the song celebrates the brothers' success under the guise of a broken heart, although the brothers will later come to regret what they have done. "The show at its core, tells a story of forgiveness," Zoll said. "Even though it's all sparkly and performative. It's a wonderful lesson for the audience to see. I think anyone can enjoy this show. It's a fun, magical experience of live theatre, and it's a great experience for families." Reporting by Morgan Eye. Photo by Eliza Jensen.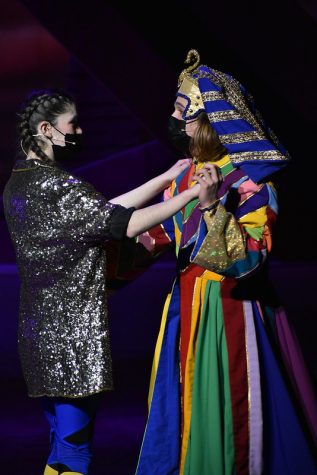 FIRST TIME'S A CHARM: Junior Savannah Chavarria (Narrator) performs "Any Dream Will Do (Reprise)" with sophomore Finn Griffith (Joseph) on opening night. Joseph and the Amazing Technicolor Dreamcoat was Chavarria's first MacTheatre show after moving from Utah this year. Despite that adding some pressure, Chavarria still felt that she performed at her best. "I always get a bit nervous before shows," she said. "But I don't let that stop my performance from being good. I use my nerves as a driving force to just do the best I can." Reporting by Alice Scott. Photo by Sophie Kessler.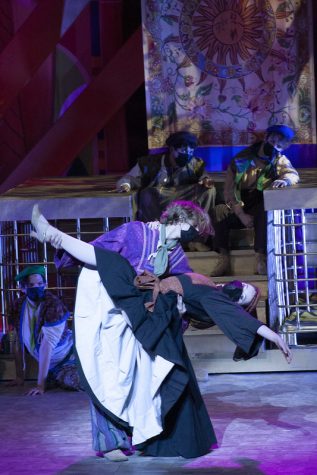 DYNAMIC DUO: During "Those Canaan Days," junior Kathryn Dooley (wife) and junior Anderson Zoll (Reuben) perform "The Apache Dance." "That's always my favorite number to do because I've danced with Anderson for so long," Dooley said. "And so it's fun to have this duet on stage where all the brothers are watching us too. I just love the attitude and emotion of it." In addition to being dance partners, Dooley and Zoll were also the dance captains for the show, a role that provided some difficulty during opening weekend. "We had a lot of people out very last-minute and so we had to swing some people in," Dooley said. "So as a dance captain, that was a lot to organize new formations. But it was really fun and everyone came together. And we pulled it off." Reporting by Alice Scott. Photo by Eliza Jensen.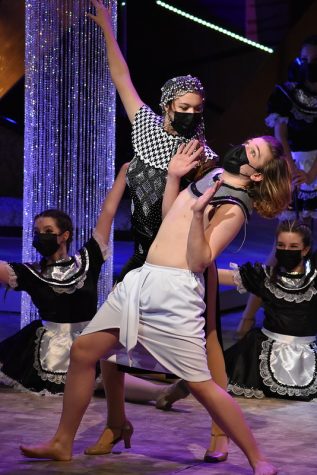 FEAR POTIPHAR: Senior Sydney Lowe, playing Mrs. Potiphar, strikes a final pose with sophomore Finn Griffith, starring as Joseph, at the end of a dance sequence to the song "Potiphar." "This is the point in the musical where my character [Mrs. Potiphar] is trying to persuade the main character [Joseph] to accept her advances of interest to him," Lowe said. "There is a long dance break in the song and this is the final pose of the 'button' of the dance." Caption by Lucy Marco. Photo by Eliza Jensen.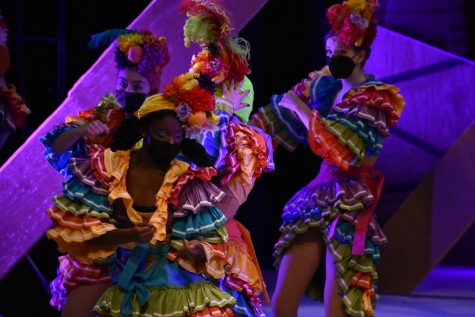 MAMBOING FORWARD: Sophomore cast members Ellie Loudermilk, Ana Mejia and senior Wynter Winston dance to "Benjamin Calypso" sung by freshman Robin Kulhanek. The Jamaican-themed dance number and song describes the accusations facing Joseph's brother Benjamin of stealing Joseph's cup. "I love how much fun we have dancing around," Loudermilk said. The vibrant number and narrative component made the piece unique to perform. "I love how Robin [Kulhanek] performs with so much personality," Loudermilk said. Kulhanek's character, Judah, sings in defense of Benjamin, a key part of this song in the story of Joseph. "Benjamin Calypso" was not the only fun and unique part of the musical, however. "Despite the many hiccups, I think the show turned out wonderful, and so much fun," Loudermilk said. Reporting by Francie Wilhelm. Photo by Sophia Kessler.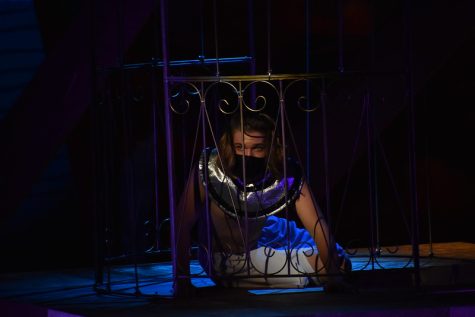 SINGING FROM THE SOUL: Sophomore Finn Griffith (Joseph) performs "Close Every Door." During the song, Joseph has been sent to jail after Potiphat catches him being seduced by Mrs. Potiphar. "This is the very intense and dramatic song that Joseph sings," Griffith said. "It took me a lot of work to prepare. I started taking voice lessons to make my upper range stronger and nail the techniques required for the song to sound as good as it can. It's very satisfying once you get to perform a difficult song." Reporting by Alice Scott. Photo by Sophie Kessler.