One last visit to 'Urinetown'
The only thing more original than Mac Theatre's spring musical was the path they had to take to realize the show
Marley Angle, Ellen Fox, Sophie Leung-Lieu, Lucy Marco, Madelynn Niles, Samantha Powers, Lydia Reedy, Bella Russo, Lanie Sepehri, Alice Scott, Alysa Spiro, Kennedy Weatherby, and Tallulah Wilson
March 30, 2021
Performers graced the newly-built outdoor stage for the first time with the McCallum musical Urinetown, rehearsed and performed entirely during the pandemic.
The show ran from March 4 to March 7 and actors and audience members wore masks and took temperature checks to ensure that COVID safety protocols were being followed. The show is political satire through the lens of a world where citizens have to pay to pee. Senior Magnus Bohls starred as Officer Lockstock in his last McCallum role alongside sophomore Mariela Denson, who played Little Sally. The pair played with breaking the fourth wall throughout the show, intensifying the satirical nature of the production.
Sophomore Charlotte Blackmon and junior Princess Gant were double-cast as the optimistic ingenue Hope Cladwell, while Hope's love interest, Bobby Strong, was played by sophomore Anderson Zoll. Many McCallum actors, some seasoned performers and some first-time freshmen, joined together to create a show for the McCallum community during a time when nothing is certain and live entertainment is few and far between.
As March comes to a close, we are pleased to take you back to the beginning to the month and the birth of the outdoor stage with this week's Tuesday Top 10 (actually a baker's dozen) collection of images from the MacTheatre performance of Urinetown.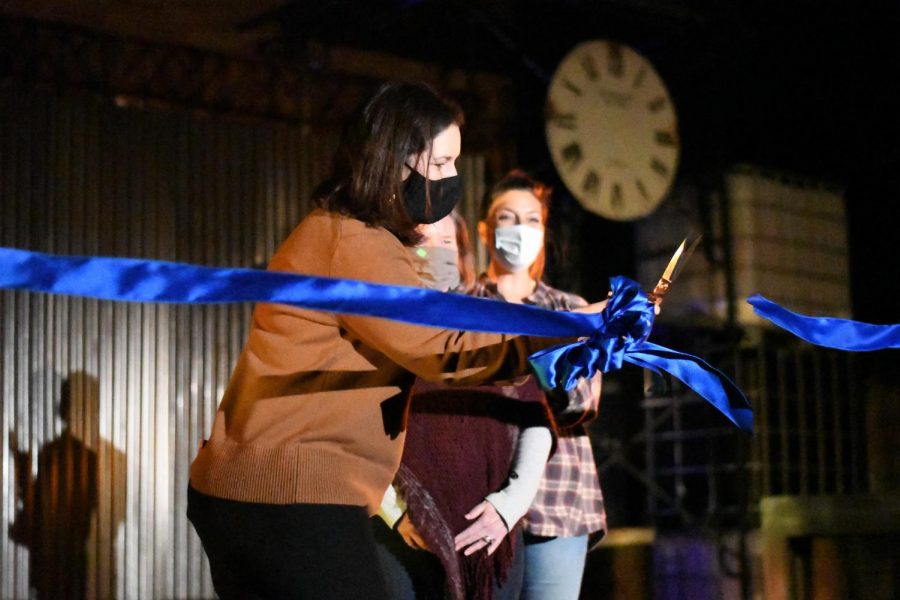 SETTING THE STAGE: Before the opening night of Urinetown: the Musical and with fine arts parents and outdoor stage organizers Nicole Wayman and Shaneye Ferrell looking on in approval, principal Nicole Griffith cuts a ribbon to mark the grand opening of the recently completed outdoor stage. Griffith also took the time to reflect on the process it took to create the stage and recognize the group of community members that worked to make their dream of a safe performance space a reality. District 4 trustee Kristin Ashy also gave a short speech on the drive and commitment of the McCallum community. The outdoor stage, a product of a Lowe's grant and crowdfunding, is very literally a product of the community working together. A group of over 60 parents, teachers, and student volunteers worked to finish the stage in early February, and the stage will continue to serve as a space for performances, events, and club meetings. Photo and reporting by Bella Russo.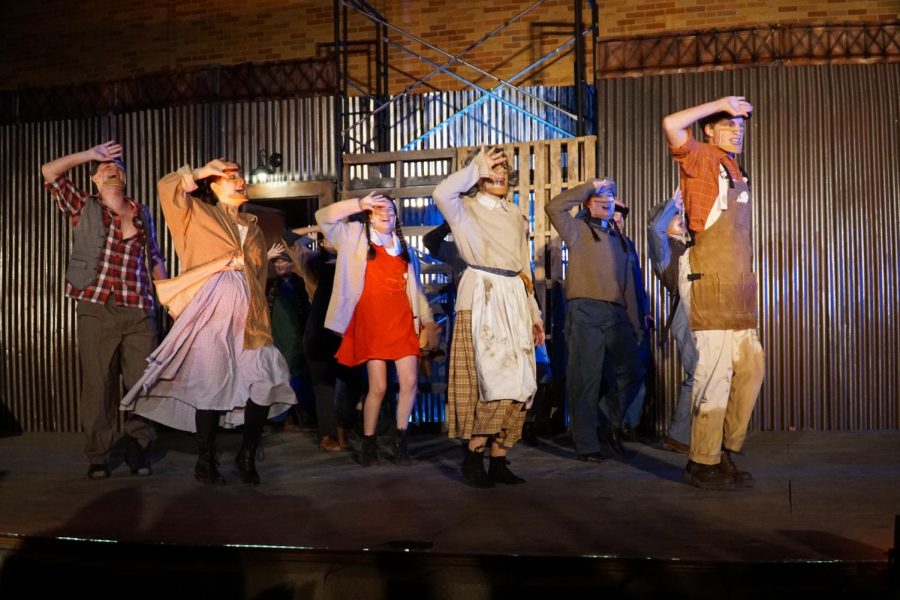 THE SHOW MUST GO ON: On stage and in character as Little Sally, sophomore Mariela Denson (center in red) dances on among her fellow cast mates. Putting on Urinetown was very different from past productions with many safety regulations put in place to accommodate current circumstances with the COVID-19 pandemic. "It was a little strange and different having to be outside and in masks," Denson said. "But I think we were all just happy to be back doing live theatre." An already unusual year, the Urinetown cast and crew were also challenged, but not defeated by Austin's winter storm that hit during the show's original opening weekend. "It was also very time consuming because of the snow and various technical difficulties," Denson said. "But we got it done, and ended up with a product we were all happy with." Reporting by Alice Scott. Photo by Kennedy Weatherby.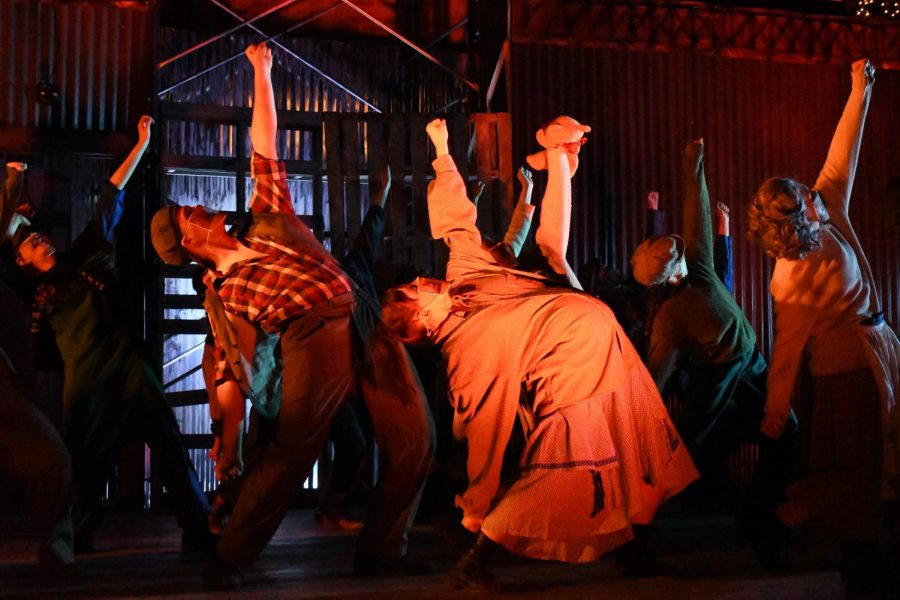 HEAD OVER HEELS (LITERALLY): After finishing the first major dance number of the show, junior Grace Hickey as Little Becky Two Shoes strikes her final pose. The dance number in question, "Look at the Sky," was a moment of celebration for the poor people of Urinetown. "In this number, the poor folks finally saw a glimpse of freedom from their oppressive and totalitarian regime," Hickey said. "Mr. Denning told us to act with every particle of our  bodies in this scene and be super intentional with our energy and motivation." During the show, Hickey explains that a million thoughts were buzzing through her mind all at once. "In the final pose, all I could think was 'Arm up! Don't fall over! Smile! 1.2.3.4… HURRAY!'" Despite the crazy circumstances and obstacles Urinetown had to overcome, Hickey's claims that it was her favorite MacTheatre to date. "Out of the 8-plus shows I have performed in, this one was extra special," Hickey said. "Everyone in it wanted to be there so bad." Reporting by Alysa Spiro.  Photo by Bella Russo.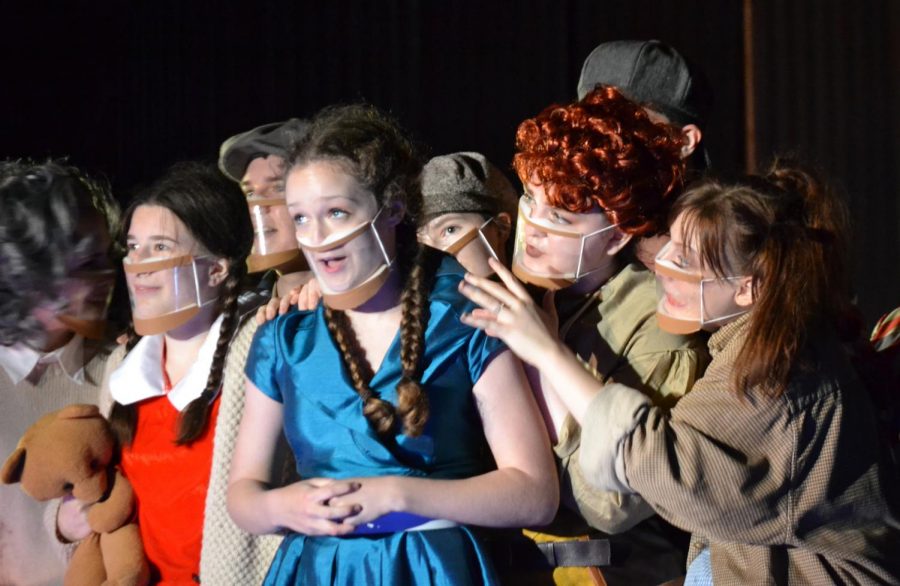 HOPE FOR THE BEST: Sophomore Charlotte Blackmon sings as her character, Hope, in the Urinetown production. Blackmon describes Hope as optimistic and extremely naive."Hope is basically the ultimate ingenue," she said. Blackmon says that she had a great time playing Hope and watching her evolve. "She goes through a huge character arc throughout the show, and I enjoyed exploring that," Blackmon said. Blackmon said she is proud of all that the cast and crew accomplished considering the current circumstances. "I honestly think that we were able to do all that because everyone involved was so invested in the process." Quarantine has made this production even more special for the McCallum theater students. "Being away from live theater for all those months made us grateful for the opportunity to be a part of something." Reporting by Lucy Marco. Photo by Ellen Fox.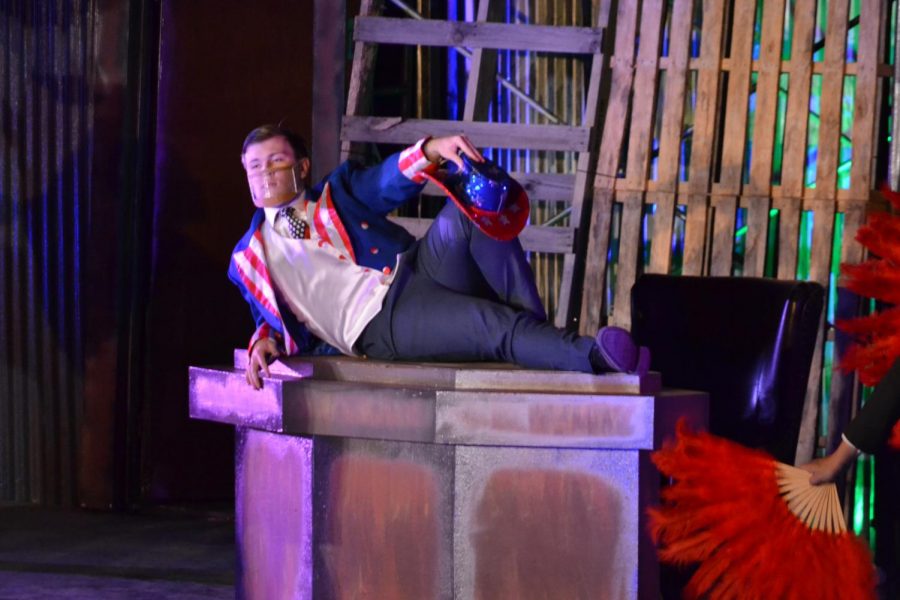 STRETCHING OUT: Junior Salem McFadden lounges casually atop a desk as Caldwell B. Cladwell in Urinetown. McFadden had to learn Cladwell's mannerisms to properly capture the character. "I mean, I'm an insecure non-binary teenager, and he's a vicious 50-year-old business man who only loves himself and money," McFadden said. "He takes up a lot of space and is confident, not moving unless he has to. I'm pretty much the opposite of that, so it was difficult to adjust to that kind of movement." McFadden added that the differences between Cladwell and them reminded them why they love acting. "Acting lets me explore these characters," they said, "but also explore myself through them indirectly." Reporting by Lanie Sepehri. Photo by Ellen Fox.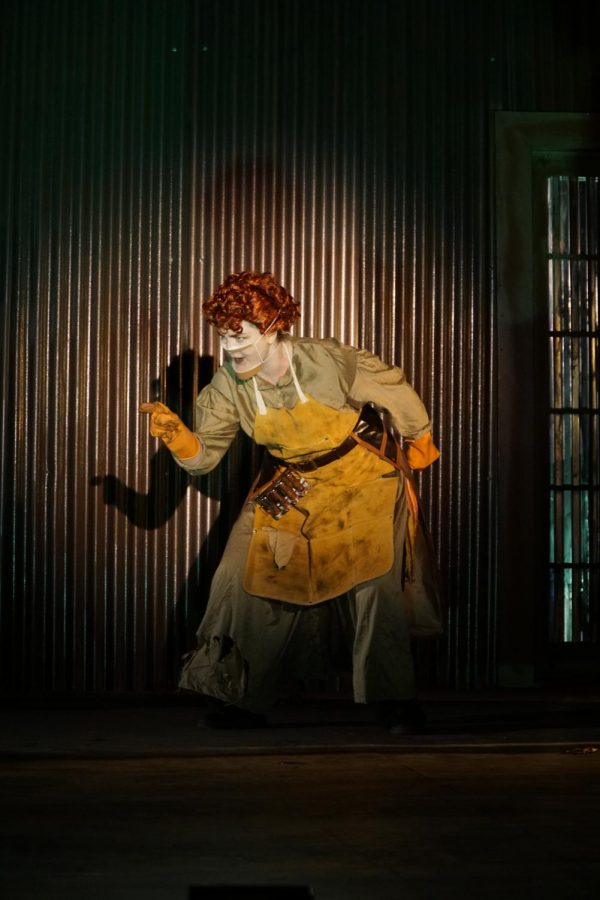 PRIVILEGE TO PEE: Junior Abigail Leman is pictured singing "Privilege to Pee," a song from the musical Urinetown. Leman portrayed Penelope Pennywise in the show. "That character was super fun to play," Leman said. "She's really big personality-wise, so I got to be very over the top." This show differed from previous ones put on by Mac Theater. "The show is a musical that makes fun of other musicals, so there was a lot of satirical comedy," Leman said. "I thought it was really great to do a show in a style we never really do." Overall, Leman describes her experience positively: "I feel so lucky that I was able to be a part of it and work with such an amazing cast and crew." Reporting by Lydia Reedy. Photo by Kennedy Weatherby.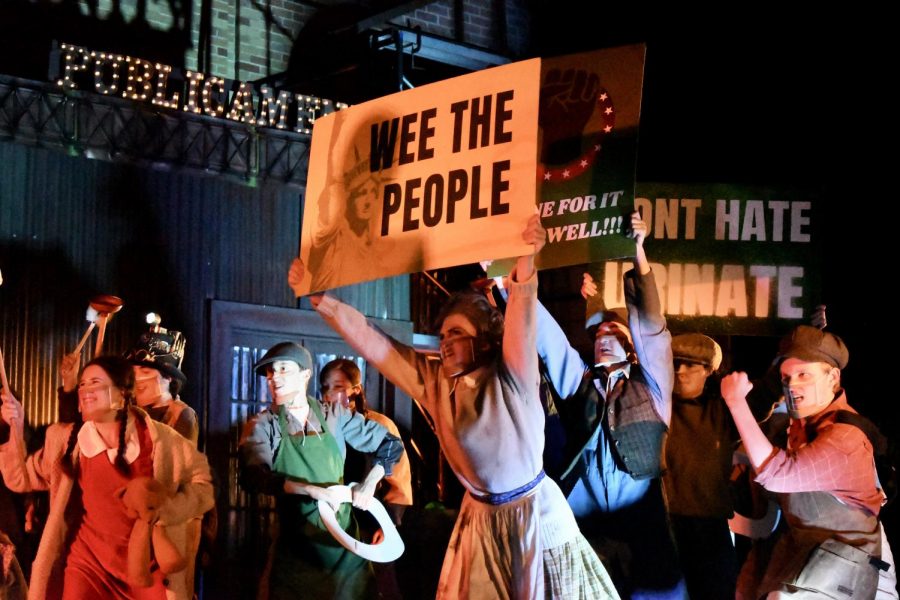 WEE THE PEOPLE: Junior Amethyst Mellberg-Smith holds up a sign during a Urinetown scene involving a protest for the right to "pee for free." Mellberg-Smith thinks that the show is a commentary on the current political climate. "It's totally political satire," Mellberg-Smith said. "It's making fun of serious situations that are somewhat similar to things happening now, but in such a comedic and absurd way it really shows how messy politics and fighting for what's right can be." Mellberg-Smith said that while being on stage for the first time in a year was a rewarding experience, her favorite part of the production was spending time with her friends. "Finally seeing people every day made all of the hard work feel effortless," Mellberg-Smith said, "and I can't wait to do it again!" Reporting by Samantha Powers. Photo by Bella Russo.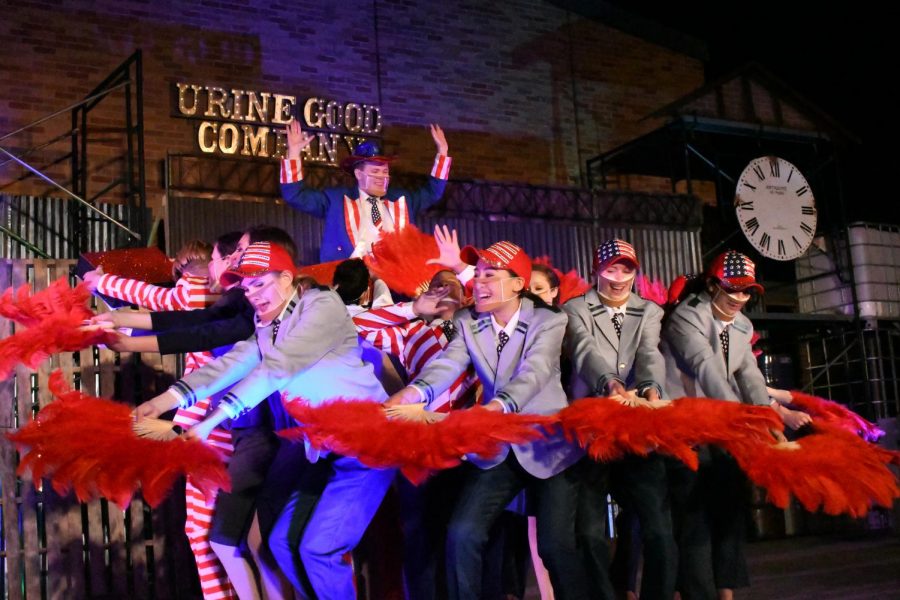 BIG FANS OF THE SHOW: Freshman Ana Mejia dances with the Urine Good Company, or UGC, executives in the cast of Urinetown during the number "Mr. Cladwell." Mejia explained that the fans were a dancing prop that they had only begun using near the beginning of March. Mejia said "I was worried at first but Ms. Nat was really a great dance instructor, and she helped us a lot." Urinetown is Mejia's first MacTheatre musical. "There were so many talented and friendly people that I worked with," Mejia said. She mentioned that even though it was weird being on stage for an audience, it felt nice to be performing again. "There were a lot of challenges that we would normally not have to worry about like the weather," Mejia said, "but everyone handled it really well." Reporting by Sophie Leung-Lieu. Photo by Bella Russo.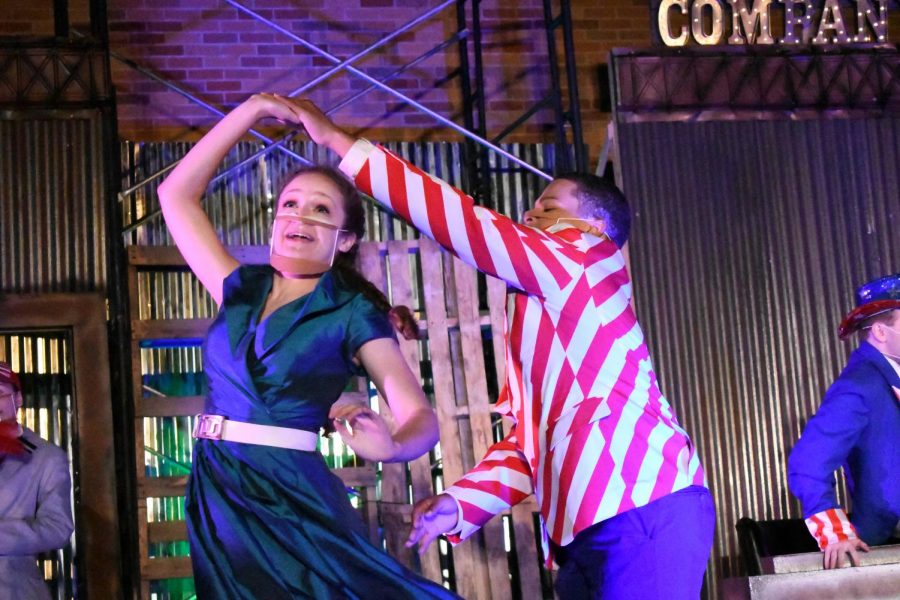 LAUGH, CRY, KICKLINE: In her introduction to work at the privatized bathroom megacorporation, "Urine Good Company," Mr. McQueen, played by senior Terrel Hall, spins Hope Gladwell, played by sophomore Charlotte Blackmon. While Urinetown, a satire on capitalism, the legal system, and corporate mismanagement, had its fair share of tragedy, the comedical satire was also the perfect platform for Hall's favorite part of the show: dance numbers. "Doing the [dance] numbers, and having an audience for it was really cool," Hall said. One of the most fulfilling parts of the show, to Hall, was getting to perform it in person at the outdoor stage. His favorite number featured a kick line, an element of dance that doesn't exactly translate to a Zoom performance. "It felt good to dance with people again," Hall said. "It was kind of weird just dancing online in a little square." Reporting and photo by Bella Russo.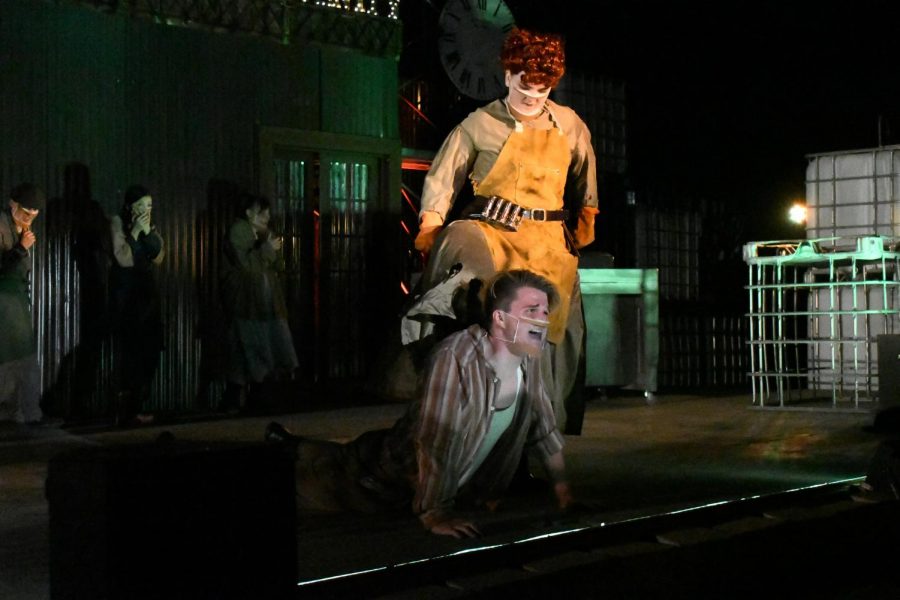 KICKS AND GIGGLES: As a part of the song "Privilege to Pee," junior Abigail Leman proves her power as Ms. Pennywise to Old Man Strong (Corin Vandenberg) with a swift stomp. For the cast of Urinetown, performing was made available and safe through the use of clear, plastic masks and an outdoor stage — something Leman is beyond grateful for. "It was amazing," she said. "This past year I've felt very stuck. Theatre is my passion, so it was really hard for me to not be able to perform. Online platforms just aren't the same as performing live. … Being able to perform again was like finally feeling alive again after so long." Reporting by Madelynn Niles. Photo by Bella Russo.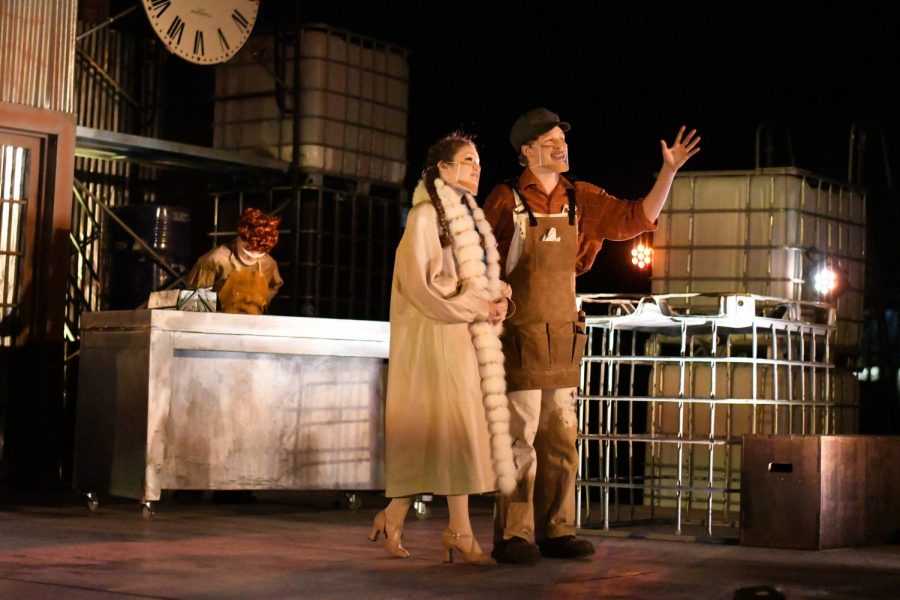 OPTIMISTIC OPENING: Sophomore Anderson Zoll and partner Charlotte Blackmon perform during the opening number as their characters, Bobby and Hope, love interests in the play, Urinetown. "In this moment I was extremely excited to be back on a live stage after almost a year of performing virtually," Zoll said. Though the performance looked a little different this year, Zoll was happy for the experience nonetheless. "I am so glad that Urinetown gave me the opportunity to get to experience performing live theatre again and letting me reconnect with some of my friends." Reporting by Tallulah Wilson. Photo by Bella Russo.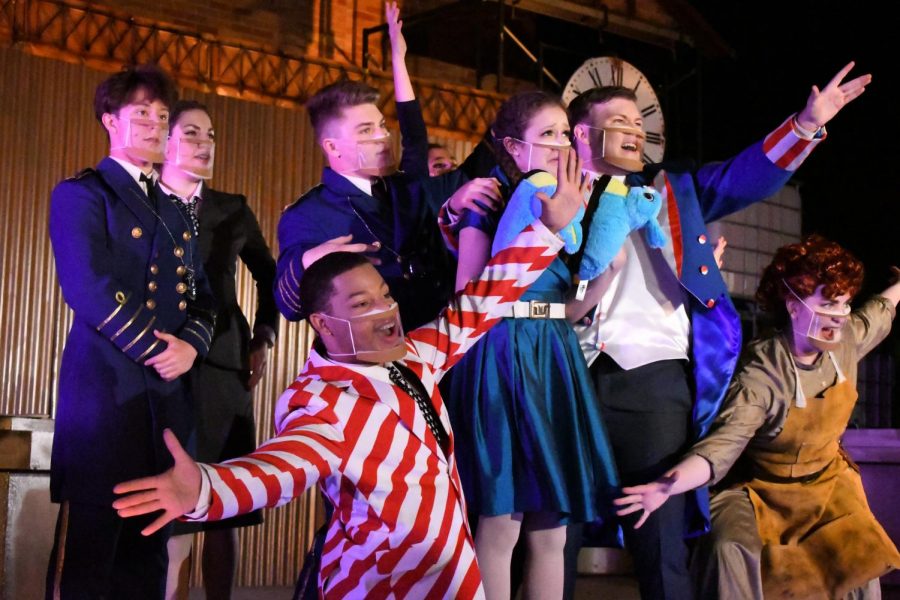 A FINAL POSE: Striking his ending position of the song "Don't Be The Bunny," senior Terrel Hall reaches his arms out with a smile alongside fellow cast members. For Hall, Urinetown provided an opportunity for one final musical before graduation — what he describes as bittersweet. "I really enjoyed being back on stage with everyone for the first time in forever and meeting new people," Hall said, "but this is it… Goodbyes are always hard, but I will make it through." As for the show itself, Hall feels that it was "fun and spontaneous," making for the perfect final show. "I personally enjoyed dancing across the stage as a bunny and hearing the audience kind of chuckle because of how crazy I looked," he said. "This was also a great show because we all knew how much of an honor it was to be on stage again. … We wanted to do what we do best and spread positive energy to our audience and school." Reporting by Madelynn Niles, photo by Bella Russo.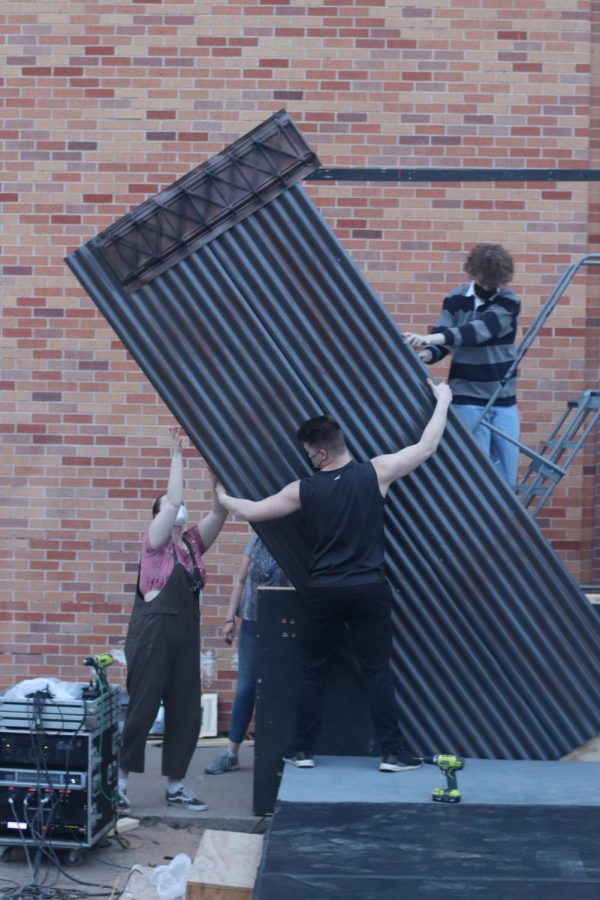 THAT'S A WRAP: Senior Magnus Bohls helps the clean-up crew scrap the stage by helping move a wall off stage. Bohls enjoyed working on the Urinetown set and was pleased with how the production turned out. "It was a great time performing outdoors and creating such a strong community during such a difficult time," Bohls said. Everyone in the cast put in immense work that made the show run smoothly. "The set turned out amazingly thanks to our technicians who worked tirelessly to create such a work of art," Bohls said. "Actors even helped set up and take down parts of the stage  before and after each show to pitch in and learn about tech work." Reporting by Marley Angle. Photo by Dave Winter.