Austin Public Health invokes highest COVID risk factor
8 days after moving to Stage 4, day after Mac reported 41 cases, county returns to Stage 5
More Coverage of COVID on campus
Only eight days following the move to Stage 4 COVID-19 protocols, Austin-Travis County Health officials have bumped the city up to Stage 5 due to the surge in cases and hospitalization rates.
"The omicron variant is overwhelming our community, and it's starting to take its toll on our hospitals," Austin-Travis County Health Authority Dr. Desmar Wakes said in a press release today. "We all must do what we can to protect each other and our hospital systems, or else the situation will reach dire levels that no one wants to consider."
According to the press release, 95 new hospital admissions raised the seven-day average hospitalization rate to 74. The community transmission rate has reached 1,067, and the positivity rate is now 29% among tested Travis County residents.
Stage 5 protocols advise that fully vaccinated and/or boosted individuals wear masks outside their homes. Unvaccinated or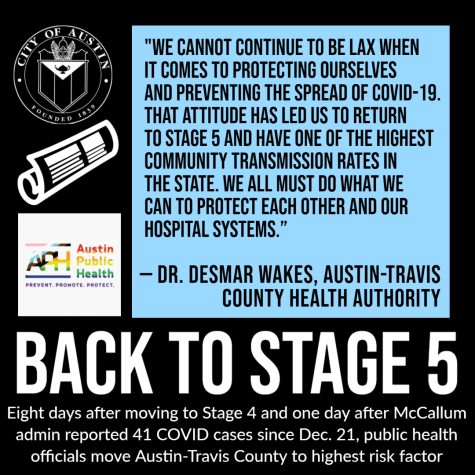 partially vaccinated individuals and those who need their booster dose are advised against gathering or traveling outside the home unless necessary. All individuals are encouraged to opt for take-out dining and curbside shopping.
"All around us, we are seeing more and more people getting the omicron variant, and we know the risk of infection has increased," Mayor Steve Adler said. "It is now more important than ever to mask everywhere as our best chance to keep our hospitals staffed and our businesses open with healthy employees."
Yesterday, an email was sent out to families by the McCallum administration confirming 41 positive cases from Dec. 21 through 4:30 p.m. Wednesday afternoon. Previously, McCallum had only reported 58 cases for the entire fall semester.
We were at Stage 5 last August too. Wear two masks, get vaccinated and boosted, and get tested by the school nurse. We know how to keep classrooms safe because we've all been doing it together all year long. We've got this, Austin.

— Dr. Stephanie S. Elizalde (@AustinISDsupt) January 6, 2022
People can find vaccine providers using  vaccines.gov (vacunas.gov in Spanish) or by texting their zip code to 438829 (822862 in Spanish) to find a nearby clinic.
APH clinics offer COVID-19 vaccinations and testing without appointment, but creating an account online in advance saves time. COVID-19 vaccinations are free and require neither identification nor insurance. For more information and to schedule an appointment, call 3-1-1 or 512-974-2000 or visit www.AustinTexas.gov/COVID19.
Leave a Comment