Texas students face mask issue without compulsory policy
While Abbott's executive order precludes a mandate, AISD officials join international, federal and local health agencies in urging students, teachers to wear masks indoors to combat spread of COVID-19
The new COVID-19 Delta variant and Austin's rapid shift to the Stage 5 threshold, combined with AISD's plan to open schools for in-person learning Aug. 17, has led many students to question whether to mask on or mask off this coming school year. 
While the World Health Organization has continuously maintained its position that both vaccinated and unvaccinated people should wear masks indoors, the Center for Disease Control (CDC) recently changed its position. On May 13, the CDC stated that vaccinated people did not have to wear masks indoors (except in certain limited circumstances, such as public transportation); however, on July 27, the CDC shifted its position, stating that in areas with high transmission, vaccinated people should resume masking indoors. The CDC's new position is based in part on new data regarding transmission of the Delta variant. 
While the CDC reversed its position on wearing masks indoors on July 27, the World Health Organization has consistently urged people to wear masks in closed crowded settings with poor ventilation. Video reposted from the World Health Organization website.
"Preliminary evidence suggests that fully vaccinated people who do become infected with the Delta variant can spread the virus to others," the CDC said in its newest announcement. "To reduce their risk of becoming infected with the Delta variant and potentially spreading it to others: CDC recommends that fully vaccinated people wear a mask in public indoor settings if they are in an area of substantial or high transmission."
If you're in an area with substantial or high spread of #COVID19, wear a mask in public indoor settings, even if fully vaccinated. If you're fully vaccinated & in a low spread area, you can still consider wearing a mask.
See COVID-19 spread in your area: https://t.co/iSLwhCwlZ2. pic.twitter.com/NV4MO5ox9e

— CDC (@CDCgov) August 3, 2021
Senior Eden Goodman is glad that the CDC is now promoting mask-wearing; however, she wishes that they had never changed their initial guidance. 
"I think they shouldn't have lifted the mask mandate in the first place," Goodman said. "It seemed like they were incentivizing people to get vaccinated so they could be unmasked, but really it just led to unvaxxed people not wearing masks and worsening the problem."
Following the CDC's new guidance, many private national companies such as Target, Walmart and McDonald's have taken it upon themselves to reinstitute mask mandates for employees. However, since AISD isn't a private entity, the school district will not be allowed to require universal masking due to an executive order issued by Gov. Abbott on May 18 that prohibits mask mandates. 
"Based on the continued improvement of conditions in Texas," the executive order reads, "revised standards are appropriate to achieve the least restricting means of combating COVID-19.".
According to the University of Texas COVID-19 Modeling Consortium, at the time of Abbott's executive order, Austin-Round Rock MSA's seven-day moving average was 12 COVID-19 hospital admissions per day. On July 28, Austin-Round Rock MSA's 7 day moving average was 63 hospital admissions per day, with the UT Modeling Consortium projecting a continued increase in the weeks to follow. The difference in conditions has led students, parents and teachers to urge Abbott to rescind or modify his order so local districts can make decisions for themselves about masking and other safety protocols that reflect local conditions. 
Despite not being allowed to require masks, AISD is strongly encouraging individuals to wear them. On June 22, AISD sent out a document entitled "COVID-19 Health and Safety Protocols" that outlined the district's COVID-19 precautions for the upcoming year. Alongside encouraging students to get vaccinated and promising increased classroom cleanings, AISD took a stance promoting masking for all students. 
"We know that the No. 1 way to prevent the spread of COVID-19 is masking," the document states. "We strongly encourage everyone, whether vaccinated or not, to wear a mask when indoors and around others who are not in their immediate household."
McCallum principal Nicole Griffith reiterated this masking message in an August Principal Update sent out to families on July 31. The update highlights how McCallum will aim to promote an "indoor mask-wearing culture."
To mask or to not mask isn't a question that pertains to school hours alone, but extracurriculars too. Junior and Blue Brigade member Malakhi Washington has opted to wear his mask during Blue Brigade practice during Austin's current surge and hopes other members will too. 
"I believe we should go back to wearing our masks until Austin is back in stage 2 or 3," Washington said. "I honestly wish that at least for extracurriculars, we should be required to show vaccination cards to make sure everyone is telling the truth about their vaccination status while not wearing masks."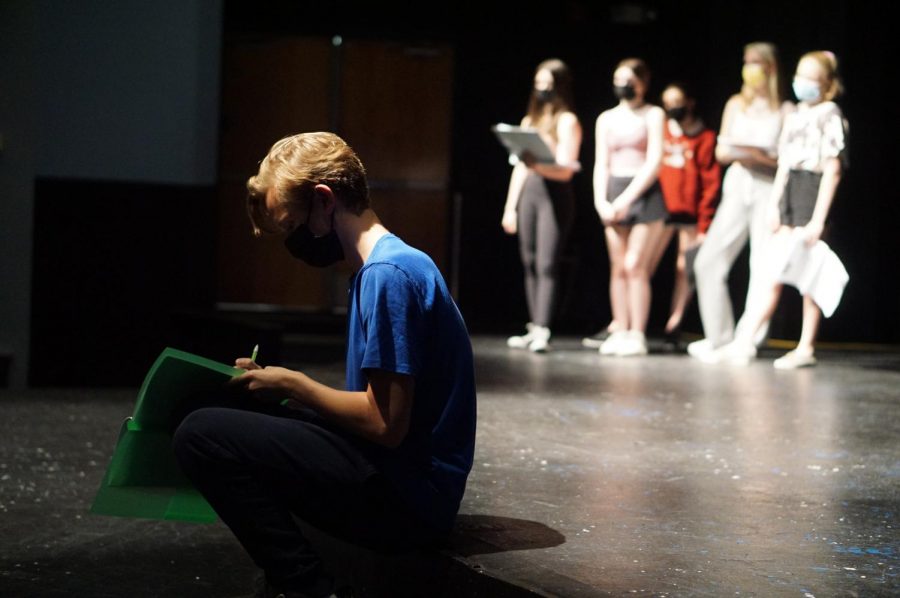 Without a universal mask mandate, some McCallum students have taken it upon themselves to advocate for students to wear masks. Goodman has taken to her Instagram story to try and convince her McCallum peers to wear a mask, whether vaccinated or not. 
"I'm definitely nervous about people not wearing masks, especially since I have a younger sibling who's not old enough to be vaccinated," Goodman said. "I think that as long as people continue to follow CDC protocols and mask indoors and around others, I'll feel more comfortable at school. I'm definitely going in-person because I can't handle online school again."
Weighing the risks in-person school may pose against  the need for human interaction is difficult for parents and students. After seeing her sophomore child spend almost two years outside the classroom, Cindy La Greca feels strongly that it is time to send her child back to campus. 
"My child tried online schooling last year for ninth grade and eventually just switched to home school, so it's been 17 months since my child was in a classroom," La Greca said. "We need to be back with other kids, but since the governor isn't allowing schools to mandate masks or any other protocols that will keep our kids safe, my child and I are really uncomfortable with it. I feel like no matter what we do, it will be the wrong decision."
View Comments (1)