Austin-Travis County adopts Stage 4 COVID risk factor
Citing rise in transmission and hospitalization rates, local officials urge stricter health protocols for all residents
Because the omicron variant has caused a spike in the community transmission rate of COVID-19 and the seven-day moving average of hospital admissions, Austin-Travis County health officials today transitioned the county to the Stage 4 level of risk-based COVID guidelines.
"The omicron variant is moving fast through our community and we must do what is necessary to help slow community transmission," Travis County Judge Andy Brown said in a press release today. "As we get closer to the New Year celebration, I encourage everyone to follow the Stage 4 guidelines and mask up when recommended. These small preventive measures will go a long way when it comes to keeping our entire community safe."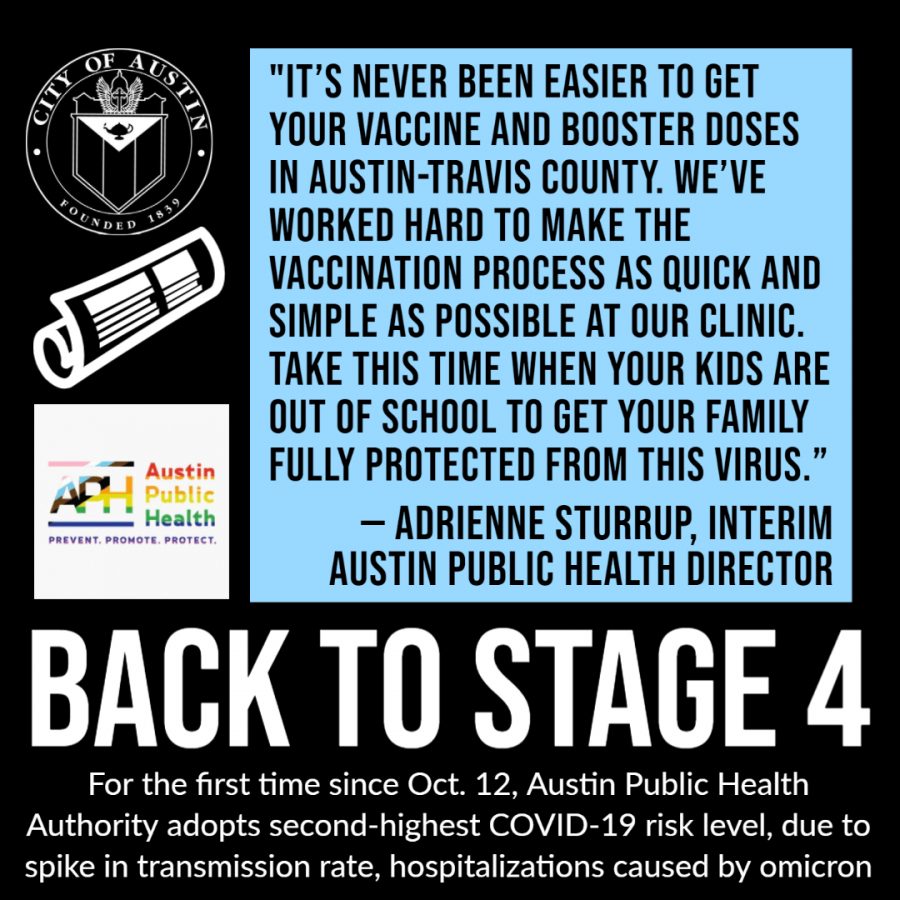 The Stage 4 guidelines include the recommendation that all residents, including fully vaccinated and boosted individuals, wear masks when gathering with people outside their household, indoors or outdoors. Partially or unvaccinated individuals should avoid gatherings with people outside their household and choose takeaway or curbside options when they are available. The guidelines further suggest that individuals should get vaccinated or get their booster dose as soon as possible.
According to the Austin-Travis County officials, as of today, 70% of the eligible population (5 years and older) is fully vaccinated, but only 23% of that same population has received a booster dose.
"One of the greatest traits of Austin-Travis County is how we have consistently been one of the leaders in the state when it comes to lower Community Transmission Rates. Our people have continually stepped up for the greater good and been the example of how to navigate the COVID-19 surges with masking, social distancing, and vaccinations," said Dr. Desmar Walkes, Austin-Travis County Health Authority. "However, as our vigilance begins to wane, our community is falling behind. We can't afford to be lax in our prevention efforts and I'm confident that Austin-Travis County will once again lead the way."
Officials stressed that the timing of this surge is concerning because it coincides with New Year's Celebrations and is also close to the time when students will return to school from winter break.
According to the press release, early data indicates the omicron variant poses a dangerous risk to a younger population. Children ages five and older should get vaccinated as soon as possible, and wear masks for in-person learning.
Austin-Travis County residents can locate providers in the area using Vaccines.gov (Vacunas.gov in Spanish) or they can text their zip code to 438829 (822862 in Spanish) to find a nearby clinic  APH clinics offer COVID-19 vaccinations and testing on a walk-up (no appointment needed) basis, although creating an account online in advance saves time. COVID-19 vaccinations are free and require neither identification nor insurance. For more information and to schedule an appointment, call 3-1-1 or visit www.AustinTexas.gov/COVID19.