How COVID testing works in a free-standing ER
If you don't know the difference beween a Sofia and a PCR test or what a Winex filter or an I-stat machine is for, read on. We got you covered.
In this week's Tuesday Top 10, we explore precisely how COVID testing is done at a free-standing emergency room in Austin, thanks to the photography and reporting of freshman digital media student Sophie Leung-Lieu. We can't say the name of the emergency room or the setting because we were granted access under the condition that we not reveal the name or the logo of the company that operates the emergency room.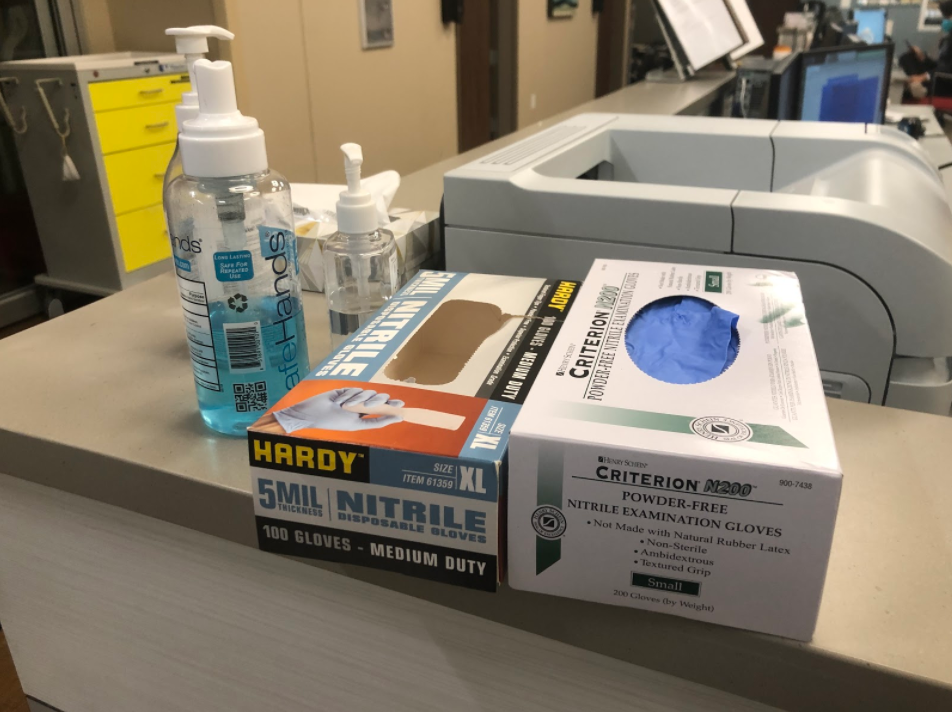 PERSONAL PROTECTIVE EQUIPMENT: Gloves and hand sanitizer are personal protective equipment, or PPE, that is required to be used and replaced every time a worker enters and leaves a patient room. They are easily accessible and are essential to daily life in the emergency room. All workers wear gloves around patients and use them to take COVID-19 tests. They also use hand sanitizer before and after they use the gloves. One of the physicians at the emergency room said, "We use gloves as a standard procedure for all patients, at all times. We put them on when we go into the patient room and take them off immediately after before we leave the room." Washing your hands before and after is also a priority to stay safe. Photo by Sophie Leung-Lieu.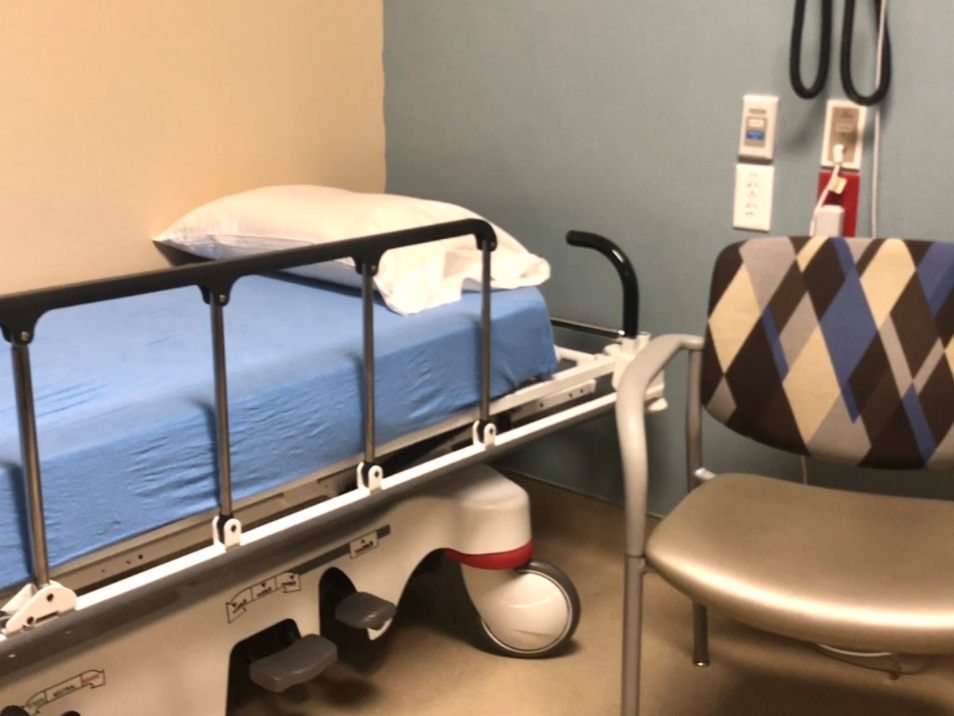 PATIENT ROOMS: When patients first arrive at this emergency room, they are escorted to a room with a bed and a chair. This is where they take the patient's sample and test them. Other services they check are blood pressure, oxygen, heart rate and temperature. These rooms are isolated and safe for both the patient and the medical workers. According to the ER technician, "We'll ask them if they were exposed to someone, where, and do you have any allergies to medication, medical problems or surgeries in the past." This is a precaution that they take for triage, which is ordering the priority of patients and urgency that the patient may or may not require. Photo by Sophie Leung-Lieu.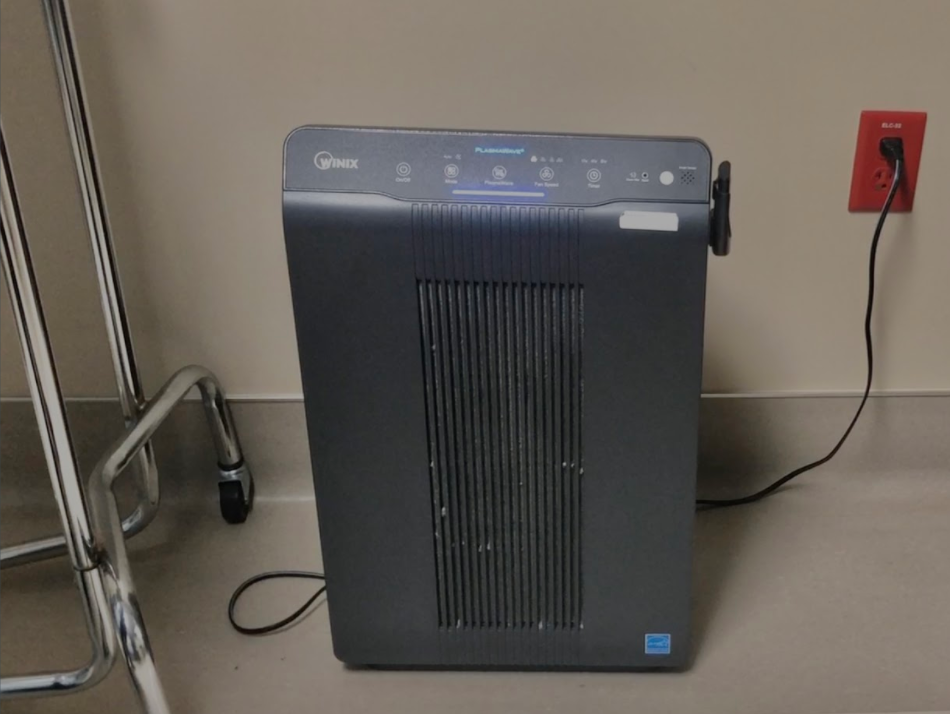 PROTECTIVE FANS: In every patient room, Winex filters are placed to filter the air and keep the rooms safe from lingering viruses. They are an important precaution not only for emergency hospitals, but other businesses as well. COVID is airborne and can be in the air for up to three hours. If you inhale it, the virus will go into your lungs and infect you. An ER technician said, "So if we do have a patient that is positive, we do make sure we keep this on high. These are very hard to find and are also very expensive." The air conditioning and circulation is customized so that the indoor air is safe to breathe. COVID doesn't spread through rooms through the vents because the air is constantly cleaned to assure the safety of the patients and the staff. Photo by Sophie Leung-Lieu.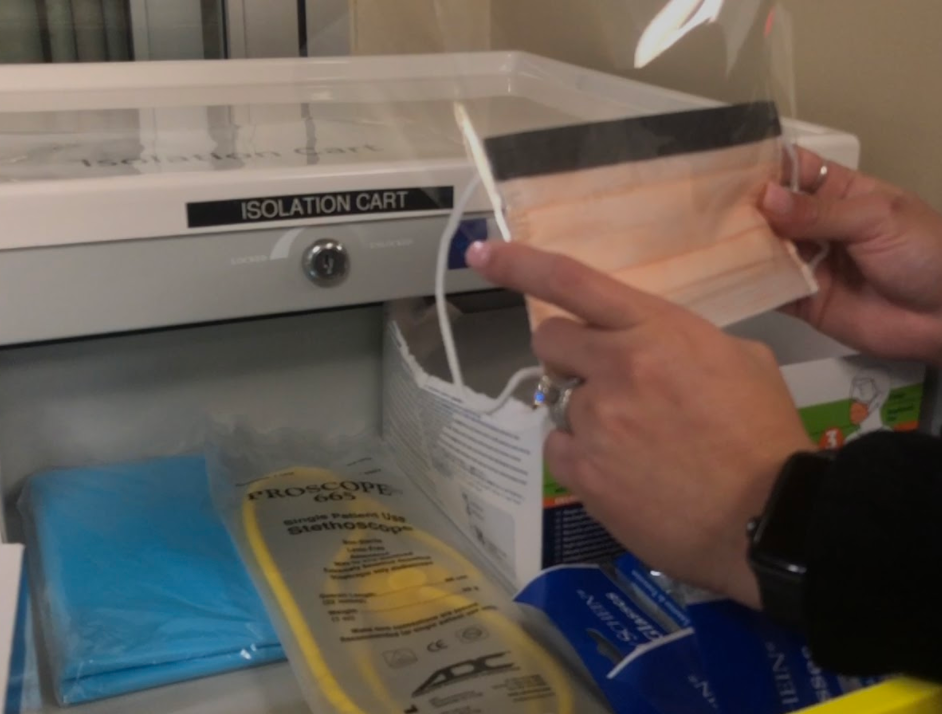 THE ISOLATION CART: The isolation cart is a station where personal protective equipment, or PPE, can be easily accessible by any medical worker in the ER. Inside the isolation cart, there are masks, single-use stethoscopes, face shields, gloves, gowns, foot covers, caps and more. It is called an isolation cart because its purpose is to isolate employees from getting sick. In this photo, there is a mask with a face shield attached to it. The ER technician said, "These masks are usually used for procedures such as surgery, but are also safe for use in these times." There are many types of masks that workers can choose from to keep them safe. Bunny suits (body-length protection suits) are stored in the isolation cart as well. It is located in the central part of the emergency room. Photo by Sophie Leung-Lieu.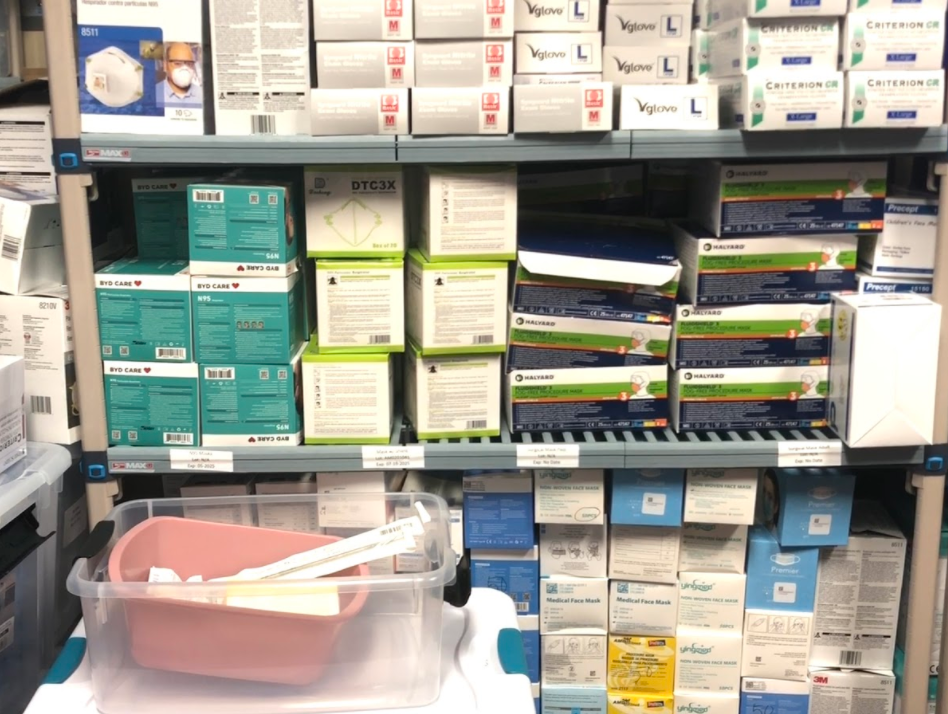 PILES OF PPE: Located in the storage closet of this emergency room, there are piles of PPE (personal protective equipment) available for use. There are varieties of masks including kids sizes, surgical masks, round masks and more. All the equipment that are stored in the closet include gloves, gowns and other medical supplies that they might be needing. The ER technician said "We just got an enormous amount. Now, there were times throughout this period where it's like, 'are we gonna get anything?' This past summer, it was so hard to find some of this stuff." It was alarming to learn that while cases were peaking, there was a shortage of masks and PPE. Photo by Sophie Leung-Lieu.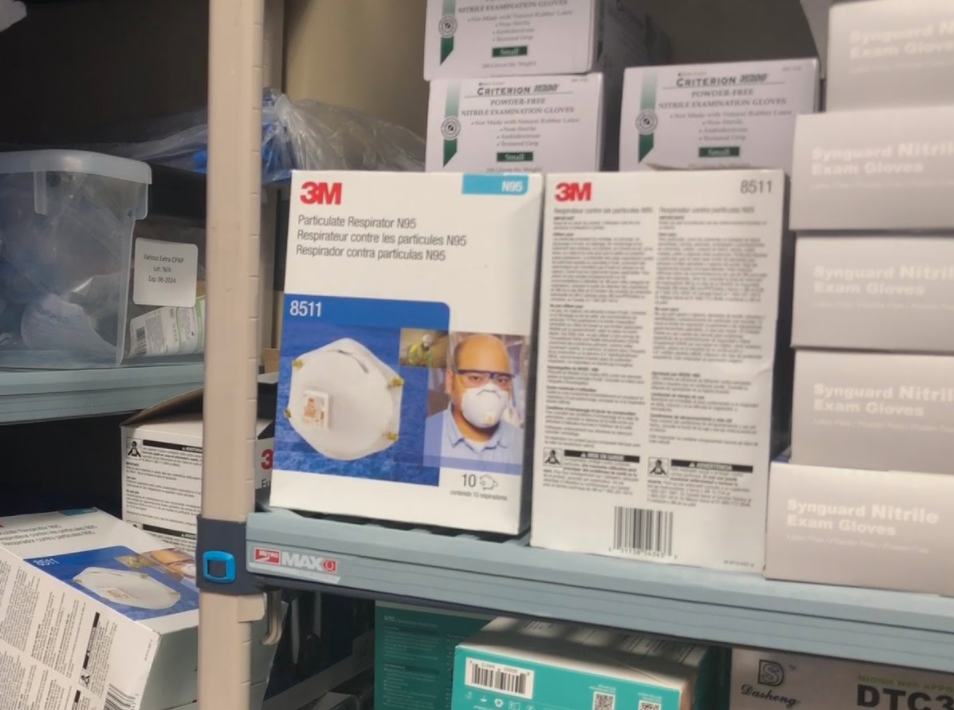 THE N95: The N95 masks are very high-tech masks that include a respirator built into the face-fitting cover and has straps that go around your head instead of your ears. These masks are stored in the storage closet for the emergency room. The ER technician said, "I will say these masks, the N95s, they have a little respirator. Just for a box of these is about $2,000, depending where you're purchasing from, so a lot of this stuff has gone up in price." The demand for face masks has escalated since March, and it can be difficult for medical centers to find good masks for their staff. These masks are available for the public for purchase, too. Photo by Sophie Leung-Lieu.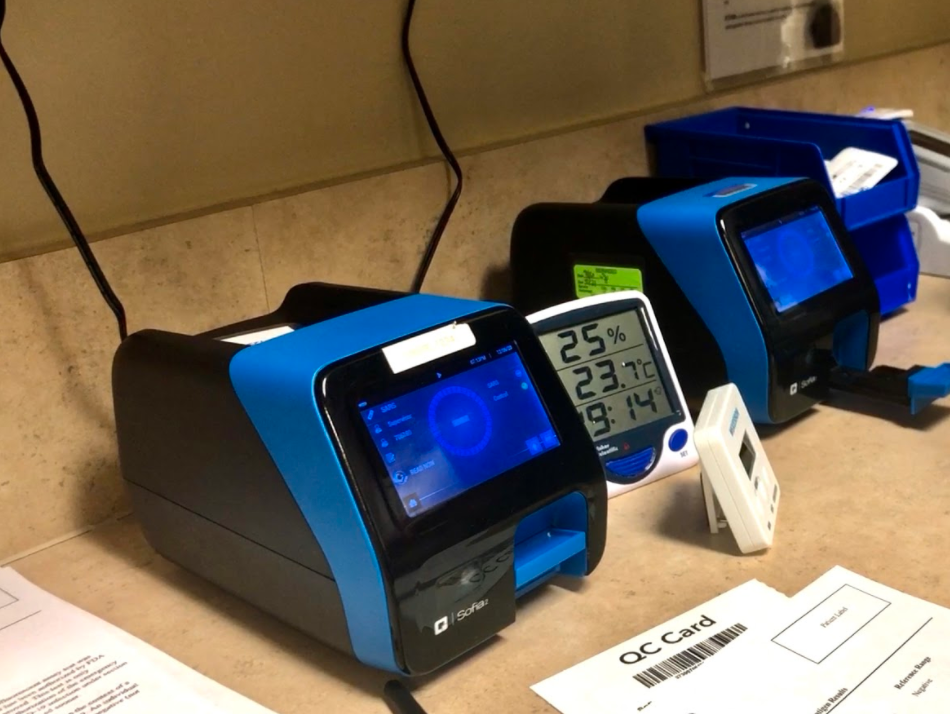 "THE SOFIA": The Sofia is a COVID testing machine that most freestanding ERs have to provide testing to the public. A technician that works in the ER said, "These machines are really common and are the fastest way to find out if you're positive." When asked about other forms of testing, she responded "We don't do PCRs in house; we don't have a machine here, so what we do is we end up sending it to one of our local labs. We also do a blood test to see if they have the antibodies. That is also a send-out." PCRs, or polymerase chain reaction tests tend to be more accurate and many patients ask for a test from a PCR and the Sofia. In this photo, the Sofia tells us a patient has tested negative. Photo by Sophie Leung-Lieu.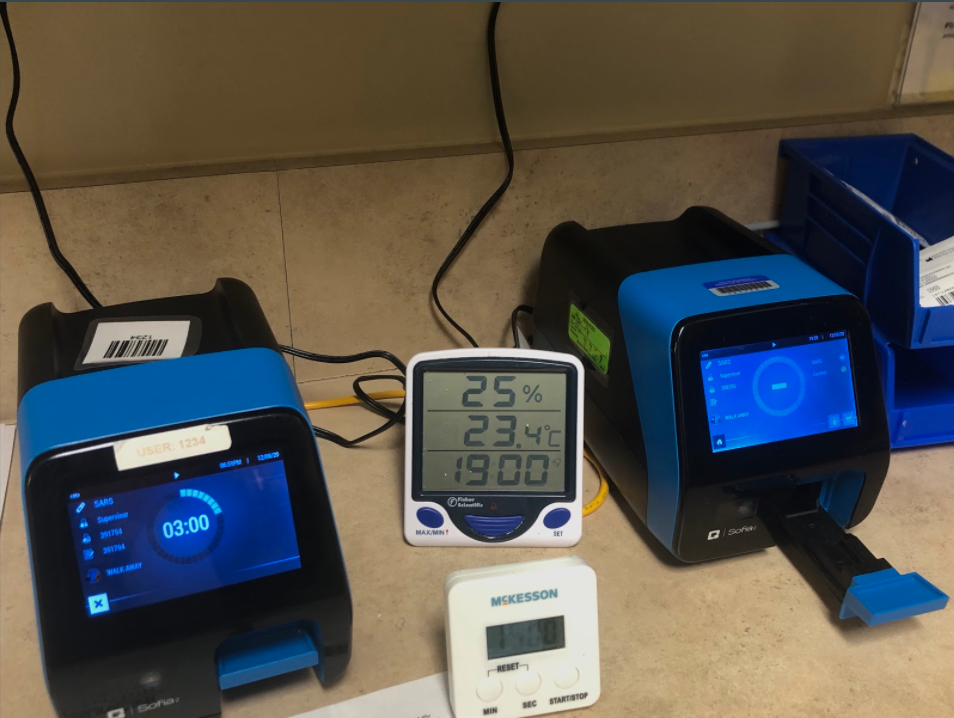 TESTING LINEUP: COVID tests are a popular request in a free-standing emergency room. After the process of contracting the sample, tests take 15 minutes to analyze. This test is 12 minutes into the process, and results appear in three minutes. Nurses and physicians use multiple timers for multiple machines to keep track of each person's test. The ER technician said, "Sometimes we have multiple samples lined up and ready to go when it is really busy, like it was during the summer." The Sofia was running over 100 tests per day back in June when the ER was open for anyone to test. Photo by Sophie Leung-Lieu.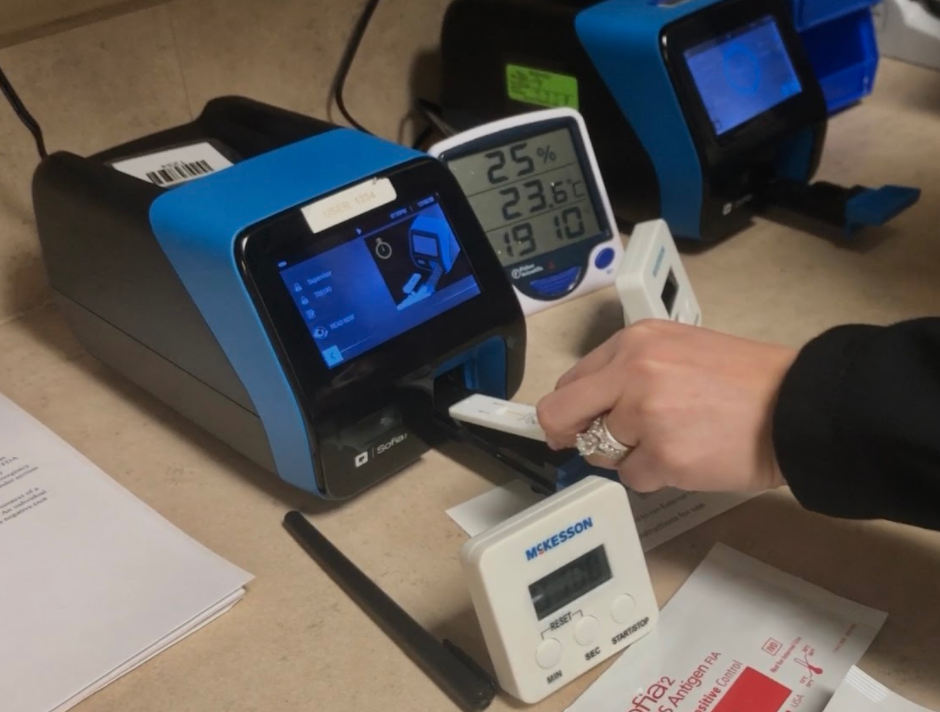 THE PROCESS OF COVID TESTING: The routine process of testing for COVID is a technique that the ER technician has perfected. "After scanning in the patient's information into the Sofia, you get reagent tubes and use a bit of solution inside and mix it with your swab," she said. "You need to leave it sitting in the solution for one minute. Then you insert the sample onto the machine and wait." The last step is shown in the image of her inserting the sample into the Sofia. This COVID testing site has two Sofia machines that have an 80% accuracy rate. If a patient shows symptoms and tests negative, the medics will treat them as if they were positive. Photo by Sophie Leung-Lieu.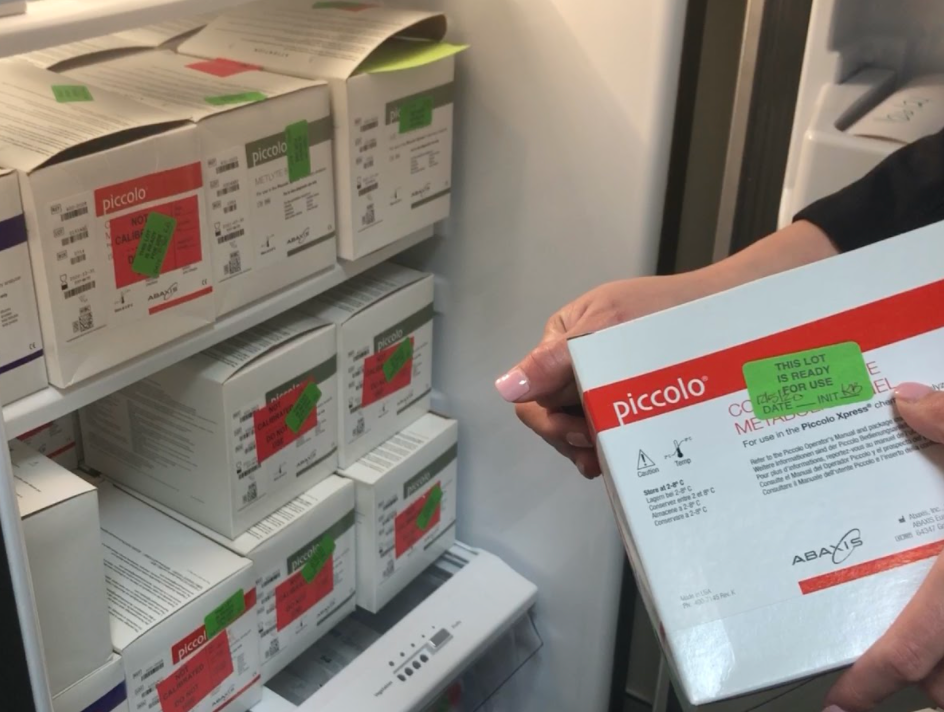 A REFRIGERATOR FULL OF TEST KITS: This testing lab stocks up not only test supplies for COVID, but for other illnesses too. The tests displayed in this photo are "complete metabolic panels," which are a series of blood tests. Another important test is called the "I-stat machine," which measures pH, PCO2, PO2, and Lac. The ER technician said, "if a patient has COVID and is having trouble breathing, we would want to see these numbers, and we can get them improved pretty quickly. After one is ran, we want to run another one shortly after you try to correct the problem." Lab technicians are required to know now to operate all of these tests in order to help the patient. Photo by Sophie Leung-Lieu.