Mask mandate mostly met at Mac
Administration credits proper mask use to a decline in cases, fears kids not changing masks often enough
With McCallum back at full capacity, students and staff are required to wear masks at all times on AISD property, a policy administrators say is being followed well by most students on campus.
"We know that the No. 1 way to prevent the spread of COVID-19 is masking," reads a statement on the AISD website. "Masks work. Everyone on AISD grounds—including students, staff and visitors—is required to wear a mask."
The way assistant principal Andy Baxa sees it, this policy is "short and simple," and for that reason, generally effective.
"It's hard to put a percentage on it, but the vast majority of the students we see are wearing their masks properly," Baxa said. "Sure, some people need a little bit of a reminder, a little 'Hey, fix your mask,' but other than that, the vast majority of our students are doing what we're asking them to do."
According to Baxa, proper mask use has helped led to a drop in COVID cases at Mac since the start of the year. According the AISD COVID-19 dashboard, there have been 29 total cumulative positive cases and 409 exposures reported this school year as of Oct. 7. The 26 people who have contracted COVID as of Sept. 30 have all recovered fully.
"
I don't want to get into a big power struggle about masks. … We want to try and help people understand that this is important for all of our health."
— Principal Nicole Griffith
"I know everybody was worried about the cases we had at the beginning of the school year, but we've definitely seen a decrease and a drop-off in the number of cases here the last two weeks," Baxa said. "So effective mask-wearing really does limit the amount of exposure we have on campus."
Off-campus events however, such as football games, have been a different story for both students and staff. Taco Shack Bowl XX, the first and largest game of the football season, saw a large student section, many of them noticeably unmasked.
"Taco Shack is always a bit of a crazy event, even in a normal year, so you throw COVID on top of that, and it's just gonna be interesting," Baxa said. "As the game went on, it became more and more difficult to enforce masks with the amount of resources that we had to enforce it. So Taco Shack was its own kind of animal all together."
After the game, Principal Nicole Griffith sent an email to Mac families addressing the disregard for mask require- ments—something she said didn't "fit with our McCallum culture," especially when Austin was at a Stage 5 COVID risk factor at the time. It has since gone down to Stage 4.
"We are in Stage 5 of COVID," the email read. "We care about the health and safety of ourselves and our fellow McCallum Knights. However, not all of us wore our masks with fidelity. We can do better."
Griffith understands the discomfort that can come with outdoor masking but feels that the importance of the rules outweighs these issues.
"Taco Shack was hot," she said. "It is hard to wear a mask when it's hot. I get it, I was out there too. But we also have to wear our masks. For me, it's just a lot of reminders: 'Please put your mask on, please put your mask on. We don't want to be spreading COVID, please put your mask up, we don't know who may or may not have it.'"
A freshman cheerleader agrees with Griffith about the difficulties of wearing a mask outdoors.
"Honestly, it just doesn't feel right to be made to wear masks outside when there is constant, unlimited air flow," said the cheerleader, who asked to remain anonymous because of the controversy surrounding mask mandates. "It's so uncomfortable to be so hot and barely able to breathe, as well as dangerous to many who get overheated very easily."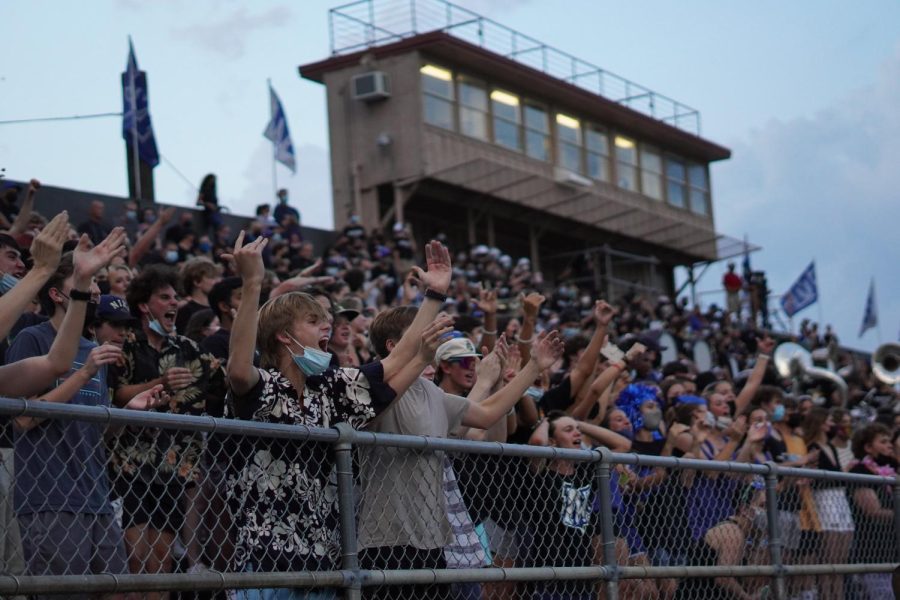 Senior John Hamlet has observed the difference between masking at school and masking at sporting events.
"I understand completely that wearing masks during physical activity can be a bother," Hamlet said. "But at sporting events the mask policies aren't enforced on the sidelines or in the stands."
Hamlet stressed that he believes besides football games and athletic events, the student body is doing relatively well when it comes to abiding by masking policy.
AISD dictates that athletes keep their masks on while inside, with the option of removing them when outdoors.
"Coach does a good job of making sure everyone has a mask on," junior football player JD Jordan said. "When we come together in a huddle we can put them on to stay safe."
Baxa is most worried that students are not considering the healthy lifespan of masks.
"Probably the biggest concern we still have with masks is that kids are not changing their masks often enough," he said.
According to the U.S. Food and Drug Administration, surgical masks are not intended to be used more than once.
"
The vast majority of the students we see are wearing their masks properly."
— Assistant principal Andy Baxa
"I have noticed kids wearing surgical masks that have been wearing them now for three weeks," Baxa said. "I look at them like, 'Dude, you need to change your mask.'"
The chief response on a MacJournalism Instagram poll about Mac mask usage centered around the neglect some students have about wearing their masks above their noses.
Senior Eden Goodman fears that those who neglect to wear their masks over their noses could cause greater exposure to others.
"People don't seem to understand they have to cover their noses," she said. "It makes me pretty angry."
Griffith says the difficulty of finding the right mask can discourage mask use and limit their effectiveness.
"I tried all kinds of masks," she said. "I had to go down that road because they can be uncomfortable; there's no doubt about that. I think that that is a journey to go down, and some students don't have the resources to [take] that journey."
Going forward, both Griffith and Baxa hope to improve proper mask-wearing through education rather than discipline.
"I don't want to get into a big power struggle about masks, and so we do want to use a more educational approach," Griffith said. "We want to try and help people understand that this is important for all of our health."