The year in review in photos
2021 had a little bit of everything: insurrection, natural disaster, protest, hope, celebration and triumph.
Alysa Bijl-Spiro, Morgan Eye, Evelyn Griffin, Meredith Grotevant, Anna McClellan, Madelynn Niles, Grace Nugent, Lindsey Plotkin, Lexi Ramos, Bella Russo, Elisha Scott, Kennedy Weatherby, Francie Wilhelm, and Dave Winter
December 28, 2021
On the last Tuesday of 2021, we are pleased to make our last Tuesday Top 10 photo essay of the year a review of some of our best photos depicting some of the most memorable, significant and poignant moments of another most difficult and unforgettable year.
January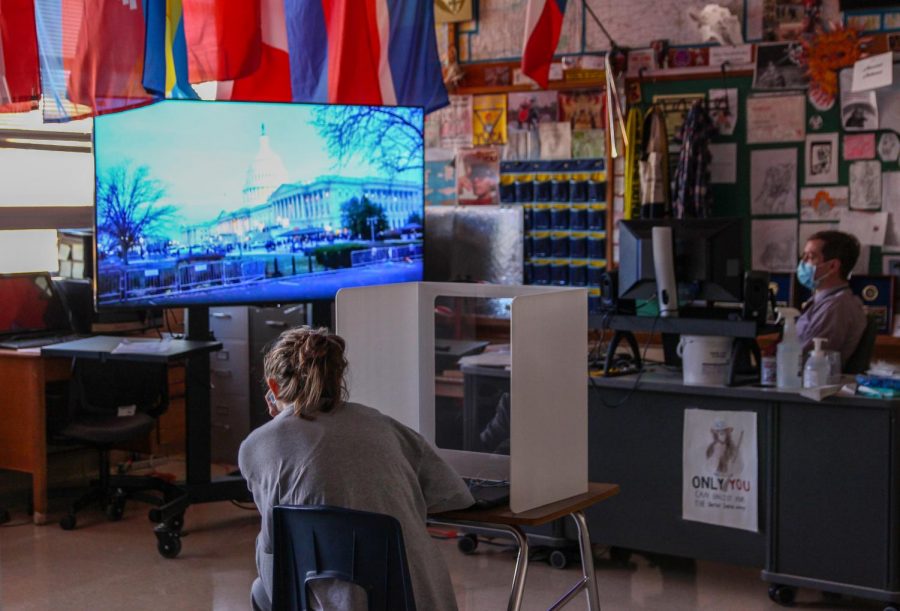 A DAY IN HISTORY: Midway through the third period on Wednesday Jan. 6, news broke that Trump supporters protesting the results of the presidential election stormed and broke into the Capitol building in Washington, D.C. The insurrection led to the evacuation of the Capitol and four deaths.
Around campus, many teachers tried to keep their classes going, but some teachers switched on the news. World geography teacher Greg Anderson was one of those teachers, with freshman Lucy Minton spending one of her first days on campus watching the news instead of learning about geography.
Language arts teacher Eric Wydeven said that the riot completely derailed the end of his third period AP English class but he said it was a necessary detour.
"Kids don't know what to say. These are disheartening times," he said. "We are on the edge of a cultural shift that is akin to any of these others, like the shift to postmodernism and the shift to modernism, all exacerbated by the coronavirus and the new recognition of all this institutional racism."
Reporting by Evelyn Griffin. Photo by Lindsey Plotkin.
February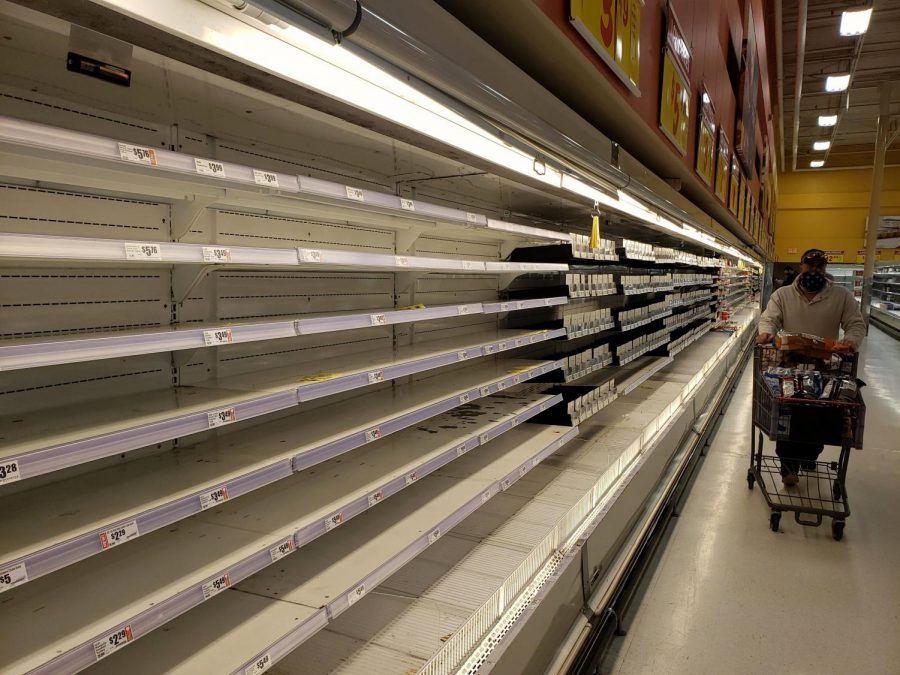 WINTER STORM LEADS TO SYSTEMIC POWER, WATER OUTAGES: This picture of the meat aisle at the North Hills H-E-B on the morning of Saturday Feb. 20 suggest how desperate Austinites were for fresh food after a power outage of several days left many citizens without food to eat. With many restaurants closed, the grocery stores were temporarily overwhelmed with demand for certain food items.
After the week of extreme winter weather for Texas, many Austin families found themselves dealing with no heat, no power, no water, and no way out in the midst of an uncharacteristic freeze. The 7.9-inch snowfall was the third most in Austin history, behind only the winters of 1937 and 1984 with 11 and 8.7 inches respectively.
AISD canceled all forms of school during the week of Feb. 15 as well as the following Monday and Tuesday due to widespread lack of power and poor road conditions. All sports and extracurriculars, including the debut week of the spring musical Urinetown, were canceled or postponed.
The Texas infrastructure, built for extreme highs instead of extreme lows, proved inadequate in the well below freezing temperatures. While power sources failed, power demand went up as people tried to rid their homes of the growing cold. The result was some families going days without electricity.
"Ours went on and off for a 12-24 hour segment," freshman Olivia Smith said. "The fact that there was so much snow made it seem like a completely unfamiliar landscape. We couldn't just turn on a light or play some music. It was so new, and it was creepy because my house was so silent."
Senior Gracie Ross has a similar experience, going 34 hours without power, 15 with, and then another 30 without.
"We've been having to eat dinner with a bunch of candles and headlamps so we can see, and we were making fires to stay warm until we ran out of firewood," Ross said.
Ross' mother, Gina Ross, described other ways the family tried to stay warm.
"After we ran out of wood, we bundled up in multiple layers. We also pulled out our camping sleeping bags which are rated for 30 degrees and over, so they kept us pretty warm," she said.
Gracie agreed that the situation felt strange.
"Camping inside is weird, and it's definitely not ideal to have to put on five layers while in the house," she said,
"but I'm glad we at least have a roof over our heads."
Reporting by Ellen Fox and Grace Nugent. Photo by Dave Winter.
March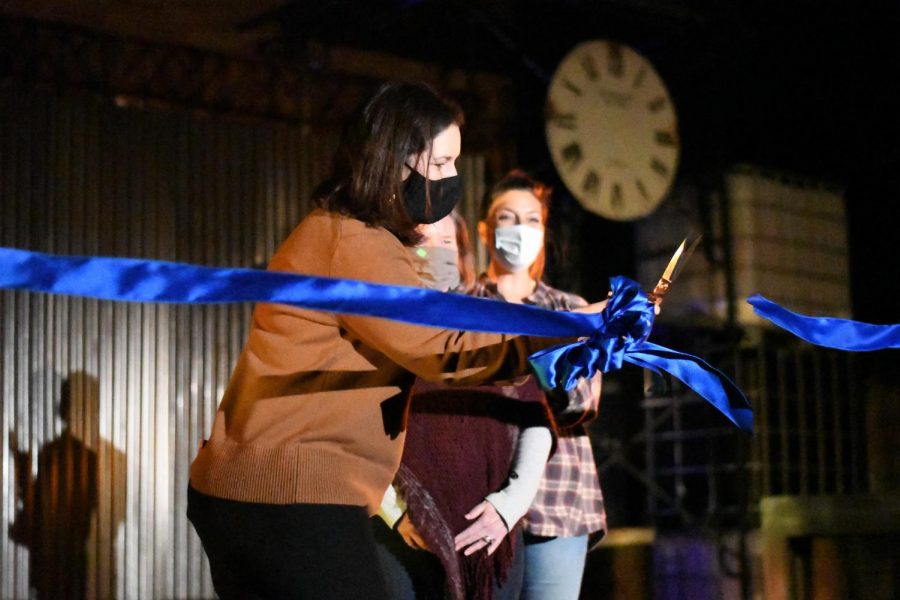 SETTING THE STAGE: Before the Thursday March 4 opening night of Urinetown: the Musical and with fine arts parents and outdoor stage organizers Nicole Wayman and Shaneye Ferrell looking on in approval, principal Nicole Griffith cuts a ribbon to mark the grand opening of the recently completed outdoor stage.
Griffith also took the time to reflect on the process it took to create the stage and recognize the group of community members that worked to make their dream of a safe performance space a reality. District 4 trustee Kristin Ashy also gave a short speech on the drive and commitment of the McCallum community.
The outdoor stage, a product of a Lowe's grant and crowdfunding, is very literally a product of the community working together. A group of over 60 parents, teachers, and student volunteers worked to finish the stage in early February, and the stage will continue to serve as a space for performances, events, and club meetings. Photo and reporting by Bella Russo.
April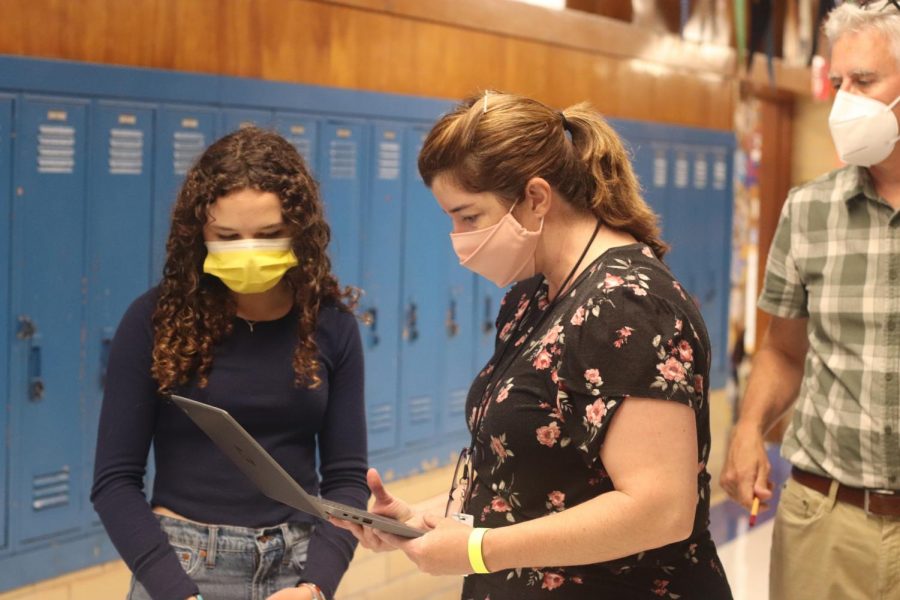 SERVER ISSUES DISRUPT STAAR EXAMS ACROSS TEXAS: Angela Crane and Scott Pass help freshman Olivia Smith establish a WiFi connection prior to starting the ninth-grade English STAAR test on the morning of Tuesday April 6. As students across Texas prepared to take their tests, the online testing platform Educational Testing System experienced a statewide outage, causing "problems with their database system."
The outage forced many schools, McCallum included, to send students who could not connect to the database home, postponing their tests until Friday. Principal Nicole Griffith sent an email to the parents of freshmen alerting them of the problems and saying that most students were able to take the test as planned.
Photo by Dave Winter.
May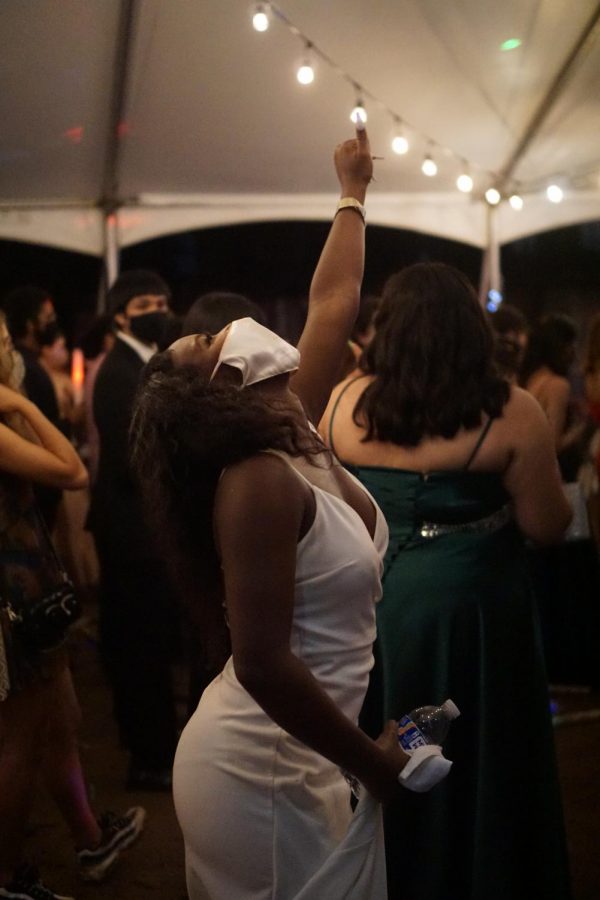 TIME PASSAGES: Junior Wynter Winston busts a move at prom on Saturday May 1. After months of strategic planning, the student council members and senior class sponsor Amy Smith put together the first, and hopefully last, COVID-safe prom.
Prom night took place at Stubbs Amphitheater, with an abundance of outdoor space to dance in, both covered and uncovered, a variety of good food and a curated ambiance. Masks were part of the entry ticket. The rain earlier in the day worried prom organizers and eager attendees alike, but the clouds conveniently took a break in time for The Masquerade, giving the class of 2021 one night of collective fun in a year that has too few of them.
Winston came with a senior and was therefore able to live it up on the dance floor. "It felt so surreal," Winston said. "I really loved how it felt like so much time had passed but yet none at all." Between dancing and getting Sour Patch Kids from Ms. Smith, Winston enjoyed every bit of the 2021 prom.  "I had a great time, but the DJ could've played more Pitbull," Winston joked.
Reporting by Anna McClellan. Photo by Kennedy Weatherby.
June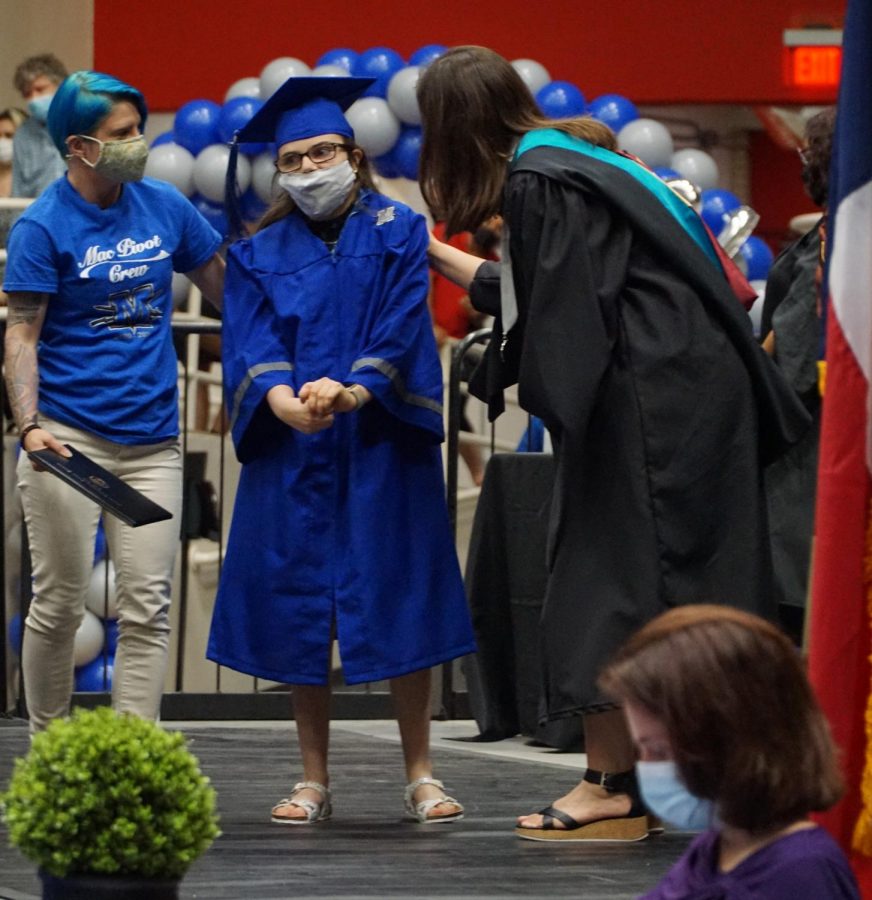 GRADUATION HIGHLIGHT: When graduate Blythe Wyrtzen walked across the Burger Center stage at Mac's commencement ceremony on June 2 with her teacher Megan Susong, her classmates gave her a heartwarming standing ovation. Valedictorian Neilan Garcia and salutatorian Iris Horn delivered commencement addresses, and Nicole Griffith presented her first graduating class as Mac principal. Photo by Kennedy Weatherby.
July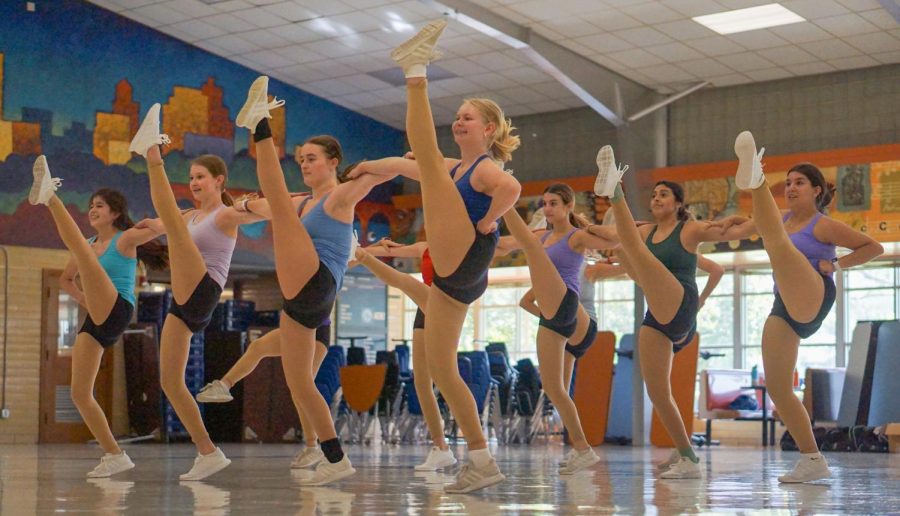 KICK START: In formation for the "Hey Baby" kick routine, Giselle Fuentes, Catherine Haikola, Kylie Reeves, Nia Wayman, Maddie Hello, Gabriella Alvarado and Olivia Hexsel focus on perfecting their performance level and their facial expressions during the first day of Blue Brigade practice in the cafeteria on Monday July 26. The practice was notable not only for being the first official practice of the school year but also because the team was able to perform its trademark kick routine for the first time since the pandemic started.
"Getting to continue the legacy of this dance is really special," said Wayman, who begins the year as one of brigade's three junior lieutenants. "The whole process of learning and performing ["Hey Baby"] brings us closer as a team. Being able to return to Blue Brigade after being apart has given us an overwhelming amount of support for each other and has been super exciting."
The summer months were filled with optimism that the pandemic's grip on society was soon to be over. On May 18, Gov. Greg Abbott issued an executive order that prohibited school districts from requiring or mandating masks. On the same day, Austin-Travis County health leaders downgraded the area's COVID-19 risk level to Stage 2 also allowing vaccinated people to go without masks indoors. Abbott's order allowed school districts to maintain their current mask-wearing guidelines through June 4, which Austin ISD did.
Throughout the summer, students and staff inside the building did not wear masks. By July 30, however, the Austin-Travis County COVID risk factor had returned to its highest risk level, Stage 5, prompting the district to join other metropolitan school districts across Texas in contradicting Abbott's executive order with a mask mandate for the 2021-2022 school year.
Photo by Dave Winter.
August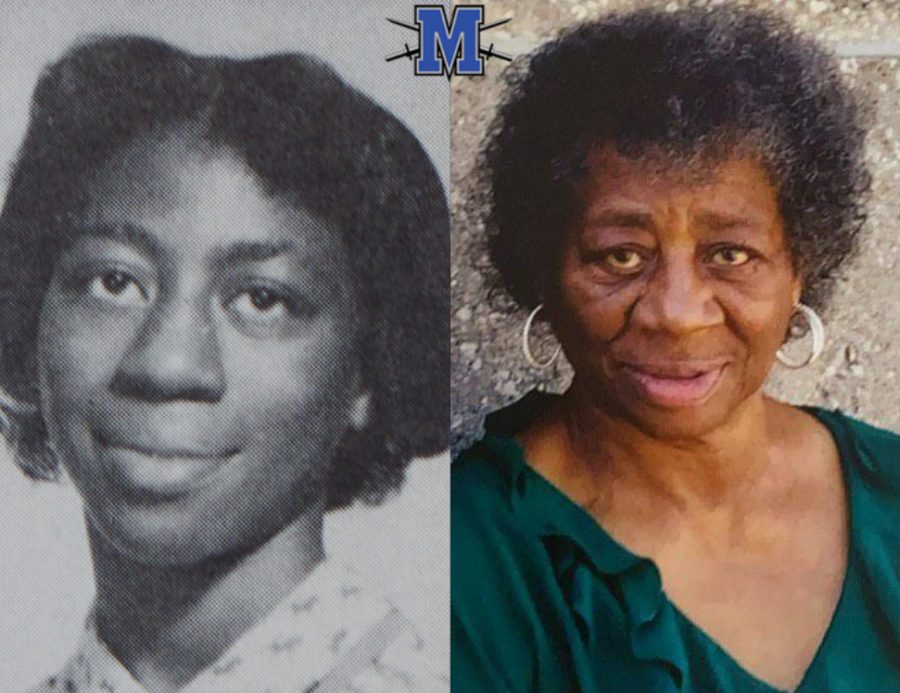 Margie Nell Hendricks Bedford, Class of 1957, died on Aug. 7, at the age of 81. In the fall of 1955, Hendricks Bedford became the first Black student to attend Mac as part of a districtwide integration plan that sent 12 students to Austin ISD's previously all-white high schools.
Her critical role in Mac history is hard to overstate. A year after the historic Brown versus Topeka, Kan., Board of Education U.S. Supreme Court decision declared that racial segregation in public schools was unconstitutional, Hendricks Bedford integrated McCallum by herself as the school's lone Black student in the 1955-1956 school year.
Described as courteous and soft-spoken in her high school days (left), Margie Hendricks Bedford gracefully carried the burden of bringing integration to Mac. As an adult (left), she made a positive impact on the Del Valle schools as a parent volunteer and on the Austin schools by teaching parenting classes.
Her success in integrating McCallum was reported in articles in The Austin Statesman in 1955 and 1956 and paved the way for expanded integration in the years that followed. She told the Statesman in an October 1955 article that her goal upon arrival at Mac was "to like everybody and make everybody like me." A second Statesman article published at the start of the 1956-1957 school year confirmed her success in achieving that goal. In the article, principal N. H. Wittner praised Hendricks for her success the previous school year, describing her as soft-spoken and courteous.
The oldest of eight siblings, she was active in her church community throughout her life. After graduating from McCallum, she went on to attend ACC and the University of Texas. She and her husband of 64 years, John Bedford, had six children together. Her descendants include 16 grandchildren and 18 great grandchildren. File photo from 1956 Knight and courtesy of Torry Coles.
September
LEVEL UP: Competing in the preliminary round of the Capital City Marching Festival on Sept. 25, the marching band and color guard won four awards for the performance of show entitled "Mirage." The band won overall first place for general effect and first place general music performance. The also won first place in the 4A band category and earned the best score out of all schools in the competition with a score of 935/1000. The percussion section also was named the best percussion section among 4A bands at the competition.
"Winning the four awards solidifies us as good enemies in a sense," saxophone soloist Will Sharp said. "Not only did we win everything marching wise, but also music wise. It just means so much to me to have made it this far since I have been doing this for so long."
The performance and its resulting awards started what became arguably the best marching season in McCallum band history.
In the finals at Cap City, the band outdid itself, beating nine other finalists and their own preliminary score to take the overall first place prize. Their show, "Mirage," produced a final score of 951 out of a possible 1000. They also won an award for best overall percussion performance after winning best 4A percussion performance in the afternoon.
At UIL region on Oct. 19, the band earned all first divisions, and at UIL Area on Oct. 23, the band defended its title as Area D champions, earning first place in finals. Concluding its season at the Alamodome on Nov. 1-2, Mac Band earned the highest ranking ever in school history: sixth out of 252 5A high schools in Texas, both in the preliminary round and finals.
For junior Oliver Harrington, receiving news of this accomplishment was unforgettable.
"Hearing our school's name called, seeing the reactions from my fellow band members and realizing that McCallum's band is one of the best 5A bands in the entire state made me realize how truly incredible this program is and how lucky we are to have such dedicated directors and talented musicians, all working together towards a common goal," he said. "It's been an outstanding marching season."
Photo by Morgan Eye. Caption by Morgan Eye and Madelynn Niles.
October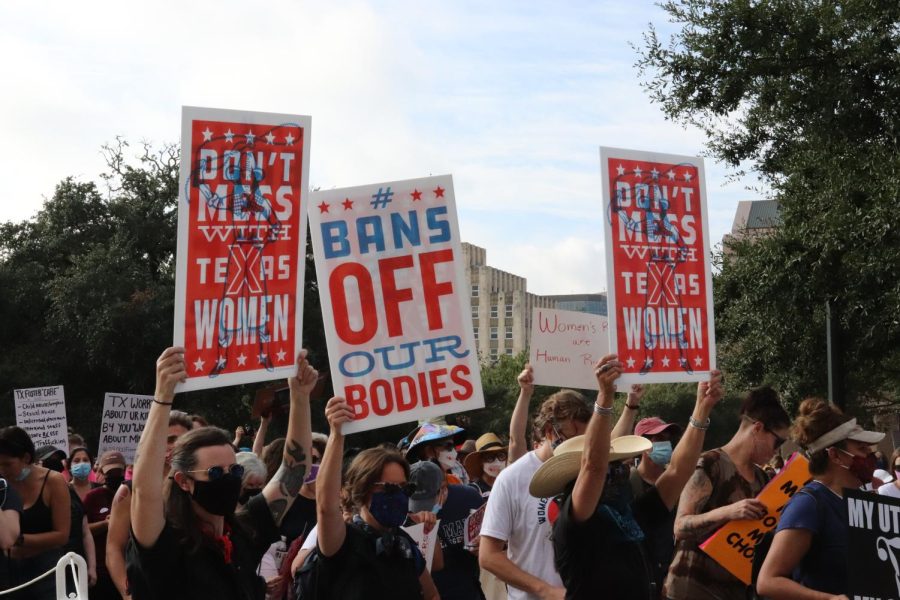 RALLYING FOR REPRODUCTIVE RIGHTS: Hundreds of Austinites gathered on the south lawn of the Capitol building Saturday morning to protest Senate Bill 8 (SB 8), a new, restrictive Texas abortion law that went into effect Sept. 1. From around 9 a.m. to 1 p.m. speeches and performances amplified out to the protestors from a stage at the steps of the Capitol.
The rally was organized by Women's March ATX, a local advocacy group for reproductive rights, LGBTQIA+ rights, and workers' rights. The Austin rally was one of many reproductive rights protests going on across the country on Saturday.
Junior Chloe Anderson was in attendance at the march, the first she had ever taken part in. "I had never been to a march before," Anderson said. "With all the news and stuff about what Abbott was passing for Texas regarding the SB 8 bill, I felt like I needed to get more involved."
Other speakers included U.S. Rep. Lloyd Doggett, Travis County Judge Andy Brown, former state Sen. Wendy Davis, and various middle and high school students from local schools. While speakers mainly focused their speeches on reproductive rights, other topics brought up included homelessness and discrimination against the disabled.
The most repeated phrase of the day seemed to be "Vote them out." referring to the Republican lawmakers that advocated for SB 8. Some speakers even chose to call out those lawmakers directly. "Greg Abbott, Dan Patrick, Ken Paxton, we see what you are doing," state Sen. Sarah Eckhardt said. "We know that you are willing to force a child to have a child… forcing women to flee the state to seek the health care and the privacy that is our right."
A small group of around 30 anti-abortion counter-protesters gathered to the right of the stage where the performances and speaking took place, holding signs that said: "I am the pro-life generation." As the counter-protestors entered the area, Women's March attendees attempted to block them from entering the lawn or speaking loudly. The two groups clashed and had verbal exchanges but Texas State Troopers monitored from nearby and the rally remained mostly peaceful.
Photo and caption by Meredith Grotevant.
November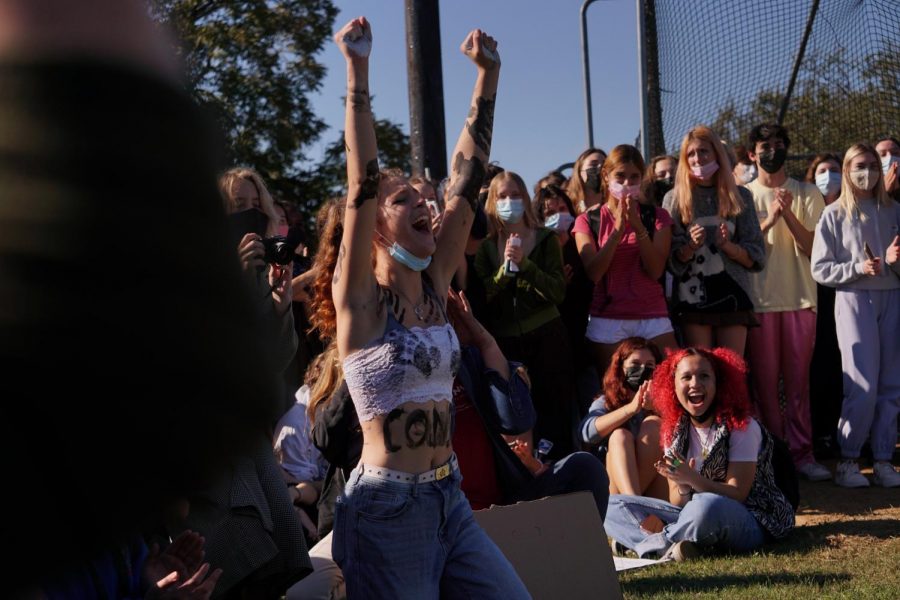 Freshman Aubrey Mitchell throws her hands in the air and cheers along with the crowd for one of the many students who spoke at the walk-out on Nov. 15.
At 2 p.m. hundreds of students walked out of their third-period classes in a show of support for students who have been victims of sexual abuse or sexual assault. The group met in the band parking lot and then marched around the perimeter of the school stopping often to hear personal stories of assault and survival. Each story elicited embraces and statements of support from members of the crowd.
Along with feeling pride for the students who shared their stories, Mitchell also expressed her gratitude to everyone who came out to support the movement.
"The amount of support that was given after each story filled my heart," she said. "Everyone felt for each other. There was so much empathy in the crowd. They would cry with each other and yell out of anger."
Emotions ran high as each person came up to share their story with a line of their peers behind them waiting to share their own. "I couldn't help but hug every one of them because the people who shared had a lot of courage," Mitchell said. "Sexual assault [has] never been easy to talk about. The survivors who shared finally let those bottled up emotions out and there was absolutely no judgment in the crowd." Photo and caption by Elisha Scott.
December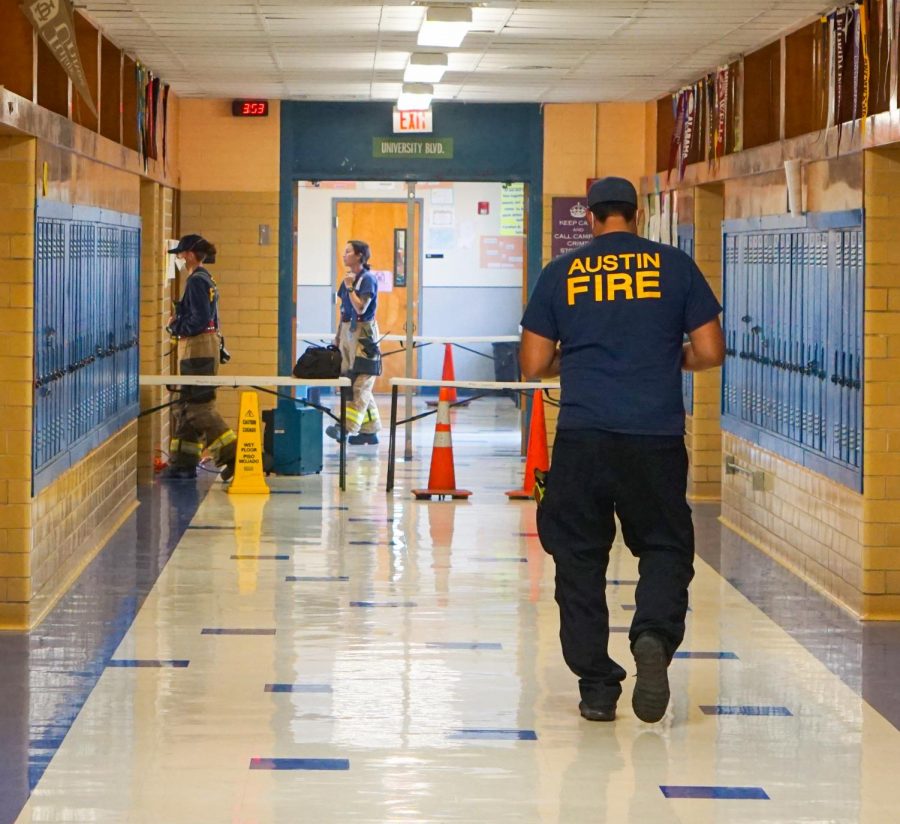 SOUND THE ALARM: Austin firefighters investigate the girls restroom on the University Boulevard hallway, the site of a trashcan fire that prompted the evacuation of the campus today during eighth period on Thursday, Dec. 2.
Prior to the arrival of the firefighters, teacher Michael McClaughlin heard about the fire from a student and ran to the bathroom to check the situation.
"Sure enough there were some flames in the trash can," he said, "so we doused it and then I ran and got the safety officer."
As the smoke circulated through the hallway, the fire alarm went off and students began to exit. The Austin Fire Department tweeted at 3:18 p.m. reports of the trash fire at 5600 Sunshine Drive.
The evacuation from the school building went smoothly, and there were no injuries due to the fire. The Austin Fire Department quickly arrived on campus and assessed the damage before students and teachers were allowed back into the building approximately 25 minutes after the evacuation took place. Besides the lingering scent of smoke in the hallway, the damage was minimal and contained to the bathroom.
In an email sent to McCallum families at 5:08 p.m. principal Nicole Griffith confirmed the trash fire in the girls bathroom and that no one was injured as a result of the incident. She said that AISD PD and AFD are investigating this event and that the administration will take appropriate actions once the individuals responsible for the fire are identified.
Caption by Francie Wilhelm. Reporting by Alysa Spiro and Wilhelm. Photo by Dave Winter.