We are proud to present the best of snow, ATX edition
Historic six-inch snowfall creates rare central Texas winter wonderland, knocks out power and results in a 100-percent virtual school day
It snowed half a foot on Sunday in Central Texas.
"
Half a foot of snow was recorded in Central Texas over the weekend. … The most snow recorded in Austin was 11 inches in 1937."
Sunday morning many people woke up to their backyard covered in snow. In Austin this is rare, especially the amount of snow that fell Sunday.
"I think I've seen this much snow once before, but it was when I was pretty young so I don't remember it very well." freshman Maggie Coulbourn said.
Half a foot of snow was recorded in Central Texas over the weekend. The average snowfall for January in Austin is 0.4 inches, so this was surprising. It knocked out the power in many homes in Austin.
The most snow recorded in Austin was 11 inches in 1937. The last time that it snowed more than an inch was in December 2017 when it snowed 1.3 inches.
Snowball fights and building snowmen seemed to be a popular activity for McCallum students.
"I had a snowball fight with my family, made a mini snowman, relaxed inside, and took some pretty pictures," Krische said.
"I visited some mountains in Seattle that had a lot of snow a long time ago," sophomore Thea Krische said. "My younger brother had never seen more than an inch of snow before though, so seeing his reaction was entertaining."
"
[The snow] was a great distraction to all the recent events and things that have happened over the course of the last year."
— math teacher Carly Kehn
Junior Marios Petropoulos's family built a snowman.
"It was my mom's idea because she was like 'Why are there no snow women?' and then we ended up doing that," Petropoulos said.
Some students also head to hills in their neighborhood to try sledding.
"We went sledding, had a snowball fight, and built a snowman," Krische said, "I also hung out with my brother and my neighbors from a six-foot distance."
Austin's schools were entirely virtual this Monday to keep people safe and off the roads. It may be years until Austin sees this much snow again so for now pictures capture the memories of a snow day in Austin, Texas, in the middle of a pandemic.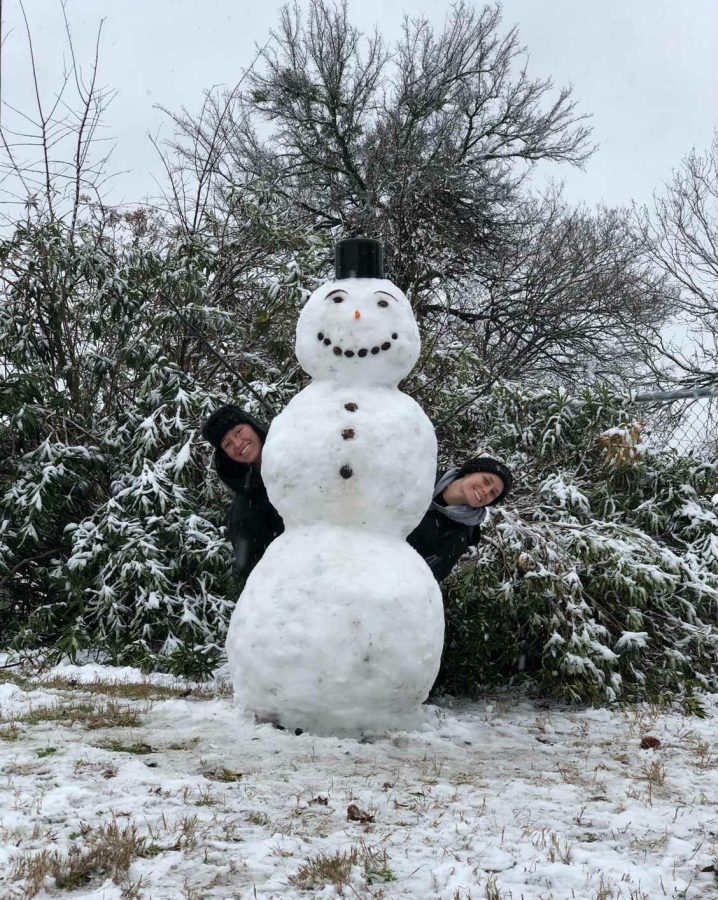 WHAT'S ROUND ON BOTH SIDES AND HIGH? With help from her friend Hilarie (right), Coach Kehn (left) was able to make perhaps the biggest and most symmetrically perfect snowman made within the McCallum community. How were they able to create such a singular snowman?  "I just kept rolling the snow around the yard until it got too big to move," Kehn said. "It was great packing snow, so it added up pretty quickly. We did the same for the next tier." Their success in making a huge snowball almost was their undoing as they could barely it onto the base. To finish it off, Kehn said, they found accessories around the yard–walnuts and pomegranates–to make the face/buttons. Kehn said it took about an hour for them to make the snowman, but just building him wasn't enough. "I'm a bit of a perfectionist, so we were trying to cover up and pull out a lot of the grass." They even spray-painted the arms for effect. "It didn't seem to work too well," Kehn joked afterward. "I think the most fun part of the snow day was just getting outside and playing again. It was a great distraction to all the recent events and things that have happened over the course of the last year. It was also a fantastic little piece of home for me. Growing up in Ohio I never thought I'd miss the snow. It was nice though. One day was just enough for me."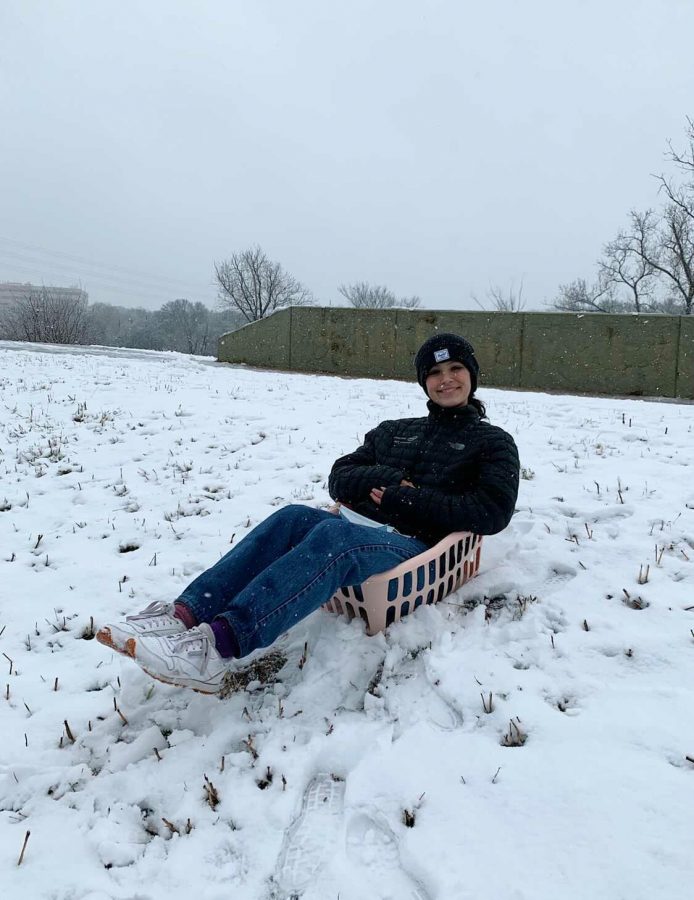 GO WITH WHAT YOU GOT: Before "sliding" down the hill, junior Zara Terrazas Graham poses for a photo while sitting in her makeshift sled. Since snow is not a common occurrence in Austin, many students used common objects around their homes to make an improvised sled. Graham's laundry-basket was one such engineering experiment. "Honestly, it went horrible. Laundry baskets are definitely not sleds, but it was still fun to be able to throw ourselves down the hill," Graham said. "It was so exciting to have a snow day, and it was about time something good happened this [school] year. The attempted sledding with my friend was honestly the highlight of my year so far."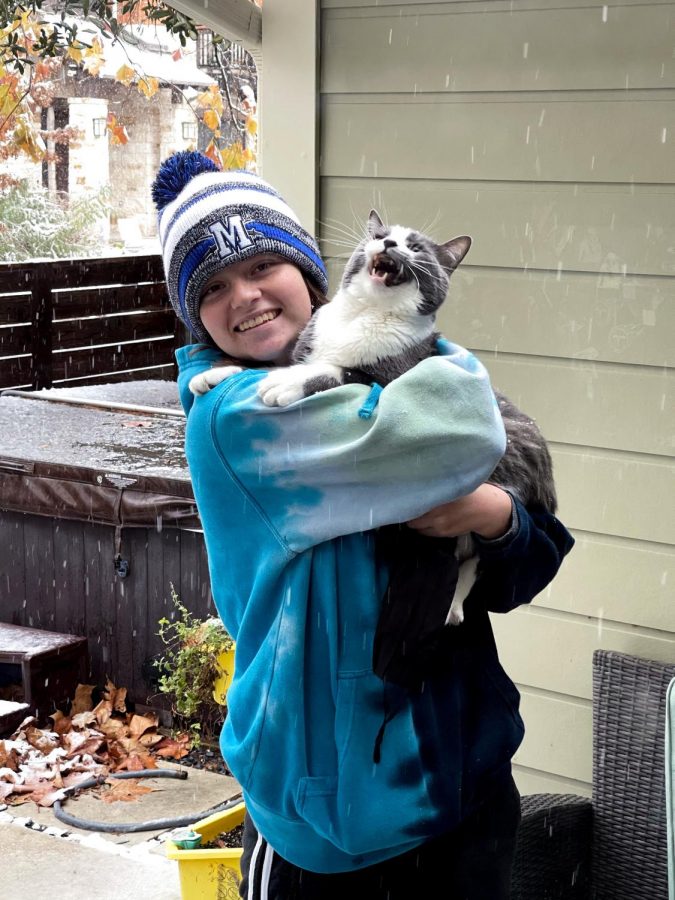 ROGER THE SNOW DODGER: Enjoying the day of snow with her furry friend, junior Anna Bausman holds her cat, Roger, as he "roars" at the falling snowflakes. Both Bausman and Roger have not seen snow to this degree in their time living in Austin, making it a special experience for the both of them. "I was super excited to see this much snow, especially in Austin. I don't think my cat had ever really been out in the snow and he obviously was not a fan," Bausman said. "The snow seemed to both confuse and scare him, which was really funny to watch."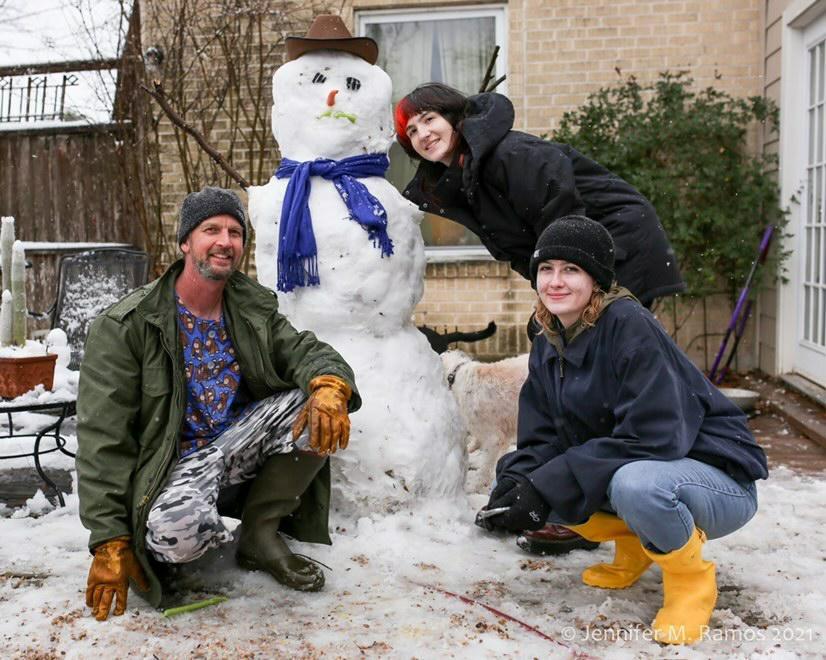 SUNDAY SNOWY SUNDAY: During a rare Texas snow day, junior Olivia Linscomb (bottom right) posed with her father (left), sister (top right), and their newly constructed snowman. Linscomb welcomed the snowy Sunday as a break from the stress of Zoom school, and was excited to see how everyone spent their snow days. "I was really surprised," Linscomb said. "My friends and I were debating the entire week on whether it was actually gonna snow and we were all super skeptical, but while my sister and I were taking a trip to the store that morning, the rain just kept getting crunchier and then all of a sudden it turned to snow! It may have been a brief snow, but for me at least it gave me a break I needed instead of all the homework I had put off for Sunday evening." Photo by Jennifer M. Ramos.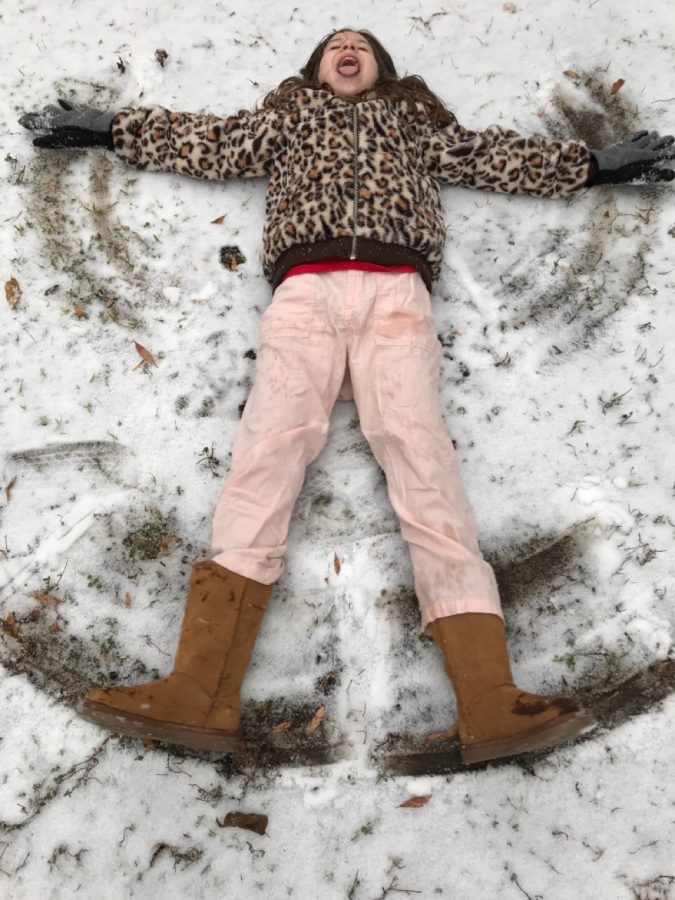 ANGELS AMONG US: When Alice Scott started her rainy morning she believed the snowy forecast was too good to be true. "I was really skeptical that it was actually going to snow. I saw the forecast and really hoped it would, but i just didn't think it was likely." Since the forecast called for 2 p.m. snow, Scott and her mom scheduled a morning curbside grocery order at HEB. "It was really cold and rainy that morning but hadn't started snowing when we went to pick it up," Scott said. Just before she and her mom left for HEB, her dad went for a run. After the rain turned to hail, and the hail turned to snow, Scott was surprised and elated. They hopped in the car, picked up her father, and drove home. "I told my sister it was snowing, and she screamed 'WHAT?' and ran outside. We had a little snowball fight and she jumped on our trampoline while it was covered in snow. Then she wanted to make a snow angel and that's when I took that picture. … She was just really excited by the whole thing. After a while we got cold and went inside and I made hot chocolate.¨ A very happy end to an eventful quarantine snow day. Photo by Alice Scott.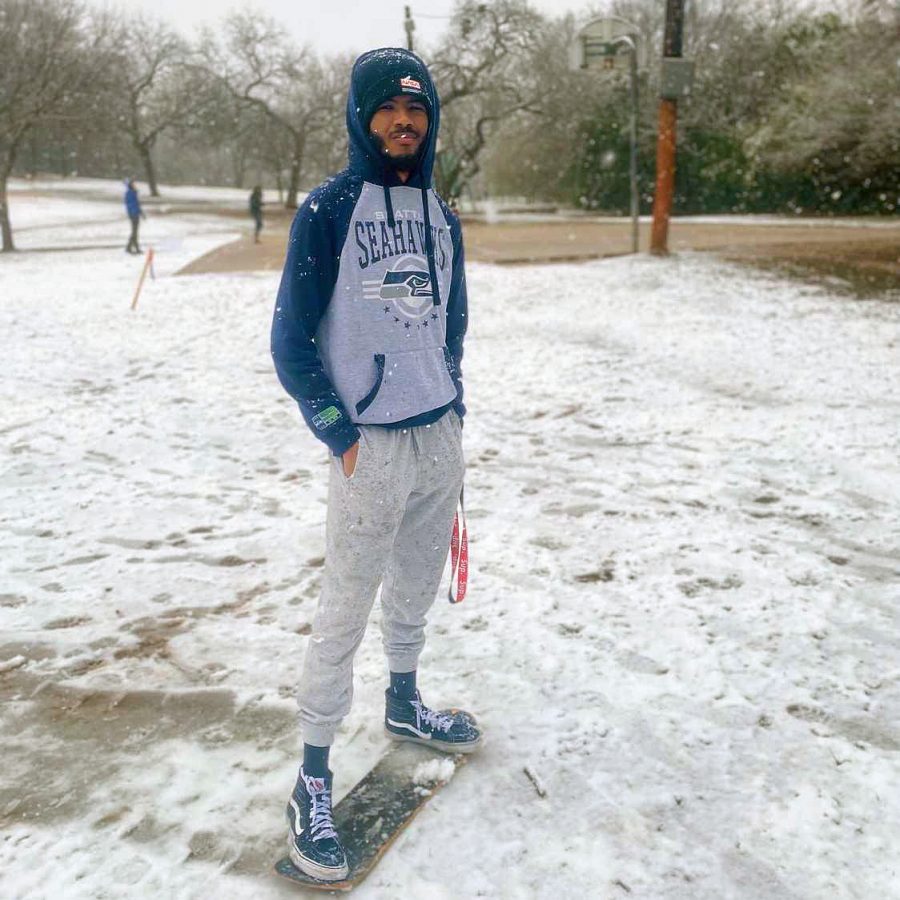 A SKATEBOARD SKI: At the campus park of Austin Presbyterian Theological Seminary, senior O'Mari Hill takes the trucks off his skateboard in order to run up the top of the hill to attempt to ski down. "I have seen snow before, but it was nothing compared to how much it did snow," Hill said. "Using my skateboard was actually a lot harder than I thought it would be, but eventually I got the hang of it and it was definitely a great experience."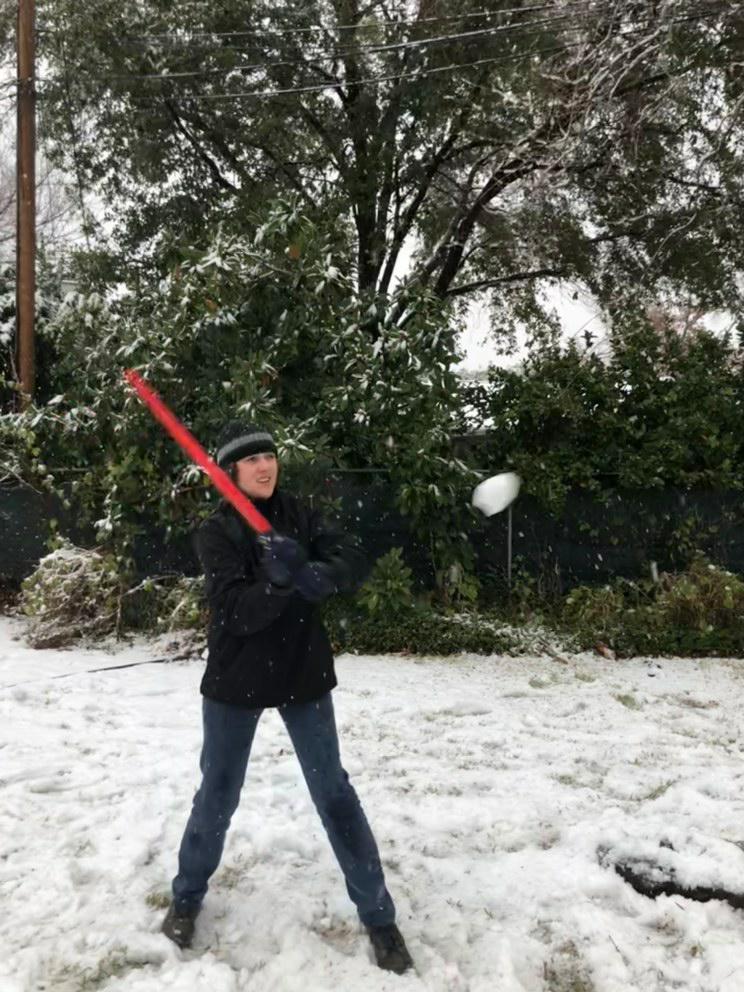 LUKE SKY-BATTER: Thinking creatively with his snow equipment, or lack thereof, sophomore Ace Crane uses a light saber to play snow baseball on Sunday. Crane, like many others, went outside and had fun in the snow during a historic snow day for central Texas. Photo by Angela Crane.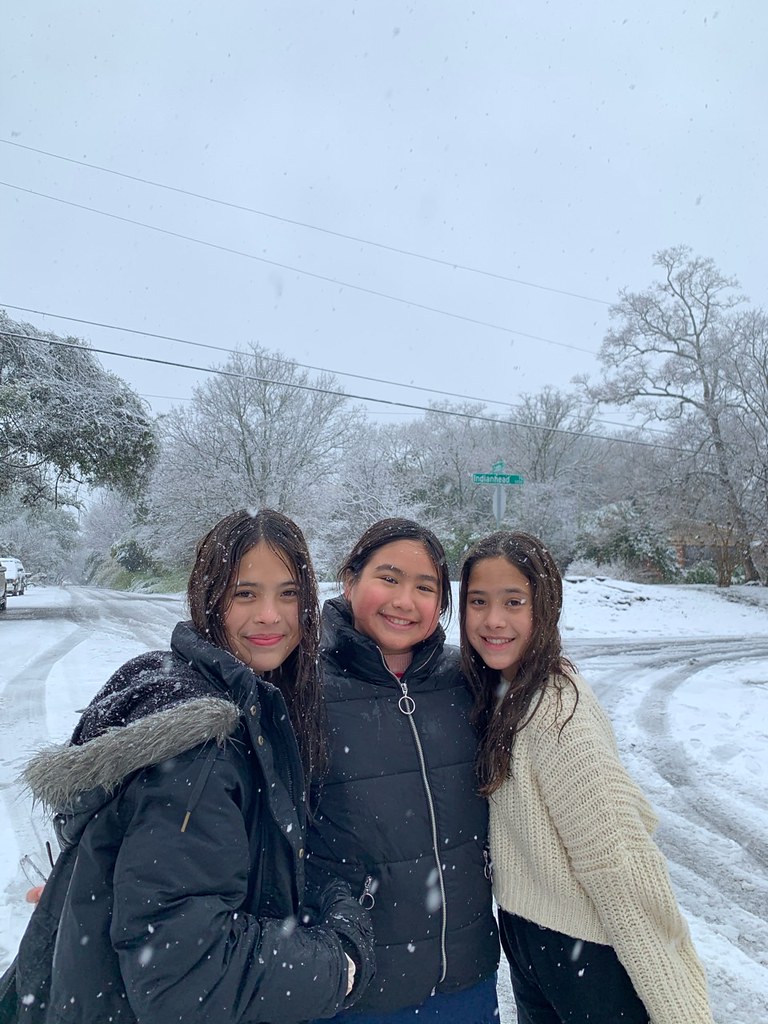 FUNKY COLD MEDINAS: Sophomore Ava Medina and her little sisters (future Knights), and cousins spent the whole snow day outside. They did fun activities such as building snowmen, snowball fights and sledding down the street on boogie boards. "I definitely wasn't expecting it to snow as much as it did in my area, but my little sisters had very high hopes and were very excited when they woke up," Medina said. "They got out of bed, went outside and started having a snowball fight. We had a lot of fun taking our dogs on a walk around our neighborhood and making s'mores from our fireplace."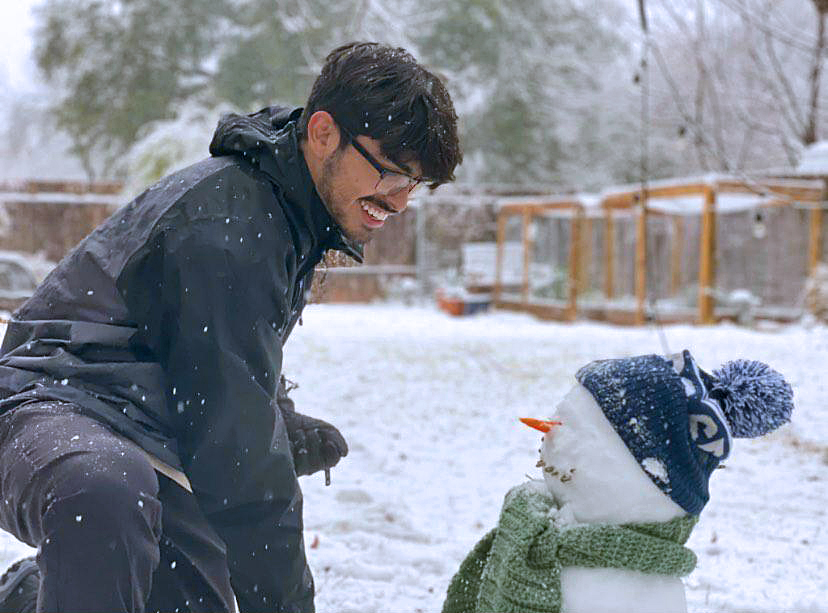 SUNFLOWER SEEDS AND TAMALES: Senior Daniel Dueñas-Lujan inspects his handiwork building a snowman with all the finishing touches. Dueñas said that Sunday's snow caught him off guard and that after realizing it was showing he decided to build a snowman, which we have to say looks pretty darn lifelike almost as Dueñas was meeting Olaf on the set of Frozen. What's the secret to Dueñas' snowman success?  "Lots off snow, lots off patience, and just have fun." And of course sunflower seeds, which Dueñas used to fashion his snowman's mouth. He said he wasn't outside for long just long enough to build a snowman and toss a few snowballs in his brother's direction. To warm up after his snow adventure, Dueñas made tamales with his mom and watched football for the rest of the day.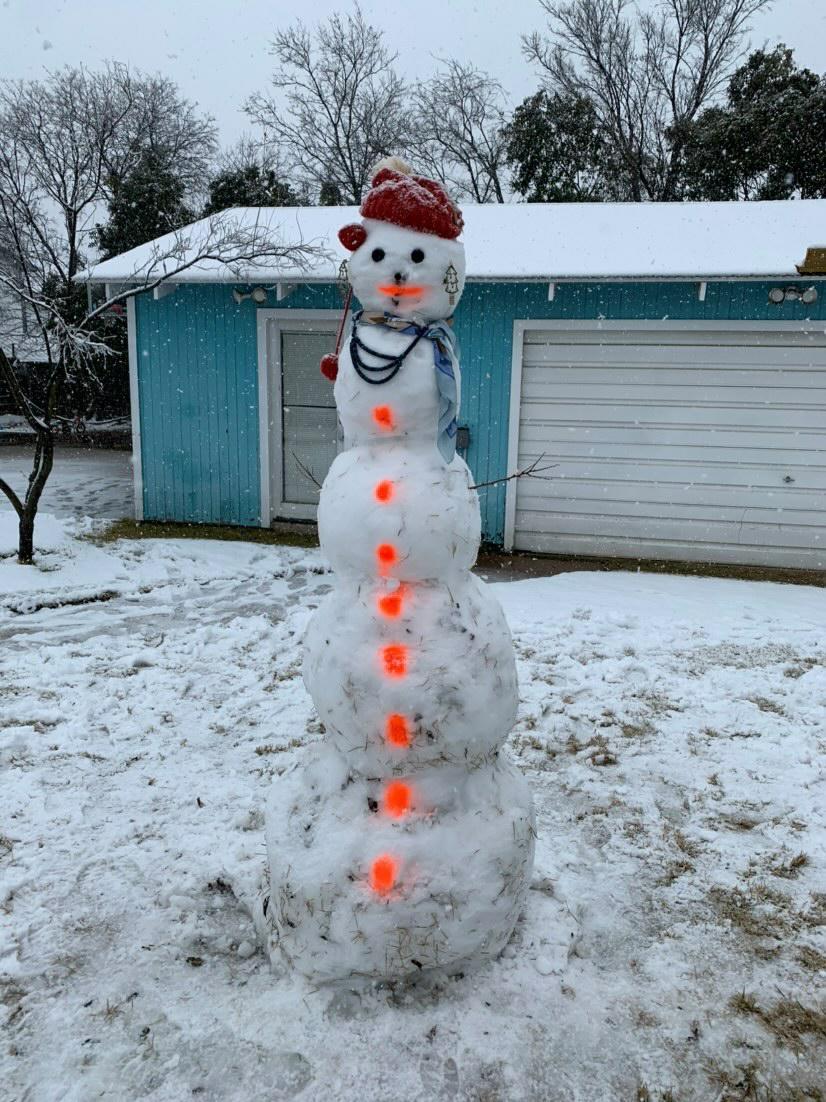 A CATEGORY 5 SNOWMAN: Junior Marios Petropoulos's family built a snowman. "It was my mom's idea because she was like 'Why are there no snow women?' and then we ended up doing that," Petropoulos said.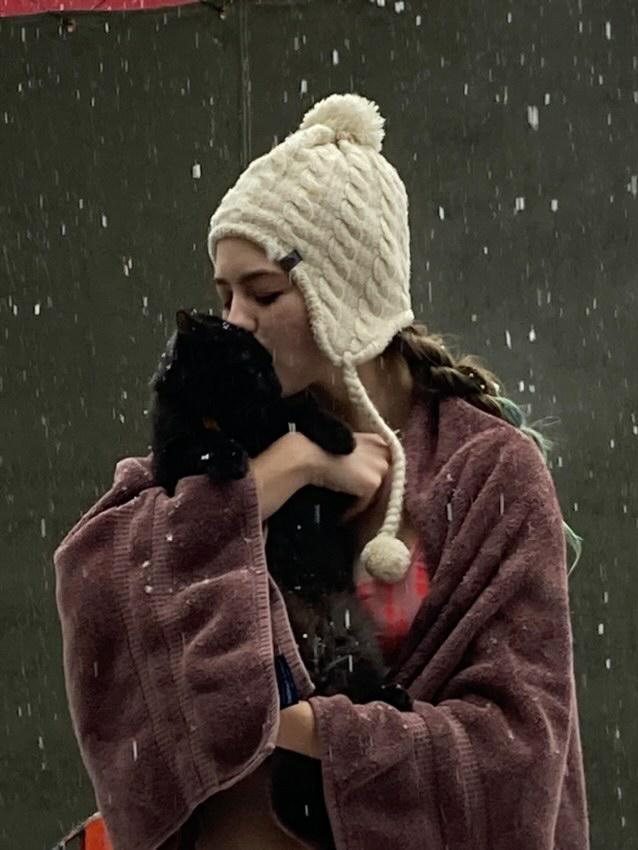 PURR-FECTLY COMPOSED: Senior Pearl Heinley managed to make a towel look like wintry fashion while venturing outside with her cat, Spooky. She credited her younger brother and aspiring photographer Wren, a Mac sophomore, for imagining and capturing this moment in the show.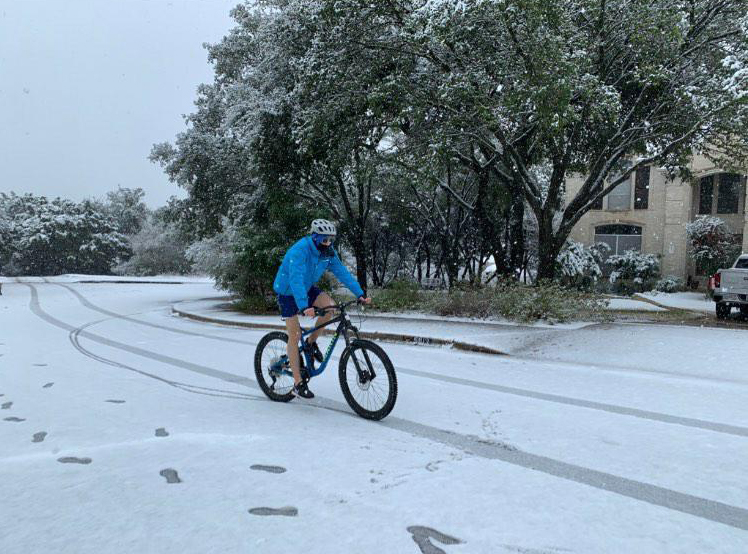 TWO WHEEL DRIVE: Junior James Guckenberger turned his bicycle into a literally slick ride by spending his snowy day biking around his neighborhood.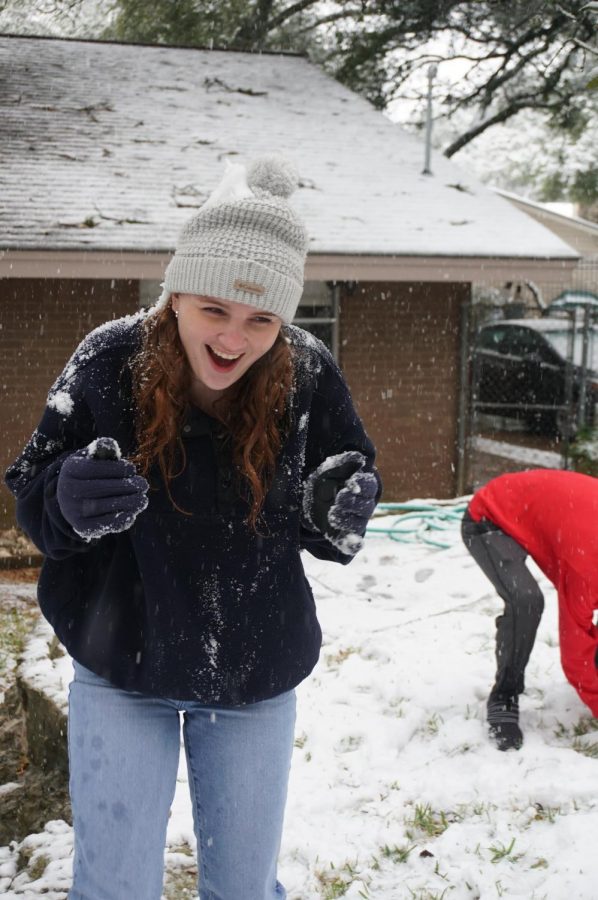 WINTER WONDERLAND INDEED: Junior Annabel Winter reacts to being ambushed with an avalanche of snow supplied by her older brother Henry, a 2020 Mac graduate. Winter said the best moment of her snow day was pegging her dad in the face with a snowball. "[Playing in the snow] was really fun," she said. "It's been a long time since I have been able to have snowball fights with my family." She said her dog Marty agreed with that assessment. A Bichon-poodle mix with white fluffy fur, he blended in with his snowy environs as he dashed around the yard. "Texas snow is better than Colorado snow," Winter concluded, "because it's surprising." Photo by Dave Winter.