Fulfilling the four-course meal challenge with one stop
5000 Burnet Road food trucks offers great food, superior service at an outdoor venue ideal for COVID-safe socially distant dining
Inspired by the four-course meal challenge, we headed to the food truck park located at 5000 Burnet Road. The four-course meal challenge is an ongoing trend on the social media app, Tik Tok. It consists of a group of people playing four rounds of rock paper scissors. Whoever wins each round chooses which restaurant the group will go to for one course out of the meal, which consists of appetizers, drinks, entrees and desserts. We decided to tweak the game to better suit our options at the food truck park. This meant we didn't play rock paper scissors, since not a lot of trucks were open, and very sadly didn't have desserts.
For our drink, we had bubble tea from Dawa Sushi. We ordered one blended taro tea and one strawberry tea. Both teas were $4. The tea was very enjoyable. We both agreed that it was a little sweeter than usual bubble tea but not to an extent that bothered either of us. Also, some of the tapioca pearls were a little too firm. Despite these drawbacks, it still was super good. And we have to add that even though we didn't get any food there, they had pictures of it on the side of the truck and it all looked super yummy. It ranged from sushi to bibimbap to spicy rice cakes, and they all looked outstanding. Along with that, the customer service was great. The lady who served us was very nice and even gave us extra toppings for free!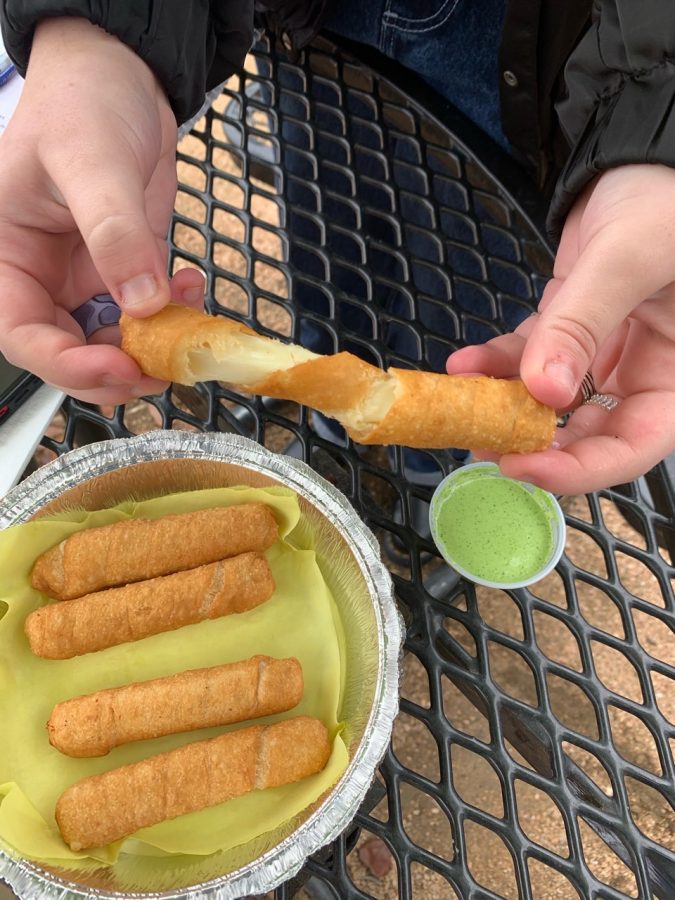 Next, we moved on to our appetizers. We stopped at Budares, a Venezuelan food truck. We ate a dish called tequeños (cheese wrapped in pastry dough then deep-fried) served with creamy cilantro sauce. The cheese was mild, and the pastry was flaky and flavorful; it was also very crispy without being greasy. When paired with the ranchy and fresh cilantro sauce, the dish was absolutely incredible. The tequeños were $7 for five, and totally worth every penny. The only complaint was that we had asked for salsa with the tequeños initially, and they were out of it. Despite that disappointment, the customer service, food and experience were all great.
For our entree, we went to a new truck in the park called Little Beast Slider Company. We ordered two beef sliders. One slider is $2.50. The sliders are smash patties (super thin), pickles and beast sauce (their house sauce). The sliders had a very strong pickle flavor, which we didn't mind, but others might. The buns were pretty big but also very fluffy. The beast sauce paired with the thin patty reminded us of a miniature P. Terry's burger.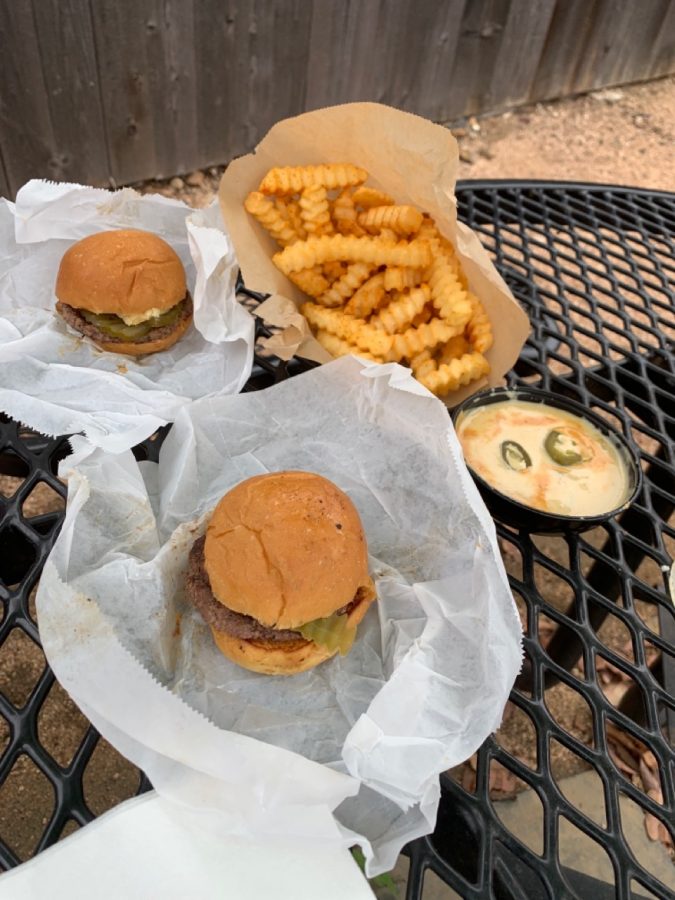 With the sliders, we also had an order of queso fries. They cost $4 for a small order (there was the option of a small or a large). The fries were well-seasoned, crinkle cut and very crispy. They came with a container of queso, which was mildly spicy and very creamy. The queso had a few slices of jalapeno on top. One thing to note is that they didn't give us any ketchup or mustard with our order. But all in all, the customer service at Little Beast Slider Company was great, the food was ready much faster than anywhere else we went and everything was delicious.
Our dining experience was great. The weather was perfect for outdoor dining. All of the food was very satisfactory and everyone working was very nice. The food truck park is a great place to meet up with one or two friends given the current circumstances, due to the ample seating and outdoor setting. It was also not very crowded. If you don't want to eat there in person, you can still support the trucks by ordering food for pick up.
View Comments (1)