Making the Thanksgiving dessert decision easy as pie
Ranking and reviewing 'Tiny Pies' seasonal flavors
With Thanksgiving just around the corner, comes the annual dilemma of deciding which pies to bring. With such an extensive range of flavors offered, the choice can be difficult. To help make this choice a little easier, We bought  and tasted several flavors from Tiny Pies– a local Austin bakery known for their individual-sized pies. We tried the four seasonal pies: chocolate bourbon pecan, pumpkin chai, apple cranberry, and sweet potato pecan, along with two pies of our own choosing: chocolate cream and key-lime. We rated each one on what we think it brings to the table, so that ultimately we could discover which pie you should be bringing to your table this thanksgiving.
To do this, we created an elaborate ranking system. For each pie, we had four categories: appearance, crust, flavor, and texture. Each category could receive a maximum of five points and a minimum of one point. Once we ranked each pie, we averaged the numbers of the scores it received in each category from both of us, and used those concluding scores to decide upon a final ranking.
Chocolate Bourbon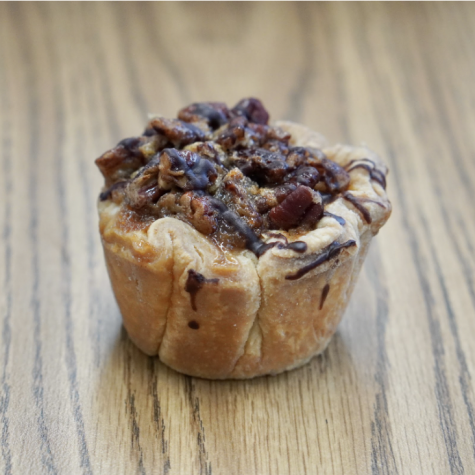 JoJo
Sofia
Appearance

---

4.5

---

3

---

Crust

---

5

---

5

---

Flavor

---

4.5

---

4

---

Texture

---

5

---

5

---
Final score: 4.5/5
The appearance of the pecan pie was mediocre. It was decorated with a chocolate drizzle on top, but it was hard to see, as it seemed to blend into the dark pecan filling. Compared to the other pies the appearance of this one felt bland. The pie's crust was nice and crunchy thanks to the fact that the filling wasn't too liquidy. The flavor of the pie was good, you could taste the pecan, and there were touches of chocolate and something sweeter like honey or caramel. These small hints of flavor really escalated the pie. The buttery crust perfectly balanced out this pecan filling, because it wasn't too sweet. We thought the texture was good. It was the least soggy or runny of all the pies. it had a very crunchy filling, but still was somewhat smooth. Overall, we found this pie to be pretty good.
Pumpkin Chai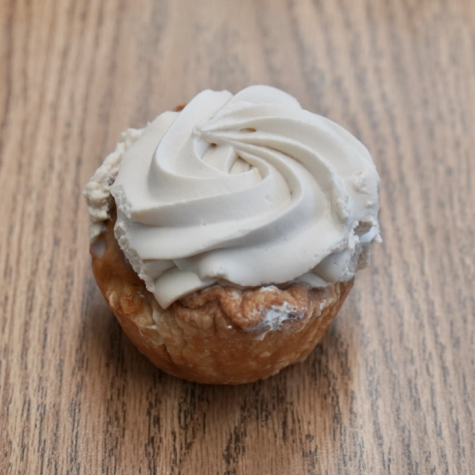 JoJo
Sofia
Appearance

---

4

---

5

---

Crust

---

4

---

4

---

Flavor

---

5

---

5

---

Texture

---

2.5

---

3

---
Final score: 4.1/5
With pumpkin pie being our favorite flavor, we had high expectations. Unfortunately, not many of them were met. The pie started off strong, scoring highly in appearance; it was decorated with an elegant–and delicious swirl of chai whipped cream. We were eager to try the most classic fall pie, but as soon as we cut into it, the filling gushed out, leaving us with a very messy treat. The runny filling was a huge disappointment, especially because it resulted in a smaller crust to filling ratio. The crust was also slightly soggy, another result of the thin filling. Other than that though, we found the crust to be pretty tasty. We also enjoyed the flavors of the pie. The warm chai complimented the pumpkin beautifully. If the texture had been more solid this would've been a top choice, but if you are looking for a pie and not a pudding, we do not recommend this flavor.
Apple Cranberry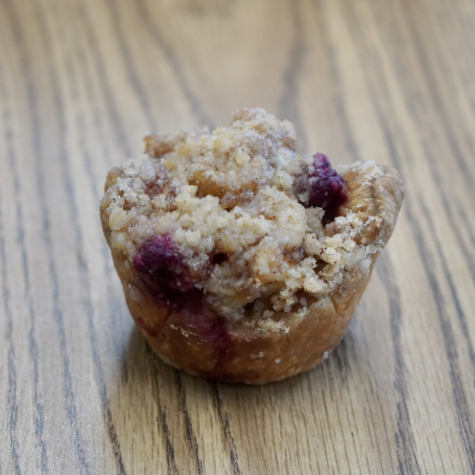 JoJo
Sofia
Appearance

---

4

---

4

---

Crust

---

5

---

5

---

Flavor

---

5

---

5

---

Texture

---

3

---

4

---
Final score: 4.4/5
The appearance overall was classic but bland. Unlike the other seasonal flavors, this pie lacked any toppings or decorations to make it stand out besides a pop of color from the red cranberries. The crust was the perfect texture– not too crunchy and not too soft. The filling was fresh cranberries and small cubed apple chunks mixed in with a cinnamon syrup. It wasn't watery at all, and didn't make the crust soggy. We found the flavor to perfectly represent the feel of fall. The apples were fresh and crunchy, and the cinnamon flavor was very prominent. It added a nice touch to the pie and made the apples taste a little sweeter. The apple chunks also added a bit of texture which made for a pleasant sensory experience. Overall we enjoyed this pie.
Sweet Potato Pecan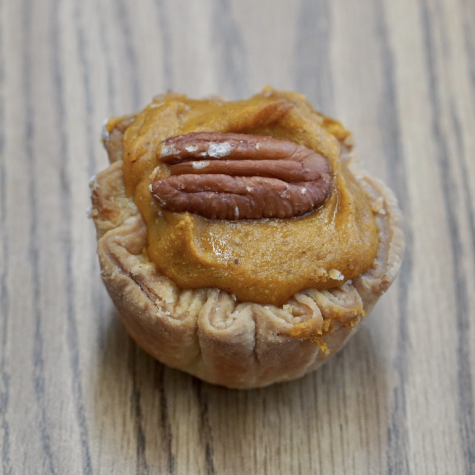 JoJo
Sofia
Appearance

---

2

---

3

---

Crust

---

4.5

---

5

---

Flavor

---

4

---

3

---

Texture

---

3.5

---

4

---
Final score: 3.5/5
With neither of us having tried a sweet potato pie before we didn't know what to expect.  While pleasantly surprised, it still wasn't our favorite. However, we both agreed that the pecans hidden at the bottom acted as a nice surprise. Sadly,  the crunch of the pecans was not enough to salvage the pies overall texture. Although it managed to hold up while cut into quarters (unlike the pumpkin chai) we still would've preferred it to be slightly more solid. Regardless of the filling though, the crust was nice and crisp, and tasted amazing. The main part of the pie that dissatisfied us was the appearance. Instead of the toasted meringue pictured on the menu, our pie was merely topped with a singular pecan. We felt there was so much more room to be creative with decoration. Overall, we would not recommend this pie unless you happen to be very fond of sweet potatoes.
Sofia's Choice: Chocolate Cream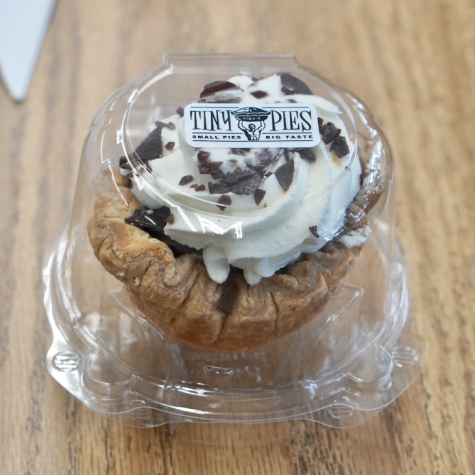 Appearance

---

5

---

Crust

---

4

---

Flavor

---

5

---

Texture

---

4

---
Final score: 4.5/5
For my personal choice, I chose a chocolate cream pie. The appearance overall was very clean, dawning a whipped cream swirl and chocolate flake toppings. The toppings were not only nice in appearance, but taste as well. When I first saw the pie cut in halves I was afraid to try it due to its runny filling. Despite the mess this created, I enjoyed the taste of the pie; it was the perfect combination of silky and sweet. The crust, while soft, was far from soggy and its buttery flavor balanced out the chocolate component. The overall taste was actually enough to make this pie my top choice, regardless of its texture.  
JoJo's Choice: Key Lime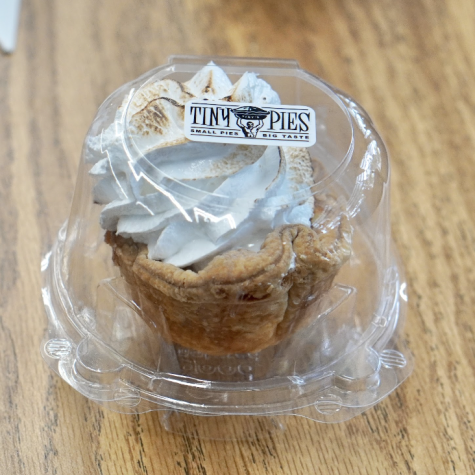 Appearance

---

4.5

---

Crust

---

5

---

Flavor

---

5

---

Texture

---

5

---
Final score: 4.9/5
For my personal choice I chose key lime. The pie presented itself well. Although the crust was a little uneven, and the swirl wasn't centered, it still looked pretty good. The texture of the pie was spot on, it was creamy, but still solid enough that you could eat the pie and be mess free. The crust was also perfect. It wasn't soggy at all, and although at first glance it appeared it was going to be too thick, it ended up being just the right width. Where the pie really got to shine though was its flavor. The lime had a big presence, without being too overpowering. A lot of key lime pies tone down the lime flavor too much, but this pie had it figured out. Overall, this pie was my favorite out of all the ones I got to try, and I would definitely recommend it.
After trying them all, we have confidently ranked Tiny Pie's seasonal flavors, from best to worst: 
Chocolate Bourbon Pecan

Apple Cranberry

Pumpkin Chai

Sweet Potato Pecan. 
Although we both wound up favoring our personal choices, we discovered that Chocolate Bourbon Pecan would be next in line for our choosing and would therefore be the best choice to bring to the Thanksgiving table.