An ideal dining experience, pho real
Pho MPH succeeds in flavors, atmosphere, service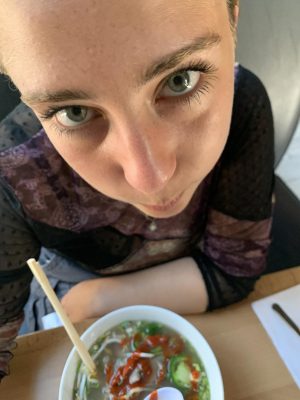 Like anyone else, we are pho pho-natics. We look for a simple, delicate flavor profile and like to be able to customize the taste to our likings. For this, no place is better than Pho MPH (4616 Triangle Ave Ste 203, Austin, TX 78751). Located in the Triangle it is accessible and relatively cheap, so us high school students can easily eat there if the opportunity rises.
Their classic beef pho provides us with the flavor profile we are looking for! It blends warm, hearty flavors from ingredients like beef and the spices in the broth with fresh flavors, reminiscent of springtime air thanks to ingredients like lime, basil and bean sprouts. Each table comes fitted with sriracha and hoisin sauce so that patrons can adjust the taste to how they wish it to be. The noodles are tasty and never overcooked, always having a solid chew factor that helps break up the textures. You can also order a drink with your meal. They have the basics: soda pops and water, but also have boba drinks and an assortment of teas, but we typically go with Dr. Pepper.
The ambiance of the restaurant is enhanced by the abundance of natural light streaming through the floor-to-ceiling windows. You never know what you'll get in terms of tunes when you walk through the tall doors… will it be a country song crooning in your ear or a cover of a classic Shawn Mendes song? Who's to say, but you know it will be good. If you're really lucky, the TV will be stuck on a one-and-a-half-hour-long advertisement for an online church featuring a real-life sermon.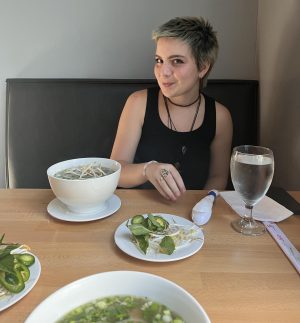 Our personal experiences with this restaurant have all been pleasant and that is in large part due to the dedicated staff of two. The servers are always friendly and treat guests with the utmost respect and kindness. You can always look forward to a gleaming grin of glee on the staff's faces as they bring you a steamy bowl of pho.
If you're looking for an artsy place to chow down on that pho, you will love it! The walls are covered in hand-painted murals featuring masterfully crafted portraits of birds and their homes; trees.
All in all, we definitely recommend Pho MPH if you're in the mood for some good classic pho that will definitely hit the spot and is Flavor Profiles™ approved!