When it comes to barbecue, Texas can't be beat
If you destination is a full stomach and a happy disposition, our resident travel writer has you covered
If you're looking for something to eat in Texas, there are plenty of options. You can get some great tacos down south, enormous steaks up in the panhandle, pretty decent burgers just about everywhere, and of course, barbecue. There is a friendly debate across the southern United States over who has the best barbecue. Some say the Carolinas are better, some insist Missouri, but deep down they all know that you can't beat Texas. Now, there's a reason for this: In the 1830s, there were many German immigrants in the state, and they settled some towns such as Fredericksburg (issue 2 of Rhodes Traveled, anyone remember?) and New Braunfels. These Germans brought with them a method for cooking meat where they would smoke it for upwords of 24 hours. That, along with some of the best quality Texas beef cattle, is the reason we have the best barbecue in the country.
You can find good barbecue all over the state, and fortunately for us some of it is not far from Austin. In fact, there are some good places in the middle of the city, but that's for another time. For this issue, I'll cover four places, all fairly close: Louie Mueller in Taylor, Snow's BBQ in Lexington, City Meat Market in Giddings and Kreuz Market in Lockhart. Keep in mind that there are dozens of excellent barbecue joins a days drive from Austin; these are merely a few of my favorites.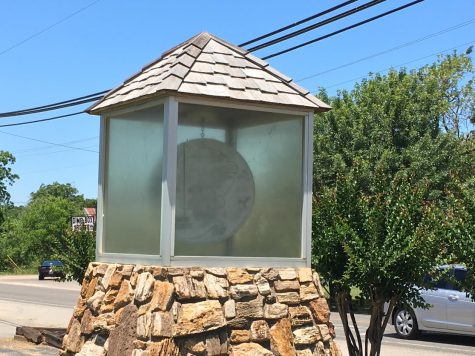 Now I know what you may be thinking: Max Rhodes, the travel blogger, is writing a food review? Don't worry, this is still about travel, just instead of the destination being a museum for soda or a retired combat ship, it's food. The roads shall still be traveled.
Anyway, let's talk about the logistics. You could definitely hit all these places in one day, but you may be so full you'd never want to eat again. So, you could either portion yourself and only eat a little at restaurant (which can be more difficult than it sounds), or just go on separate days. Either way, you can't go wrong. A round trip with a stop at each place would be about 170 miles, and take about 3 hours, not including time for eating, sightseeing or sleeping after eating too much.
First up is Louie Mueller Barbecue. Located in the small town of Taylor, it's about a 40 minute drive from Austin (25 if you hit the lights right). Louie Mueller was opened in 1949 and has been named the best barbecue in Texas by Texas Monthly, The New York Times, and the Food Network. They offer a classic selection of brisket, pork ribs and beef ribs. All of which are very good, but the brisket and beef ribs are about as good as it gets. While you're in Taylor, you can explore the historic downtown and check out some of the antique stores, if you're into that. After you've had all of the Taylor you can take, it's a quick 30 miles to Lexington, home to our next barbecue destination.
Lexington Texas is home to a church, gas station and one of the best barbecue restaurants in the state. Snow's BBQ, like Louie Mueller, has been praised by Texas Monthly and the Food Network for having some of the best smoked meat Texas, even the country. Unlike Louie Mueller, Snow's is only opened on Saturdays, which may be a factor to plan your trip around. This is probably my favorite barbecue place I've been to, as it probably offers the best brisket money can buy. However, they sell out quickly, so try to get there before noon. After you've eaten your fill, there isn't a whole lot to do in Lexington, so I'd suggest heading out.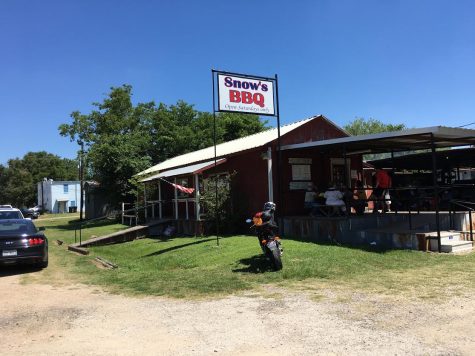 If you need a little time before the next barbecue place, which is in Giddings, you could take a little detour to Dime Box Texas. Located right next to Old Dime Box, there's plenty to do here, such as look at the large dime in its box.
Giddings Texas is a mere 17 miles away, and has an impressive population of 5,000 compared to Lexingtons 1,000 (and like 250 in Dime Box). The City Meat Market is our point of interest, which differs a little from the past two restaurants. It was built in 1941 and is located in an old, stone walled building. The brisket doesn't quite stand up to the other places, but the pork ribs are good, and their specialty is the sausage. The old building is pretty interesting too, as well as the locals who eat there. Outside of the restaurant, you can check out the historic courthouse and the grounds. You may want to keep your eye on the clock, because its an hour drive to the next place.  
This barbecue train has one more stop, and it's at a little town called Lockhart. This town is home to a few legendary barbecue places, including Blacks BBQ, which you can also get in Austin, and Kreuz Market Barbecue. Kreuz Market has quite a history: it was started in 1900 as part of a grocery store and slowly grew in popularity until 1997 when they had to move to a new location. During this move, the owners made sure to bring some of the original coals that had been burning since 1900 to the new location.
This place is definentally known for its brisket, although the pork ribs and the sausage  are also good. The meat is served on a piece of butcher paper (and a tray), just like when the restaurant was founded. Apart from the excellent food, this location, being built in the last 20 years has a valuable asset: Air conditioning. It gets hot y'all
If you'd like, there's another historic courthouse in downtown Lockhart, but if not, Austin is merely a half hour drive away. You know, not every city is just a few hours drive from some of the best barbecue restaurants in the state, or even country. So before it gets too hot, I'd suggest taking advantage of this and going on your own barbecue road trip.