Student, faculty organizers overcome obstacles to observe Black History Month in its entirety
What was once a single assembly has grown into a month full of history, culture and honest conversation about race
Ava Bernitz, Amaya Collier, Charlotte Cross, Logan Davis, Gaby Esquivel, Morgan Eye, Stella Little, Ellie Loudermilk, Gergő Major, Merrill Price, Ingrid Smith, and Tristen Wright
March 21, 2023
"
We have to stand together to build a stronger community for not just our success but for the success of the people who will come after us. We have to be the trail blazers for the change we want to see."
— senior panelist Genesis Ritcherson
The 2023 edition of the #MACbacksBLACK Black History Month celebration was not without obstacles to overcome. A sudden ice storm  canceled the first week of February and froze the promotion and kickoff of Black History Month before it could even start, and perennial keynote speaker Yvonne Adams, the director of equity and inclusion at St. Stephen's Episcopal School, had to cancel her appearance at Mac because she is battling a serious illness.
The Students of Color Alliance and its sponsor Tonya Moore and longtime #MACbacksBLACK organizer assistant principal Larry Featherstone did not allow Black History Month to be lessened in any way by these challenges. Rather, they rescheduled events and extended the Mac version of Black History Month through the first month of March. Instead of canceling the second of two Black History Month assemblies, they recalibrated it with a teen talk as the headline event in a presentation that included a step show, a lecture on historically Black colleges and universities, a trivia contest and some real talk about race that allowed non-Black students to understand better the perspective and experience of Black students at McCallum.
We are proud to revisit the #MACbacksBLACK observation of Black History Month as this week's Tuesday Top 10 photo essay.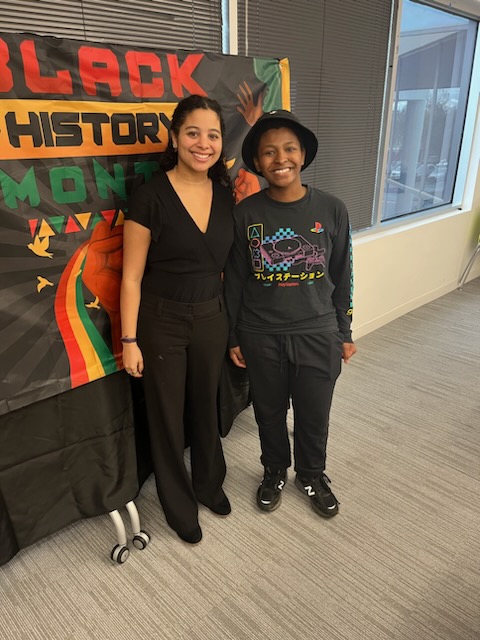 Senior Regan Sims and junior Gigi Kahlor represent McCallum at the Black Table Talk Series at AISD headquarters. The event was held on Feb. 8 with the purpose of gaining insight into minority student's experiences within AISD and discussing the ways Black History month is supported in their school. 
The panel was composed of a few students from AISD high schools, including Austin High, Anderson, Northeast, Bowie and Travis. Students were divided into two groups of six where they were given discussion questions such as: "What is the difference between cultural appropriation and appreciation?" and "What is equity and how does it relate to equality?" 
A topic of discussion that resonated with Sims was education lacking in-depth teachings of Black History. She feels that our curriculum avoids the "hard conversations" due to "white guilt."
"Most of the time schools only allow 'slavery happened, it was bad, moving on' because of how sensitive of a topic it is," Sims said.
In addition to reforming the way Black History is presented in the classroom, Sims hopes to see more diversity in teachers at McCallum.
"One difference I believe to see at McCallum is definitely the diversity within the staff," she said. "I feel like McCallum is doing a good job of trying to be inclusive and diverse, but the biggest thing I've noticed is that I've never been taught by an African-American teacher."
Caption by Amaya Collier. Photo courtesy of Tonya Moore.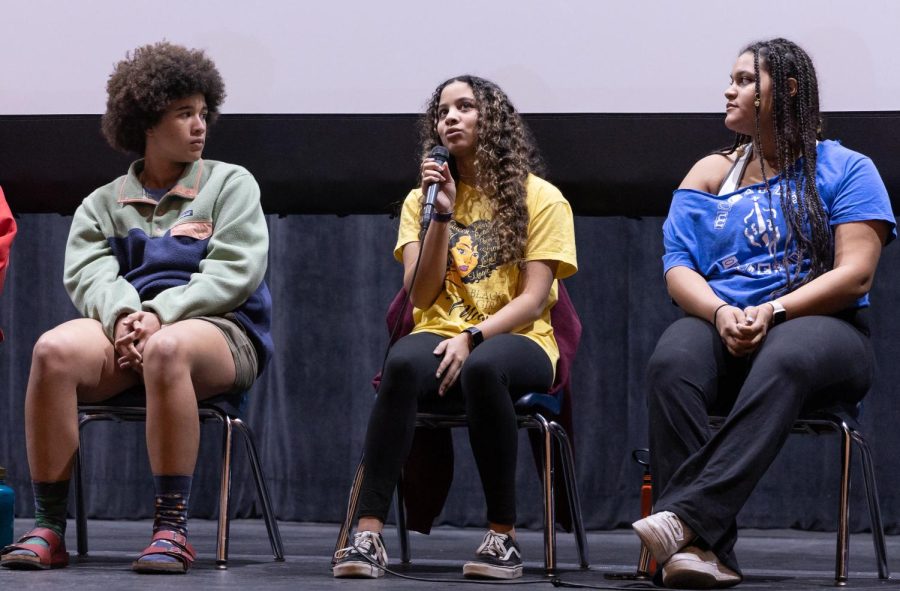 As a veteran participant in AISD student panels, senior Regan Sims feels they are a resourceful way to stimulate visible change and amplify student voices. "I believe student panels are amazing," said Sims, shown here speaking at the Mac Black History Month teen panel on March 3. "I was inspired by one in my freshman year and decided to be a part of one at school my junior year. As a senior, I went on to a panel on AISD TV to encourage others to speak up. They are a great way to let other students and teachers know how we feel. It especially lets the other minority students know that they're not alone."
Sims believes student panels like the Black Table Talk Series are greatly beneficial as they empower minority students to speak out when they are feeling discriminated against or unsafe. 
"I loved being able to talk to other students who had the same experience that I have had dealing with race in schools," she said. "The table talk never felt like a forced conversation. I felt like I was talking to friends I have known forever and it was an extra welcoming and safe space."
Reporting by Amaya Collier. Photo by Gergo Major.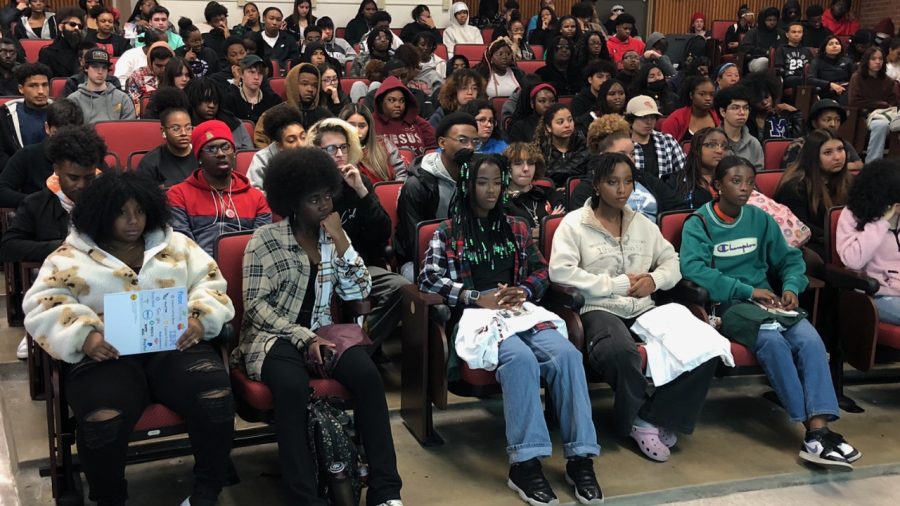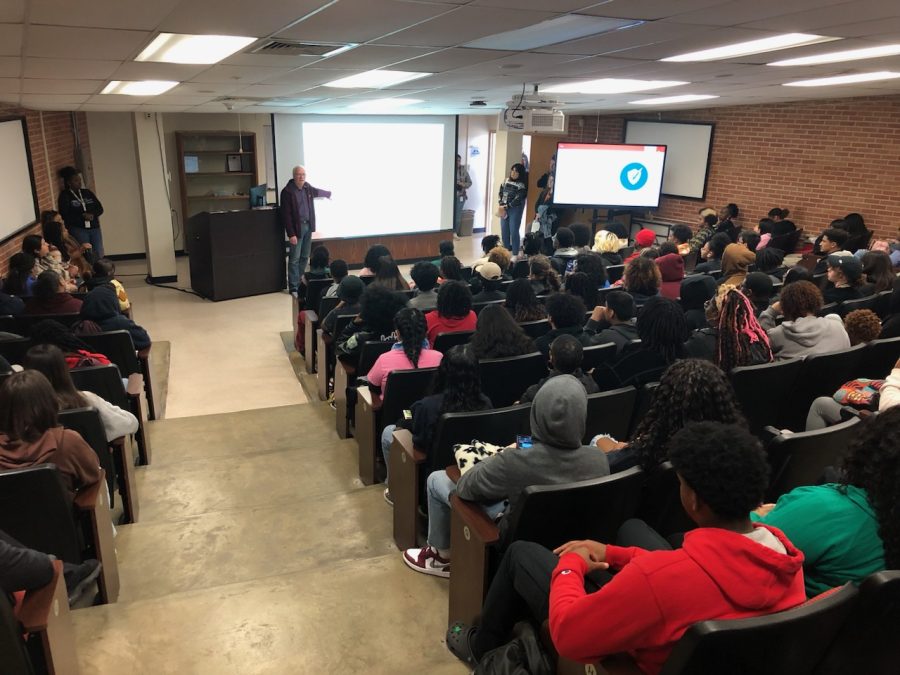 A group of about 40 McCallum students enjoyed a visit to Huston-Tillotson University on Friday Feb. 10 as part of the #MACbacksBLACK celebration of Black History Month. As part of the full-day experience, the students were able to have lunch with department chairs at the historically Black university. Dr. Mike Hirsch, a sociology professor and dean of the College of Arts and Sciences, told male students that they can attend Huston-Tillotson for free on a full scholarship, funded by Apple, if they are interested in studying education. He said that there aren't enough Black men in education—especially at the elementary level—and that many elementary, middle and high school internship opportunities do not get filled. Photos by Larry Featherstone.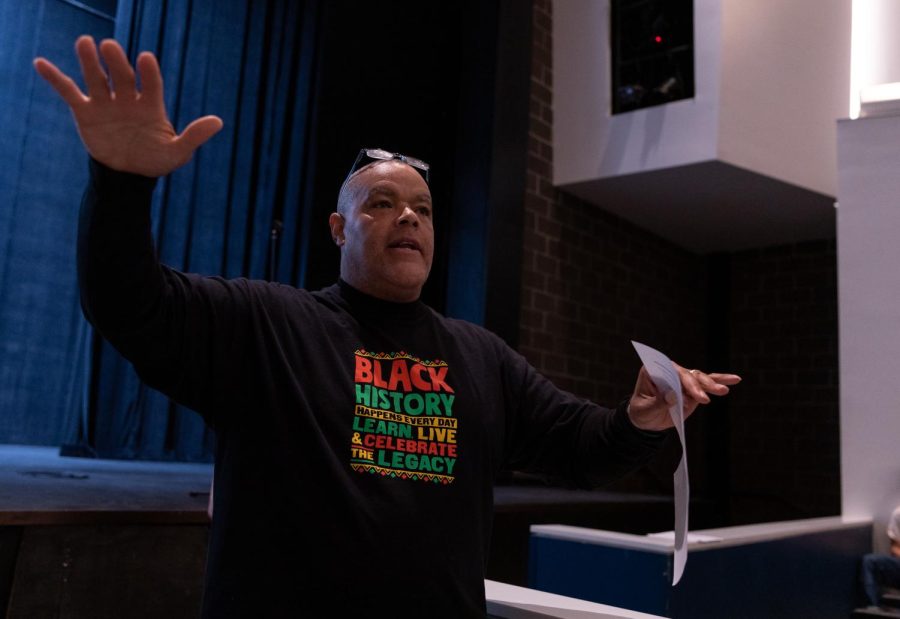 To begin the Black History Month assembly in the MAC on March 3, assistant principal Larry Featherstone presented a short lecture on historically Black colleges and universities or HBCU's. Created to support higher education for Black students in post-Civil War America, HBCU's continue to play an essential role in preserving Black culture and traditions. To illustrate that fact, Featherstone shared a video of the Kappa Alpha Psi fraternity performing a step show during 2022 homecoming festivities at Grambling State University last fall. Featherstone also stressed, however, that HBCU's welcome students from all backgrounds. Some HBCU's enroll up to 40% white students. He even told the story of a white McCallum salutatorian who chose to attend an HBCU over UT in order to play their chosen sport on scholarship. Photo by Gergő Major.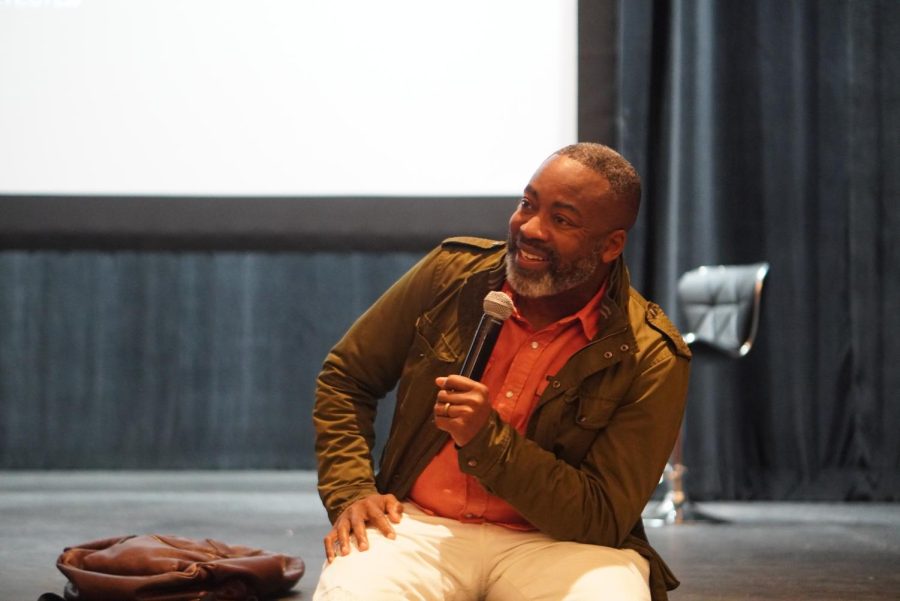 As he has for many years, UT professor Dr. Leonard Moore helped McCallum commemorate Black History Month on Monday Feb. 13 with three lectures in the MAC that gave the students in attendance a taste of what UT students learn in Moore's popular American history course, "Black Southerners in the Age of Jim Crow."
In a presentation that he gave to students during first, second and fourth periods, Moore connected the past and the present and stressed above all the importance of increasing one's cultural intelligence by learning about the perspectives and experiences of people from different backgrounds.
 "I think that Black history's essential. It's essential," Moore told MacJournalism after his first-period lecture. "I don't think you can function without knowing it."
He said that the more than 300 white students taking his UT course understand this and sign up for the course so that they are equipped to thrive in a diverse, modern workplace.
"I love teaching white kids Black history," said Moore, who is in his 16th year as a professor at UT after nine before that at LSU. "They love it, they eat it up. I just wish moms and dads of younger kids would see the value in getting their kids exposed to Black history at a younger age."
Reporting by Ava Bernitz, Morgan Eye, Ellie Loudermilk, Merrill Price, Dave Winter and Tristen Wright. Photo by Stella Little.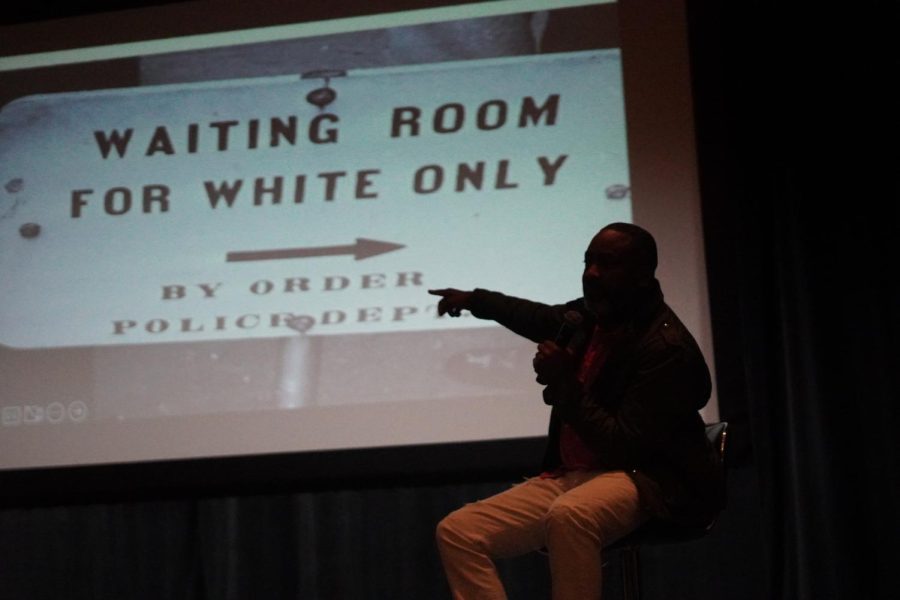 Before UT history professor Dr. Leonard Moore began his lesson about the Black southern experience in the post-Civil War south on Feb. 13 in the MAC, he asked the students if they wanted to hear the collegiate version or the high school version of the presentation. After the group responded that they wanted the collegiate experience, he spoke at length about the past and the present and how they are inextricably connected. 
 "The past is never the past," he told the students. "The present is the product of what happened before."
Moore said that the southern Black response to earning their freedom in the wake of the Civil War reveals that Black people valued innovation, entrepreneurism, family and education. After earning their freedom, Black southerners left the plantation, changed their names, reunited their families, purchased property, started the first public schools in the South and created their own churches.
In response to these initiatives, the white southern power structure enacted Jim Crow segregation and disenfranchised Black voters through a mix of direct violence, poll taxes and grandfather clauses.
In one memorable portion of his presentation, Moore likened the economic legacy of this discrimination to a messed up version of Monopoly where he (representing a Black southerner) plays a board game with white neighbors in which he was not allowed to buy anything until after going around the board 20 times. By then he said, he would not be able to buy any property because the white players would have bought everything on the board before he was allowed to play equally.
To extend the analogy, Moore encouraged the students to imagine the parents leaving the house and their children coming downstairs to continue the game they inherited from their parents. Taking his place at the board, Moore's daughter would have no property and no money because he would have nothing to leave to her, and the other players would have the resources they inherited from their parents. The analogy, he said, describes what happened to the generations of Black families who lacked resources to use to build wealth across several generations.
Reporting by Ava Bernitz, Morgan Eye, Ellie Loudermilk, Merrill Price, Dave Winter and Tristen Wright. Photo by Merrill Price.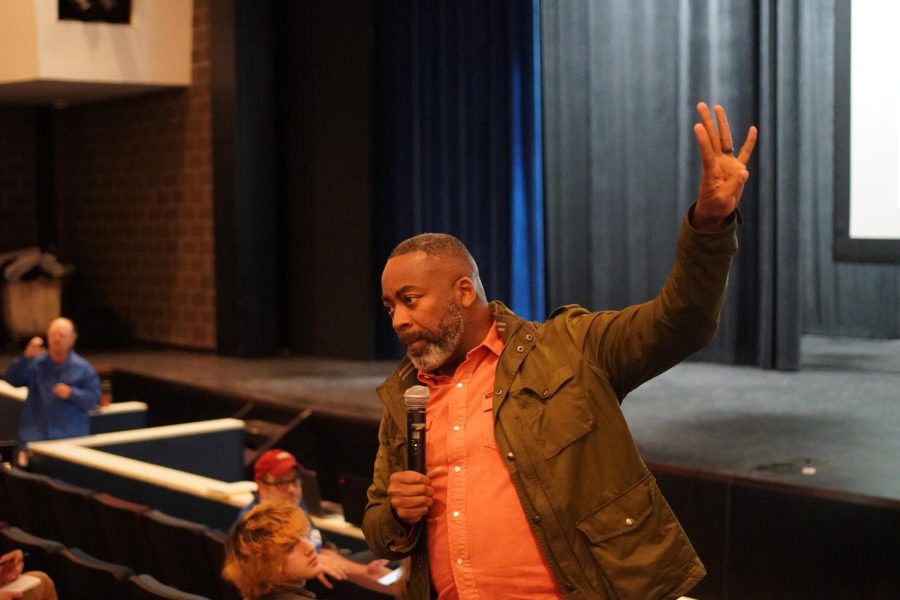 While UT history profession Dr. Leonard Moore argued that the present is inextricably affected by the past, he also offered some of his strongest criticism for current American culture, specifically Black male hip-hop artists who he said degrade Black women in their lyrics.
"The Black woman," Moore said, "is the most disrespected person on the face of the Earth."
He summed up his lecture in the MAC on Feb. 13 by congratulating all of the students in attendance for increasing their cultural intelligence.
Reporting by Ava Bernitz, Morgan Eye, Ellie Loudermilk, Merrill Price, Dave Winter and Tristen Wright. Photo by Merrill Price.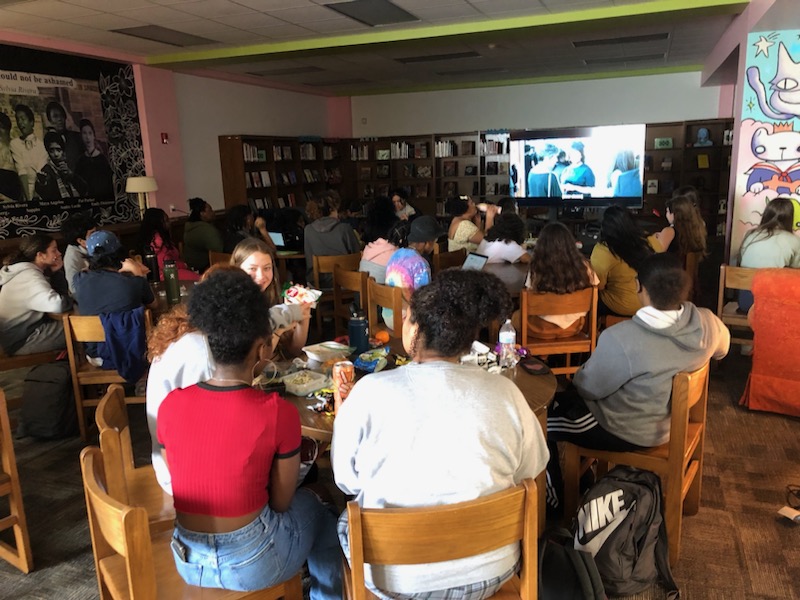 The MACbacksBLACK celebration of Black History month continued on with lunchtime Movie Knights in the library on Tuesday Feb. 14 and Wednesday Feb. 15 where attendees watched episodes of the Golden Globe and NAACP-award winning series, "Blackish." In the critically acclaimed series, a family man (Anthony Anderson) struggles to gain a sense of cultural identity while raising his kids in a predominantly white, upper-middle-class neighborhood.
Photo by Larry Feathersone.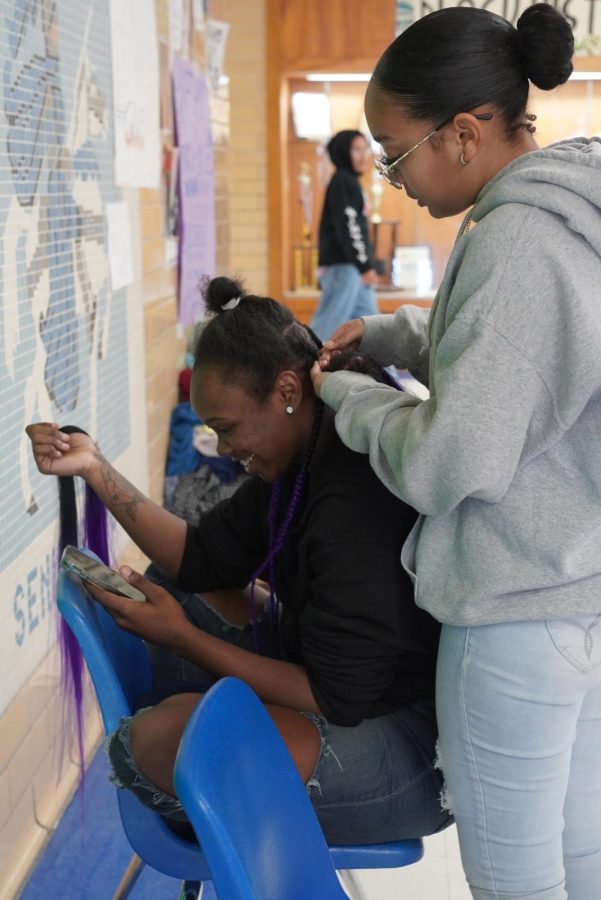 A cornrow and box braid demonstration took place during lunchtime on Friday Feb. 17 in the center hall as a part of the Mac Backs Black campus observance of Black History Month. Junior Shay Valdes braided junior Envy Hose's hair into knotless jumbo box braids to showcase the history of Black hairstyles. Valdes wanted to participate in this event to demonstrate how these hairstyles help with growth, protect hair ends and convey collective identity.
"It's not that hard," Valdes said of the process of making braids. "It looks hard, but the more you practice, the easier it gets. I didn't get much practice. I watched videos, and I know how to do it on myself, but now I'll try it on someone else."
According to literature that was distributed during this event, the magic behind braids started during the years of slavery and "was a way for them to escape bondage." Some still wear "braids to protect their hair but also empower with love and respect for [their] culture". Hair remains significantly important in "Black culture because it symbolizes wisdom, strength and religion."
 Photos and caption by Gaby Esquivel.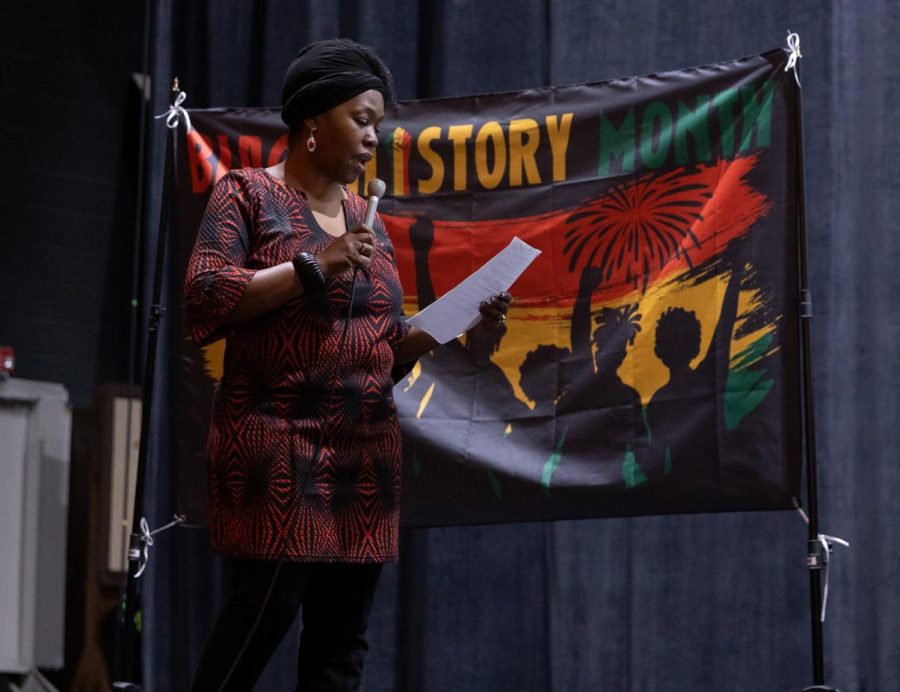 In his introduction of the Black History Month assembly on March 3, assistant principal Larry Featherstone said that the assembly's intended to address the truth that "we need to learn more about people who do not look like us." To move the conversation in that direction before turning the program over to a teen panel of Black students, Students of Color Alliance sponsor Tonya Moore answered "three questions you've always wanted to ask a Black Friend." To the question "Can I touch your hair?" Moore said she answered yes to a close friend but felt the question was strange and inappropriate when coming from strangers. She responded to the second question—"Do black people get sunburn?"—with an emphatic "Yes." The answer to the third question—"Do you prefer to be called Black or African American?"—Moore said, "It's a preference. I prefer to be called Black. and I don't like African-American, but my daughters would give different answers to the question." Photo and caption by Gergő Major.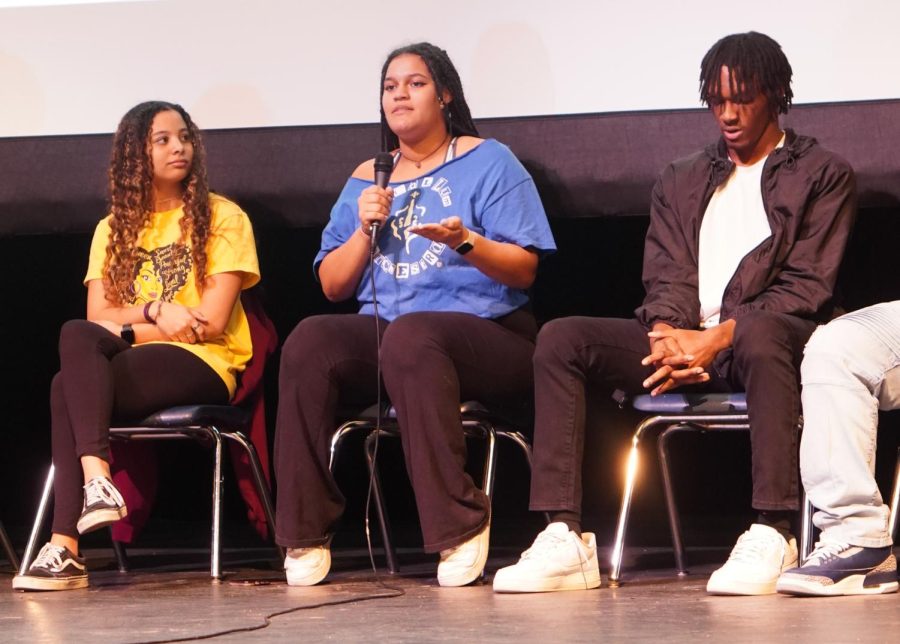 A PANEL OF PERSPECTIVES: McCallum wrapped up its Black History Month celebrations with a student panel across three class periods on March 3. Senior panelist Genesis Ritcherson, a Students of Color Alliance member, was excited about the opportunity to share her experience as a Black student at McCallum. According to Ritcherson, each member of the Students of Color Alliance came up with questions they wanted to answer.
"Personally, the things I wanted to speak out about were the struggles that I know best such as biracial discrimination, colorism and lack of diversity in the arts and sports here at McCallum," Ritcherson said.
After transferring to McCallum junior year and participating in a variety of activities from cheer to orchestra, Ritcherson felt that she had a unique perspective to share. According to her, the student panel was impactful because it put a spotlight on lots of diverse perspectives and experiences. 
"I spoke out about being the only Black girl on the cheer team and the pressure and expectations I've experienced because of that," Ritcherson said. "I also used that as an opportunity to tell the audience that being the only person of color in a new community is very intimidating. In spite of that, we have to be the first because if not me, then who?" 
Caption by Ingrid Smith. Photo by Charlotte Cross.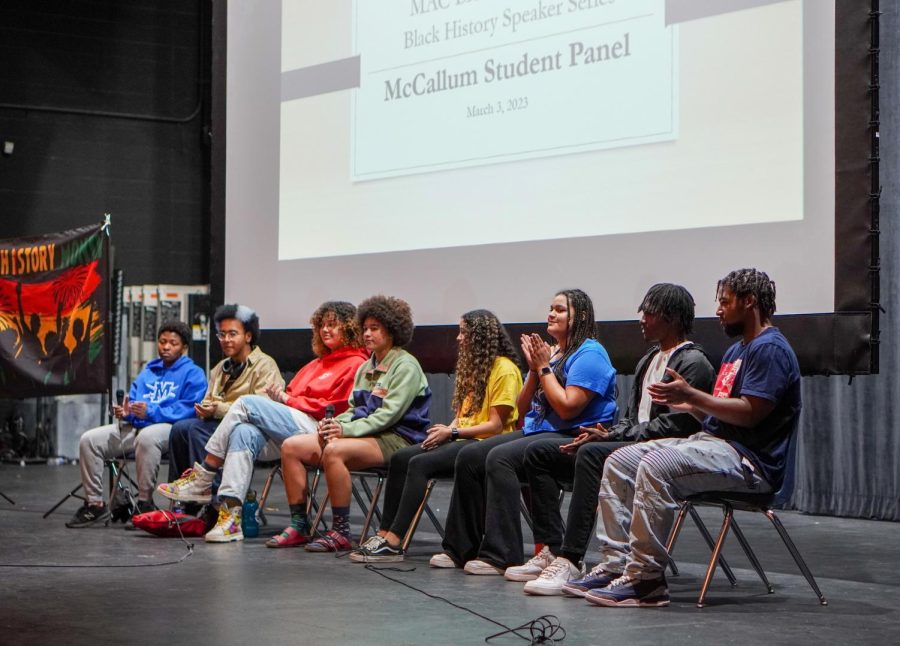 According to senior panelist Genesis Ritcherson, the student panel on March 3 in the MAC was special in that it allowed students to hear from "real kids with very real struggles." By learning about issues of discrimination within the community, even panelists like Ritcherson gained a deeper understanding. 
"If we want to raise awareness, especially at schools, kids will understand better if they can see it happen to them or people close to them," Ritcherson. "When people see what's happening in the media, it's really easy for us to say 'it won't affect me' or 'it didn't happen near me so why should I care.' We have to show them the effects that impact people close to them."
While Black History Month is over, Ritcherson hopes that McCallum students will continue to seek out different perspectives and create positive change. 
"Your words and actions matter and have real effects on the people around you, especially in terms of making change," Ritcherson said. "We have to stand together to build a stronger community for not just our success but for the success of the people who will come after us. We have to be the trail blazers for the change we want to see."
Caption by Ingrid Smith. Photo by Logan Davis.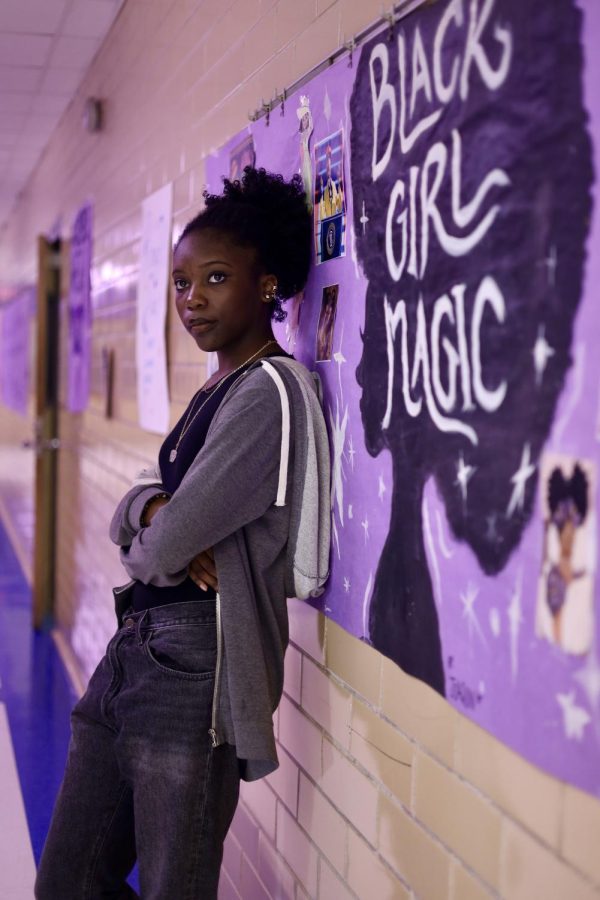 Black Girl Magic contest winner senior Sahara Cumberbatch stands in front of the "Black Girl Magic" billboard on March 7 in the central hallway. She received her award from Tonya Moore on March 6 for the submission of her piece, "Women of Light and Color." 
The contest was organized as part of the Black History Month event series at McCallum with the intention of highlighting Black female artists. Cumberbatch, won a coffee mug along with a $25 gift card. Cumberbatch's winning submission was an art piece depicting a young Black woman empowered by her individuality.
"I entered this piece because the inspiration was my identity as a Black girl, and because of that, the parts of me that make me stand out physically for most of my classmates," she said.
Reporting by Amaya Collier. Photo by Gergő Major.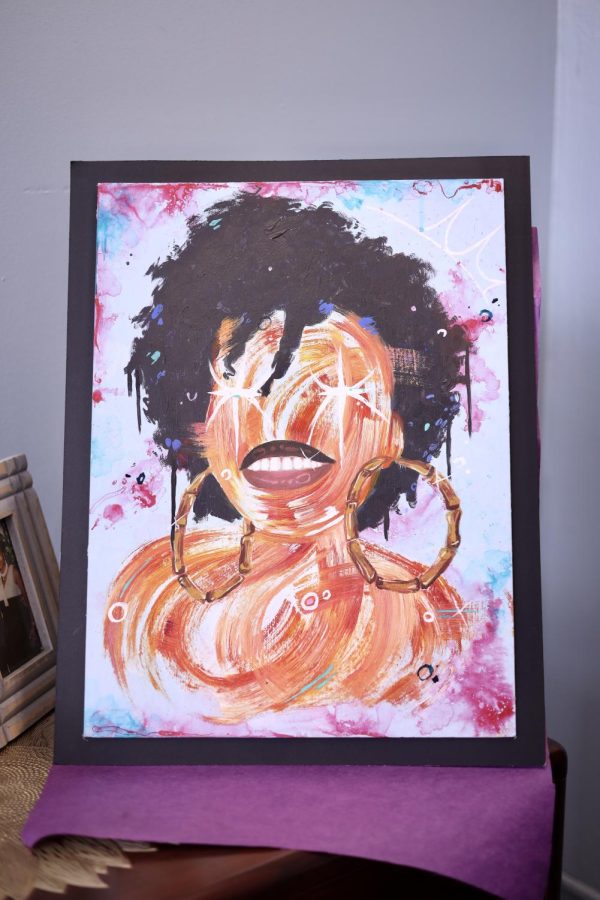 Senior Sahara Cumberbatch hopes her Black Girl Magic contest-winning piece, shown here, will inspire confidence in embracing differences and emphasize the message that you don't have to change the things that make you unique.
"This year as a senior art major all my artworks have to connect in some way," she said. "I've been exploring the struggles I faced with myself at times that up until now I usually try to ignore." 
Cumberbatch viewed the contest as an opportunity to embrace her identity and show appreciation for Black History Month. She is especially thankful to contest organizer Tonya Moore, Students of Color Alliance sponsor, for encouraging her to submit her artwork to the contest.
"Ms. Moore said that I should enter one of my art pieces. Because I'm a major, she thought It would be good to have one of my works," she said. "I appreciate the chance for Black people and Black culture to be celebrated. Seeing the different submissions makes me smile whenever I walk in the hallways."
Reporting by Amaya Collier. Photo by Gergő Major.