Black History Month at McCallum
UT professor, Students of Color Alliance speakers reveal challenges that African Americans face every day
UT professor Leonard Moore speaks on history of race in United States
For the sixth straight year, Dr. Leonard Moore, a U.S. history professor at the University of Texas, spoke at the Black History Month presentation to teach students about the history of race in America. Dr. Moore was invited by assistant principal Larry Featherstone and was followed by a panel of student speakers who had also helped to organize the event.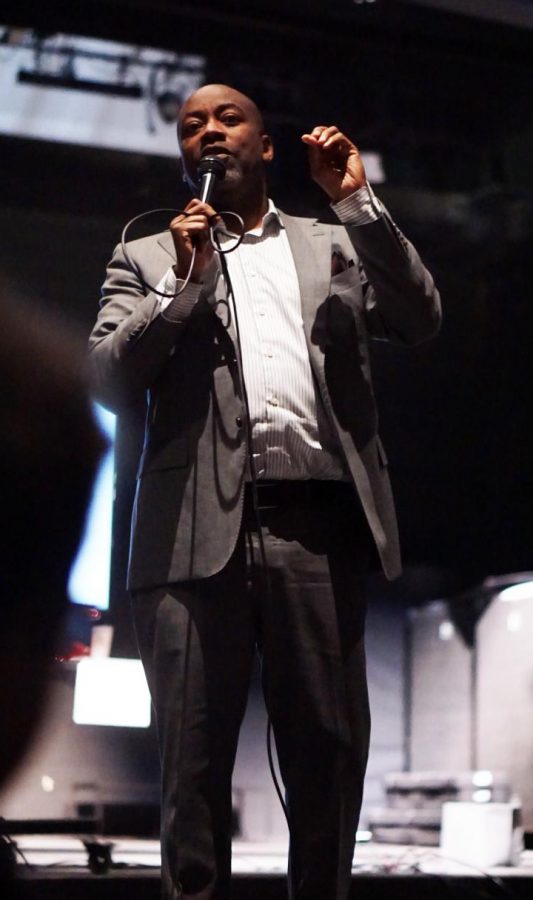 EXCERPTS FROM AN EXPERT: Dr. Leonard Moore began his presentation to McCallum students by making the case that Black History Month and more broadly understanding black culture and black experiences in America is critically important for all Americans. He related the central theme that he teaches in his course for UT law students: "If you are going to be successful, you have to understand black people." Moore told his audience that he teaches the two biggest classes at UT, "History of the Black Power Movement" and "Race in the Age of Trump," which combined have 1,060 students, 700 of them white. White UT students take the class, he said, because they understand the importance of cultural competence. "Whenever you put the word 'black' in front of something in America, people get nervous, unless you're dealing with sports," Moore said. "White America gets frightened about Black History Month because they don't want to be reminded about how they treated black people." To illustrate this phenomenon, he pointed out that there are 60 museums about the Holocaust in the United States and only one–in Cincinnati–about slavery. "The Holocaust didn't even happen here. How do you get 60 museums in America about an event that didn't even happen here? 60? And the best one is in D.C. It's probably the best museum in the world that I've ever been to. I was completely blown away. I was there for four hours. When it was time to close up, I asked the guy running the museum, 'Can you just leave me key, and I'll lock up when I leave?' It was that dynamic." Why, Moore asked, aren't there more museums about slavery, about Jim Crow, about the segregation of Austin along I-35? "America is ashamed to deal with it," he said, answering his own question. "Guess who suffers the most? You know what my white kids tell me at UT? 'Dr. Moore I can't believe my school didn't teach me this stuff in middle school, high school and elementary school.'" Photo by David Winter.
IF IT CAN'T BE USED TO DESCRIBE YOU, DON'T SAY IT: In his guest lecture at McCallum on Feb. 7, Dr. Leonard Moore stresses that some terms are specific to the group they describe and should not be used by others outside that group because the meaning changes when you do.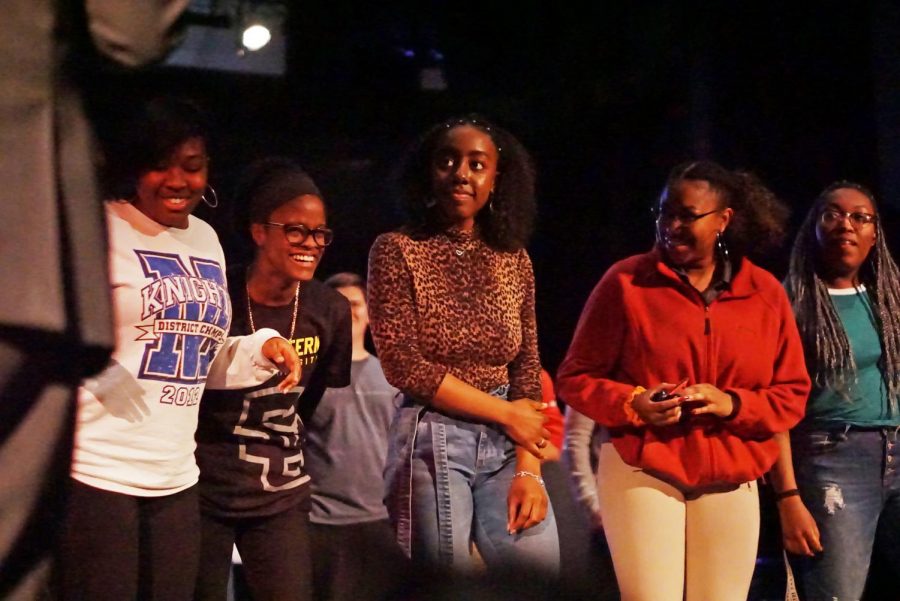 JUST SMART: Seniors Danielle Atwood, Lia Jones, Brooke Miller and Kyla Gibson, and junior Vivian Odoms volunteer to go on stage during Dr. Leonard Moore's fourth-period talk. Gibson said that being a person of color has impacted her experiences at school "In AP classes the teachers are always like, 'Oh my God we love you, you're so smart.' But there's always that stereotype of "you're smart for a black person," Gibson explained. "I just want to be smart for being smart." Photo by Regan Sims.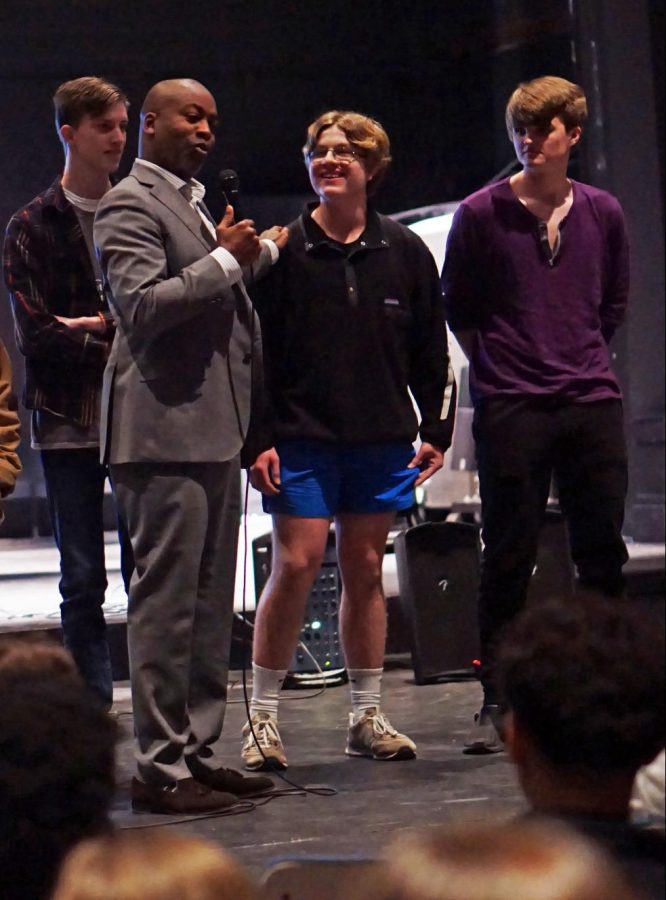 IDENTITY CHANGED: Junior Taft Stansel, freshman Ron Wolleben and junior Corin Vandenberg join Dr. Leonard Moore' on stage in the FABT during second period last Friday. "He brought a set of white kids and a set of black kids on stage to show that it doesn't matter what nationality you were in Europe or Africa; in America you are just white or black," Wolleben said. Photo by David Winter.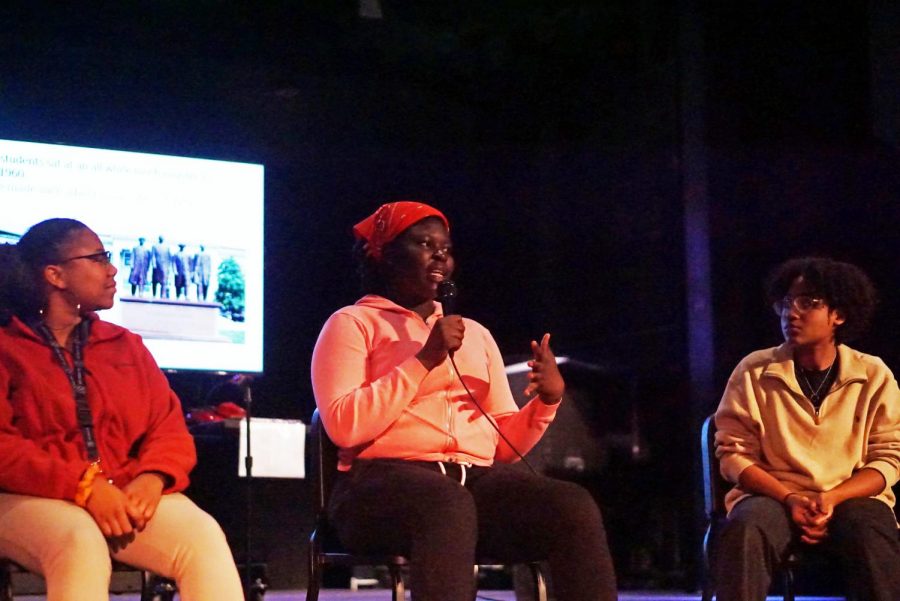 FIRST A LISTENER, NOW A PRESENTER: Tracy Atoo was intrigued by the Black History Month presentation that Mr. Featherstone hosted last year, so at the beginning of January she started asking Mr. Featherstone if she could contribute as a student speaker for this year's presentation. During the presentation Atoo mentioned how sometimes it is a challenge to be the only student of color in Pre-AP classes because the majority of the students are white, "I always have to prove myself that I belong in the Pre-AP classes," she said. Atoo thinks that the presentation was a success, and opened the eyes of others. After the presentation some audience members came up and asked her and the other student speakers questions about other challenges they go through. "This was a very important presentation for me becaus I feel like, not everybody, but a good chunk of the kids and adults at school are pretty ignorant on the issues that we face being black in America, and so it's important that they can see our daily struggles and possibly understand and be sympathetic," Atoo said. She said that through the presentation, she learned to not be afraid to speak her truth and her mind. Photo by Regan Sims.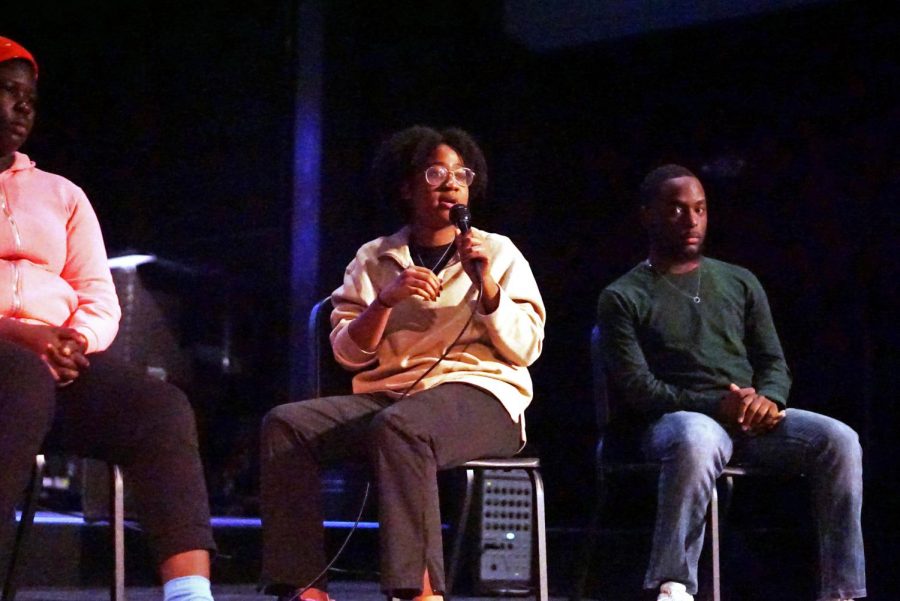 SPREADING UNDERSTANDING: Senior Jaylen Wilbourn worked towards "knowledge and empathy" by speaking on the differences between black youth and their peers, representation of people of color, and how to recognize and acknowledge differences. "We live in a world where everybody is different and [we've] all been through different things," Wilbourn said. "We have to be aware that we see things in a completely different way and the world sees us in a different way. Just recognize that everyone has different experiences and respect it. " Photo by Regan Sims.
Hallway gallery showcases original works of art by Mac students of color
Greeting students and staff as they walk into school, the gallery wall across from the main office is filled with art from African American artists here at McCallum, as well as featured artists of color renowned throughout the world for Black History Month. The Shield asked three of the showcased artists to share more about their works and the inspiration behind them. Here are the responses from freshman Sahara Cumberpatch, sophomore Montrel Beverley and senior Brooke Miller.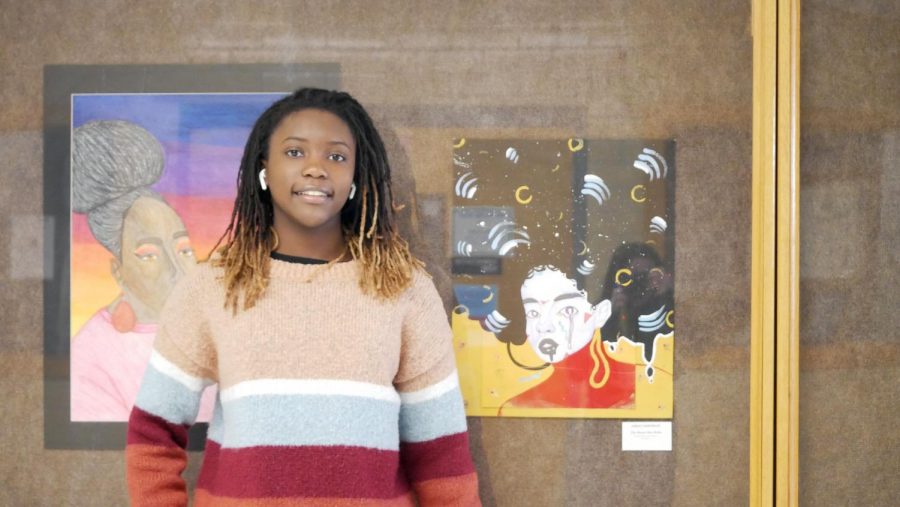 SAHARA CUMBERPATCH: "I used a lot of shapes and bright primary colors like red, yellow and blue. I also did a lot of black to make it stand out more, and a lot of shapes. I try and draw a lot of black people and people with natural hair because I don't see that a lot, and I feel like I should just do that." Photo by Josie Bradsby.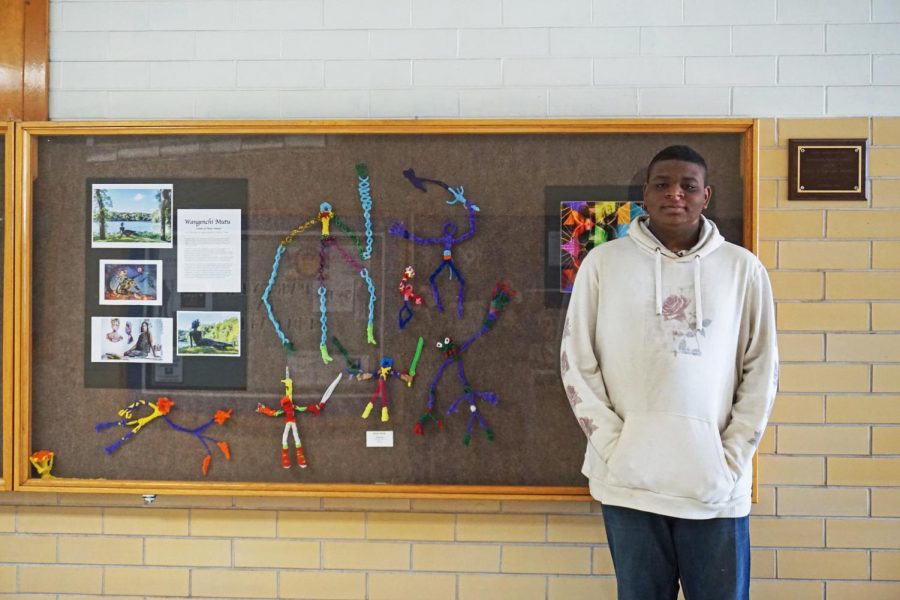 MONTREL WILLIAMS: "In elementary, I didn't really have any friends, and the teacher was doing a project with pipe cleaners, and I just started messing around with pipe cleaners and over time I got better and better, and then I started making the figures, and, well that's that." Photo by Lydia Reedy.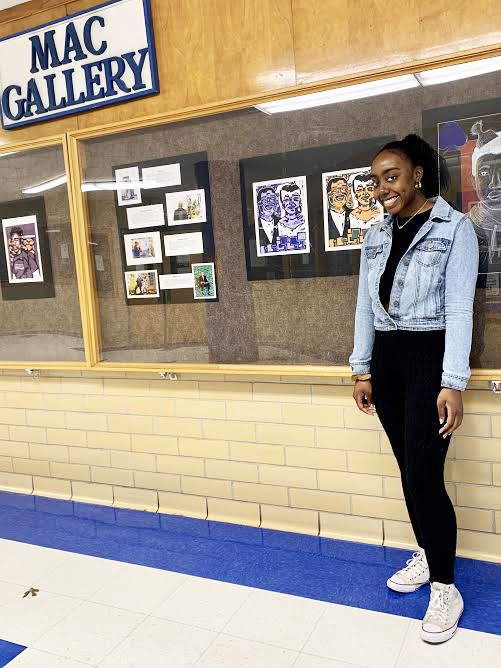 BROOKE MILLER: "What usually inspires me is my family. I do a lot of portraits, and if not, nature. I'm a [visual art] major and I'm also one of the ambassadors of the Fine Arts Academy, I'm also director for the fashion show, and I'm designing in the fashion show. I'm really excited [to be a featured artist]." Photo by Anna O'Keefe.
AVID program hosts series of Black History Month-themed events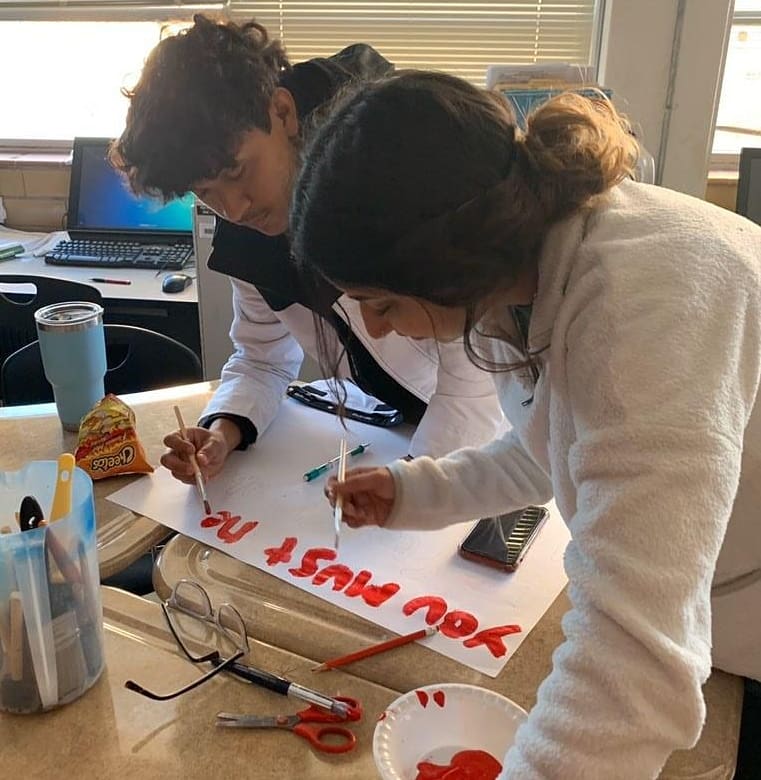 SIGNS OF THE TIMES: AVID students gathered after school Thursday to make posters celebrating black history. "I am incredibly proud of the initiative taken by students to make various events happen this month," AVID teacher Zulmy Galindo said. Diego Rivera and Cassandra Carrizales. Photo by Sydney Denmon.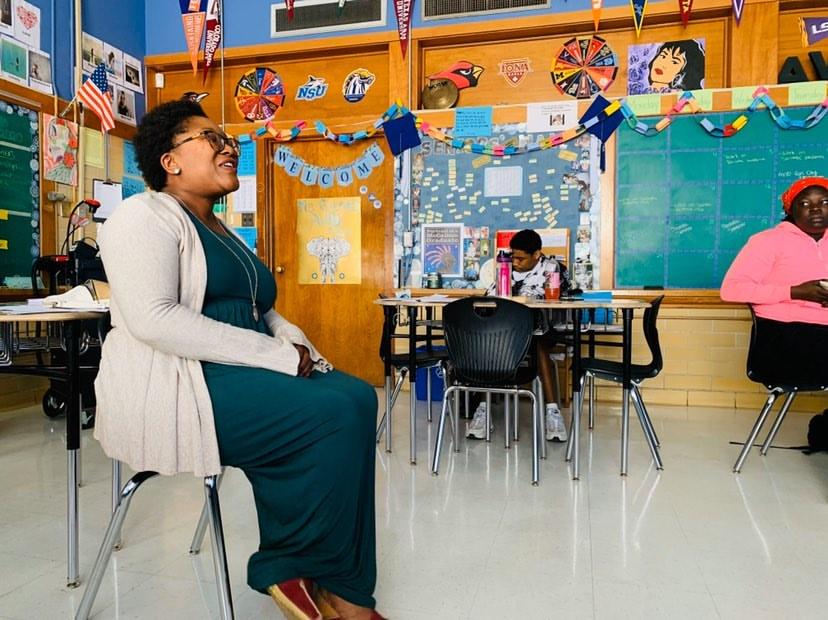 CALLED TO SERVE: The Career Speakers Series sponsored by AVID and the College/Career Center hosted Austin City Council Member Natasha Harper-Madison on Friday. Harper-Madison represents Austin's District 1, where she was born and raised. Her experience as a small business owner on the Eastside led her to get involved in political advocacy. She served as president of the East 12th Street Merchants Association and also founded East Austin Advocates, a nonprofit dedicated to connecting under-represented residents with the resources they need to succeed. She became a Council Member after winning election in her first campaign for City Council in 2018. She is the chair of the Health and Human Services Committee and sits on the Housing and Planning Committee, Judicial Committee, and Regional Affordability Committee. Photo and caption by Zulmy Galindo.