Mac's first Black student, distinguished Austin ISD employee dies at 81, leaving legacy of change, kindness
Margie Nell Hendricks Bedford integrated McCallum in 1955, continued to improve educational settings as an adult
Margie Nell Hendricks Bedford, Class of 1957, died on Aug. 7, at the age of 81. In the fall of 1955, Hendricks Bedford became the first Black student to attend Mac as part of a districtwide integration plan that sent 12 students to the district's previously all-white high schools.
"
She was always so kind and loving. She was really an amazing woman."
— Torry Coles, on her great aunt, Margie Nell Hendricks Bedford
Her critical role in Mac history is hard to overstate. A year after the historic Brown versus Topeka, Kan., Board of Education U.S. Supreme Court decision declared that racial segregation in public schools was unconstitutional, Hendricks Bedford integrated McCallum by herself as the school's lone Black student in the 1955-1956 school year.
Her success in integrating McCallum was reported in articles in The Austin Statesman in 1955 and 1956 and paved the way for expanded integration in the years that followed. She told the Statesman in an October 1955 article that her goal upon arrival at Mac was "to like everybody and make everybody like me." A second Statesman article published at the start of the 1956-1957 school year confirmed her success in achieving that goal. In the article, principal N. H. Wittner praised Hendricks for her success the previous school year, describing her as soft-spoken and courteous.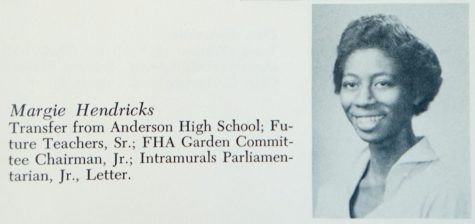 The oldest of eight siblings, she was active in her church community throughout her life. After graduating from McCallum, she went on to attend ACC and the University of Texas. She and her husband of 64 years, John Bedford, had six children together. Her descendants include 16 grandchildren and 18 great grandchildren.
Hendricks Bedford was active as a parent volunteer in Del Valle ISD, where her children attended, and she worked for 13 years for Austin ISD with distinction, teaching parenting classes throughout the district.
Several members of the Hendricks family attended McCallum throughout the years. She is the great aunt of Torry Coles, who attended McCallum from 2017-2019.
Of her great aunt, Coles said, "She was always so kind and loving. She was really an amazing woman."
Coles' grandmother, Helen Hendricks Coles, joined her sister Margie at Mac in the fall of 1956 as one of the three Black students to enroll at Mac for the first time.