Minstrel roots of "The Eyes of Texas" ignite debate within UT community
After UT Interim President Hartzell's decision to keep the alma mater tune, UT athletes decline to sing it, Longhorn Band members refuse to play it
For years, the University of Texas' alma mater, "The Eyes of Texas," was widely viewed in the community as a song of unity and togetherness. Austin high school band students dreamed of one day setting foot on the field of the Darryl K. Royal Texas Memorial Stadium and proudly playing the university's alma mater. However, as the song's minstrel origins have come to light in a time when tragedies like the police killings of George Floyd, Ahmaud Arbery and Breonna Taylor are at the forefront of our minds, the song is now a subject of division within the UT community.
The death of Floyd and the subsequent deaths of unarmed Black people at the hands of police has sparked a broader reexamination of racism in America today. On June 12, a group of more than two dozen student athletes came forward with a letter posted to social media which demanded that the university address elements of racism that pervaded the UT campus. The demands included the renaming of several buildings named after Confederate figures and supporters of slavery, the removal of statues celebrating Confederate figures and supporters of slavery and the replacement of "The Eyes of Texas," which has a connection to Confederate general Robert E. Lee and was performed at minstrel shows in the 1900s. Minstrel shows at the time were performances by white actors who traditionally wore blackface. The University of Texas put on minstrel shows to raise funds for the school until the 1960s, and they often featured performers in blackface. The group of UT athletes cited this history as the reason for their demand to replace "The Eyes of Texas" with a less racially-charged song.
"The recent events across the country regarding racial injustice have brought to light the systemic racism that has always been prevalent in our country as well as the racism that has historically plagued our campus," the athletes' statement reads. "We aim to hold the athletic department and university to a higher standard by not only asking them to keep their promise of condemning racism on our campus, but to go beyond this by taking action to make Texas more comfortable and inclusive for the black athletes and the black community that has so fervently supported this program."
"What starts here changes the world" #WeAreOne pic.twitter.com/sESyRxyQ2B

— Texas SAAC (@TexasSAAC) June 12, 2020
The athletes' demand to replace "The Eyes of Texas" was met with pushback from alumni and donors who maintain that the song's meaning has changed since its problematic origins.
"I really think that we have redeemed that song, and I would love to see all of our students and all of our alumni come together," 1983 UT alumnus John Kincade told The Daily Texan.
Many UT alumni share this view of the song.
"I would like to redefine [The Eyes of Texas]," 1965 McCallum graduate and 1970 UT alumnus Franklin Houston said. "I don't think the linkage is that strong. If UT had overt Confederate symbols, icons, whatever, statues on the grounds, then those are direct linkages. They gotta go. But if it's something that you have to go through maybe three degrees of separation to get there, I think that's pushing it a little bit. By changing something, you can't get rid of what happened."
Current UT students began to come forward with support of the athletes' statement, including members of the Longhorn Band. On June 19, junior saxophone player Judson Hayden founded LHBlacks, a student organization within the Longhorn Band dedicated to Black members. The organization now has 11 members out of the nearly 400-person band, all of whom refuse to play "The Eyes of Texas" come football season. Hayden explained that the athletes' statement helped provide a starting point for the LHBlacks to come forward about the racism on campus that reaches beyond the confines of a school song.
"We created a group chat just for all of us to talk and hang out and stuff," Hayden said. "But then after George Floyd and his murder, and all of the protests that sparked after that, and the football team coming out with a statement, we thought that this could be a pop-up for our voices to be heard."
Hayden stressed that while the athletes' demands about the song may have catalyzed the formation of LHBlacks, the organization has a far broader mission to fight for greater equity and opportunity for students of color within the band and throughout the University as a whole.
In response to multiple student organizations like the athlete group, student government, the UT Black Alliance and LHBlacks coming out against racism within UT, interim university president Jay Hartzell held a series of meetings with student organizations to let them voice their concerns. After these meetings, Hartzell released a statement to the University of Texas website on July 13 explaining an array of changes the university will make, including renaming the Robert Lee Moore hall, erecting a statue of UT's first Black football player, Julius Whittier, and funding a multi-million-dollar program to recruit Black students to UT. One thing he's not changing is the song.
"'The Eyes of Texas,' in its current form, will continue to be our alma mater," Hartzell said in his July 13 statement. "It is my belief that we can effectively reclaim and redefine what this song stands for by first owning and acknowledging its history in a way that is open and transparent," he continued. "Together, we have the power to define what the Eyes of Texas expect of us, what they demand of us, and what standard they hold us to now."
"
Together, we have the power to define what the Eyes of Texas expect of us, what they demand of us, and what standard they hold us to now."
— University of Texas Interim President Jay Hartzell
The 2020-2021 UT football season is underway without the presence of the Longhorn Band, and the song is being played through loudspeakers at games. The first game took place on Sept. 12 against the University of Texas at El Paso Miners and the Longhorns won 59-3. The size of the audience was limited to 25% capacity and 15,337 fans attended in a stadium that normally can hold about 100,000, according to ESPN. Students with season tickets were required to pass a rapid COVID-19 test and out of 1,198 tested, 95 students tested positive. "The Eyes of Texas" was played through the loudspeakers at the beginning and end of the game, but unlike in previous years when football players were required to sing the song, some players like junior defensive back Caden Sterns opted out of singing.
Despite the Sterns' objection to Hartzell's decision to keep "The Eyes of Texas" and his decision not to sing, he expressed his gratitude for the first steps the university is taking to address institutionalized racism on campus.
"Great day to be a Longhorn," Sterns tweeted. "Looking forward to make more positive change on campus."
Great day to be a Longhorn, want to thank the students, athletes, administration, alumni and those behind the scenes working who made this happen. Looking forward to make more positive change on campus. Hook'Em. https://t.co/YXqNyiJlgM

— Caden Sterns (@CSterns_7) July 13, 2020
Hayden and Richards are quick to emphasize that there is much that still needs to be done. Hayden said that some changes, like changing the name of the Robert Lee Moore Hall, pleased him and other students, but that the addition of an entrance into Peener Hall honoring an advocate for desegregation of higher education, Heman Sweatt, was not something the students asked for.
"I think that entire statement is pretty performative," Hayden said. "Changing the RLM (Robert Lee Moore Hall), yeah that's cool, we asked for that, thanks for that. But the Heman Sweatt entrance into Peener Hall, that's not what we wanted. That's not what the students wanted. It just seems like he gave a very political answer to the demands that we set forth for him. Overall, I think they need to step back and rethink their response to all of this because it's been really frustrating as a student to see that all of our demands are just flat out not being [met]."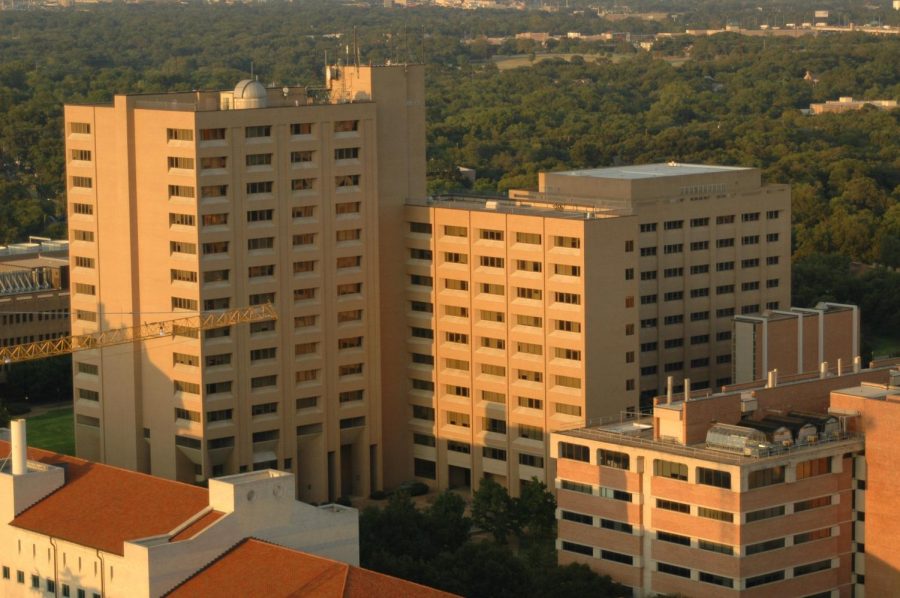 Richards explained that these small changes are part of a much bigger fight against a more silent enemy, institutionalized racism.
"I agree one hundred percent [that the statement is performative]," Richards said. "They think that these are problems, and obviously they are, but these are just symptoms of the institutionalized racism that universities hold, especially predominantly white institutions."
1970 UT alumnus and Longhorn Band trumpet player Franklin Houston agrees that the big issues are what need to be dealt with rather than details like those that the UT athletes asked be addressed by the university.
"If you deal with the real issues, then the symptoms, or what are perceived as symptoms, don't really matter that much anymore," Houston said.
According to multiple published accounts, "the eyes of Texas are upon you" comes from a phrase coined by confederate general Robert E. Lee in the 1860s at Washington College in Virginia, now called Washington and Lee University. Lee was the president of the university and used to end all of his speeches to students with the phrase "The eyes of the South are upon you." William Prather, then a law student at the university and soon to become the president of UT in 1899, took a liking to the phrase and brought it back from Virginia to Texas. Prather's spin on the confederate general's phrase became his new signature when Prather gave speeches to UT students.
According to a 2015 Ransom Center Magazine article, UT student Lewis Johnson helped produce a minstrel show in 1903 for which he asked his roommate, John L. Sinclair, to write a parody number for the show. Sinclair scribbled the original lyrics of a song mocking Prather's usage of the phrase "The Eyes of Texas" on a piece of brown laundry bag paper and the two students set it to the tune of "I've been working on the railroad."
"I've been working on the railroad," the tune that "The Eyes of Texas" is set to, was originally published in 1894 with the title "Levee Song." It was written in minstrel dialect, mocking enslaved railroad workers and even referencing cotton bales and the N-word, as can be seen in the original version published in Carmina Princetonia, a book of Princeton University songs. "The Eyes of Texas" was performed at Johnson's minstrel show in 1903, likely in blackface. It grew in popularity and eventually became UT's official alma mater, and its racially charged roots were forgotten.
Only recently have organizations around UT begun to bring the origins of "The Eyes of Texas" to light. In the past, other organizations have tried to raise the issue but felt hesitant from a lack of public support. Longhorn basketball alumnus Eric Davis, Jr. told the Daily Texan that the possibility of replacing "The Eyes of Texas" was talked about among Black student-athletes during his time at Texas from 2015-2017, but they were reluctant to go public with the issue.
"It was kind of hard because you didn't know who had your back or who was going to speak up," Davis told the Daily Texan. "I needed the scholarship. I wanted to play ball. You don't want to be shunned out, and you don't want to be blackballed. It's a lot that goes through your mind."
Richards has experienced racism within the university firsthand, and she agrees that there is significant pressure to keep quiet about it.
"There's definitely been a fair share of microaggressions and racism throughout some of the members in LHB," Richards said. "However, as a minority, I guess, we kind of just learned to bite our tongues and pick and choose our battles. I personally don't want to come off as that angry Black woman or whatever, so I just kind of keep my mouth shut when sh*t like that happens. It's not easy, but you gotta do what you gotta do sometimes."
Richards said that joining LHBlacks has helped her a lot with dealing with this racism. The organization gives Black students like Richards a platform that they wouldn't otherwise have. Hayden said that LHBlacks sprung out of a friendly group chat, but it has evolved into a formal organization dedicated to assisting Black Longhorn Band members in achieving equity.
Richards said that her membership in LHBlacks has already begun to positively affect her, both as a formal alliance and as a group of newfound friends.
"We created this group chat… it was just a place for us to kind of vent how we felt, especially amid the protests and things of that nature," Richards said. "We were just really there for each other throughout the summer and throughout the semester and it was really, really needed. We continue to support one another to this day, talking about issues, and checking in on one another, and it's just a great thing to have. I'm kind of upset we didn't have it sooner, but at the same time I'm very grateful to have this community now."
"
We created this group chat… We were just really there for each other throughout the summer and throughout the semester and it was really, really needed… I'm very grateful to have this community now."
— Senior Longhorn Band tuba player and LHBlacks member Kyanna Richards
Richards explained the LHBlacks is also about more than just the song. As a student organization focused on assisting black students, they supported the athletes and participated in conversations with the president, but LHBlacks has much more in store, Hayden said.
Hayden said the LHBlacks' first order of business is to recruit incoming Black freshmen band members into LHBlacks and raise funds to sponsor their first year in Longhorn Band. Beyond that, the LHBlacks plan to forge relationships with high school band programs, particularly at minority schools or low-income schools, for the purpose of incentivizing Black high school band students to join Longhorn Band.
"For the past couple of months, we've been setting the foundation for this thing, because we want it to last after we all graduate," Hayden said. "Because it's such a small organization, there's only 11 of us, we need to make sure we have that continuity… Right now, one of our biggest goals is to reach out to all of the incoming freshmen that are joining Longhorn Band that are Black and would be interested in joining LHBlacks… We have a couple cool things that are in store to get our funding up to be able to sponsor these future members of Longhorn Band so that they don't have to pay for their first year with the Longhorn Band."
As of now, there are only 11 Black members of the almost 400-person Longhorn Band, according to Hayden. He cites this racial inequality as one of the reasons why "The Eyes of Texas" is no longer acceptable as an alma mater. He explained that due to the minstrel origins of the song, it's upsetting to see an almost all-white band playing it.
Second-year drum major and McCallum alumnus Ally Morales will be joining the group of Longhorn Band members refusing to participate in "The Eyes of Texas." Morales declined to comment for this story due to backlash she is receiving for speaking out in earlier articles, so she is focusing on her health now. She also wanted the voices of her Black bandmates to be amplified as much as possible.
She stands by the statements she made in articles published elsewhere.
"It's not ultimately about the song, it's about ingrained, institutionalized racism that frankly, in invisible form, takes the image of a school song," Morales told the Dallas Morning News. "Removing our alma mater is the first step to realizing the oppression that the Black students face on campus and off campus."
Although current Longhorn Band members like Hayden, Richards and Morales may be uniting under the circumstances, a rift is growing between current students and alumni at UT. Hayden said that this rift can be seen within the Longhorn Band.
"A lot of the alumni band members have been debating pulling donations and stuff if we don't play the song," Hayden said. "And I think that Longhorn Band, in that sense, is sort of like a microcosm of the UT community at large. The older alumni, the people who have gone to this university and made a bunch of money and then donated to this university, a lot of them are saying that the song means so much to them that they're going to pull their support for the university if we get rid of it. And I think that's where the divide stands."
1970 UT alumnus Franklin Houston, who sits on the "redefining" side of this divide, explained that when he went to UT and played "The Eyes of Texas" in the Longhorn Band, it meant something entirely different to him than the song's origins might suggest.
"'The Eyes of Texas' at the time, to me, was totally a representation of the University of Texas," Houston said. "And 'The Eyes of Texas' was shorthand for 'You are representing the University of Texas, and they're watching out for you, they're looking at what you do, and you don't want to sully the reputation of the University of Texas in anything that you do.' So when 'The Eyes of Texas' are on you, it's like you go out and you be a good person and you be a good student, be a good citizen, and you don't bring disrepute on the University of Texas."
"The Eyes of Texas" used to represent allegiance and pride for UT students, alumni and fans. Now, as national news organizations like the New York Times cover the racism present in the origins of the alma mater, the song has become embroiled in the ongoing confrontation in America with the racism embedded in the nation's history.
"If the one thing that unites us all is a song, I feel like we're missing the real values of the university and the institution that we love so much," Morales told the Dallas Morning News. "It's about the community that brings us all together. There can be any reason for that, but 'The Eyes of Texas' is no longer synonymous with community."
The UT administration has made no indication that replacing "The Eyes of Texas" is being considered any longer, but the debate within the UT community surrounding the song and the larger issue of institutionalized racism on the UT campus is far from over.