During furious fine arts weekend, twin theaters teeming with thespians, vocalists, pianists, filmmakers
Penultimate weekend of school offers a myriad of entertainment options: something for everyone
Kiki Baker, Morgan Eye, Tate Jones, Lucy Marco , Caroline Owen, Samantha Powers, Lydia Reedy , Alice Scott, Francie Wilhelm, and Avi Zeifman
May 24, 2022
The Fine Arts Academy refused to go quietly into that long summer vacation night.
Instead, both the McCallum Arts Center and the Fine Arts Building Theater were booked all weekend long.
The choir program unleashed its first Cabaret in the MAC since November 2019 with a Friday night opening performance and two shows on Saturday while the McCallum Cinematic Arts program held a film festival on Sunday afternoon. Meanwhile, after an opening night show on Thursday night, MacTheatre held court in the FABT with three performances of its spring show, Eurydice, on Friday night, Saturday night and Sunday afternoon. The MAC even extended its weekend into Monday night with a piano recital.
It was a weekend chock full of fine arts, something for everyone.
We can understand if you had a tough time deciding which event to check out. We had the same problem in deciding the subject of this week's photo essay, so much so that in the end we decided to showcase them all. We hope you enjoy it.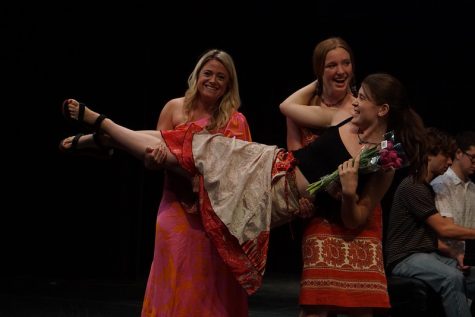 JUST PLAYIN' AROUND: Piano teacher Sarah Wiley goofs around with junior Malia Walewski and senior Veronica Britton after the piano recital on Monday, May 16. Walewski and Britton played a duet entitled "Barcolle," which they picked out themselves and practiced in their free time together. "It was a great last recital and very fun to play with Malia," Britton said. "We have lots of good jokes that make practicing very fun." This is Britton's last recital after four years spent in the piano program under Wiley's guidance. Both girls have the highest praise for their teacher. "Ms. Wiley is amazing," Walewski said. "She pushes both me and Veronica to play our best, but she also makes the class enjoyable and is our friend." Britton agrees that Wiley has become a mentor and friend over the years. "I love her a lot and look forward to keeping in touch after I graduate," Britton said. "She will definitely be invited to my 21st birthday party." Caption and photo by Samantha Powers.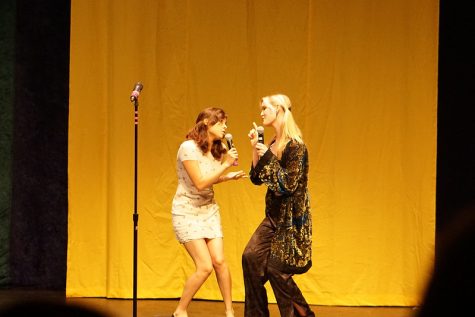 CABARET CAMARADERIE: As sophomores, Addie Knight and Camila Muñoz performed the duet "Bosom Buddies" by Jerry Herman on the Cabaret stage, they found it easy to channel the friendship and chemistry of their characters. "This number was chosen based on the dynamic of the five-year best friendship between me and Chamila," Knight said. "The song reflects that even when me and Chamila get on each other's nerves, we still stick together." Although the duet partners felt prepared for the stage, they were relieved after each successful execution of their song. "Chamila and I have been performing for years so the stage jitters didn't really get to us," Knight said. "But each time we finished performing the number, we would run backstage and hug." Caption by Caroline Owen. Photo by Tate Jones.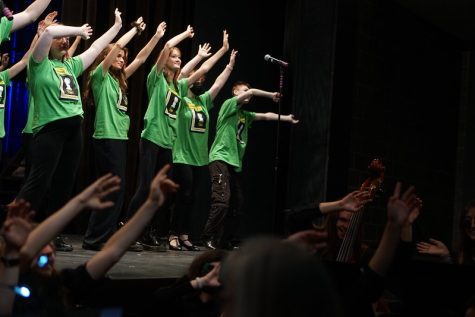 DANCING KING (AND QUEENS): Senior Keely McNab (second the right) waves her hands in the air with her fellow cabaret singers, singing ABBA's "Dancing Queen." The last-minute plan of dancing following Mr. Nelsons' lead was a success. "We had to scrap all the choreography for that because something happened and the choreography didn't get finished, so we were watching Mr. Nelson in the light section, and we just followed the dance moves that he did," McNab said. "He is awesome." Caption by Lucy Marco. Photo by Kiki Baker.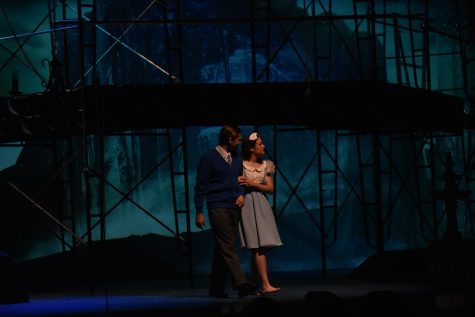 CHANGE OF PACE: Sophomore Finnegan Griffith and junior Charlotte Blackmon perform one of the final scenes in Eurydice. Griffith, portraying Eurydice's father, walks Blackmon, Eurydice, down the aisle to her husband Orpheus. Having previously played Joseph in Joseph and the Amazing Technicolor Dreamcoat and an Electric Skate in The SpongeBob Musical, Griffith got to branch out with this role. "It was a lot deeper than some of the roles I had this year," he said. This shift called for a change in preparation as well. "I was able to spend a lot more time developing my character," Griffith said. "I understood his intentions and motivations more than any of my other roles." Despite the contrasting tone, when compared to the other shows, Griffith appreciated the complexity of the role: "I got to put the most emotion into this role. In my final monologue, there were a lot of callbacks and deeper meanings. It's a very beautiful script." Caption by Lydia Reedy. Photo by Alice Scott.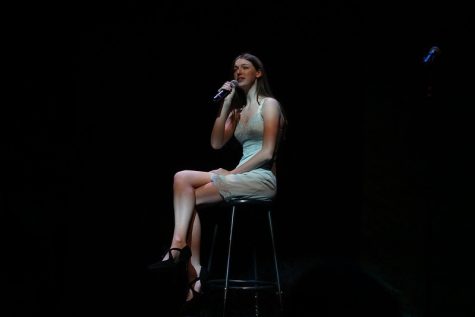 GOING OUT ON A HIGH NOTE: Senior Samantha Powers performs her solo, "Losing my Mind" from the Broadway musical Follies. The song is typically sung by older, alto performers but despite her age and soprano voice, Powers did the iconic piece justice. "I was challenged to put my own spin on the song while still keeping the integrity of the story behind it," she said. "It was a lot of fun to perform a solo in a style I don't normally do." Saturday's concert was Powers' final time to grace the McCallum cabaret stage, leaving her with fond feelings of nostalgia and memories of her early choir days. "My first cabaret experience was definitely more of a whirlwind," she said. "By the time we're seniors, I feel like we have it down, and it's nice to have a sense of leadership within the group, but honestly this past week immersed in choir stuff made me feel a lot like my freshman self again." Ultimately, cabaret was a successful encore to Powers' past four years in the choir program. "It was a nice bookend," she said. "My best friends and I went through high school together in choir, and I'm really going to miss these experiences." Caption by Francie Wilhelm. Photo by Kiki Baker.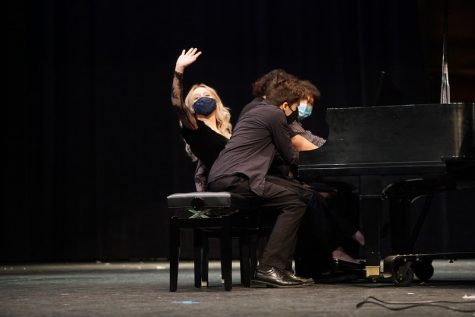 EIGHT HANDS, ONE PIANO: Four piano students play "Galop March," which is written for eight hands at one piano, in the grand finale of Monday's piano recital. While impressive, the number also featured some humorous elements, like senior Kylie Simmons leaning back to wave to the audience mid-song. Piano teacher Sarah Wiley picked the piece for her students, and instantly, they were hooked. "I had a recording of it on YouTube, and I showed the kids, and when they saw it, it did not take much," Wiley said. Wiley makes a point of picking pieces that will engage both her students and the audience. "I try to choose genres that the kids would like, like ragtime, or blues, or Latin pieces," Wiley said. "The same things over and over again, it just gets repetitive and old. And tonight, we had the audience's interest, all the way to the last piece." Photo and caption by Samantha Powers.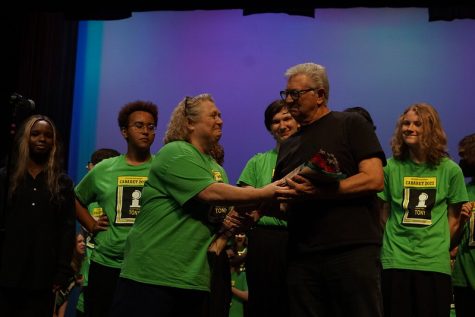 BURSTING WITH PRIDE: Choir teachers, Dr. Cheryl Lindquist and Mr. Nelson pass flowers to one another, giving each other a satisfied look at the end of the third and final performance. "Cabaret this year was a great success," Mr. Nelson said. "Amazing audiences all three times and well-performed by students. I'm most proud of students pulling together this semester and achieving all that they did, squeezing a year's worth of activities into one semester and being successful on all counts." Although Mr. Nelson was the choir director only for a semester, the former and current has been an avid supporter and has many times accepted the call to return to Mac to direct the choir. "This is the third or fourth time I have come to help out at McCallum. The longest time was for 10 years, and I have been back several times when needed," he said. "This time it was only for this spring semester. I have enjoyed working with these students; they are so talented. And I have enjoyed working with my long-time friend Dr. Cheryl Lindquist to get the students on the road to excellence and more." Caption by Lucy Marco. Photo by Kiki Baker.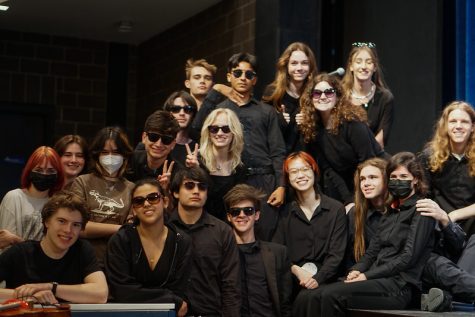 Orchestra students pose for a picture during intermission of Cabaret. During the show, the pit was packed with students, creating a new experience for the players. Violinist Lucy Hamre enjoyed the change of pace and casualness of the event. "There were about 17 of us crammed down there, so we had to get creative with spacing and dynamics," Hamre said. "It felt more funky, like we could relax and let loose a little more than usual." The orchestra students played music from different musicals, such as Kinky Boots and Sweet Charity, adding more variety to their routine. Choir and orchestra students have been rehearsing after school for two weeks, working together to make a good show. "I loved rehearsing with the orchestra," freshman choir student Mia Robertson said. "They kept us on beat and are extremely talented." Both musical groups had to create a connection in order to stay on tempo with each other. "We had to make sure we were in the with the performers, and working together," Hamre said. "It was difficult to get all of the orchestra students quiet enough to hear the performer; it was vital for us to listen to the performer so they could express themselves how they wanted to." Caption by Sophie Leung-Lieu with reporting from Kiki Baker. Photo by Kiki Baker.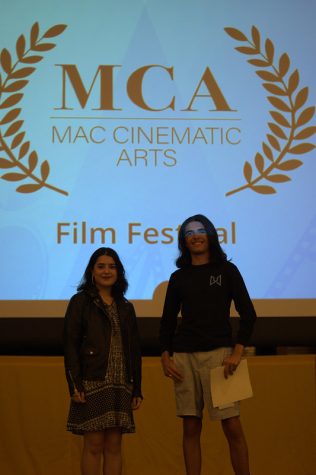 ROLL THE CREDITS: When it came to the AV booster club and Carson Cummings Foundation Film Scholarship competition, seniors Jose Martinez-McIntosh and Sarah Reyes traded places. For the Carson Cummings Film Scholarship competition, Martinez-McIntosh won first place while Reyes took second. For the annual competition, student filmmakers had to submit an original film based on a provided prompt. Martinez-McIntosh won $5,000 for placing first while Reyes earned a $2,500 scholarship for finishing second. For the AV booster club scholarship competition, it was Reyes who took the top spot and the $1,000 scholarship that came with it. Martinez-McIntosh took second and Risa Darlington-Horta, third. Each of them earned a $500 scholarship for placing. The awards were celebrated publicly at the Mac Cinematic Arts Film Festival in the MAC last Sunday. Photo by Morgan Eye.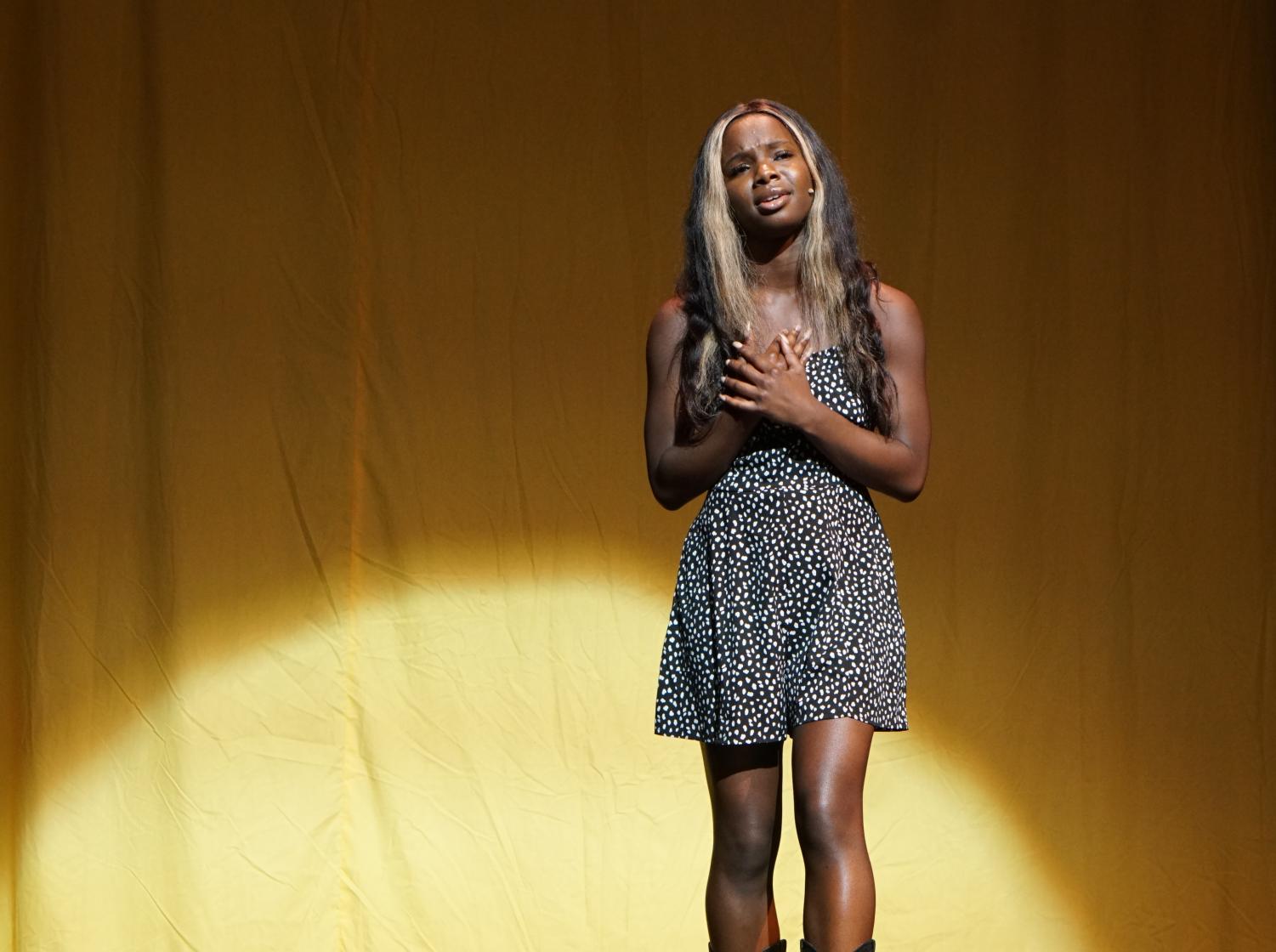 LAST ACT: Senior Wynter Winston performs her solo, "Whatever Happened to my Part" from Spamalot. Because she was a senior, the event was even more significant for Winston as it represented the end of her career at McCallum. "Performing this was fun because I got to add my emotion into the piece. The event was kind of surreal because it was our last show. It was bittersweet." Reporting by Alice Scott. Photo by Kiki Baker.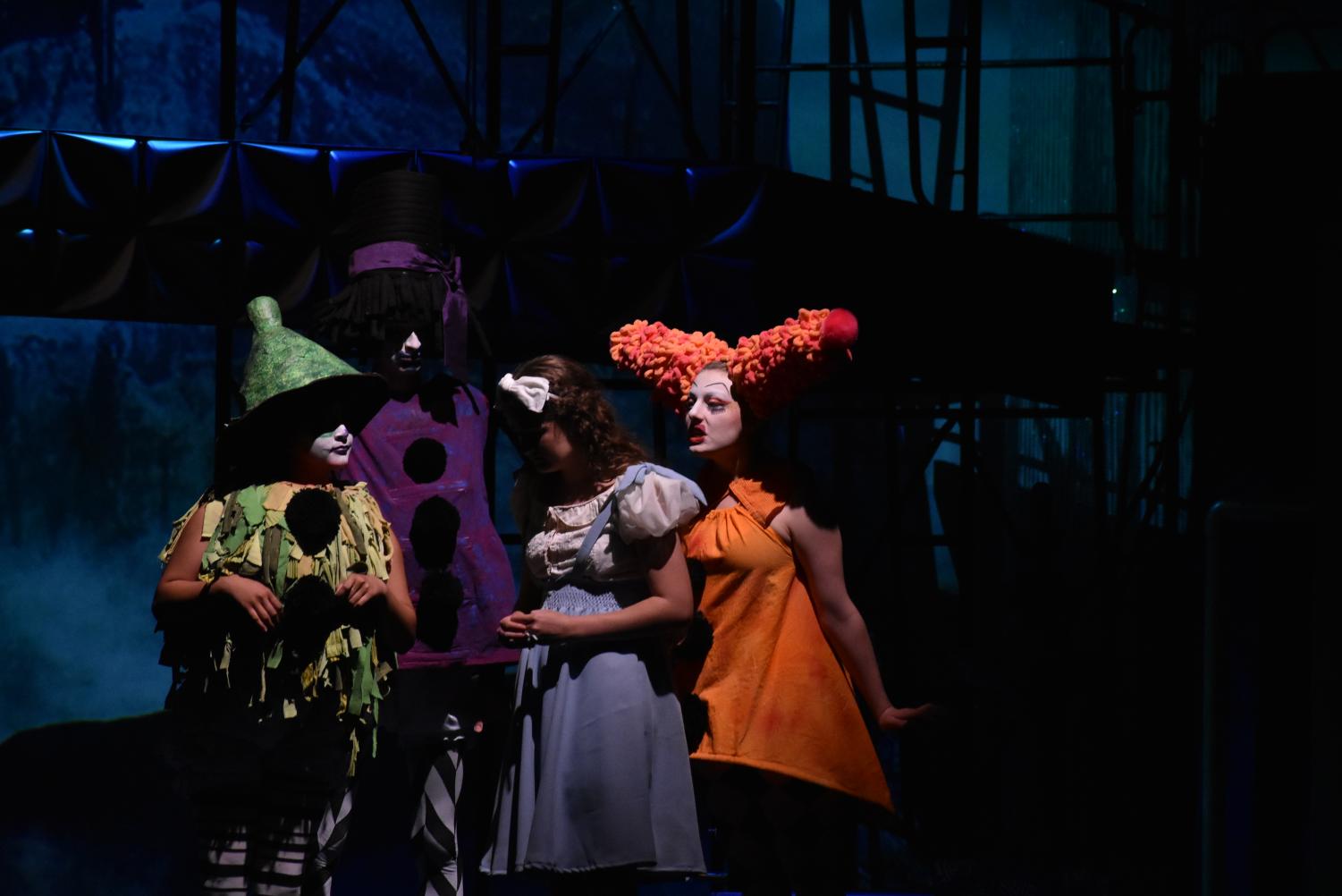 HE LOVES ME, HE LOVES ME NOT: Junior Charlotte Blackmon (Eurydice) performs one of the final scenes in the second act of MacTheatre's production of Eurydice. During the scene, Eurydice, who has just reconnected with Orpheus in the underworld, contemplates whether or not Orpheus is truly her husband or not. For Blackmon, developing such a complex character took time. "Eurydice is probably the most difficult character I've ever played," Blackmon said. "I got an idea of who she was when I read the script, but running the scenes and physically being in the position of the character helped me connect to her more." Reporting by Alice Scott. Photo by Alice Scott.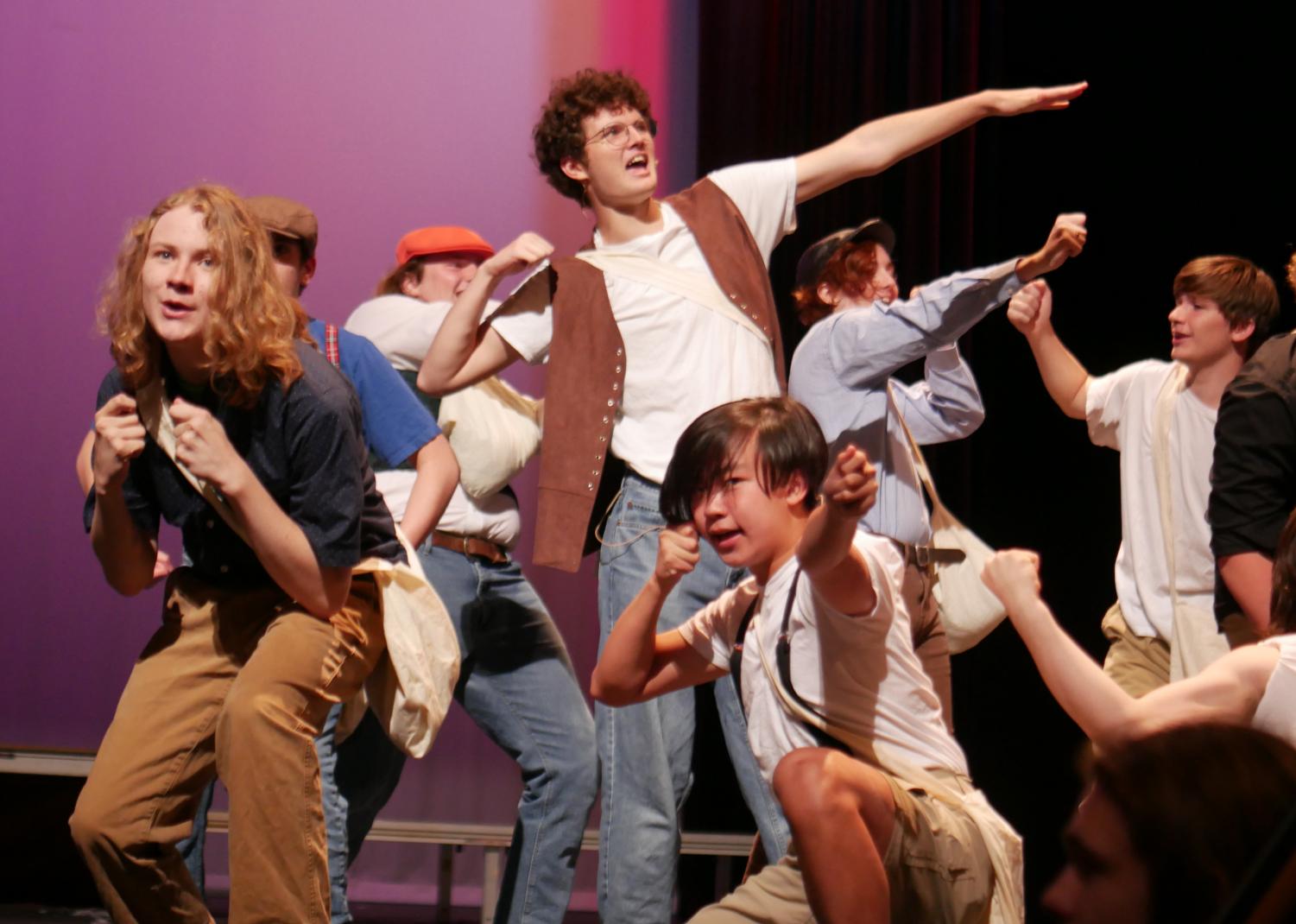 Jumping around the stage in the distinctive Newsie-esque outfits and freezing in captivating poses, the boys in choir perform the showstopper, "Seize the Day," from the popular journalism-themed musical. The number elicited one of if not the single loudest applause from the Saturday night crowd. "All of the boys were really pumped up for 'Seize the Day,'" freshman Fin Kirsch said after the curtains closed and the choir started to assist in taking down the set. Caption and photo by Avi Zeifman.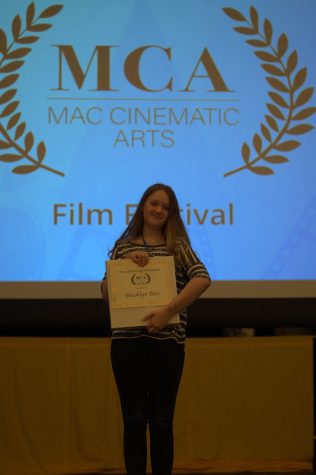 Each year the title of "most promising film maker" is awarded to one member of the AV Productions 1 class. This year, freshman Brooklyn Rice was presented the title by AV teacher Mr. Rogers at the MAC Cinematic Arts Film Festival that took place Sunday, May 15. "I was really excited to win an award for something I am so passionate about," Rice said. "In fourth grade I dressed up as Steven Spielberg for Halloween, so that sums me up as a person." Photo and caption by Morgan Eye.