Finding 'Solace' on the stage
Seniors take finals bows as Company members, bringing closure to year that brought dance family back to campus
Smith Bohls, Meredith Grotevant, Sophie Kessler, Chloe Lewcock, Thomas Melina Raab, Lydia Reedy, Alice Scott, Grace Vitale, Francie Wilhelm, Nate Williams, and Dave Winter
May 14, 2022
The McCallum Youth Dance Company presented its annual student-directed concert in the McCallum Arts Center on May 6-7.  The show featured performances by each of the dance classes as well as solos from each of the seniors in the pre-professional dance group.  As is tradition with this show, many of the numbers included dancers from throughout the company selected by the choreographer of the dance.
The inclusion of all three types of performances gave "Solace" a lot of moving parts, literally, but the student directors could take solace in the fact that in the end, all those parts came together and produced a show that drew a loud affirmative response from the large crowds that attended on both nights.
Associate artistic director Annabel Winter said she was most impressed with the range of choreography created by her peers.
"I'd seen a few snippets of each piece, but nothing was like seeing it come together on stage with lights and costuming," she said. "I am proud that the entire show was run by McCallum students. We got to work together with the lighting designer and sound technician to make each choreographer's vision come to life. I loved being able to see the behind-the-scenes process. I typically just learn a dance from a choreographer and perform it on the stage, and I'd never really got to be the one who made all the extra things happen, so that was really cool for me."
We thought the whole show was pretty cool, so we are pleased to make it the subject of this week's slightly belated Tuesday Top 10 photo essay.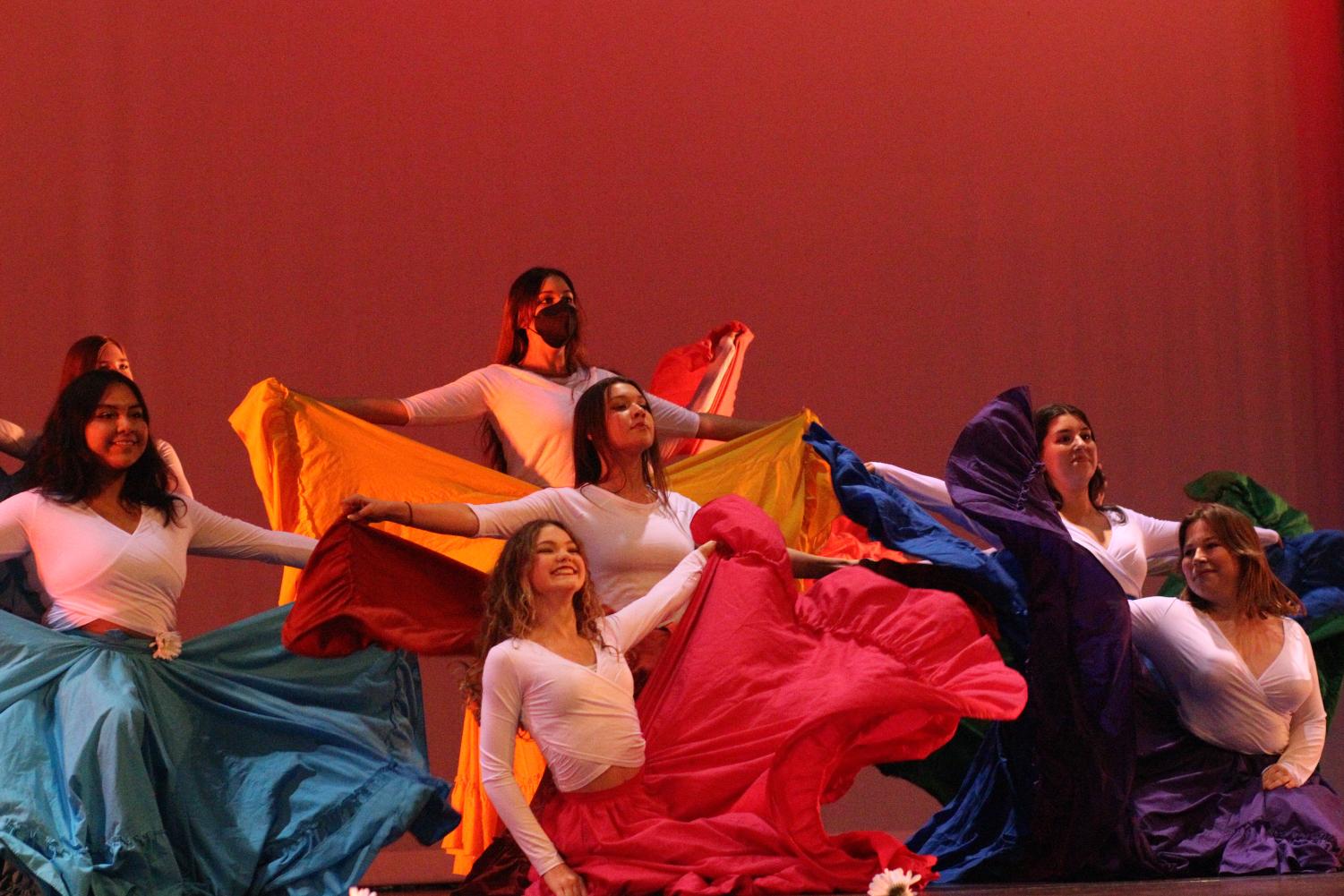 SKIRT SO GOOD: Members of the dance company pose around Jess Shiguango at the end of her piece, "Las Floras," at the spring student-directed dance show on Friday, May 6. The piece was a skirt dance that had a unique style that stood out from the other pieces performed at the show. "Jess's piece wasn't like any of the other pieces I had during the show," sophomore Alice Scott said. "The piece really challenged me to try a new style of dance that I hadn't done before, which I really enjoyed!" Caption by Grace Vitale. Photo by Meredith Grotevant.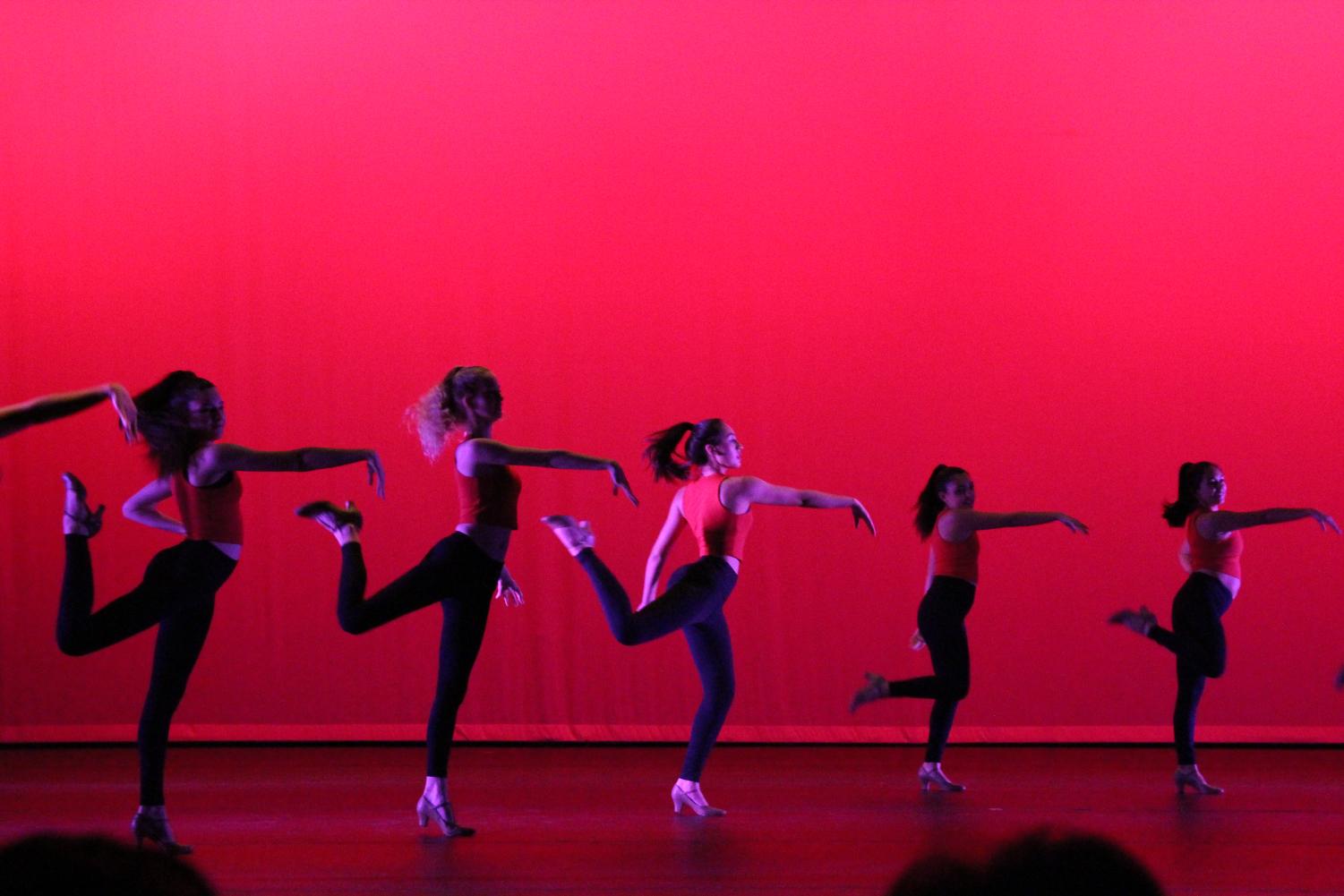 RED HOT: Sophomore Ellie Loudermilk performs "Burning Red," choreographed by junior Tyler Mankinnen. The dance was a heels jazz piece that was quick-paced and required sass and personality. "My favorite part was the partnering part because we would give each other all the sass we got and flip our hair back and forth," Loudermilk said. "It was by far my favorite dance to be in." Reporting by Alice Scott. Photo by Chloe Lewcock.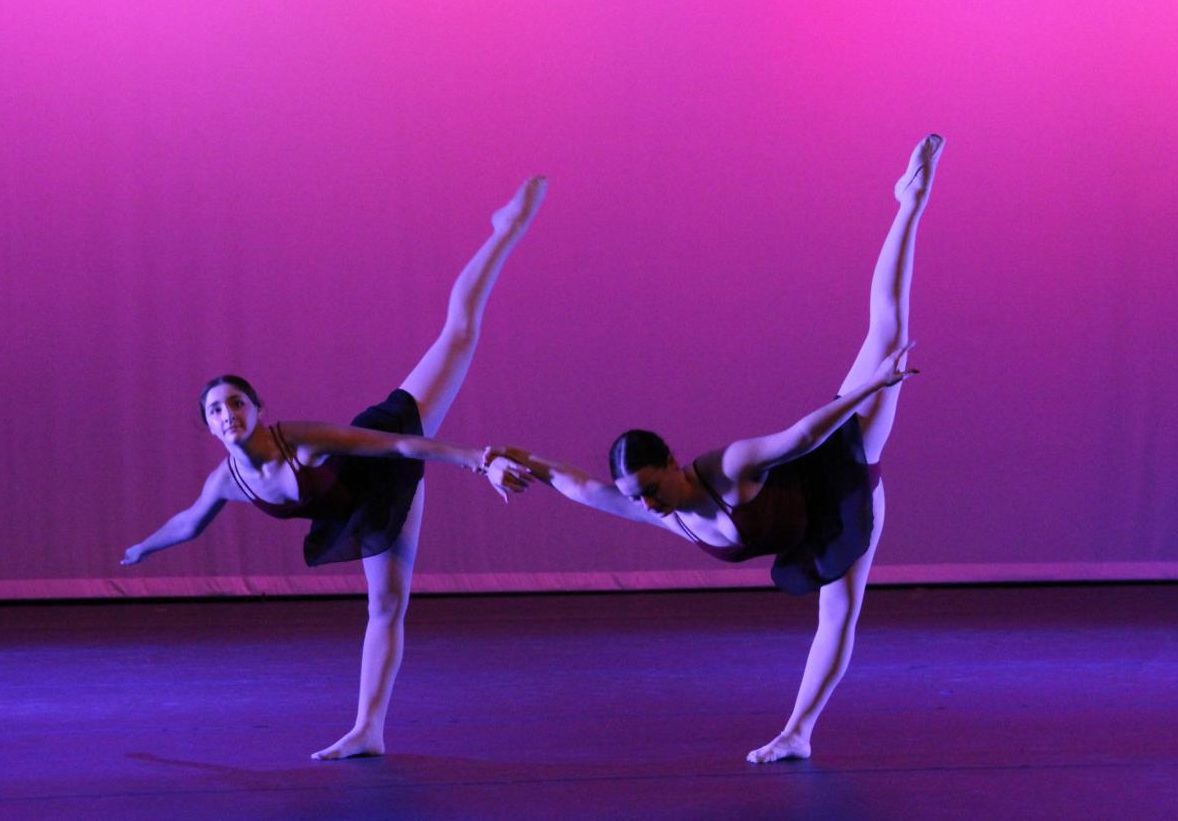 Sophomores El McGinnis and Kylie Reeves perform their duet during the ballet class's number, "En-Dessous de la Lune qui Chante," which means "underneath the singing moon." The duet portion of the dance was melodic with synchronized movements and dynamic levels. The duet portion of the number was coordinated and choreographed by McGinnis and Reeves from start to finish. Caption by Sophie Kessler. Photo by Chloe Lewcock.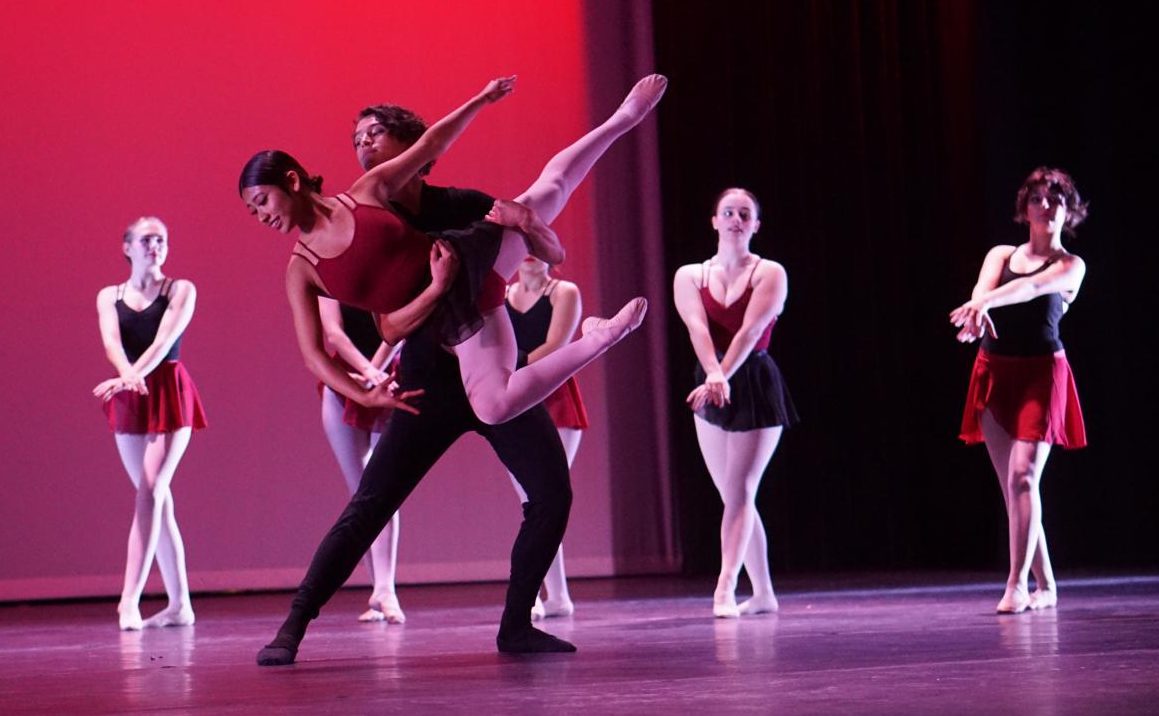 BALLET PATCHWORK: Junior Tyler Mankinen and sophomore Sofia Orton perform a duet in the ballet class's dance, "En-Dessous de La Lune Qui Chante," as other dancers pose around them. The piece was directed by sophomore Olive Hexsel and made up of multiple sections, each choreographed by a different ballet student. "Each section was based on the different eras of ballet," Mankinen said. "We had neoclassical, classical, romantic and a few others." For Mankinen, the experience of being in the dance provided him with a chance to meet and perform with new people, "I have not met a lot of the sophomores or even freshmen in the company, so it's been really great to get to know and perform with everyone." Caption by Lydia Reedy. Photo by Smith Bohls.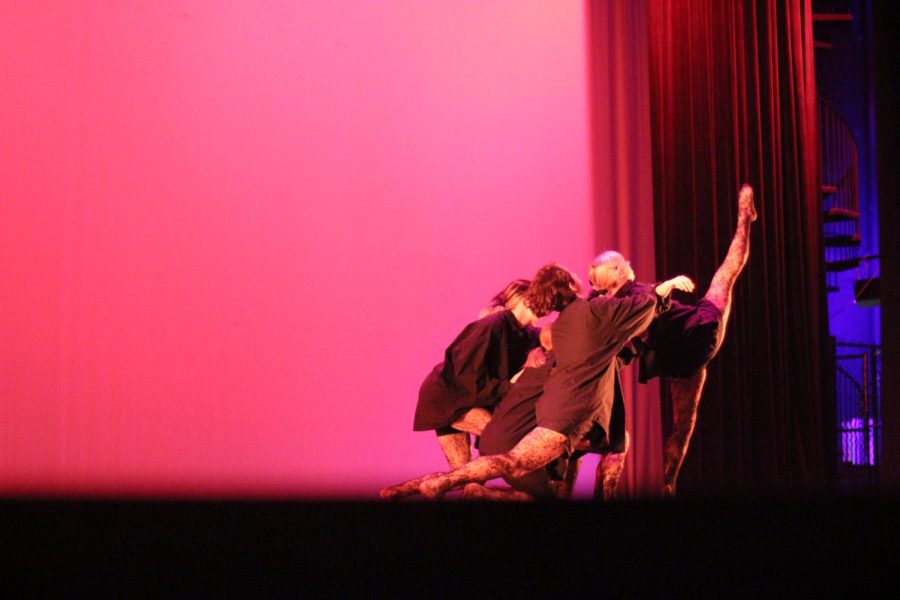 COMING TOGETHER: Junior Tyler Mankinen performs the junior class piece, "Seven Devils." "I got to know other juniors in the company, as well as work on a dance that is not my traditional style," he said. The number didn't fall into one distinct dance style but according to Mankinen had a "modern contemporary feel," and evoked strong emotions. The student-directed dance show was not only a way to show off the talent in the dance department but also to bring the dancers together. "It was a good bonding experience between returning and new members," Mankinen said, "especially out of the online and pandemic year." Photo by Nate Williams. Reporting by Francie Wilhelm.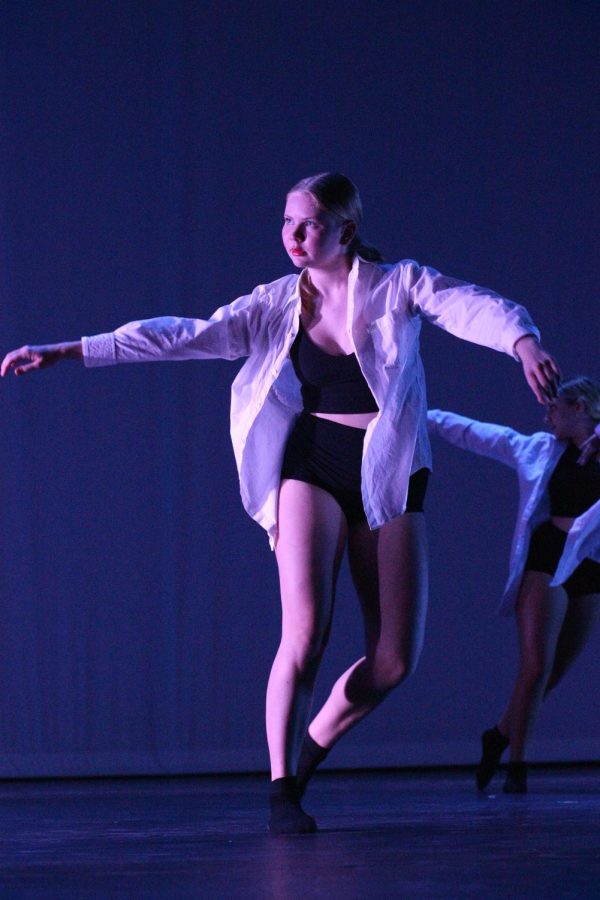 COMING TO AN END: Nia Wayman performs "Salt," choreographed by Ellie Collard. For Wayman, her favorite part about the contemporary piece was the chemistry between her and her fellow dancers.  "I really enjoyed working with Ellie and the other dancers because we connected really well," Wayman said. This piece was performed early in the second act of the spring student-directed dance show, "Solace." The spring show marks the last of McCallum Youth Dance Company show of the year, and for Wayman, the year felt like a new start to old beginnings. After spending much of last year on Zoom, Wayman thoroughly enjoyed returning to in person dancing this year. As she put it, simply, "It's great to be back." Caption by Thomas Melina Raab. Photo by Meredith Grotevant.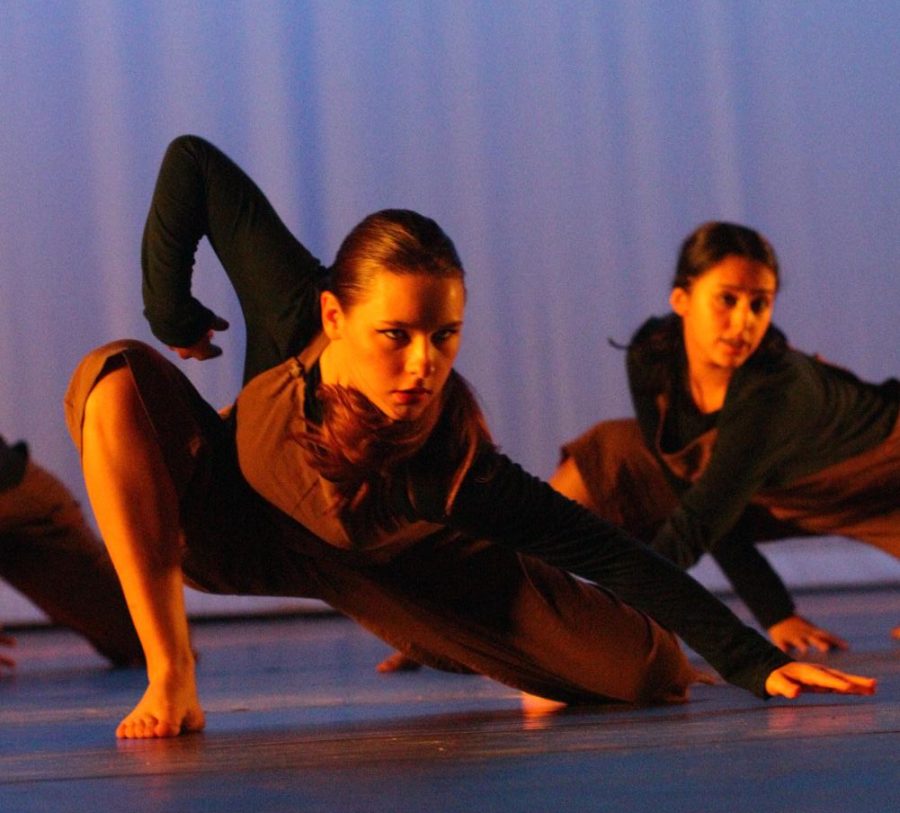 LEGENDARY: Sophomore Clara Hopkins performs "Legendary," a modern style performance choreographed by senior Sydney Lowe. While the performance was ultimately successful, COVID-related challenges caused some troubles. "The most challenging thing was that four people got COVID right before the concert, and we had to redo [almost] the whole dance," she said. This number was one of Hopkins' favorites. "I enjoyed the part I had in the dance," she said. "I loved dancing it the most." As a freshman, this was Hopkins' first time performing in the student-directed show. "I loved talking to many people and meeting new people in my dance academy," she said. Caption by Francie Wilhelm. Photo by Meredith Grotevant.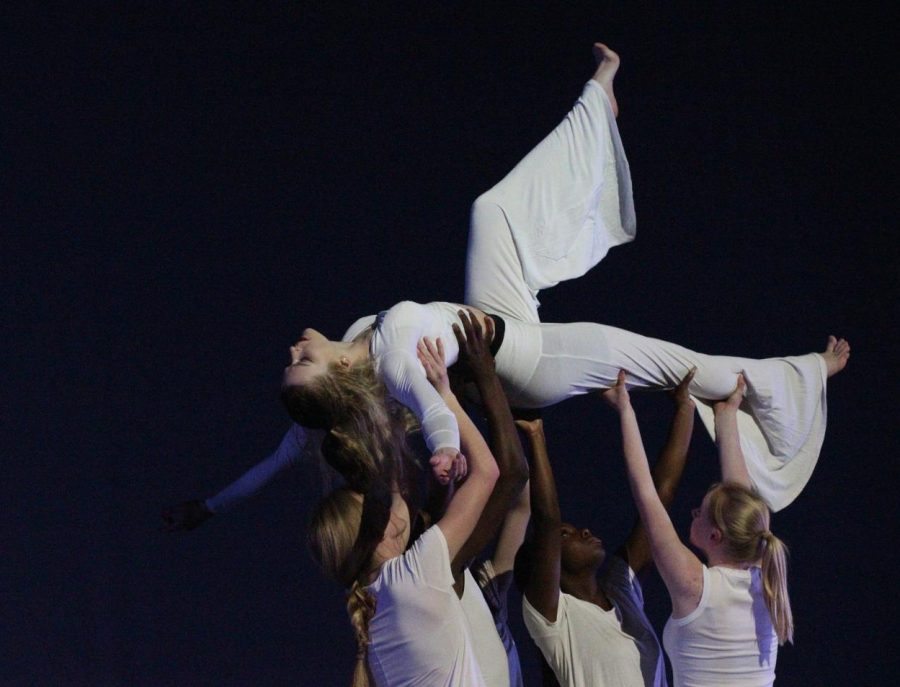 A DREAM COME TRUE: Sophomore Sydney Safarik helps carry junior Aspen Holden in a crowd-surfing lift. The lift was part of "Pray You Catch Me," choreographed by senior Wynter Winston. "We worked on the lift a lot during rehearsal to make sure it was going to work," Safarik said. "The rehearsal process can definitely be stressful, especially during tech week, but the last few times we did it, it turned out great. Our execution during the show felt very good." For Winston, the execution was more than satisfactory. "It was my own piece, and the dancers that were in it made it come to life," Winston said. "They made my dream come to life. I told them what I wanted and they gave me that." Caption by Alice Scott. Photo by Meredith Grotevant.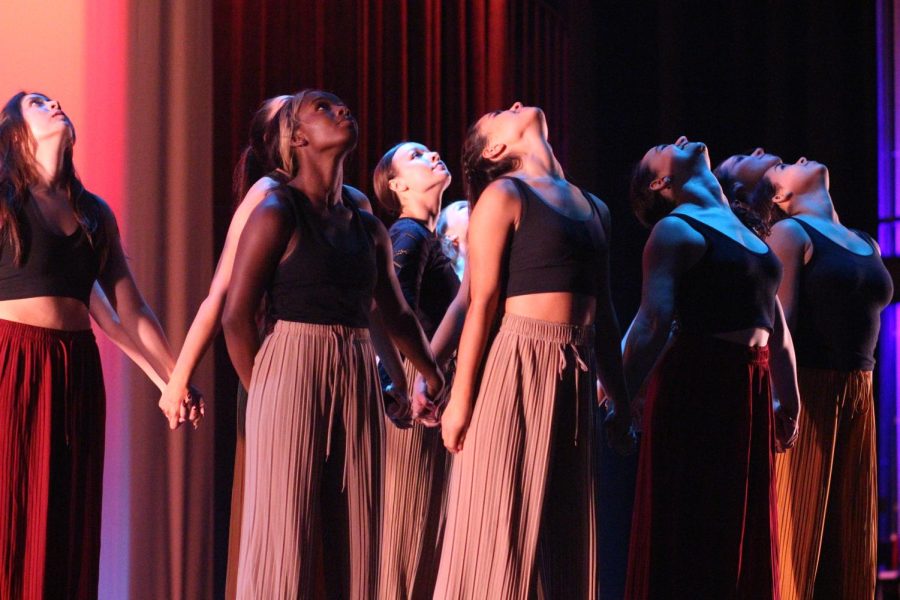 ONE LAST HURRAH: Members of the senior dance company hold hands at the end of their piece called "Sound and Color," the closing dance of the student directed-dance show. "It's a very sentimental moment because it's like the end where we all are holding hands and were all connected," senior dance company member Wynter Winston said. "The senior dance was wholesome and had us reflecting on all the times and memories we shared together as a senior company." Caption by Grace Vitale. Photo by Meredith Grotevant.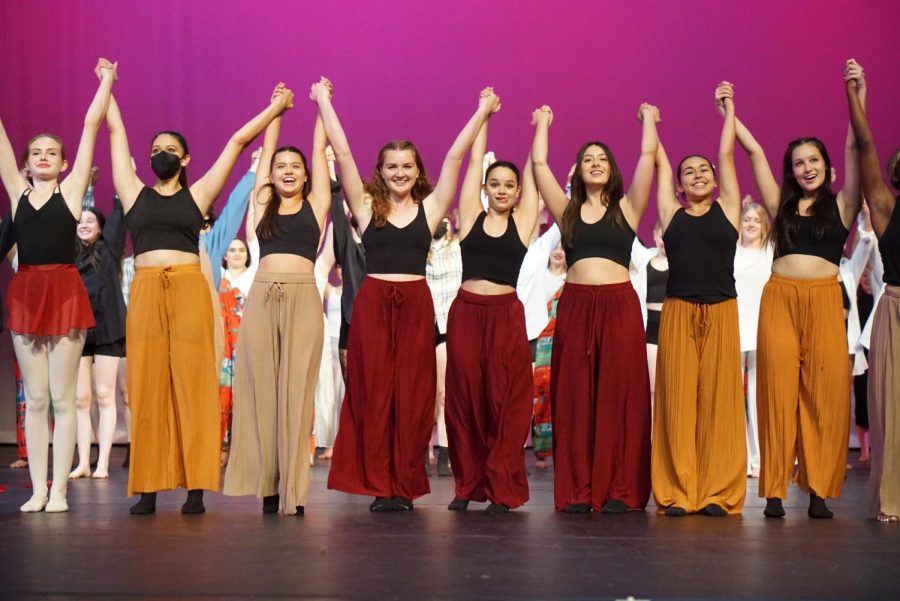 LAST COMPANY DANCE: The seniors in the McCallum Youth Dance Company take their final bow at the conclusion of the Friday night performance of "Solace," the student-directed dance show. Senior Annabel Winter (fourth from the left), who served as the shows associate artistic director, said it was a poignant moment. "It was the last time bowing as a class," she said. "It's tradition to go from freshmen to senior during the bows, and it is so crazy to realize we made our way to the end. In that moment, I realized how much we'd grown as a class and was honestly really sad that I don't get to dance with that group anymore." Photo by Dave Winter.