Lines from a favorite song
With looks inspired by each designer's chosen album, the 2022 fashion shows brings months of hard work to fruition
Kiki Baker, Alysa Bijl-Spiro, Evelyn Griffin, Lucy Marco, Madelynn Niles, Charlie Partheymuller, Samantha Powers, Alice Scott, Lanie Sepehri, and Ingrid Smith
March 8, 2022
Music pounded throughout the MAC on Sunday night as months of work by student designers came to fruition in the annual fashion show. This year's theme was "Albums," and each line showcased by student models was accompanied by the corresponding album playing through the speakers. 
The directors collaborated with Sam Alexander, CEO of Concept 2 Consumption Fashion and Technology, to recruit professional designers as judges in a competition for a $500 prize. This year's winner was senior Erin Earthman, whose line was inspired by an album by The Stooges.
Senior Veronica Britton has been a leader in the fashion show for most of her years at McCallum, but this was her first year as senior director. Britton enjoys directing and designing, and she felt a sense of relief that the show went off without a hitch.
"Seeing it all come together has been so great because there are definitely times when it feels like it's not going to happen," Britton said, "and then seeing it happen is amazing."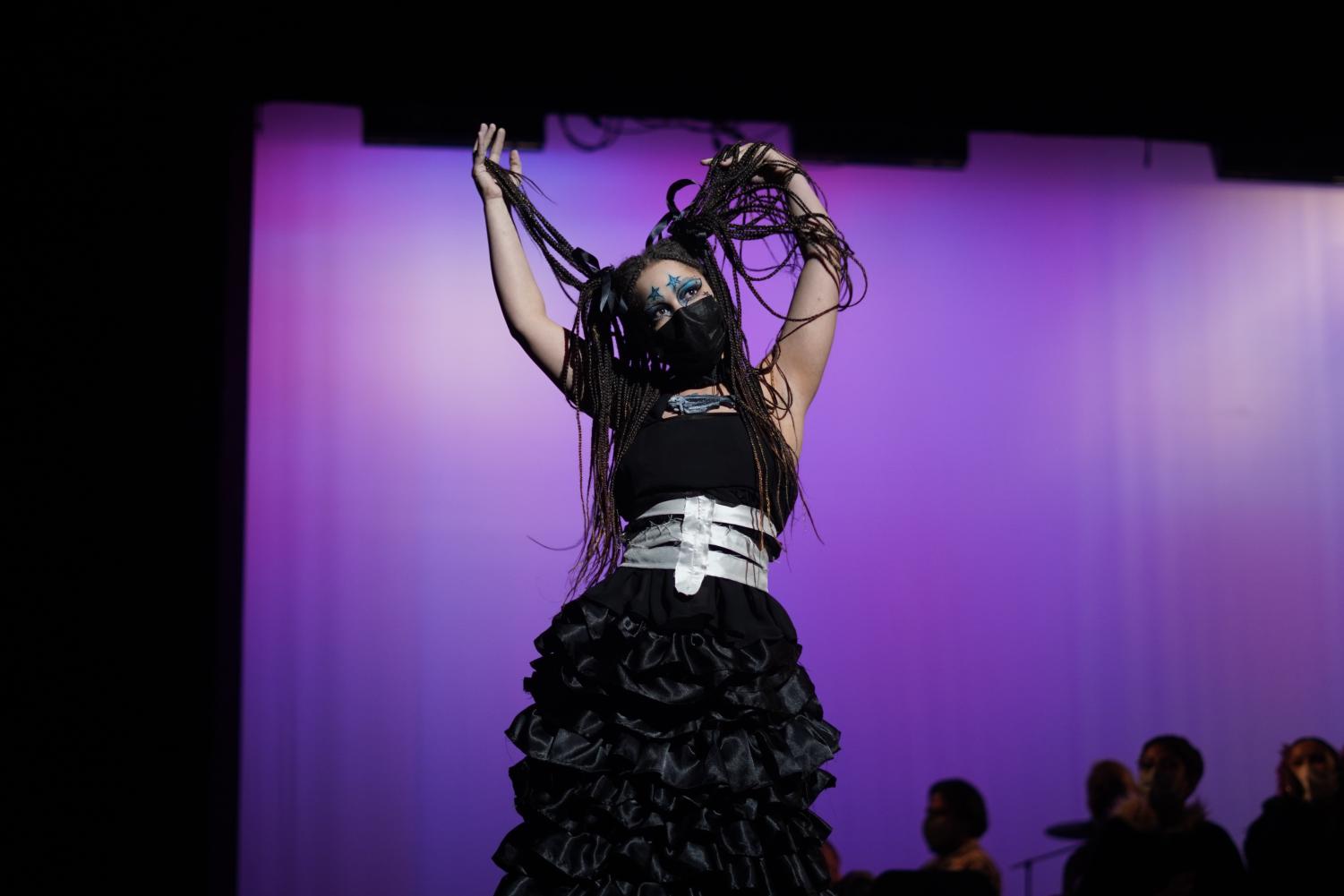 OUT OF THEIR MIND: Junior Anaise Antinelli lifts their hair for a dramatic pose while modeling a look by juniors Lilli Reynolds and Sage Edwards, with "Where is my mind?" by the Pixies playing in the background. Antinelli enjoyed displaying the work of the designers. "It's was so fun because I finally got to show the clothes my designers spent so much time on," they said. Antinelli enjoyed collaborating with the designers on the outfit. "Working with [Reynolds and Edwards] was really inspiring for me," Antinelli said. "I want to make clothes as well, and when we would put our ideas together, it made the whole outfit really come together, fitting the designers vision but mine as well." For Antinelli, the final design was satisfying. "I thought the final look was really true to myself," they said. "I'm really glad that I got the designers I did because I think our minds think alike." Photo by Charlie Partheymuller. Caption by Lucy Marco.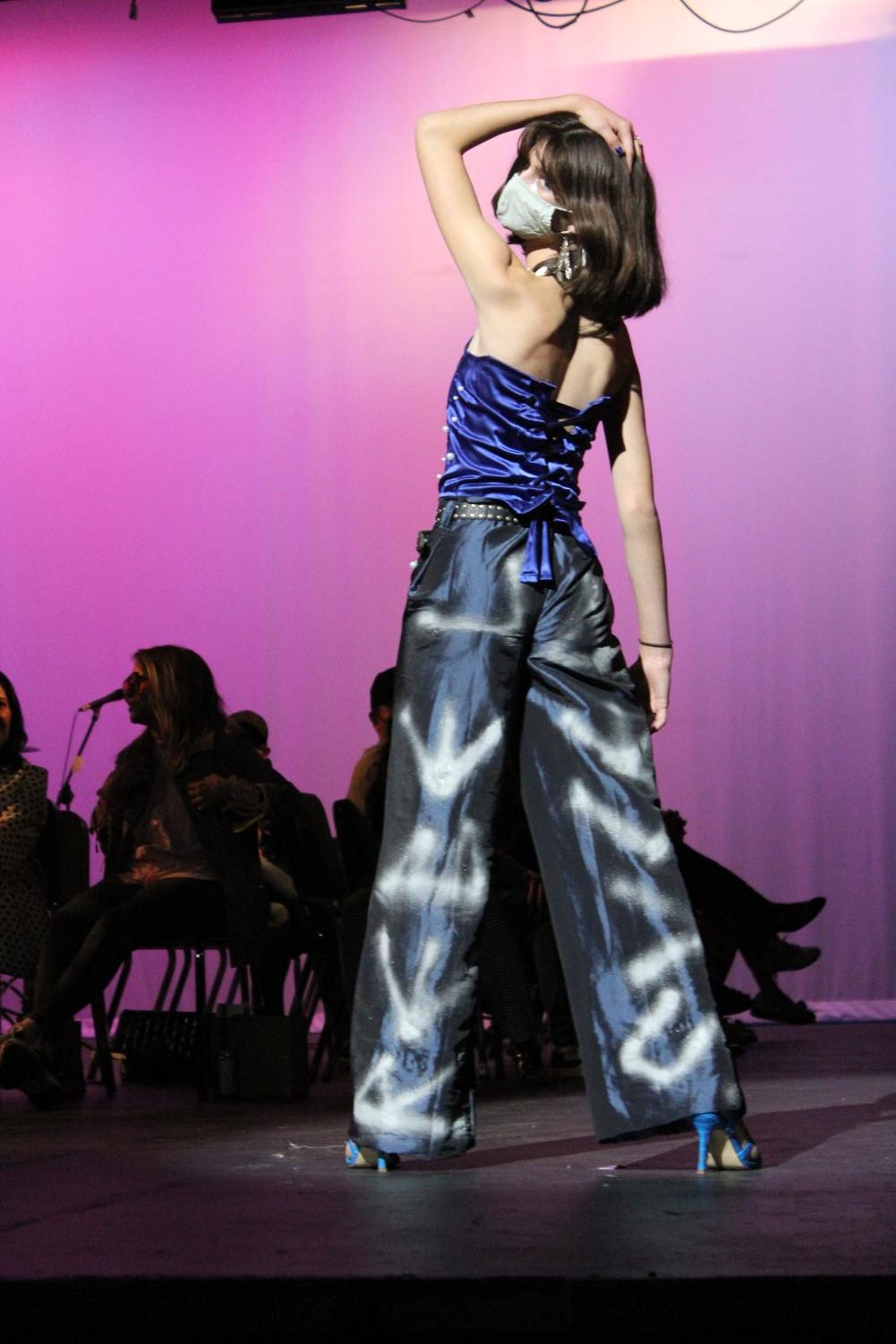 PROJECT RUNWAY MOMENT: Sophomore model Lanie Sepehri poses in senior Keely McNab's design based off of the album Rage Against the Machine. Sepehri enjoyed the opportunity to work with creative designers during the fashion show. "The creativity of everyone is just astounding," she said. "It's so incredible to me that people can come up with designs in their head and actually make them a tangible piece of clothing." And although she appreciated the talent of the designers, she deeply enjoyed getting to walk down the runway. "My mom and I always used to watch Project Runway when I was little, and we used to love watching it together," Sepehri said. "This was like my Project Runway moment." Reporting by Alice Scott. Photo by Alysa Bijil-Spiro.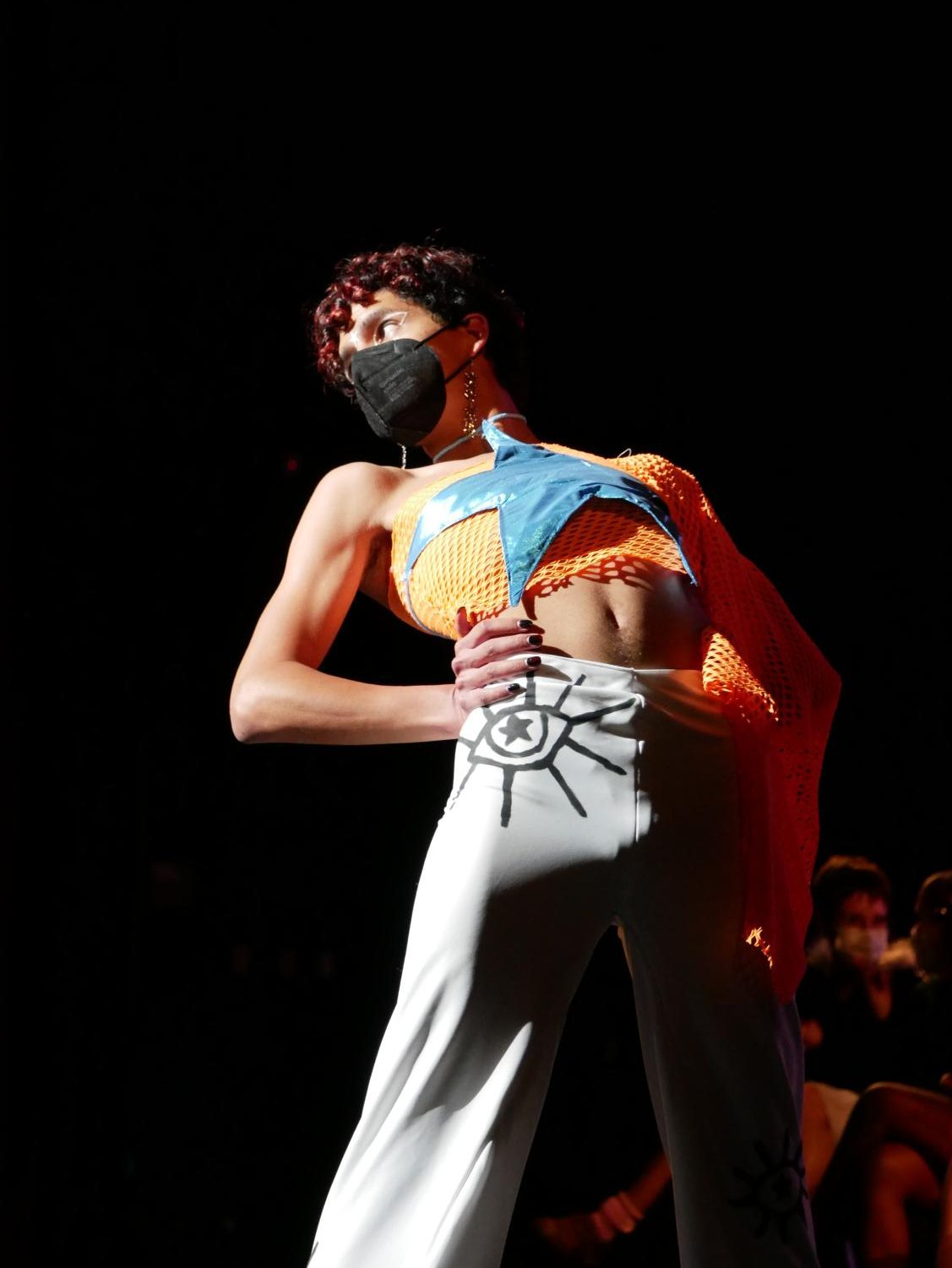 INTERGALACTIC STAR: As he walks down the runway in an outfit designed by senior Caroline Allen, senior Bobby Currie strikes his final pose. Currie describes this look, which was inspired by David Bowie's album The Rise and Fall of Ziggy Stardust and the Spiders from Mars, as "androgynous" and "intergalactic." Currie felt a deep connection to his look. "It was exactly the kind of look I wanted to model," Currie said. "I like to play with androgyny a lot in my look, so having a line that celebrates that on such a big stage… was really cool." Currie believes this look succeeds in giving credit where credit is due. "We're crediting the trailblazers [of androgyny], like The Princes and the David Bowies." And in typical David Bowie fashion, Currie left nothing on the stage. "The light hit me and I was like, 'Oh baby, we're going down the runway,'" Currie said. "I had a blast." Caption by Samantha Powers. Photo by Alysa Bijl-Spiro.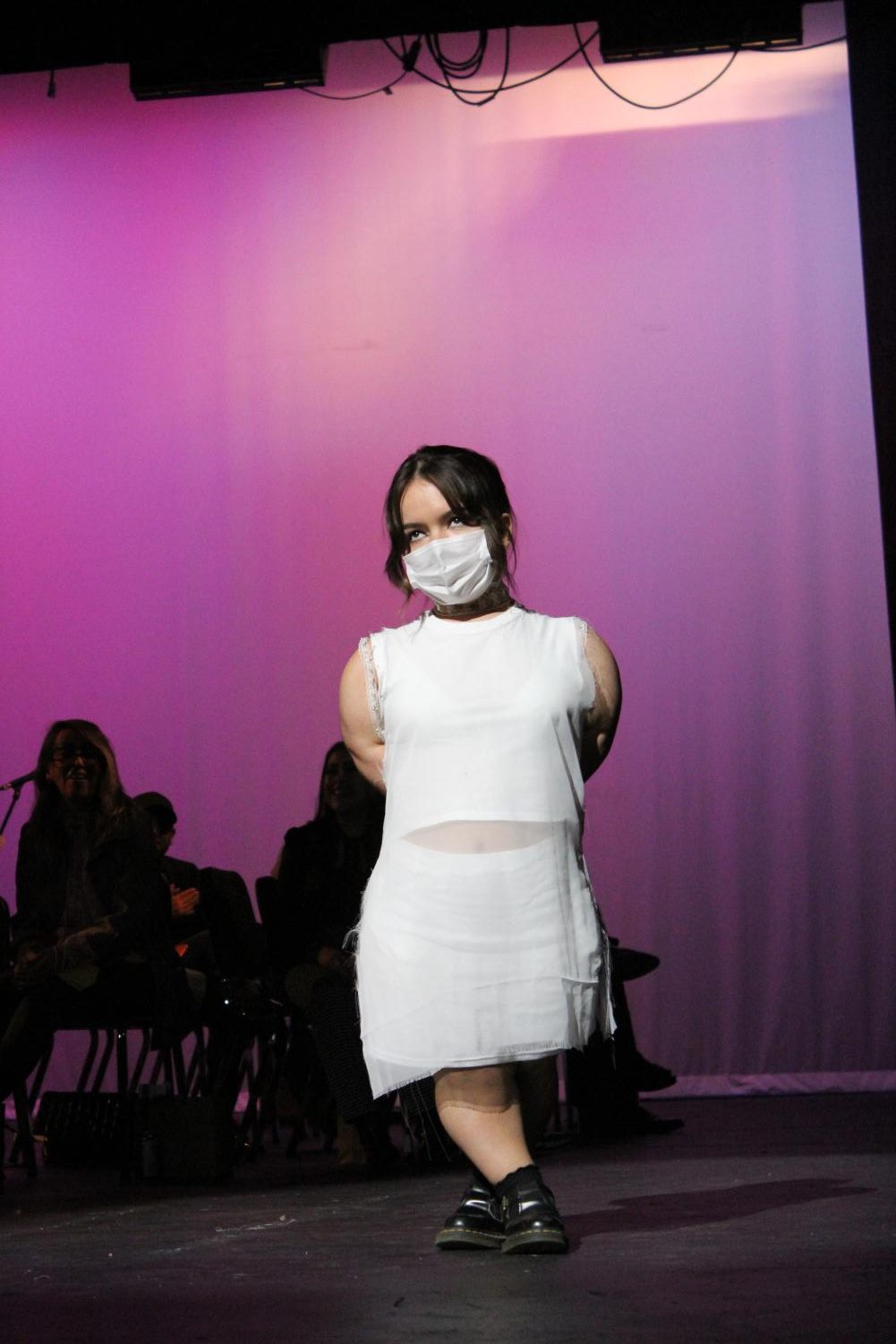 WALSER IN WHITE: Senior Natasha Walser models a look by Marisol Gonzales inspired by The Smashing Pumpkins album Siamese Dream. The outfit drew upon both themes of youth and the harsh feel of the music. "Marisol wanted to create a look that displayed childhood innocence," Walser said. "She also made it represent the sort of angelic vibe a child has, and also incorporated the grunge style to capture the album's musical style." For Walser, modeling at the fashion show was a rewarding experience. "I really loved seeing the different designers come together in their final form," she said. Caption by Madelynn Niles. Photo by Alysa Bijl-Spiro.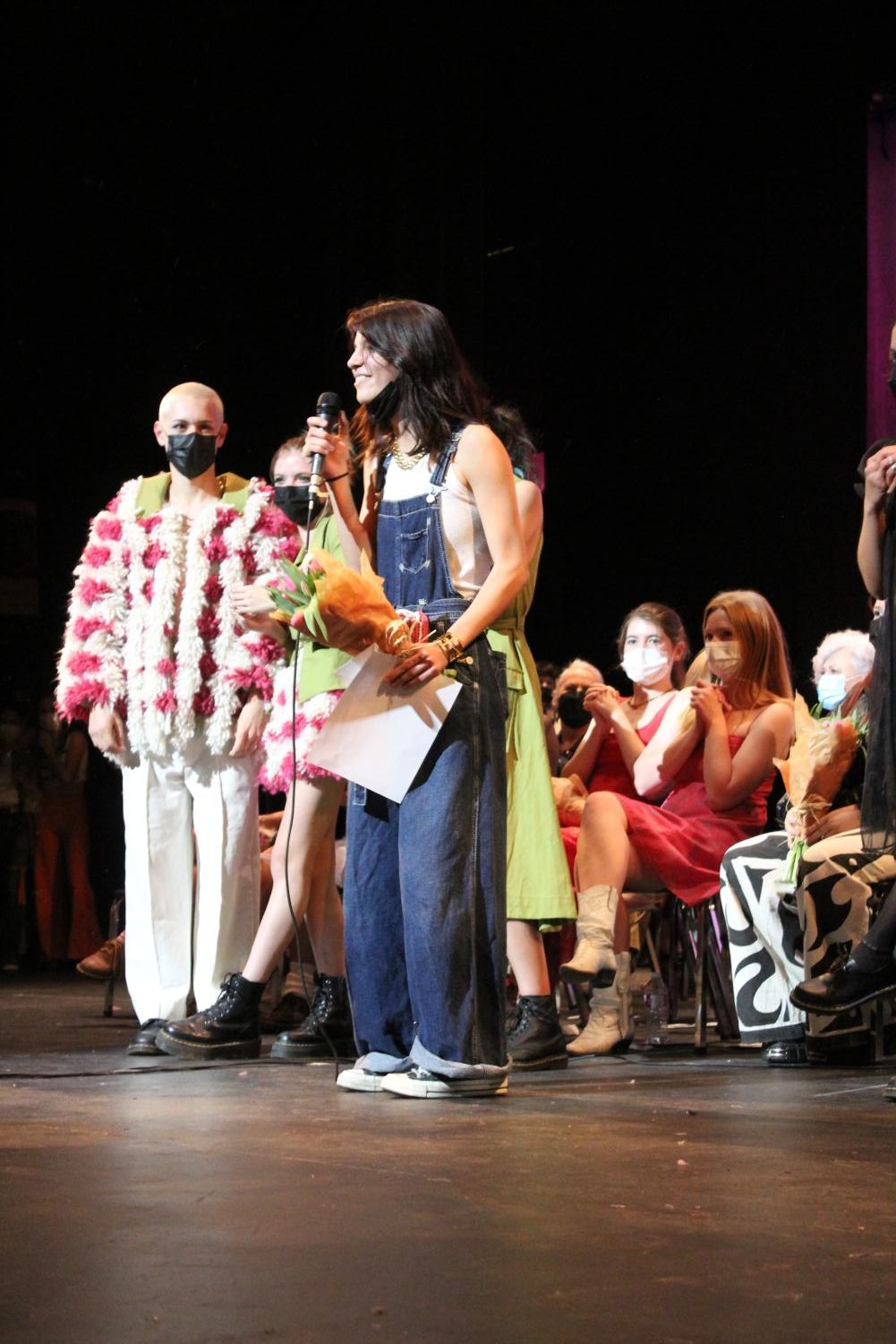 CREATIVITY PAYS OFF: Senior Erin Earthman accepts the first-place award of $500 at the fashion show on Sunday night. The show's theme was 'Albums,' and Earthman's inspiration was The Stooges' self-titled album. "The music reminds me of the decaying of society," Earthman said. "I tried to show that through the unnatural faux fur stuff and through the collection of old buttons and keys I used for the clothes." Earthman's designs featured alternative plays on more traditional clothes as a form of commentary. "I used a lot of suiting because The Stooges' music kind of makes fun of rigid society, so that's what I wanted to do," Earthman said. Caption by Samantha Powers. Photo by Alysa Bijl-Spiro.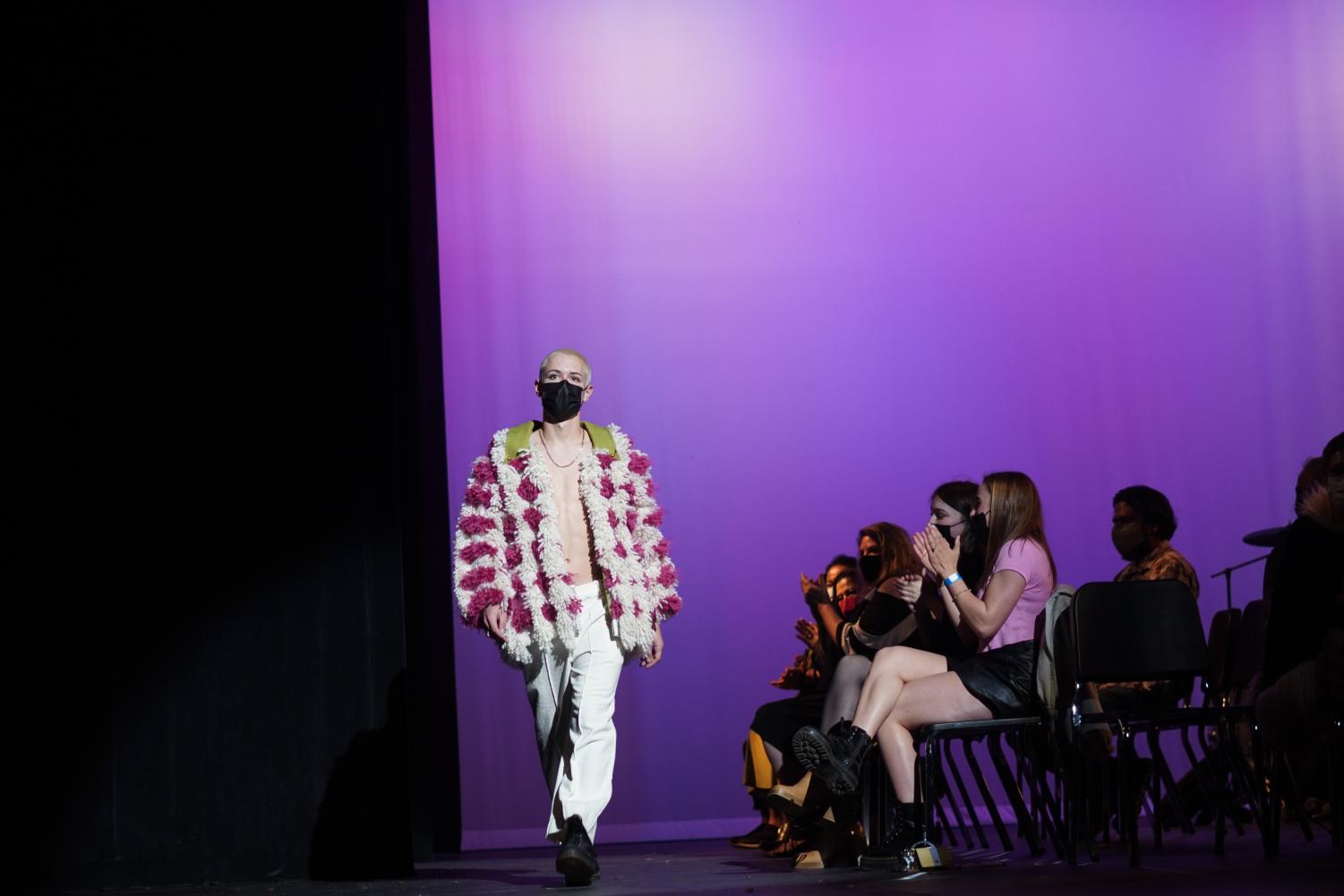 FIRST-YEAR PHENOM: Walking to the song "I Want To Be Your Dog" by The Stooges, senior Gage Sanchez models the opening look of Erin Earthman's collection. According to Sanchez, Earthman described this look as "the highlight of the collection." While Sanchez was excited to model the large jacket, which was created with a rug-tufting gun, he explains that it also posed some difficulties. "I was nervous because it's really hard to pose in that coat," Sanchez said. "It's like a big ball. It was about finding the right poses to show off her clothes, because I knew she had already done the work, so I knew now it was my time." Overall, Sanchez described his experience participating in the fashion show as stepping into a new world. "It was my first year doing it," Sanchez said. "So much creativity and resourcefulness goes into it. Even before practices and dress rehearsals, people would bust out their sewing machine and completely create new looks. It was so crazy to see it all come together since we've been practicing for so long." Caption by Alysa Bijl-Spiro. Photo by Charlie Partheymuller.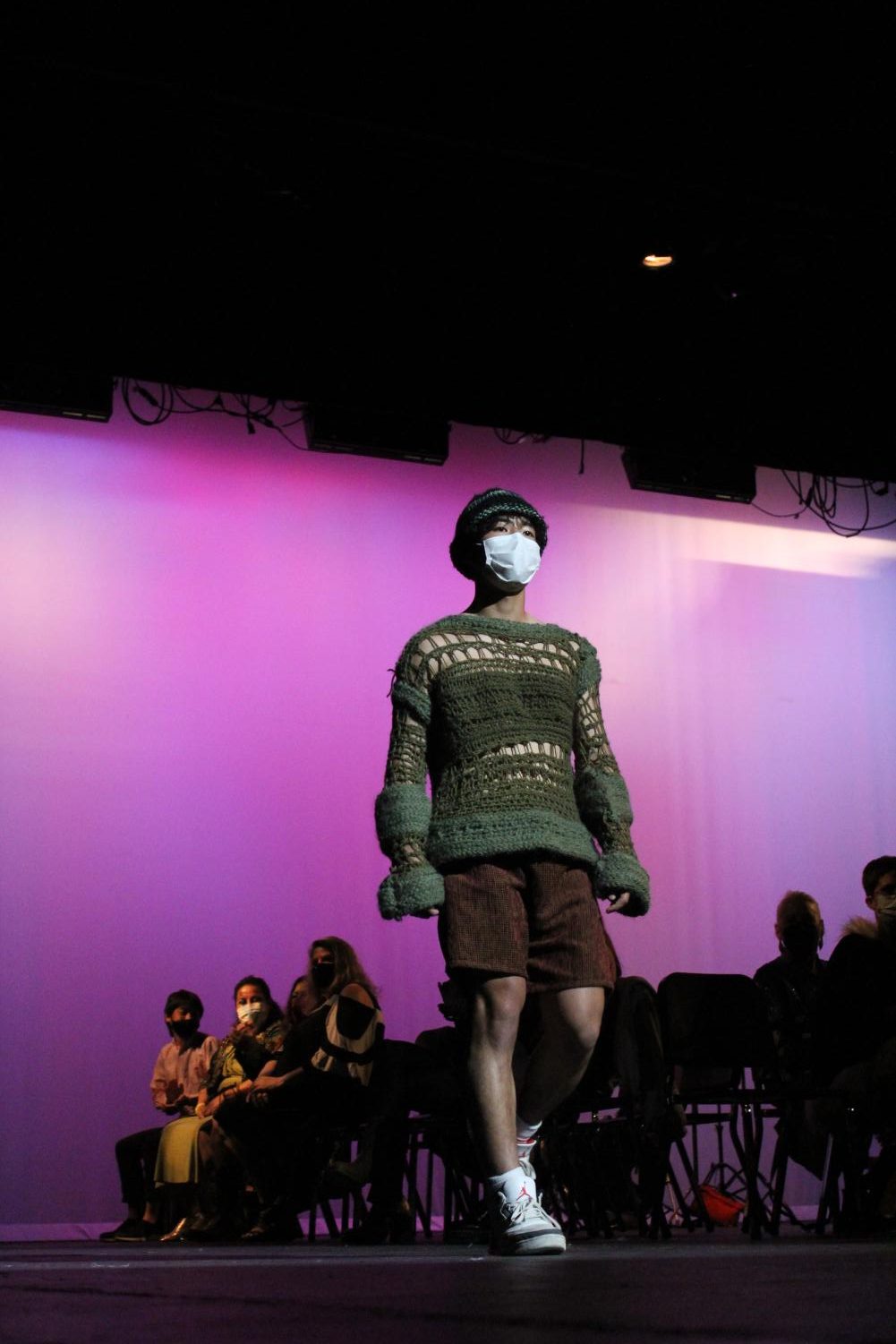 READING, WRITING AND FINGER KNITTING: Kenta Asazu models an open-knit sweater made by designer and senior Lucy Marco. The sweater took her over 40 hours and two months to make. "I wanted it to be loose and messy so I ended up finger knitting it," Marco said. "It took a very long time and it was a lot of work, and the whole time I was just crossing my fingers, hoping it works." The sweater was Marco's second project working with yarn, and she did not use a pattern. She completed it the night before the fashion show. "In the end, it just kind of came together. It was one of the best feelings ever to see it on the stage," she said. "Months of work are finally done." Asazu liked modeling the sweater so much he convinced Marco to share it with him.
"I got so many compliments on the sweater, so I begged Lucy to let me keep it," he said. "The judges liked it, too. They said the color palette they chose is really cool and it matched the vibe of the album. The agreement Lucy and I came to is we share the sweater. I have it in my custody right now." Asazu's look, along with the rest of the collection Marco designed with Veronica Britton and Malia Walewski, was inspired by the 1990 album Reading, Writing and Arithmetic by The Sundays. "It's very '90s, teenager-ish, and nostalgic," Marco said. "We used earth tones and it all has such an organic feel to it." Caption by Evelyn Griffin. Photo by Alysa Bijl-Spiro.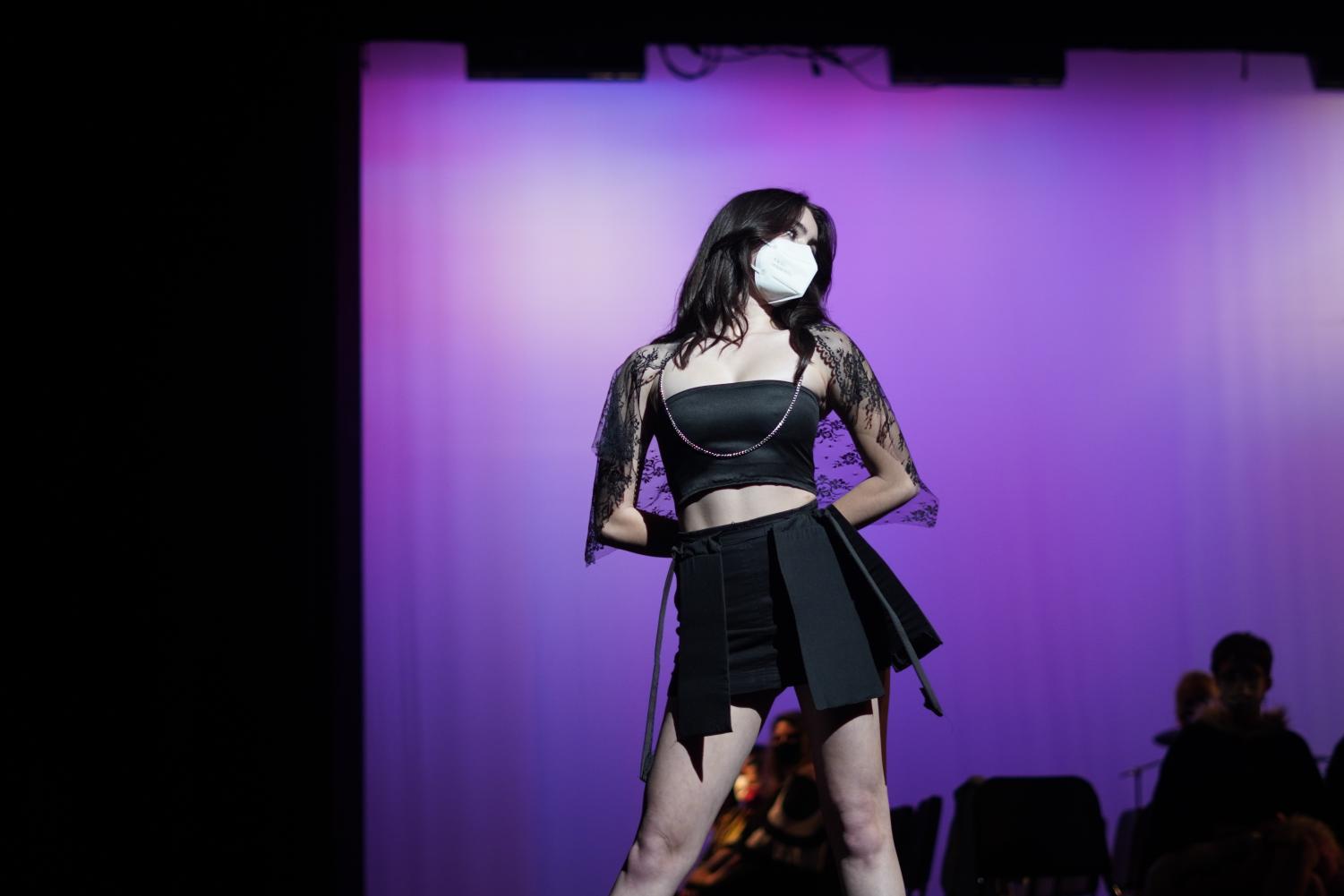 GEOMETRIC GLAM: Sophomore Lucy Praxmarer-Holloway poses on the fashion show runway in an outfit of her own design. Inspired by the techno beat of 17 Going Under by Sam Fender, the album that played as she and sophomore model Chloe Marco showed off the designs, first-time designer Praxmarer-Holloway's collection explores geometric shapes and the feelings they evoke. "I felt pretty nervous at first, but when I was on stage I felt confident and proud of what I had accomplished," Praxmarer-Holloway said. "When my model walked in my design it was amazing to see the idea in my head come together." According to Praxmarer-Holloway, the design modeled by Marco used triangles, the strongest shape, to convey power. The design Praxmarer-Holloway chose to model herself incorporated cardboard panels to allow rectangular pieces to shoot out from the skirt, her favorite detail from the collection. "I would love to do it again because I got to meet a bunch of amazing people and also just see different styles of fashion which was very inspiring," Praxmarer-Holloway said. Caption by Ingrid Smith. Photo by Charlie Partheymuller.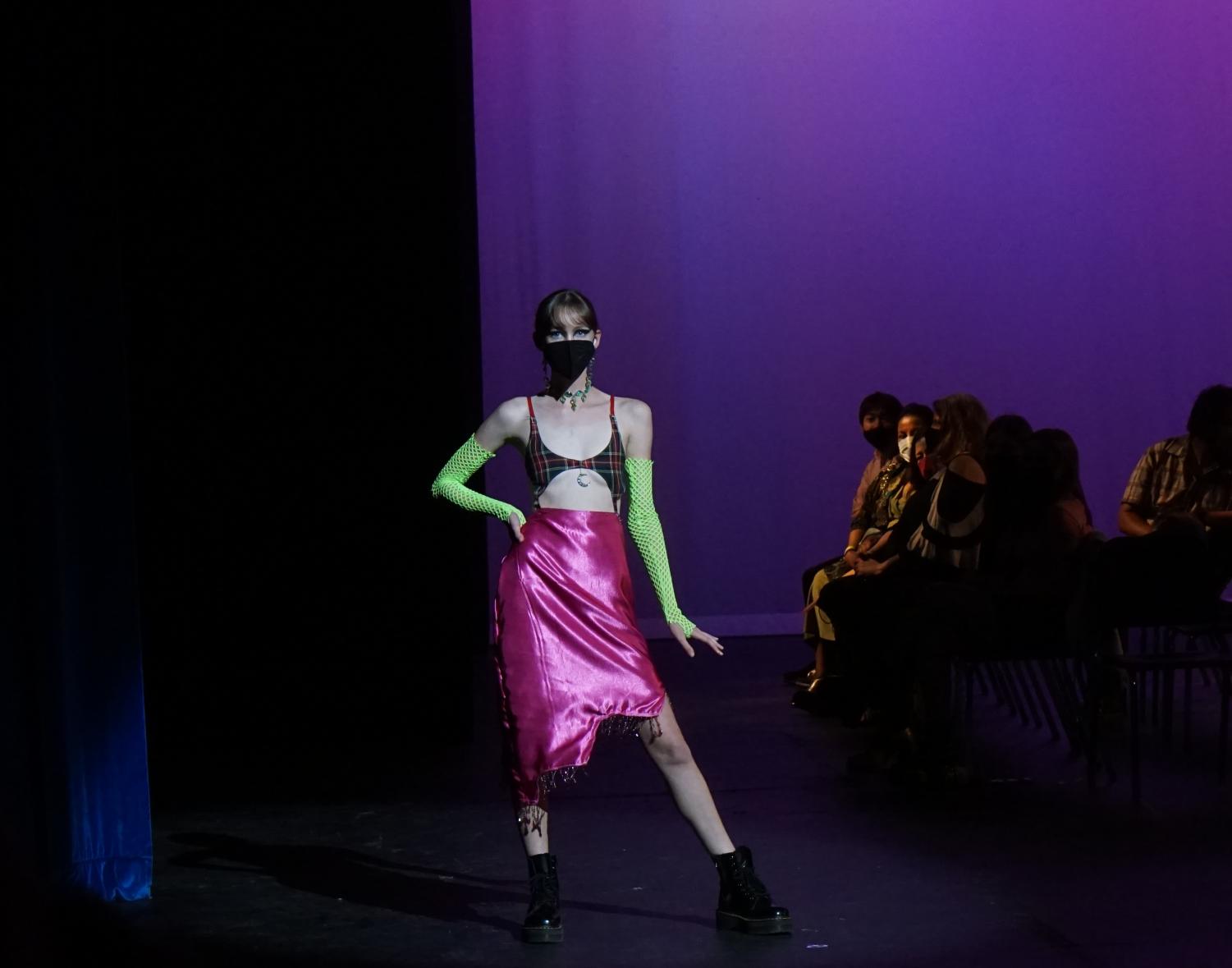 MOONAGE TEENAGER: Senior Jewel New wears a look designed by senior Caroline Allen, with "Moonage Daydream," the song the look was influenced by, playing in the background. Allen was proud of the way the design interpreted the song. "I'd say my personal favorite part of the look was the bodice of the dress because I feel like the star shape of it really encapsulated the theme of 'Moonage Daydream,'" she said. "The moon charm dangling from the bodice was also inspired by the song." Allen's entire line comprised of three looks all inspired by David Bowie's album The Rise and Fall of Ziggy Stardust and the Spiders from Mars. After hours upon hours of work, she was joyful and relieved to finally have her work displayed in front of the huge audience. "It felt almost surreal seeing things I made by hand being showcased on an actual runway," Allen said. "It was the satisfying moment I had been looking forward to all the many hours of sewing, and it did not disappoint." Caption by Lucy Marco. Photo by Kiki Baker.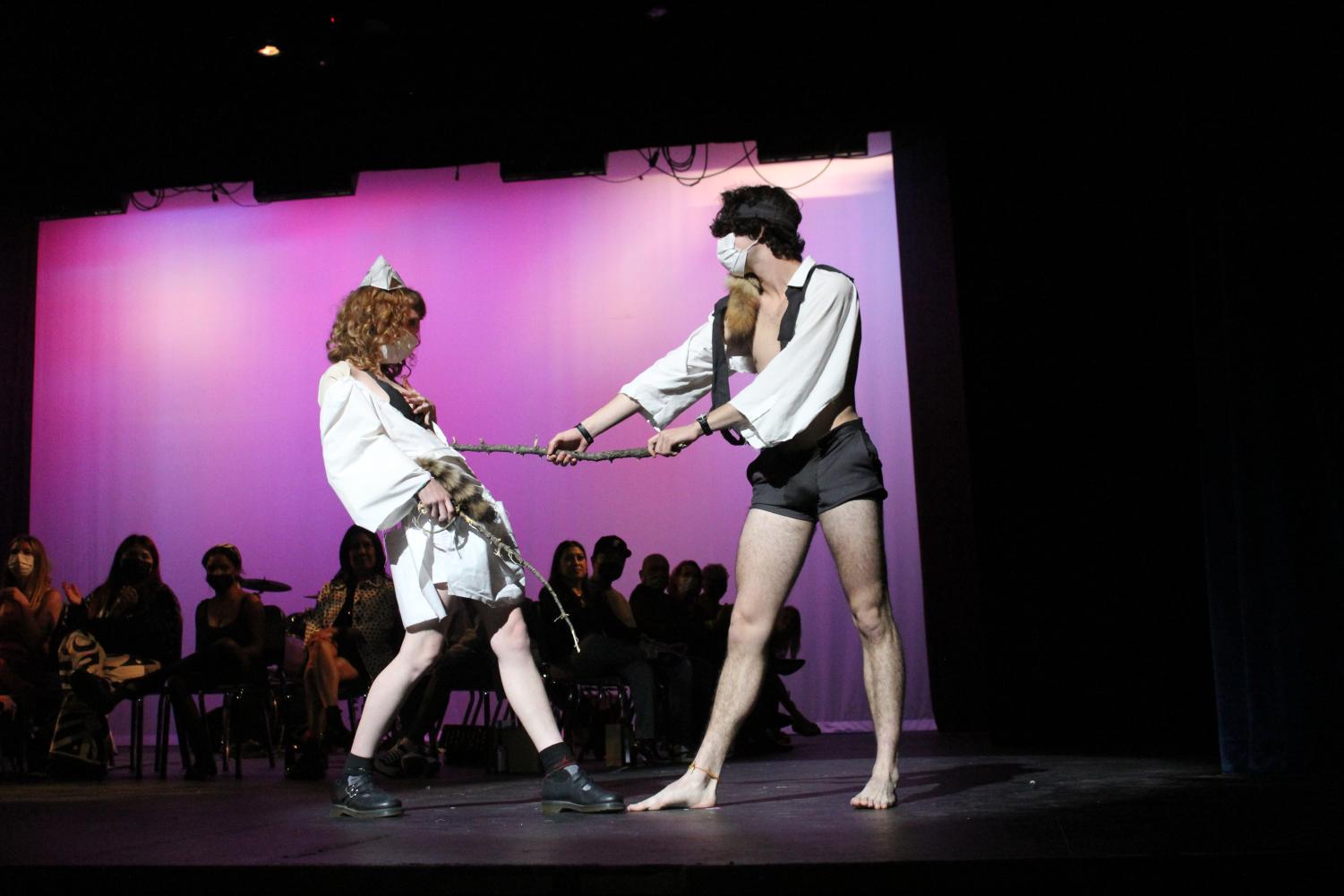 I DON'T WANT TO GROW UP: Models Matilda Scatton and Owen Lucente show off senior Ryan Honza's designs based on Patti Smith's album, Horses. Honza began with an analysis of the album's songs and a deeper dive into Smith's career. "The first thing I noticed was a presence of childhood and a larger escape from the world we live in," he said. "I came across an interview where [Smith] mentioned not wanting to grow up, so I went in the direction of lost boys and kids living in a society they are wanting to escape. From there I was inspired by the idea of Peter Pan Syndrome." Peter Pan Syndrome is an idea coined by psychologist Dan Kiley where grown adults feel unable to grow up. "I wanted childlike play in a context of survival rooting back to nature and being present, just not in the way society wants," Honza said. Overall, he was pleased with the development of his ideas, although he wished he had more time to complete his designs. "I absolutely love formulating ideas to follow a concept in a narrative," he said. "I just wish I could have spent more time to make the actual pieces and try out a lot of the tailoring techniques that I only played around with a little bit like the pick stitched collar. If I had more time I would have tried larger shapes and grander shapes, especially in the details." Reporting by Alice Scott. Photo by Alysa Bijil-Spiro.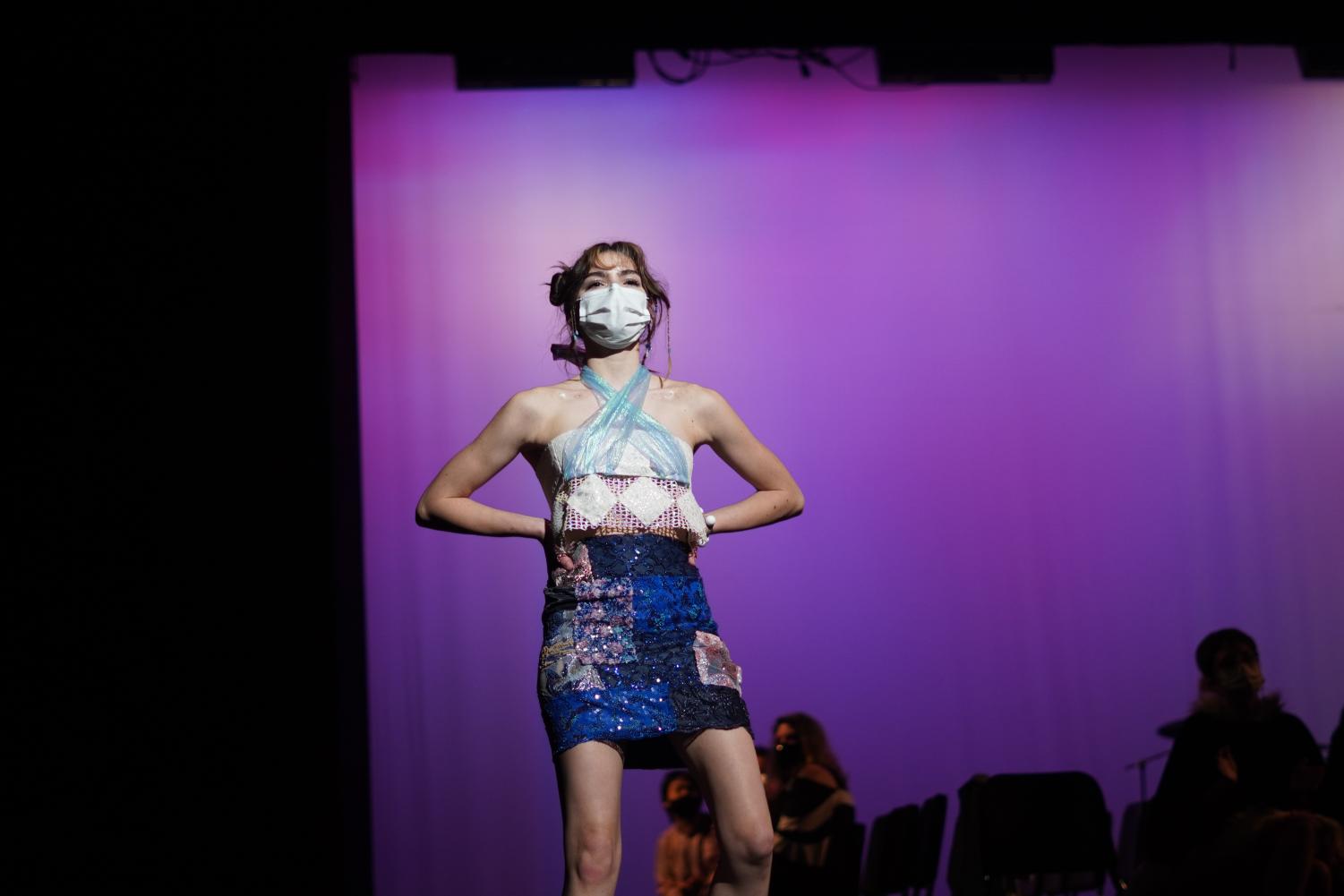 McNAB IS ALL THE RAGE: Senior Keely McNab sparkles while striking a pose in her Rage Against the Machine-inspired outfit. McNab, who not only modeled but designed her collection, was inspired by the song "Township Rebellion," a song that she chose to stand out from the other, more mellow background music. "Instead of going with the obvious harsh rock look that would be expected to coincide with the album, I decided to use cool colors and fabrics, like silk," McNab said. Because "Township Rebellion" is an anti-war song, McNab purposefully designed "shiny and elegant" looks that she then "ruined" with spray paint as a way of demonstrating war's destruction. While her pieces took inspiration from the chaos of war, the fashion show gave McNab the organization she needed to take her designs to the next level. "I loved doing the fashion show because it motivated me to create an actual line," McNab said. "I've loved to sew for a couple years now but never really motivated myself to create an organized line by myself, since I don't have any professional training. This gave me the structure I needed to really push myself in the design area." Though McNab had designed for the fashion show before, this was her first time seeing her looks on the stage as last year's show was canceled. "I was super proud of my line and my models, and it just felt exhilarating being able to share my line with the audience," McNab said. Caption by Lanie Sepehri. Photo by Charlie Partheymuller.