Local eateries cautious about resuming dine-in services
As Gov. Abbott allows re-openings, local owners carefully consider best interests of their employees, customers
Gov. Greg Abbott announced on April 27 that starting May 1, essential businesses could reopen to 25% capacity. These essential businesses included restaurants, movie theaters, and malls. In Austin, some restaurants responded to the order by reopening to partial capacity, but a lot of Austin restaurants have not.
Austin Mayor Steve Adler responded to Abbott with skepticism. He questioned Gov. Abbott for his decision not to make masks mandatory and outlined the possible consequences of letting the stay-home order expire in an interview with KVUE.
"
I urge everyone to be patient with each other. We are all doing the best we can during a time where there is no playbook on how to do things one exact and correct way.
— P. Terry's CEO Todd Coerver
"Regardless of what they [Gov. Abbott and Lieutenant Gov. Patrick] say, we can make sure that everybody here wears masks and we can make sure that we don't go to any retail establishment or restaurant or otherwise where they don't require face coverings to be worn," Adler said to KVUE. "We get to decide that, as a community. We've shown a lot of discipline in the last six weeks. We need to keep showing that discipline."
The discipline that Mayor Adler described is reflected in the reaction of Austin restaurants to Gov. Abbott's order. Many McCallum favorites, including Thunderbird Cafe, P. Terry's Burger Stand and Top Notch Hamburgers have made the decision to keep dine-in services closed for the time being. Their reason? Safety.
Todd Coerver, CEO of P. Terry's, opened the West MLK dining room this week and plans to reopen other dining rooms soon but believes that some precautions need to be taken before doing so. He plans to install new equipment, move furniture, purchase contactless credit card machines and more.
"Regardless of what the governor or mayor says, this is still about us as individuals continuing to be accountable for our own and each other's safety," Coerver said in an email to The Shield on April 30. "That's why businesses should not open until they are absolutely comfortable with their plan to maintain public health through this challenging time. If some businesses are honestly ready May 1, great. If others need a couple of weeks to get prepared, that's great too. It's all about proper readiness."
One restaurant that felt that ready to reopen is Torchy's Tacos. Torchy's began to open select dining rooms in response to Abbott's announcement on May 1. Many precautions have been taken to ensure the safety of customers and employees in this situation, including staff wellness checks, social distancing and following occupancy guidelines, according to a press release issued on the Torchy's Tacos website.
"We want you to know that we take the responsibility of safely reopening our dining rooms extremely seriously," the press release reads. "As we begin to reopen where permitted, starting with select locations today in Texas and Oklahoma, we are taking multiple precautionary health measures to ensure the safety of our Guests and Team Members. In addition, we will continue to offer online ordering, curbside pick-up at most locations and contactless delivery through our partners at DoorDash. We understand that these continue to be trying times for our communities and pledge that we will continue to offer multiple dining options to meet the needs of our guests."
Coerver said the he believes that it's better to be cautious and applauded Mayor Adler for his response to Abbott's announcement as well as the decisions he has made to keep the City of Austin safe.
"I believe the mayor is continuing to be appropriately cautious and mindful of our safety and well-being," Coerver said. "It's because of many of his decisions, starting with the cancellation of SXSW, that we are not a 'hot spot' for COVID-19 here in Austin."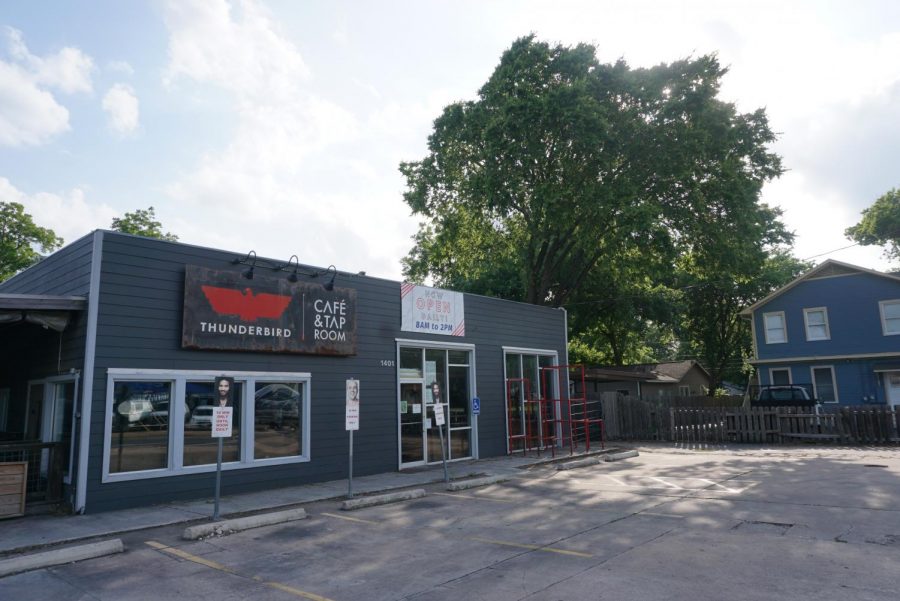 Thunderbird Cafe, a tried-and-true staple close to both the hearts and the campus of McCallum, is also keeping its dine-in options closed at this time, with the exception of the patio opening on Monday at the Koenig location. Ryan McElroy, the owner, explained that he wants to bide his time rather than rush into anything.
"[We are] facing an unknown development of COVID-19 from here on out," McElroy said. "So, we obviously hope to reopen our dining rooms, but currently, it seems like waiting and seeing is a more prudent approach than just jumping on it."
McElroy says that when Thunderbird does open its dining rooms, they will take a number of new precautions, including distancing tables, keeping air circulating and possibly mandating masks. However, a lot of health-based policies currently in the spotlight are not new, he said.
"Of course, you have to use good food hygiene practices when you make food, but that's something where that's in our bones at this point," McElroy said. "We do that anyway. … We've used gloves for years. Washing your hands, don't let anybody work sick; these are in the health [code]. A lot of these practices that are new to the general public are [by] default what we do, making food professionally."
So while practicing safe food preparation is second nature to a restaurant like Thunderbird, accommodating dining rooms to concerns about COVID-19 is uncharted territory. McElroy explained that the reason he's not jumping right into dine-in service is because he is in this business for the long haul.
"We're long-term focused; I've been doing this since 2006," McElroy said. "First and foremost it's because safety comes first. It's long been my policy. … I don't love money so much that I'm willing to risk the lives of my staff and myself."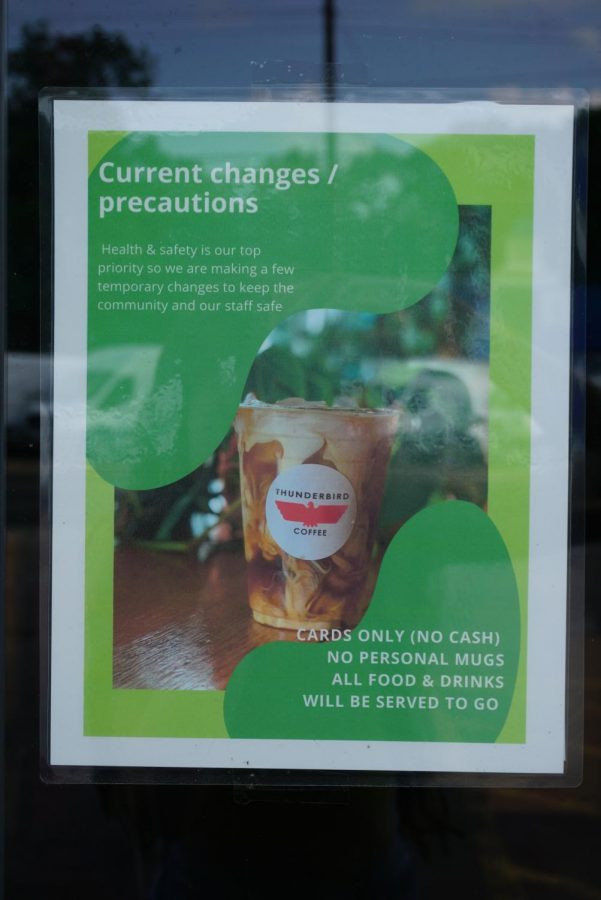 Joining the list of Austin restaurants keeping dining rooms closed is Top Notch Burgers, an Austin classic since 1971. Kelly Chappell owns Top Notch as well as Galaxy Cafe and Violet Crown Clubhouse. Chappell shares McElroy's sentiments and explains that he is focused on the long-term outcome as well.
"Our whole plan was based on long-term survival," Chappell said. "A little bit of revenue here and there was not going to make a difference in the long run. The idea of opening just to generate some income but putting our staff and ourselves at risk made zero sense to us. We were looking to help the city flatten the curve, and help our staff feel comfortable in keeping their careers with us."
Top Notch had a longer waiting period to open than most Austin restaurants, opening on May 11, almost two months after the stay-at-home order in Texas began.
"We had a waiting period that allowed us to change our procedures, evaluate safety, and also let people come to their own decision about whether or not they want to work," Chappell said. "We are still working at a limited staff capacity, but the people who are there very much want to be there. We don't ask anybody to work who's not comfortable, and we only work alongside people who we know.. to the best of ability, are healthy."
Chappell prioritizes his staff and wants to make sure that they feel comfortable coming back to work. He explains that the decision to keep dining rooms closed was one of the selling points to get his employees to come back. 
"It has nothing to do with me wanting or not wanting customers in the dining room, it has to do with the exposure that my staff will have to experience if we allow customers in the door," Chappell said. "That's the priority, making our staff feel comfortable and feeling protected, so when I come home to my kids, I don't feel like I'm endangering them."
"
That's the priority, making our staff feel comfortable and feeling protected, so when I come home to my kids, I don't feel like I'm endangering them.
— Kelly Chappell, Top Notch owner
Chappell's message for the Austin community is that each situation is different for each restaurant owner, and he asks that people respect the hard decisions that business owners are having to make right now.
"There [are] a lot of people attacking restaurants that have opened, and a lot of people attacking restaurants that haven't opened," Chappell said. "But all of our situations are different… I'm grateful that the customers want to come to my places, and I'm grateful that my staff wants to work, but I'm equally grateful for my staff that doesn't want to work, and our customers that aren't ready to come out and buy food from us."
P. Terry's Coerver also asks that the Austin community be patient during this trying time and respect the decisions of business owners on how best to protect their staff and customers.
"As the Texas economy begins to re-open … there will be different approaches by different retailers on maintaining the health and safety of others, and each and every one of those ways will be judged by the public," Coerver said. "I urge everyone to be patient with each other. We are all doing the best we can during a time where there is no playbook on how to do things one exact and correct way. So let's help each other through this challenging time rather than criticize each other."