As in the comic books, these heroes wear masks
Is there anything more ubiquitous in American society now than a cloth facial covering? We don't think so, but that doesn't mean that those who don them aren't noble
Emmi Anderson, Steven Anzures, Sophia Dawson, Jolie Gabriel, Megan McHorse, Daniela Morrow, Charlie Partheymuller, Lydia Reedy, Liliana Rodriguez, Amelie Ruggero, Alex Seiler, Camille Wilson, and Dave Winter
April 28, 2020
The face mask has become the icon of the COVID-19 pandemic. It's central importance in the debate of the statewide response to the pandemic became crystal clear on Monday as state and local leaders discussed their plans before the public. First, in their afternoon press conference, Gov. Greg Abbott and Lt. Gov. Dan Patrick both said that they believed Texans should wear cloth face masks in public as one precaution (along with social distancing) to keep themselves and others safe from being infected by and also from spreading the coronavirus.
But in response to a reporter's question, Abbott made it clear that county officials could not make it illegal not to wear a mask because his decree was voluntary and superseded any city or county statute. No county official in Harris County or Travis County has the power under Texas law impose any fine or other penalty for someone who neglects to wear a mask.
Mayor Steve Adler, responding to Abbott's and Patrick's comments on his weekly Facebook Live broadcast on Monday night said that if all political leaders agreed that wearing a mask was for the greater public good then it should be mandatory. And it has been so in Austin and in Travis County since April 5 when the city and county officially joined the Centers for Disease Control in recommending that the general public wear fabric masks over nose and mouth to further diminish the risk of spreading or contracting COVID-19. On April 13, Travis County judge Sarah Eckhardt made it mandatory to wear a mask with a possible fine for people found guilty of not wearing a mask in public. Harris County Judge Lina Hidalgo's face mask-mandate went into effect on Monday, the same day the governor decreed it to be superseded.
"This is another piece of a complex process to slow the spread and flatten the curve in our community," said Dr. Mark Escott, Austin-Travis County Interim Health Authority. "While you might otherwise feel well and healthy, we need everyone's help to prevent the potential asymptomatic spread to others who could face more severe symptoms."
Escott stressed that wearing masks does not substitute for social distancing guidelines already put in place. The April 5 announcement also directed people to the CDC website and the Austin Public Health website for more information about how to make effective do-it-yourself fabric masks. Citizens were discouraged from procuring medical-grade masks or N-95 respirators because they are scarce and should be reserved only for health-care workers and first responders.
But masks haven't only been in the news. They appear just as frequently in the photos that McCallum photojournalism students have captured for the WRKxFMLY Project, a national initiative that encourages students to document the interplay of work and family in their own lives. Why has the facial mask been a motif in the students' submissions for the project?
The overarching answer is that COVID-19 has reached into every home in America. The more specific answers are that many McCallum parents are health-care providers, and they must wear medical-grade masks in order to man the front lines in the fight to save lives. But masked figures are doing good in more indirect but still heroic ways. Many families are making masks for health-care workers and other community members, and others are merely exercising bravery by leaving the home to get necessarily supplies for their families while keeping themselves safe as well as other people with which they come into contact while they are away from home.
In this week's #TuesdayTop10 photo essay, we are pleased to share images of masks and the heroes who wear (or make) them.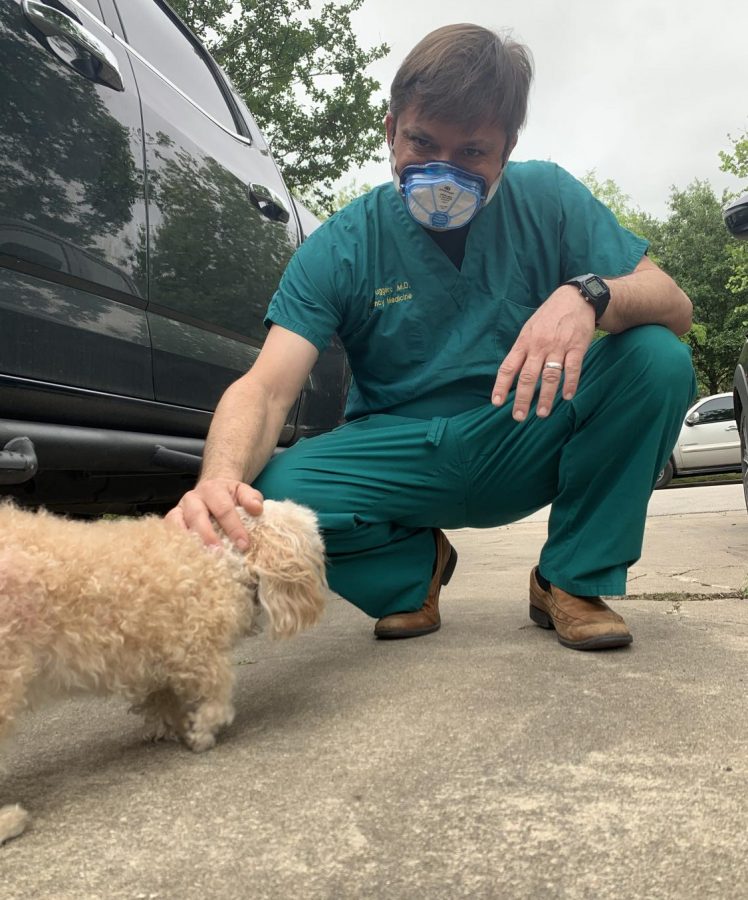 OFF TO WORK: My father, Dr. Ruggero, is an emergency medicine doctor so COVID-19 is directly affecting him. In this photo, he is saying goodbye to our little old man, Honey Bear. Photo by Amelie Ruggero.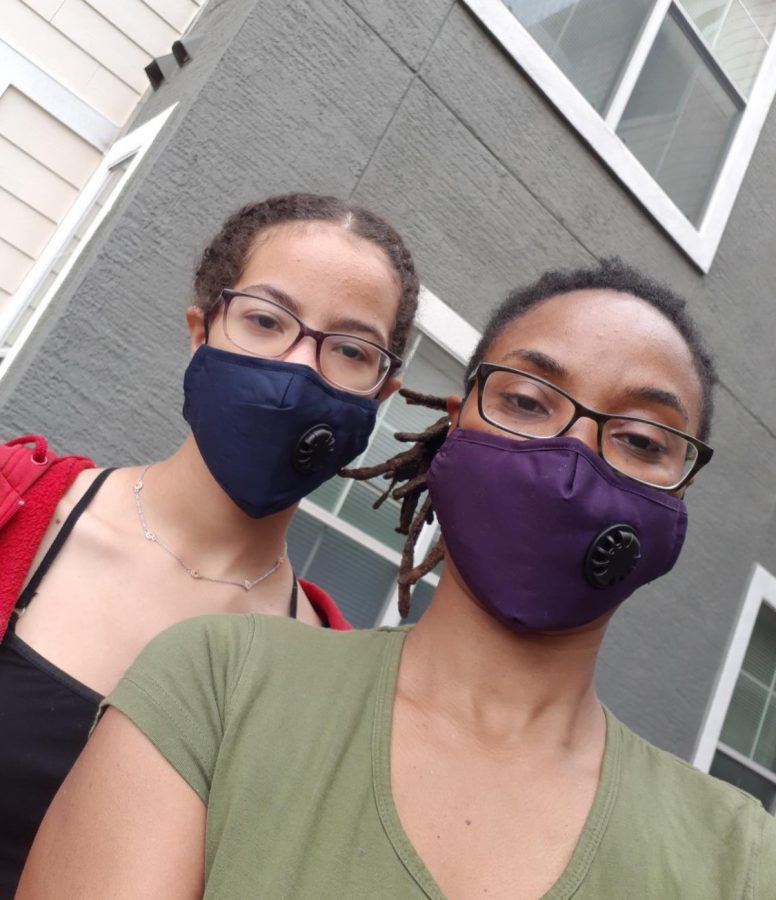 TO GRANDMA'S HOUSE WE GO: At the beginning of the quarantine, my mom ordered masks online for me, herself, my dad and my grandma. We wear these masks anytime we are going outside to do anything. This picture was taken outside of my grandma's apartment before we delivered her some groceries. Photo by Jolie Gabriel.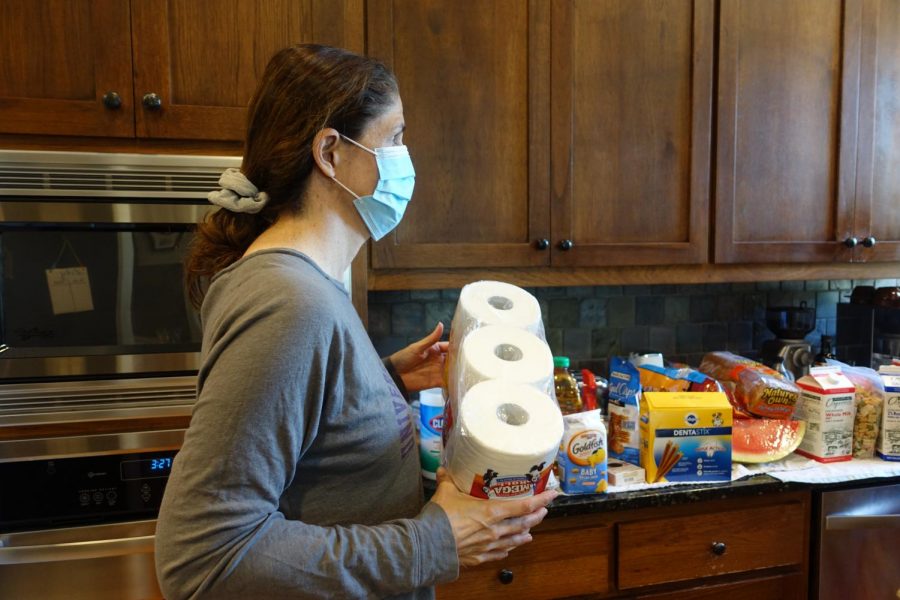 GROCERY DAY: Going to get groceries is usually such a normal day-to-day activity, but with everything that's going on, I've started to look forward to the day we go! With less food than usual, getting new food can make a day. We have made sanitizing the packaging a new normal, as well as wearing masks and other precautions, which has made me grateful for the simple things. Photo by Camille Wilson.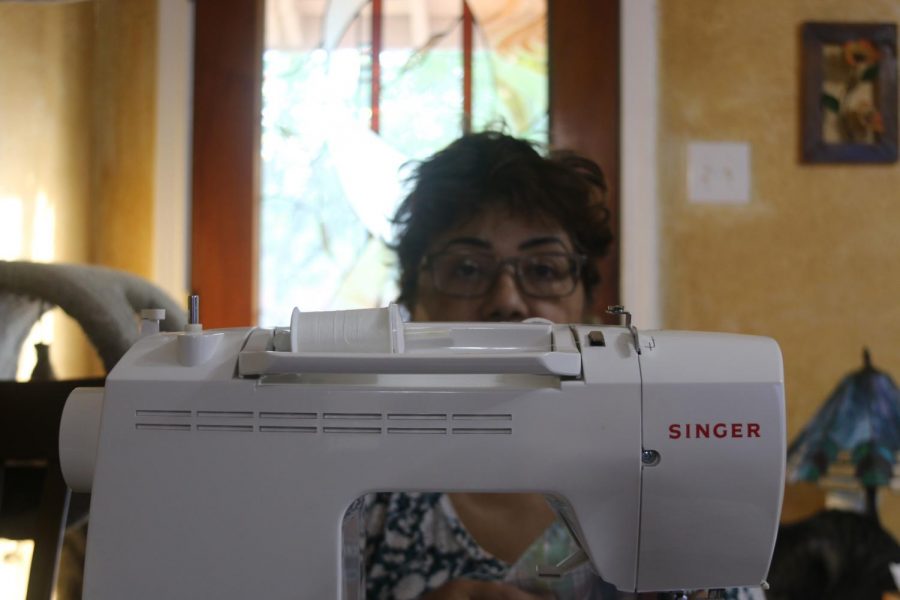 MASK-MAKING MARCIA: This is a photo of my mom using her sewing machine to make homemade masks because of COVID-19. She is a stained-glass artist and messes with any type of craft you throw at her. So when she heard that people were being told to wear masks if they leave their house, she had the perfect idea. Photo by Sophia Dawson.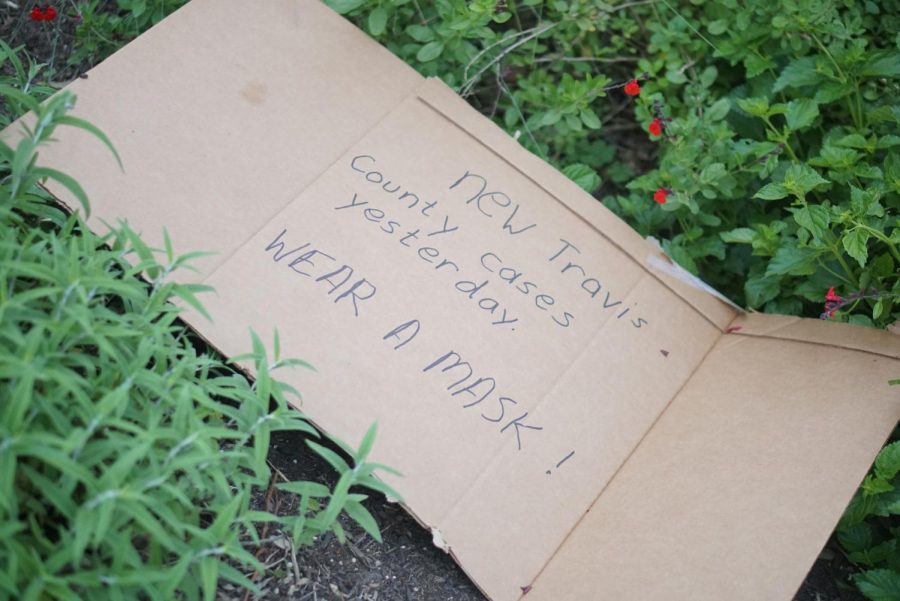 A NEIGHBORLY NOTE OF WARNING: I live on a cul-de-sac, and I found this sign early one morning the day while walking my dog. It was the day after there were news reports of back-to-work protests at the Texas Capitol downtown. It was also after city and county officials had passed an ordinance that citizens wear cloth masks over their faces when in public. Most people in the neighborhood out walking did not wear masks even after this city order was passed, and the sign was only there for a few hours. Not sure if my neighbor removed it, or if someone else took the matter into their own hands. Photo by Dave Winter.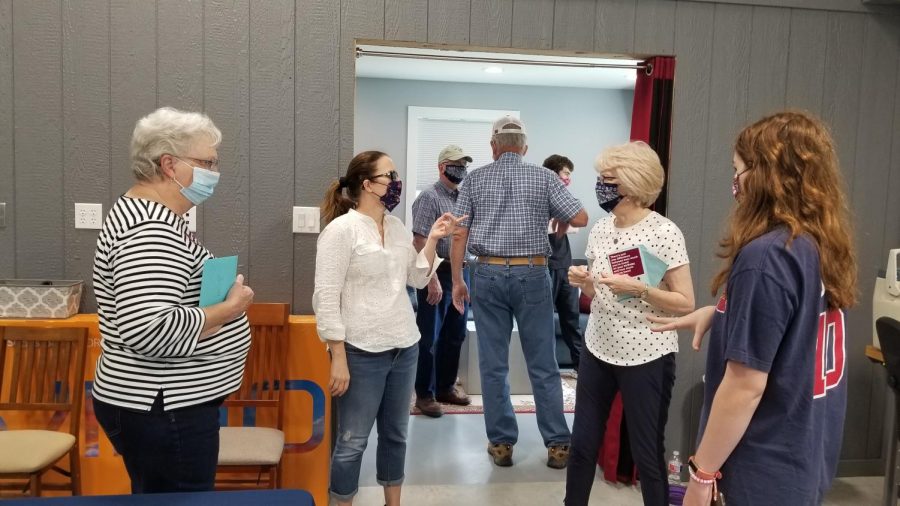 A MASKED PARTY: We traveled from Austin to Fredericksburg to celebrate the birthday of my kids' Mimi and also my wife's Aunt Susie. Our other hosts were my father-in-law, a.k.a. Opa, and our Uncle Tommy. All four of them are in a high-risk age group for COVID-19 so despite the fact that we are all family, we wore masks at the birthday party until we were safely seated in a circle six feet apart from the family members we don't live with. Photo by Dave Winter.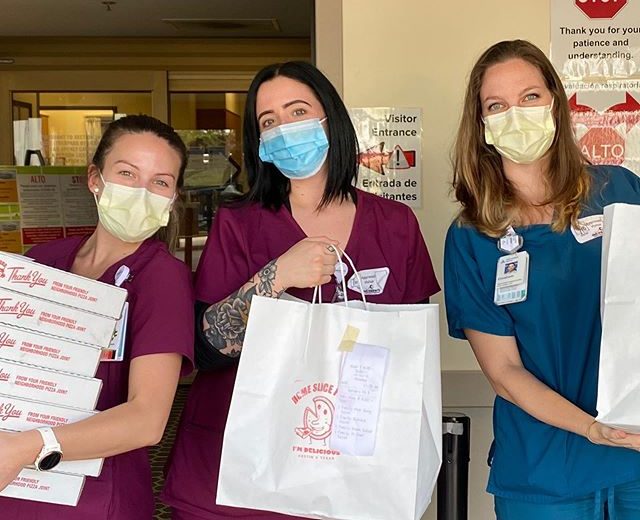 FEEDING THE FRONT LINES, FUELING LOCAL BUSINESSES: Health-care workers from the Dell Children's Center Emergency Room hold up 45 meals that were donated and delivered to the hospital by community members through Fuel the Fight Austin. So far, the organization has donated 280 meals to health-care workers around the city. Photo courtesy of Alex Seiler, Fuel the Fight Austin.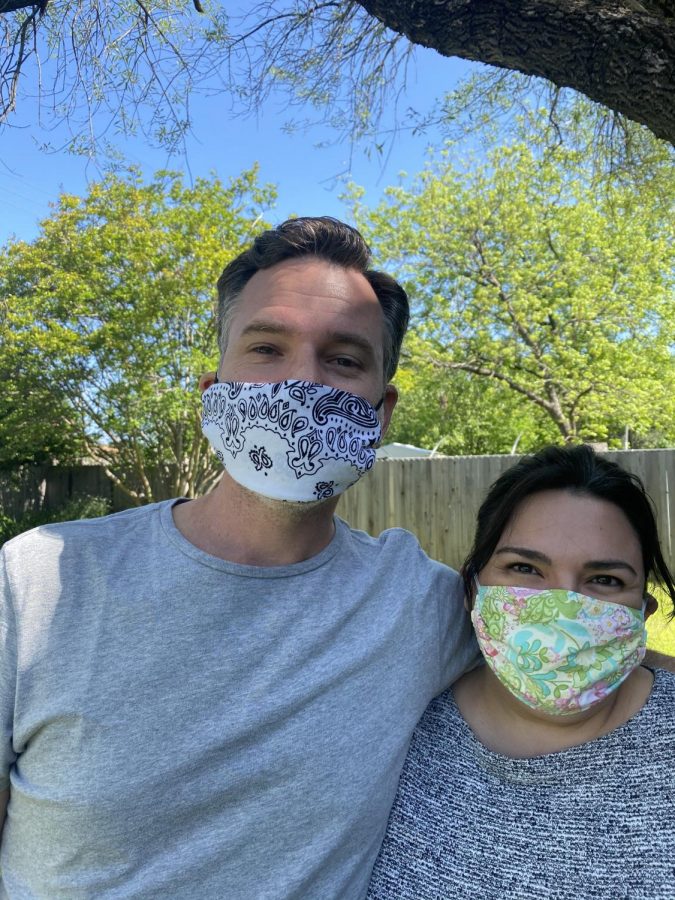 MASK ON: With the new times of quarantine, we need to be wearing masks when we go out in public. My mom, Amy Godoy, was given a homemade mask from jury duty while my dad, Peter Partheymuller, made his own mask from a bandanna and hair ties. Photo by Charley Partheymuller.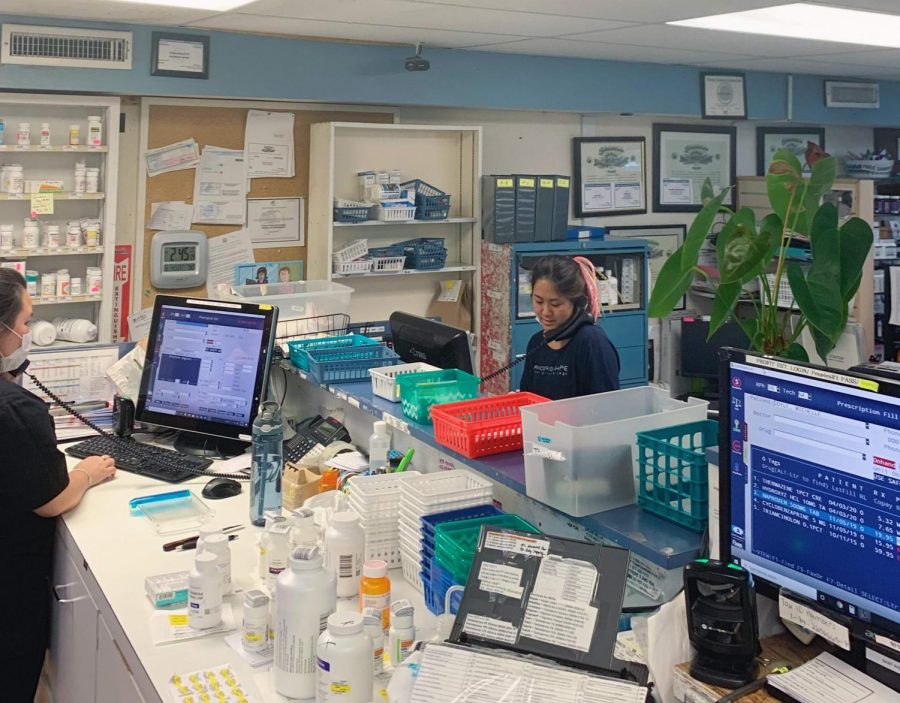 BUSY BEES: My mom is a pharmacy technician at a local pharmacy. Work for her has been very hectic lately due to COVID-19. Her job is needed more than ever right now. She comes home and tells how crazy it's been. How all 10 lines on the phone are on hold. How insane and impatient the customers are. I'm so glad that my mom is one of these essential workers that is helping people stay healthy. Photo by Steven Anzures.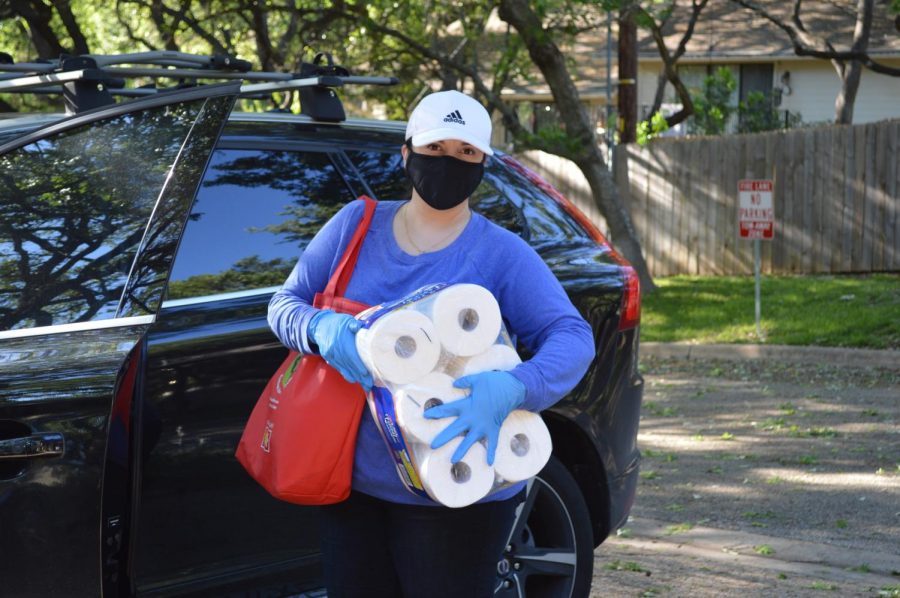 FIGHTER: This is a photo of my mom going to go grocery shopping and taking the necessary precautions to stay safe during this pandemic. I admire her bravery in this photo as she still works many hours a day from home, but still takes the time out of her day to go get my family and I food. Photo by Daniela Morrow.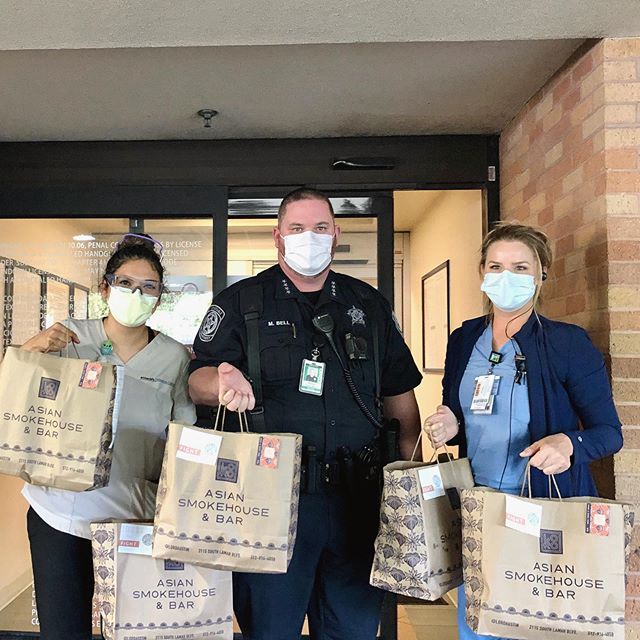 Staff from the St. David's Medical Center emergency room accept a delivery from Austin restaurant Loro provided through Fuel the Fight Austin. Photo courtesy of Alex Seiler.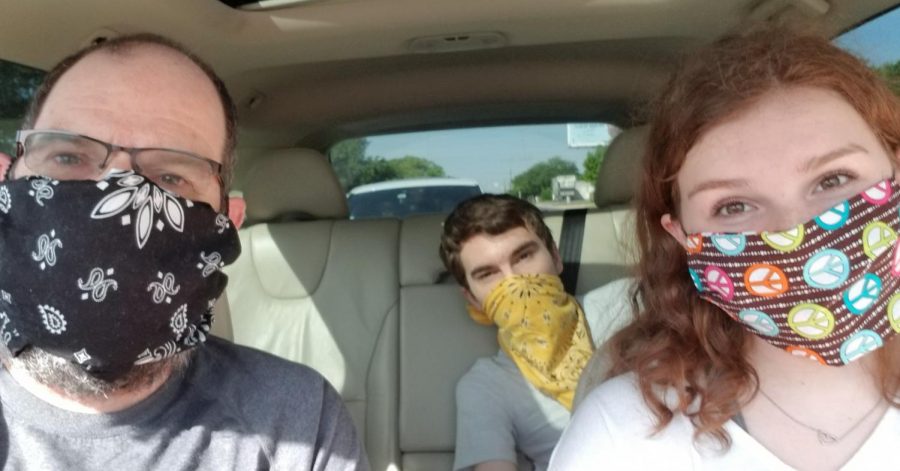 SUB SQUAD: We were just making a Thundercloud Subs run, but the dude working the cash register seemed genuinely relieved to see that we were wearing masks and posed less of an infection threat. Still, he placed our to-go order on a tray and extended it to us so we could not touch his hands when we picked up our food. My old principal later joked when he saw this picture on Instagram that we looked like we were about to rob some place. Photo by Dave Winter.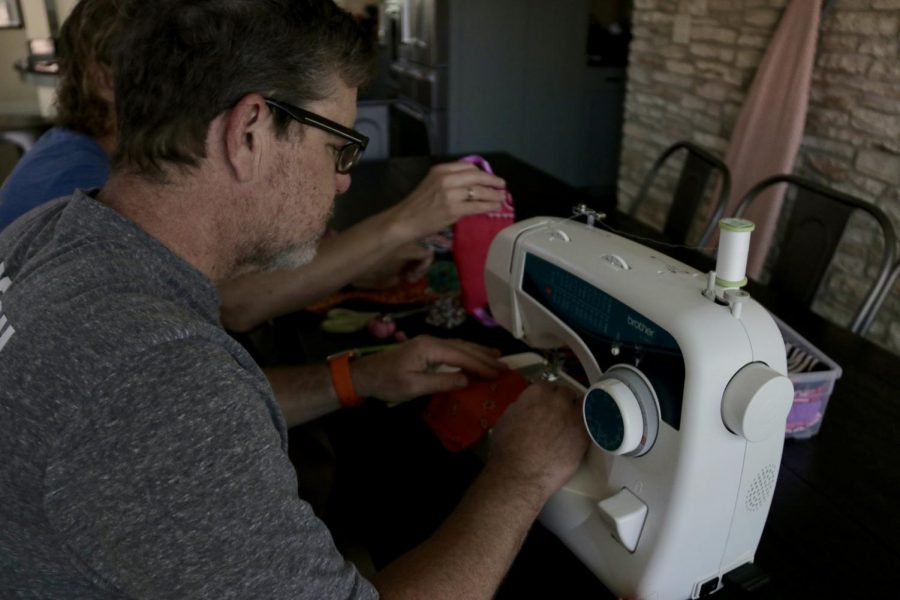 TEAM EFFORT: This photo captures a moment when my family all came together to make masks. During this difficult time, things can get chaotic, but it is important take the time do do things like this with your family. Even though none us knew how to use a sewing machine, we figured it out as a team. Even though there were some struggles along the way, we were able to make the masks and still have fun while doing it. Photo by Emmi Anderson.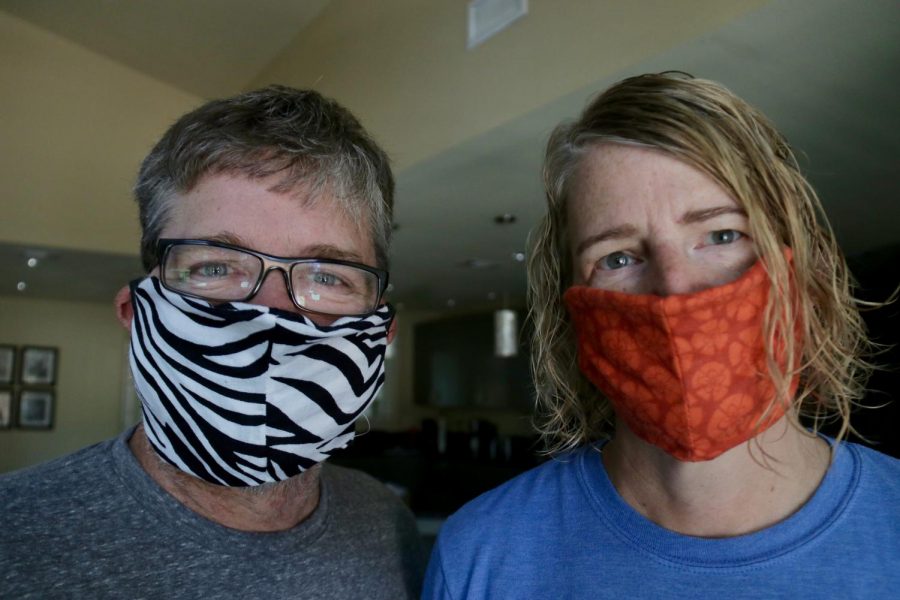 MAKING MASKS: This picture captures a moment that represent both work and family in my household. As you can see both of my parents are wearing face masks that we made as a family. With COVID-19 spreading quickly we thought that making masks to protect us when going out would be a great way to spend family time together. So this past weekend we took the time and learned how to makes these amazing masks. We don't get to spend much time as a family because both adults are always working even during quarantine, so this period of time used to make these masks was spent well! Activities like these are what keep our family running, and we enjoy them very much. Photo by Emmi Anderson.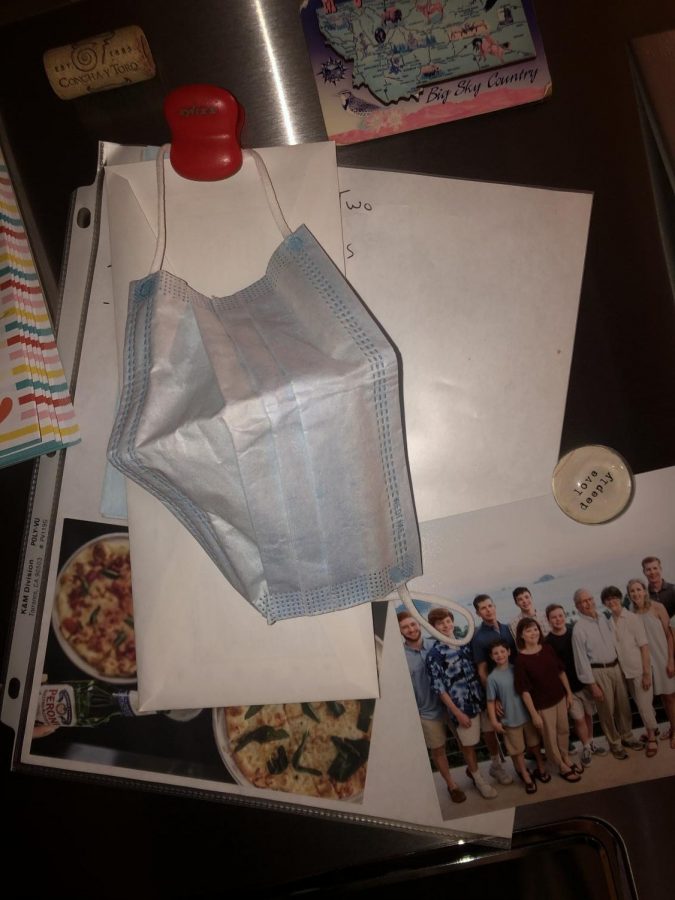 MASKS: This photo helps show the work side of my family. My dad is a physical therapist that is treating most patients over Zoom, but he is still having to treat all emergent and critical patients in person. Every day when he gets home from work he puts his mask here, with the chaotic mess on our fridge. It hangs next to a photo of my whole family, which is a good reminder that family is everything. Photo by Megan McHorse.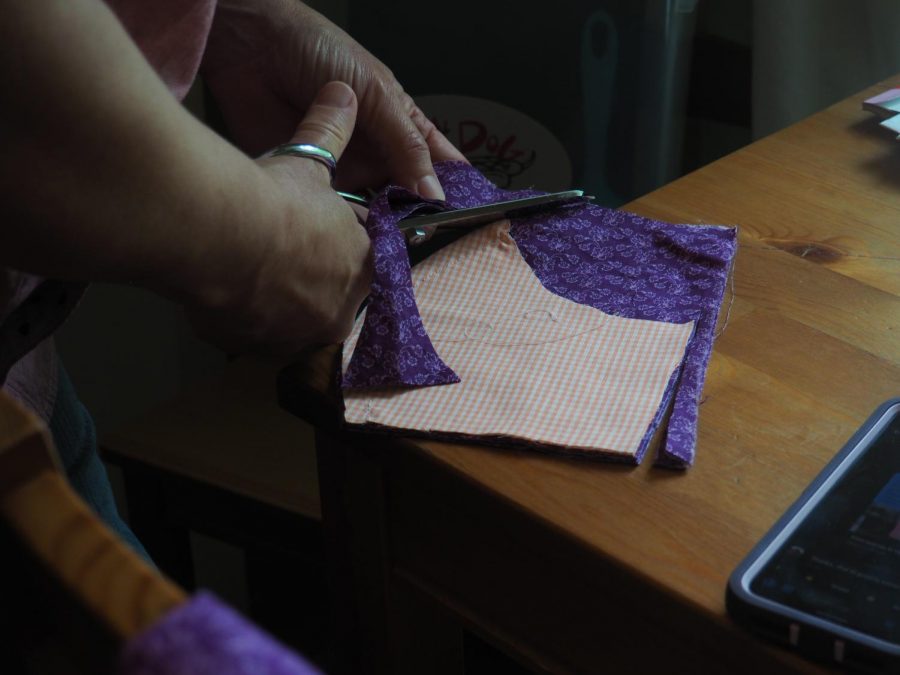 TAKING ON THE TASK OF MAKING MEDICAL-GRADE MASKS: My mom cuts fabric for cloth face masks. She took on the task of making masks for health-care workers when she got an email from a neighbor whose friend works in an ER. After hearing the complaints of the lack of masks she used a pattern to make medical-grade mask covers. She's been working on them since the start of the outbreak. Photo by Lydia Reedy.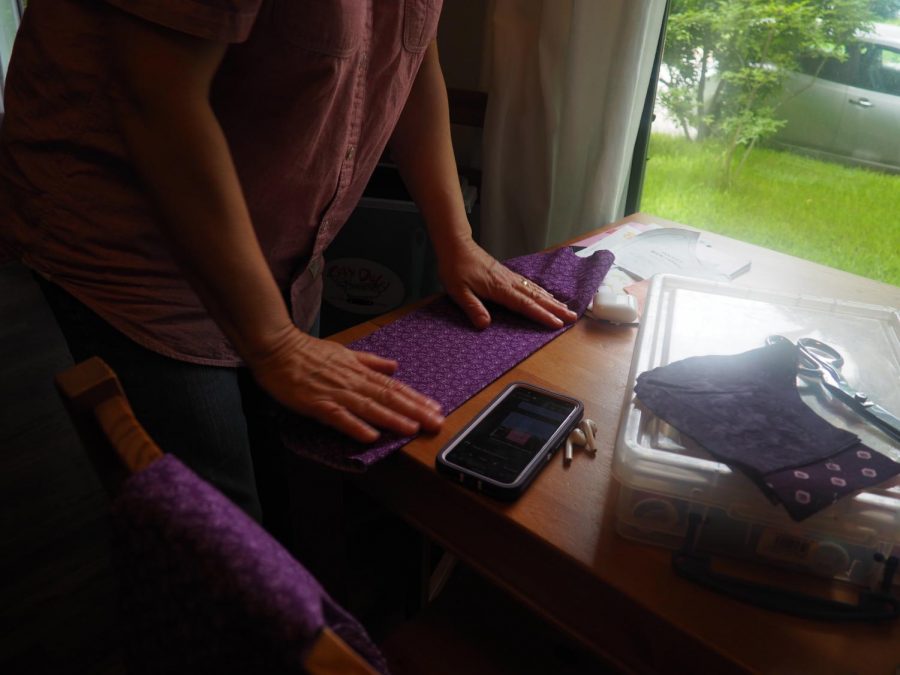 FLATTENING THE CURVES: Here my mom lays a piece of fabric on the table, pressing it down and making sure there aren't any creases or wrinkles. A crucial step to the mask making process is making sure the fabric is flat so it doesn't mess up the measurements. By doing this she is preparing to trace and cut out new pieces of fabric which she'll then sew together to make the final product. Photo by Lydia Reedy.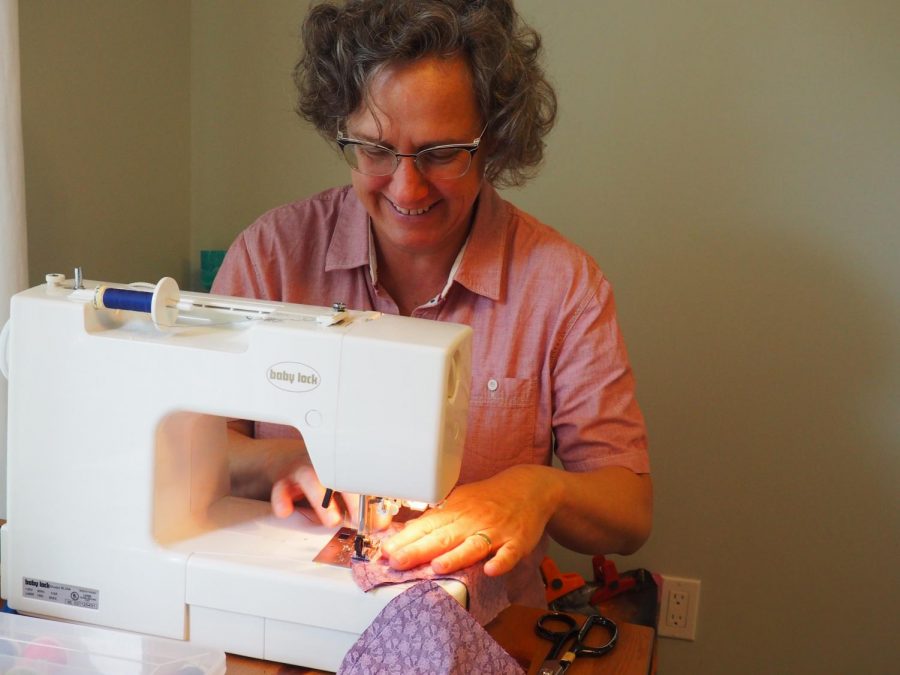 KEEPING HERSELF IN STITCHES: My mom laughs as she sits at her sewing machine making masks and trying not to pose for the camera. She's been constantly working on these mask covers, and even though it consumes a lot of her day, she's really happy to be helping. Photo by Lydia Reedy.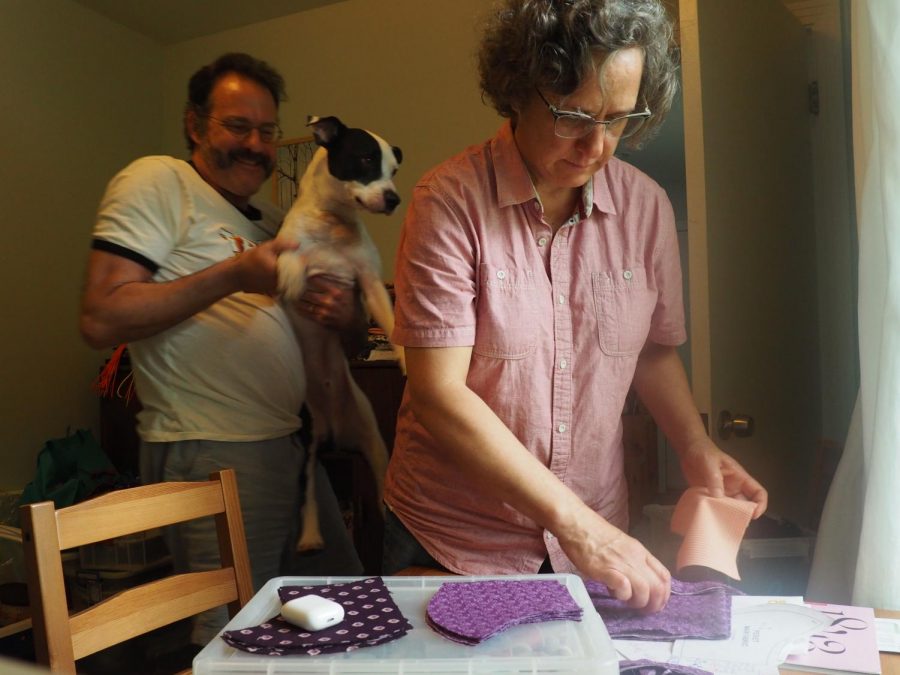 A DOGGONE DIVERSION: On a mini-break during his work day, my dad picks up our dog and dances with him around our craft room. This room has become a makeshift mask-making room for my mom. She was trying to focus on cutting fabric for masks but definitely didn't mind the distraction. Photo by Lydia Reedy.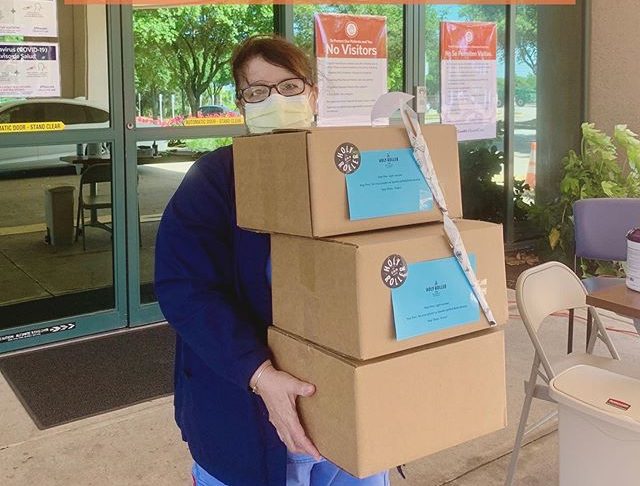 A HOLY ROLLER ON EASTER SUNDAY: A St. David's Children's Hospital staff member carries 20 Easter brunch meals from Holy Roller provided by community donations. Photo courtesy of Alex Seiler.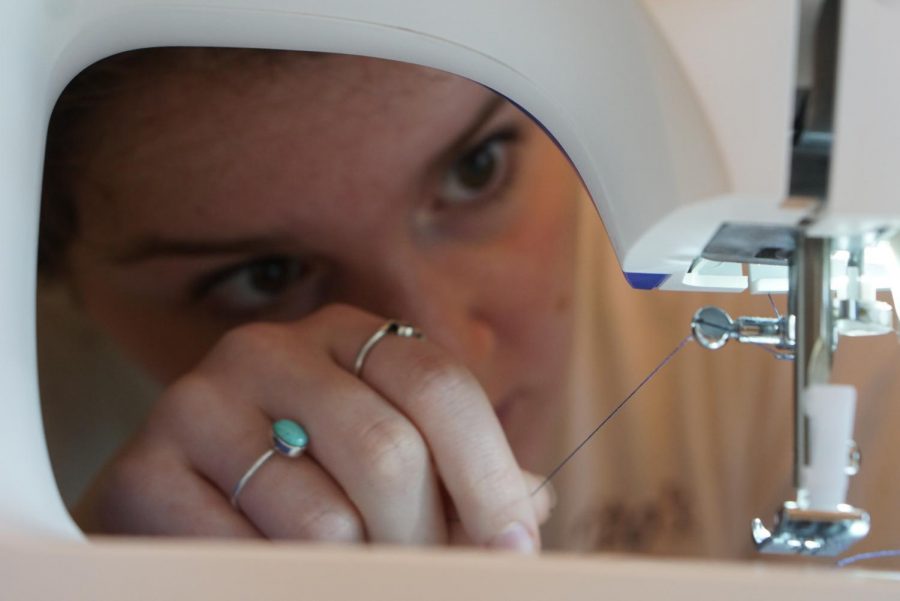 ROCKIN' THE BOBBIN: My daughter works to repair the bobbin on the sewing machine so she can help my wife finish a facial mask she had started making. My daughter has gone from having no experience sewing to developing a real knack for it over the time we have been sequestered at home. My wife and daughter braved the long queue at Joann's Fabric where they were only admitting 10 customers in the store at a time. They could have gotten the fabric for free if they were willing to make masks and donate them, but they lacked confidence to promise that they could make them properly so they instead bought the fabric and brought it home. At first, my daughter made scrunchies for herself, her friends and her drill teammates. She made so many scrunchies that she became good at using the sewing machine and confident enough to start making masks. It took her about 30 minutes to make one mask. Photo by Dave Winter.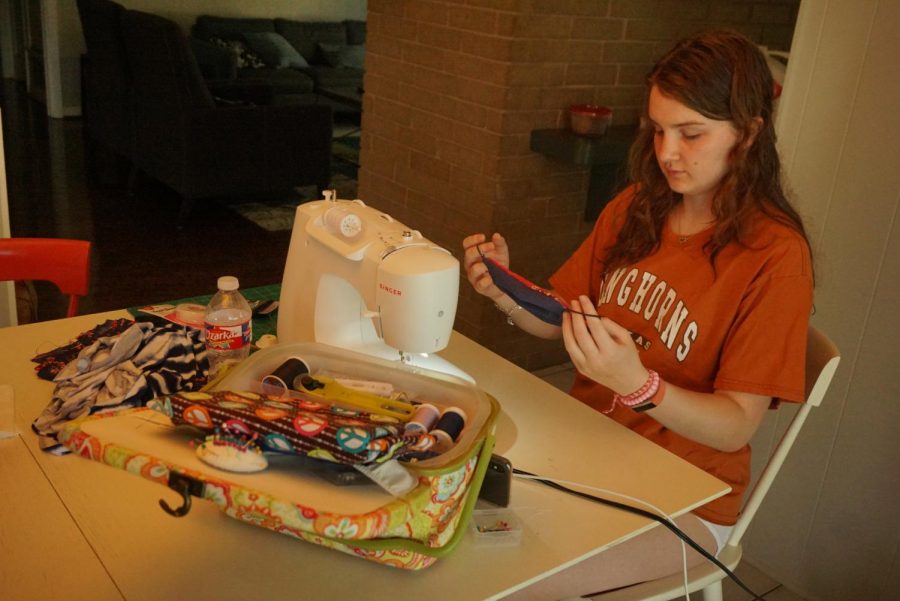 MANLY MASK MAKING: My daughter is rewarded for her handiwork with more mask-making duty. My wife and I asked her to make a mask that was one side denim and one side red bandanna so that I could wear it without feeling girly. Photo by Dave Winter.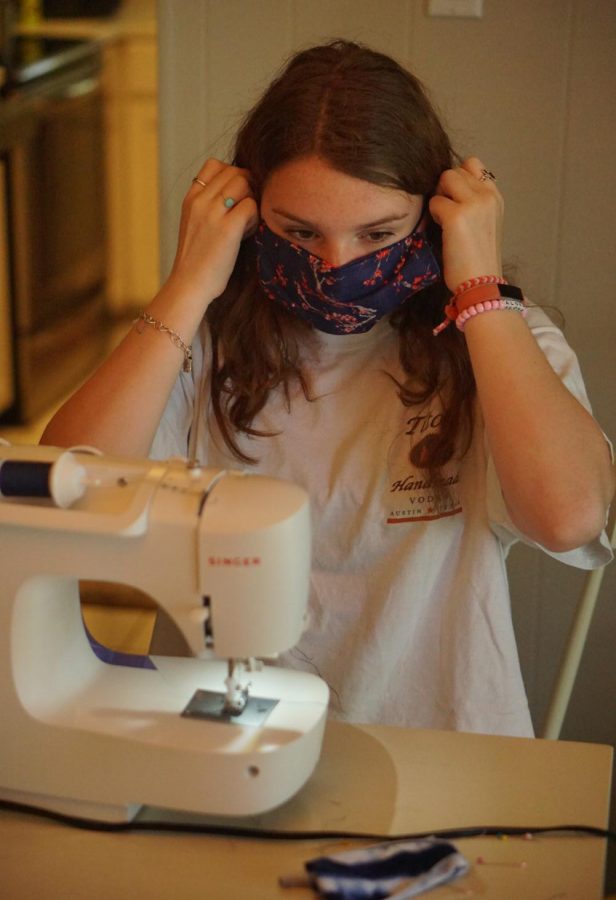 IF THE MASK FITS: My daughter tries on her mask handiwork. At first she made masks for herself and for the family, but then my wife told her that my sister-in-law (and her twin sister) needed masks for her church in Georgia. At first, she did not feel like she could make masks good enough for other people to use, but by this time she had gotten the hang of it and resolved to make them for my sister-in-law's church community. Photo by Dave Winter.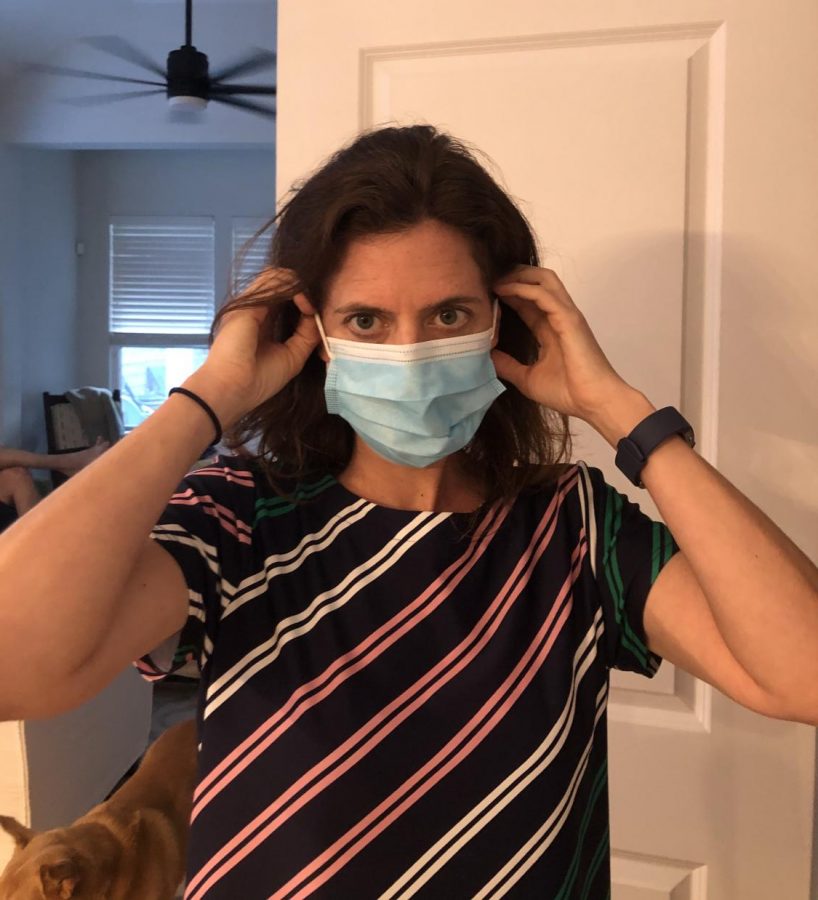 STAYING SAFE! Natalie Rusk puts on a mask before going to the grocery store to get food and other necessities for the week. Masks are now required in all establishments in Austin, as an attempt to stop the spread of COVID-19. "It's important that I and everyone else do their part to battle this disease," Natalie says. Photo by Liliana Rodriguez.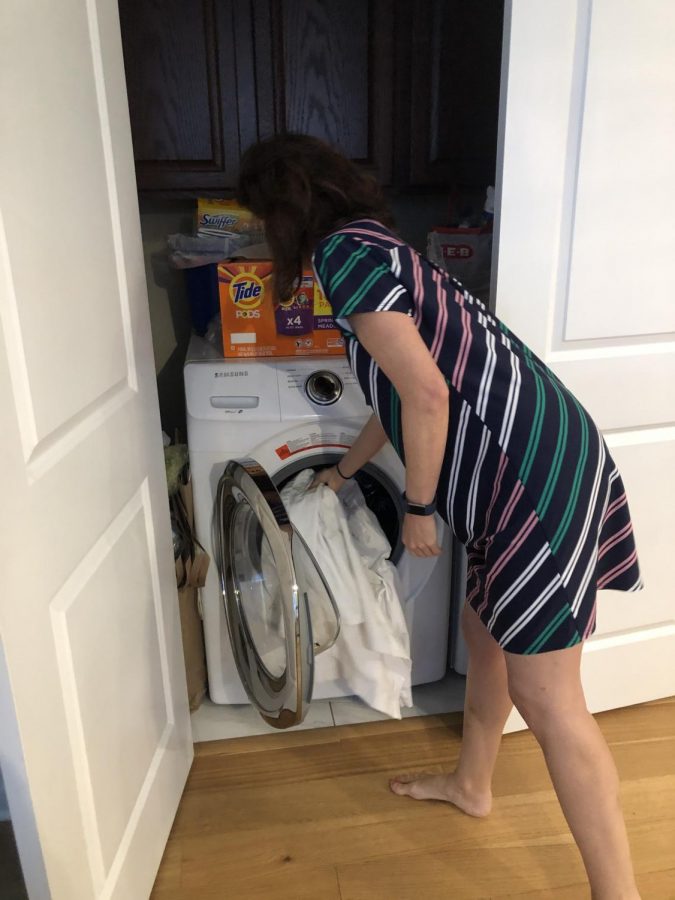 SANITIZING: My mom is a doctor, and she has to take many precautions in order to not catch the coronavirus. When she comes home, she has to wash her medical clothes immediately, as to not spread whatever sickness she may be harboring. The most important thing to her is keeping her family and as many people safe as she can. Photo by Liliana Rodriguez.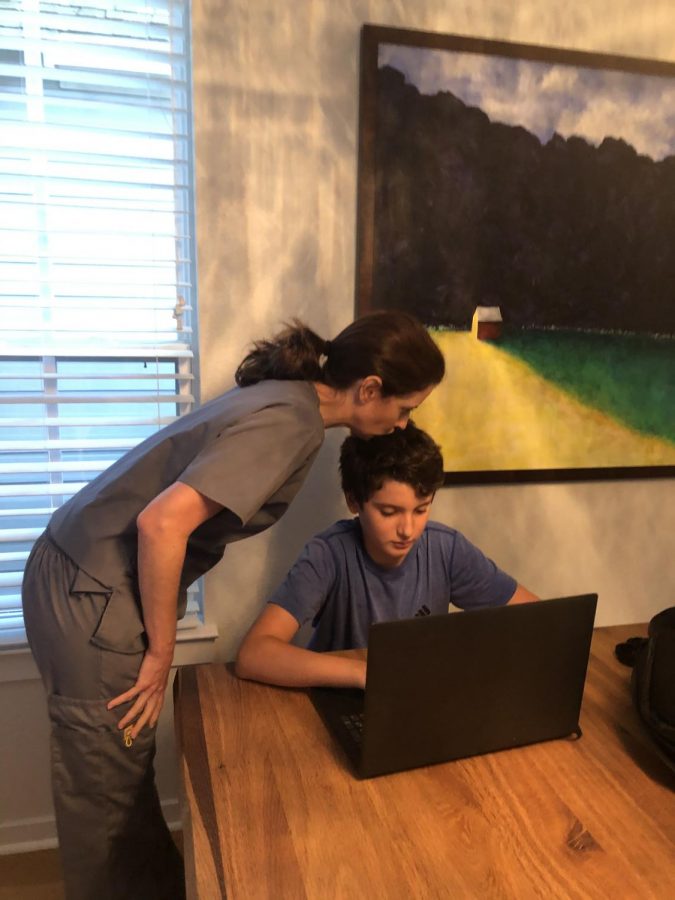 A WARM GREETING! As Natalie Rusk, a pediatrician working long hours in the midst of the corona outbreak, returns home, she greets her son Mateo. He is learning on his computer since his school is closed to stop the spread of COVID-19. "Seeing my mom come home safely always brightens my day," Mateo says. Photo by Liliana Rodriguez.