Feeding the front lines, fueling local businesses
Fuel the Fight Austin provides simultaneous support to health-care workers and local restaurants
For those searching for a way to help both local businesses and hardworking health-care professionals, Fuel the Fight offers you to the chance to achieve both with one donation. Fuel the Fight Austin has been working hard since the start of April to give back to the community by feeding health-care workers battling COVID-19 in Austin area hospitals. The group, which is run by five Austin ISD alumni, are using donations from their GoFundMe campaign to buy meals from Austin restaurants like Homeslice pizza, Biderman's Deli, Troy, Tacodeli, El Chilito and many others, which they then drop off at hospitals and emergency rooms for nurses, doctors, and staff to enjoy. 
"Essentially, all money donated either through GoFundMe or Venmo will go towards buying meals from local restaurants, and then those meals will be delivered straight to health-care workers to simultaneously show support for the work that they are doing and also provide them with sustenance to keep going," said Hannah Ilan, a McCallum alumna and a Fuel the Fight member. 
In only three weeks of opening their GoFundMe page, the group has raised $4,970, all of which has gone towards providing 280 meals to local health-care workers at hospitals like St. David's, Dell Children's, and Ascension Seton medical center, while simultaneously supporting Austin-owned and operated businesses, many of which are hurt by the decline in business as Austin remains in a state of emergency. 
"
COVID is hitting restaurants pretty hard, so this is a good way to support them through this time, as well as feed our amazing health-care workers. [It's a] win-win.
— Claire Sanford
"COVID is hitting restaurants pretty hard, so this is a good way to support them through this time, as well as feed our amazing health-care workers. [It's a] win-win," member Claire Sanford said.
Fuel the Fight Austin was started by Alex Seiler, a 2016 LASA graduate. When her last semester at Georgetown University was moved online, Seiler decided that since she was going to be moving back to Austin, she might as well use her time and resources to help her hometown community. With the help of four of her friends, Hannah Ilan, Alexia Heinrich, Claire Sanford, and Samantha White, (all McCallum alumni), they started Fuel the Fight Austin. 
"We just figured [we should do] as much as we can do, having grown up in a city that's given so much to us and that we love, to help out and give back to our favorite restaurants, and just say thank you to the community," Seiler said.   
While the five launched their own chapter of Fuel the Fight in Austin, the organization was originally started by Cole Berman in Philadelphia. Seiler had known Cole from Georgetown where both were once in the same fraternity, and was inspired by his work starting the first Fuel the Fight campaign which has raised over $250,000 to provide meals for healthcare workers in Philadelphia.
 Since its initial start in late March, Fuel the Fight has spread to 52 cities and regions, including coronavirus hotspots like New York, New Orleans and Seattle, and has recently become a global initiative in opening a London chapter. Combined, the Fuel the Fight initiative has raised more than $4.3 million and provided 215,000 meals to health-care workers.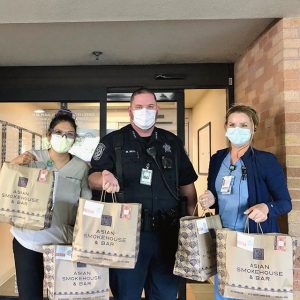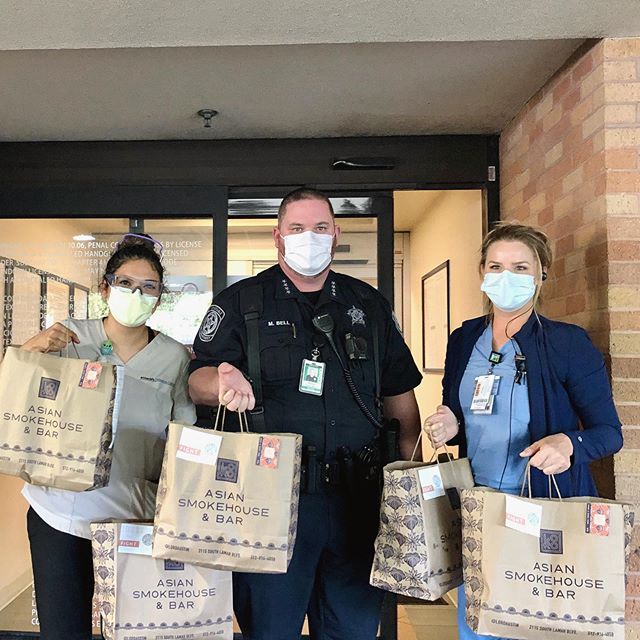 "[Cole] saw that there are health-care workers that are being worked to death trying to fight this pandemic, and there are also local restaurants that are also being put to death, [which] is an aggressive way to say it, so he was trying to figure out a way that you can benefit both," Ilan said.
For the health-care workers receiving the drop-offs, the organization is providing much more than free food. The meals are a sign of support and appreciation from their community coming together to say thank you in a time where many feel divided by quarantine. 
"Almost every time we make a delivery we get 10 followers on Instagram from nurses and [direct messages] that are so grateful," Seiler said. "For the most part, I think they are thankful for the food, but they're also so thankful that someone is thinking about them, and that the community is really reaching out to them in such a positive way, and I think it makes them feel more appreciated for what they're doing. More so than just a meal, it's a bigger symbol of the community giving back."
In an effort to keep the donations of food as safe as possible, all deliveries are contactless and follow social distancing guidelines. The group's goal is to support as many workers as possible, including restaurant delivery, or third party Favor or Uber Eats drivers, which means using some of the donations to pay for delivery services. In order to keep the process as transparent as possible, Seiler has been doing some of the drop-offs herself in order to better document the making and delivering of the food to then share the transactions on their Instagram and GoFundMe page. By sharing photos of health-care workers enjoying their deliveries and detailed posts of how many meals were bought from which local restaurants, the group hopes that they can be as transparent as possible to assure that 100 percent of donations are going directly back into the community.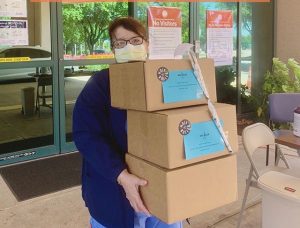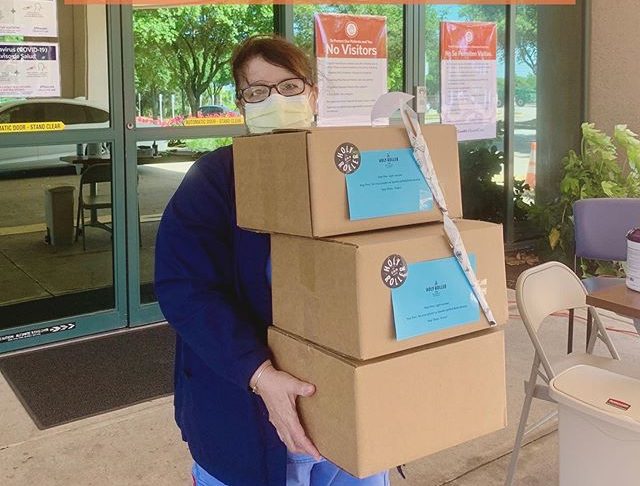 "On one hand we're trying to support as many people's livelihoods as possible, so if the restaurant does delivery already we'd love to do that, and if we could help some Favor drivers, why not support them too? On the other hand, in order to make this effort as personal and credible as possible, we're trying to get actual content of meals being prepared, meals being delivered and meals being consumed," Ilan said.  
For the restaurants involved, the organization and the support it brings is equally important. 
"For the most part, we have been targeting restaurants that are local Austin restaurants, those that don't have huge investors backing them and [aren't] a huge chain," Seiler said. "We go in and place an order for $500 for takeout; they're psyched. $500 may not be enough to keep their restaurant open, but maybe it's enough to keep one of their employees paid for the week. "
In order to help Fuel the Fight continue to support healthcare workers and stimulate local economies, the group is urging for all who can to donate. 
"
Through one donation you're simultaneously helping local restaurants and local health-care workers. No matter how big or small the donation is, literally anything helps.
— Hannah Ilan
"The one thing that I keep trying to drive in is that through one donation you're simultaneously helping local restaurants and local health care workers. No matter how big or small the donation is, literally anything helps. The sense that we're seeing support from the community is a huge thing, and one dollar is one dollar closer to a meal being provided for someone and one dollar going into some restaurants revenue," Ilan said. "Please don't be deterred by how much you're wanting or willing or able to provide: literally anything helps."
For those that are unable to donate, the group urges that sharing their Instagram account @FueltheFightATX, GoFundMe page, and websites www.FueltheFightUSA.com and Frontlinefood.org to help spread the word about their initiative is also extremely helpful. To inspire more people to donate, group members has been maximizing the group's internet presence through their own social media platforms as well as those of other members of the community.
"All of us have been doing outreach on our Instagram and Facebook and advertising, spreading the word to our families [and friends]," said Heinrich, the overseer of the GoFundMe page. " We're hoping with increased exposure from news outlets that we'll get some more donations."
Fuel the Fight hopes that the end to the pandemic will come soon, but will keep providing meals to support those fighting the virus on the front lines and those caught in the crossfire to do their part to continue the fight until it is done.
"Hopefully our efforts won't go on forever, because obviously we want the pandemic to come to a close," Seiler said. "But we'll keep it going as long as we're getting donations."