An inside look at distance learning
As Austin ISD nears the end of its third week of wholly online instruction, we present a gallery of images of this historic shift in how learning takes place
Anna Bausman, Daniela Bodoh, Josie Bradsby, Zazie Bryant, Risa Darlington-Horta, Reagan Dias, Olivia Escalante, Anna Garcia, Ava Medina, Madelynn Niles, Liliana Rodriguez, and Dave Winter
April 23, 2020
Gov. Greg Abbott issued executive orders on Friday  updating the state government's response to the COVID-19 pandemic. GA-16 specified that schools in Texas would remain closed for the remainder of the 2019-2020 school year.  The order also establishes that some retail businesses will be allowed to reopen and conduct business under "the Retail to Go model" beginning on April 24.  GA-15 loosened restrictions on hospitals and surgeries slightly, and Abbott also ordered the reopening of state parks effective on Monday.
Austin ISD had already suggested that classes would be conducted wholly online when it closed school indefinitely on April 3. Online instruction, or distance learning, at Mac and throughout the district began the following Monday.
Our photojournalists have captured moments from these first three weeks of online learning. We hope to create a visual record of this incredible change in how learning occurs. Our purpose here is not to analyze or interpret but rather to record what we are experiencing as a school community.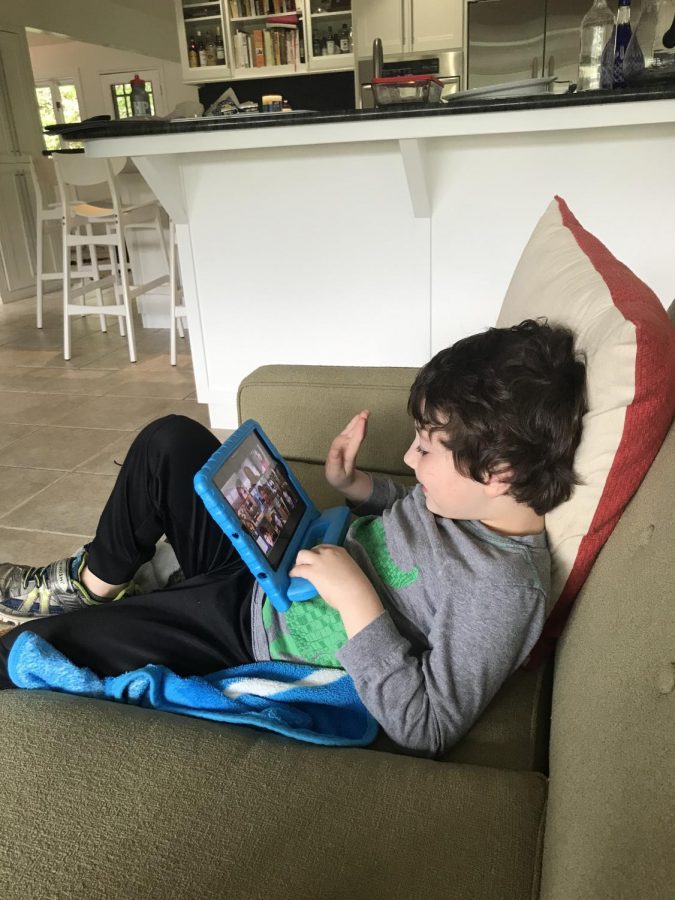 ZOOM TIME! For a kindergartner, it's very difficult to find ways to learn while practicing social distancing and having two working parents. The solution to this? Well, obviously a Zoom class. Here my little brother joined his first Zoom on a Tuesday morning. He waves to his fellow classmates through the screen after not seeing them for weeks. Photo by Anna Garcia.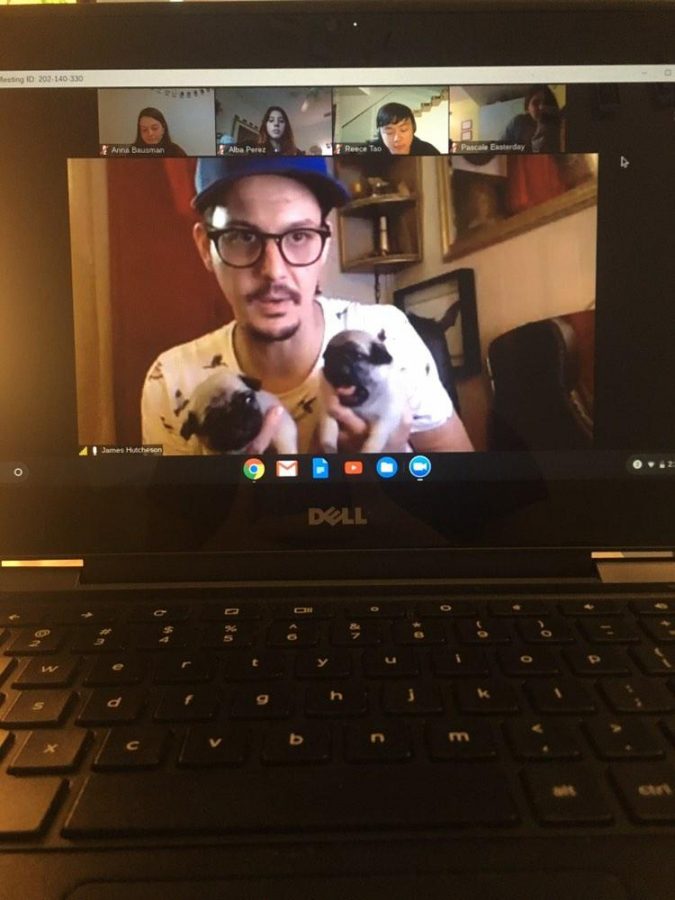 PUG IN YOUR COMPUTERS: As Mac students entered a new era of online learning on Monday Aug. 6, pulling out Chromebooks, phones and planners, English teacher James Hutcheson began the day with a paw-sitively precious showcase for his fourth-period English II class. Olive, one of Hutcheson's two pugs, gave birth to a litter of five on the first Saturday of spring break, and the playful pooches have since been feeding, first opening their eyes and beginning to walk. "Olive is a very good mom, so it's not too difficult to care for them," Hutcheson said. Hutcheson said he will not be keeping the puppies. "Seven pugs in a 450-square foot apartment would be entirely too much," he said. "They are, however, a welcome diversion in the meantime." In addition to witnessing the cutie canines, Hutcheson's classes have also been given a heartwarming opportunity.  His students have been encouraged to write original poetry and letters to submit to various assisted-living facilities in the Austin area, as his spouse works with the elderly in Round Rock. "Because of the issues surrounding COVID-19, [the patients] are unable to see their families," he stated in the Blend announcement to his students. "As you can imagine this is an incredibly lonely and stressful time for these elders." Hutcheson stated that the submissions thus far have been exactly what was needed. "We've had a lot of students write some very heartwarming words to brighten the day of some of our elderly," he said. "It's OK if you don't know their name. I don't know their names," his announcement reads. "Your words will still respond." To submit any writing to brighten these patients' days, email your submissions to [email protected]. Photo by Anna Bausman. Reporting by Madelynn Niles.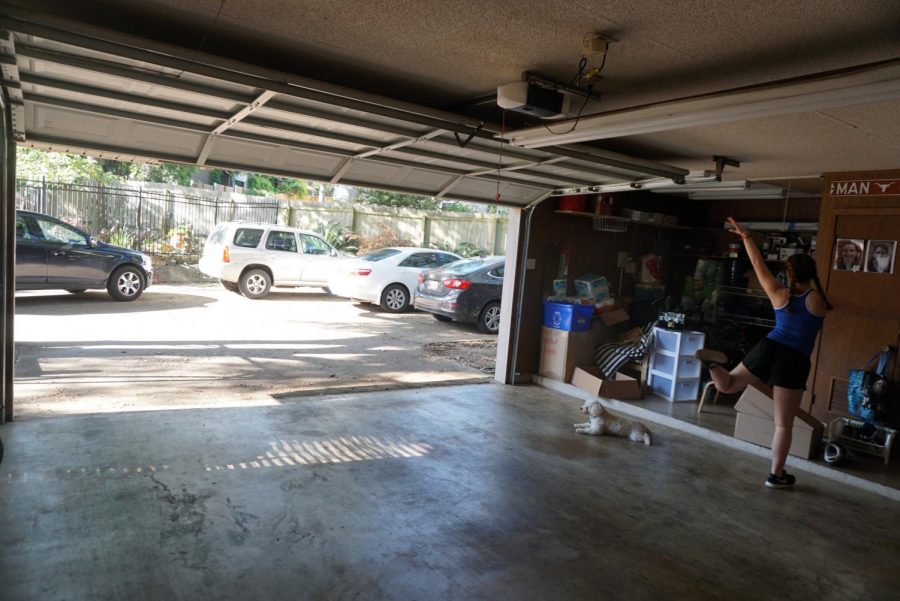 A VIRTUAL DANCE STUDIO: Sophomore and Blue Brigade drill team member Annabel Winter demonstrates the tryout dance to students who are preparing to audition for the drill team. Normally the instruction and the tryouts would occur on campus in the field house, but with the campus off limits, the instruction is being done over Zoom and the tryouts will be recorded and submitted electronically. Winter had to move her mom and brother's cars out of the garage in order to have enough room for her online drill team and dance classes. Photo by Dave Winter.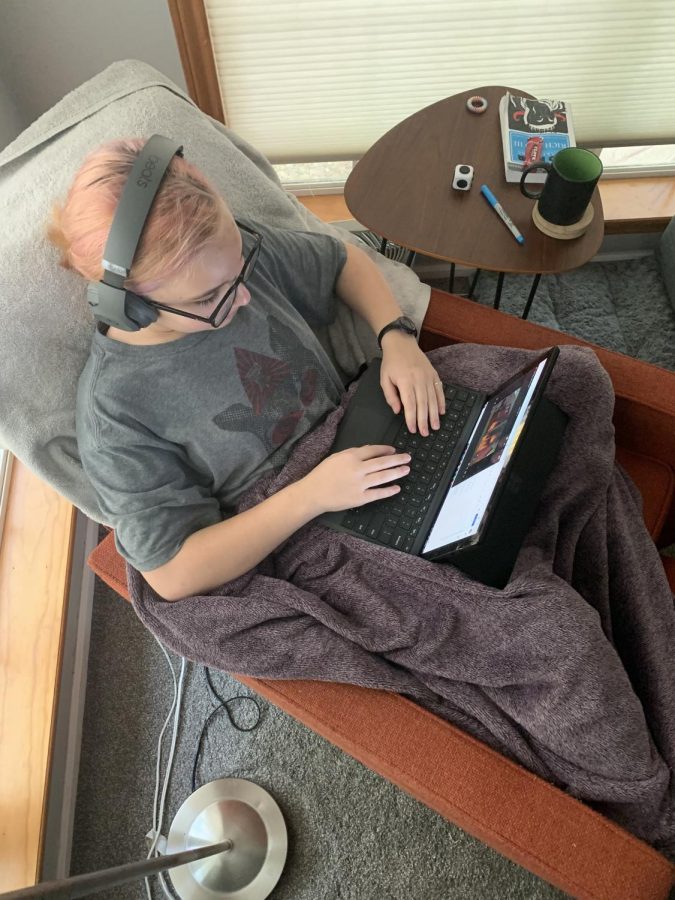 A COZY CLASSROOM: While working from home, my sister Elyza has taken over a corner in our house to do her schoolwork and Zooms. She always has her blanket and a cup of tea nearby. Photo by Josie Bradsby.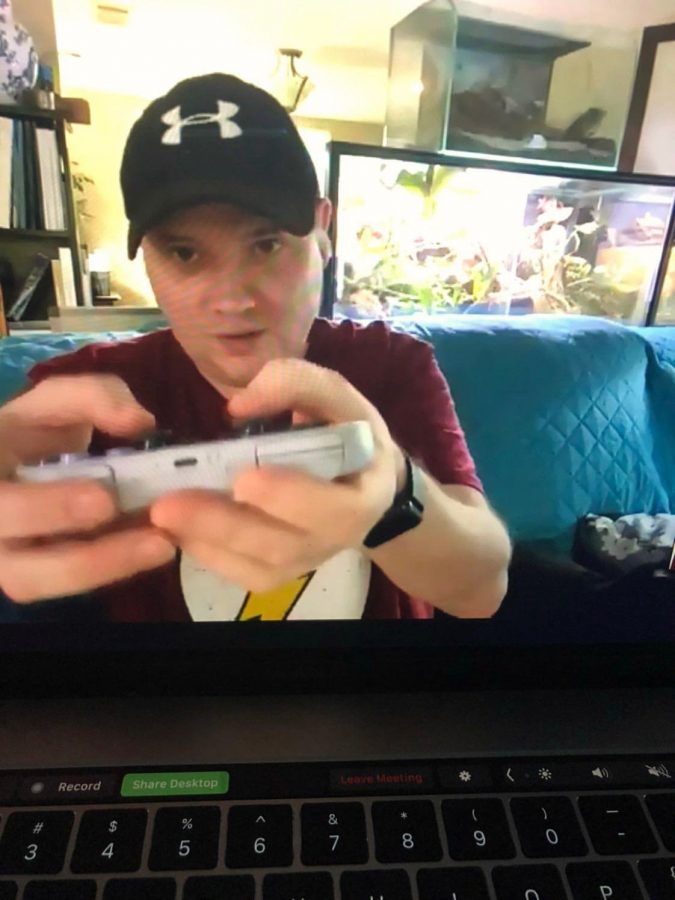 A PARADIGM SWITCH: During the first day of online classes, physics teacher Robert Ely shows the class his SNES-style Nintendo Switch remote, which he had found after "rediscovering" the NES style games on the Nintendo online platform. After the Nintendo discussion, the class Zoom was spent going over the plan for the class and discussing assignments, as well as exploring the COVID-19 situation and its impact on students' lives and classes. "It was very much a check-in for both my students and for me. We are all in such a new situation. The need for connection was palatable," Ely said. Caption by Zazie Bryant. Photo by Risa Darlington-Horta.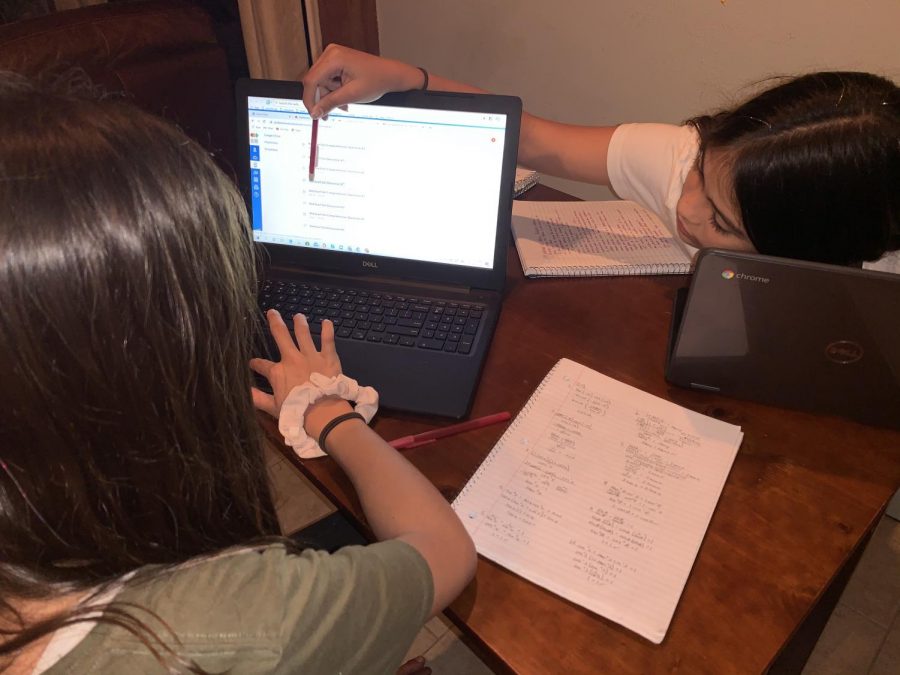 A HELPING HAND: Mom and Dad are often busy with work or making dinner while we do homework, but luckily my little sisters, who are twins, take the same classes, which makes it easy for them to get help from one another without bothering Mom and Dad. Photo by Ava Medina.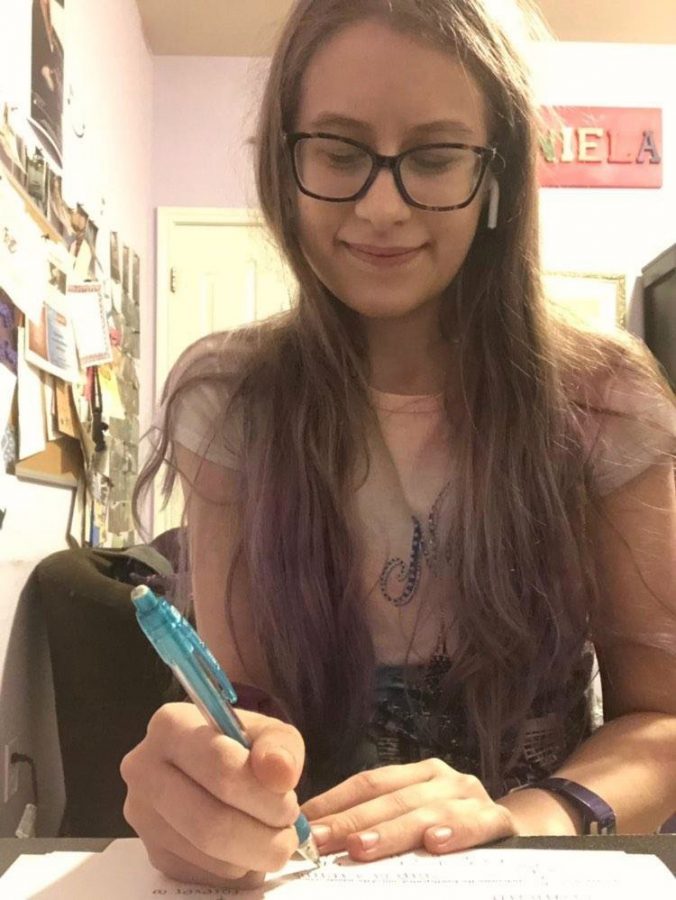 BACK TO BASICS: On the first day of online classes on Aug. 6, senior Daniela Bodoh works on pre-calculus notes on sequences and factorials. "It was my first time in a while holding a pencil, and I felt like I almost had to 'teach' myself how to write again because it's been so long." Bodoh said she missed school during the extended spring break, something she never thought she'd ever be able to say, and that she found some distinct advantages in the current approach. "School from home is nice because we get to learn at our own pace, and we don't have to spend 7.5 hours sitting in classrooms," she said. "While normally it takes an hour and a half to complete notes in math class, doing them at home on my own meant that I could not only take as much time as I needed to copy them down without having to worry about the teacher going too fast." She also was free to move on to something else if she finished earlier than anticipated, which was the case with today's notes. Photo courtesy of Daniela Bodoh.

A BIG DAY FOR MAC-J AT NSPA: Shield co-editor-in-chief Kristen Tibbetts (top left), adviser Dave Winter (top center) and staff reporters Evelyn Griffin (top right), Alysa Spiro (bottom left), Madelynn Niles (bottom center) and Samantha Powers (bottom right) react to NSPA associate director Gary Lundgren's announcement that the Shield Online has won a National Scholastic Press Association Online Pacemaker Award for the third straight year. The award is the preeminent award that the association gives to its member publications, and only 16 schools in the nation received an Online Pacemaker Award. The newspaper colleagues gathered virtually on the Zoom videoconferencing app in order to have a virtual staff watch party of the awards announcement, which was broadcast live on Friday afternoon on Vimeo. Normally the awards announcement would have occurred at the NSPA/JEA spring national high school conference, but the conference, like just about everything else that involves crowds, was canceled to stop the spread of the coronavirus. Screenshot of Zoom conference by Dave Winter.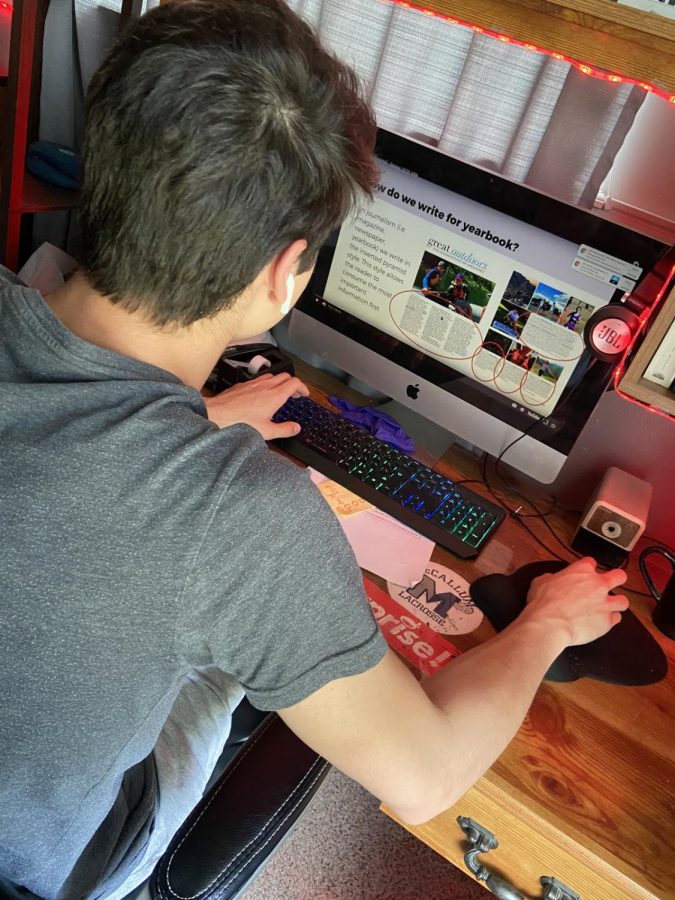 ONLINE YEARBOOK: This picture includes my brother working on his school's yearbook article at home. Since there is no school, Tyler has to access his yearbook skills online, while also communicating through Zoom."It is definitely more challenging to figure out what everyone's plan is for each page," Tyler Dias said "Since we are working as a team, communication is key in these times to get it done. I like the challenge." Photo by Reagan Dias.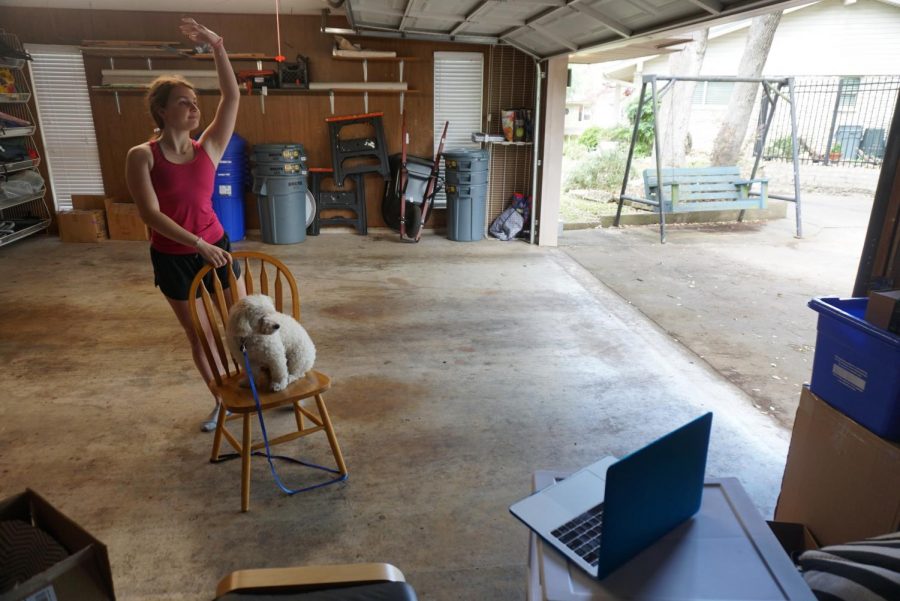 MAKESHIFT STUDIO: Sophomore Annabel Winter has turned her garage into a dance studio, her dog into a dance partner, and a wooden chair into a ballet barre as she takes her B-day ballet class via Zoom. Photo by Dave Winter.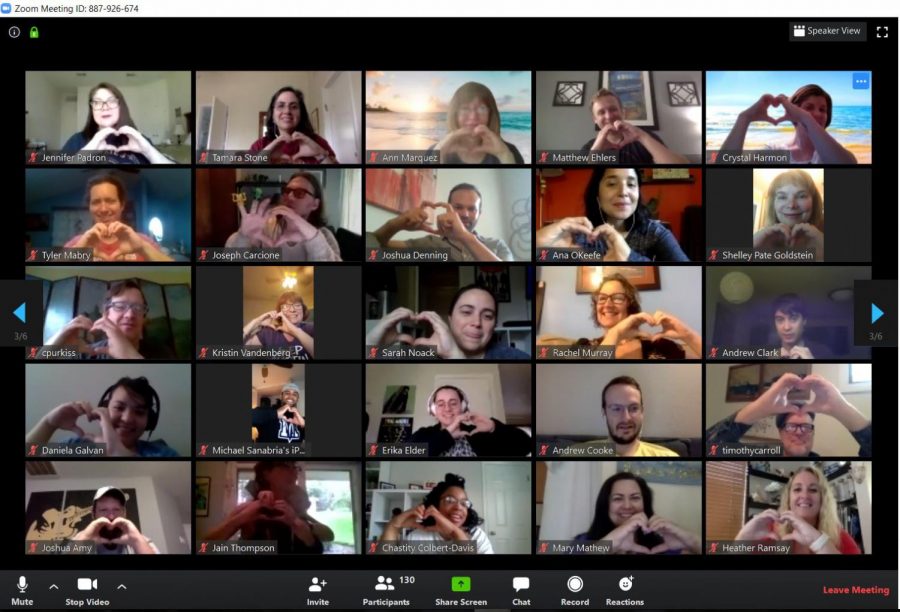 VIRTUAL SIGNS OF A HEARTBEAT: The Maculty learned at its virtual staff meeting on Friday April 3 that there were still some unresolved details about the rest of the school year after the April 2 Austin ISD board meeting, but on two points the faculty was in unanimous agreement: (1) COVID-19 stinks. (2) Teachers and staff members love their students and were anxious to reconnect with all of them when online classes officially started on Monday April 6. Screenshot of Zoom meeting by Dave Winter.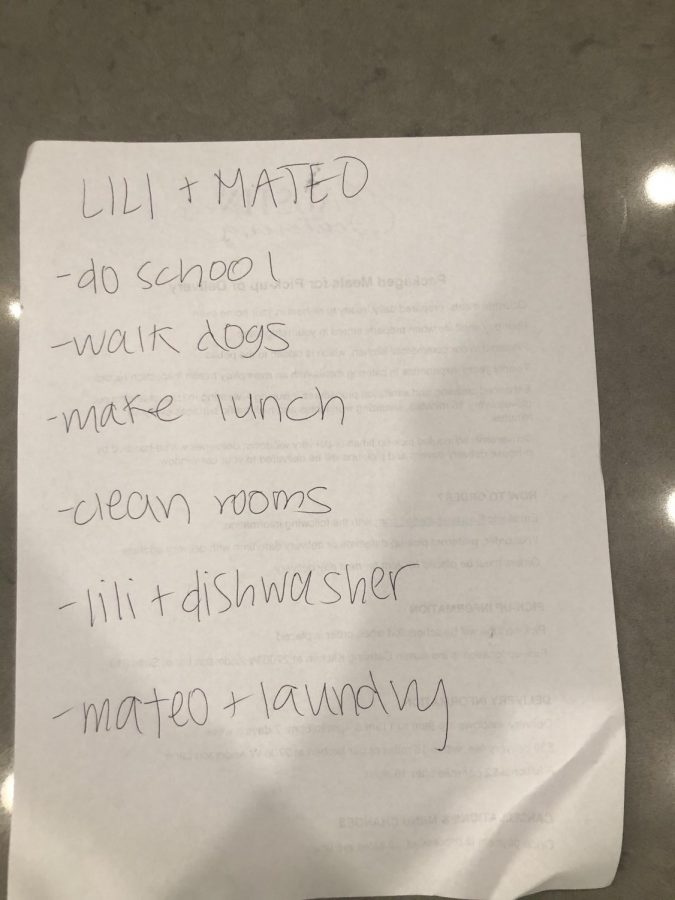 TOP OF THE LIST: With schooling moved to online, school work has become a daily household chore and is not surprisingly at the top of list of daily chores for this brother and sister. Photo by Liliana Rodriguez.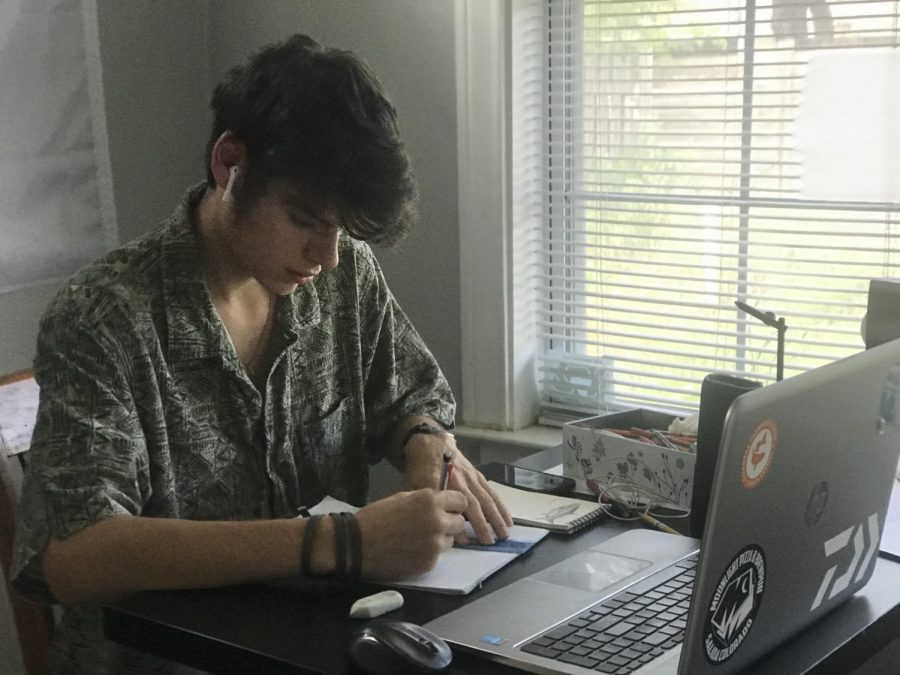 FOCUSED: Senior Sebastian Escalante works on an online assignment for school. Photo by Olivia Escalante.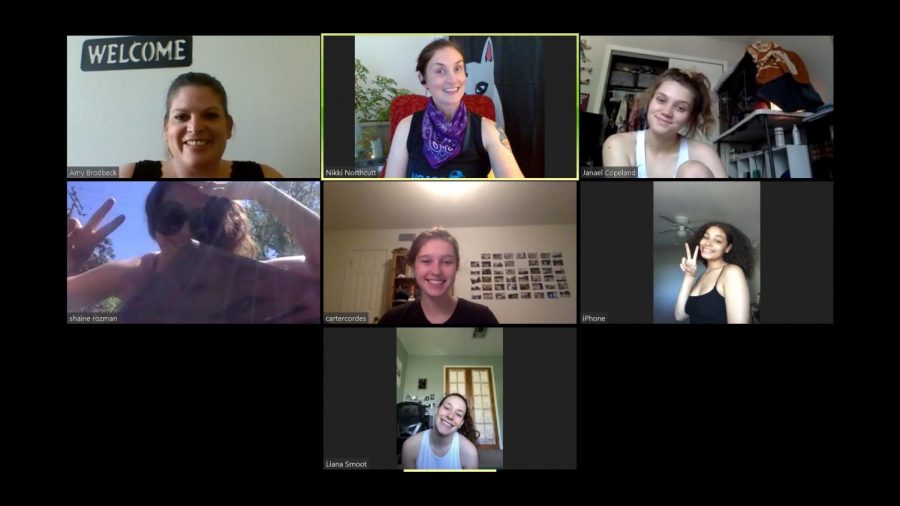 TEAMWORK, ZOOM EDITION: Coach Nikki Northcutt reports that the volleyball seniors scheduled a zoom meeting today in order to catch up with each other and their coaches. Ever the multitasker, senior middle hitter Shaine Rozman tanned and zoomed simultaneously. Photo courtesy of Nikki Northcutt.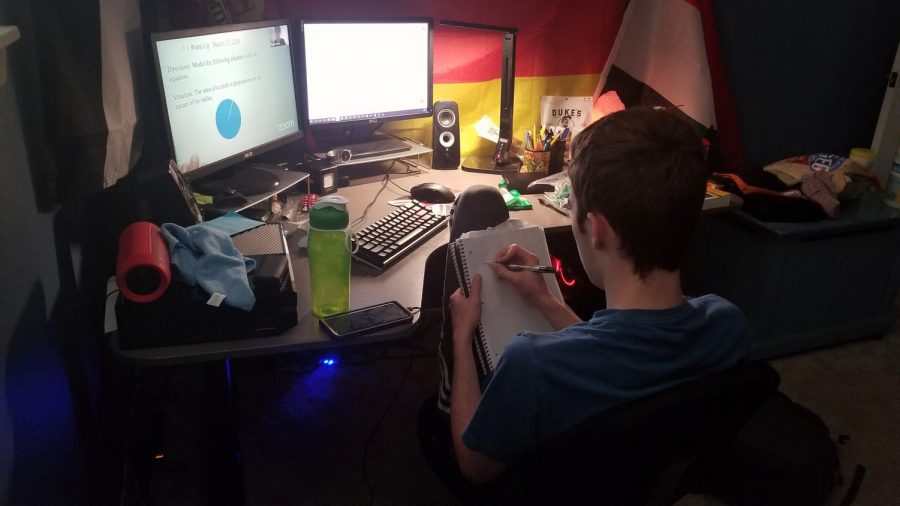 A COLLEGE BOARD BEDROOM: At the suggestion of his AP calculus teacher Angie Seckar-Martinez, senior Henry Winter takes an online College Board class entitled, "Calculus AB: 7.1 Modeling Situations with Differential Equations," taught by Virge Cornelius, an AP Calculus teacher at Lafayette High School in Oxford, Miss. The course available on March 29 on the Advance Placement YouTube channel. Students can view the class via livestream or watch them after they are recorded and archived on the YouTube channel. Photo by Dave Winter.