The 2023 homecoming week continued past traditions while bringing new ones to the table. Typical homecoming activities that were brought to life once more as the big game drew nearer included spirit days, hallway decorating, and of course, the pep rally. 
The week kicked off with freshly decorated halls and a Decades Day dress-up opportunity. On Tuesday, students participated in a new spirit day by either wearing pink or black attire to coincide with hit new movies Barbie or Oppenheimer. Wednesday was a fan favorite, with students coming to school dressed as either a soccer mom or barbecue dad. 
The next day, Thursday, was the day of the game and the halftime announcement of homecoming royalty. For this day students wore school colors according to class: freshmen-white, sophomores-grey, juniors-black and seniors-blue. And at the end of the day was the classic pre-game ritual: the pep rally. 
At the pep rally, following traditional performances by the cheer squad and Blue Brigade, students played a spirited game of Head, Shoulders, Knees, and Poms, and the homecoming court was introduced.
Story continues below advertisement
Later that night the Knights played the Navarro Vikings. Not only did the Knights win convincingly but they shut out their opponent for the first time all season in a 38-0 victory.
For Friday students didn't even need to change in the morning—it was Pajama Day!
This lazy day finished off the busy school week, although the homecoming festivities were still not yet completed. On Saturday evening McCallum held its first homecoming dance since 2019. The sold out dance packed the Zilker Lodge to capacity with 500 students attending the venue at some point during the dance.
We are proud to present this week's Tuesday Top 10, a showcase of homecoming week, old and new components alike.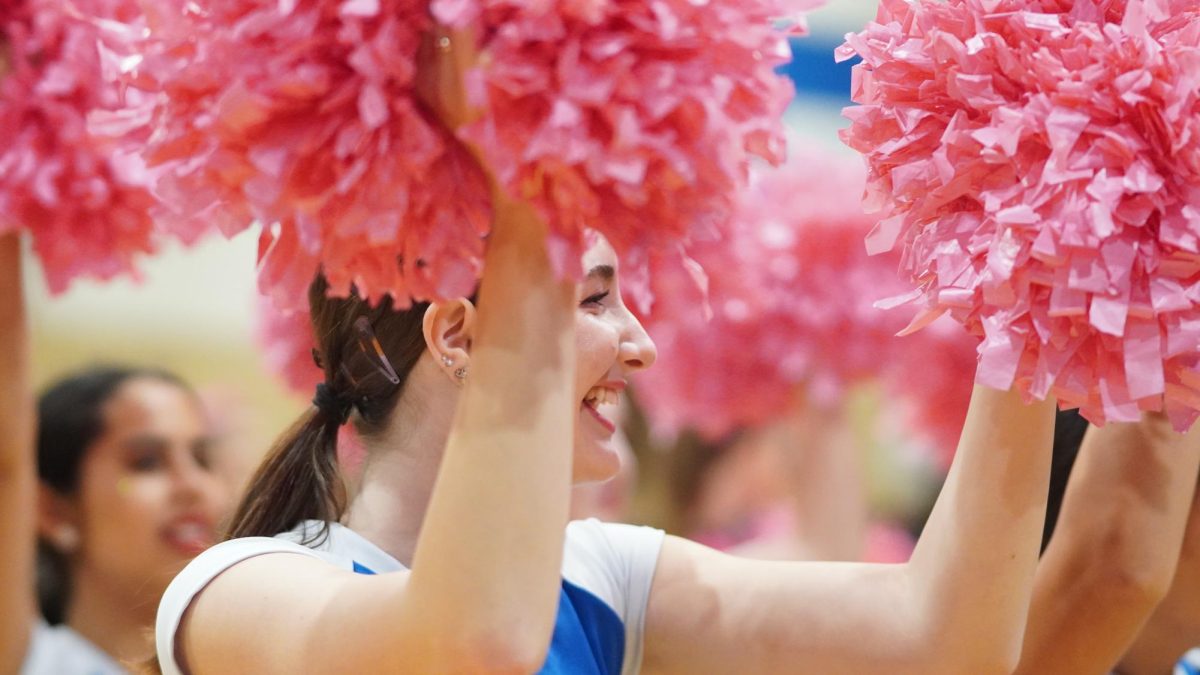 BRINGING THE PEP: Blue Brigade Senior Lieutenant El McGinnis lifts her poms during the fight song at the homecoming pep rally last Thursday. McGinnis believes that the Blue Brigade is integral to maintaining school spirit during traditions such as homecoming. 
"I think that Blue Brigade gives a high energy spirit for the crowd and the football team," McGinnis said. 
For homecoming specifically, Blue Brigade was responsible for learning new dances and forming the "spirit lines" that surround the homecoming court on the field during halftime. McGinnis still found the pep rally to be the best part. 
"The pep rally this year was special because [student body president] Olivia Hexsel and Jay Schlett emceed," McGinnis said. "They kept the energy up at the pep rally."
Caption by Francie Wilhelm. Photo by Maggie Mass.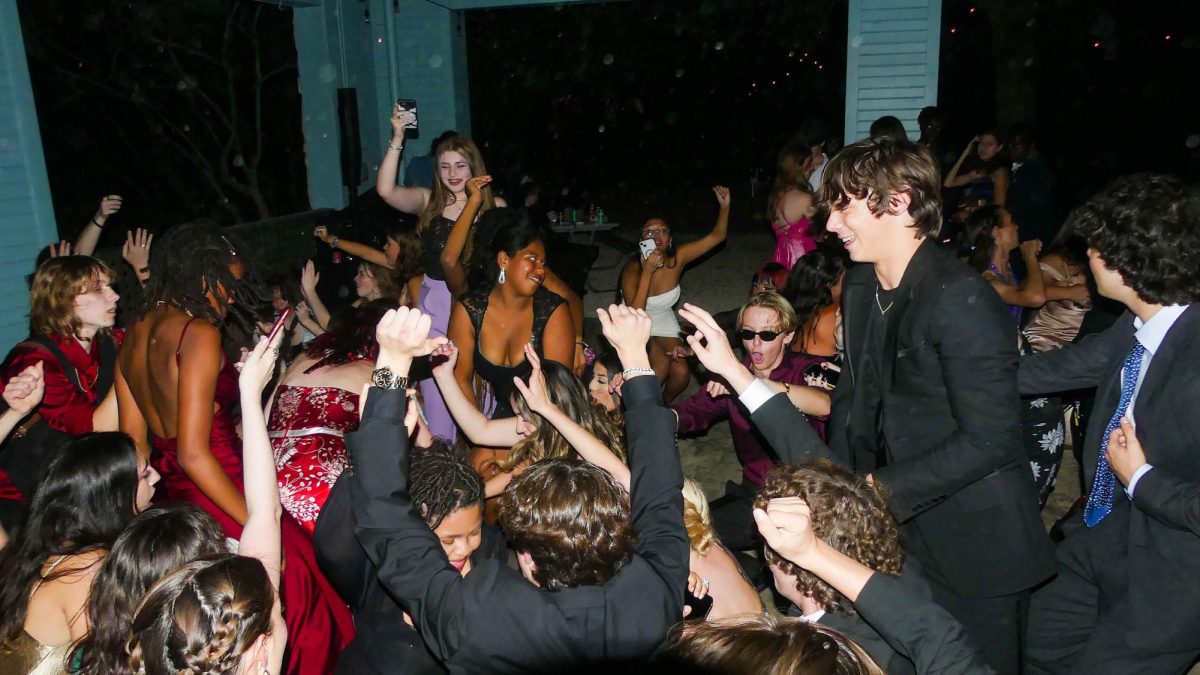 FOOTLOOSE AT LAST: Senior Asher Kay rocks out on the dance floor at the homecoming dance, put on by Student Council. Since the tradition of a homecoming dance fell out of practice after 2019 due to low attendance rates, this was Kay's first time attending one in all of his four years. Kay felt that the mystery surrounding what the dance would be like added to his experience.
"As a senior it was fun to have at least one homecoming," Kay said. "Since we had never had one before, and since I haven't really been to any school dances, I didn't know what to expect, but when I got there it was cool to see everyone having fun. Hopefully it was a success so they keep doing it and start a new sort of tradition at McCallum."
Though his first and last homecoming dance has passed, Kay hopes the future classes will continue to put on the dance.
"I think they should keep doing it because it's a good opportunity for people who may not be super social to talk to new people and have a fun experience outside of school," Kay said. "But also, it's good to keep [doing] it because it seemed to be a fun time for everyone."
Kay enjoyed the dance floor and seeing his peers dressed up in HOCO finery, but noted his favorite part was the photo booth. 
"It was fun with my friends to get photos since it was the only HOCO we've been to, so we might as well have something to remember it by," Kay said.
Caption by Lanie Sepehri. Photo by Julia Copas.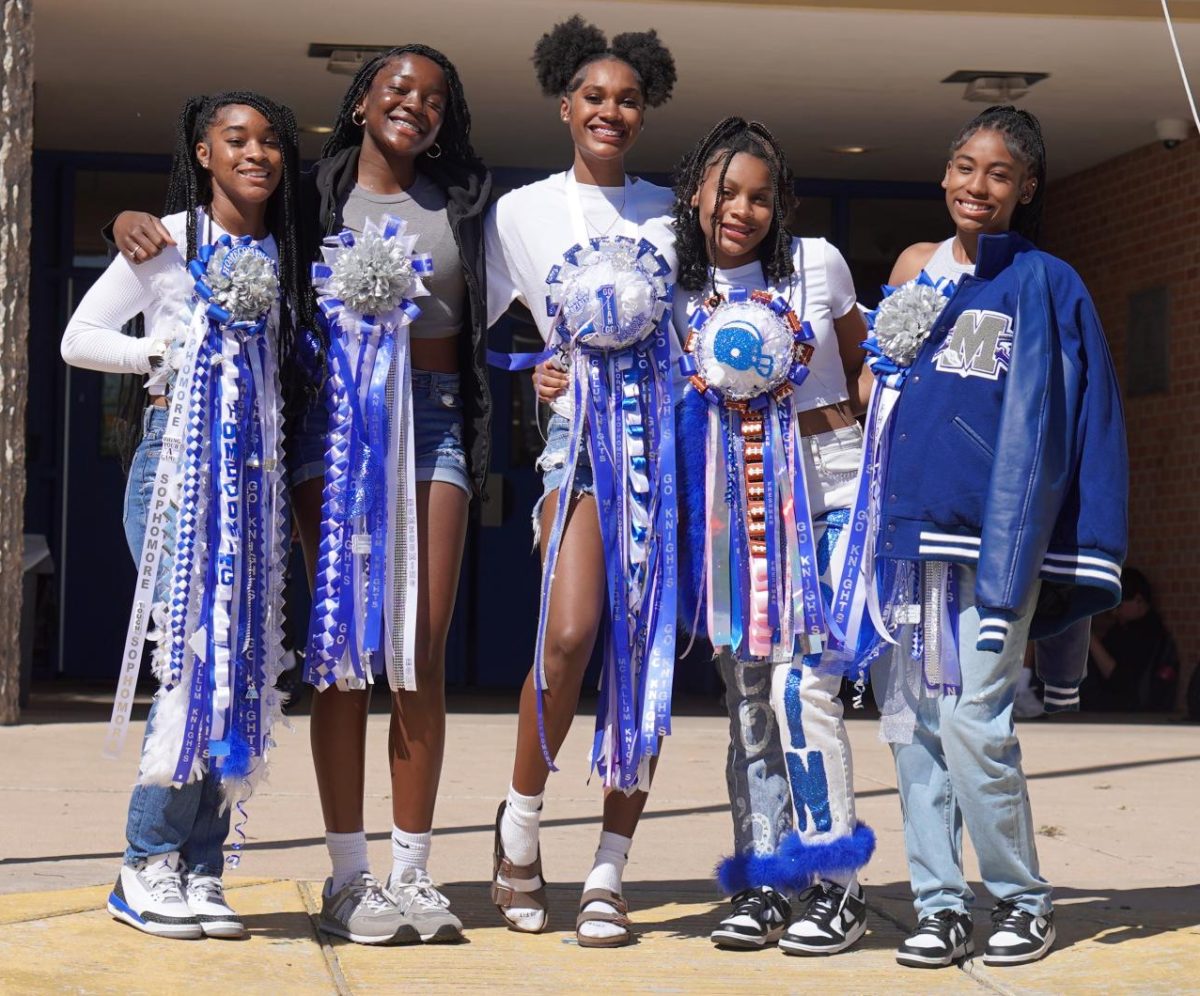 MUMS THE WORD: Students Aaniya Thornton, E'Mirrah Harris, Emily Spigner, Trinity Henry and Kafia Jackson-Woods, pose for a photo in front of the school with their homecoming mums.
Homecoming mums, a Texas tradition that has been around for decades, have developed over the years. They started out as real flowers, with girls using chrysanthemums. As the tradition developed, students began creating their own mums and decorating them or constructing them with bells, ribbons, bows and other decorative items.
"I love that you get to show your school spirit," Spigner said. "I also like that you can always keep it as a memory and sort of keep the day forever."
Spigner, a sophomore, is excited to keep the tradition going in years to come.
"I think keeping the tradition going is important because I feel as though everyone should be able to enjoy homecoming and school spirit," Spigner said.
Caption by Evelyn Jenkins. Photo by David Winter.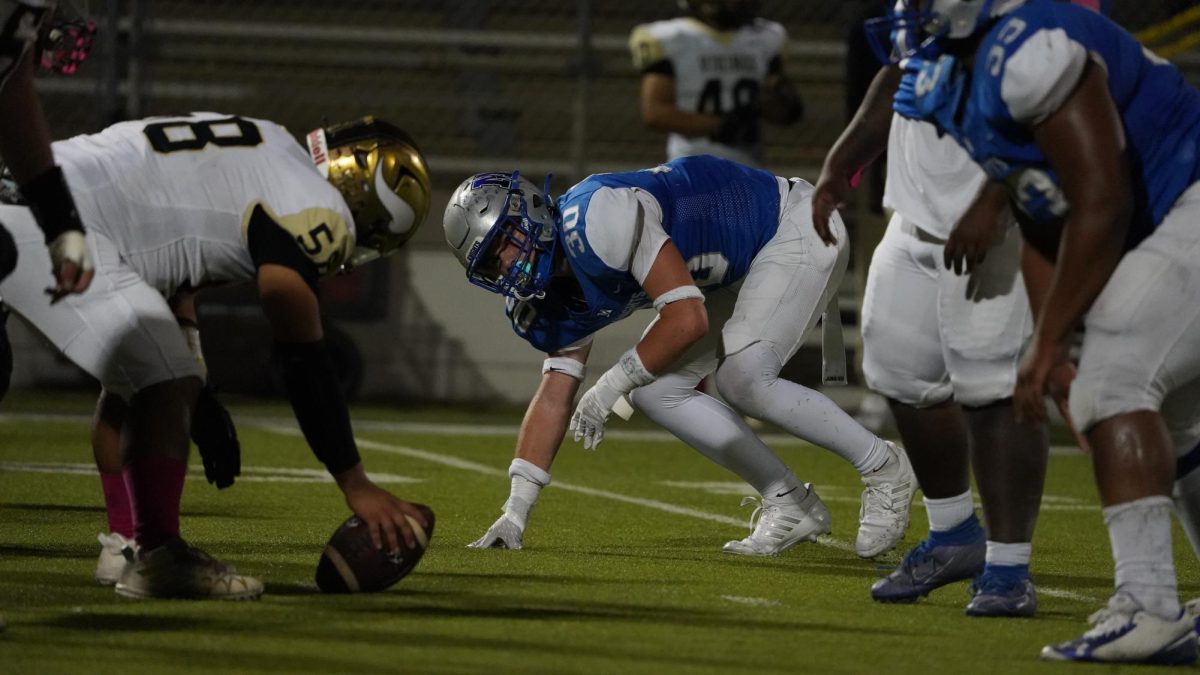 FRESHMAN ON THE FIELD: Freshman Hugo Smith prepares for the Navarro Vikings to make a play during the homecoming game. The game wound up to be pretty successful, with it being the first shut-out win of the season, 38-0. Smith played defensive end for this game, which he claimed was one of his favorites.
"It [the game] was fun because there were a lot of people in the stands," Smith said. "So there was more energy there compared to some of the previous games."
Smith believed the defense was key to the successful outcome for the team.
"Our defense was really able to stop them [the Vikings] because of how we aligned and because our defensive scheme worked," Smith said.
As one of four freshmen on players on the varsity team, Smith feels extra pressure to perform well.
"You have to work really hard and practice really hard to prove yourself when you are younger than a lot of the other players," Smith said. "You really just have to push yourself."
While his age may account for one factor of his motivation, Smith is also driven by pre-game activities that hype him up. With this week being homecoming, activities of such were plentiful, but the main thing that really got Smith pumped was the pep rally.
"We always have better games on pep rally weeks," Smith said. "They really just hype us up, plus we always have a better turnout at the game because more people know to go if there is a pep rally."
Caption by JoJo Barnard. Photo by Julia Copas.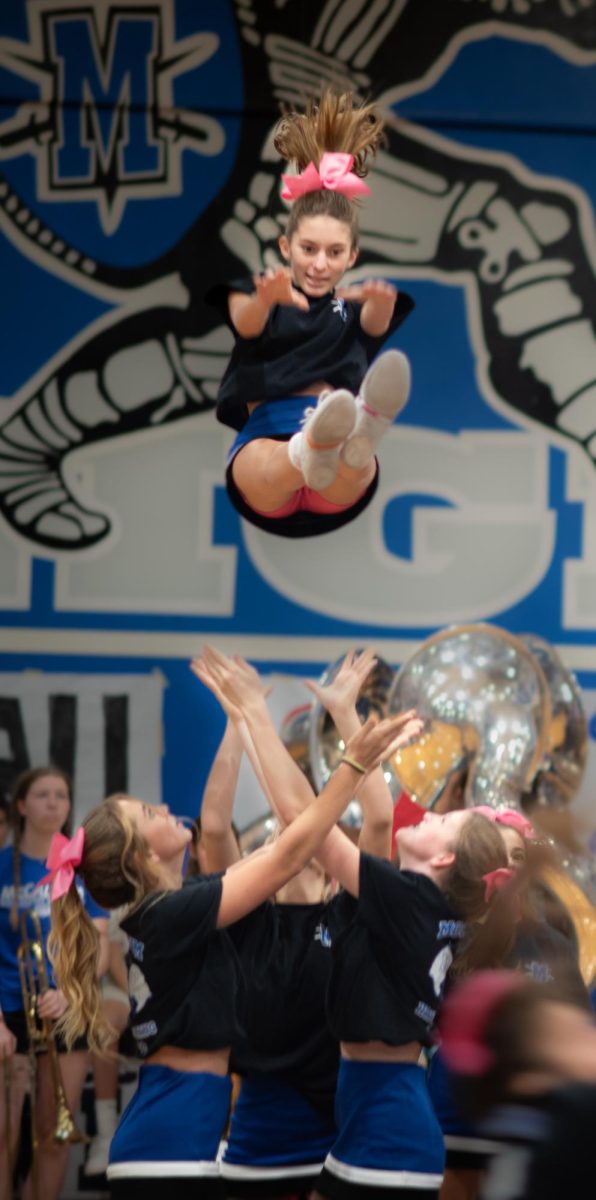 FLYING WITH SPIRIT: Sophomore Stella Little comes down from her stunt in a cradle after being held up in an extension during the homecoming pep rally. To prepare for the event, the cheerleaders practiced everyday after school the week prior for two hours, as well as during the cheer class period. But for Little, it was all worth it, as this has been one of her favorite pep rallies so far.
"I love cheering for the school because I get to stunt—which I really enjoy—as well as show some spirit for my school," Little said.
Little recognizes the significance of school spirit.
"The pep rallies are important because they get our football players in the mood to play," Little said. "They are also just a great way for the school to come together as a whole and participate in something fun."
Caption by JoJo Barnard. Photo by Frank Webster.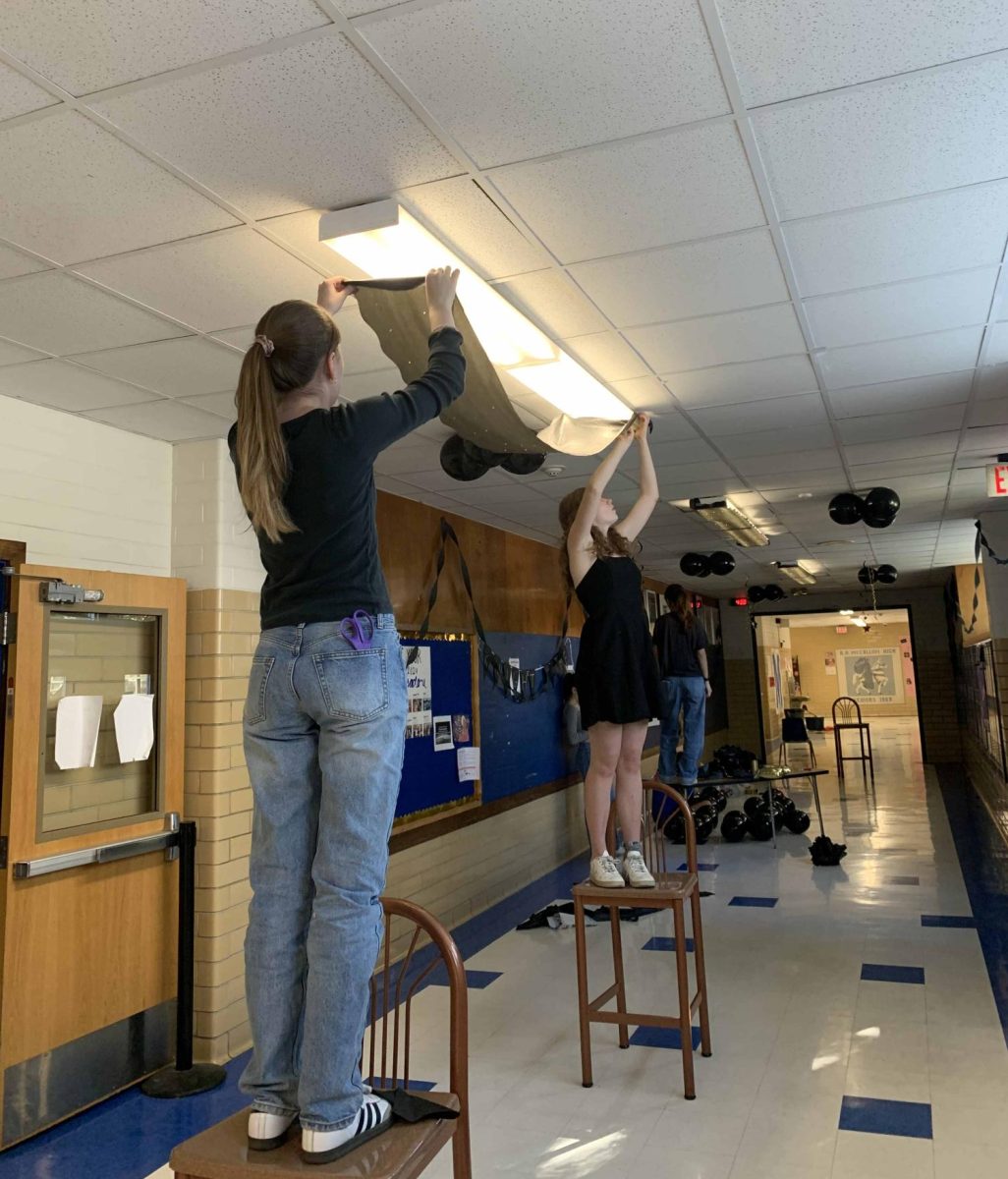 Juniors Poppy Harris, Ella Piston and the rest of Student Council work on Saturday Oct. 14 to deck out the junior hallway in black decorations for homecoming spirit week. Photo by Shila Gill.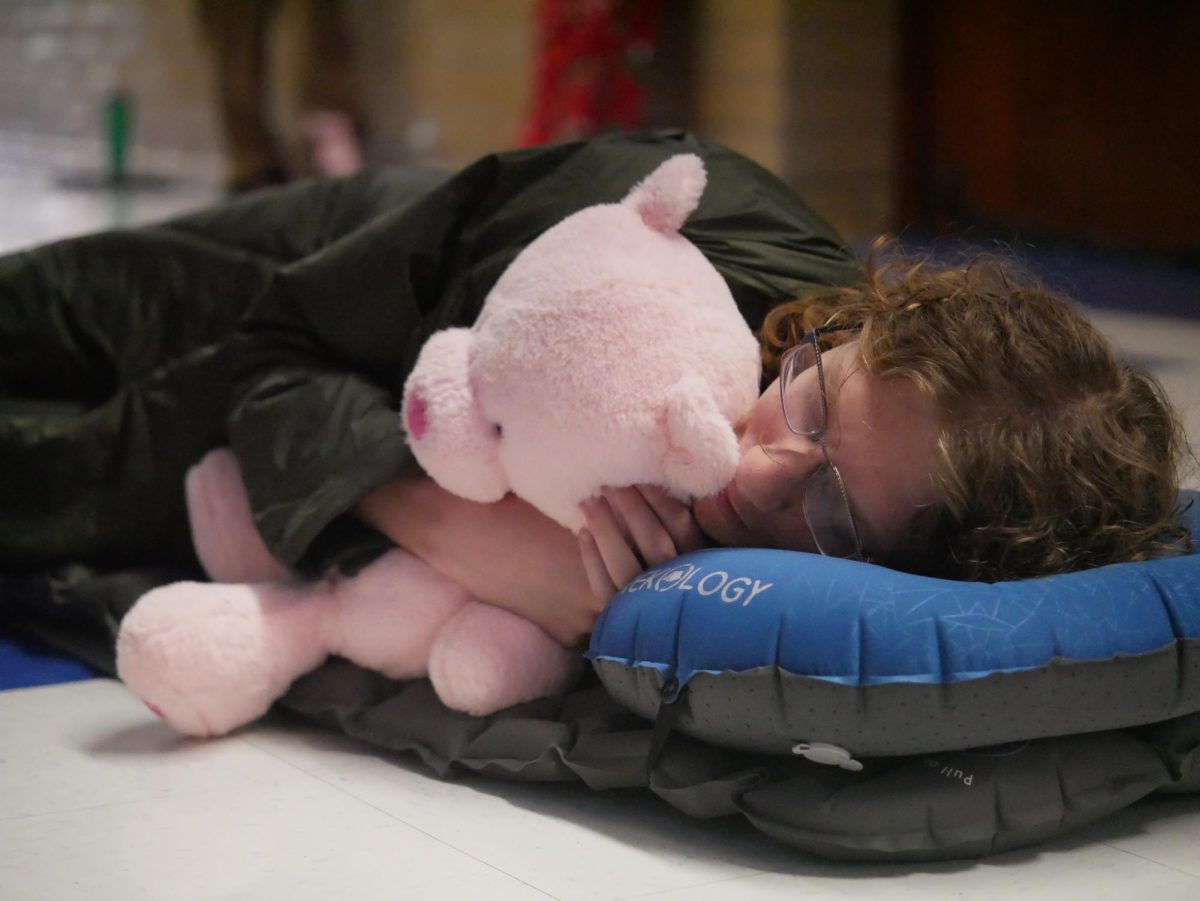 A GOOD KNIGHT'S SLEEP: Sophomore Jacob Mikesh naps in the hallway during Friday's pajama day. Wanting to go crazy for the last day of homecoming spirit week, he searched far and wide for pajamas that would impress.
"I had the idea on Tuesday and thought it could be really funny," Mikesh said. "I went through my library of pajama pants and picked the funniest ones and came to school."
Mikesh decided that Friday (and only Friday) was the best day to dress up, not only because of the theme, but also the extravagance normally associated with the last day of spirit week.
"It just seemed easier," Mikesh said. "It seemed like the best time because it was Friday."
Pink bear in hand and air mattress below, the going wasn't all easy. Mikesh faced setbacks throughout the day, whether that be figuring out how to maneuver an air mattress through the school entrance or hiding his napping from teachers and administrators. Unsure of whether he'd be let in toting a mattress, he brought it deflated, choosing to spend his first period blowing it up.
"I put it up in psychology," Mikesh said, "Ms. O'Neal said I wasn't allowed to nap though, we were talking about cults."
O'Neal wasn't the only teacher to put an end to Mikesh's nap time.
"I was actually sleeping near the English hallway and Mr. Baxa walked up to me," he said, "He told me I couldn't sleep in the hallway anymore." 
Mikesh knows there's not much he can do to make his outfit more impressive next time, but he's still going to try.
"There's not a lot of ways I can one up it [the outfit]; I don't want to bring an actual mattress here," Mikesh said. "But maybe I can by bringing an actual pillow and blanket and really sleeping."
Caption by Helen Martin. Photo by Dave Winter.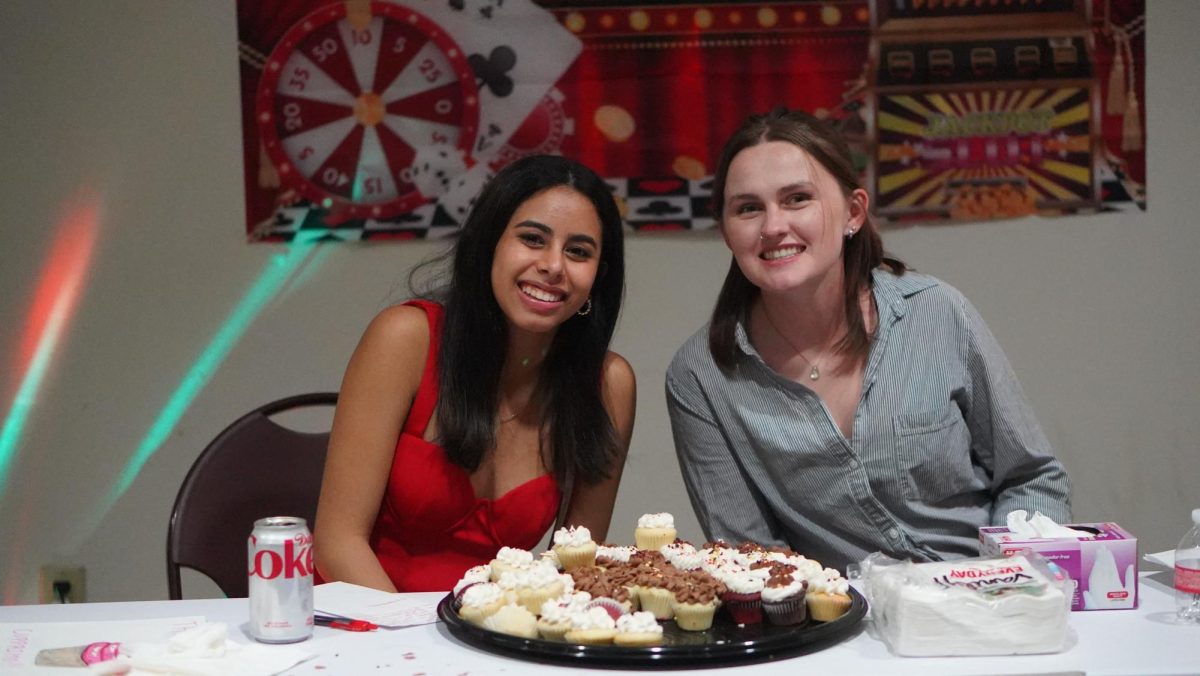 DOING IT ALL FOR HOCO: After months of planning, the student council put on the school's first homecoming dance since 2019. With nearly 500 people jam-packed into the venue, the dance sparked photo opps, dance battles and special moments between friends.
For sophomore class Student Council President Ruhi Motwani, getting to be both a part of planning the dance, as well as attending it, made all the hours of work worth it.
"I loved being part of the planning process because I had a lot of freedom in my decision-making, so I was able to bring new things to the dance that I knew I would enjoy and thought the student body would enjoy," Motwani said.
Motwani was on the team that sold tickets to her class, and she worked the concession booth during the dance.
"I was super nervous because I wanted everything to go well, and be put together," Motwani said. "I'm really happy that it all worked out in the end. It was really rewarding to see the hard work the student council has put into planning this event come to life."
Now that the homecoming dance has returned, Motwani hopes it will continue to grow in the future.
"We had such a good turnout, and the venue looked beautiful," Motwani said. "It was 100% worth it. I had so much fun."
Caption by Chloe Lewcock. Photo by Chloe Seckar-Martinez.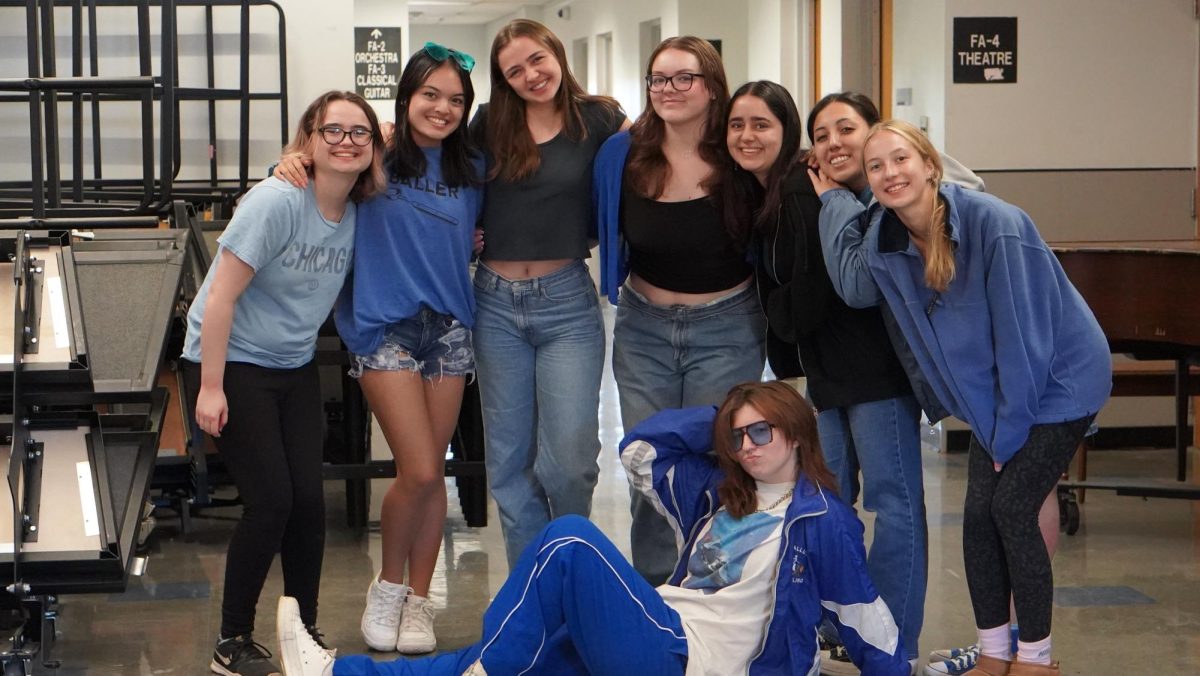 CREW OF BLUE: Seniors (left to right) Julia Lyon, Jaella Brush, Naomi Di-Capua, Alex Thomason, Roxie Satija, Spirit Smith and (floor) Clara McFadden pose for a photo during choir class to showcase their outfits for Thursday's spirit day. Thursday was the day of the game, so the spirit day theme was school colors. Each class had a corresponding color: freshmen-white, sophomores-gray, juniors-black and seniors-blue. The annual tradition intrigued Smith.
"I was excited to see what grade would show the most spirit this year," Smith said.
Smith views spirit days as a way for the school to come together.
"I enjoy spirit days because they give the student body a chance to be involved," Smith said. "And there aren't very many opportunities for our school to be involved in things as a whole."
Caption by JoJo Barnard. Photo by Riley Pita.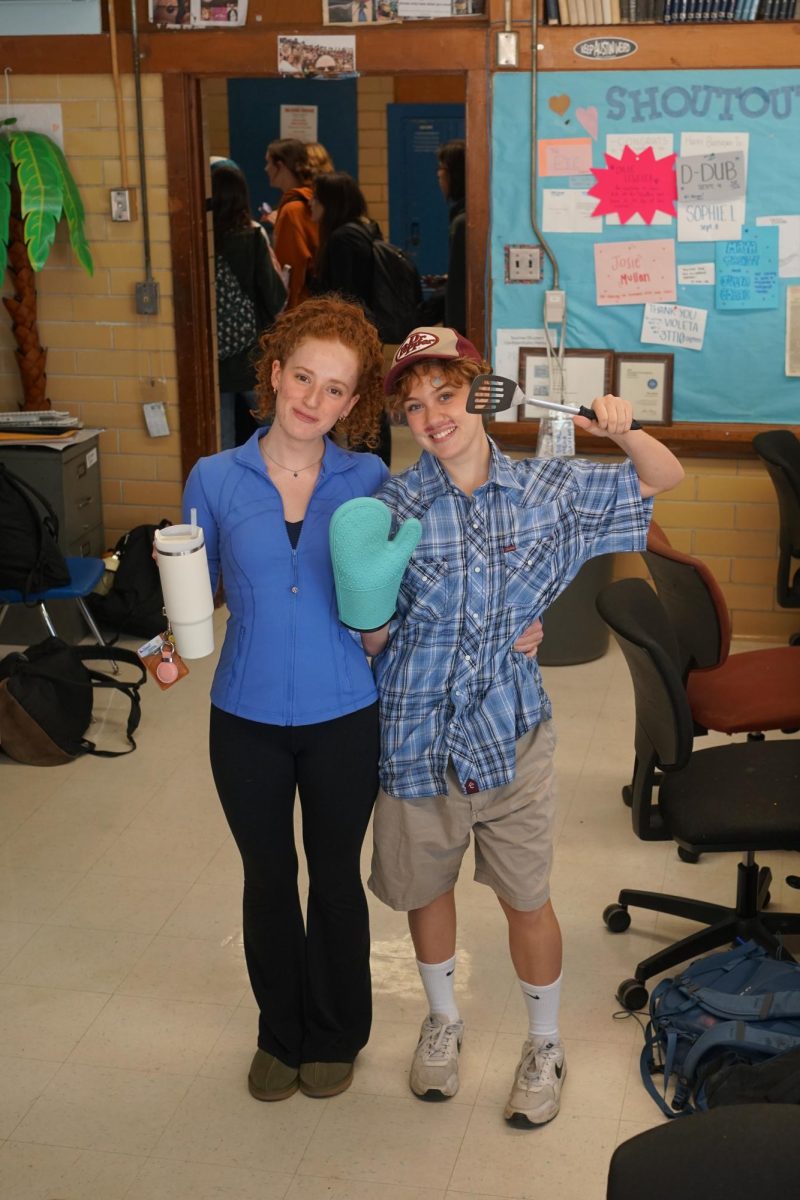 SIZZLING UP SPIRIT DAYS: For junior Julia Rasp, spirit days are no light matter. With five consecutive days in a row of spirit days, Rasp used the opportunity to go all out and show her devotion to McCallum and the homecoming tradition. 
On the third day of the homecoming week, Rasp chose to be the barbecue dad in the battle of soccer mom vs. barbeque dad. Completing the look with the spatula and mustache, Rasp's spirits didn't lack.
"I don't mess around when it comes to spirit," Rasp said. "My favorite part [of barbeque dad vs. soccer mom] was walking into school and seeing my friends smiling at me." 
Rasp particularly loved barbecue dad vs. soccer mom because it was something she'd done years prior and allowed her to create a new and improved outfit this year. 
"It's honestly hard to pick my favorite of the spirit days," Rasp said. "I love it all so much, my favorite part is just getting pictures with my friends."

While homecoming week has come to an end, Rasp looks forward to the rest of football season and the spirit days that come with it. 
Caption by Chloe Lewcock. Photo by Dave Winter.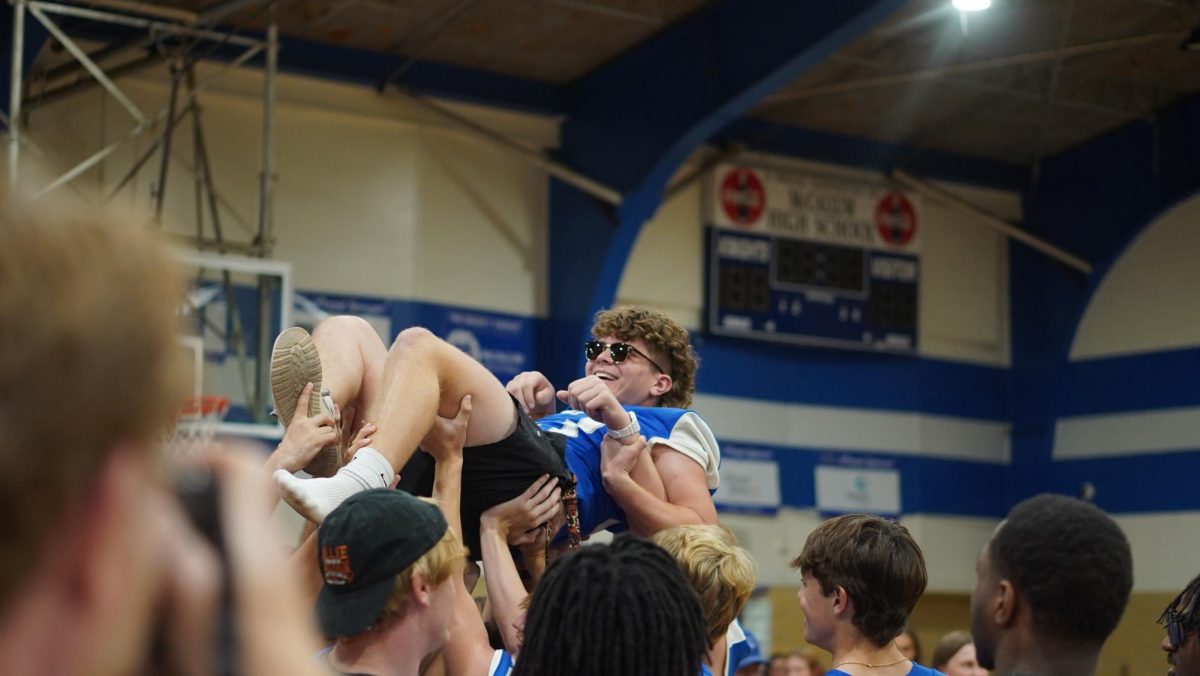 Senior Luca Leone crowd surfs at Thursday's pep rally before the homecoming game. Photo by Alice Scott.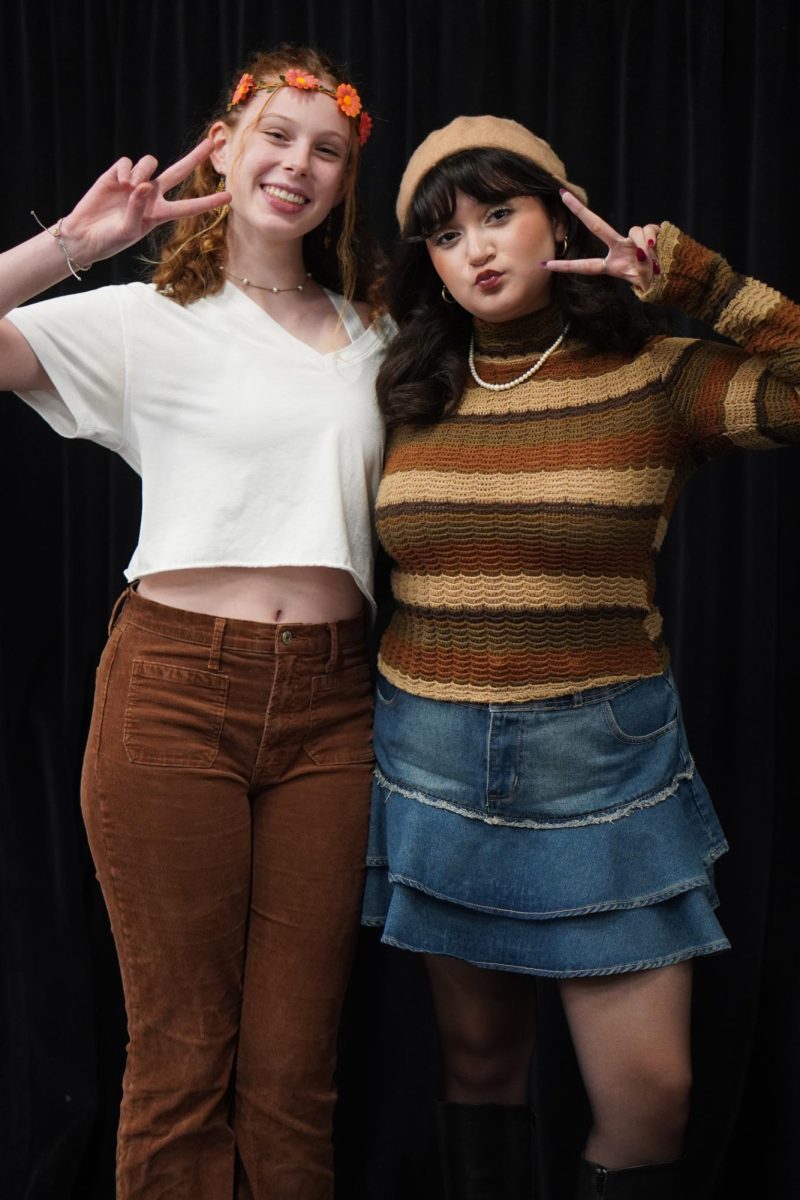 '70S SHOW: Students kicked off Homecoming Week on Monday by dressing up for Decades Day with freshmen wearing '70s attire, sophomores wearing '80s, juniors wearing '90s and seniors wearing 2000s. Freshmen Davi Rondero and Emma Simon dressed up in their favorite '70s attire. 
Simon stated that even though her favorite dress up day was Pajama Day, she has always loved the '70s. 
"I was very excited to be able to dress up as my favorite era," Simon said.
Similarly, Rondero enjoys the '70s era and takes inspiration from it every-day.
"I think it was a really cute fashion era, and I incorporate it into my daily outfits," Rondero said.
Both agreed that the best band of the '70s was Queen, and both enjoy the famous Queen song, "Bohemian Rhapsody."
Photo and captions by Aubrey Macedo and Katie Martin.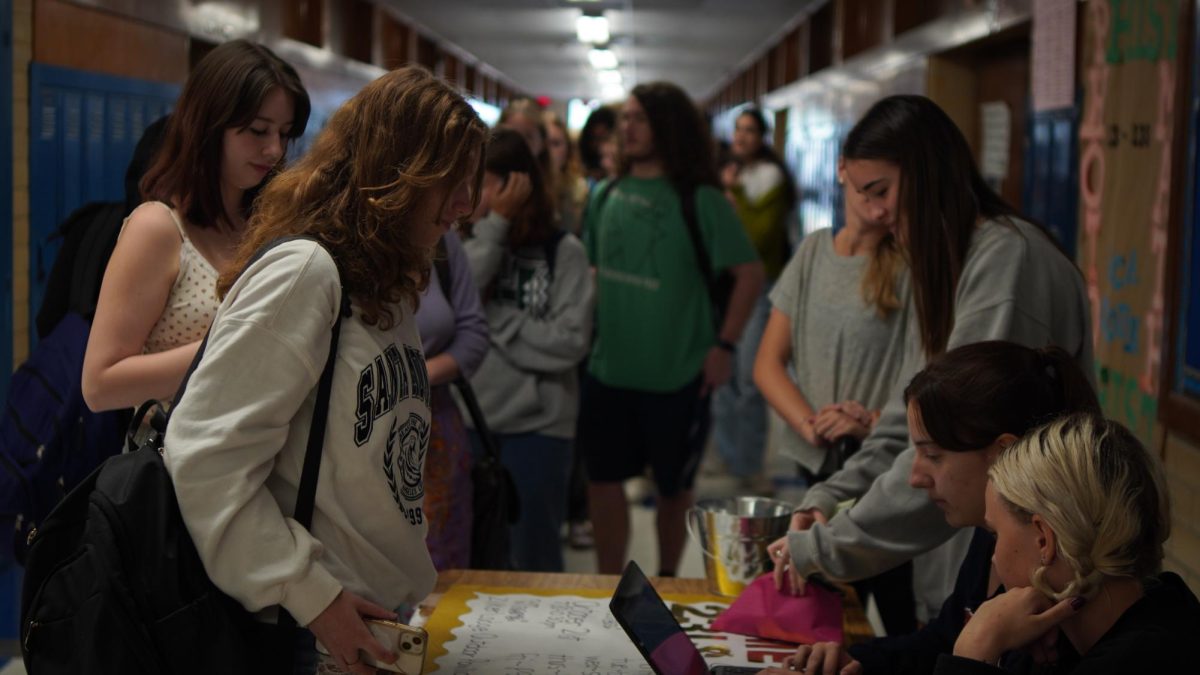 TICKET SALES SHOW SUCCESS: Junior Kalliope Haltom marks that fellow junior Ella Piston bought one of the limited homecoming tickets. Both were excited for the promise of a dance considering neither had been to one before. 
Haltom was part of the planning process as a member of student council. Her job was to take students' names and IDs down to ensure the information was correct and keep track of how many tickets were sold due to venue constraints.
"Making sure that as many people as possible could go without exceeding our limit was tricky," Haltom said. "And making sure I got everything down right while there were so many people in line was stressful."
Haltom was happy with how the dance turned out and to see her hard work come to fruition. For her, the McCallum culture made the dance a success.
"The spirit [made the dance special]," Haltom said. "We've never had one before, so everyone's energy was so high and they were all so excited to be there."
Piston, not being involved in planning the dance, was apprehensive about it and the logistics of it because of the detail that goes into coordinating an event. She was pleased by the ticket process and liked the extra touch of having poker chips as tickets. 
Piston enjoyed the dance because it gave her a place to connect with students that she doesn't see outside of school.
"I think it was really fun, I loved the space and the dance floor," Piston said. "It felt like everyone who went there was having a good time. We should definitely do it again next year."
Caption by Callen Romell. Photo by Dave Winter.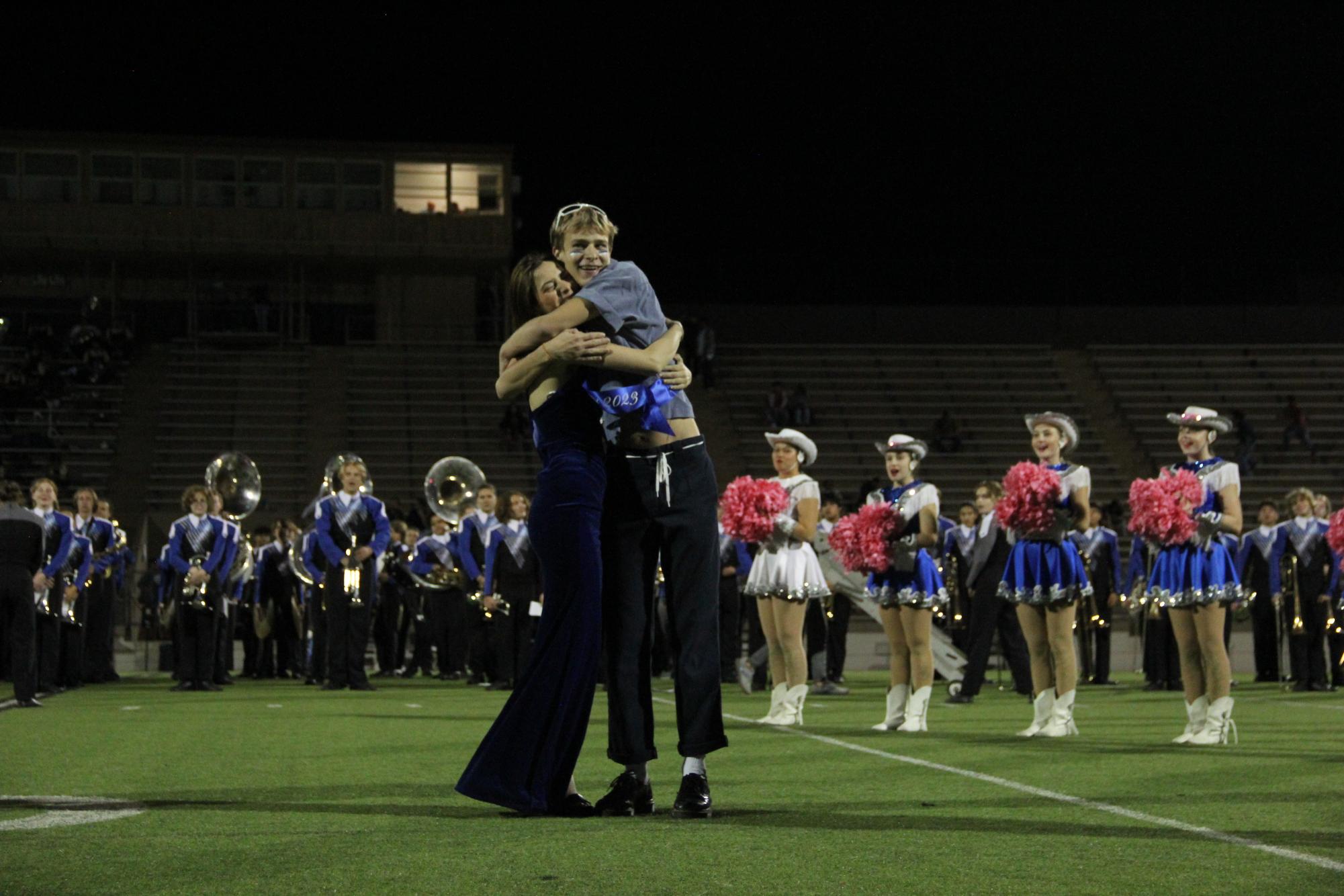 THEIR CROWNING MOMENT: At the homecoming football game last week, Seniors Darin Fowler and Mckenzie Martinez were named homecoming King and Queen after a week of voting. 
When Fowler saw that the opportunity to run for King was available, he decided to take it. 
"I wanted to be more involved and it sounded fun," Fowler said. "So I thought to myself, why not might as well go for it."
Fowler admits that it was scary to know there were so many King candidates, but when he heard the results, that feeling went away. 
"When they announced the winners I was so excited because not only did I win, but Mckenzie won as well," Fowler said. 
Though winning homecoming King is something memorable, Fowler also had fun during homecoming week at Mac participating in the activities at school. 
"Making and hanging posters around the school was fun," Fowler said. "And also making little mums to put on my cowboy boots."
Caption by Gaby Esquivel. Photo by Julia Copas.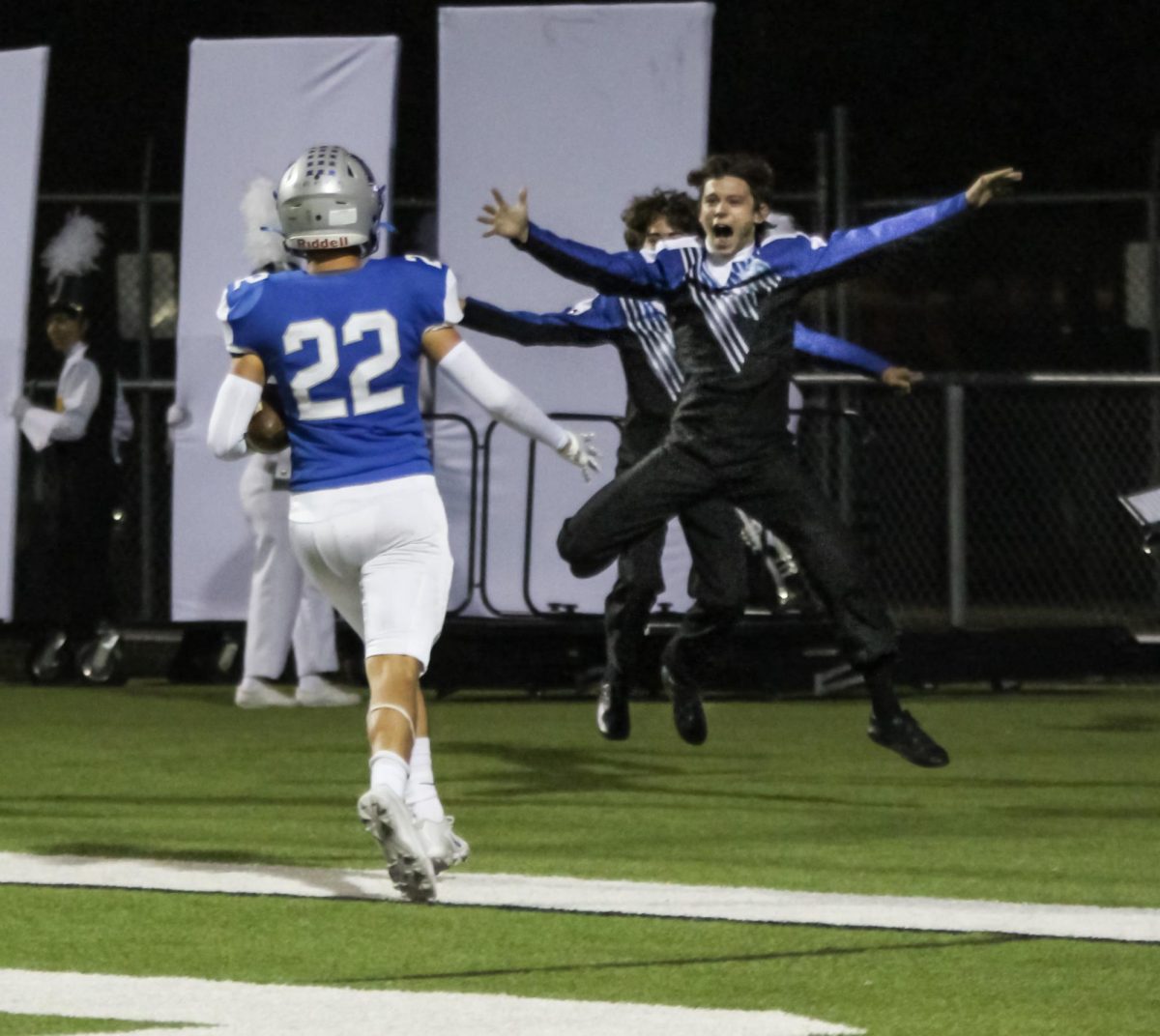 JUMPING FOR JOY: Filled with excitement, senior Asher Kay jumps high in the air as his good friend since elementary school, Owen Price, scores a touchdown right in front of him during Thursday night's homecoming game.  The band was there to hype up the football team, and in return, the football team won the homecoming game.
"There was a high energy level from the team, band and student section, and of course, we won the game which was nice," Kay said.  "Football games are different [than band competitions] because it's a more relaxed and fun situation the whole time."
Caption by Olivia Dungan. Photo by TC Brosnan.