Mac pulls out all the stops for Homecoming 2022
Students, faculty embrace school pride, classic traditions during first Spirit Week without COVID measures in 3 years
Last week, the McCallum halls were decked out in blue, white and gold in preparation of Spirit Week and Homecoming. With five days of outfits, a pep rally and the homecoming football game, Knights were showing more school spirit than ever. The 2021 homecoming pep rally was held outdoors while wearing masks, the last Mac pep rally with COVID-safe adjustments. In a way, the 2022 spirit days and homecoming mark the year anniversary of the last homecoming that bore the imprint of the pandemic.
The 2022 spirit days elicited a high percentage of student participation. On Monday, students wore their coziest pajamas, followed by Jersey Day on Tuesday. Wednesday came in hot with BBQ Dad versus Soccer Mom Day and Thursday followed it up with Twin Day. Friday closed out the week with White Out Day, where students wore white and homecoming T-shirts in preparation for the game that night.
Playing against the Northeast Raiders at House Park, the football team was welcomed in by the band's performance of their 2022 competition piece "Seeing Stars." After a successful first and second quarter, the Knights led 14-0, giving way to the Blue Brigade's performance of a kickline routine and the homecoming royalty ceremony. Seniors Angel Vasquez and Ary Sanchez took home the crowns before returning to their places on the football and cheer teams for the second half where McCallum pulled out a successful 28-0 win.
We are pleased to share some of the top photos from Mac Homecoming 2022.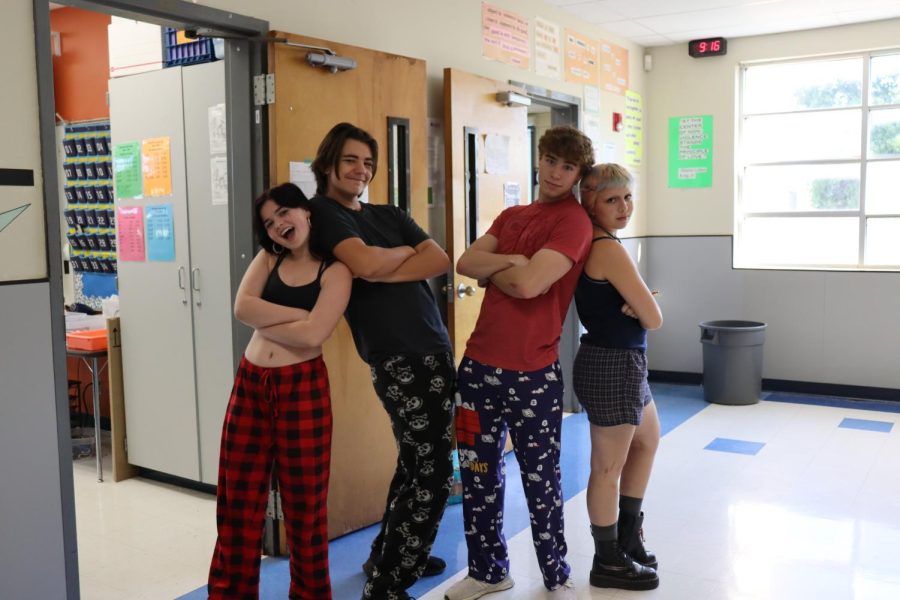 OFF TO A SLEEPY START: Freshmen Elli Grace Hodges, Eli Finnegan and seniors William Wheeler and Josie Bradsby pose in their Pajama Day outfits. Wheeler decided that his Snoopy pajamas were perfect for the first day of Spirit Week. "Half the school showing up in their PJ's on Monday morning was a telltale sign that the rest of the week was going to be a blast," he said. "Year after year it's fantastic to see the McCallum community rally for homecoming week and Pajama Day will always be an iconic start." Caption by Francie Wilhelm. Photo by Leah Gordon.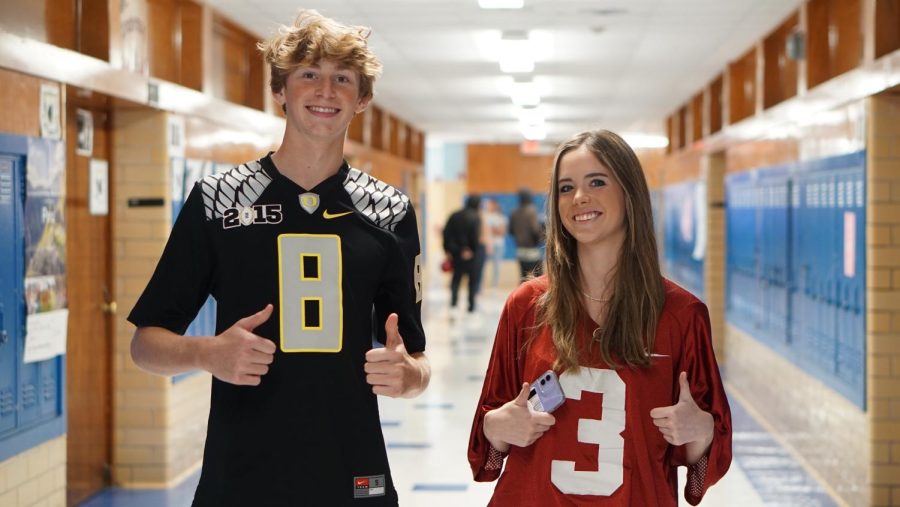 MVPS OF JERSEY DAY: On the second day of homecoming Spirit Week, students were instructed to wear their favorite sports jersey. "I wore an Alabama University jersey," sophomore Anna Lee said. " Not only was I supporting my school and our Spirit Week, but I was supporting my grandfather and other family because they all went there and want me to go as well." Everybody got to show their appreciation for their favorite sports and players while participating in a classic, fan-favorite spirit day. Caption by Isley Cameron. Photo by Charlotte Cross.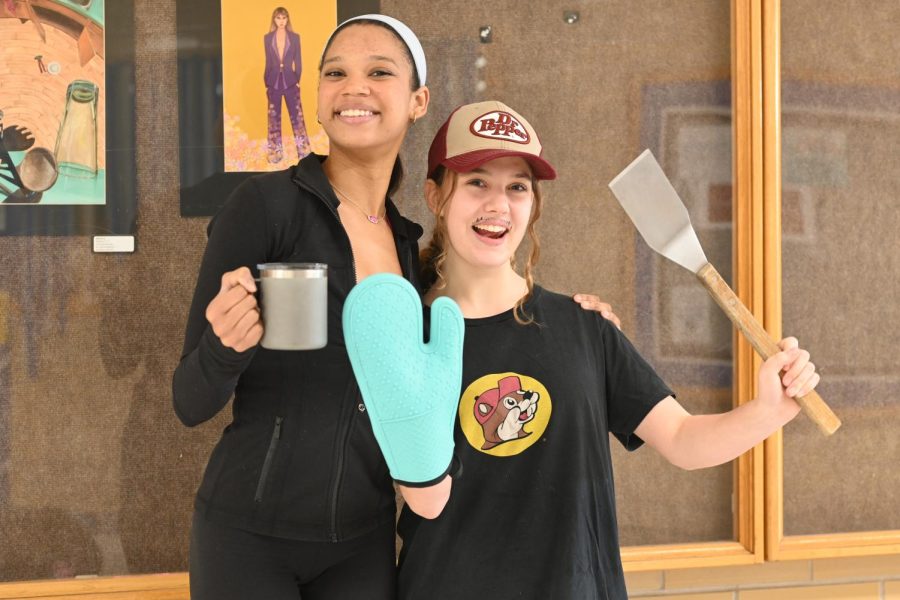 HIP HIP HOORAY FOR SPIRIT DAY: As part of McCallum's homecoming traditions leading up to last Friday's football game, a week's worth of spirit themes were chosen to be worn throughout the week. On the third day, students got the chance to come to school dressed as either a soccer mom or barbecue dad. 
"My favorite part of spirit week was definitely barbeque dad and soccer mom day," sophomore Julia Rasp said.
The halls were filled with students carrying items that played into the theme, such as spatulas and aprons for those who went as barbeque dads, or sunglasses and coffee mugs for the soccer moms. 
"We were in our element with this spirit day," Rasp said. "I had a blast seeing everyone in crazy outfits." Caption by Chloe Lewcock. Photo by Morgan Eye.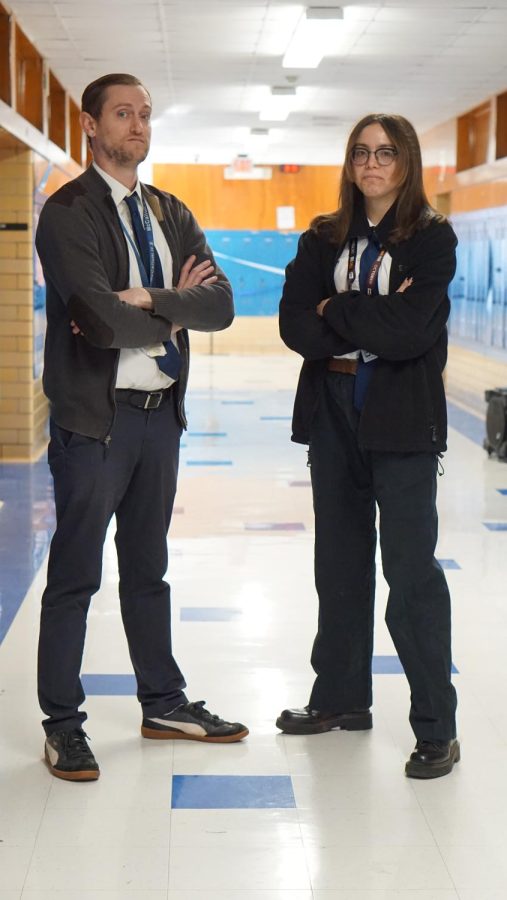 SEEING DOUBLE: Freshman Chim Becker and history teacher Greg Anderson twinned in Anderson's typical fashion last Thursday. "He's definitely one of my favorite teachers I have this year," Becker said. "I love being in his classroom because he always makes everyone laugh, and it's just a really comfortable place where you can talk about anything." The pair coordinated their matching Twin Day outfit over email after Becker decided paying homage to Anderson's style was the best way to give back the laughs. "I thought it would be funny to return the favor," she said. 
While Twin Day was a major highlight of the spirit week festivities for Becker, one of her favorite parts was the togetherness that homecoming brought to the school. "I liked that everyone could come together and have fun no matter who you are or who you hang out with." Caption by Francie Wilhelm. Photo by Dave Winter.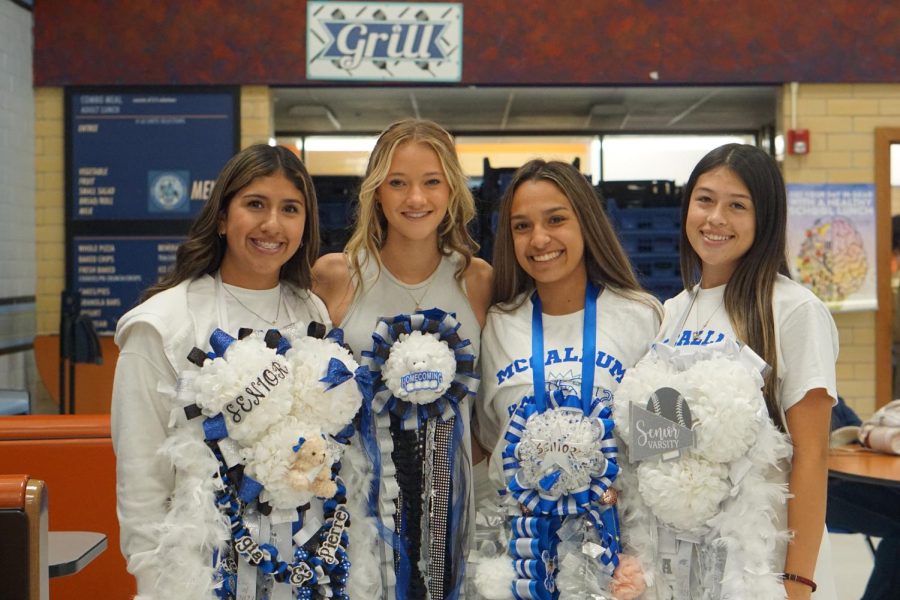 MUMS AND MEMORIES: Seniors Gia Ruedas, Stephanie Renee, Kayden Williams and Ary Sanchez wear their mums proudly on White Out Day. Ruedas said that getting to wear a mum as a senior was a dream come true.
"I have had a mum every year since I was 3 years old," Ruedas said. "My mom always made them for me but this year I decided to do it on my own. I've always looked forward to my senior year to finally make my final mum and make it special. It made my homecoming special because it was the last mum I was going to ever make for myself."
Ruedas said her favorite part of homecoming is spirit days, which was made even more fun by the introduction of Soccer Mom vs. BBQ Dad Day. As a cheerleader, Ruedas was excited to show off what the cheer team had been working on during the pep rally on White Out Day. But experiencing her last McCallum homecoming was bittersweet. 
"When I graduate I'm going to miss everything about McCallum homecoming," Ruedas said. "Making my mum, dressing up for spirit days, seeing the decorated hallways, performing in the pep rallies and especially being on the sideline cheering for our school football team."
Caption by Ingrid Smith. Photo by Aisha A.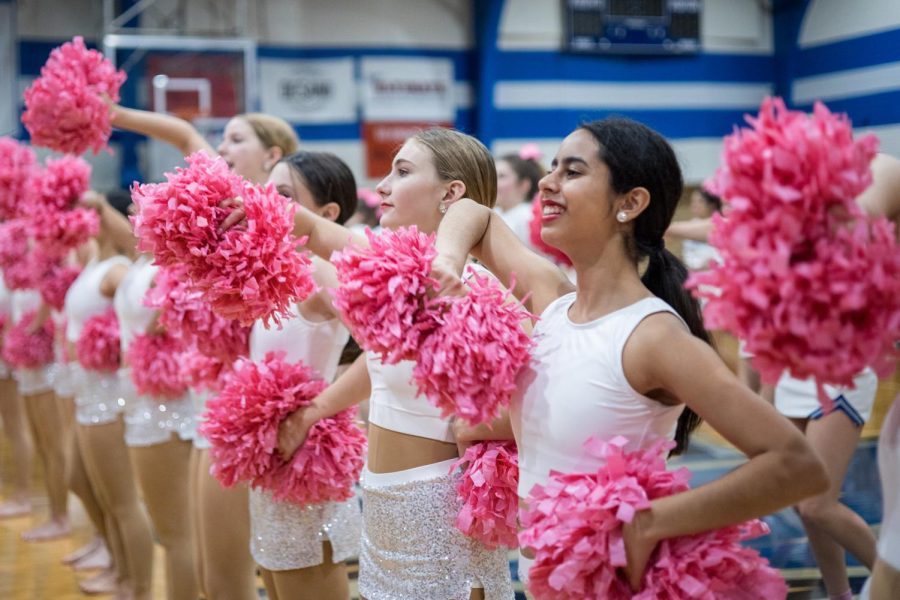 Ru Motwani and Paige Mitchell perform in the Blue Brigade's pep rally performance. Photo by Gergo Major.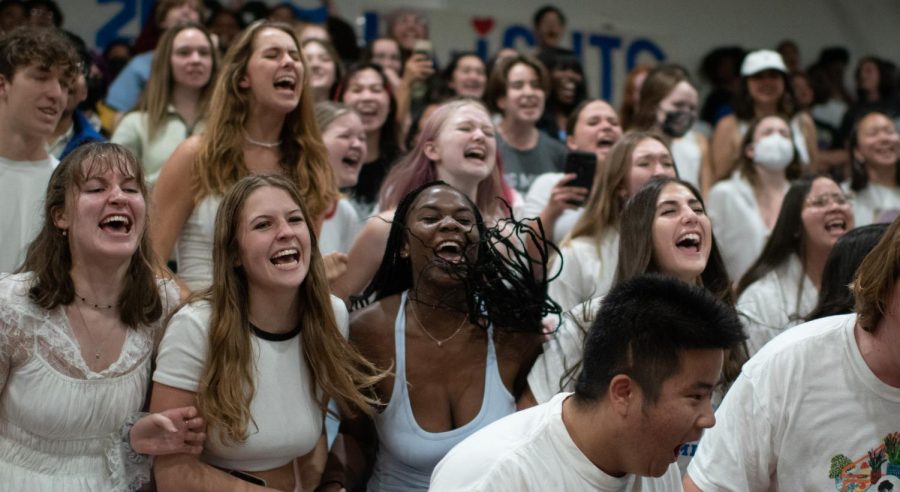 SCREAMS OF SPIRIT: At the pep rally seniors showed off their school pride by winning the spirit competition. Out of all the grades, they chanted their cheer the loudest. "Because of ACL there wasn't as many seniors as there typically are," senior Rachel Nabhan said. "But we still won the competition, which I thought was really cool, especially since last week we didn't pull through as much as we'd hoped to." According to Nabhan, the school had high spirits. "Even though a lot of our students weren't there, you could tell that the ones who were really wanted to be there." Caption by JoJo Barnard. Photo by Monte Richardson.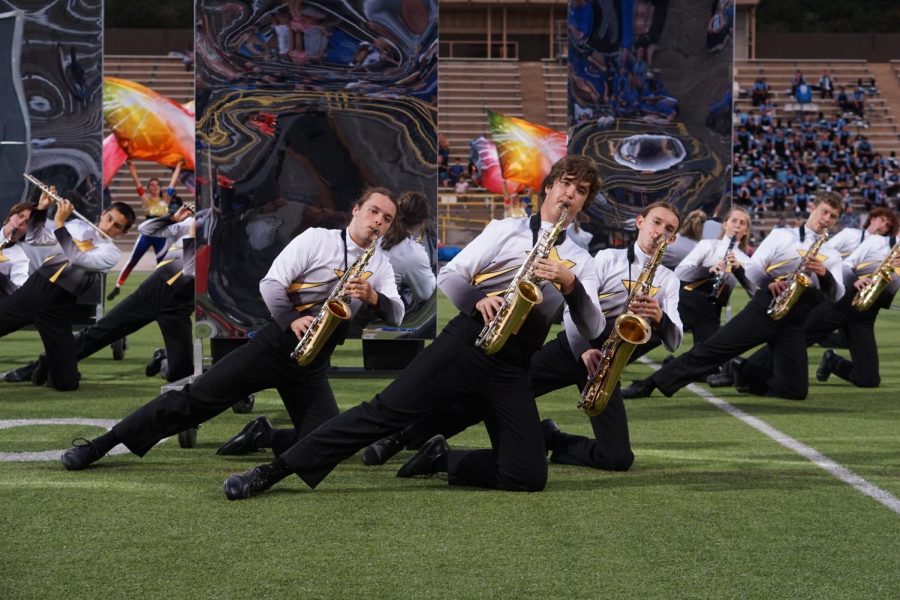 Saxophonists Eadan Reeves, Jasper Kurtz and Eliot __ performing the marching band's 2022 season piece "Seeing Stars" before the homecoming football game against Northeast. Reeves enjoyed performing at the game, as well as spirit week as a whole. "[My favorite part] was white out day, seeing a lot of people at McCallum in white and showing school spirit," he said. 
Caption by Francie Wilhelm. Photo by Naomi Di-Capua.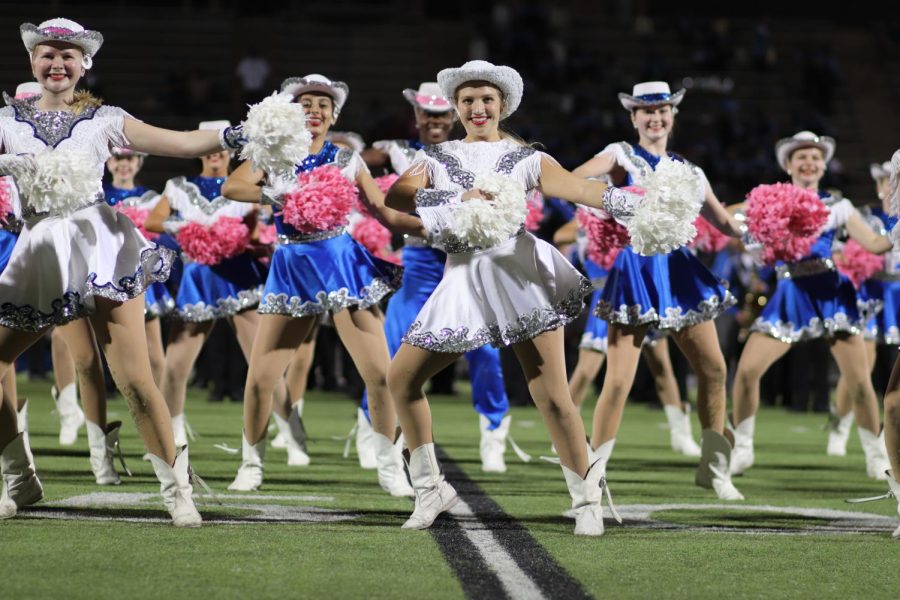 Senior Blue Brigade captain Sophia Kramer performing at halftime during the homecoming game against Northeast. Photo by Evie Barnard.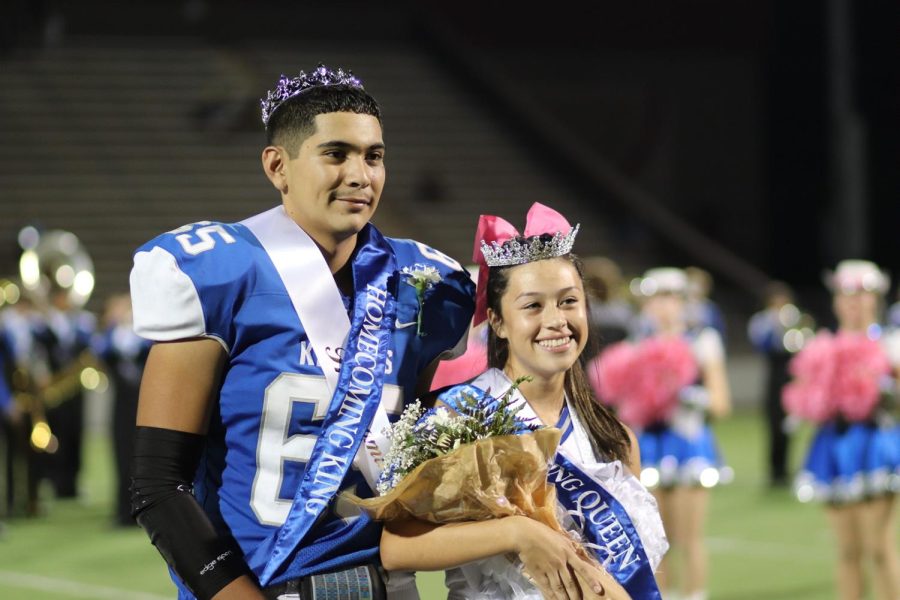 Seniors Angel Vasquez and Ary Sanchez after being crowned 2022 homecoming royalty. Photo by Evie Barnard.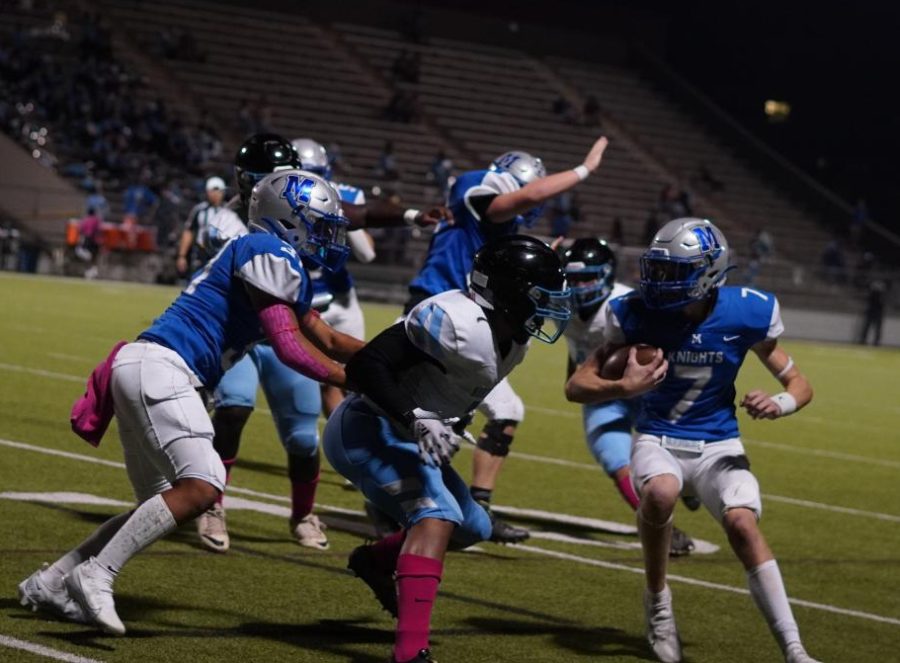 DUNHAM BRINGS IT HOME :In his first career start at quarterback, Luke Dunham ran in two touchdowns, one from one yard out and another from 50-yards out. The Knights defense continued their dominance through the second half forcing three punts and an interception that Gus Ehlers caught. Even after a fumble to start the fourth quarter, Dunham responded the next drive with his 50-yard scoring run and eventually got to end the game in victory formation. Photo and caption by Charlie Partheymuller.