Mac resumes homecoming traditions in big way in 2021
After year with skeletal hoco events, spirit, enthusiasm returned amid safety measures to keep homecoming safe
Homecoming 2021 had a bit of everything, dress-up spirit days, homecoming flowers, hallway decorations, white-out T-shirts, a pep rally, House Park performances by the marching band, choir and the Blue Brigade, and a 49-0 dismantling for the Northeast Raiders in the homecoming football game. We are proud to dedicate this week's Tuesday Top 10 to the task of preserving and celebrating the events that made up Homecoming 2021. We hope you enjoy perusing it as much as we did making it.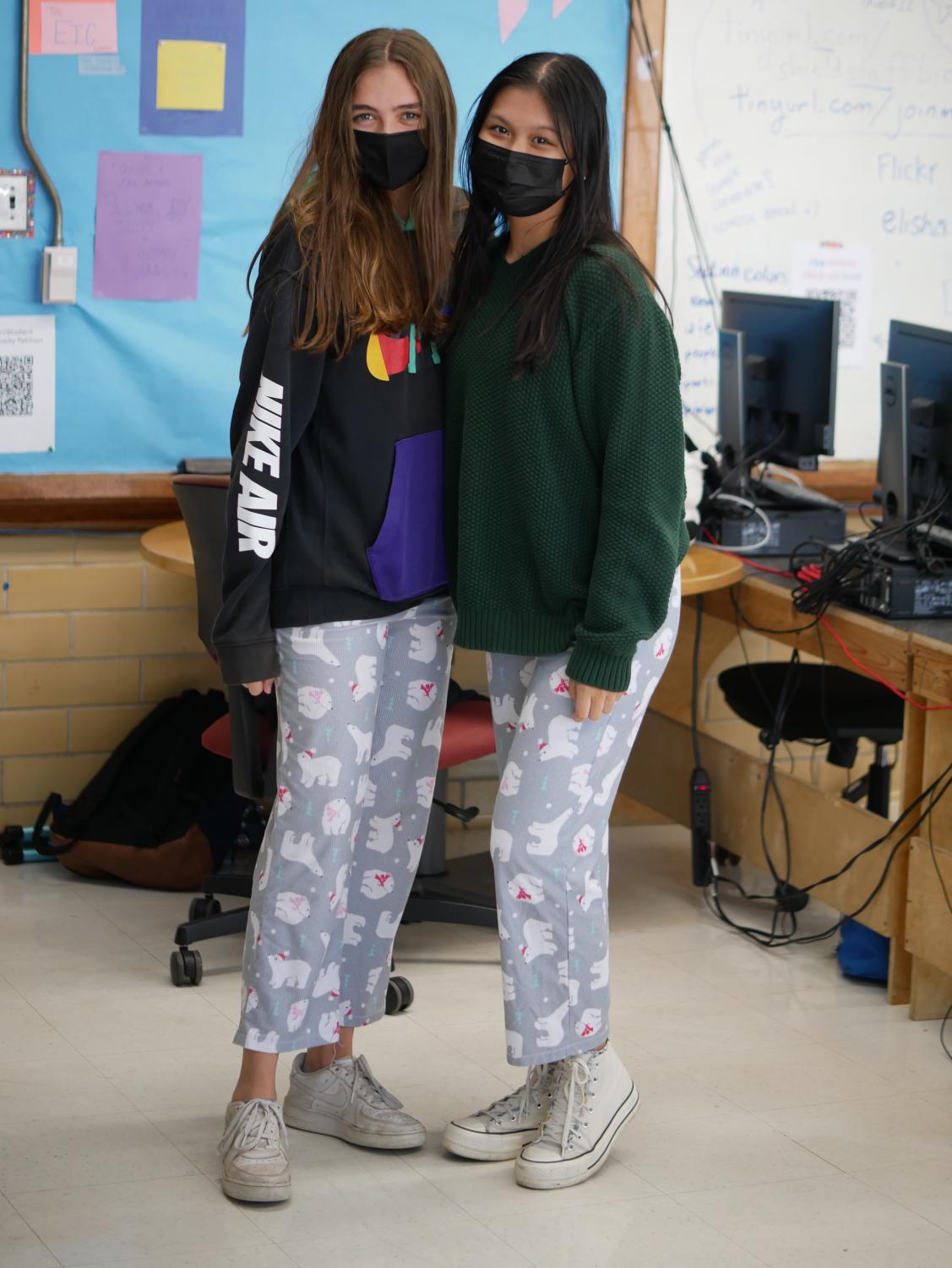 POLAR EXPRESS: Sophomores Naomi Di-Capua and Sophie Leung-Lieu not only dressed for Pajama Day to kick off Homecoming Spirit Week, but they made it a Twin Day as well with matching PJ bottoms and white shoes. Reporting and photo by Dave Winter.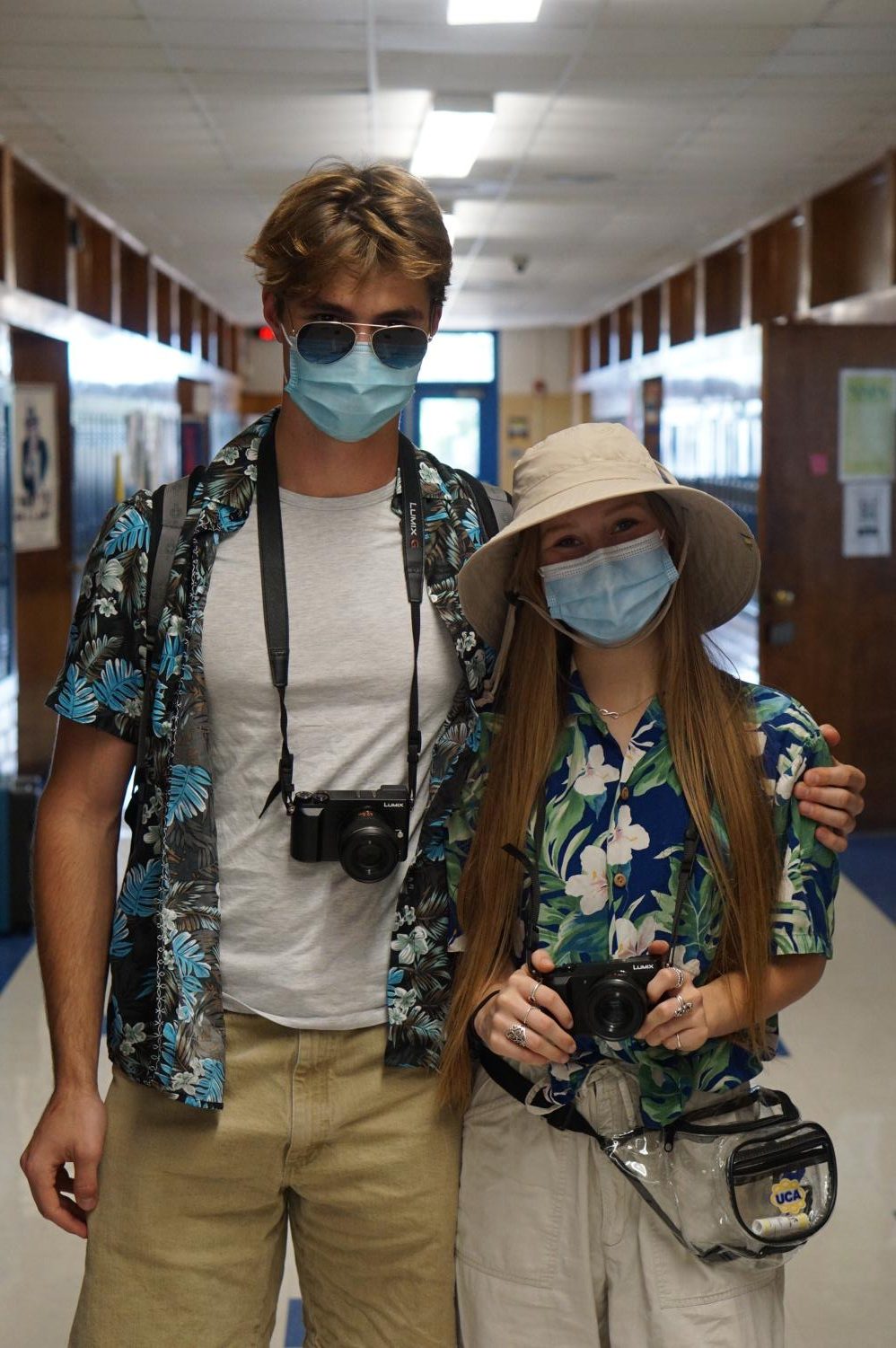 SAY CHEESE: Seniors Addison Phillips and Kate Bachman pose in their Tacky Tourist fits for Tuesday's homecoming spirit day. Each day of Homecoming Week came with its own dress code, ranging from Pajama Day to a white-out on game day. Tuesday was dubbed "Tacky Tourist" day and attracted a flood of students clad in bright colors and open-toed shoes. Phillips embraced the silly theme of the day, donning a Hawaiian shirt and shades. "I really like the wacky part," Phillips said. "It's fun to dress up without having to take yourself seriously. It really allows everyone to express their silly side." Reporting by Sofia Ramon. Photo by Logan Davis.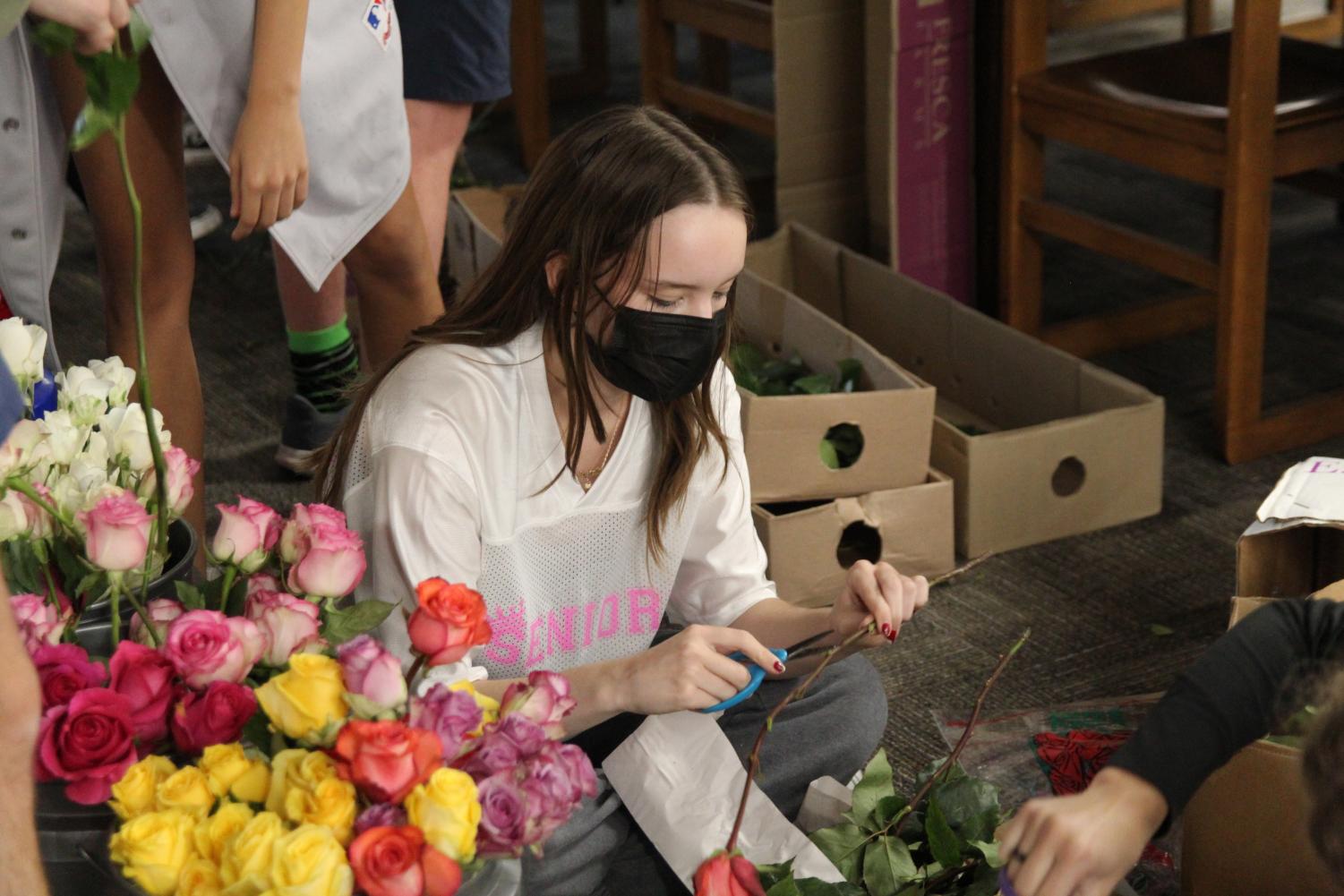 NHS ROSE TO THE OCCASION: In preparation for the National Honors Society's homecoming flower sale, senior Natalie Dean trims the thorns off roses. Dean enjoyed the prepping process. "We curled ribbon, cut tissue paper, and cut roses and carnations," she said. "I found it quite fun because I love curling ribbon." Although she didn't do any of the flower sales, Dean had plenty of work to do. "I didn't personally get to do any of the sales at lunch, but there were a lot of flowers to prepare the day before." Reporting by Lucy Marco. Photo by Sophi Beardslee.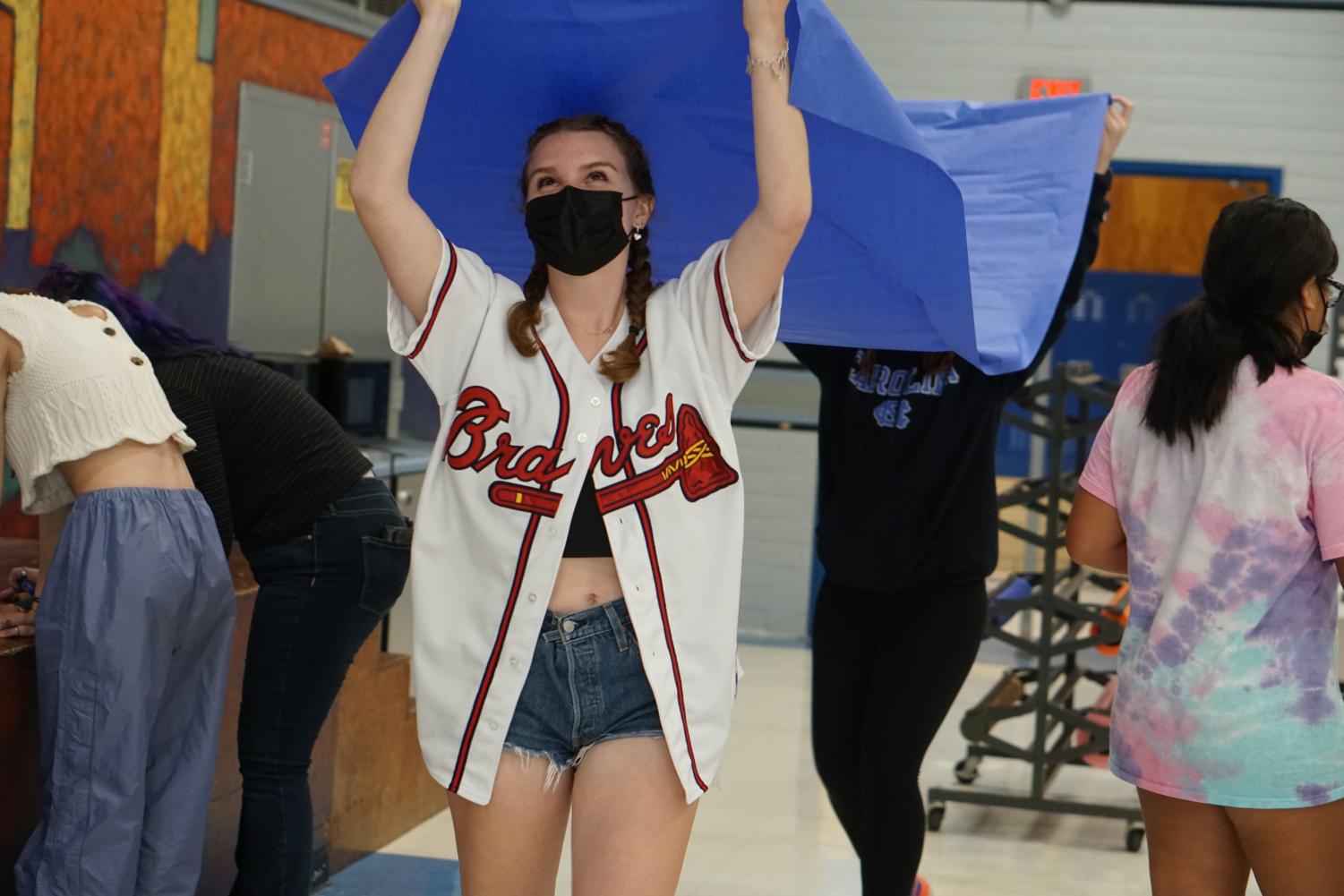 DECK THE HALLS: Seniors Annabel Winter and Kennedy Weatherby gather paper to create a banner for the senior hallway during the hallway decorating competition held on Wednesday during Homecoming Week. Each grade level was assigned a portion of a hallway to beautify with McCallum colors competing to create the most spirited hallway. For seniors participating in the event, there was an extra incentive to win. "The seniors did feel a lot of pressure to make our section the best because we were one vote away from winning sophomore year," Winter said. "lt wasn't like we were super stressed out, it just pushed us to do better. Especially since we weren't able to decorate last year, we wanted to do the best that we could." Reporting by Alice Scott. Photo by Dave Winter.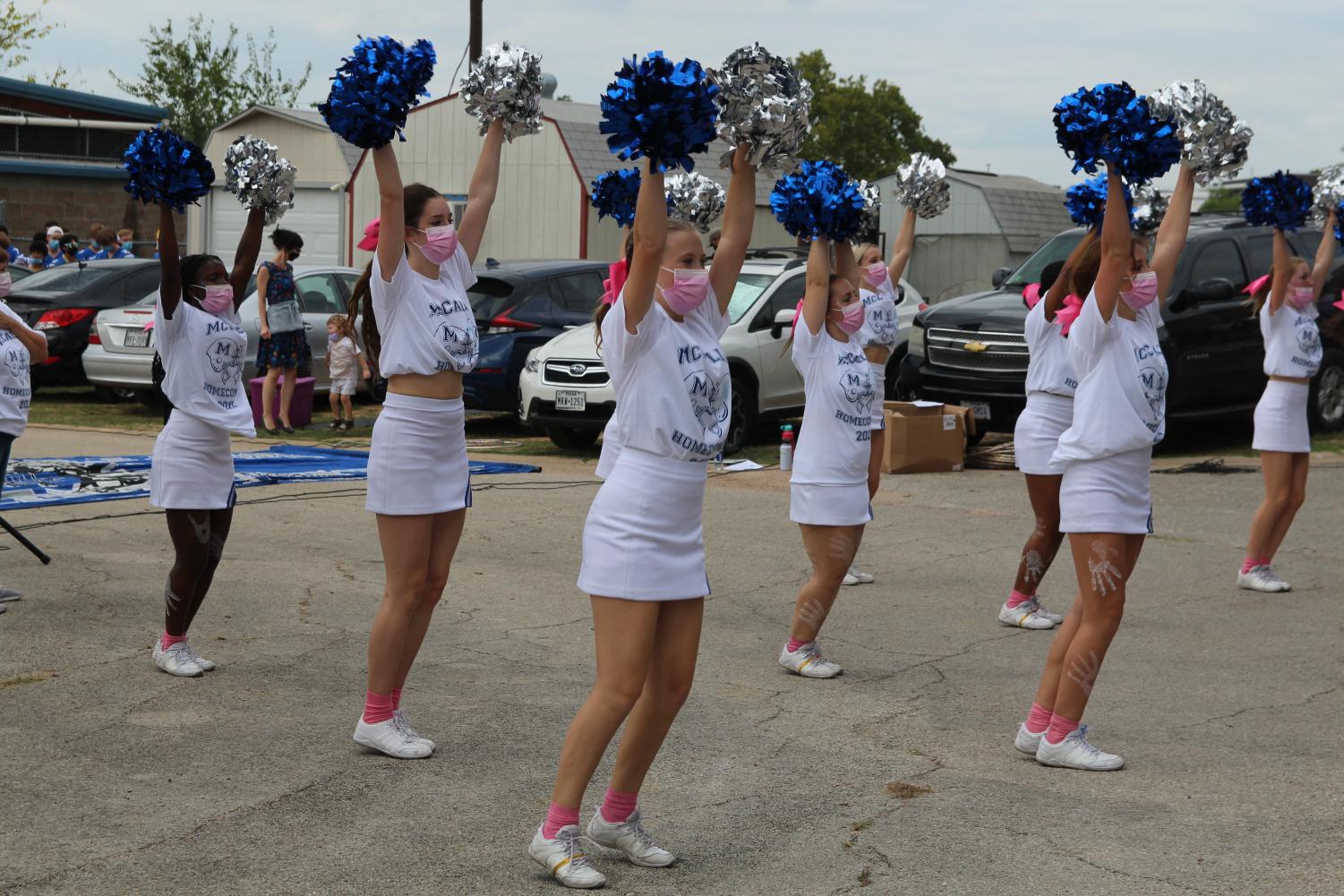 POM DOT COM: The varsity cheer squad performs during the homecoming pep rally, held outdoors on the pavement in front of the softball and baseball practice fields. It was the second time that the school had staged an outdoor pep rally to minimize the risk of COVID exposure.  Reporting by Dave Winter. Photo by Sophi Beardslee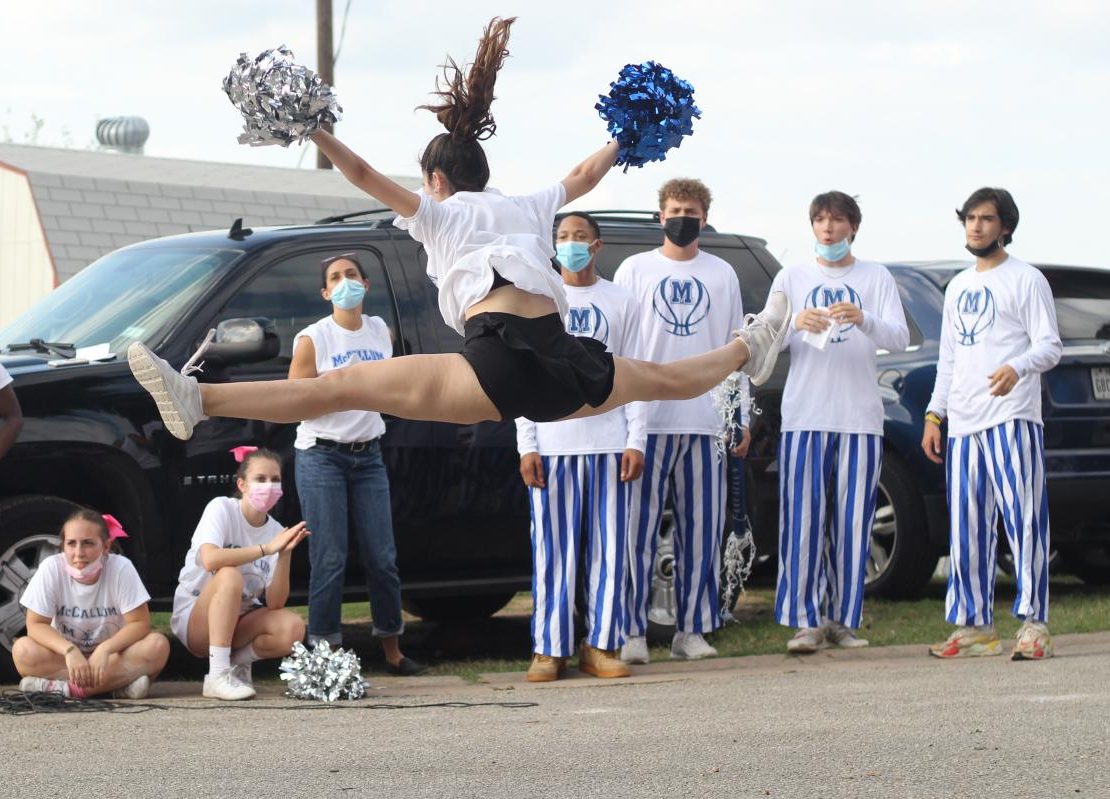 LICKETY SPLIT: Junior Blue Brigade officer Olivia Falcon executes a split jump at Friday's pep rally. Falcon's feat is part of a pom dance that the Blue Brigade learned at officer camp over the summer. "Out of all the dances that we learned that week, we grew a soft spot for this pom dance," Falcon said. "We immediately knew we wanted to rework it and use it for a pep rally since it is so upbeat and filled with tricks that we knew would wow the audience." Falcon thinks that although setting this dance on the pavement was challenging, the team pulled through a solid performance. "We made it work and pushed ourselves to do our best dancing on a surface we're not used to." Reporting by Samantha Powers. Photo by Grace Nugent.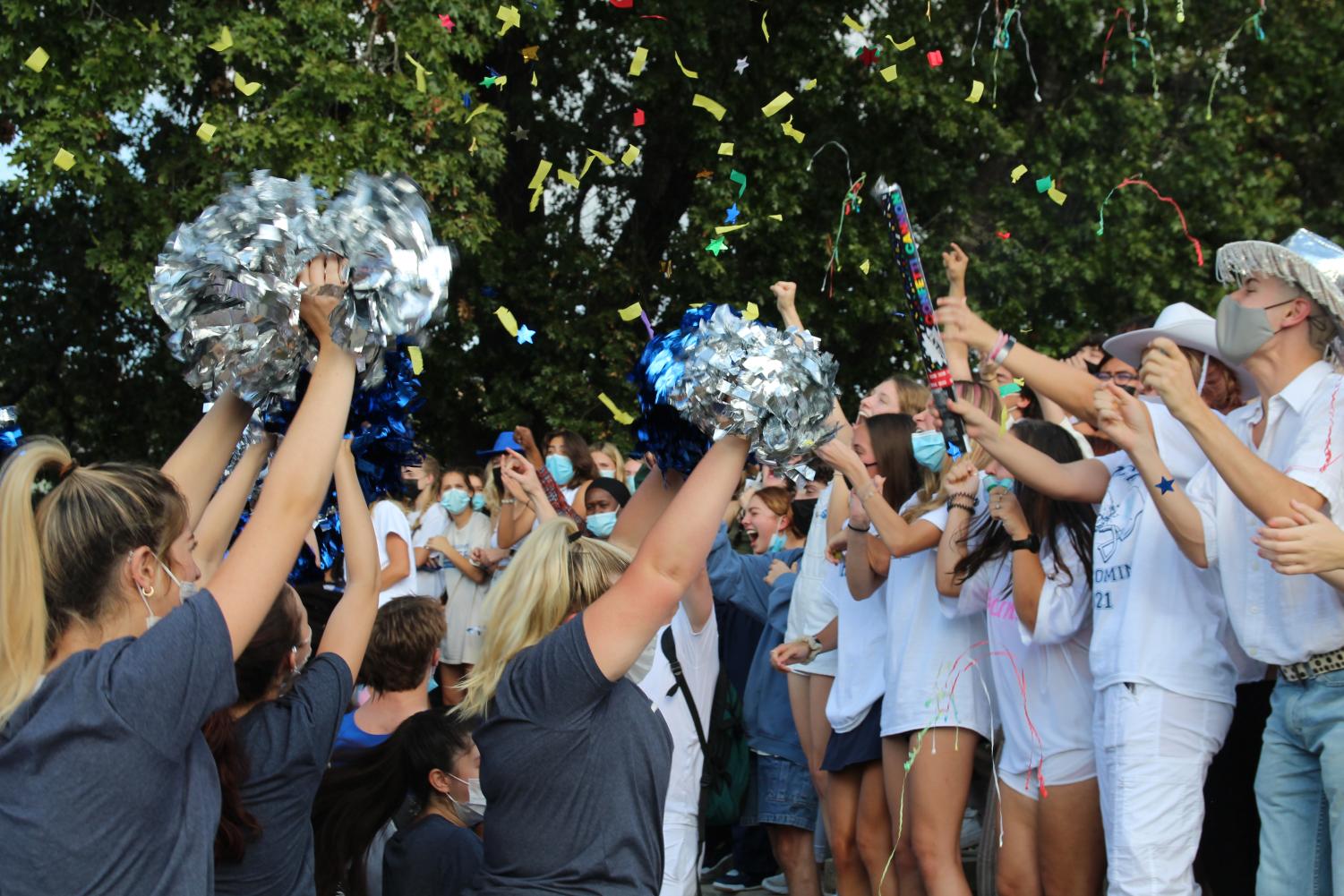 SENIOR BATTLE CRY: Blue Brigade leads the seniors in the grade competition for the spirit stick. After not having an official spirit stick competition at the Pink Week pep rally, the victory over the other classes at the Homcecoming pep rally was particularly sweet, according to senior Lily Dashner. "Sadly due to COVID, we weren't able to do [pep rallies] last year, so I knew we needed to bring the heat this year, being seniors and all," she said. "Winning the homecoming spirit stick … brings me so much joy, excitement and happiness. … I like beating the other classes, and I love that adrenaline rush when we win, but I also like winning [the spirit stick] because I can make not only myself happy, but others around me as well." She said the homecoming spirit victory was especially meaningful. "Winning the homecoming pep rally was really fulfilling because it's homecoming, and it's our last one in high school, so we had to win." Reporting by Naomi Di-Capua. Photo by Sophi Beardslee.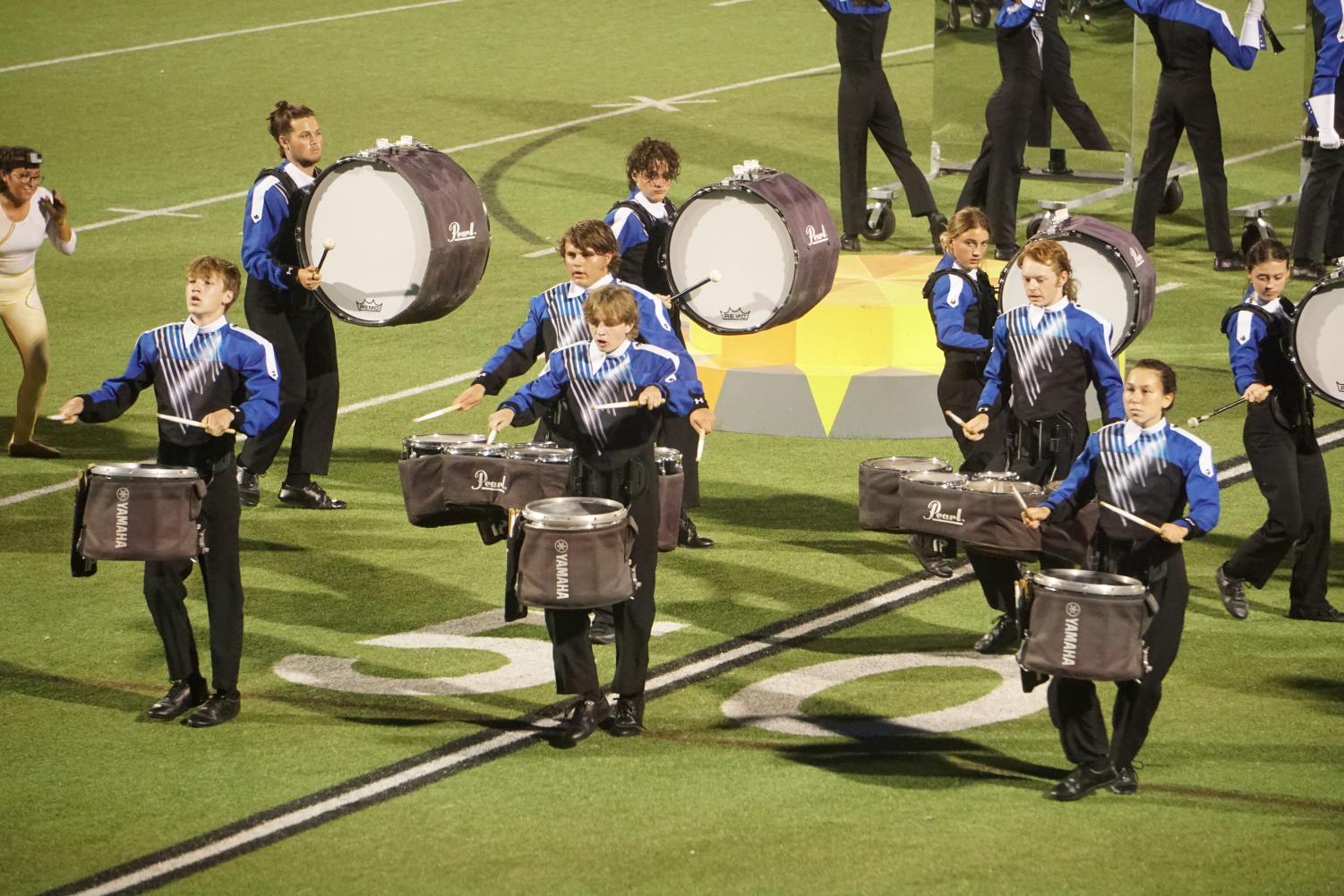 PREGAME PERFORMANCE: Prior to the homecoming game, the marching band played its UIL show, "Mirage" to the home side of the stadium. Sophomore Ellie Knoll plays the bass drums in the percussion section. "It's a cool experience having the student section cheer you on," Knoll said. "Plus, it's fun to do it with your friends." Traditionally, the band performs during halftime; nevertheless, the band began the eventful night and drew a loud, sustained applause from the growing crowds at House Park. Reporting by Sophie Leung-Lieu. Photo by Dave Winter.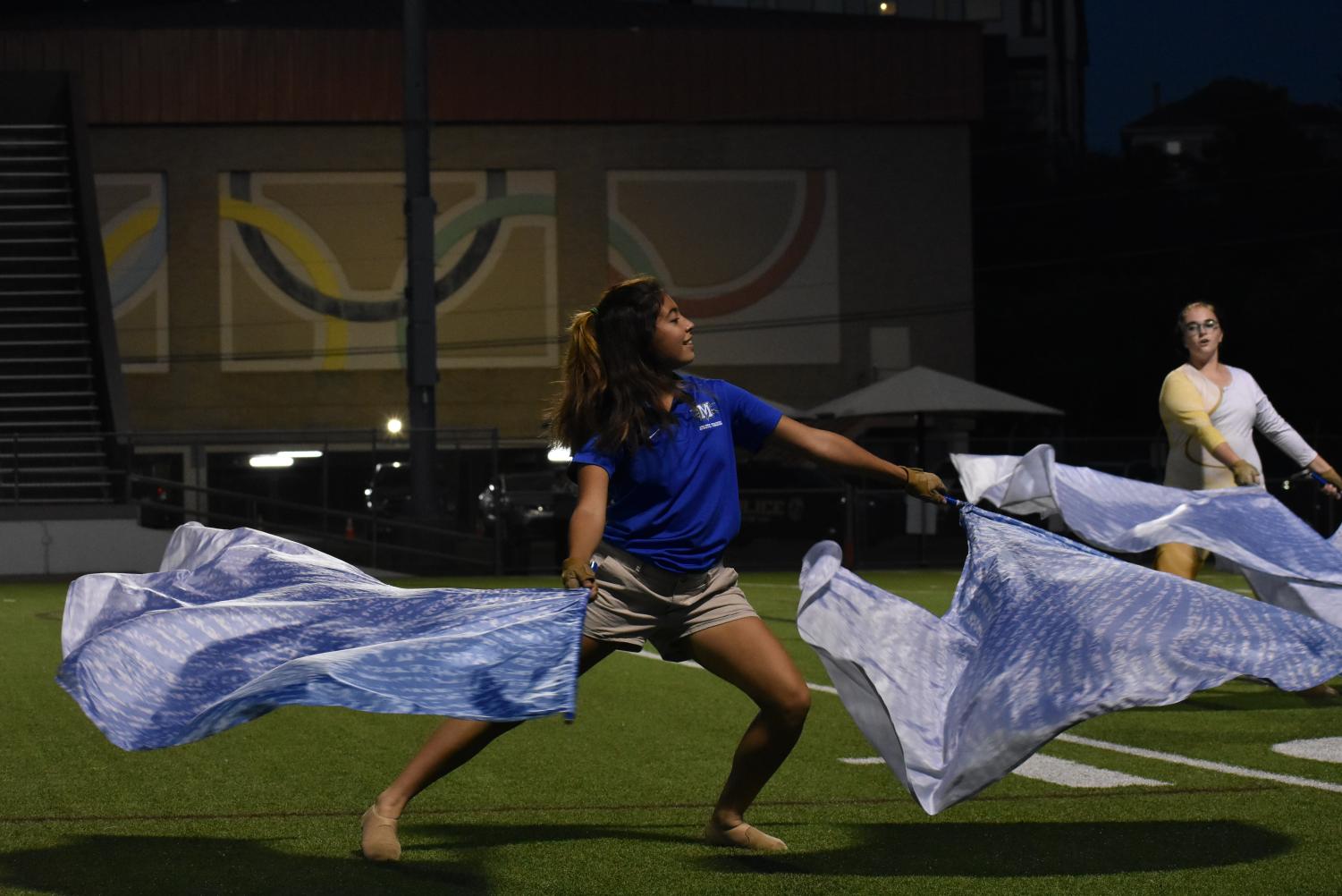 GUARDING FOR THE GAME: At McCallum's homecoming game last Thursday, junior Ximena De La Garza took on two important jobs: Color Guard and Sports Trainer. During the game they tended to the players on the sidelines, but when it came to half time they stepped right onto the field in their training uniform. "It's so hectic, but at the same time it's fun juggling two jobs," they said. According to De La Garza, it is very rewarding to hear the crowd roar since they put so much effort into practicing. "Especially when the football team and other tainer [Victoria Scandovall] watches me," they said, "that means everything." Reporting by Julia Husted. Photo by Sophie Kessler.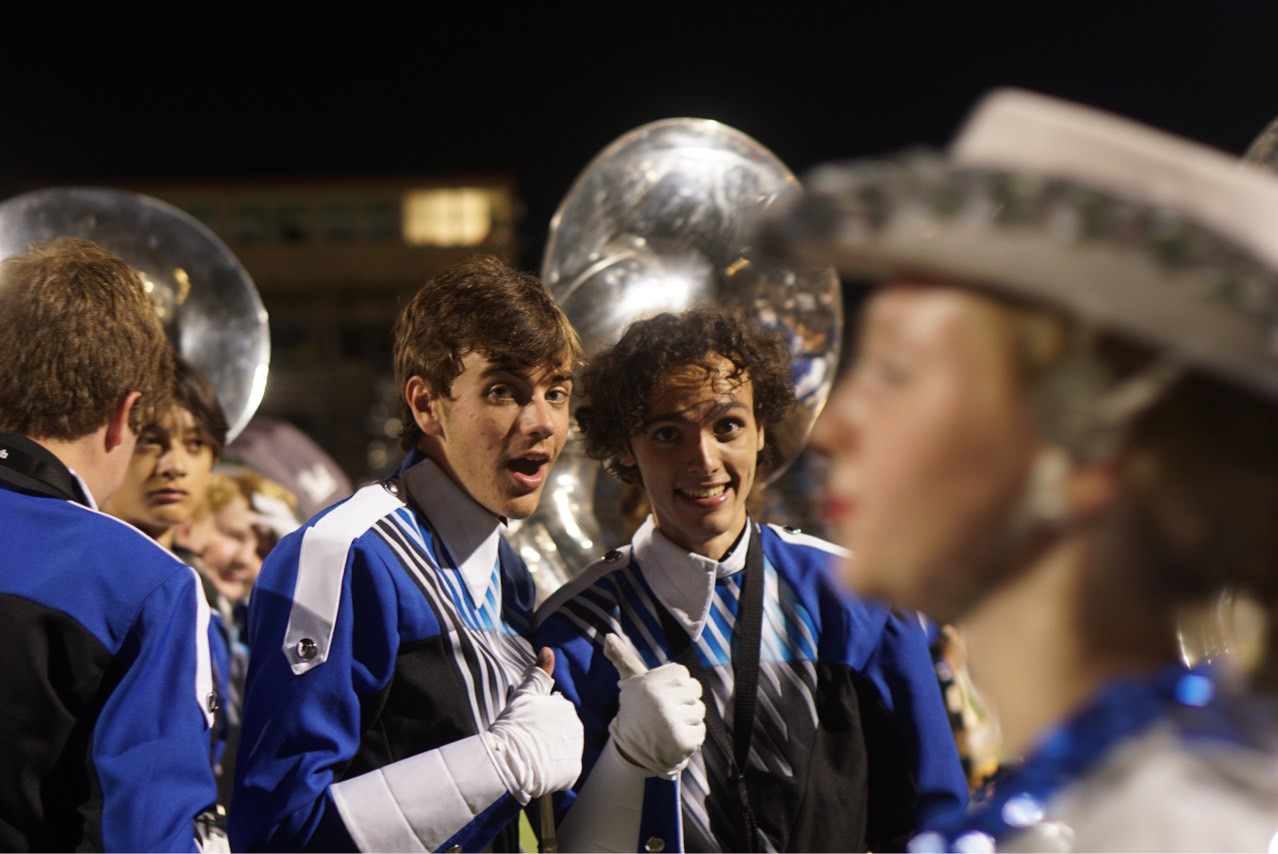 FULL CIRCLE: After performing at the halftime show, seniors Royce Blech (left) and Roan Alonzo (right) pose for the camera amidst a sea of chaos. The two marching band members have known each other since seventh grade. "It's nice having a close friend to hangout with in a band," Blech said. "It's sad that it's our last year, but it's satisfying to see our hard work from all the years culminating into our show." Luckily, Blech feels like his last homecoming was a success. "The crowd was the largest of the season so the energy was pretty electric," Blech said. Blech's favorite part of the night was when the current band members introduced the middle-schoolers to the McCallum band. For him, it was a full-circle experience. "We haven't been able to do it all year so everyone was really excited," Blech said. "Also it was cool because I saw them doing it when I was a middle-schooler." Reporting and photo by Alysa Spiro.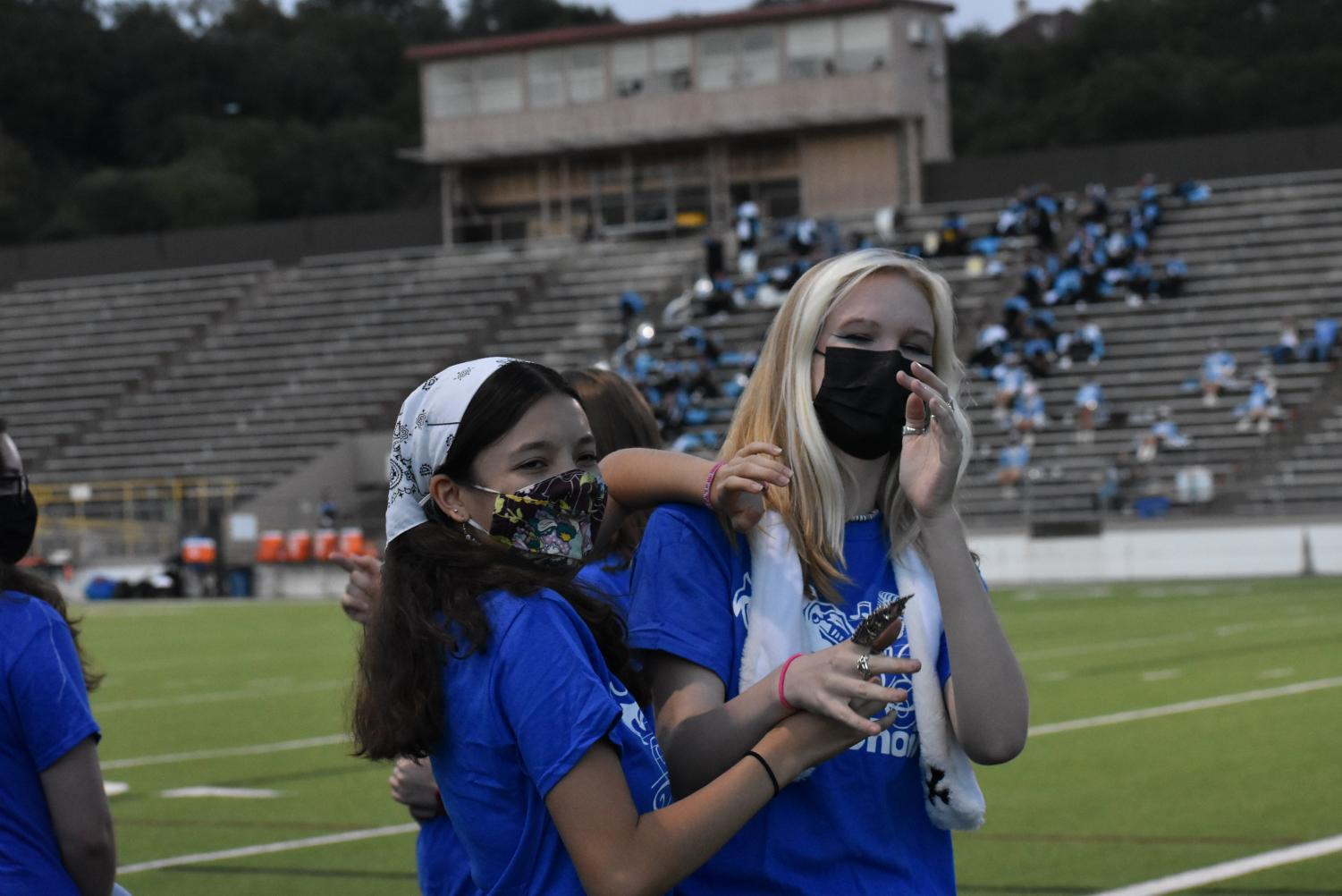 OVERCOMING ANTHEM ANXIETY: Sophomores Chamila Muñoz and Addie Knight embrace after singing the National Anthem with the rest of their choir before the football game last Thursday. For Knight, performing on the field for the first time was all a haze, "It was my first time performing in a stadium," she said, "The only thing going through my head was, 'I hope I can remember my harmonies!'" Even though performing before the game might be a rare occurrence, Knight would do it again, "I think with more practice it could be really fun." Reporting by Helen Martin. Photo by Sophie Kessler.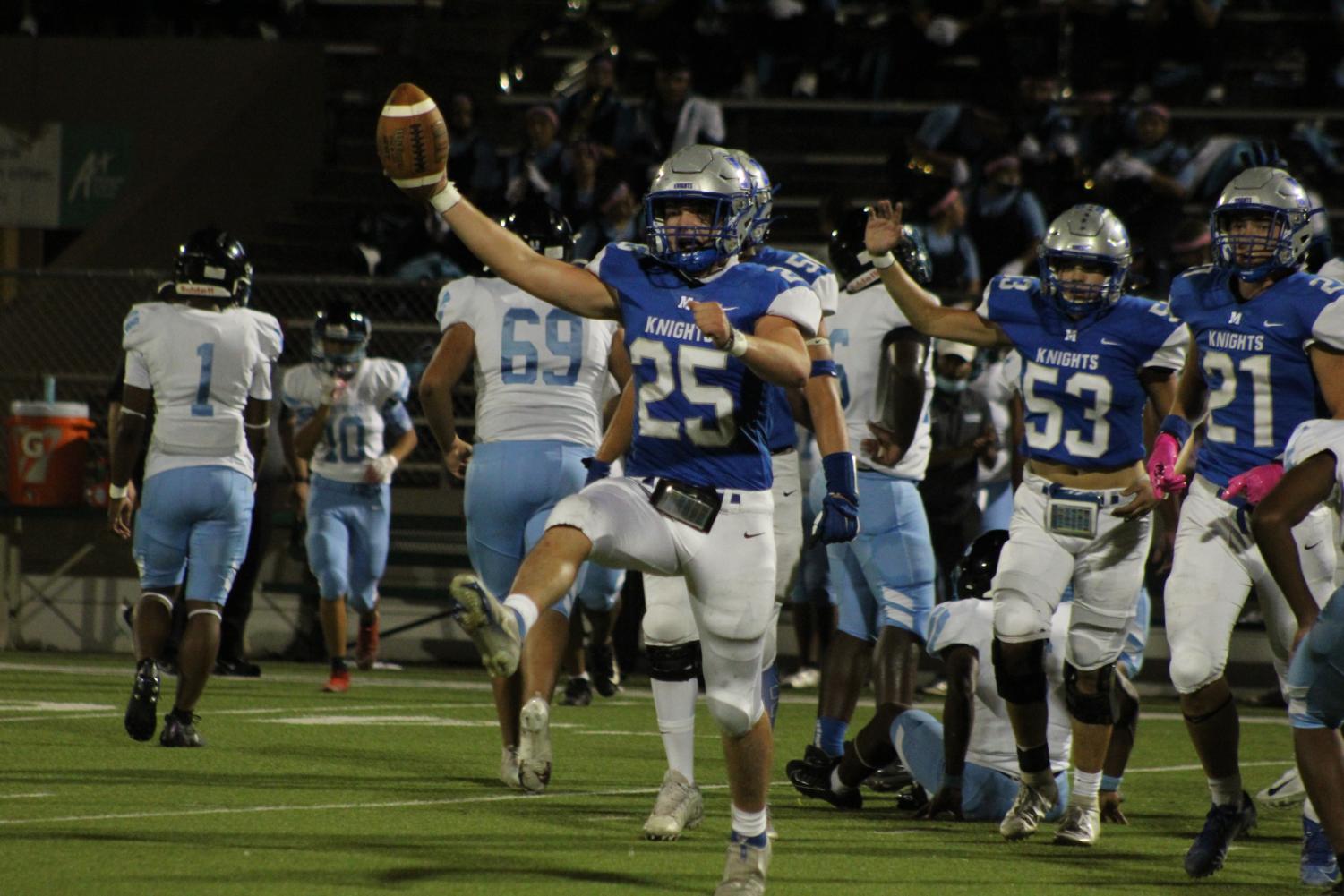 ROWDY RODRIGUEZ: Senior linebacker Tino Rodriguez celebrates after recovering a fumble during the first quarter of the homecoming game against Lanier. Rodriguez also had a fourth down stop during the quarter. The Knight defense shut out the Raiders allowing minimal first downs and no scoring opportunities. "The defense really came together and worked hard," Rodriguez said. "Both Wyatt and I had turnovers which helped with momentum". Reporting and photo by Grace Nugent.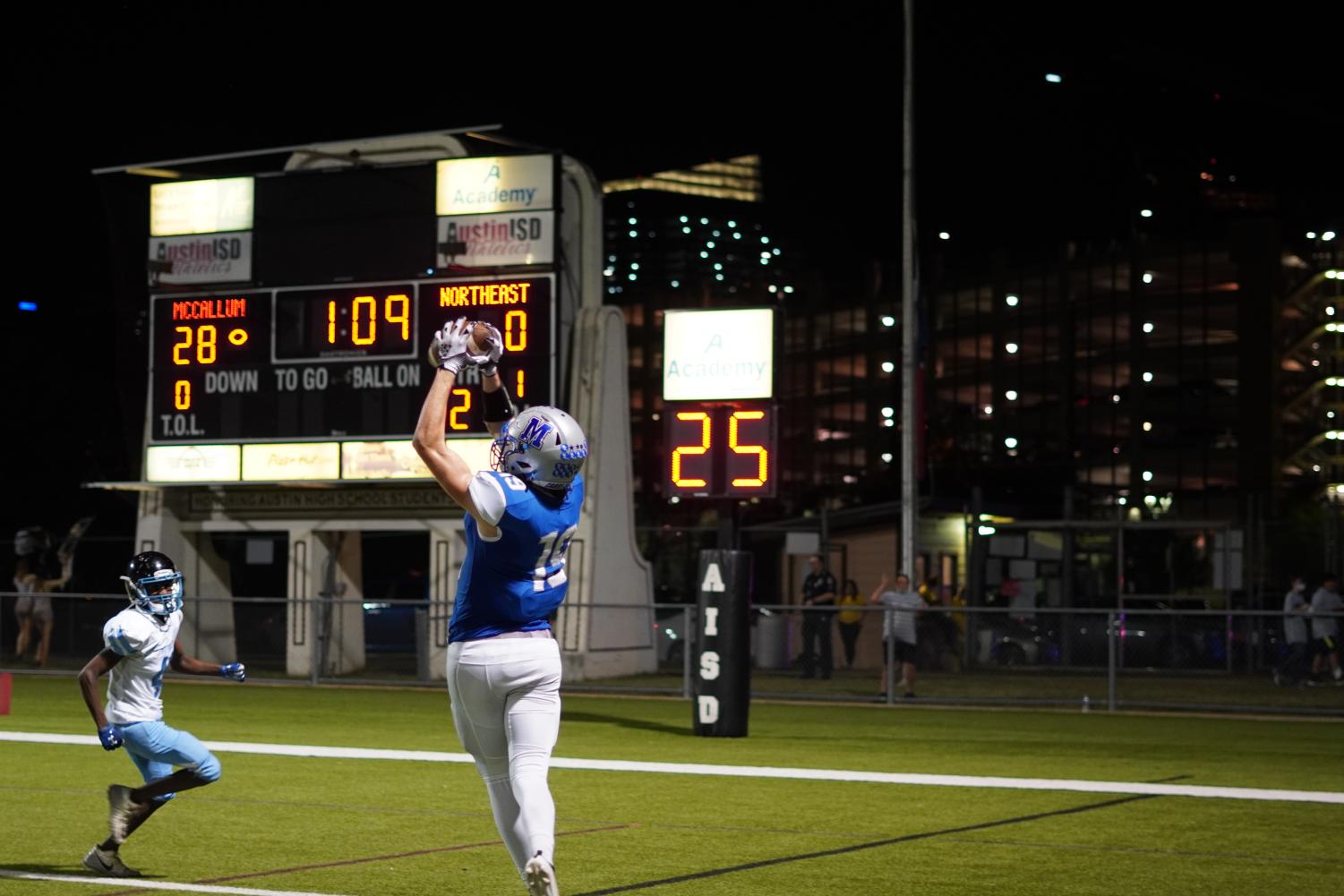 DAVIDSON'S DELIGHT: The Knights had relied heavily on the run game during Thursday's homecoming matchup against Northeast. "Our team is just suited for the run game," senior offensive lineman Lukas Bednar said, "both offensively and defensively." While that may be true of the team overall, senior quarterback Jaxon Rosales let it fly on a 29-yard touchdown pass to senior Nate Davidson. Previous to the TD, Rosales had completed another 20-yard-plus pass to Davidson to put the Knights in scoring position. This was the only passing touchdown of the game, and Rosales looks forward to more next week. Caption by Grace Nugent. Photo by Charlie Partheymuller.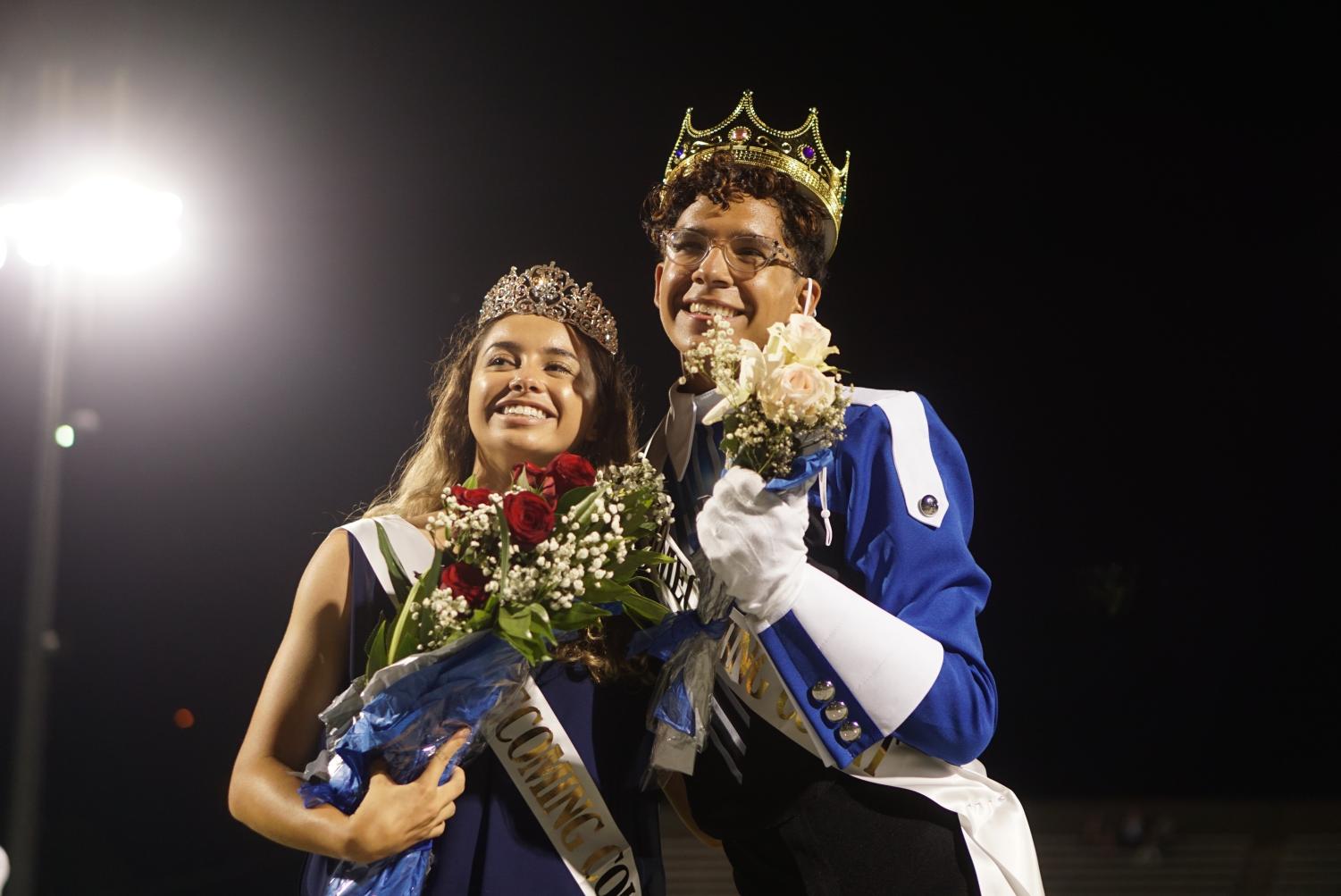 GOMEZ AND CURRIE TAKE THE CROWNS: Senior homecoming royals Mia Gomez and Bobby Currie smile for the crowd after the announcement of their victory. For Currie, a three-time homecoming royalty member, this was an extremely memorable moment. "I hadn't really put that much thought into the fact that I was a finalist; I just kind of went through the motions," Currie said. "So when I heard my name called and then all the cheering, cameras and seeing the crown, my mind was just in shock and I was overwhelmed with excitement." Having Gomez by his side was also special for Currie. "I love the diversity between the two of us. I think it represents McCallum very well," he said. "I first met Mia in freshman year world geography, so this was kind of a cool full circle moment for us." As seen in his marching band attire, Currie participates in many extracurriculars at McCallum — making this moment that much more appreciated. "I try to get very involved around here, so it was cool getting validation from the people I love very dearly," Currie said. "It is definitely something I will always remember for the rest of my life." Reporting by Madelynn Niles. Photo by Alysa Spiro.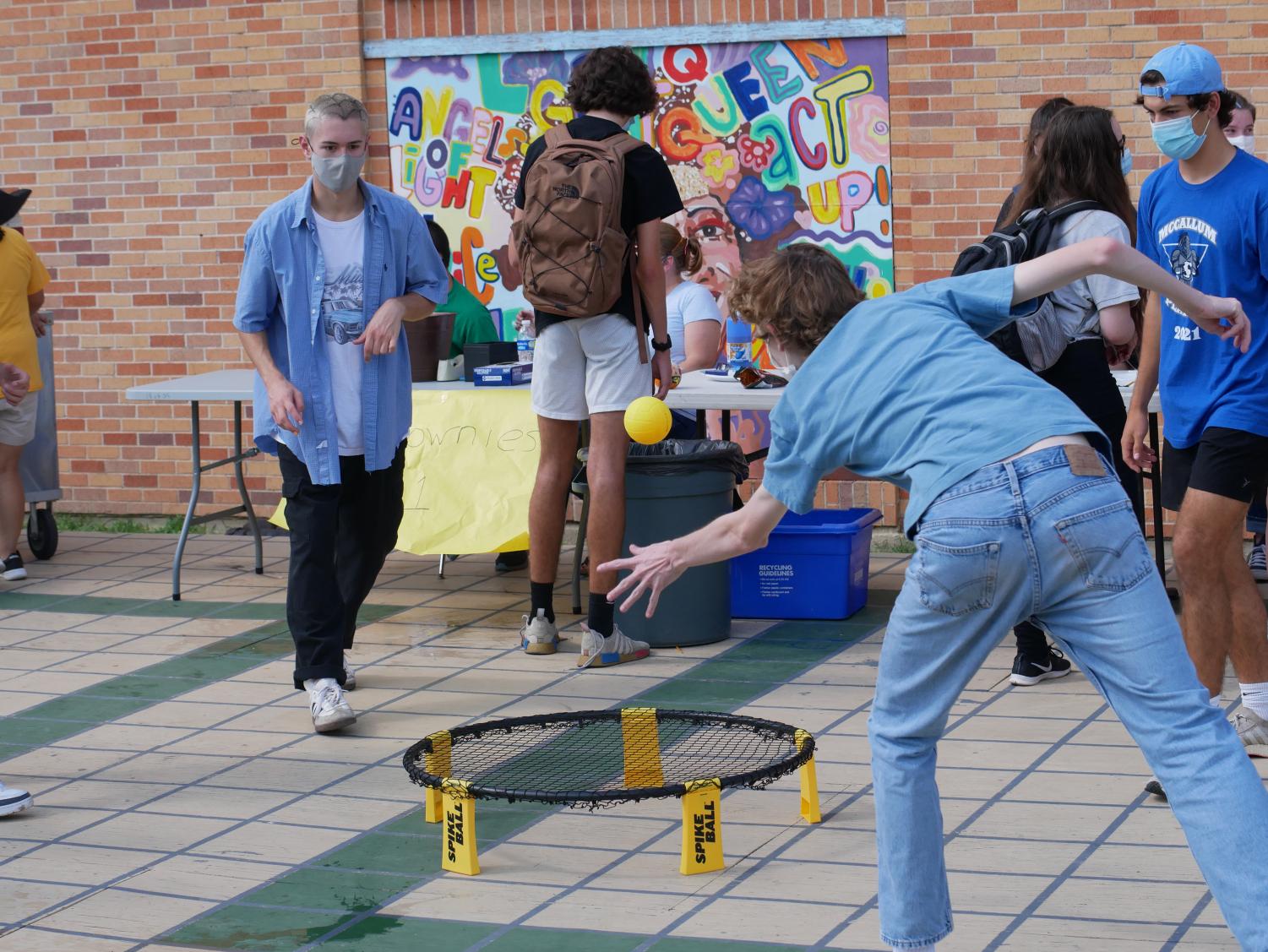 FRIDAY FESTIVITIES: Students flocked to the outdoor stage at lunch on Friday for a homecoming celebration held by the Student Council. This year, in lieu of a homecoming dance, students enjoyed activities such as pumpkin decorating and spikeball, and refreshments, including brownies courtesy of the Life Skills students and complimentary Jim-Jim's Water Ice. Senior Gage Sanchez played games with his friends at the event and appreciated the opportunity to celebrate Mac's 42-0 win against Northeast on Thursday night. "The games were such a lighthearted way to celebrate hoco and make up for the fact we didn't have a dance," Sanchez said. "In all honesty we were just all happy to be out and together after a hard week and especially after the football game." Caption by Samantha Powers. Photo by Alysa Spiro.
Leave a Comment