MacJ's ATPI Top Program thematic portfolio wins … nada, but we thought you might like to see pictures, read captions anyway
After all, we thought it was a pretty good collection, and the judges gave us mostly positive feedback. Besides, it's a visually appealing year in review.
So, the contest news around here isn't always good. When we submitted our thematic portfolio to the Association of Texas Photography Instructors Top Program competition, we had high hopes for it.
Here's the story of how the portfolio came about.
As we were editing our prom photos, we noticed a connecting thread woven through our favorite photos. The images showed seniors letting their guard down, living in the moment and celebrating their connection with each other. When we took a step back, we wondered if that theme–EMBRACING THE MOMENT—could tell the story of the whole year visually and powerfully. The images in this collection are our attempt to show students and adults at our school embraced the major moments of the year, being present completely and enthusiastically, happy or sad, win or lose … no matter what.
We think the collection is pretty good, and when ATPI announced the winners in that category, this collection wasn't among them. Congrats to the three schools that placed—Bridgeland High School (first), Robert G Cole High School (second), St. Mark's School of Texas (third)—and the three that earned honorable mention honors—Port Neches-Groves High School, Round Rock High School and Texas High School.
It turns out that the ATPI Top Program competition is one of the toughest competitions out there. And in hindsight, maybe we could stick to the photojournalism category because our strength probably lies with documenting what happens at our school not putting together thematic portfolios.
But even though we didn't win an ATPI award for this collection, we are still pretty proud of it. While the judges didn't pick it as an overall winner, they had lot of nice things to say about. Here's what they said:
"Such nice faces and expressions. Way to be ready and anticipating. #4 makes me smile. Photos capture some great moments in your year, for sure. Good cropping and great job of getting in close to your subjects. Exposures and color balance are good, even for the gym shots."
"Nice series. Images are all very spontaneous. Nice job of documenting your experiences in school. Compositions work in all shots."
"Fun, moment-driven and emblematic of one of the best years possible in pre-college academia. Solid execution. The only thing I would say is missing are more contemplative moments that come from the process of growth."
So maybe we didn't win, but you have to admit, this is a pretty good year in review. We hope you enjoy it perhaps a bit more than our ATPI judges did.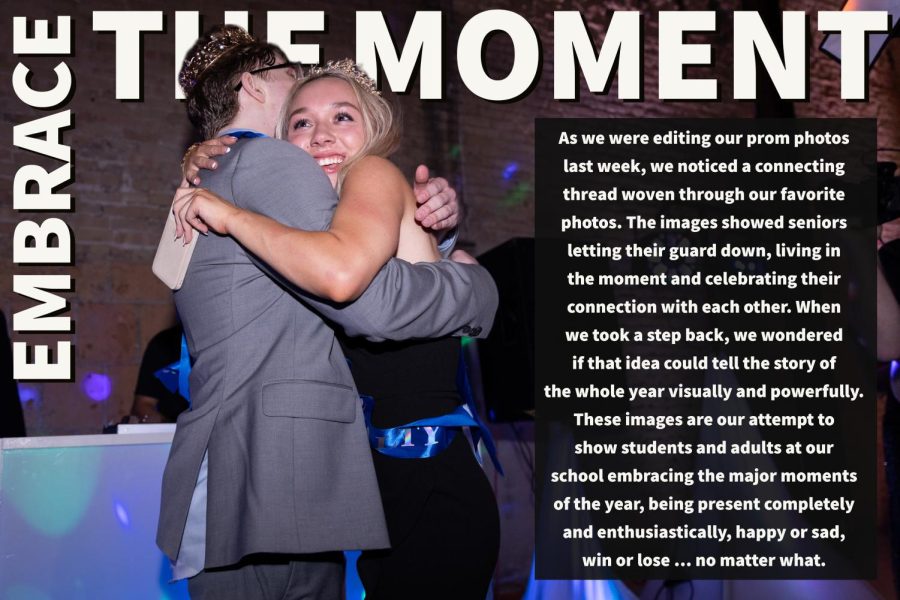 A SHOCKING TURN OF EVENTS: Moments after being announced prom king and queen, seniors Ron Wolleben and Ellie Collard embrace one another. For Collard, the win was unexpected — she didn't even notice she'd won at first. "I was pretty shocked when I found out I'd won because I didn't even realize they were announcing it," Collard said. "I was standing in the back of the room and one of my friends ran up to me and said I had won. It was obviously really exciting hearing that the seniors had voted me to be prom queen and I felt very grateful." Collard felt honored to be given the title of Prom Queen by her peers, but found that the best part of her night was not the big win, but simply being around her friends. "[I loved] dancing with all of my friends and all of the people that I don't see as often outside of school," Collard said. "It makes me feel very greatful that I was recognized by the seniors." Caption by Alice Scott. Photo by Gergő Major.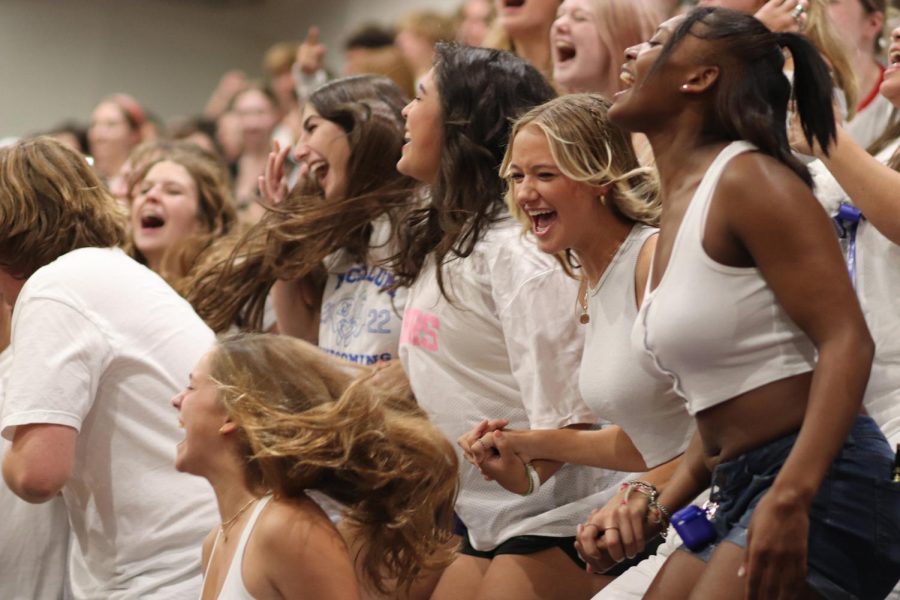 LOUD, PROUD AND UNBOWED: Seniors cheer during homecoming pep rally on Oct. 7. Speculation throughout the day that the combination of an early release day and ACL would decimate attendance at the homecoming pep rally was proven false by the large crowd that assembled in the gym. Juniors were announced as the winners of the homecoming hallway decorating contest and the seniors were crowned the winners of the rally-cry spirit. Photo by Evie Barnard.
TAKING CHARGE: Senior Miles McCollum leads the Knights onto the same field where he suffered a season-ending injury a year ago. Although he and his teammates were unable to turn the final score the Knights' way, McCollum made an impact on the game, often drawing multiple Lehman blockers when he lined up on defense. Photo by Charlie Partheymuller.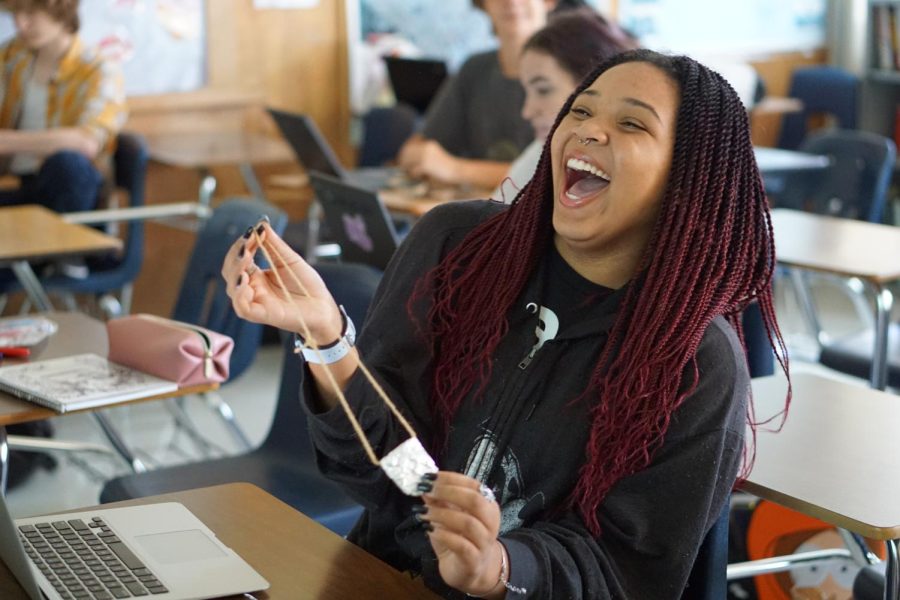 BEST OF LUCK: Freshman Samari Davis was among the Latin I students in Nick Martin's fifth-period class who made Roman good luck amulets also known as "bullas" on Sept. 9. "The bulla is an amulet that Roman boys and many girls would get when they are just nine days old and wear until they are adults." Martin said. The students used twine and tin foil to make the traditional necklaces and drew on a design to personalize them. "They are fun to make and an actual part of Roman culture and history." Martin said. "We will wear them when we take tests so we ward off evil spirits and do good." Caption by Isley Cameron. Photo by Francie Wilhelm.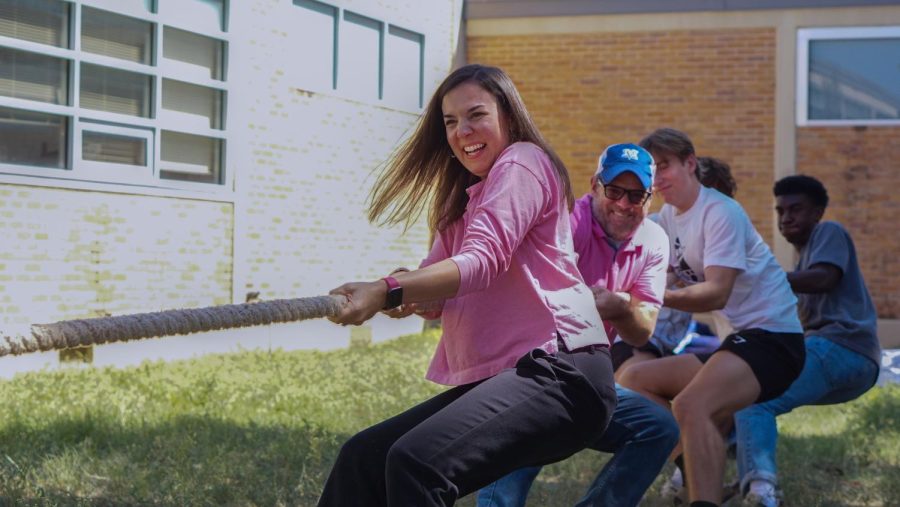 STRENGTH IN NUMBERS: College and career counselor Camille Nix enjoyed consecutive victories in the tug-of-war competition during the lunchtime Pink Week carnival on Sept. 28 in the science courtyard. After conscripting journalism teacher Dave Winter to challenge the young PALS, Nix's side fell behind, but after securing the aid of a few PALS to anchor the rope, Nix was able to lead her team to victory. Unfortunately for the history books, no photographer recorded the team's first victory. Undeterred, Nix summoned her team back to the rope for a second try, this time with photographer Jolie Gabriel at the ready. Luckily for the two teachers and their PALS, the result was the same. "It was fun, competitive and for a good cause," Winter said. "It was a win-win-win." Photo by Jolie Gabriel.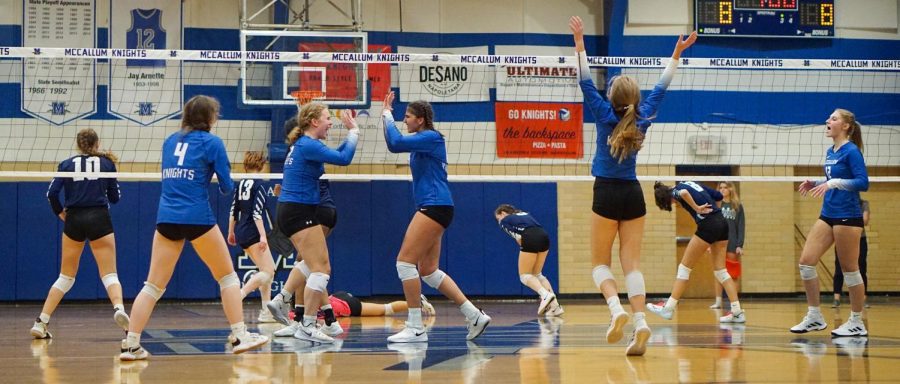 POINT TAKEN: The varsity volleyball team celebrates winning a point during their 3-0 sweep of the LASA Raptors on Oct. 11 in the large gym. While the set score was decisive, the score of each set was much closer with the Knights prevailing, 25-19, 25-15, 25-17. Senior Vaughn Vandegrift said the team was satisfied with the victory but still recognized room for improvement. "I think that we could have been more consistent on serve receive," Vandegrift said. "We've [have] certainly played better [than we did on Tuesday], but we were able to come together for the win. This was a great step toward sweeping district." With a rematch with rival Ann Richards on the horizon to close district play, the Knights knew they needed to stay on their toes if they want to keep a perfect record and sole possession of first place. "It feels good for sure," Vaughn said, "but nothing is guaranteed. We will have to keep working hard."  They evidently did, and they ran the table the rest of the regular season to complete a perfect district championship season. Later in the year, the girls varsity basketball team and the baseball team repeated the feat. Photo by Julia Copas.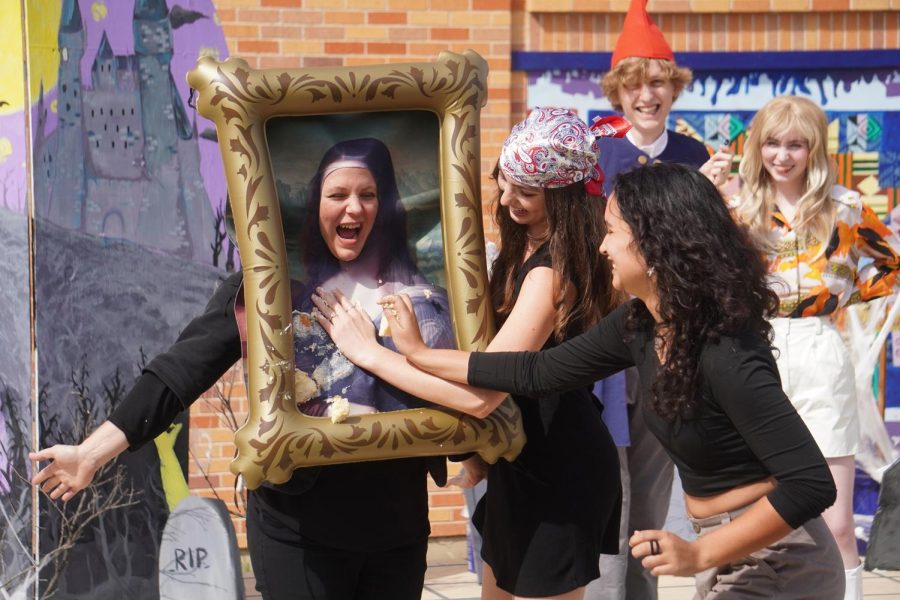 A SWEET SURPRISE: Senior art society officers Amaya Collier and Claire De Silva-Yost smear cake on their advisor, Sara Massey. The students thought it'd be funny to cover Massey, who was dressed as the Mona Lisa, with cake, because the famous work was recently vandalized with the dessert. "I liked seeing all our efforts being enjoyed by everyone in school," De Silva-Yost said. "I saw so many smiles." De Silva-Yost found the stunt to be extra exciting considering that the acts of vandalism are still currently happening, with the most recent occurrence being last Thursday, targeting the painting "Girl With a Pearl Earring" by Johannes Vermeer. Although it isn't  certain that the defacing of the Mona Lisa corresponds with the more recent outbreaks, De Silva-Yost wouldn't be surprised if the two were linked. "I support the protests' message to stop using oil," De Silva-Yost said, "but I think they executed it in a way that lacks a clear message to the public." Caption and photo by JoJo Barnard.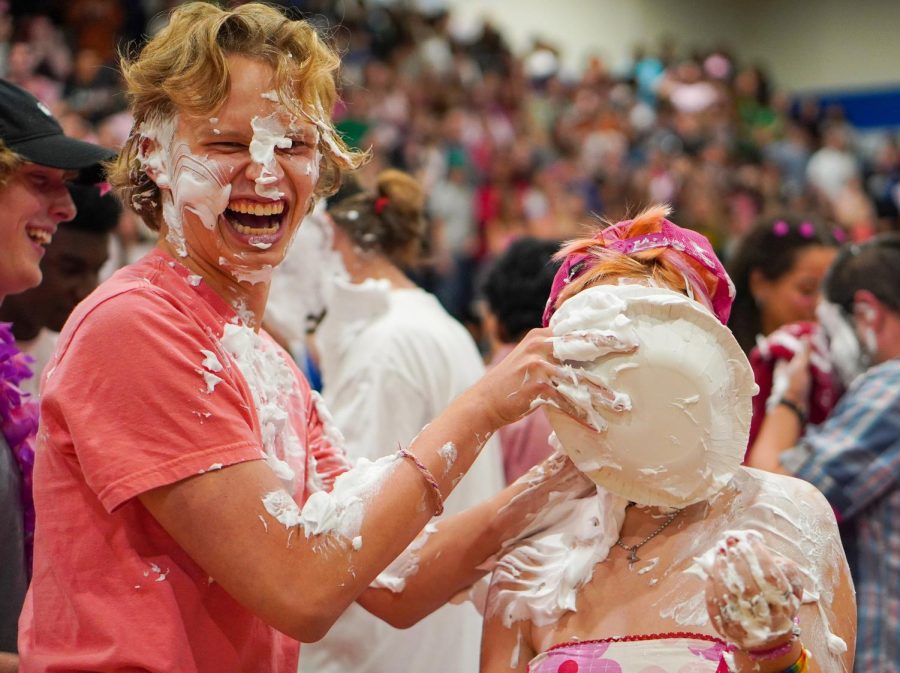 PINK WEEK REVENGE SERVED: Anderson Zoll exacts his revenge on fellow PAL Josie Bradsby. Moments earlier Bradsby and math teacher Carly Kehn pulled a surprise on Zoll. When Bradsby was supposed to pie Kehn, Kehn ducked leaving a path for Zoll to receive Bradsby's pie. When it comes to pep rally pies during Pink Week, generally what goes around, comes around. Photo by Charlie Partheymuller.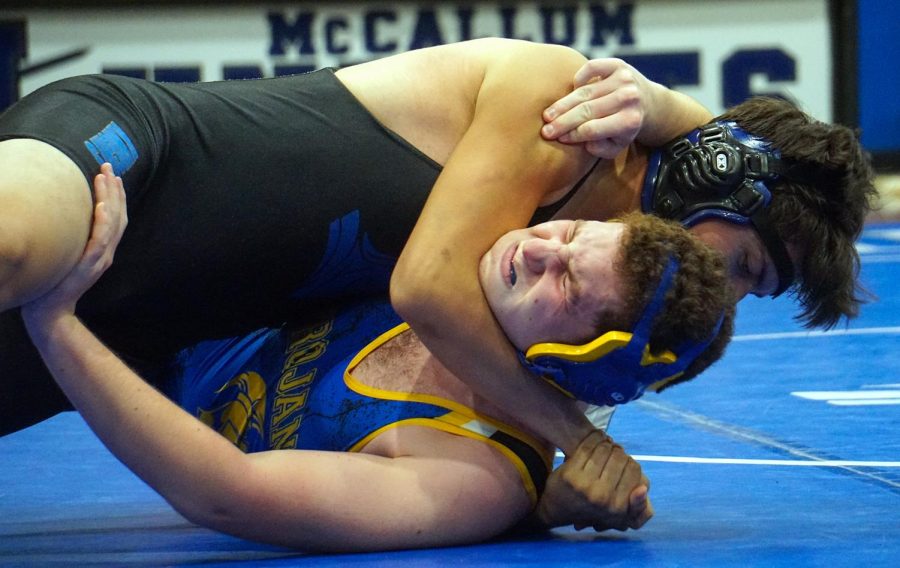 EXCEDRIN HEADLOCK: McCallum may have lost decisively to Anderson in its opening wrestling match of the season, but there were some highlights to build on. Winning his match by pin, senior Corgan Berger said he was able to overcome his emotions and enjoy success. "I fought and I never gave up," Berger said. "I went into the match, and I was terrified, but it's not about being afraid: it's about what you do when you are afraid." Although Berger walked away with a win, he felt that he could have left more on the mat. "I think I could've done a little bit better." Berger said. "I mean, some might say if you look at the scoreboard it was 11-4 some might say I was 'killing it,' but personally I think that there were a few things that I could've done better." Photo by Lillian Gray.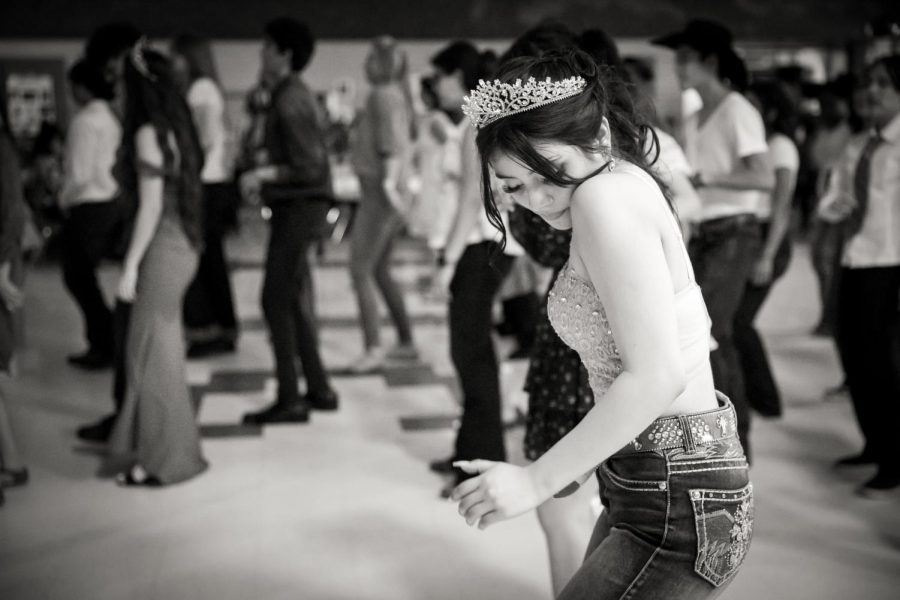 DANCE THE DAY AWAY: For some time, freshman Marveyah Muñoz Tavera had been looking forward to the McCallum Quinceañera—especially the dancing. For Muñoz Tavera, the April 8 event was full of really special moments. but one of her favorites occurred before the event even started. "I really enjoyed getting ready with my best friend in the morning," she said. "It made the day so much more special." The morning preparation was just the first of many magical moments. "It was really special and beautiful," Muñoz Tavera said. "My favorite part of the day was honestly the dancing. I really enjoyed the father-daughter dance and having this special moment with some of my friends right by my side." After she and her partner Santiago Mollgon finished the waltz with the whole court, Muñoz Tavera had a choice to make: eat or keep dancing. "I had so much fun and wanted to continue dancing [so much] that I literally didn't eat," she said. "I just kept dancing. [It's] definitely a day I will never forget." Caption by Tristen Diaz. Photo by Gergő Major.
Leave a Comment