MacJ sports photographers place third in ATPI Top Program contest
Judges praise staff portfolio for its variety, creativity, decisive moments
MacJournalism enjoyed its best result in the sports category of the Association of Texas Photography Instructors 2023 Top Program contest.  The McCallum sports photography entry earned a third-place finish behind first-place Texas High School (adviser Clint Smith) and second-place Caney Creek High School (advisers Stephen Green and Leigh Anne Treistman).
McCallum photographers also earned honorable mention finishes in the landscape/nature categories and in the portrait categories. McCallum submitted a thematic portfolio using the them "embrace the moment," but it did not place.
Here is what the judges had to say about this portfolio:
"I really like what you did with image 4 the shutter drag was a good idea. You will need it to be brighter to be more effective. With image 5 you want to get tighter with the action and the expression. You have a lot of wasted space. Good action images in your first image. I like how you closed with the sports feature."
"Image #3 is interesting due to its slow shutter speed. Image 6 is expression capture is nice. Image 9 leaves me waiting for the rebound to come down. The particularly nice because of the moment you captured. Image 10 timing is very nice as well."
"Good collection.  #4 is creative but hard to read.  Like the concept.  Action is good in several.   Good expressions off the athletes showing emotions.  Not all over the top but concentration like in image #7.  #8 is nice and a different variations of the sports images (very nice but a little dark).  #10 is good humor."
We are pleased to share the 10-image sports portfolio as this week's Tuesday Top 10 photo essay. Under Top Program award rules, a single photographer can only submit two of the 10 images in a school's portfolio.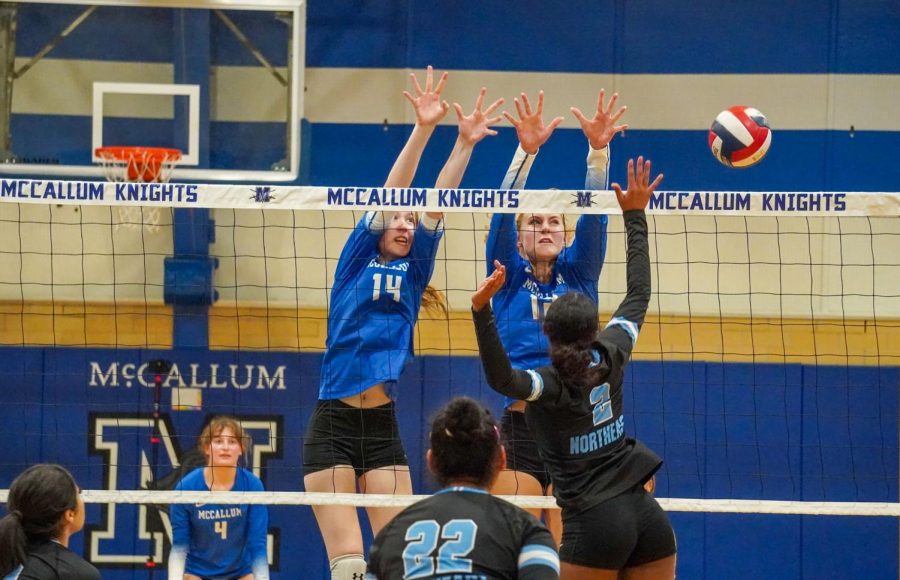 RAIDER REPELLENT: The varsity volleyball team swept the Northeast Raiders on Tuesday in its first district match of the season. The Knights cruised in the first set, 25-11. Freshman Lexi Rosenblatt said Tuesday's game allowed the team to work on specific issues within a game setting. "It was a good chance to run plays," Rosenblatt said. "We needed to work on communicating more and talking on the court." The varsity put together its most dominant set in the second, winning by 16 points, 25-9. The Knights lost their early momentum in the final set, still winning, but the Raiders competed much more evenly before the Knights ultimately prevailed, 25-18, to complete the sweep. "We just fell out of it during that last set," Rosenblatt said. "We got lazy because we knew we would win even if we didn't try that hard. We stopped communicating." The varsity plays LBJ this Friday at LBJ at 7:30 p.m. It's the first varsity game between the two traditional rivals since LBJ rejoined the UIL district for 5A AustinISD schools this school year. Caption by Naomi Di-Capua. Photo by Jolie Gabriel.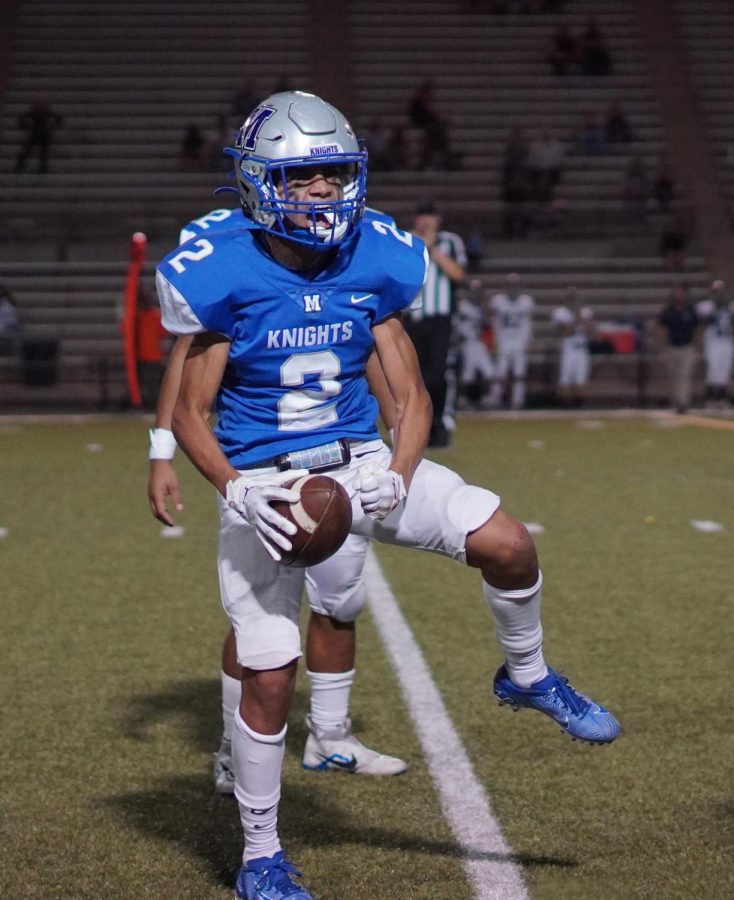 SUPER SOPHS LEAD KNIGHTS' SURGE TO SECOND IN DISTRICT: Mark Sanchez is among the standout sophomores helping lead the Knights' surge to second place in the district standings. Sanchez was key in helping the Knights respond to a disappointing loss to LBJ with dominant takedowns of Northeast and LASA. "Us Sophomores have been given the opportunity to play and we've all just capitalized," said Sanchez who had his first varsity interception on defense and his first rushing touchdown on offense in the win against the Raptors. Photo by Charlie Partheymuller.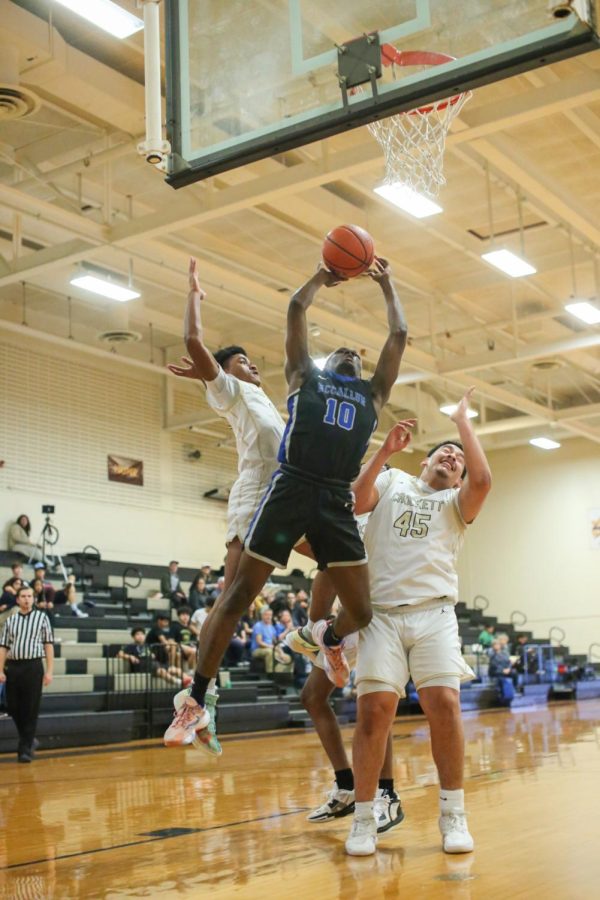 KNIGHTS 63, COUGARS 44: Freshman Ethan Plummer's 12 third-quarter points and junior Roland Travis' eight fourth-quarter points powered the varsity boys basketball team to a district win against the Crockett Cougars Tuesday night at Crockett.
After winning two of their four games at their past tournament, the Knights wanted to continue to play their best.
"We wanted to minimize the mistakes as much as we could and do what we needed to do to win," junior Finn Coriggan said.
Even though his team led at halftime 21-16, Coach Fuentes noted a lack of energy and pleaded with his team to exert more effort in the second half.
"During halftime our coach talked a lot about energy and talked to us about the defense," Corrigan said.
The Knights picked up the energy and pulled away from Crockett, ultimately winning 63-44.
In their next game against Hyde Park at DCG tomorrow, the Knights hope to play their best for all four quarters.
The opening tip for the varsity game is scheduled for 8 p.m.
Caption and photo by Leah Gordon.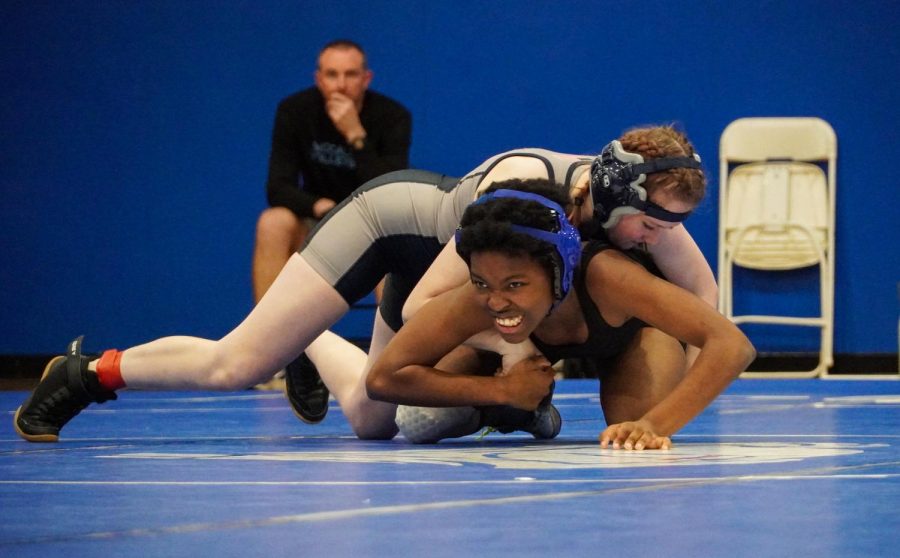 A NOBLE PURSUIT: Freshman Noble Pierce wrestles her opponent from LASA during the Wrestling Tri Meet held in the McCallum gym on Dec. 7. Photo by Lillian Gray.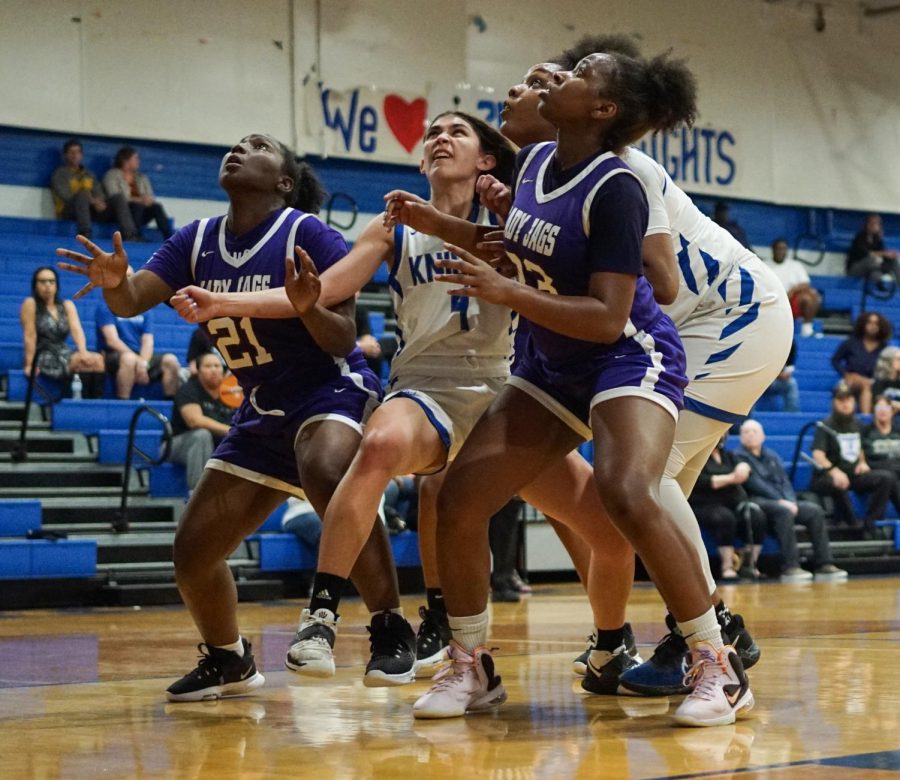 HOME COURT ADVANTAGE: Junior Esme Barraz and senior Aasja Wren battle two Jag forwards after a McCallum shot attempt in last Tuesday's game against LBJ, one of McCallum's most formidable district competitors. "They are second in the district, and last time we played them, we won in overtime," Barraz said. "This being said, we really brought our energy and were able to execute enough to win." Caption by Isley Cameron. Photo by Amira Habib Weymouth.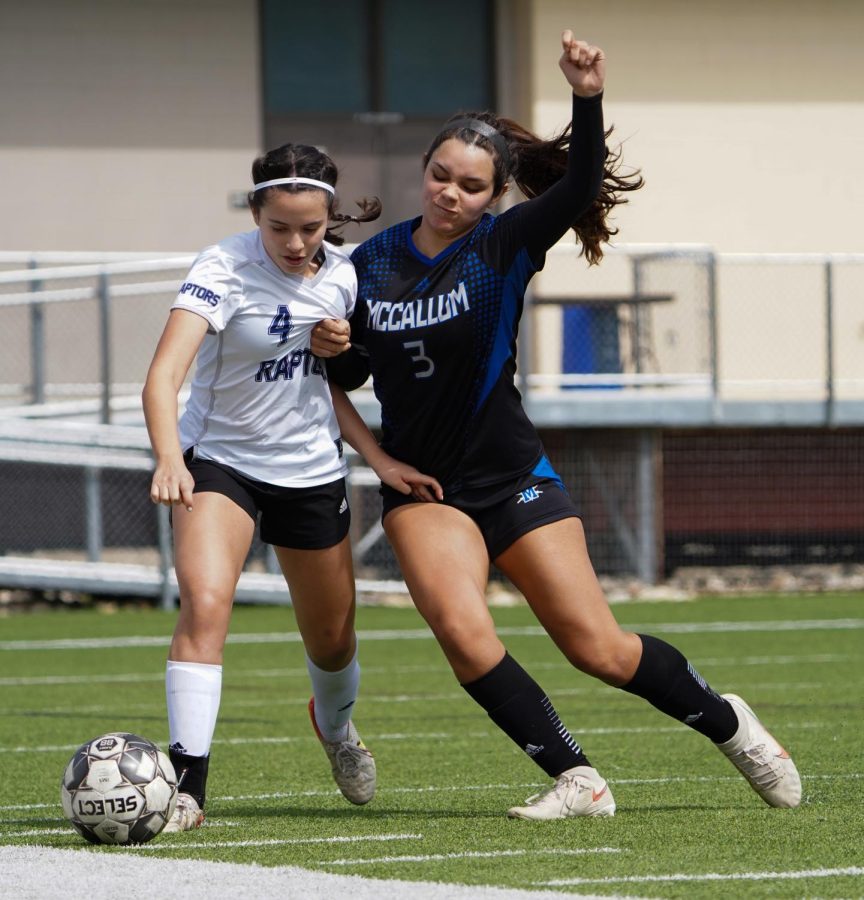 NOW ENTERING THE RIVALRY PORTAL: Senior co-captain Sydney Suarez-Wallace battles a LASA opponent for possession during the second half of the Raptors 1-0 win over McCallum in District 24-5A play Saturday morning at House Park. After enjoying a hat trick the Saturday before against LBJ, Suarez-Wallace—like her Knight teammates—were unable to find the net against the Raptors despite creating numerous scoring opportunities in the game. Photo by Naomi Di-Capua.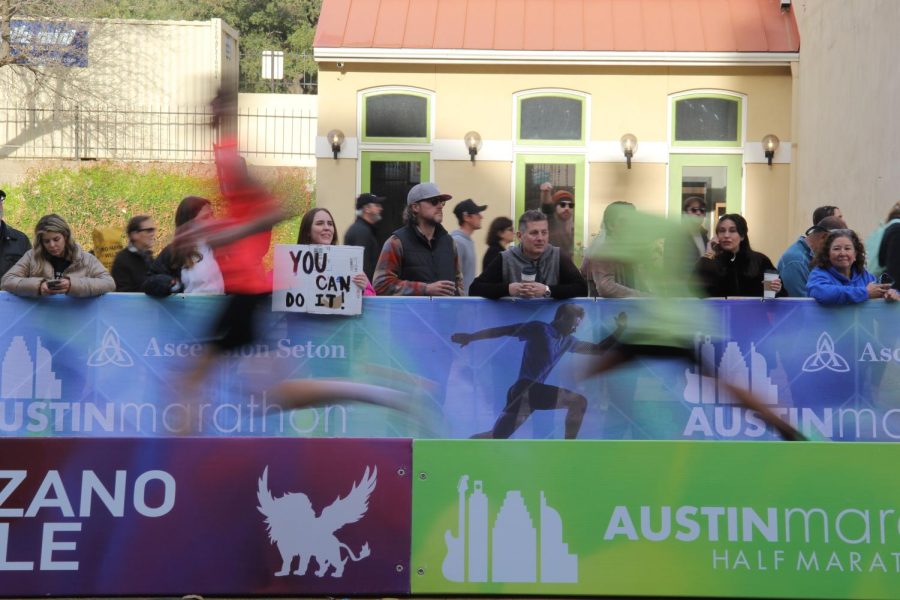 SENIOR TAKES ON THE HALF MARATHON: With over 11,000 runners at the starting line of the 31st @AustinMarathon and Half Marathon last Sunday, the energy was electric. Senior Zoe Kerns, who ran the half marathon, said the enthusiasm carried on throughout the 13.1 mile course.
"Races with a ton of people around are really fun," Kerns said. "There's a ton of encouragement from everyone cheering on the sides, and there are so any people that are excited to be there."
This is Kerns' second half marathon. She got a new personal best this time around, shaving almost 40 minutes off her time since last year. Kerns felt the support from spectators, as well as support from her family, helped her finish strong.
"The energy really helps you finish the race, especially in the last couple of miles," she said. "My brother and dad came to cheer me on right after my 10th mile. I got to meet them there for a minute, and they gave me some trail mix and water."
Kerns got into half marathon running because of her mom, and has been training for this year's race since around the end of November last year.
"I ran last year's race because my mom was training for it, and I wanted to try it with her," she said. "This year I was trying to be more consistent and see how much I could improve."
Kern not only did improve her time from last year, but almost met her goal of running the whole race as well. Because Kerns is a senior, she says she will most likely be living out of state next year and shared that she hopes to find new races in her new home in the years to come.
Caption and photo by Lillian Gray.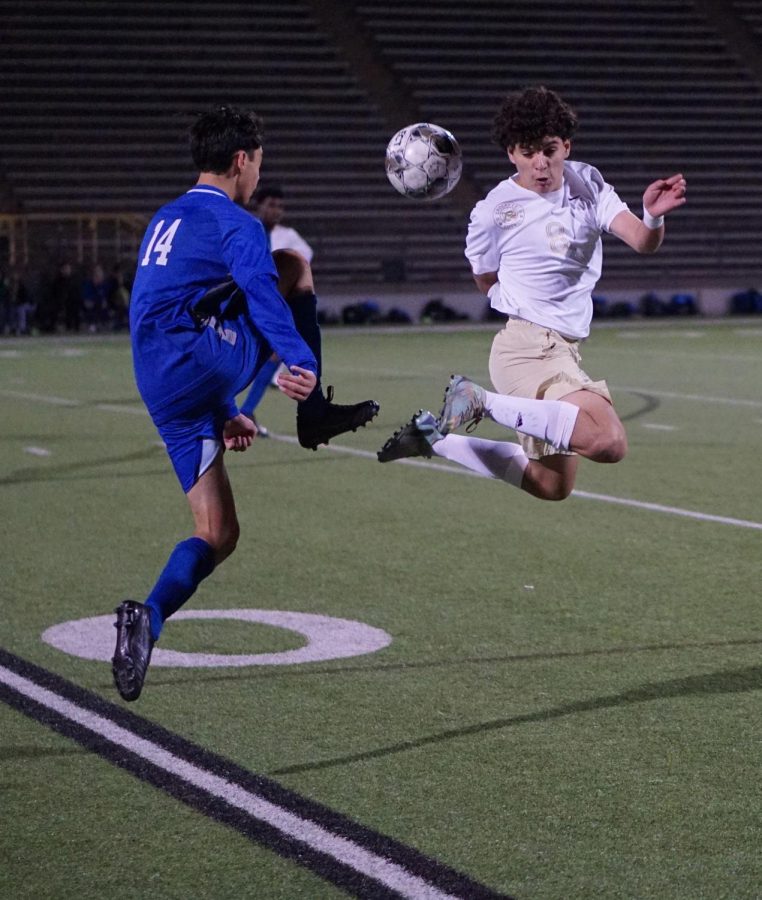 ELI IN THE SKY: Senior Eli Benitez kicks the ball up into the air to maintain possession after an aggressive challenge from a Crockett High School on Feb. 25 at House Park. In the first half, Dash Levy scored on a penalty kick after drawing a foul in the box. Returning to the pitch after being sidelined several games with an injury, senior Eli Betton added a second-half insurance goal. Betton, in his first game back from an injury, said the team's defense made the district win possible: "We defended better than we have earlier this season, which is key because we've conceded a lot of goals this season." Caption and photo by Camilla Vandegrift.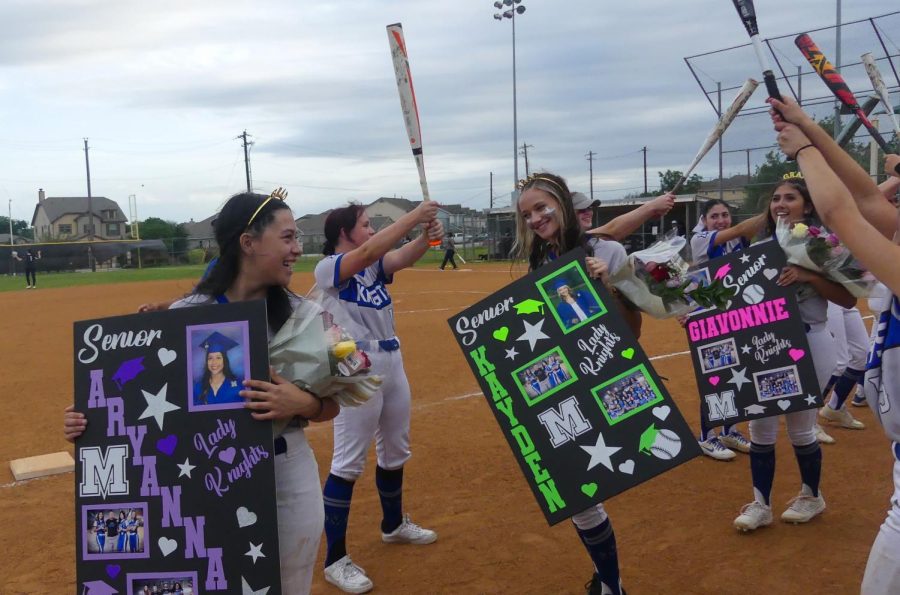 SENIOR KNIGHTS: The softball program celebrated its seniors–Ary Sanchez, Kayden Williams and Gia Ruedas–during its regular-season ending district win over Eastside on April 18. Photo by Julia Copas.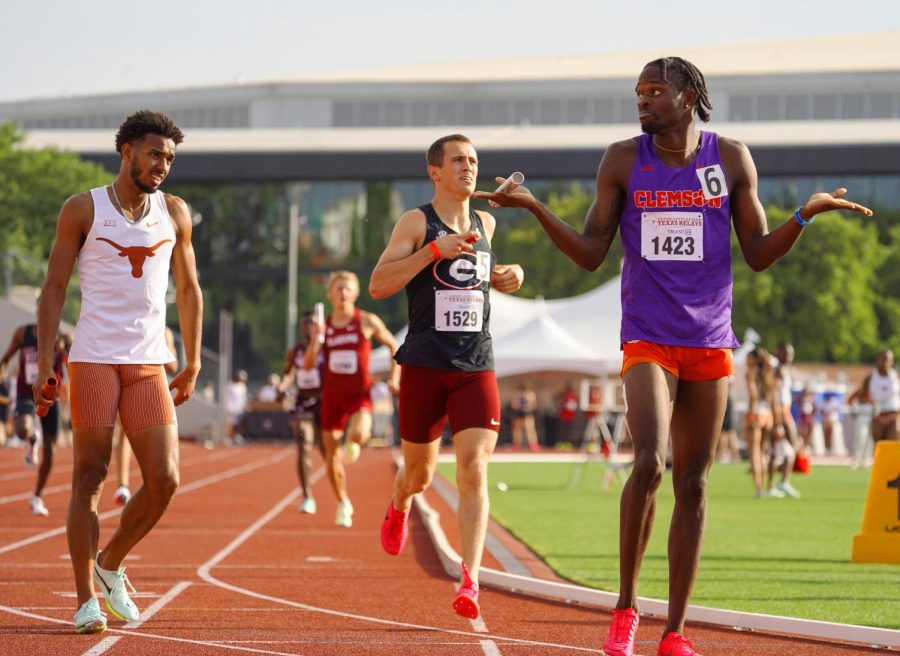 TIGERS TALE OF THE TAPE: Clemson junior Tarees Rhoden reacts to the Tigers' victory in the finals of men's 1600 sprint medley on Friday March 31 at Mike A. Myers Stadium. The Tigers won the race in 3:14.02, less than a second of a second faster than Yusuf Bizimana and Texas (3:14.81). Clayborn Pender ran the anchor leg for Georgia, which finished fourth in 3:17.11, just behind third-place Arizona State in 3:15.17. The Longhorns led at the halfway point by a half-second, but the Tigers caught them in the final 800 meters. Photo by Charlie Partheymuller.
Leave a Comment