Volleyball program savors its championship season
Varsity sweeps district, wins first playoff game in 15 years
With a stacked roster of seasoned seniors and a few trailblazing underclassmen, the McCallum varsity volleyball team had hopes entering this season. Starting off the preseason with summer tournaments, the Knights fell into a groove and entered the District 24-5A season with power, consistency and undeniable team chemistry.
On Sept. 23, they faced the Ann Richards Stars, the Knights' longtime most formidable district opponent, at Ann Richards. The showdown was a match between two unbeaten teams in district, and the winner would start the second half of the district season with the inside track to the district title. The Knights came out on top, winning 3-1. McCallum continued its momentum in games against LASA and even Anderson, against whom the Knights took one set in an ultimate 3-1 loss. (The JV team, however, swept the Anderson JV squad in straight sets.)
On Oct. 25, still unbeaten in district play, the Knights played the once-beaten Stars again, this time at home and with the district championship on the line. The night started on an emotional note, as the 13 volleyball seniors were honored for their dedication to the program at Senior Night. Once the whistle blew, however, the players traded their portrait smiles for game faces. Despite Ann Richards bringing a large and loud crowd with them, the Knights beat Ann Richards decisively in straight sets and took home the district title by completing an undefeated district season.
A week later on Nov. 2, the team made its way to Pflugerville to play the Pflugerville Panthers for the bi-district title. The Knights took home the win 3-1, earning not only the bi-district title but also the volleyball program's first playoff victory since 2007. Two days later in the area match against Lake Creek, played in Hearne, the Knights lost in a bittersweet end to a riveting and successful season.
Several individual players were honored with all-district honors this season, notably senior Jette Morris as the District MVP and senior Teasia Cooks as the Most Valuable Setter. Coach Amy Brodbeck was honored as the District 24-5A Coach of the Year, and seniors Allison Rosholt, Kate Shackleford and Vaughn Vandegrift and sophomore Greta Carlson joined Cooks and Morris as First Team All-District Selections. Senior Saraiah Taylor made the All-District second team, and seniors Mabry Adair and Rachel Nabhan, junior Rylee Hissey and freshman Lexi Rosenblatt earned All-District honorable mention honors. Taylor also committed to playing collegiate volleyball at Rust College while Morris will play beach volleyball at the University of San Francisco.
We are pleased to present some 2022 volleyball highlights in this week's Tuesday Top 10 season recap.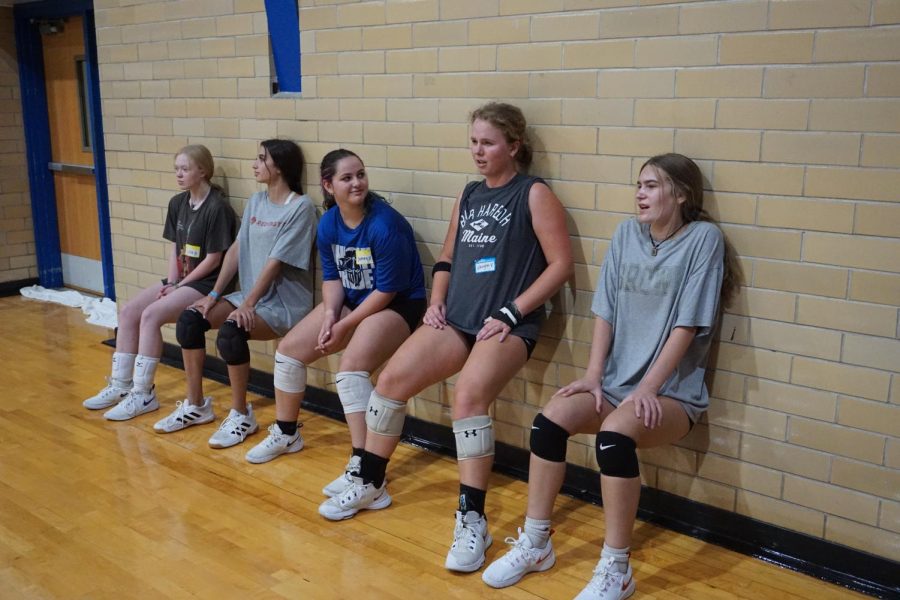 STARTING STRONG: Senior Vaughn Vandegrift and freshman Nella Ibsen (far right) conditioning at volleyball tryouts. Preseason practice and tryouts got Vandegrift excited for the season to come. "I love volleyball and the community the Mac team offers. I was really excited about our potential this year." According to Vandegrift, said potential was able to come to fruition with the team's district success. "Our main goal was to be undefeated district champs, which we certainly achieved." Caption by Francie Wilhelm. Photo by Naomi Di-Capua.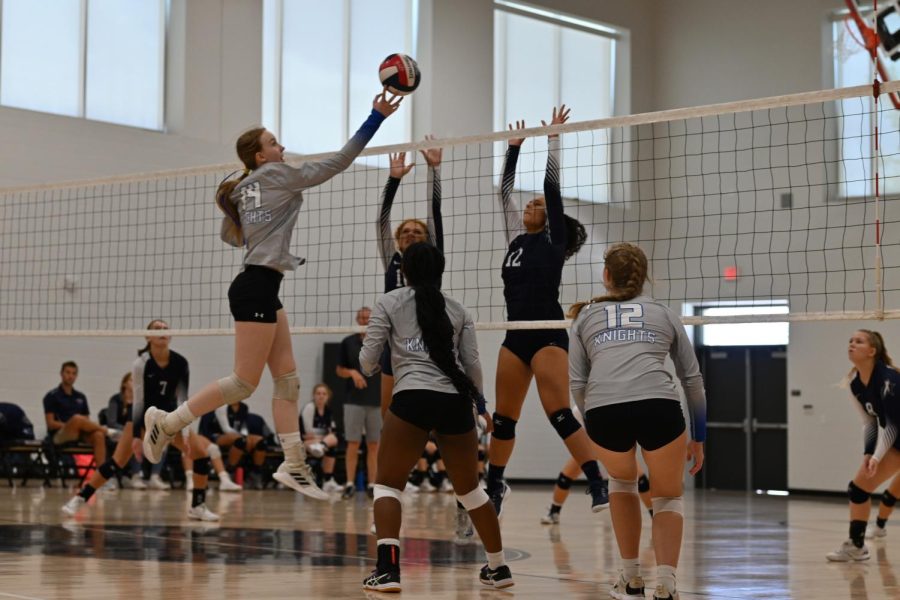 RISING TO THE OCCASION: Sophomore middle blocker Greta Carlson elevates to play the ball over two TSD defenders during the Knights' 25-11, 25-15 victory after two losses earlier during the second day of play at the AISD Jason Landers Invitational Tournament. While the victory was encouraging, the lessons learned in the team's losses to two San Antonio powerhouses (Stevens and Macarthur) were more valuable in the long run.

"The game (against Stevens) for me personally was a learning moment," said Carlson's teammate Saraih Taylor said. "Getting to know my teammates and how they react to certain things. I know we have the potential to go really far; we just have to communicate with each other. We all love playing together; [we] just [have] a few things that need to be fixed."
Senior outside hitter Jette Morris said that the skills necessary to compete well in volleyball are so interrelated that struggles in one area can directly impact everything the team is trying to do. 
"We played pretty well the first set against Stevens," Morris said, "but we lost our edge around 20 points in." 
Morris elaborated on how a team's momentum can unravel.

"Volleyball is so integrated that if the serve isn't aggressive, the other team gets a big swing; if the block doesn't close it's tough to give the setter a good pass. Sometimes you have a stinker of a day and I did. We kind of did, collectively."

The team's struggles continued into the team's second match against MacArthur, a game the Knights' ultimately lost, but even in defeat, the Knights showed their mettle. On one memorable play in the second set, Taylor dove to keep the ball in play but suffered an injury in the process.

"I'm going to do what needs to be done for my team even if that means getting hurt," Taylor said of the play. "The double loss was not the best for the team, but I know that we can come back from that."

After beating TSD to end their Friday games, the Knights won all three matches on Saturday and then split their final two games on Sunday to win the consolation final of the tournament's Copper Bracket.

Photos and reporting by Morgan Eye.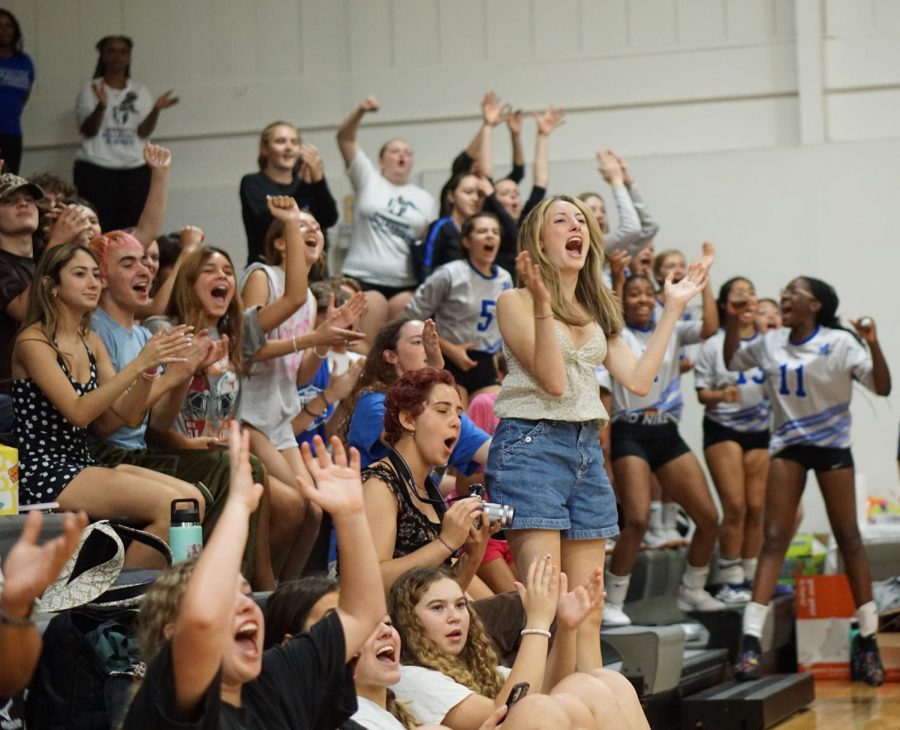 ROAD COURT ADVANTAGE: Mac fans erupt in celebration as the Knights win a point en route to their straight-set victory on the road at LASA on Sept. 9.  Senior Julia Wallace was among the boisterous Knight fans who traveled with the team to encourage them as they played.
"I was so excited that varsity was killing it and beating LASA," Wallace said. "I thought it was a really good game. The team really had to play. There was good competition, and we still pulled through and won."
The win was the varsity's fourth district win in four tries. It came quickly as Mac jumped out to an early first-set lead and never looked back. "
We put a lot of effort and training into this game," senior co-captain Rachel Nabhan said. "It was nice to see it pay off."
The first set was the closest the game got, with a score of 25-18. As the game progressed and the Knights gained more confidence, the sets got shorter and shorter. The second produced a score of 25-13, and the third, 25-9. Reporting by Lydia Reedy and Jolie Gabriel. Photo by Jolie Gabriel.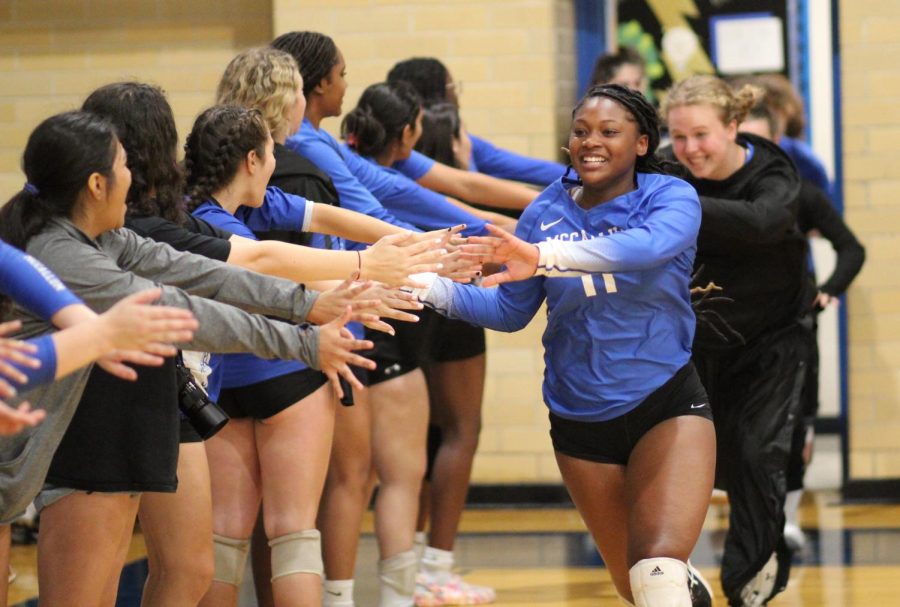 COOKING UP SOMETHING SPECIAL: She may not have earned the title of Statesman Girls Athlete of the Week, but the way the school rallied to champion her cause had to feel like a big win for senior setter Teasia Cooks (shown here leading her team out for an eventual home sweep of Eastside on Sept. 13). After averaging nearly a double-double with assists and digs in leading the Knights to a five-game win streak and an early perch atop the district standings, the Statesman named the affable senior setter as one of four girls volleyball players to earn Player of the Week honors. After a PR blitz that included social media promotion, QR Code leaflets throughout the school and even a rally cry on the morning announcements, Cooks received 9,440 votes, 41 percent of the total.
"I didn't know that I was nominated until my mom's friend told us," Cooks said. "Once we found out we were shocked and were like, 'We are fixing to have a lot of people vote.' On the last day of the vote we posted flyers around the school saying to vote for Teasia, and the teachers let me say my speech at the pep rally. It was a really good experience."
Photo by Naomi Di-Capua.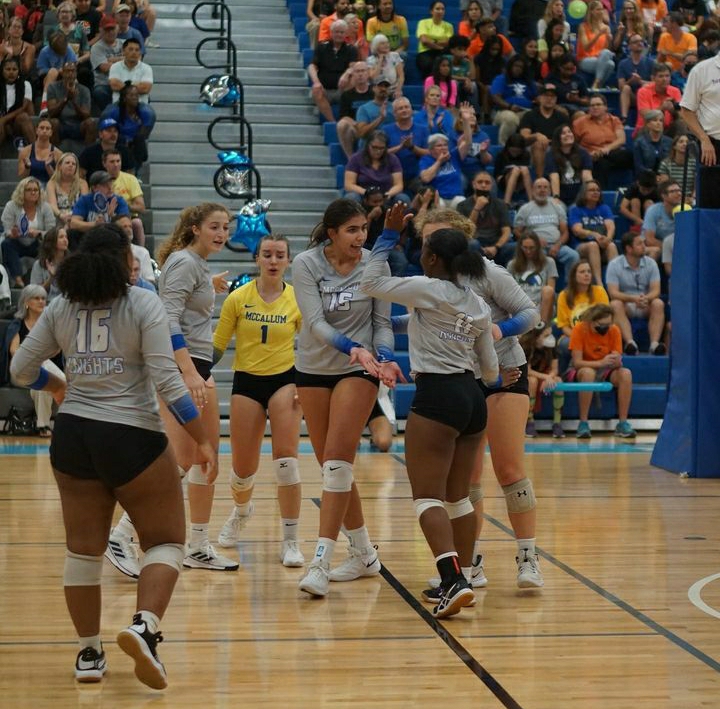 ALONE IN FIRST PLACE: In a match of district unbeatens to end the first half of the district season on Sept. 23, McCallum and host Ann Richards split the first two sets, but after ending the third set on a great run, the Knights never looked back as the ran away with the fourth set and the game. The Knights jumped out to an early lead of 6-1 and kept the onslaught of points going as they won the fourth set, 25-11. With this victory the Knights took sole possession of first place spot in the district, and they never relinquished it completing an undefeated second half of the season with a home and season sweep of the same Stars to close the season.  Caption by Charlie Partheymuller. Photo by Amaya Collier.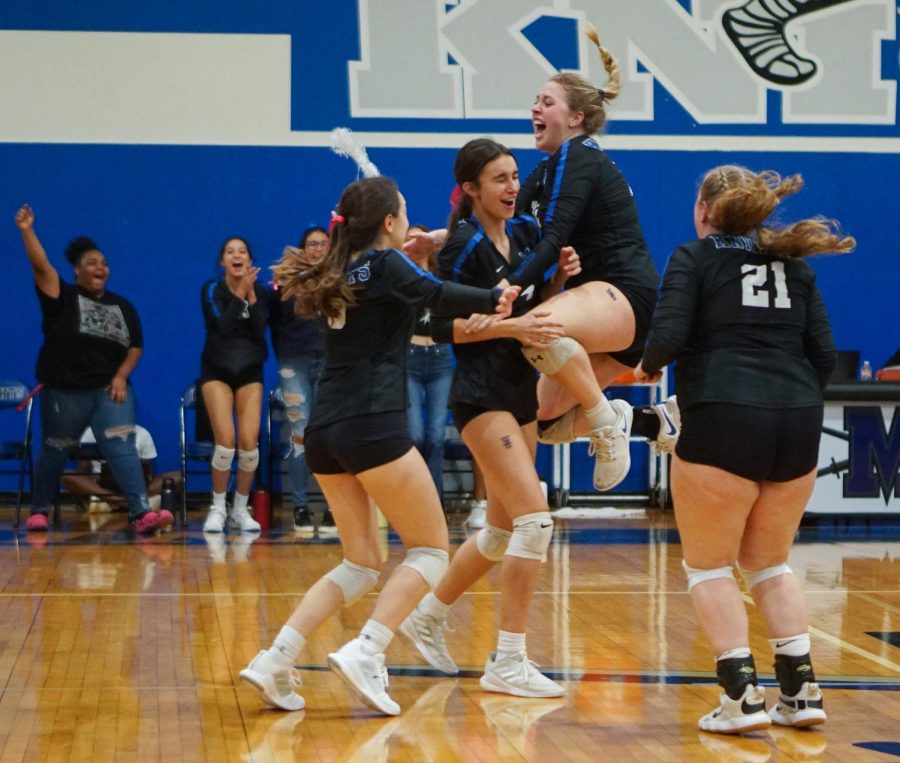 SWEET REVENGE: The JV Knights earned a signature victory for their season against the Anderson Trojans on Sept. 27. The JV Knights swept their arch-rivals in two sets of 25-23, after a previous loss to them earlier in the season.
For JV coach Sydney Schriever tonight's match was the most together the girls have played.
"We knew Anderson was going to be together and on it, but today was the most cohesive we have been all season," Schriever said.
Having already played the Trojans, the JV team walked onto the court knowing what to expect.
"We really worked on letting everything roll off the back," Schriever said, "If we made a mistake we kept going."
JV player Bella Gonzales said that the big win was just one of the many wins the team enjoyed over a successful season. 
"I think everyone on the team was able to grow in their own skills," Gonzales said. "Overall, it was so fun getting to play another year with all my friends, and I'm extremely proud of our hard work."
Reporting by Naomi Di-Capua. Photo by JoJo Barnard.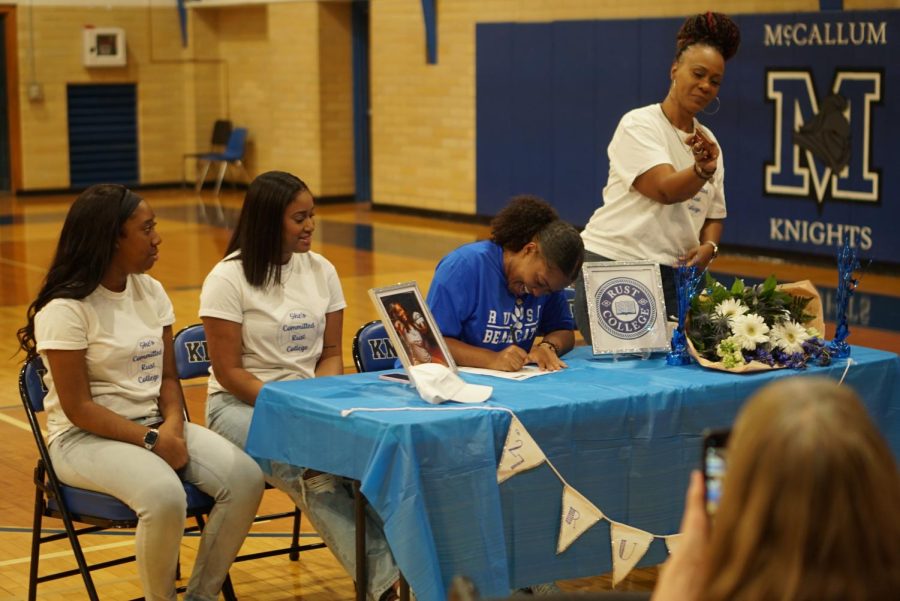 SHE'S COMMITTED: Surrounded by friends, family, and teammates in the Mac gym, senior Saraih Taylor officially signed Tuesday to play collegiate volleyball at Rust College,
Although developing into a collegiate-level athlete has been a long and demanding process, Taylor knew it was all worth it when signing day rolled around.
"It's lots of crying and putting my body through a lot," Taylor said. "Over the past year, I've had three concussions. I'm always having to push through that. And I'm always going from one practice to the next and not having time to hang out with friends or anything because I'm always busy. So it's just really exciting to see all that hard work and time I put in actually pay off."
Taylor's development as a volleyball player was just one piece of the puzzle. While her athletic recruiting process did involve lots of communicating with college coaches and attending showcases, it also called for a more personal search for the perfect school and community—which Taylor found at Rust.
"It's a Historically Black College, which I was always looking for because I've always been the only Black girl on most of my teams," Taylor said. "They'll know the struggles of being the only Black girl on the team, so we'll all kind of know each others' background, and we'll all have something in common from the jump."
Even as a new recruit, Taylor feels bonded with the program and her future teammates.
"I know that they're basically gonna be my family," Taylor said, "I met the girls, and they were like my big sisters automatically."
Taylor's real family have been cheering her on throughout the commitment process as well, even sporting Sariah-themed T-shirts on signing day.
"They were definitely super excited," Taylor said. "They have supported me from when I started playing at the age of six until now. I think it's really big for them to actually see me grow up in the volleyball world."
Taylor's teammate since seventh grade, senior Rachel Nabhan, has also watched her grow up in the volleyball world. According to Nabhan, Taylor's collegiate commitment is a testament to her determination throughout the years.
"I know she's a really hard worker, and it's just really inspiring because I know each day she's on the court, she'll hustle," Nabhan said. "And have you seen her serve?"
Caption by Caroline Owen. Photo by Maggie Mass.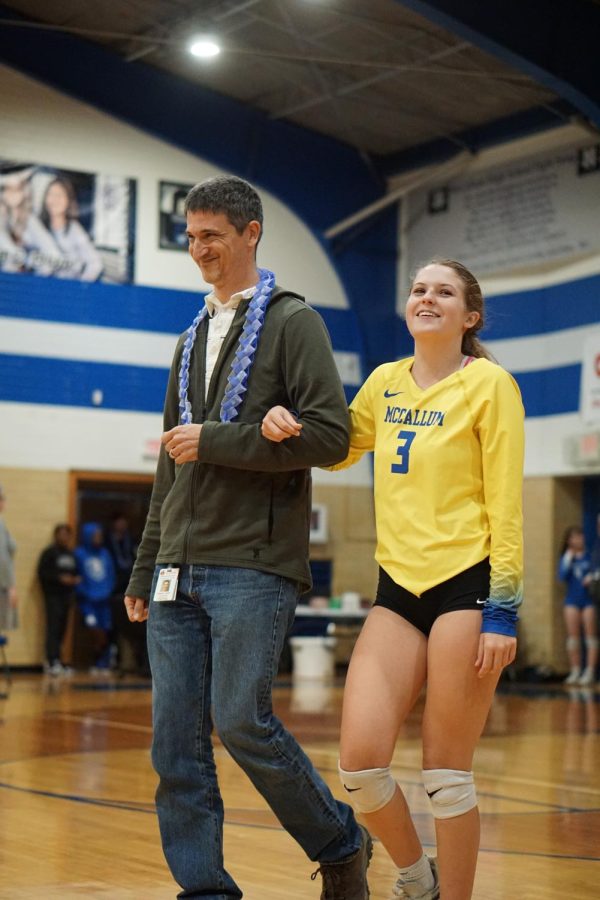 MABRY CAN COUNT ON HER FAVORITE TEACHER: senior Mabry Adair escorts her chosen teacher, math teacher Richard Cowles, during player introductions on Teacher Appreciation Night. After honoring their teachers, the Knights took care of business, dismantling the Travis Rebels in straight sets. Photo by Maggie Mass.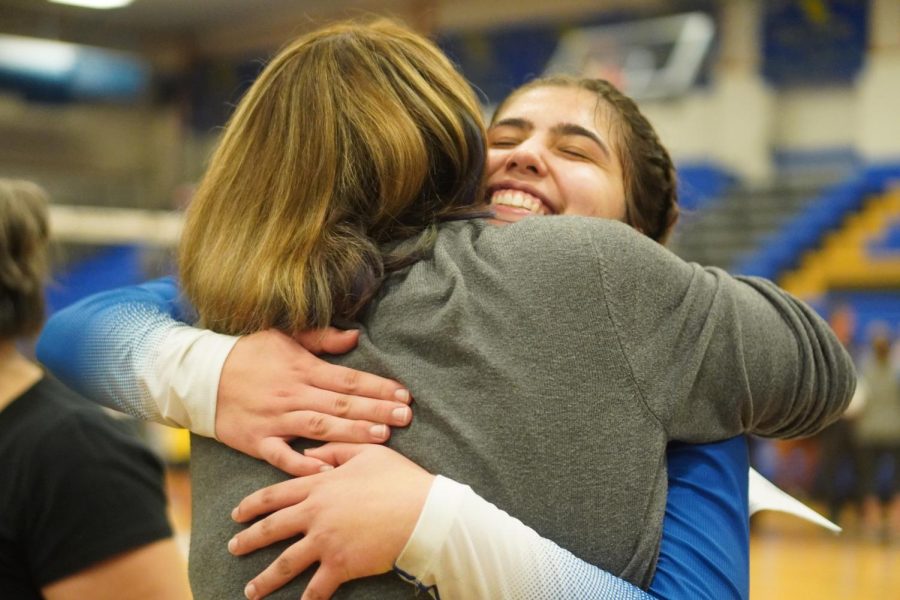 RIGBY RETURNS: She may not work at McCallum anymore but former special education department chair Julie Rigby remains a huge supporter of Mac volleyball. After making the trip to Pflugerville for the bi-district playoff match between the Knights and Panthers, Rigby offers a huge hug to senior outside hitter Jette Morris. Photo by Dave Winter.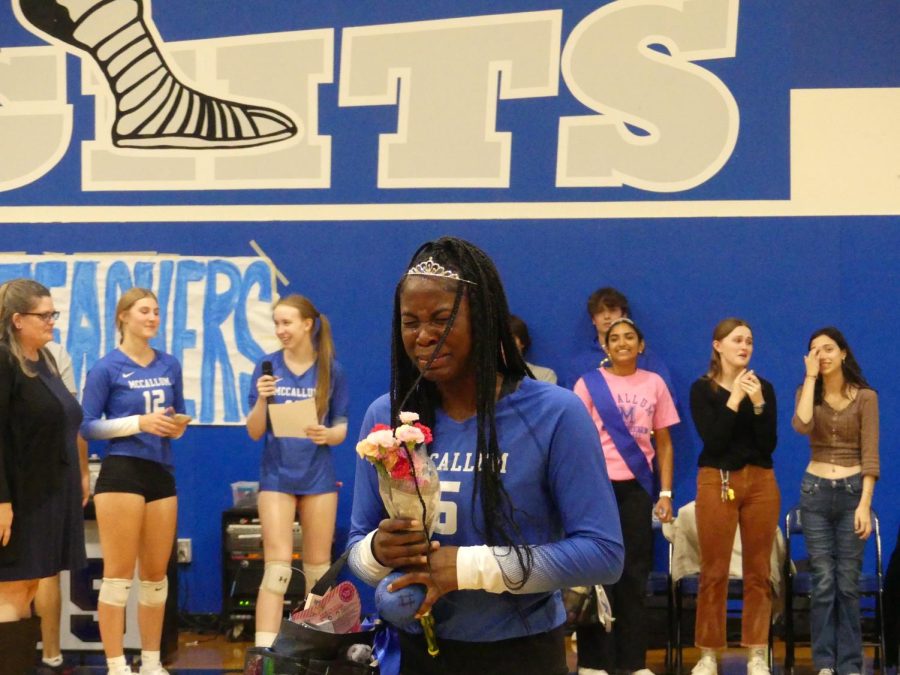 NEVER CAN SAY GOODBYE: Senior Jayden Mason breaks into tears after being honored by teammates and coaches at the volleyball Senior Knight. To Mason, the ceremony was emotional because of the change that it represented.
"[It was] the fact that I'm leaving soon. It's a big change, a new branch of independence and decision-making," she said. "I've known a lot of these people for quite a while, and after high school this may be my last time seeing them."
Ultimately, seeing her teammates being showered with gifts and speeches was what brought on the waterworks. Mason will miss the people and routine provided by the McCallum volleyball program.
"I've done volleyball all four year so it's going to be hard not having that daily task in my routine. I've created lots of friendships so it's going to be hard [to say] my goodbyes."
Caption by Francie Wilhelm. Photo by Julia Copas.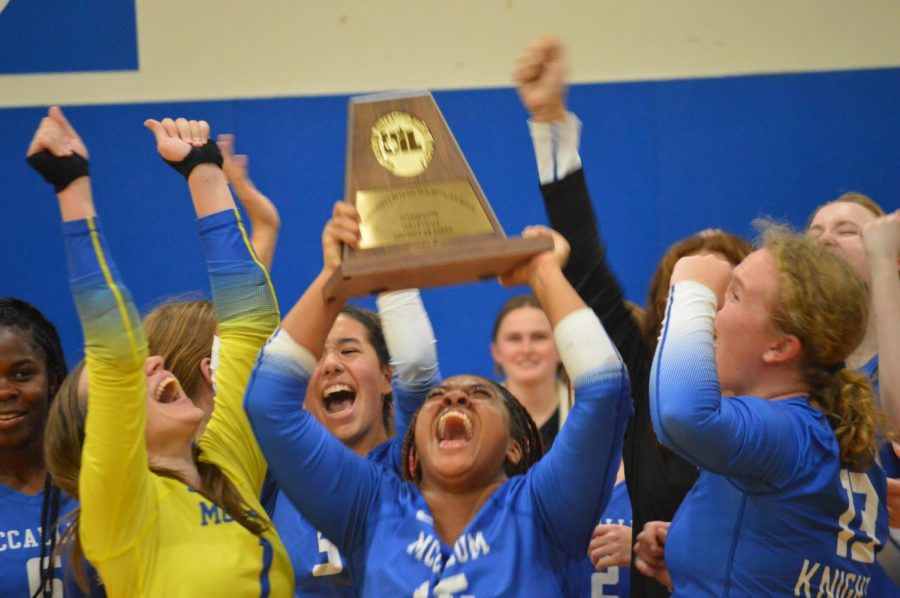 UNDEFEATED: Seniors Allie Roshalt, Saraih Taylor and Vaughn Vandegrift celebrate sweeping opponent Ann Richards and winning the district championship after an undefeated season. Taylor (middle) felt that both the district win and victory over the Stars were inevitable. 
"I was super confident going into the game," she said. "We had already beat them, so what's one more time?"  
The Knights won the match 25-21, 25-19 and 25-12 after previously besting Ann Richards on the road on Sept. 23. For Taylor, it was a moment to fully appreciate her and her teammates' hard work. 
"I was so happy," she said. "I was in awe because we did it, we won. I was so proud of myself and my team. It was like a proud mom moment." 
Photo and caption by Francie Wilhelm.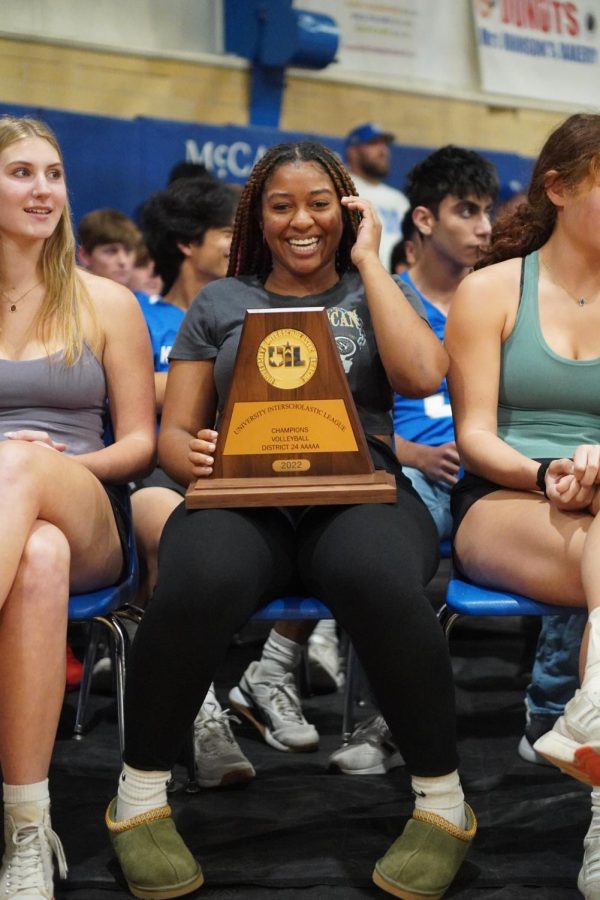 RALLY AROUND THE TROPHY: Junior Rylee Hissey, senior Saraih Taylor and freshman Lexi Rosenblatt sit with the district trophy at the Battle of the Bell pep rally on Oct. 27. Following their win against Ann Richards, the volleyball team took over the first row of chairs typically reserved for football players. Photo by Naomi Di-Capua.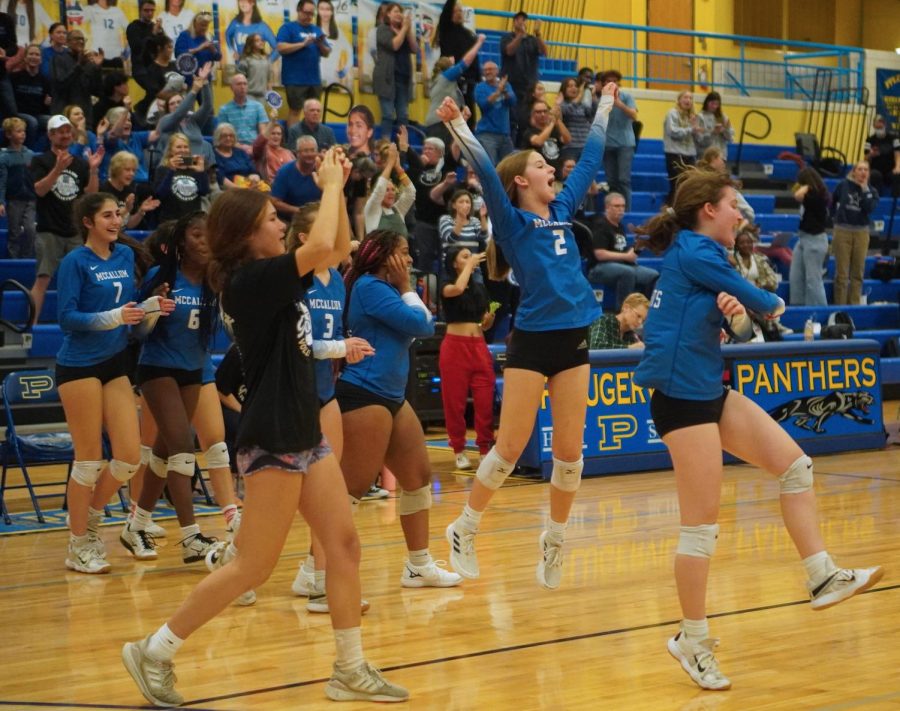 JORDYN RULES: Sophomore Jordyn Berger jumps for joy as the varsity team clinches their 3-1 bi-district win against Pflugerville. As soon as the Knights won the final point and became bi-district champions, Berger and the other players on the bench rushed out to join their teammates on the court. Photo by Dave Winter.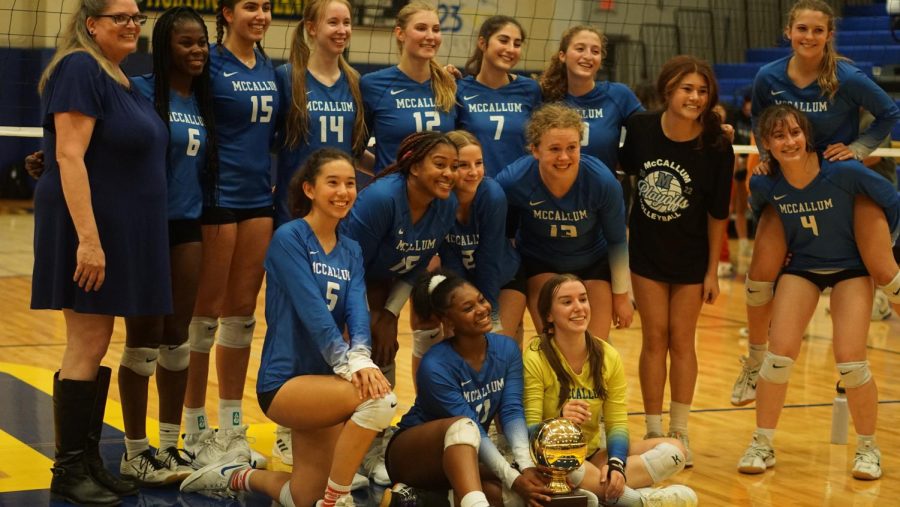 SAY CHEESE: The varsity volleyball team poses for a photo with the bi-district trophy. Freshman Lexi Rosenblatt felt honored to be a part of the team's victory in her first year with Mac volleyball.
"It felt amazing because we had worked so hard for it [bi-district] the whole season, and it had been one of our main goals since the beginning," she said. "I feel very lucky to be apart of a team that accomplished this my first year."
One of Rosenblatt's personal highlights from the team's successful season was the away game against LASA.
"That was probably the most fun volleyball game I've ever played in. The energy on and off the court was amazing and I thought I played really well that game. [I] even got a big block to end the first set." Caption by Francie Wilhelm. Photo by Maggie Mass.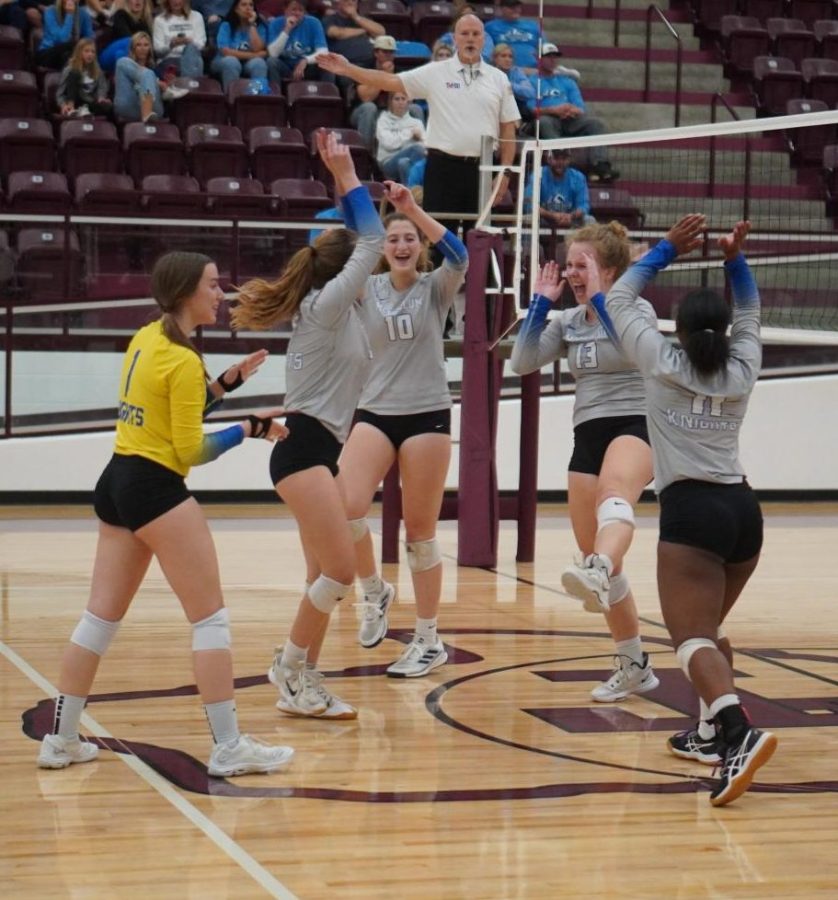 Concluding the varsity volleyball team's most successful season in over a decade, the varsity team faced off against Lake Creek Lions in the 5A area playoffs on Nov. 3. After beating the Pflugerville Panthers to win the title of bi-district champion, the Knights were unable to conquer the Lions and did not advance in the playoffs. Senior Allie Rosholt (far left) said that the Knights played as well as they could against a high-caliber team.
"I was proud of everyone that day for pushing as hard as they could as we have just been going hard since Aug. 1," Rosholt said. "I think we learned that there are always going to be people and teams that challenge you or just eclipse you and even through that, you just have to put everything you have into it and take notice and appreciation for the small victories within the game."
While this year's varsity team set more than a few school records, Rosholt hopes that future teams can remember that enjoying the game is the most important thing.
"I'm just really proud of what we accomplished," she said. "We were the first team in 15 years to be bi-district champions and had an undefeated season in district and that's just so freaking cool. I think this season one thing we did well is we kept fighting through the matches even if we were down. The main wish of mine for the next season is that the new team won't feel pressured by our success this season as we had 11 graduating seniors and I just want them to stay playing the game we all love and enjoy it."
Rosholt said that the team's success was due in no small part to the bonds between players.
"This season was special not just for its success and it being my senior season, but I just felt that the bond within the team was so strong this year, which definitely affected our outcome," Rosholt said. "Also I had been playing with these girls for years and it meant so much to get to do this with them and achieve all of these great things with them around me."
Reporting by Ingrid Smith. Photo by Dave Winter.