For volleyball program, building a winner starts with building a family
2022 season begins with scrimmages in Bastrop today; first game is Monday in Killeen; all four teams play home opener Tuesday afternoon
The first thing an observer notices about the McCallum volleyball team is its sense of togetherness that runs through all four teams. So when volleyball tryouts started this week, the aura of happiness and excitement that everyone in the gym exuded was palpable.
"Volleyball is definitely a family," junior Bella Gonzales said. 
Despite the stress that tryouts bring, Gonzales says that the sense of community makes it all worth it.
"The past few weeks have been a blast," Gonzales said. "Of course, tryouts were stressful, but I haven't been able to see a lot of my volleyball friends in forever."
For Coach Amy Brodbeck, the team's relationship is her secret weapon to the Lady Knight's success during the season. 
"Bonding is very important," Brodbeck said. "It helps us on the court. There is movement and constant talking during a game, and the bond they have only improves that."
"
Bonding is very important. It helps us on the court. There is movement and constant talking during a game, and the bond they have only improves that.
— Coach Amy Brodbeck
Even with strong team bonding and coach-player relationships, tryouts can still be overwhelming for younger players and even for the coaches, so creating a plan to organize and analyze each girl trying out is crucial to Brodbeck's ability to create the best teams she can.
"We test them on a host of different skills, such as knowledge of the game, volleyball skills and athleticism and so many more," Brodbeck said.
In order to evaluate each player, the girls underwent a rigorous regimen that included a series of stations, running and lots of scrimmaging. 
"Bonding as a team really comes from playing and scrimmaging a ton," Gonzales said. 
Brodbeck agrees that scrimmaging is essential but added that pre-season scrimmaging against other teams is another key to improving the team before the season starts. 
"Scrimmaging helps us out to see what we look like against another team," Brodbeck said.
At the end of the day, Brockbeck and her co-coaches seek skill development from each girl that improves each team's ability to execute an overall game strategy. Each skill developed enables one small change. The small changes add up to form a significant improvement, often the difference between winning and losing.
"
Our bond is built off of our love for volleyball but made stronger through the understanding of how hard being an athlete can be.
— junior Bella Gonzalez
One example of a specific skill is being able to serve to specific areas of a court.
"If we can be strategic in serving to different areas, that helps us win a point or defeat our opponent," Brodbeck said.
With over 60 girls trying out, and four teams to fill, not everyone makes a team.
"We end up having to cut a few people, which is always difficult," Brodbeck said. "If they didn't make the team but still want to do it next year, we still encourage them to sign up for our spring offseason."
Despite preseason stress, Gonzales says everyone's love for volleyball as a sport, only makes them closer. 
"Our bond is built off of our love for volleyball but made stronger through the understanding of how hard being an athlete can be."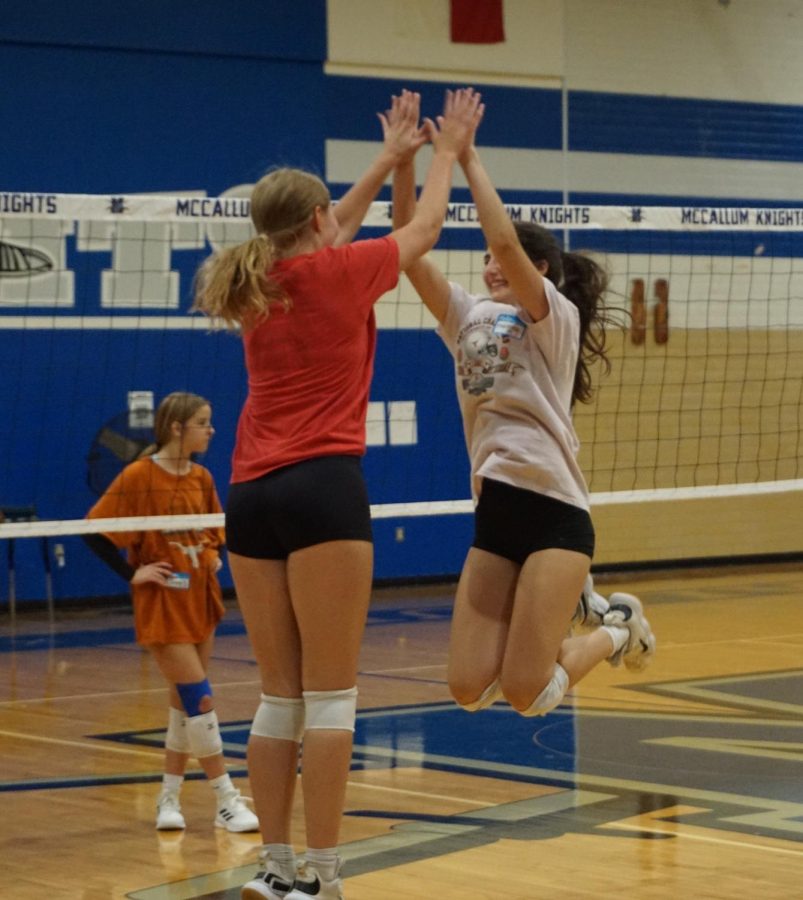 Leave a Comment