Andrew aims for collegiate future in the sand
Soph standout leaves gym to pursue beach volleyball dream
Sophomore Gella Andrew was 13 years old when she began beach volleyball, a sport that has since become a passion.
"My friends were doing it, and I was like, 'I should try it out!' Then I really fell in love with it and now it's just gone uphill from there."
"
I was at a [beach volleyball] tournament in Austin, and it was raining so hard, but we still had to play through it. It was kind of miserable, but it was worth it."
— sophomore Gella Andrew
Last year, making varsity in McCallum volleyball as a freshman was an exciting experience for Andrew. The love for her teammates and the Mac volleyball program made it difficult to decide to leave her spot on the team as a middle blocker/hitter and pursue beach volleyball exclusively.
"I really do want to play only beach volleyball in college, so I wanted to focus on that the most, but it was super sad," Andrew said. "However, I love that I can still be in the class and support the girls."
Andrew spends her time in the Mac volleyball class practicing and helping out with things like running drills.
As a freshman, Andrew struggled with the difficulties of balancing both beach and indoor volleyball at the same time, often having practices for both on the same day. She says the strong bond she held with her teammates made the experience worth it. Andrew notes, however, that even focusing on just one sport still requires a lot of practice.
"During the [beach volleyball] season I do three practices for two hours a week then I do an hour of weightlifting three days a week," Andrew said.
While the two sports may be similar, there are more differences between them than one might think. The biggest difference is that indoor volleyball has six players on the court at a time while beach volleyball has two players covering every position throughout the game.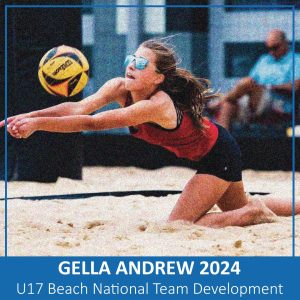 "I like how you get to do all the skills instead of one specialized position," Andrew said. "You get to be everything."
An additional component that makes the game fun but also exceedingly difficult is the weather in Texas.
"Playing in Texas, we have such unpredictable weather. It can be really cold, or hot, rainy, snowy, and it's really hard to run and jump in the sand and to execute every skill," Andrew said. "I was at a tournament in Austin, and it was raining so hard, but we still had to play through it. It was kind of miserable, but it was worth it."
Driven by an aspiration to play for USC, Andrew has already begun traveling to play for out-of-state tournaments, nationals and college team camps in Texas, Florida and California. While Andrew has set her sights high, she's also inspired by other high achievers in the sport.
"I really look up to the U.S. Olympians April Ross and Alix Klienmen because they're so good at working together on the court and being super clean with their playing style," she said.
Attempting to get recruited for college teams, Andrew has been emailing coaches with updates and film for the past year; and she will be able to start directly communicating with them next summer.
The long-term goal is to continue playing a sport that has been in her blood since she first discovered it.
"I really loved it ever since I started," she said. "It's so competitive and challenging, such a mental game."