Knights put up a fight but fall to Lake Creek
Mac bats go uncharacteristically quiet as Lions rally late in Game 2 to sweep area playoff series between 20-win teams
The casual fan might look at the final score of Friday's playoff baseball game in Mumford and think that the Knights didn't put up much of a fight in Game 2 of their area playoff series against Lake Creek.
Already up 1-0 in the series, the Lions won Game 2, 6-0, to sweep the series.
No doubt about it—Lake Creek (23-9) is a tough out. In two playoff rounds, the Lions have outscored their opponents, 23-2. A year ago, the Lions made the 5A state quarterfinals, and they look very much like they could match or surpass that result this year.
"
[Sam] pitched a hell of a game, and I'm super happy with his performance. He really just competed, and it helped a lot that he was super consistent in hitting his spots."
— senior catcher Pablo Lopez on starter Sam Stevens
But don't let the final score fool you. The Knights (24-10-1) fought toe to toe against the heavyweights from Montgomery.
The fight begins on the mound where junior Sam Stevens pitched five scoreless innings after getting the Game 2 start. Combine those five goose eggs with the six he put up in the bi-district series-clinching Game 2 win over Georgetown East View a week ago and that's a dozen innings for Stevens in which he allowed only one run.
"He pitched a hell of a game, and I'm super happy with his performance," said Stevens' catcher and battery mate, senior Pablo Lopez. "I always love catching for him due to how consistent he is. He really just competed, and it helped a lot that he was super consistent in hitting his spots."
The problem for the Knights, however, was that Stevens wasn't the only shutdown pitcher putting zeroes up on the scoreboard through five innings.
Lion starter Jackson Wilkerson, a Baylor commit, matched him zero for zero. Over that span, the Knights managed only one hit off of him, a Lopez single to lead off the fourth.
Wilkerson was good, Lopez conceded, but the Knights had baserunners thanks to a few walks.
"They were a really good team and super sound defensively," Lopez said. "But honestly, I wasn't super blown away by their performance. They were definitely a beatable team."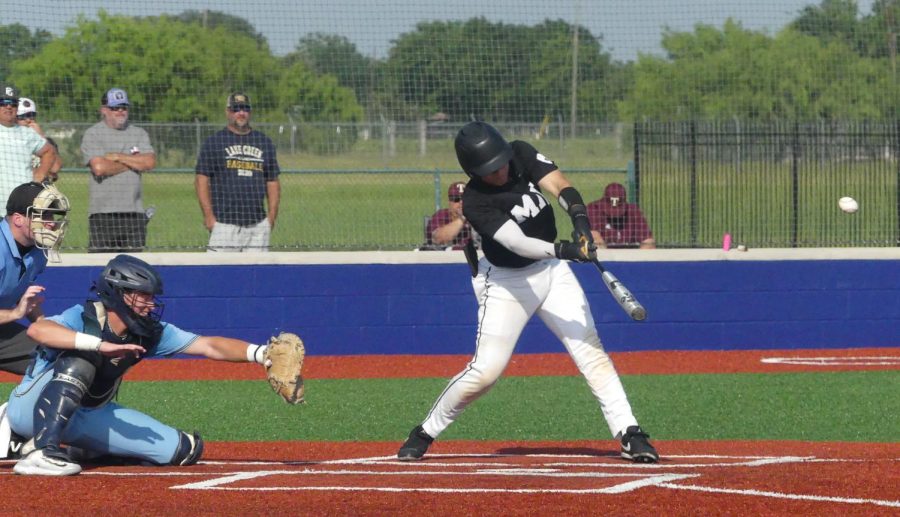 The Knights either led or were within two runs of the Lions for 11 of the 14 innings played in the series. The Knights just couldn't string the hits together to win either game late.
"We just struggled to put runs on the board," Lopez said matter-of-factly. "And that's really why we couldn't pull this one out."
Sam Lee's one-out RBI single of Stevens pushed a run across for the Lions in the top of the sixth. After the Knights failed to answer in the bottom half, the Lions strung together four RBI hits to put the game out of reach. Nico Sanchez came on for the Knights to get the last out in the top of the seventh.
Did the final score tell the whole story? Absolutely not.
"We played with a lot of heart in this series," Lopez said. "The score doesn't truly reflect [how we played] the past two games."
"
Yes [baseball is] more than a game, but for me, I really just wanted to have the most fun playing with my friends."
— Pablo Lopez
The losses also don't tell or change the story of a historic Knights season in which the team won every district game, outscoring their opponents 181-0 en route to their 17th district championship and their first after a 10-year district title streak was broken last year. The team also enjoyed non-district regular-season wins over Fredericksburg, Burnett, Regents, St. Michael's, Austin High, Temple, Hendrickson and Cedar Ridge and two bi-district playoff wins over East View.
Five of those 10 wins were by one run, and three were by two. The team thrived in close games.
The wins, losses and titles are nice, but they aren't what makes the 2023 season special for Lopez.
"[This season] was a bunch of best friends playing a game we all love," Lopez said. "Yes it's more than a game, but for me, I really just wanted to have the most fun playing with my friends."
For Lopez, a senior, the playoff series loss meant an end to a stellar four-year career as a varsity letterman. He has hopes of walking on at Texas Tech, and this sportswriter would assert that if the Red Raiders want a cerebral, high-character player who works hard and thrives in pressure situations, they would be wise to give him a shot.
Characteristically, Lopez said his strengths as a ballplayer and a person came precisely because of where he played high school baseball for the last four years.
"These past four years have been amazing," Lopez said. "I wouldn't be the person I am today without [my coaches]. Coach Searle and [former head] coach Grant have shaped me into who I am and helped me grow up in a way that will allow me to be successful in my life after McCallum. [First-year] head coach Honeycutt also tries to shape us into respectful young men, and I think that that is the true emblem of Mac baseball over the years I've been there."
All of us at MacJournalism would like to congratulate the baseball team and its coaches on their historic season and to wish Lopez and the team's other seniors—Ethan Garnes, Colby Summers and team manager Jack Stites—the best of luck in all their future endeavors.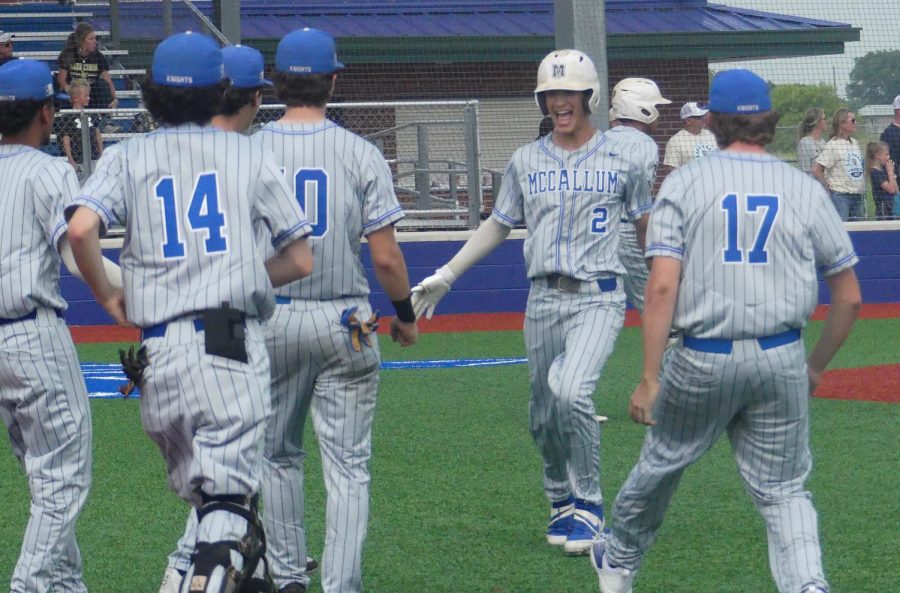 GAME 1: LIONS 5, KNIGHTS 1
The Knights dropped Game 1 of their area playoff series against Montgomery Lake Creek, 5-1, Thursday night in Mumford.
McCallum led early 1-0 after Lyrr Friesem scored on a two-out pop up by John Dietz in the top of the second that landed after the Lion left-fielder and shortstop collided allowing the ball to drop and Friesem enough time to dash from third to home with the first run of the game.
Unfortunately, the rest of the news is not good if you are a Knight fan. The Lions scored three runs off starter Nathan Nagy—two in the second and one in the fourth—then two more off reliever Nico Sanchez in the sixth inning to win the game 5-1.
Texas A&M signee Weston Moss went the distance to earn a complete-game win for the Lions, allowing three hits, striking out four and walking one.
The Lions meanwhile earned seven hits off of Knight pitching. Sam Lee went 2-for-2 with two walks and two RBIs in the game for Lake Creek.